5.9-Second Diesel Drag Trucks, Pt. 4: A 4x4 Cummins, A RWD Cummins And A 1,600HP Power Stroke
Just when you thought only Cummins and Duramax diesels were invited to the 5.90 Index party, we've got a 1,600hp Power Stroke to tell you about. And of all things, it's even a 6.0L Power Stroke. We're also spilling the beans on what could very well be the heaviest truck in 5.90: a Cummins-powered, full interior, two-wheel drive '07 ¾-ton Ram. In addition, we'll take a look at a former UCC truck turned all-out drag racer: a tubbed and back-halved third-gen Cummins with fiberglass and a proven engine combination. Let's kick things off with the class outcast, the 6.0L Ford that contradicts everything you thought you knew about America's most-hated diesel engine.
Austin Denny's Odds-Defying Super Duty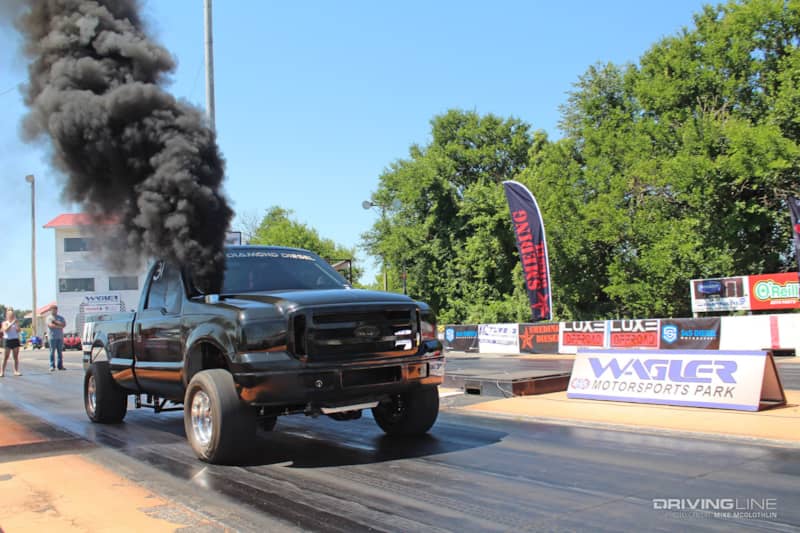 Beginning in '05, Ford Super Duty's became even heftier than they previous were, but that didn't stop Austin Denny from converting his '06 F-250 into a full-time drag truck. And he even stuck with the original power plant: the 6.0L Power Stroke. But not only has he proven that the 6.0L can compete in 5.90, his Super Duty has been as quick as 5.69 in the eighth-mile—making it the second quickest 6.0L in the nation at the present time. Austin also makes a 5R110 TorqShift work. It's been built by Red Diamond Diesel and features a few electronic work-arounds in order to get the automatic to shift and lock the converter when Austin wants it to rather than when the truck's computer thinks it should.
Triple-Digit Boost 6.0L Power Stroke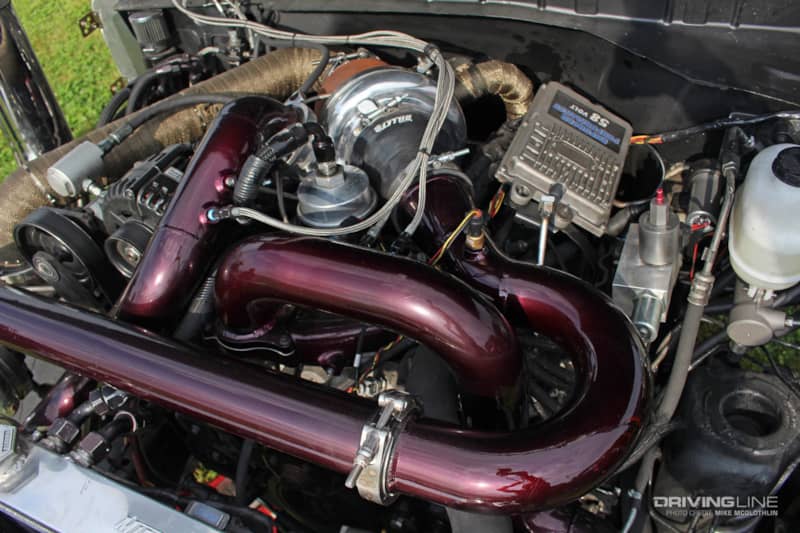 Beneath the removable fiberglass front clip lies a compound turbocharger arrangement above a highly-reinforced 6.0L Power Stroke V-8. It's chock full of Wagler, RCD Performance and Warren parts, including a set of thoroughly-ported, O-ringed Warren Diesel Injection heads anchored down via ARP Custom Age 625+ head studs. Even more impressive, the factory-based HEUI injection system is still in use. Dual high-pressure oil pumps feed ample high-pressure oil to a set of Warren Diesel 500/400 hybrid injectors and twin Aeromotive A1000 fuel pumps handle the fuel supply side of things. The compound turbo system includes a T6 foot Bullseye Power 94mm paired with a T4 Bullseye 76mm. One of the rowdier launching trucks in the class, Austin leaves the starting line at 25-26-psi of boost.
Four-Linked With Coil Overs & Stock Axles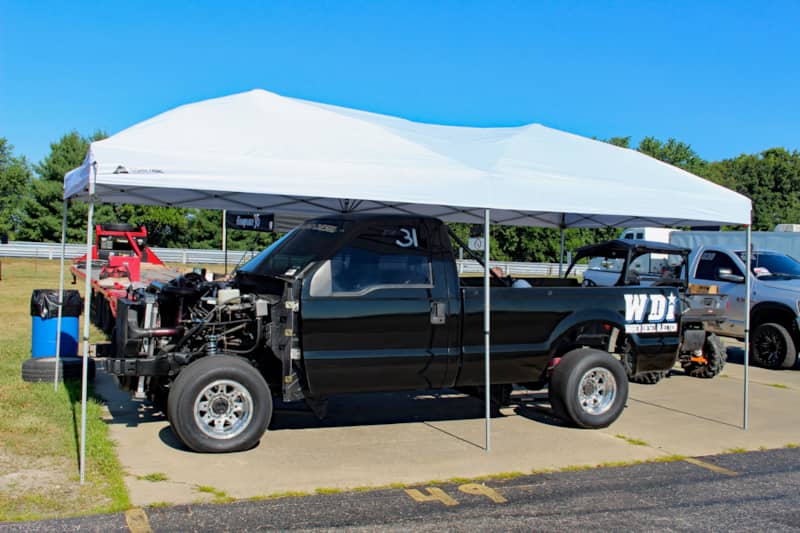 The factory frame still exists under Austin's Super Duty, but the rear leaf springs and front coil springs are long gone. Four-link suspension systems are present front and rear, with double-adjustable AFCO coil over shocks all the way around. Along with the four-link suspension, Firepunk Diesel also built Austin's roll cage (which is certified for 8.50's in the quarter-mile). The stock Dana 60 front axle and rear 10.5-inch Sterling are still under the truck, but the rear diff has been graced with a Grizzly locker from Yukon Gear & Axle.
Brett Marcum's Bad In Black Third-Gen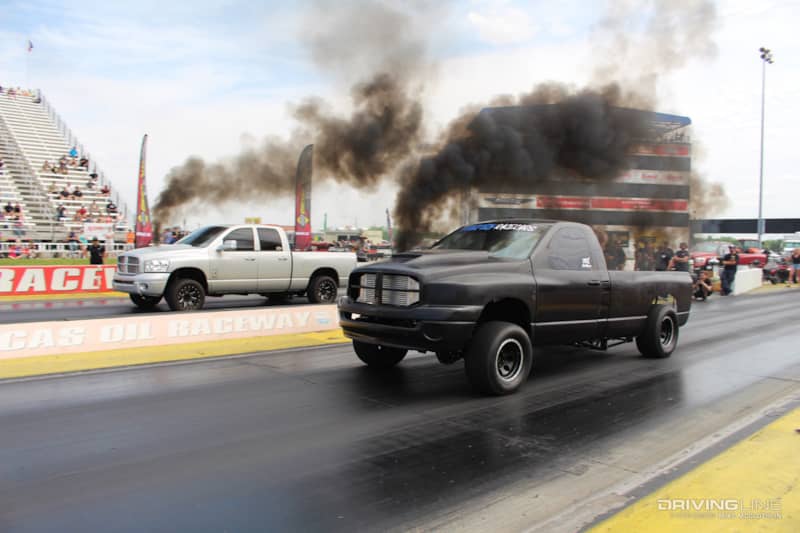 Brett Marcum joined the 5.90 Index circuit in its second season of existence and raced against veteran class pros such as Derek Rose and Mindy Jackson, so he's well-versed in what it takes to compete in this category. His '06 Dodge Ram 2500 is up to the challenge also thanks to being powered by a Freedom Racing Engines Cummins and a well-spec'd chassis from HammerTech Racecars. Recently the truck was tubbed and back-halved as well as being treated to fiberglass and Innovative Machine Solutions brakes. Brett qualified sixth at the Outlaw Diesel Revenge event in Indy despite fighting break-out issues. Trust us, this truck is hungry for mid 5's.
6.8L Cummins, Big Single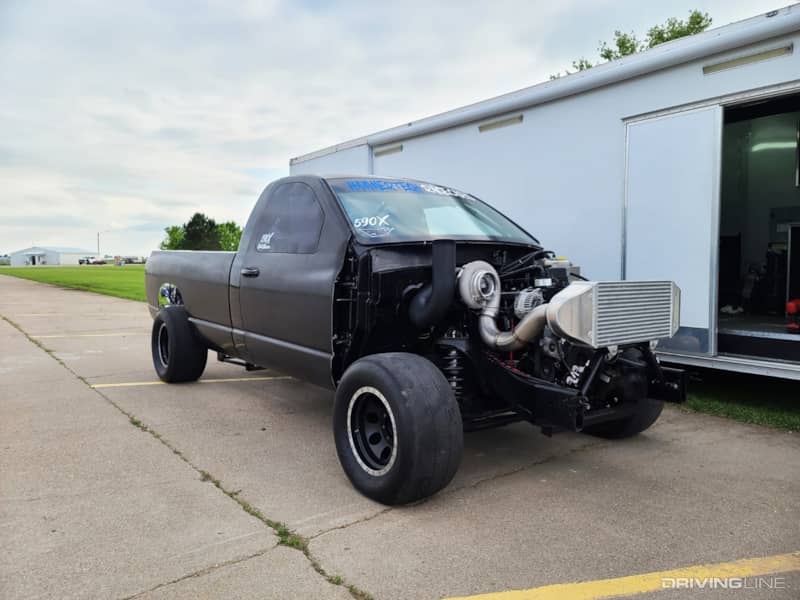 Displacing 6.8 liters, the solid block Cummins in Brett's Ram was built at Freedom Racing Engines. Boost production comes from a 91mm Garrett GTX55 hanging off a T6 foot Steed Speed exhaust manifold, with a custom air-to-air intercooler from HammerTech Racecars helping to keep EGT in check. Currently in the process of changing up the engine's fuel system, Brett will soon have S&S Diesel Motorsport 450-percent over injectors, a 14mm stroker CP3 and an SP3000 supply pump on board, but will continue to stick with the Banghart Diesel Performance 48RE transmission, complete with a manual valve body and trans-brake. He also plans to continue to have Done Right Diesel dial the common-rail Cummins in, electronically.
Rod MacMaster's RWD, Shorty Dodge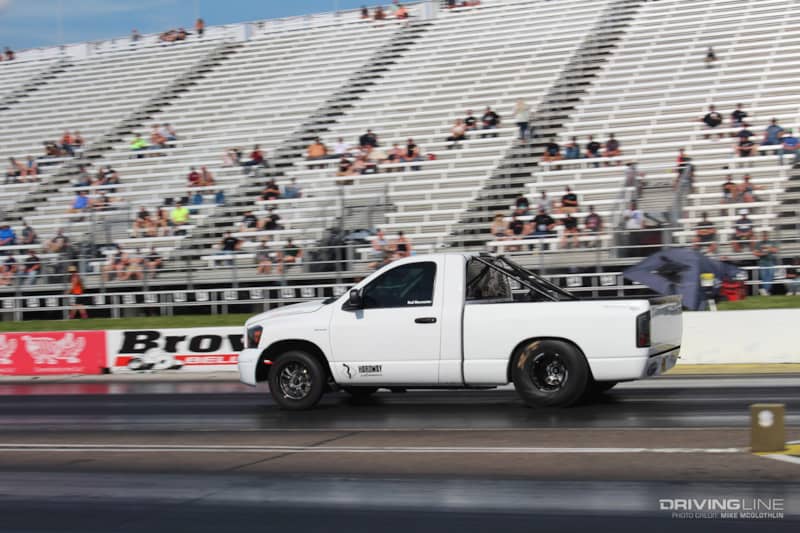 Despite Rod MacMaster's shortened '07 Dodge Ram 2500 appearing to be one of the lighter trucks in 5.90, it's actually one of the heaviest—if not "thee" heaviest. It tips the scales at 5,800 pounds, but don't take that to mean it's not competitive. Full disclosure, you're looking at 2020's 5.90 class champion. Built at Hardway Performance, it's four-linked, wears a Menscer Motorsports coil over shock at each corner and features a cage that's certified for 8.50's in the quarter, yet it still sports a full interior. While Rod is yet to claim a win in 2021, his truck is one of the most lethal rides in 5.90, so we don't anticipate the draught will last long.
What Freedom Looks Like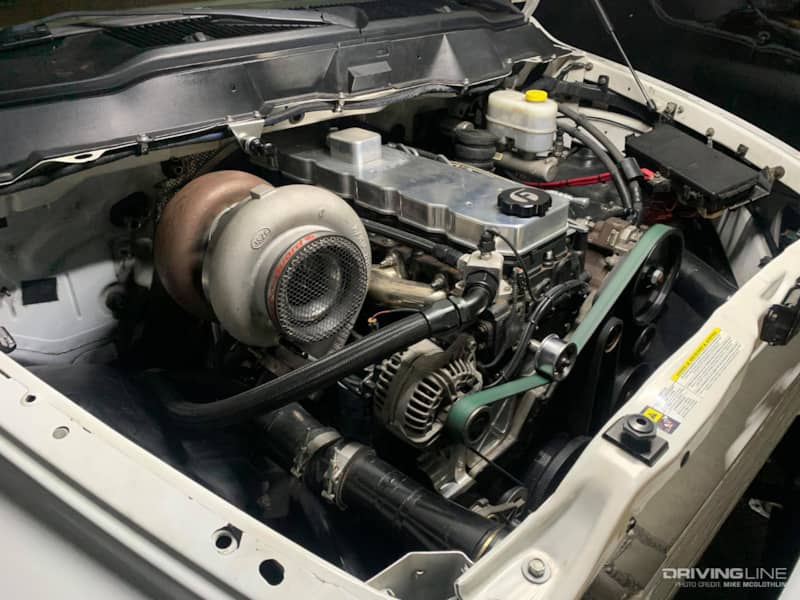 Rod is the second competitor in this installment to be benefitting from a proven, 6.7L-based Cummins from Freedom Racing Engines. His Street Comp 6.7L features an unfilled (i.e. wet) block, Wagler Competition Products billet rods and a host of Fleece Performance Engineering goodies. The high-pressure common-rail injection system is highlighted by S&S Diesel Motorsport 450-percent over injectors and twin CP3's, with an AirDog lift pump keeping the CP3's supplied with plenty of diesel. An 85mm Garrett GT5533R builds boost and mounts on a T6 24-valve competition exhaust manifold from Stainless Diesel. The championship-winning engine combo is backed up by a Sun Coast TH400 fitted with big shafts and a zero drag lockup converter.
More From

Driving Line
Curious who some of the other major players are in the 5.90 Index class? Check out 

Part 2

 

for a look at a wheels-up Duramax-powered Chevelle, a 7.3L-equipped F-350 and a show-stopping half-ton Ram.