5.9-Second Diesel Drag Trucks, Pt. 2: a 6.8L Cummins, 7.3L Power Stroke And a Wheels-Up Duramax-Powered Chevelle
In this trio of 5.90 Index racer profiles, things get a bit more interesting and the variety within the Outlaw Diesel Super Series' hottest class is exposed. We've got a common-rail Cummins equipped '05 Dodge Ram 1500, an '00 Super Duty with an old-school (and still HEUI-fired) 7.3L Power Stroke and a 100-percent streetable Duramax Chevelle to tell you about. Each of them has been 5.70s or quicker in the eighth-mile, but shows up dialed back a tenth or two on race day. The drivers that pilot them know their machines inside and out, and their abilities to run the number, round after round, reflect it.
If you recall from our first installment, the 5.90 Index category is showing great year-over-year growth since being introduced. This is likely the case because 5.90 gives serious diesel drag racers a place to go between 6.70 Index and the all-out, heads-up Pro Street class. Many 5.90 trucks can run mid 5's to 5.70s, but it takes sub-5-second passes to win Pro Street these days—and good luck slowing a 5.90-capable truck down to 6.70s… So, for those reasons (and plenty more) 5.90 Index was born—and now we're all benefitting from the entertainment value that comes with having so many talented drivers sign up for this 'tweener category.
David Large's Show-Worthy Ram 1500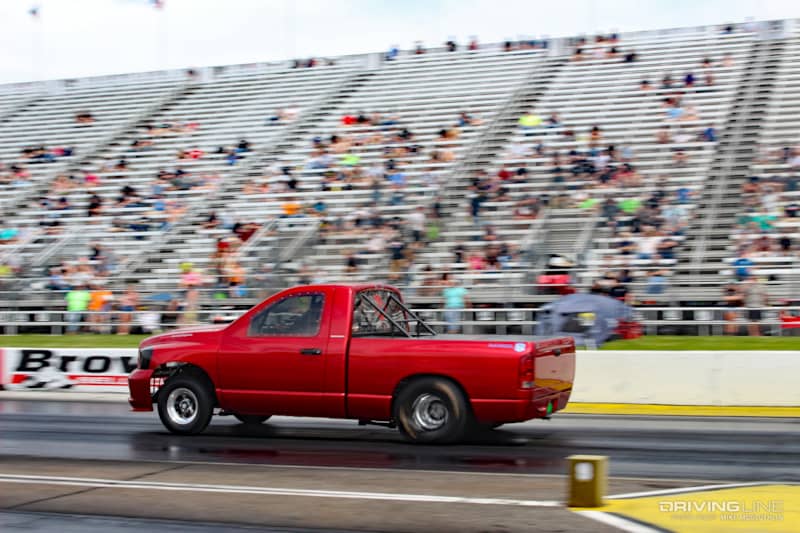 David Large might not have the most racing experience in the 5.90 Index class, but he's got great coaches and is a natural behind the wheel. David kicked off the 2021 ODSS season with a Third Place performance at Rudy's Spring Truck Jam and picked up valuable points in Round 2 at Lucas Oil Raceway—along with the number 1 qualifier (a 5.901 at 121 mph). Looks don't translate into wins, but David's two-wheel drive, '05 Dodge half-ton has to be the sharpest-looking truck within the ranks of 5.90. It's also a former Pro Street truck that's been 5.40s in the past, so David is blessed with a proven chassis and as such has been able to avoid some of the growing pains that come with a brand-new, ground-up build.
6.8L Cummins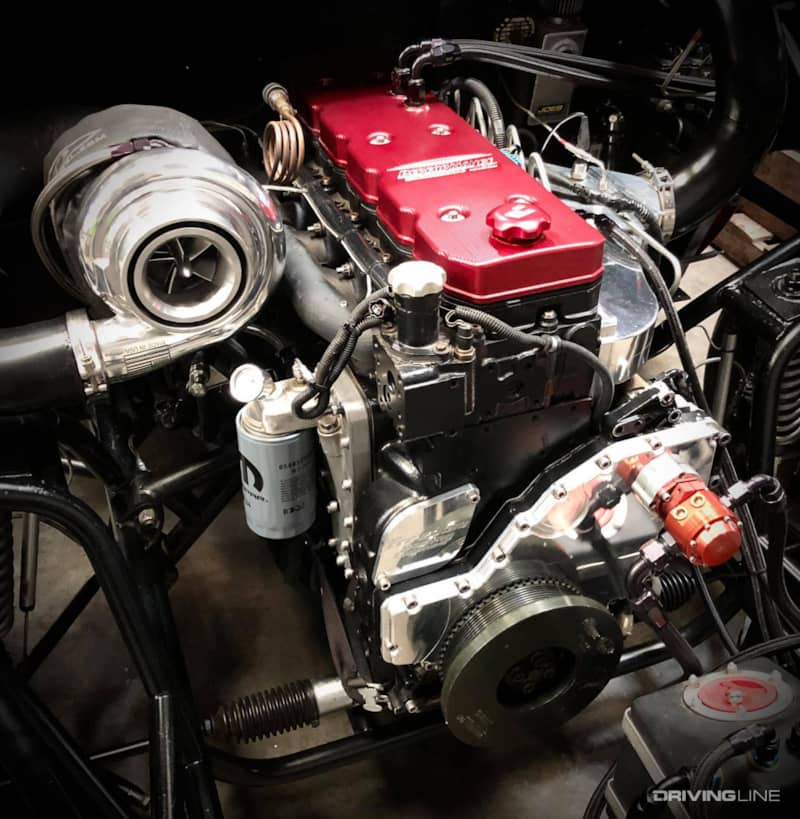 It's a shame the front clip covers such a beautiful engine... David's 6.7L-based cast-iron block and head Cummins was machined, assembled and tested at Freedom Racing Engines, and displaces 6.8 liters. The big cube Cummins is fueled courtesy of a 14mm stroker CP3 high-pressure pump from S&S Diesel Motorsport, which supports a set of S&S 400-percent over injectors. Air moves in and out of the worked-over cylinder head thanks to a billet side-draft, individual runner intake manifold from Fleece Performance Engineering and a port-matched Competition T-6 24-valve exhaust manifold from Stainless Diesel. The monster turbo hanging from the manifold is Stainless Diesel's Godfather S400. It sports a 5-blade, 85mm billet compressor wheel, a 96mm turbine wheel and a T-6 1.32 A/R exhaust housing. David relies on a Rossler TH400 equipped with a Sun Coast Pro-Loc billet lockup converter to get him down the track reliably, efficiently and in a big hurry.
Brian's Jelich's Dated—But Nowhere Near Antiquated—7.3L Ford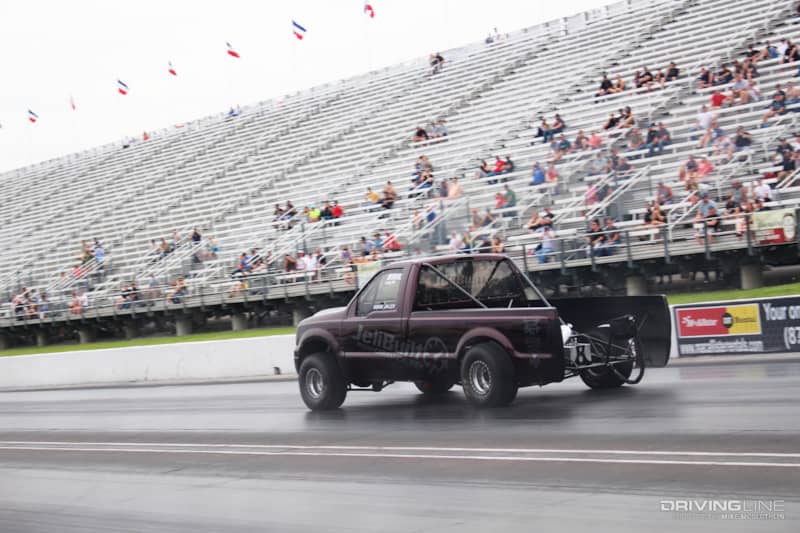 Brian Jelich's '00 F-350 breaks all the rules. It's a 7.3L Power Stroke—a dinosaur in the age of high-tech, common-rail diesels—and it's still running off of the factory, HEUI injection system. It is fast though. Very fast. And that's what counts in 5.90. Already having been 5.76 on a pass where he barely leaned on the 444 ci V-8 (and with the belief that he can run 5.40s with enough nitrous), Brian's 7.3L is leading a fairly easy life right now. He picked up Fourth Place points at the season opener and then brought his A-game to the second race in Indy, earning the number 2 qualifier and going rounds until being eliminated in the quarter finals.
A V-8 Diesel From The Jurassic Period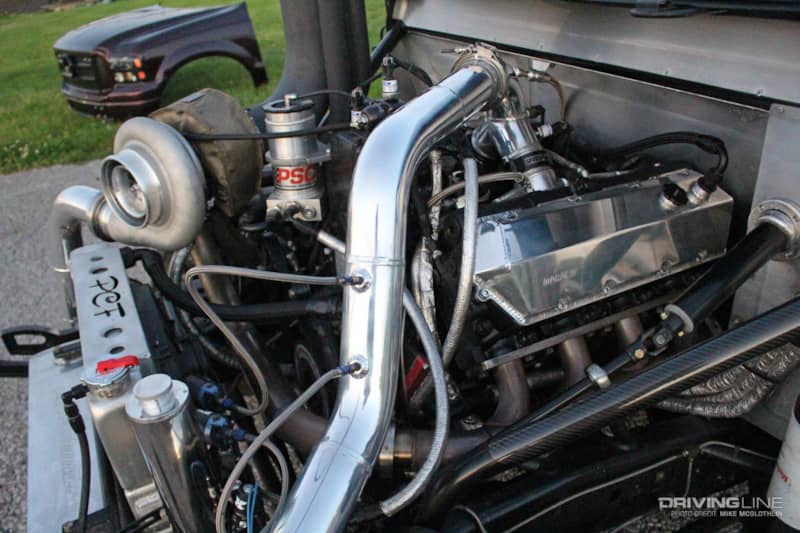 A 7.3L die-hard from way back, Brian has been pushing the limits of the O.G. Power Stroke platform since roughly 2004, when he first obtained the truck. His 7.3L sports a main bearing girdle, half-filled block, billet rods (that are a decade old), de-lipped factory-based cast-aluminum pistons and a cam spec'd for sled pulling of all things. Fire-ringed, extensively-ported heads from Crutchfield Machine mean big airflow and somewhere around 900rwhp is possible before nitrous is introduced. Competition-ready Unlimited Diesel Performance 455/400 hybrid injectors, a Gen3 high-pressure oil pump and a high-flow fuel supply system based around the use of an Aeromotive A1000 keeps both the oil and fuel side of the HEUI injection equation happy. A single S480 from KC Turbos crams 70 psi of boost into the engine.
Tube Chassis, QA1's and Stock Axles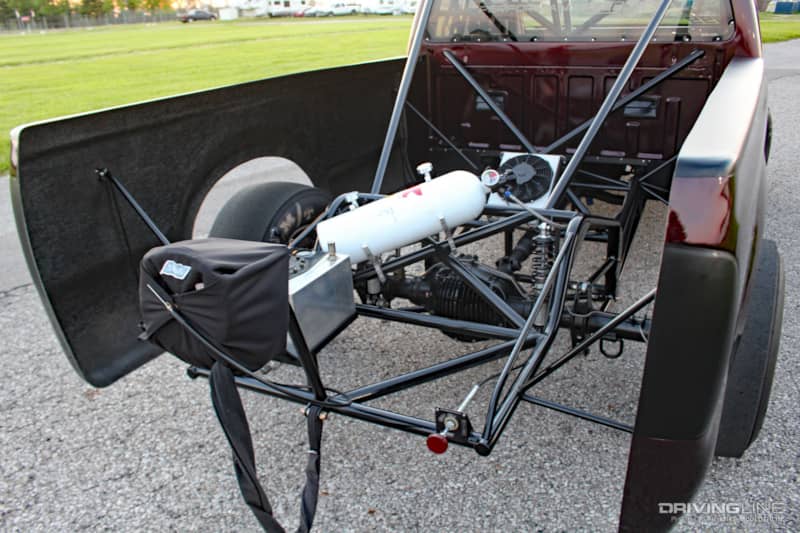 Worlds away from the 6,300-pound steel bodied Super Duty it used to be, Brian's F-350 tips the scales at 4,050 pounds thanks to fiberglass doors, bedsides, front clip, Lexan and a chromoly tube chassis. The tube chassis, front and rear four-link and turbo system work was performed by Paul's Custom Fabrication and Machine. A few remaining items from the original Super Duty include the front Dana 60, rear 10.5-inch Sterling and the 4R100 transmission. The axles have been left alone, but the four-speed automatic is the toughest version Twisted Diesel Performance builds.
Rick Fletes' Streetable, 8-Second-Capable Duramax Chevelle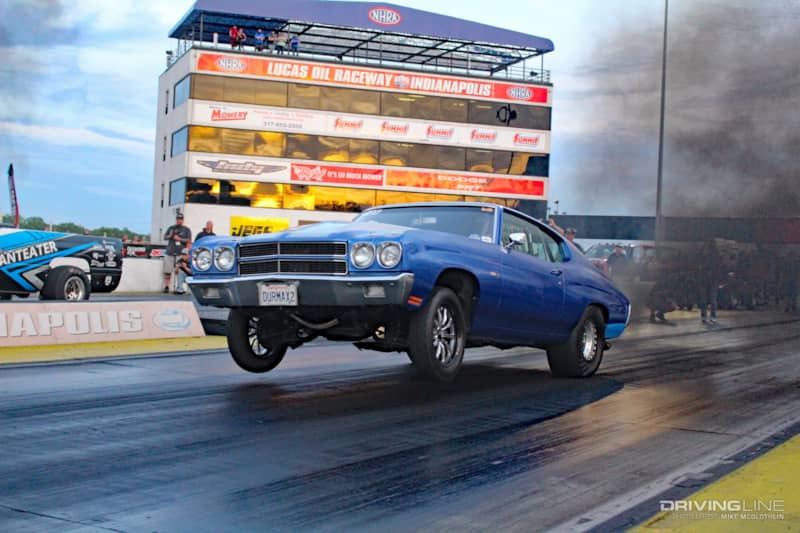 You've read about Rick Fletes' '70 Chevelle on DrivingLine in the past, but this Duramax-equipped muscle car is essentially brand-new for 2021. Not only is it a beautiful shade of blue now, but a built LB7 Duramax resides under the hood (as opposed to the stock internal engine Rick used to campaign). Surprisingly, Rick hails from California—which no doubt makes the logistics of competing at Midwest and East Coast ODSS events a bit complex. But when Rick's in town he's lights-out, nearly taking the win at the Outlaw Diesel Revenge event in Indy. Following his runner-up finish there, Rick stuck around for Summit Racing's Midwest Drags, where his full weight, air-conditioned Chevelle went track-to-track putting up 10.0 quarter-miles and then ended the Drag Week-style event with an 8.98-second blast at 152 mph.
A Fairly Simple, 1,200+ HP Duramax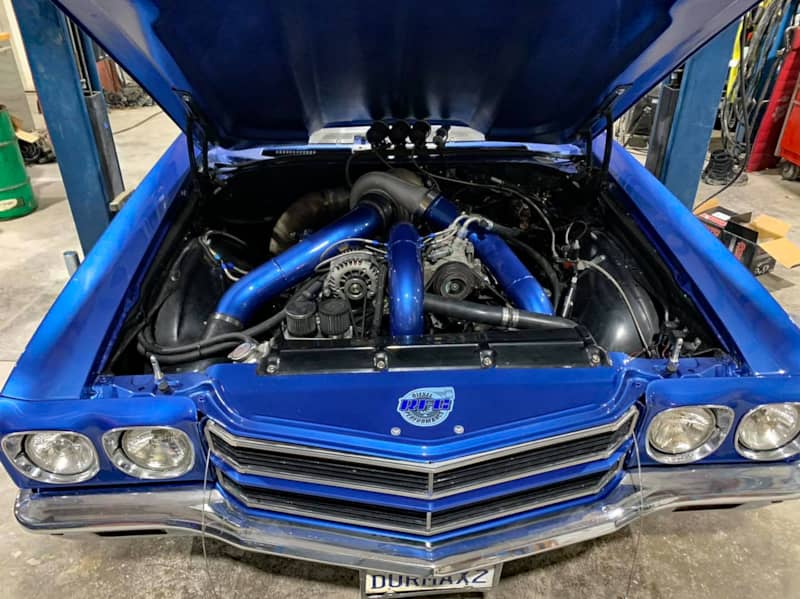 So what does it look like under the hood of an 8-second diesel Chevelle? Honestly, it's nothing crazy. Rather, it's a setup that's been proven to work. A single S400 from High Tech Turbo feeds the engine boost—and it's a Duramax that Rick built himself thanks to a host of SoCal Diesel parts. The LB7 benefits from upgraded rods, fly-cut Mahle cast-aluminum pistons, a better cam, stronger pushrods, stiffer valve springs and factory (un-ported) cylinder heads. S&S Diesel Motorsport answered the call on his fuel system, providing a set of healthy competition injectors and a 14mm CP3.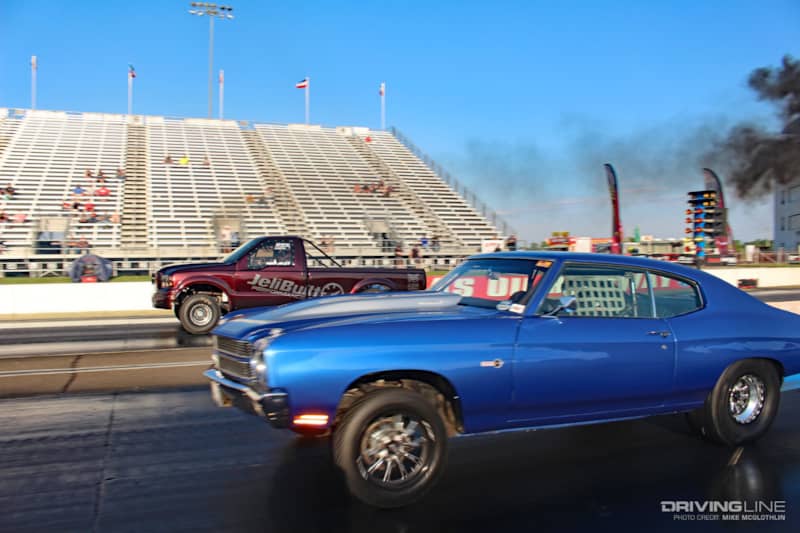 More From

Driving Line
Still haven't made it out to an ODSS drag race? Take a look at one of the trucks that runs the circuit: the world's only 3-second diesel.