A Do Anything, Cummins-Swapped, Four-Door '79 Ford F-250
For classic Ford truck enthusiasts like Hunter Clark of Sturgis, Michigan, finding and building a Dentside F-250 Crew Cab is the ultimate dream. They are highly in demand due to the fact that the majority of these trucks only had two doors as they were originally designed to be dedicated workhorses that were not driven casually like their modern counterparts. With a limited number of these trucks out there, they have become very desirable for both collectors and customizers.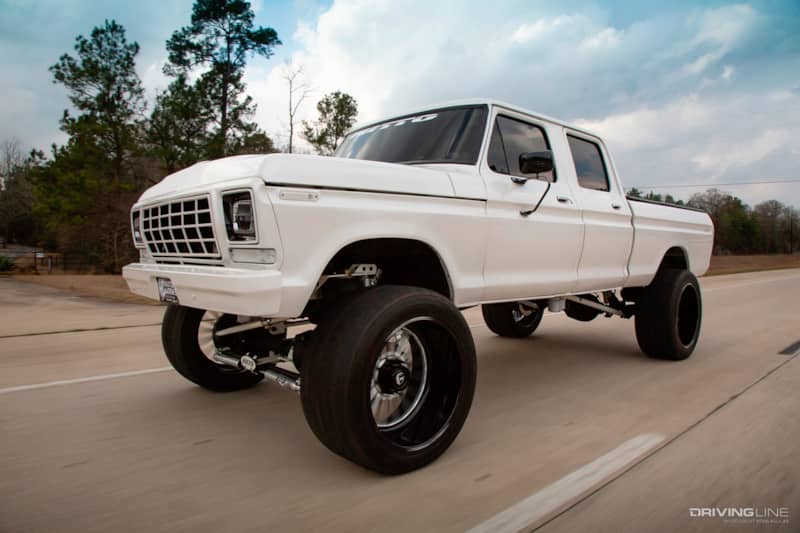 Tracking Down the Right Truck
Finding a four-door Dentside is like winning the lottery as they are very rare, and Hunter even had a difficult time tracking down a good one. In fact, this is his second one as his first was not in a buildable condition. When he found this '79 F-250, it only consisted of a cab and a frame. He then had to find a front clip and bed to complete the body.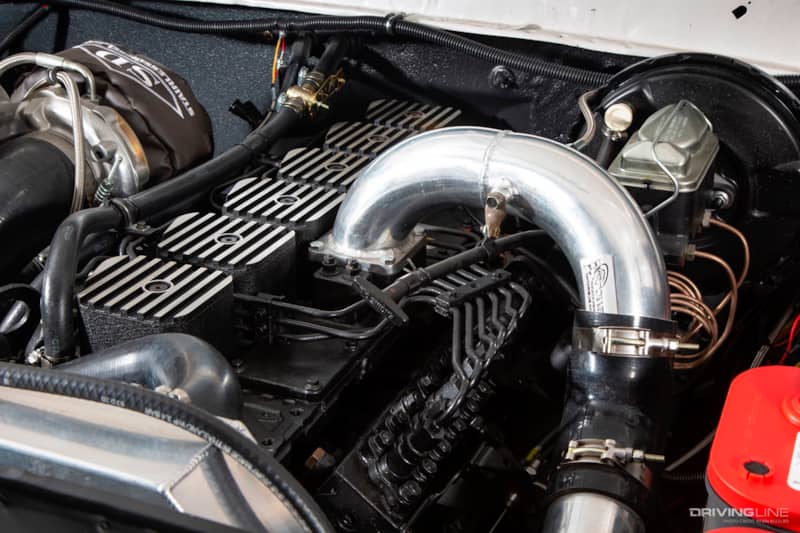 Making it a Fummins
Since the truck was basically a blank slate, Hunter saw this as an opportunity to make this truck something better than original. He then purchased a 5.9L 12-valve 6BT Cummins diesel engine that he thought was ready to run but the deal was too good to be true. After discovering water in the engine, Chad Lindsey of Legendary Diesel Performance tore it apart for a full rebuild.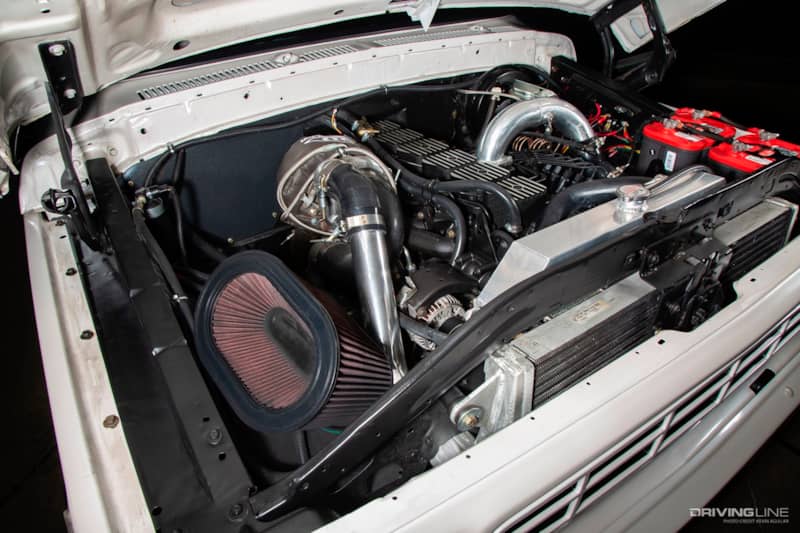 Feeding the Fury
Now in the truck, the Cummins engine is fed by a custom tank and Fass Diesel Fuel Systems 200 GPH lift pump. The power has also been boosted by a compound turbo kit by Diesel Power Source, all while spent gases are released by a custom 4-inch exhaust with 7-inch stack in the bed. Power is pushed to the Dodge 47RH transmission and on to the divorced NP205 transfer case. To equal length driveshafts then move power to the 2006 Ford F250 Super Duty axles.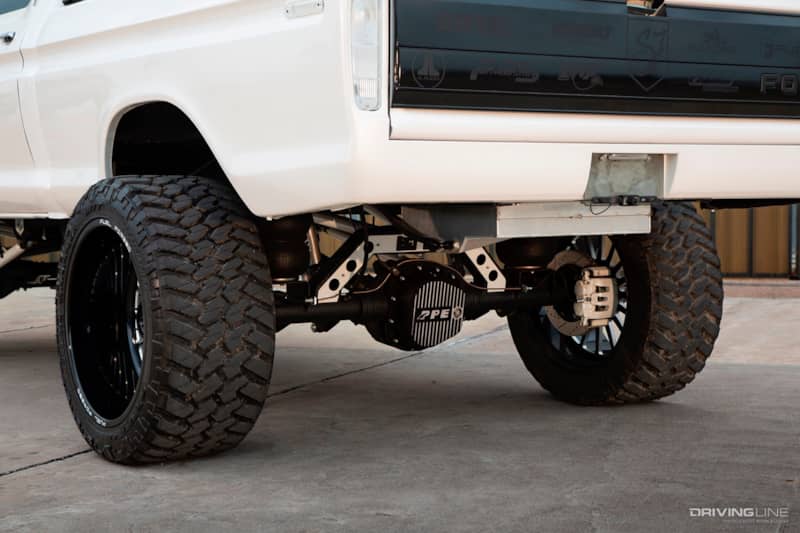 Altitude Adjustment
With help from his brother Paul "Tyler" Clark at Clark and Smith Fab, this truck received a custom airbagged suspension that gives it up to 10-inches of lift. Making this possible, they used a suspension calculator and Tyler drew up a front three-link along with a rear four-link in CAD and had everything cut out on a plasma table. The suspension now uses a set of Fox 2.0 reservoir shocks and 5,000lb double convoluted airbags that are supplied air from an AccuAir ENDO tank that is controlled by an e-Level management system.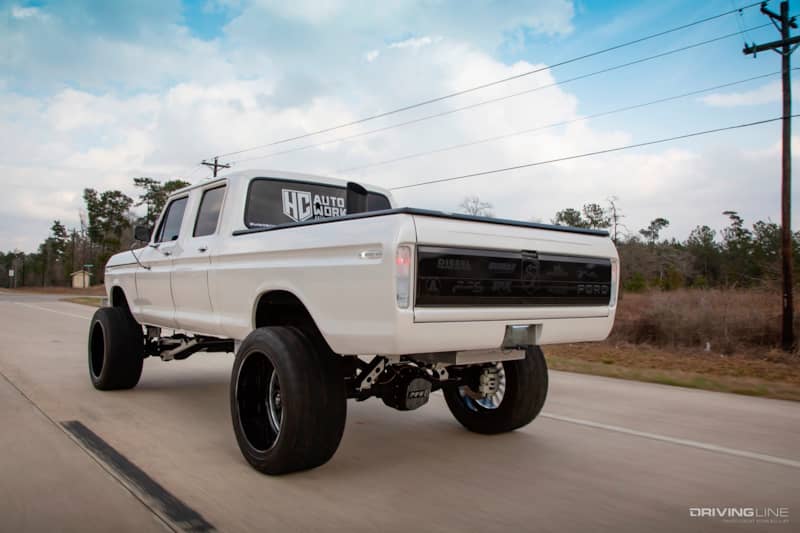 Upping the Game
Bringing the truck to the next level, the exterior was finished out with a modern look. Runges Auto stepped in to smooth the body and coated it in Tri-Coat pearl White, which was used with inspiration from Hunter's 2013 F250 that has that same color. To add even more style, a pair of GE LED headlights were installed along a set of AFT Parts clear marker lights and taillights.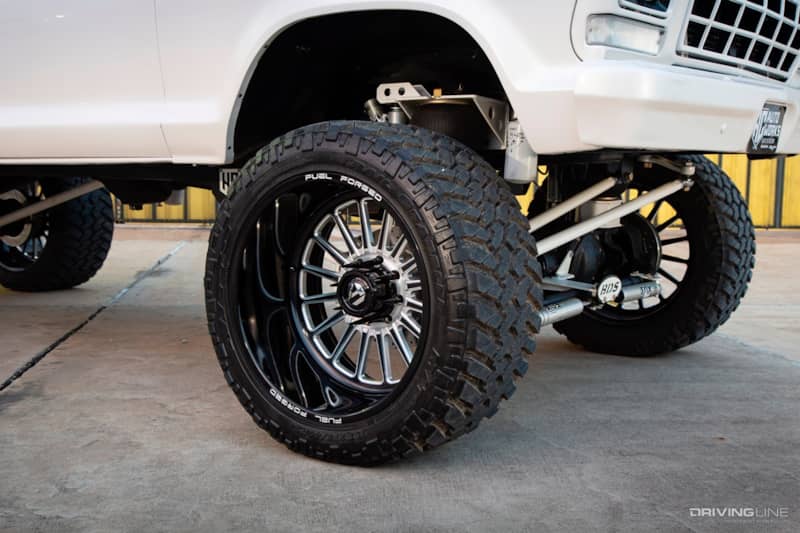 Form and Function
To further modernize the truck, Hunter added a set of 24x12 Fuel Off-Road FF75 forged wheels in gloss black with milled finish. They are covered in LT375/40R24 Nitto Trail Grappler M/T tires that help keep traction off-road and also ride quietly on the road. Hunter choose these tires in this specific size as they have plenty of sidewall and tread width to be aired down for use at his local sand dunes.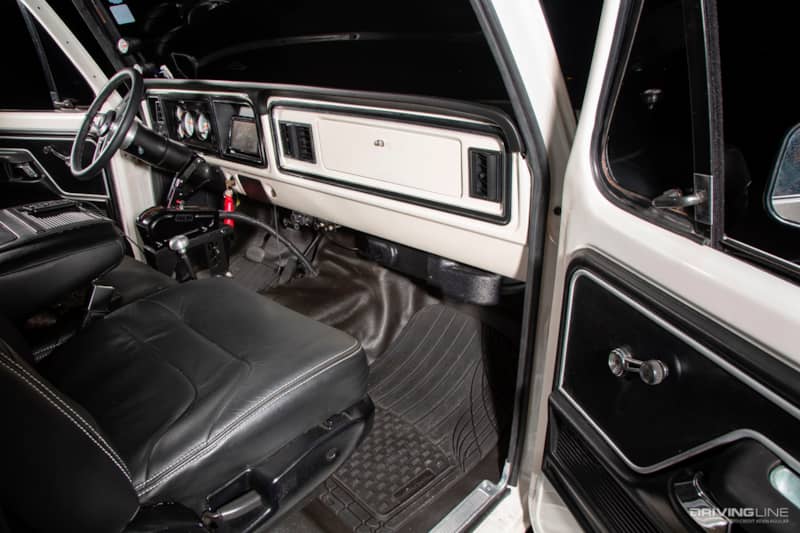 Creature Comforts and More
One of the key features of this truck is the four-door cab, which is a big space to fill. Hunter was lucky enough to find all the original door panels and then upgraded the seating with two sets of front seats from an '96 OBS Ford F-250 and covered them in Katzkin leather. On the dash is a set of Auto Meter gauges and a Pioneer double din head unit that controls the JL Audio sound system. Helping to pilot this tuck is an Ididit steering column and B&M shifter with Far From Stock bracket.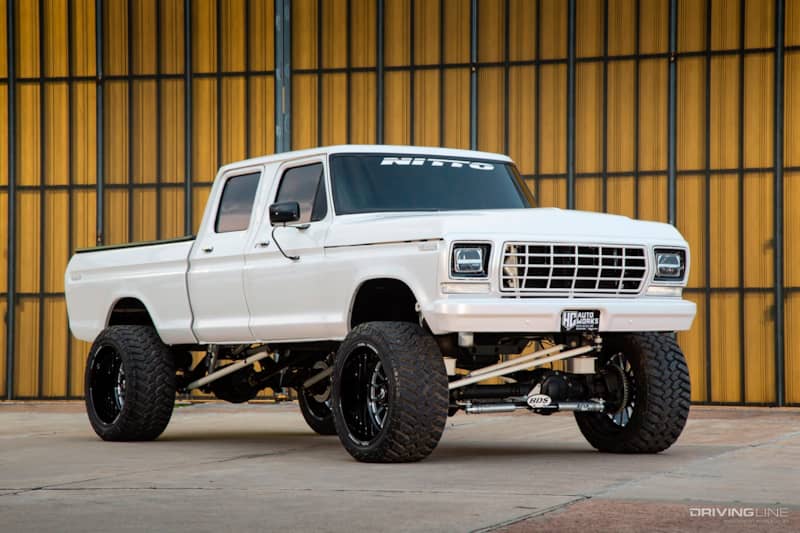 Winning Formula
Although these trucks are hard to come by, Hunter was able to find all the right pieces to build this incredible F-250. In the process, he was also able to make it his own with a modern twist. Since Hunter is a family man, this truck helps serve the purpose of hauling everyone around and also having the ability to play. Trucks like these are simply winners all around.