Boats & Tows: Lifted '67 Chevy K10 That Shows Why Tow Rigs Should Go All Out
When it comes to hauling big loads, trucks are the vehicles that can get the job done. Though most opt for newer trucks that are easier to purchase and get into, they don't have the same style as other capable vehicles. For folks like Mark Bosak, life is too short to drive anything boring. He wants to grab attention, but he's not looking for worldwide prestige.
Big Boy Toys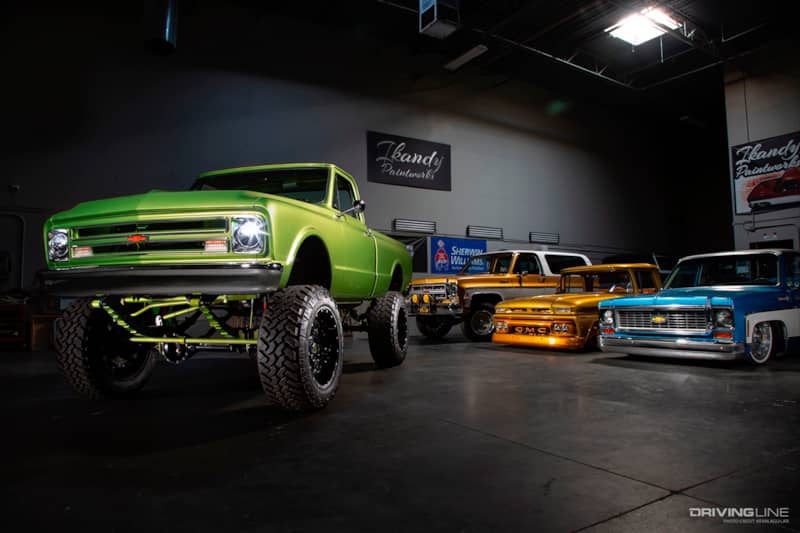 Having a successful career in the construction business, Mark has been able to create a life that has been enhanced with a few additions. Obviously, custom vehicles are a must, and Mark has a '67 GMC Truck that was slammed and completely reimagined. Additionally, he has a house in Lake Havasu, AZ and a 28-foot Eliminator Daytona boat to play around with.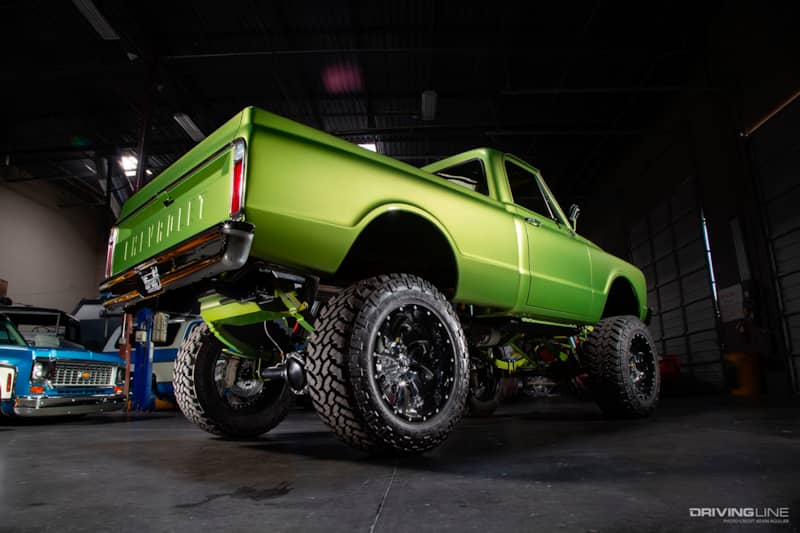 Since rolling around in style is Mark's thing, he needed a custom hauler to pull his boat ashore. Because he already has a lowered classic truck, Mark decided to have another built to stand tall. Moving forward, he purchased this '67 Chevy K10 (4x4 version of the C10) and had a shop start a mild build. Unfortunately, the shop dropped the ball on the work and Mark was simply not satisfied.
New Inspiration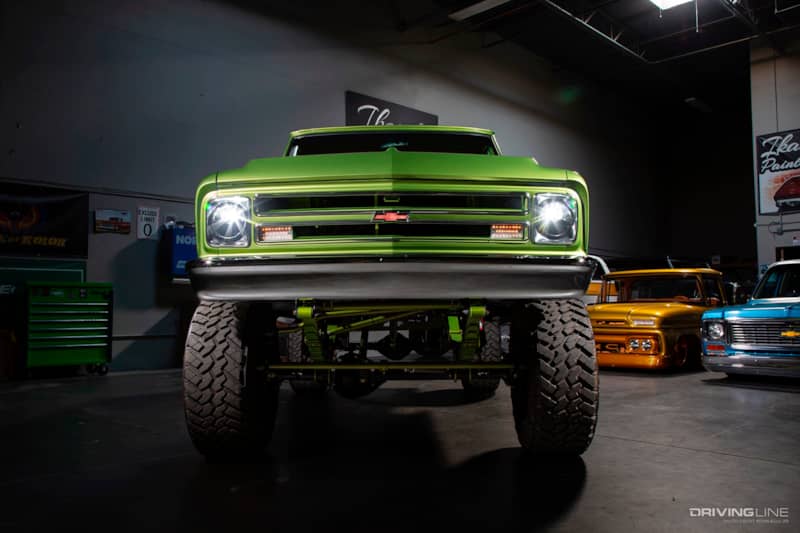 Luckily, he ran into an old acquaintance, Jeremy Rice, who used to be an architect and actually designed one of Mark's previous houses. When he stopped in at Jeremy's Peoria, AZ based shop, Tre 5 Customs, Mark was inspired by the high level of work. That was the moment Mark decided to pull his boat hauler project from the shop it was at and have Jeremy and his team complete it.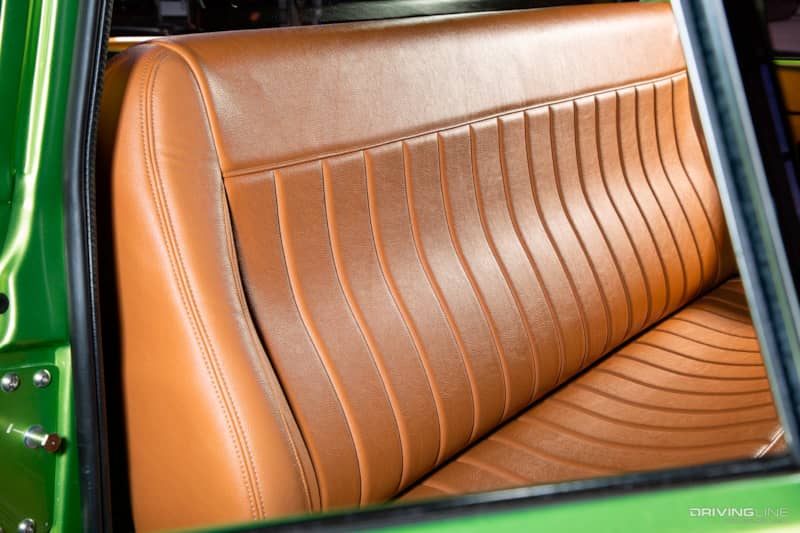 The truck was really supposed to be a simple build, but as Tre 5 broke it down and sandblasted the body, the crew found that there was more damage and inferior parts than they prepared for. Since they had taken the truck down to its bare bones, Jeremy suggested they go all out, and Mark agreed.
Size Matters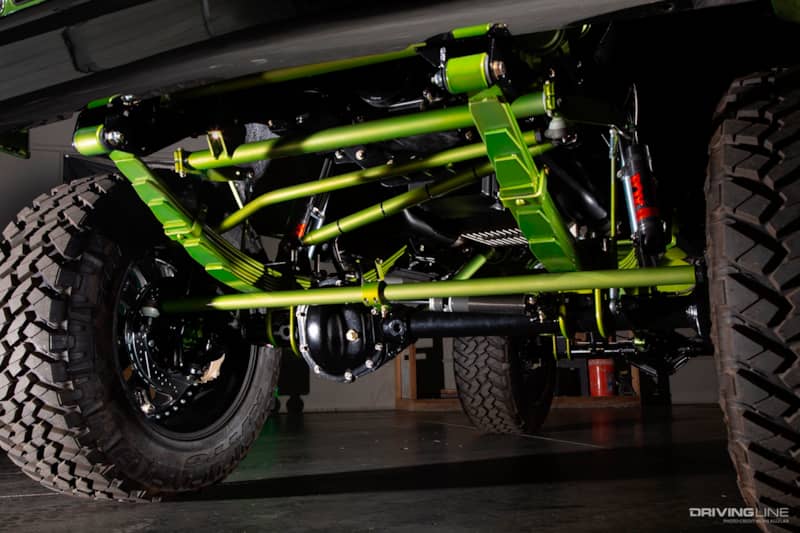 One of the most important parts of this build is the 9-inch lift, and Tre 5 improved the suspension with a set of custom leaf springs with hangers and Fox shocks to attach the factory axles that incase the 4.88:1 gears. Steering was tackled with a two-wheel drive box with a custom pitman arm, crossover linkage and Fox stabilizer. Lateral movement is minimized with a front pan hard bar, while a custom antisway bar made with Currie Enterprises parts helps lesson body roll when driving around corners.
Heart of a Beast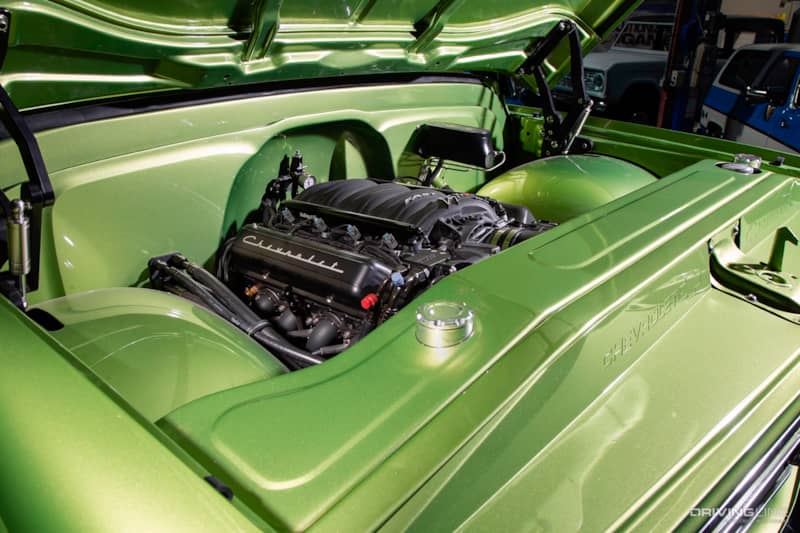 To power this monster of a pickup, the Tre 5 crew went with a trusted 416ci stroker LS3 engine built by Don Hardy Race Cars and added an All American Billet pulley setup. Rotational force from the engine is multiplied by a Hughes Performance 4L80e transmission and split to the front and rear driveshafts via an Atlas transfer case. To counter all the power and bring it all to a halt is a set of Baer 14-inch brakes with 6-piston calipers and an ABS Power Brakes master cylinder.
Getting the Look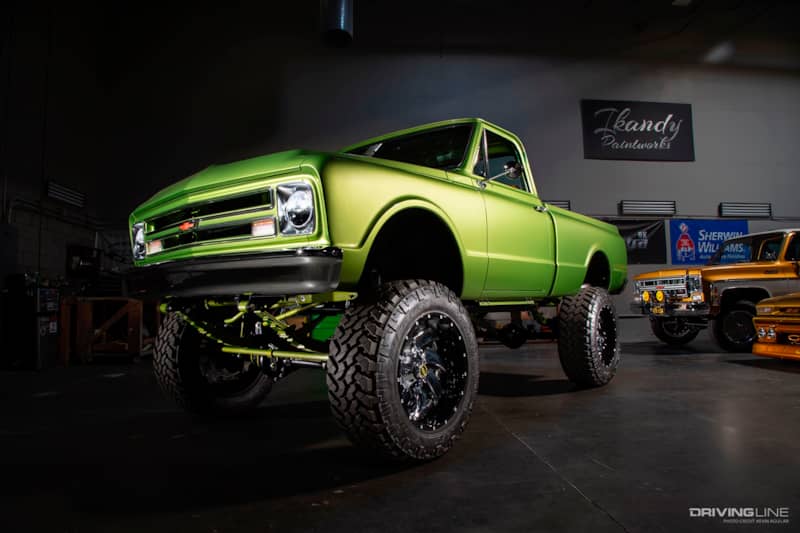 Whipping the truck back into shape, the usual problem areas like the rockers and cab corners were replaced. Then, the body was enhanced with smooth bumpers from Brother's Trucks, Amp Research Powersteps and a Tre 5 tailgate latch kit. Under the hood, the firewall was shaved, a custom radiator cover was added and a set of Mild Slosh Tubz were implemented.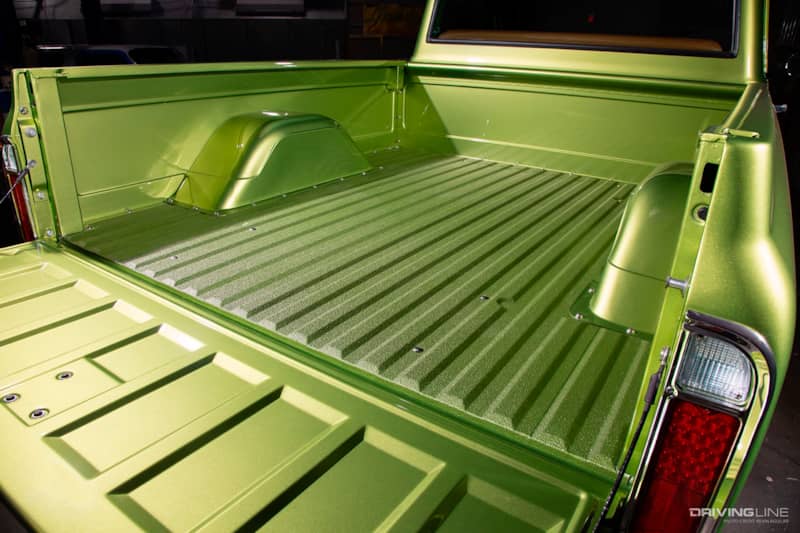 With the body repaired, the truck was sent next door to Ikandy Paintworks, where it would get its distinct new look. After it was worked laser-straight, Frank Rechlin sprayed it in a custom metallic green made from Sherwin Williams materials. The bed even received a color matching spray-on bedliner that was created by tinting clear Raptor Liner.
Appearance Package
To dress up the exterior, GSI Machine & Fabrication billet door handles were added along with United Pacific lighting and a custom hidden taillight fuel filler. In order to keep this flow going without any distracting pieces, Tre 5 made a custom hitch that tucks right under the bed along with a train horn system. This was done to ensure this truck functions for its intended purpose while maintaining a clean appearance.
Rolling Deep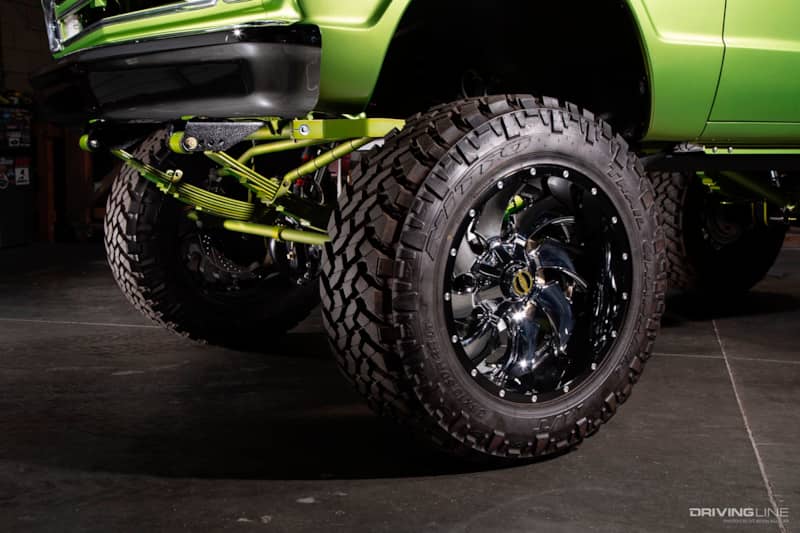 Completing the look and function of this hauler is a set of 22-inch Fuel Off-Road Cleaver D574 wheels with gloss black and milled finish. The wheels were covered in 38x13.50R22LT Nitto Trail Grappler M/T tires that have an in-your-face look with quiet on-road performance. Of course, the aggressive tread pattern of these tires will help this truck get through any areas with loose terrain if Mark ever needs to traverse them.
Form and Function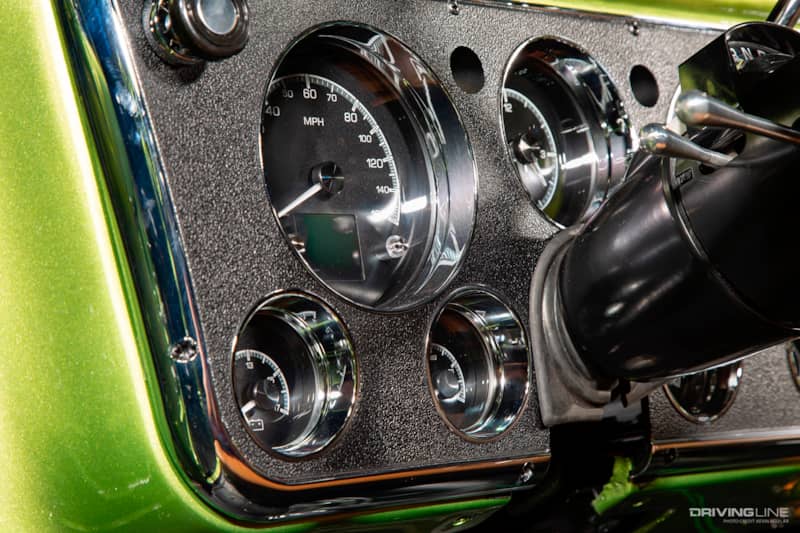 Inside the cab is a host of goodies that have completely upgraded the driving experience. Up front is a set of Dakota Digital HDX gauges and an Ididit steering column with a Billet Specialties wheel. Taking things further, Elevated Design added custom door panels, a dash pad and a Snowden seat, which were all covered in tan leather. Topping off the interior is a Restomod Air Haymaker climate control system, which is a must for hot summer days in Arizona.
Getting the Most out of Life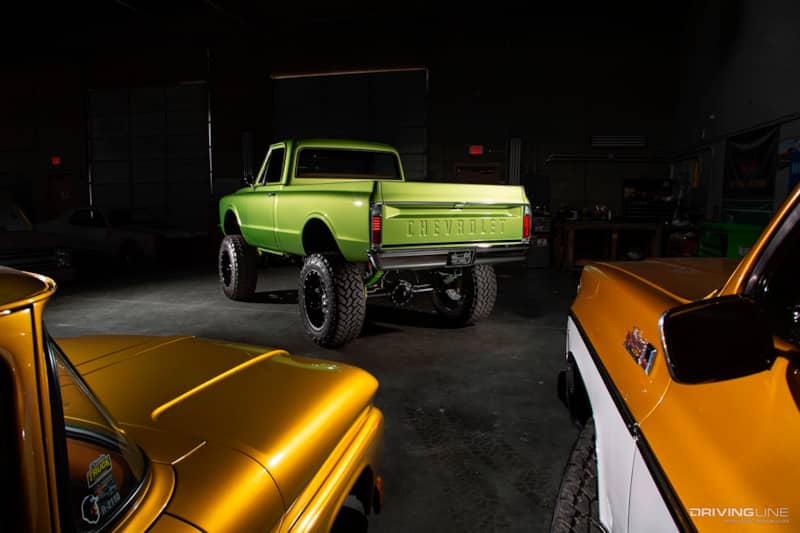 In the end, Mark ended up with a truck that was much more custom than originally anticipated. Not only does it stand out more, but it is definitely more capable and able to tow his boat with ease. With all the work done, this truck goes to show that even tow rigs can be turned into rolling pieces of excitement to keep life interesting.
More From

Driving Line
Want to see more gorgeous custom classic trucks? Then you need to see Cinderella.