A Ford F350 Power Stroke Built with No Apologies
There's nothing quite like a built truck, and in Colorado, those that are built are built not only for looks, but also utility. Avid wheeler and "big truck" enthusiast, Monica Coakley, is no stranger to this concept, and when it comes to her full-size pickup, there's no question about bigger being better.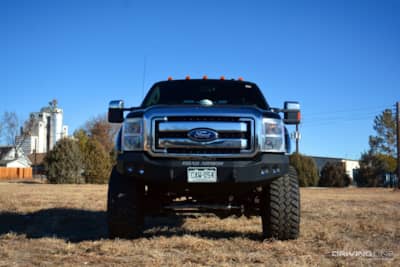 Coakley is a CrossFit athlete who loves working out and competing in Strong Woman competitions, so she knows that building something from the ground up provides the best results. So when she acquired her 2011 Ford F350 five years ago, the modifications quickly began.
Admittedly, the truck was "used and looked ridiculous" when Coakley purchased the truck, slating it to be her family's extra vehicle. With an 8-inch lift, stock wheels and tires, and a camper shell on the back, the truck was in embarrassing shape. But this quickly changed thanks Coakley and her husband's mechanical knowledge and love for building off-road and utility vehicles. The truck now rules the roost as "Mommy's Ride."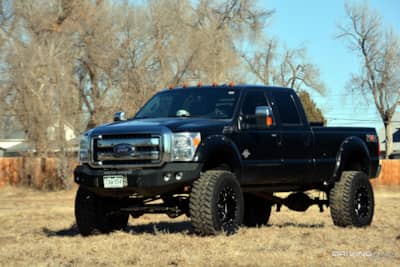 Trucks, Jeeps, and Crawlers
Coakley is no newbie to the built truck and Jeep scene. Her and her husband Rob enjoy not only building utility vehicles, but also wheeling them in Moab and taking them and the family to the dunes. Over the years, Coakley has had a number of built rigs, from a 2012 MegaCab and a 2007 Chevy 1 Ton, to a 1997 Dodge Truggy and the completely custom "Boobie Bouncer" built by Coakley's husband, which was later featured in CRAWL Magazine.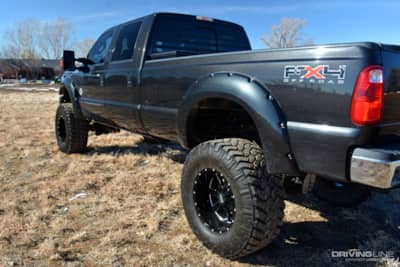 As the Coakley family grew, bigger and better machines came into play. Now the couple owns a number of big trucks including Coakley's F350 and her husband's professional welding truck, an awesome 2013 Jeep Wrangler Sport (keep an eye out for a feature on it still to come!), RZRs, dirtbikes and various other projects. Of course, her truck is the queen of the castle!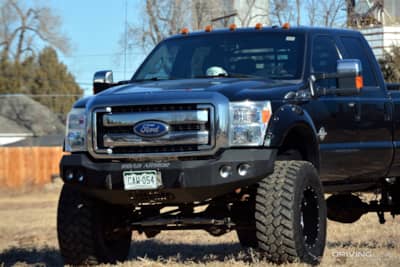 Built to Be Driven
This truck is no show queen, however—it's built to be driven. And drive she does with her 40X15.50R20 LT NITTO Trail Grapplers. "The day after we bought [the truck], I took it to M&O Tires and asked them to fit a set of 40s under it," Coakley told us. "With a little bit of trimming we were able to make them fit."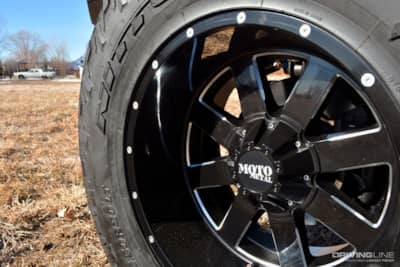 "By far the best tires I've ever had," Coakley exclaimed when asked about her Nittos. "They look tough and they perform even better!" Spinning the Nittos rubber are 20X12-inch Moto Metal wheels, a significant upgrade from the factory rims the truck came with.
Underneath the truck, you'll find the factory fair paired with fresh FOX 2.0 shocks with reservoirs on all four corners and a G2 Axle & Gear rear end. Of course, we can't forget the 8-inch Skyjacker lift the truck is equipped with, giving it plenty of ground clearance and that beastly look.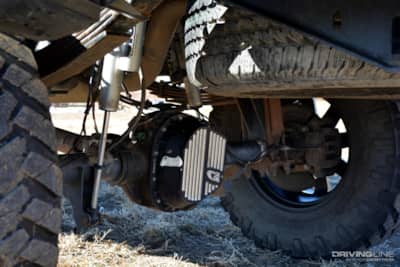 If Looks Could Kill
We fell in love with this truck the minute we spotted it. Not only is it big and demands attention, it also has the right add-ons without going over the top. This is thanks in part to 4 Wheel Parts, one of Coakley's sponsors and favorite auto accessory companies.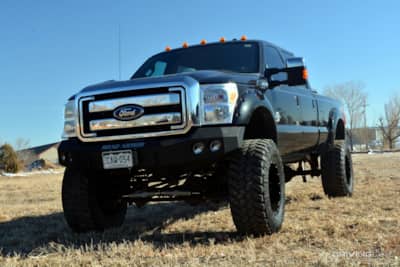 Finished in Ford Tuxedo Black, the F350 is adorned with color-matched Bushwacker fender flares, a Road Armor front bumper, and AMP Research electric steps—one of Coakley's favorite additions to her truck. A WARN 10K winch also resides on the truck, although you won't spot it hidden behind the front license plate from afar. There's also the full leather interior, which adds a touch of luxury to the burly Ford.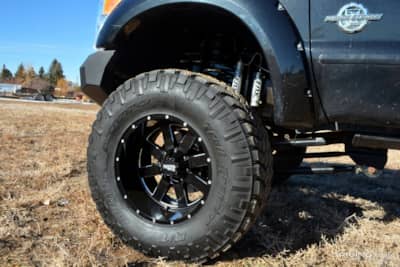 Don't Forget the Power
While you can mod out just about any vehicle you'd like these days, it takes one with the right bones to start with to really get it right, something Coakley chose wisely on when it comes to the pure power of this truck.
From the factory, the truck was equipped with a 6.7L Power Stroke Diesel engine. Under Coakley's care, that got upgraded with a H&S Tuner, which frees up another 50 to 150hp on the truck. So that means this truck is good for over 500hp and 800ft-lbs of torque.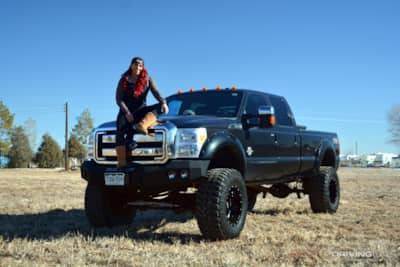 All-around, the perfect package of looks meets utility, this Ford F350 is certainly on this writer's wish list. Of course, that's not to say that it's done being modified. In the future, Coakley would like to give the truck a fresh paint job, new fender flares, and maybe some other performance add-ons. But for now, this queen is definitely worth her crown.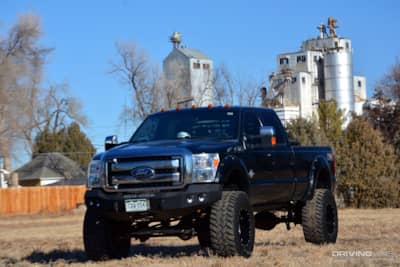 Coakley would like to thank her sponsors for making her truck happen and backing for backing her as an athlete: 4 Wheel Parts, R&M Welding and Fabrication, and Show Shine Detail.