To Smoke a Muscle Car…6.7L Power Stroke Edition
Bottom 13's by night, moving 20,000-pound trailers by day? Life is good for '15-newer 6.7L Power Stroke owners. With little more than an aggressive tune, you can transform your late-model Super Duty into a 4-ton missile at the track, while sacrificing zero reliability or drivability during the work week. It's a testament to just how far diesel technology has come over the past 10-15 years. With a few electronic tweaks and a free-flowing exhaust, the 6.7L's factory injection system, turbo and transmission can support 540rwhp and 1,100 lb-ft of torque. If this is the first you're learning about the performance potential trapped inside Ford's diesel V-8, you're in for a treat. Keep scrolling to see how much damage you can inflict on the pony car crowd.
You may be wondering why the '11-'14 version of the 6.7L Power Stroke is missing from our conversation? To enjoy the same horsepower gains with your '11-'14 Ford, you have to get around the stock turbo's immense airflow restriction. This can only be done by swapping to a '15-newer style turbo system or converting to a fixed geometry charger.
540rwhp Potential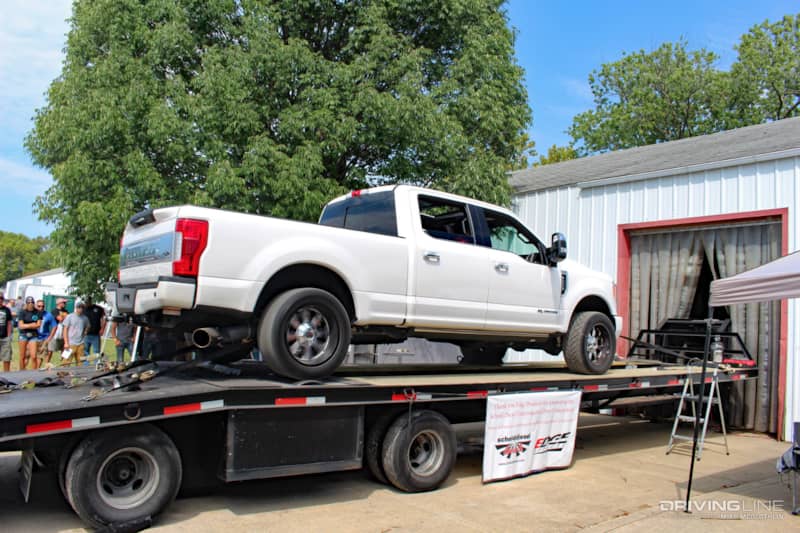 A tuned '15+ 6.7L can't match a 6.4L in terms of horsepower potential, but it's close. However, the '08-'10 Super Duty's that concealed the 6.4L were some of the heaviest trucks Ford ever produced, so the lighter overall curb weight of the newer Super Duty's definitely helps shed some tenths, making its roughly 50hp tune-only shortfall to the 6.4L much less noticeable.
Custom-Tailored Tuning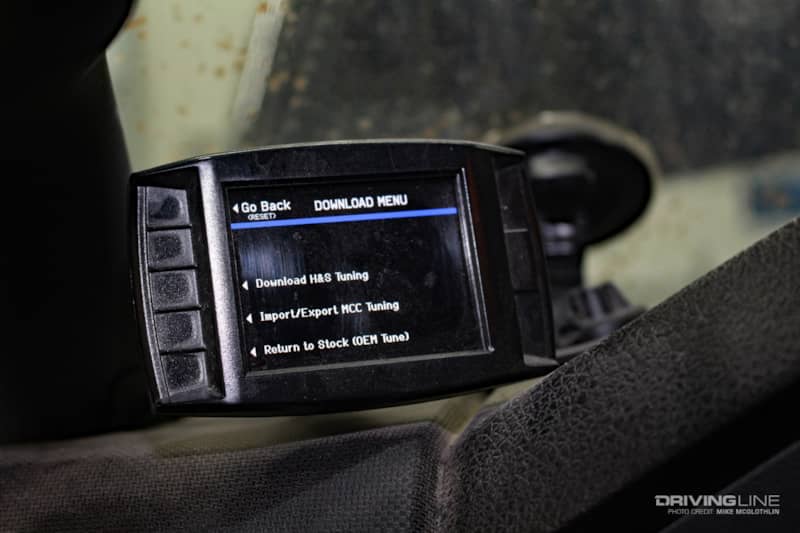 You have to marvel at how far diesel injection technology has come. Even though the high-pressure fuel pump in the Bosch common-rail system aboard the 6.7L Power Stroke moves considerably less fuel volume than the Siemens system did on the 6.4L Power Stroke, the 6.7L benefits from higher peak pressure (29,000 psi vs. 24,650 psi). The 6.7L's higher injection pressure equates to making more efficient use of the fuel it has. An aggressive custom tuning file uploaded to the PCM will call for more injection timing and injector duration (injector on-time) but will command just enough fuel so as not to drain the fuel rail (which causes rail pressure to dip and power to fall off). The result? Repeatably, 540rwhp and approximately 1,100 lb-ft of torque is the norm.
Mod #2 (of 2)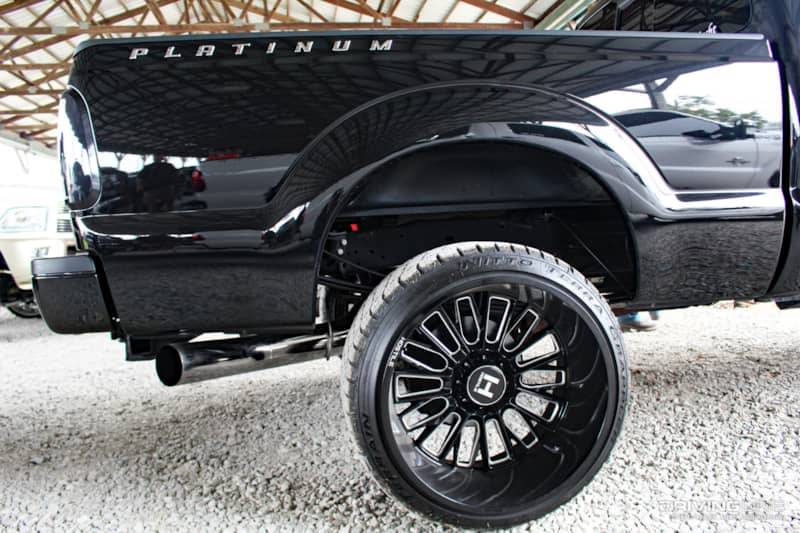 Uncorking the 6.7L Power Stroke's exhaust system is the only other modification your Super Duty will need. For sub 700rwhp applications, the exhaust's diameter doesn't matter, so 4-inch or 5-inch will suffice. That's it. Grab a cold air intake system if you want, but it's not absolutely necessary to let your 540 ponies out to play. For a couple grand invested (yes, the 6.7L's few power-adders are pricey), you're all set.
No Need To Change Anything Else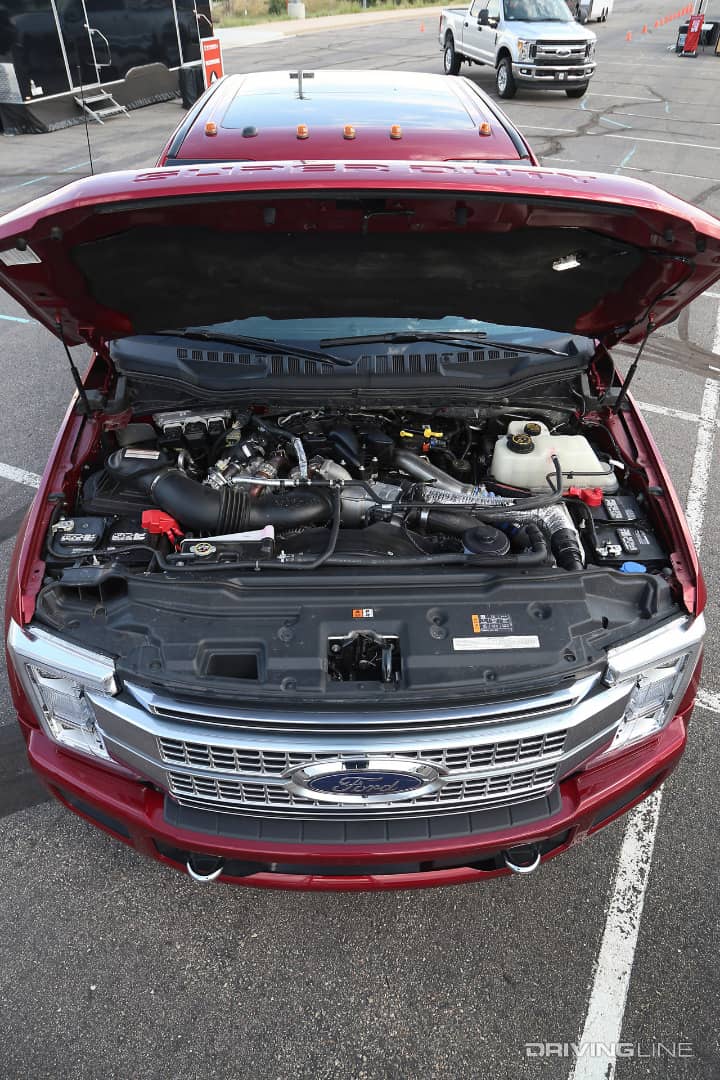 Then, just like the 6.4L Power Stroke, the rest can be left stock. Yes, stock-stock. Untouched engine, no fuel system mods, aftermarket lift pump or turbo upgrade. Simply enjoy your 540hp/1,100 lb-ft tuning, which will be refined enough to drive like stock—allowing you to carry on with your day-to-day towing chores.
6R140 Auto—Even Tougher Than The 5R110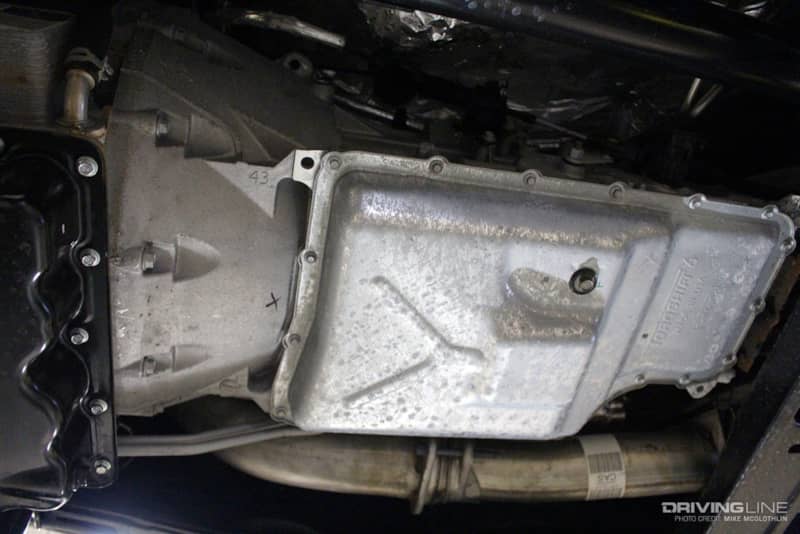 In addition to leaving the engine and fuel system (from tank to injectors) alone, the same goes for the factory 6R140 TorqShift automatic transmission. The one caveat here is to opt for transmission control module tuning, better known as TCM tuning, at the same time you flash the engine computer (PCM). Then the electronically-controlled six-speed auto will be fully prepared for the torque increase it's about to see. Ford's 6R140 is known to tolerate more than 600rwhp indefinitely, and even as much as 650rwhp for quite a while before problems surface.
Race In Four-Wheel Drive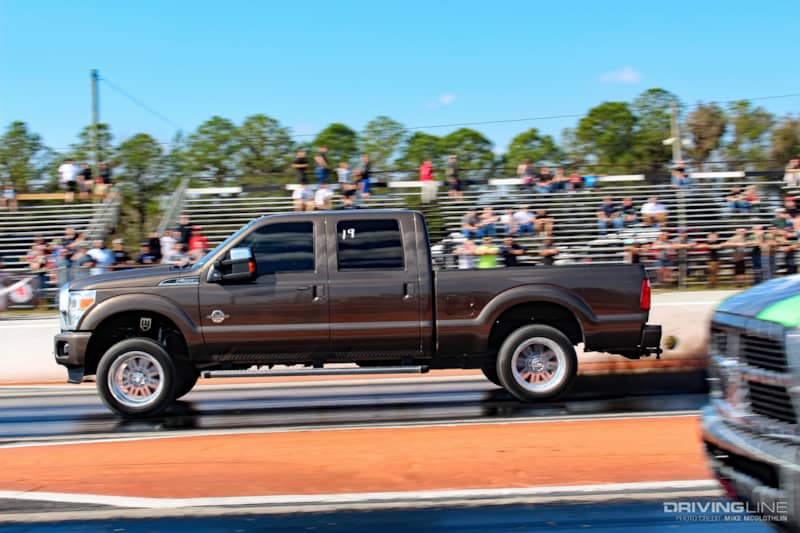 If you want to get the most out of your tuned 6.7L when it counts, engage the high side of the transfer case at the track and leave the line with double-digit boost in reserve. Don't worry, your truck's axles, transfer case and suspension can endure the shock load of a boosted launch at this power level just fine. When staging, simply power-brake the truck and try to leave with 10-12 psi of boost on tap. If you experience any front-end hop, leave with a little less boost on the next pass.
Low 13's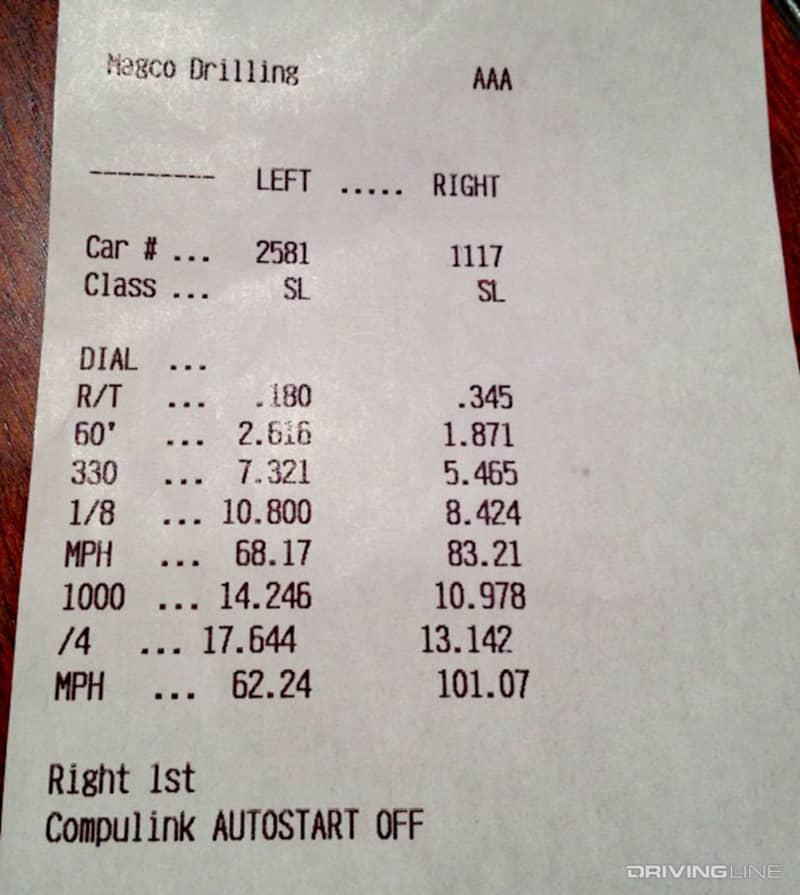 Following the aforementioned boosted four-wheel drive launch procedure, 1.8-second 60-foots are common for tuned Super Duty's despite their heft. On this pass (right lane), the crew cab short bed '16 Ford F-350 obliterated its competitor in route to a 13.1 at 101 mph. The same 7,600-pound Super Duty cleared 545 hp on the chassis dyno prior to visiting the local quarter-mile. Could a regular cab configuration have dipped into the 12's? We'd say it's pretty likely.
12-Second Assurance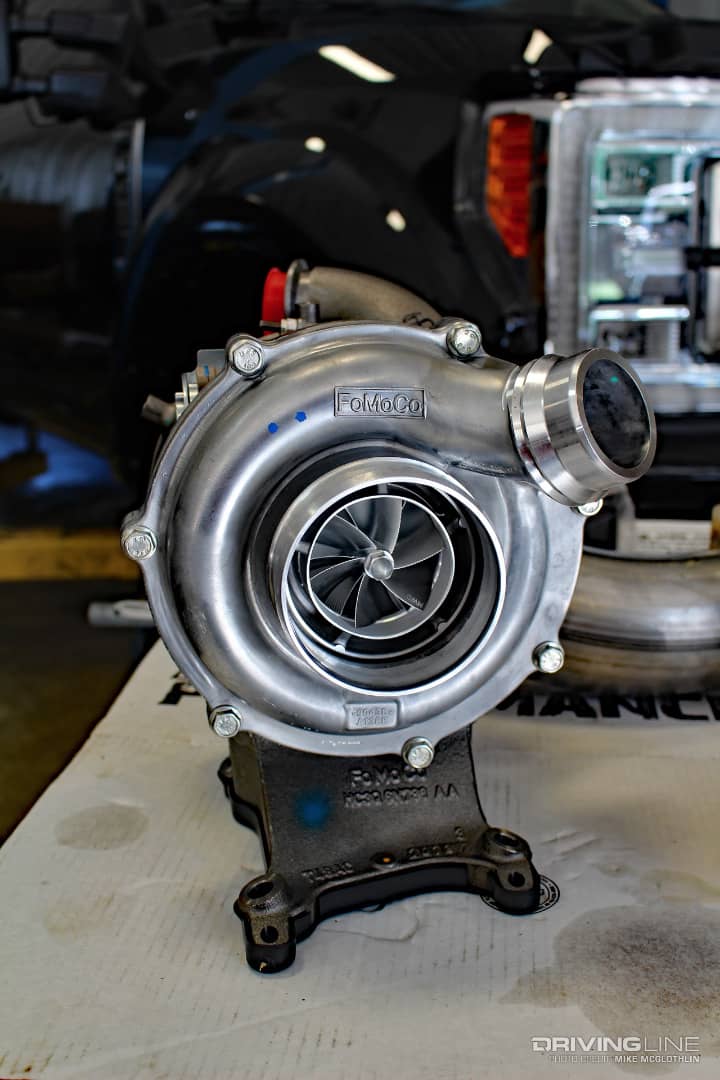 To guarantee a trip into the 12's, a turbo upgrade will be in store. A drop-in 66mm VGT, built on the same platform as the factory Garrett GT37, has proven capable of adding 50 hp to a tuned '15-newer 6.7L Power Stroke's bottom line. And being that it retains its variable geometry turbine technology, the larger turbo comes with no trade-off in drivability. Not only can this direct bolt-in replacement turbo option get you into the 12's, but you'll also be knocking on the door of 600rwhp. Not bad for less than a handful of mods!
More From

Driving Line
Curious what it takes to get the 6.4L Power Stroke into the 12's? The list is short and sweet—and you can find it here.