A Tale of Two Tacomas: An IFS vs Solid Axle Comparison
Which is better on the trail, independent front suspension (IFS) or a solid front axle? It's a question as old as time itself, but it is challenging to answer since no single vehicle comes in both configurations. You can compare a Jeep Wrangler to a Ford Bronco, but there are many variables beyond just the front suspension and axle. So, what if you could take out two of the same vehicles and compare them head on? And you did it in Johnson Valley at the famous Hammer trails? You aren't dreaming, we did just that with Chris Goss and Nick Maher in their Toyota Tacomas.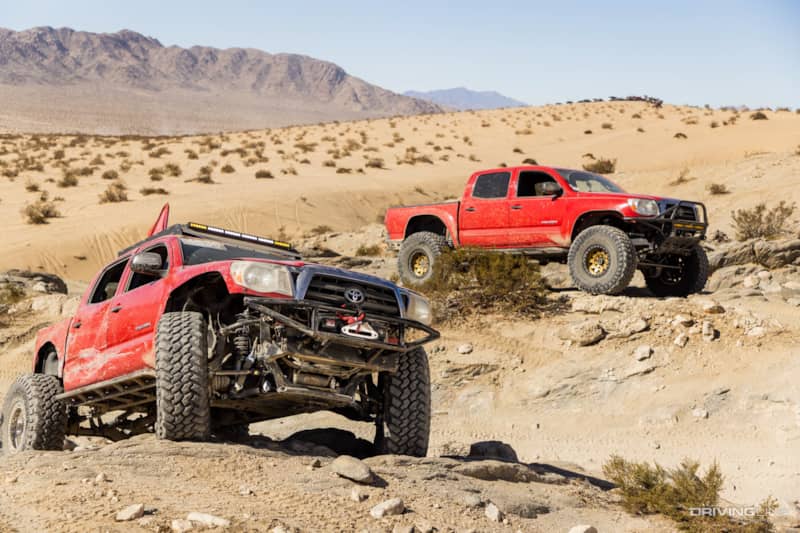 Starting Out Equal: Tacoma Drivetrains
Before we talk about the differences, let's talk about the similarities. The Tacoma platform is one of the most popular for off-road use, from bone stock to heavily modified. Both trucks are second generation Tacomas (2005-2015) in a crew cab, short bed configuration. They both retain the stock 4.0L 1GR-FE engine, factory A750F automatic transmission, and original chain drive transfer case. Heavily trimmed sheetmetal on both trucks makes room for 40x13.50R17LT Nitto Trail Grappler tires on beadlock wheels, so the variable between the two trucks is limited to the suspension and axles.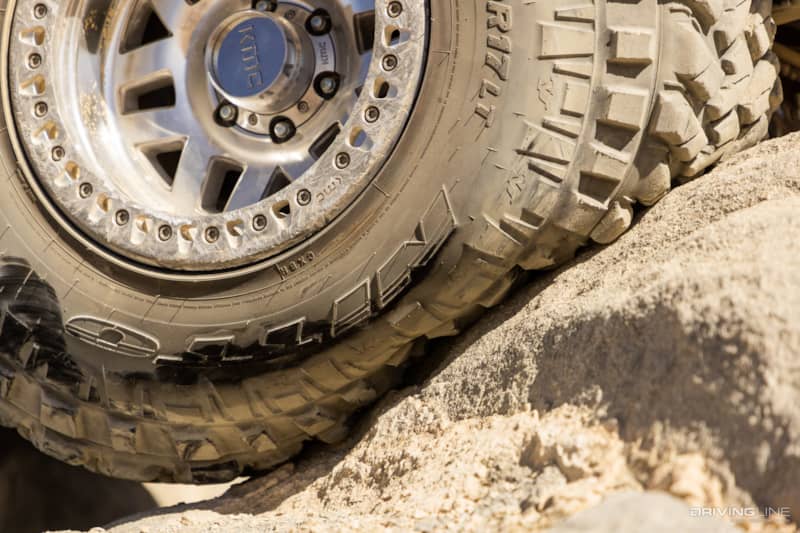 The IFS Tacoma
Independent front suspension uses a differential fixed to the chassis with constant velocity (CV) joints that connect the axle shafts to the knuckles. Chris Goss's 2006 Tacoma retains the factory 8-inch clamshell front axle, but the Automatic Disconnecting Differential (ADD) has been eliminated for a one-piece tube and axle shaft from an FJ Cruiser. The axle is filled with 5.29 gears from East Coast Gear Supply and an ARB Air Locker.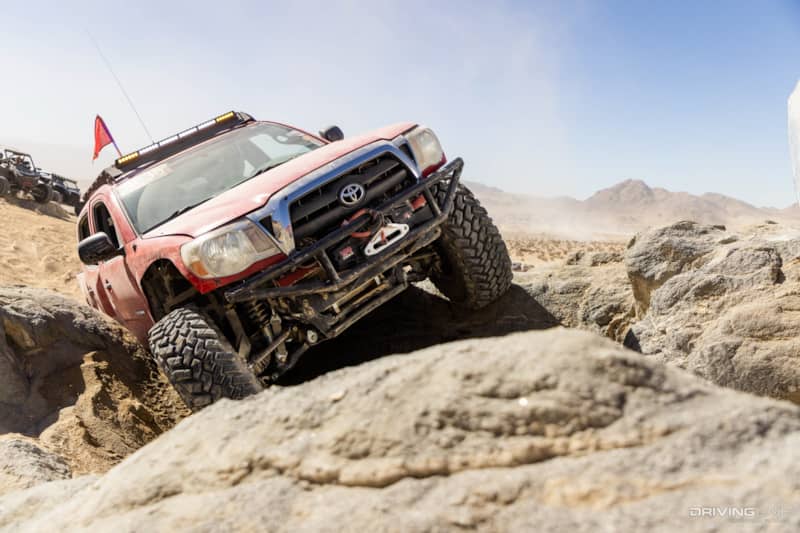 Perhaps surprisingly, the front suspension uses stock length arms; the uppers are from Tuff Country and the lowers are factory arms with Whiteline urethane bushings. Chris gets 10-inches of useable wheel travel out of Bilstein 5100 coilovers with Old Man Emu 886 coil springs that have a 660 lb-in spring rate. Bump stops from Wheelers Off-Road keep the tires out of the fenders and limit straps from Ruff Stuff Specialties keep the CV axles from binding.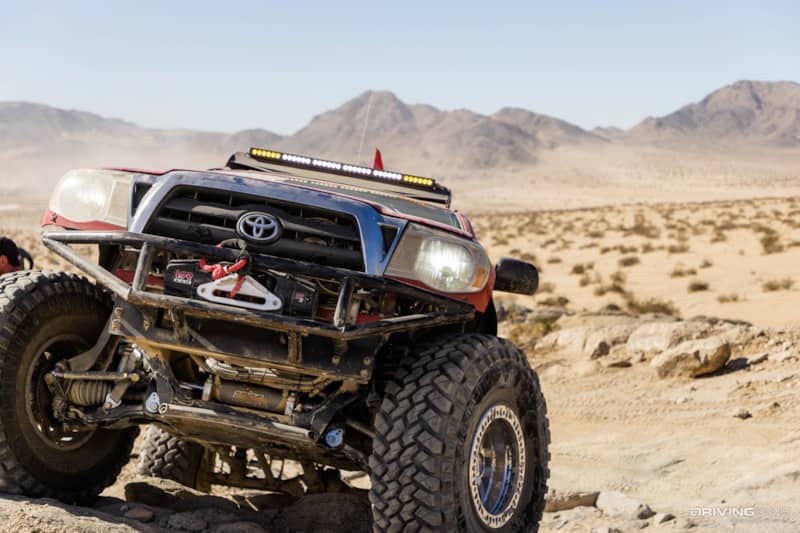 The front suspension has been beefed up with Camburg fabricated spindles, Total Chaos Fabrication double sheer gussets for the upper control arms, and JD Fabrication's lower arm pivot kit. Even with 33-inch tall tires, Tacomas have issues running into the cab mount and pinch seam at the rear of the front wheel well. As you can imagine, 40-inch Nitto Trail Grapplers take a lot of work to clear. The JD Fabrication kit consists of new laser cut ¼-inch lower arm tabs that are welded to a cradle constructed from 1 ½-inch .188-wall tubing. The cradle moves the lower control arms forward by one inch, increasing caster and providing additional tire clearance.
The Solid Axle Tacoma
Nick Maher's Tacoma uses solid axles from an '04 Ford Super Duty that are readily available in wrecking yards around the country. Why not an '05+ Super Duty front axle with larger brakes and unit bearings? "The packaging for the earlier axle makes it much easier to clear the oil pan and maintain uptravel," Nick explained. The high pinion Dana 60 has been upgraded with 5.38 gears, an ARB Air Locker, and 35-spline chromoly axle shafts and Super Joints from Yukon Gear.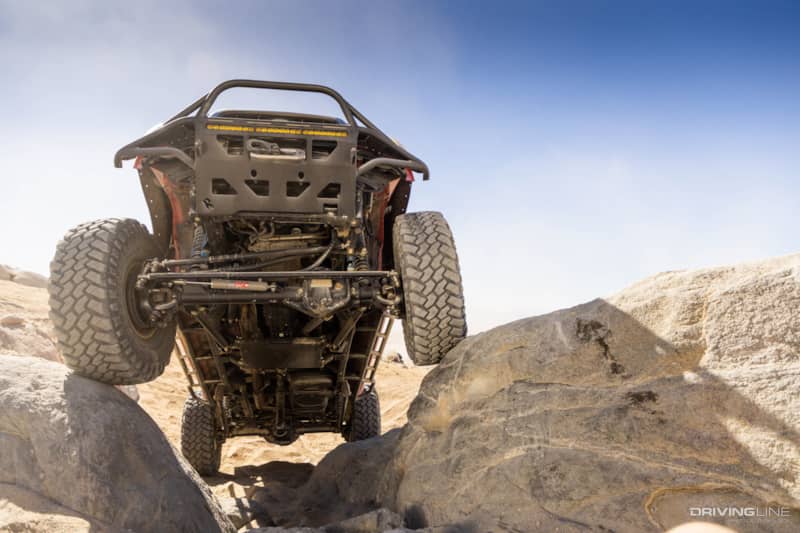 While Chris chose to add individual components from a variety of manufacturers, Nick's front suspension is one that you can "add to cart" under a single part number. In fact, Nick offers a complete solid axle swap kit through his company Martec Engineering. Nick has countless hours put into designing the three-link suspension to ensure that the packaging maximizes uptravel without an excessively tall ride height. Nick's truck uses a 2.5-inch diameter, 12-inch travel Radflo short-body coilover shock set up for five inches of uptravel to soak up bumps at speed. The coilovers wear 250 over 275 lb-in Eibach springs with King bump stops and PRP limit straps. The links are all 2-inch diameter, 0.250-wall DOM tubing with Ruff Stuff 1.25-inch rod ends. Not to be outdone by Chris' IFS Tacoma, Nick moved his axle 5.5-inches forward to provide firewall clearance.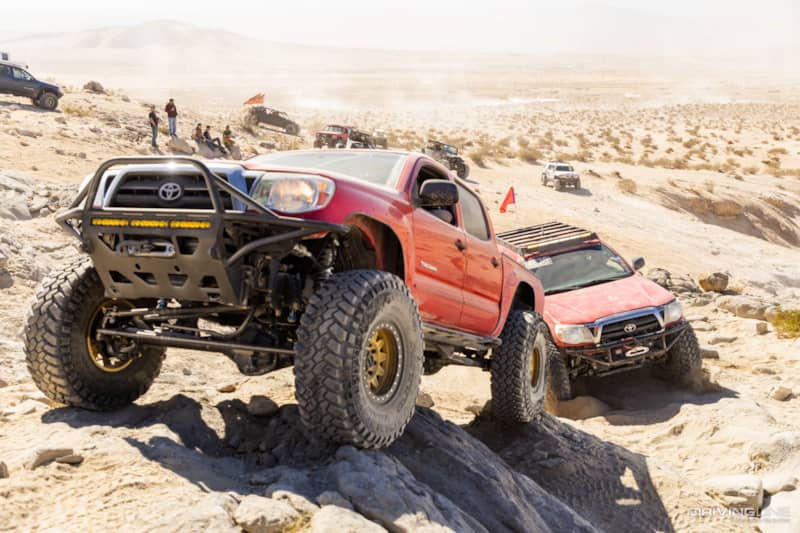 Steering Considerations
Turning 40-inch Nitto Trail Grapplers is a feat no matter what front axle you have, so it will come as no surprise that both Tacomas have upgraded steering systems. Chris replaced his steering rack on his IFS Tacoma with a PSC 3-inch diameter, 9-inch stroke (internally limited to 6-inches) double ended hydraulic ram that is fed by a PSC TC steering pump and PSC orbital valve. We have seen others retrofit a 200 Series Land Cruiser steering rack onto their Tacoma, but this is an even stronger option. Custom tie rods with ¾-inch FK rod ends connect the ram to the knuckles.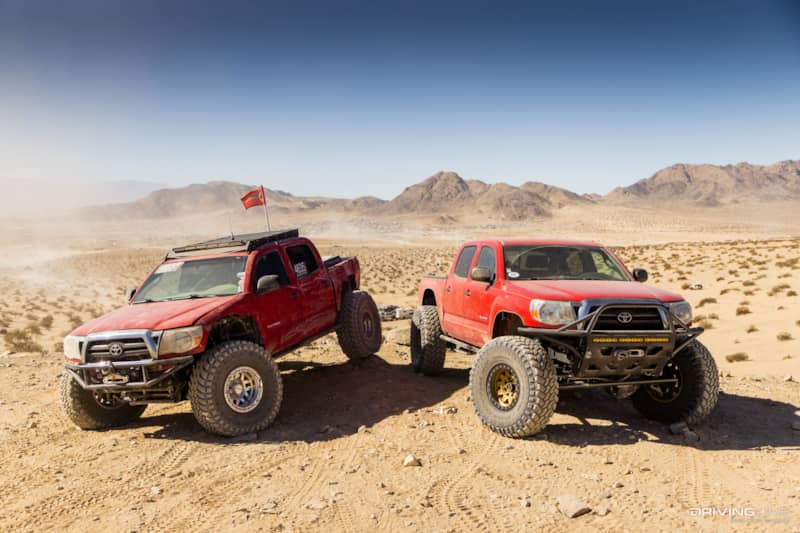 Nick's solid axle truck uses a steering box from an '86-95 Toyota pickup that has been drilled and tapped for hydraulic assist by Redhead Steering Gear. A PSC SP1200 pump is used on a modified factory Tacoma mounting bracket and pressurizes a 2-inch diameter, 8-inch stroke single ended hydraulic assist ram. The steering system is all plumbed with -6 AN fittings and runs through a PSC 16-inch cooler to minimize operating temperatures. The tie rod and drag link are constructed from 1.5-inch 0.250-wall DOM tubing with 7/8-inch rod ends to connect to the steering knuckles.
Rear Suspension Comparison
While very different, both Tacomas have heavily modified front suspension, so it should come as no surprise that the rear suspensions have been upgraded as well. Chris' IFS Tacoma has 14-inch travel Bilstein 5125 shocks and Ford F250 shock towers. The factory leaves were retained, but a custom shackle flip and Boostwerks shackles provide lift. A Ruff Stuff HD antiwrap bar keeps the leaf springs and rear driveline alive, and Wheeler's Off-Road U-bolt flip kit adds ground clearance with the original Toyota 8-inch axle. The factory electric locker was retained, but 5.29 gears were added for more torque multiplication.
Nick's solid axle truck has a Sterling 10.5-inch rear axle out of a Super Duty to match the front axle width and bolt pattern. The axle has been upgraded with 5.38 gears and a Yukon Zip Locker under the Yukon differential cover. The axle is located by another kit of Nick's own design that pushes the axle back five inches for improved departure angle. Nick's Tacoma uses 2.5-inch diameter, 12-inch travel Fox internal bypass shocks mounted on trailing arms to net 15 inches of wheel travel balanced between compression and droop. The shorter body shock fits under the factory bed in order to retain all the original cargo space, and even allow you to run a camper shell for a sealed bed. The Martec Engineering rear suspension kit uses a three-link instead of a more traditional triangulated four link with the upper link mounted on the passenger side of the chassis in order to work with the factory fuel tank and emissions components that live under the truck on the driver side. Like the front, nothing about the rear suspension kit is an accident. A TK1 Racing sway bar was added to combat body roll, with sway bar arms that were custom bent to clear accessories mounted on chassis.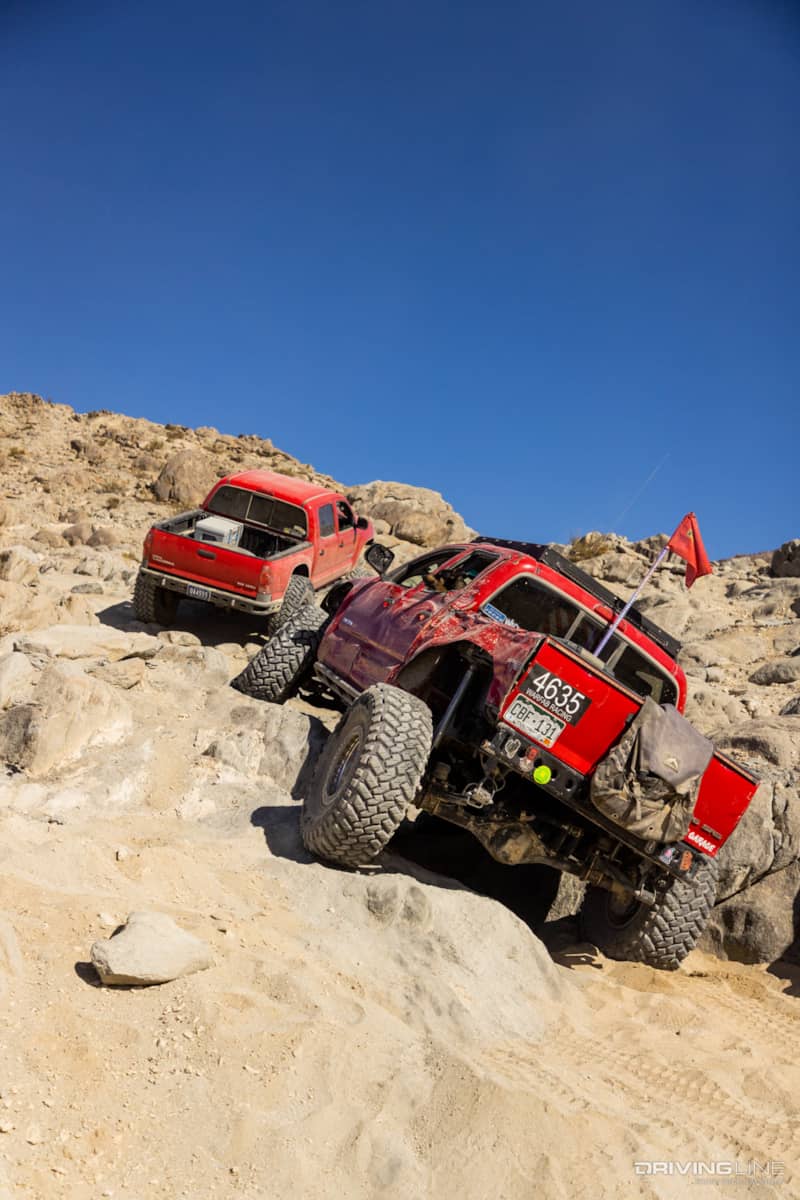 Wheel-to-Wheel 'Wheeling
Enough with the specifications, if you are still reading you likely want to know how they worked on the trail! Both trucks are incredibly capable in the rocks, with similar power, gearing, and overall weight. Nick's better approach and departure angles helped in some situations in the rocks, while the longer wheelbase worked against him at times. The solid front axle did provide more articulation in the rocks, which did help keep Nick's Tacoma stable with the tires on the ground.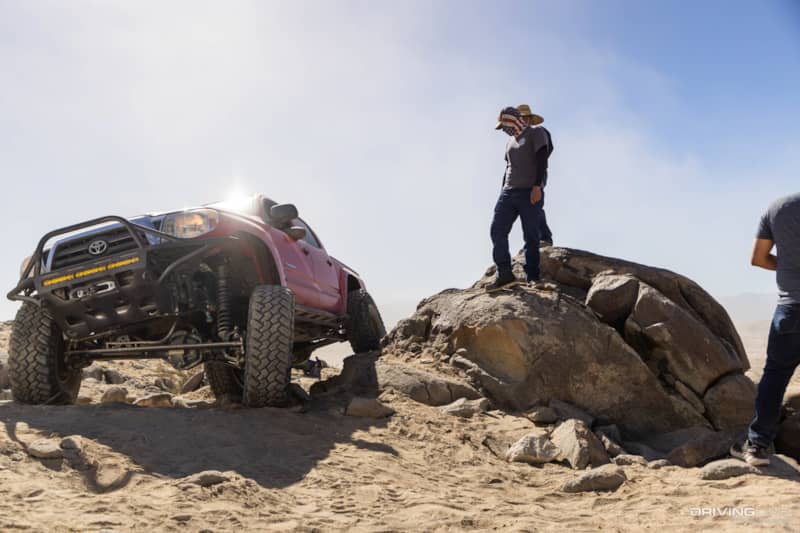 At higher speeds in the desert, we expected Chris' IFS Tacoma to walk away from Nick's solid axle Toyota. As a tire contacts an obstacle with IFS, the upper and lower control arms pivot to absorb the impact, which is only minimally transferred through the rest of the chassis. This makes for a better ride in day-to-day driving when compared to a solid front axle, and, all else being equal, allows the vehicle to comfortably travel at higher rates of speed off-road. In this case though, all things were not created equal. The larger diameter, custom valved front coilover shocks and rear link suspension on Nick's solid axle Tacoma allow it to work surprisingly well at speed in the dirt.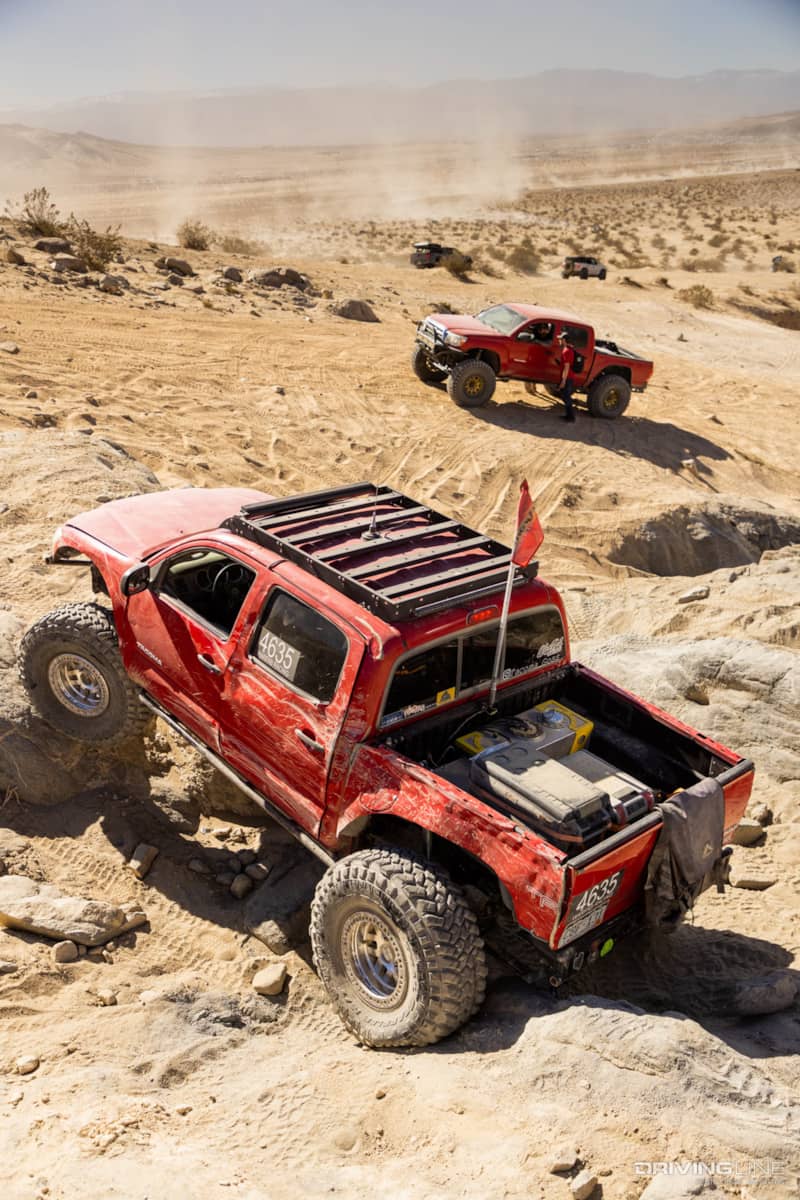 While Nick's solid axle truck makes very few compromises, it was more expensive to build and required more welding and fabrication. Not a big deal for a professional fabricator like Nick, but perhaps an issue for someone who wants to replicate his build. Fortunately, he has taken much of the guess work out of the equation by offering suspension kits based on his own truck. Chris' truck, while wearing numerous trail scars, is more relatable for most people because it has bolt-on parts that have been added over time, rather than completely replacing the suspension and axles at one time. Both trucks have been impressively modified for maximum performance. The question of which one is "better" for you will depend on your intended use and your budget.