IFS Versus Solid Axle (Ford Bronco versus the Jeep Wrangler)
If you want to bring out a strong opinion from any off-road enthusiast, just ask them which they think is better for going off-road- a vehicle with an independent front suspension or one equipped with a solid front axle. Chances are, they will not only be vocal about why one is better, but give you an earful on why the other is far worse. The roots of this passion can be traced back to the early showings of IFS trucks and SUVs.
While the on-road handling benefits were unquestionably better than their solid-front axle predecessors, early IFS offerings proved to be less reliable off-road. Over time, IFS components have not only improved substantially, but IFS vehicles now overwhelmingly outnumber solid axle trucks and SUVs on the market. The fact that there are more IFS offerings has more to do with manufacturers prioritizing on on-road attributes over off-road performance. This is why Jeep, who is arguably the most off-road oriented brand, continues to produce its flagship SUV, the Wrangler, with solid front and rear axles.
To take a fresh look at this classic debate, we stopped by Synergy Manufacturing in San Luis Obispo, California. There, we dove into the details of the two most popular SUVs at the heart of this discussion- the all-new Ford Bronco and Jeep Wrangler JL. While both of the vehicles have a helping of upgrades to make them better suited for the trail, each signifies just how far these iconic platforms have evolved (for good and bad). Is one truly better? Let's dive into that now.
Badland Bronco
First, we'll look at this 2021 Ford Bronco Badlands edition fit with the optional Sasquatch package. While we'll dive into the suspension bits shortly, other important upgrades include 37x12.50R17 Nitto Ridge Grapplers on 17-inch Raceline beadlocks, a Bestop soft top, JE Reel rear driveshaft, and Baja Designs lighting. The idea behind this build was to create a comfortable daily driver that could handle moderate off-road trails.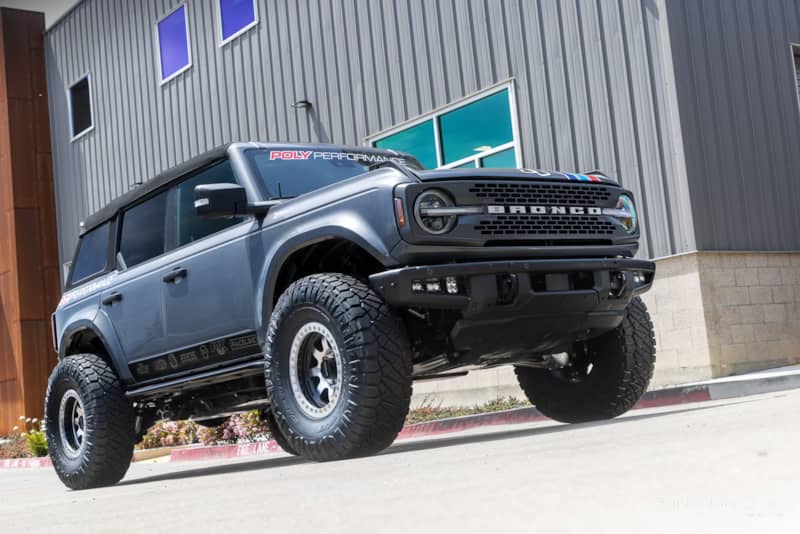 A-Arms
The advantage of an independent front suspension is that it allows for each corner to absorb terrain independently, which creates a smoother ride on-road and off. For moving fast off-road, IFS has a considerable leg up over a solid-front axle. The Bronco uses a fairly common twin A-arm layout with a centered mounted differential. While this configuration offers more ground clearance over a solid front axle, it has more components and complexity.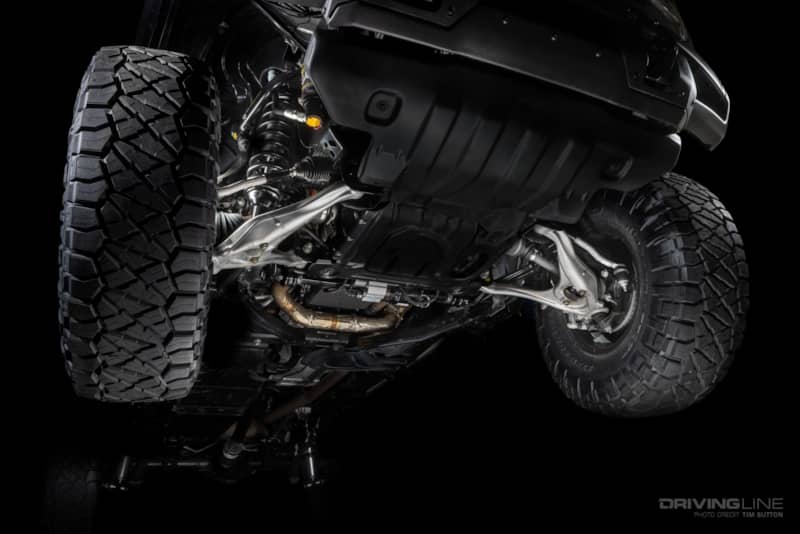 Modern Tech
One of the biggest advantages of the Ford Bronco's factory suspension system is found only with the Raptor model. It uses Fox's live-valve system, which allows you to easily adjust your suspension's valving from the comfort of the cab. On other Bronco models, you will need to upgrade your factory coilovers to take advantage of that sort of tech. In this instance, Synergy's Bronco is using ICON's 2.5 CDEV shocks, which also have electronically controlled valving that will adjust automatically or manually with the use of an app. This setup gives you more lift and travel beyond stock. While you can upgrade the same technology with aftermarket shocks on the Wrangler, Jeep has yet to make this a factory option.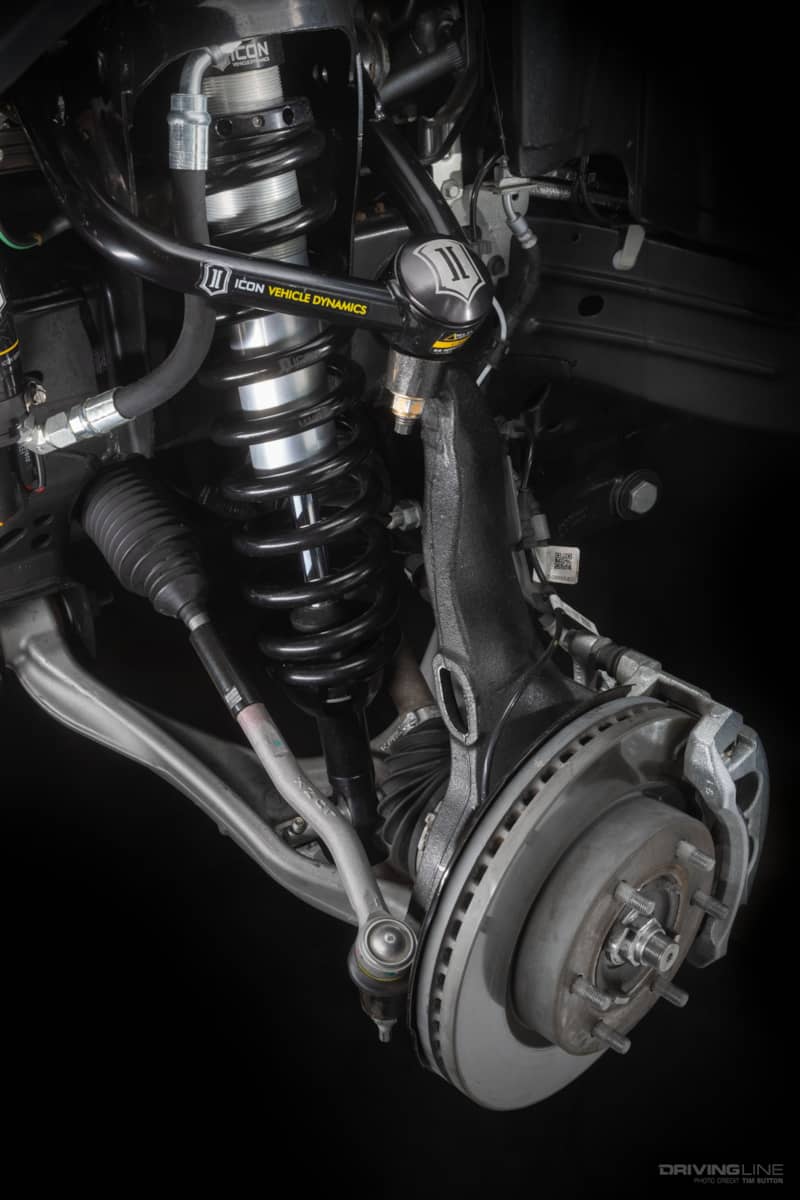 Angles
One of the challenges with an A-arm layout has to do with the upper control arms. More often than not, the increased suspension travel provided by the aftermarket shocks or a spacer lift put the factory ball joints at too much of an angle. Upper control arm upgrades address this by decreasing the operating angle of the upper ball joint while improving the overall suspension geometry.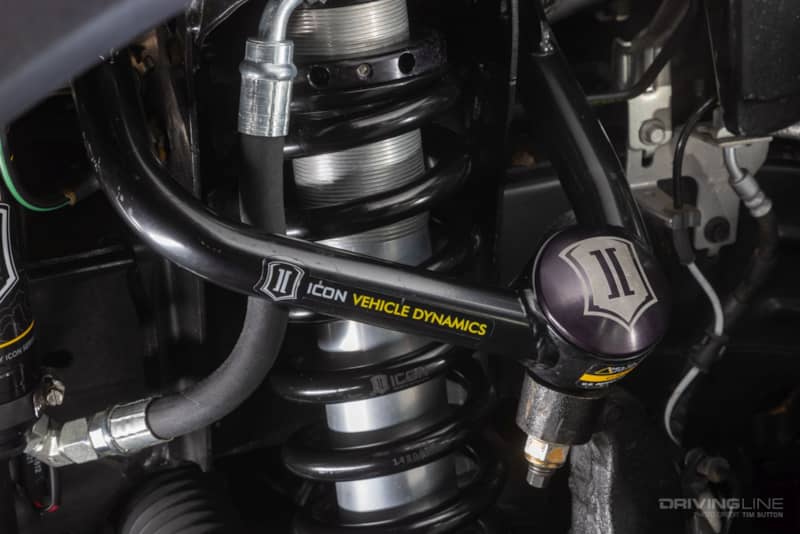 Steering Shortcomings
Steering component strength has historically been an issue with IFS vehicles on the trail. On the Bronco, a simple way to increase the strength of the tie-rods is with a steering sleeve kit, such as the one shown here from JKS Manufacturing. This will increase the strength of the tie rods, but as many are finding, the steering rack itself is not all that uncommon of a failure point under a modified Bronco. The upgrade for that is considerably more expensive, as 74Weld is currently the only company offering a bolt-in rack improvement for the new Bronco platform.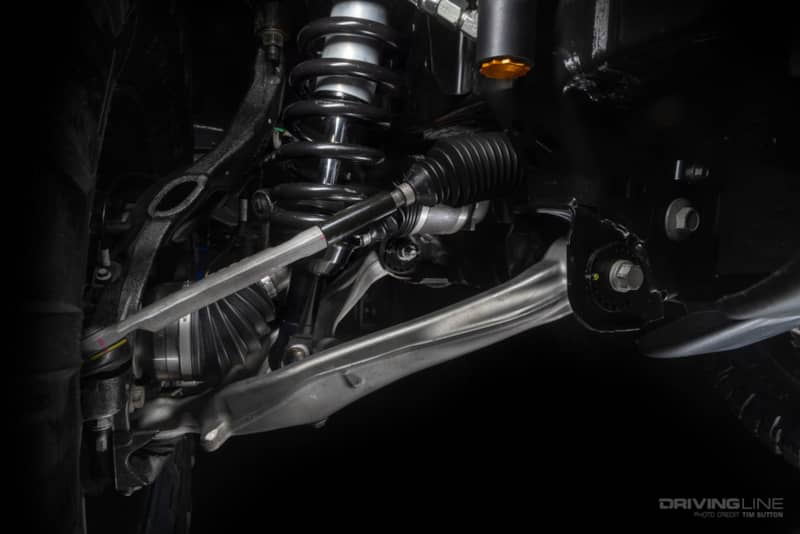 Sway Control
To truly allow the suspension to move independently, you need to disconnect the sway bar that ties the two sides together. For years, this has meant unbolting the sway bar links or removing the entire bar from your IFS vehicle. Ford gave the Bronco a feature that the Wrangler has been using since 2007, an electronically controlled sway bar disconnect. With the push of a button, you can disengage the front sway bar, which allows the vehicle to ride better, perform more predictably, and articulate easier on the trail. 
Constant Velocity
The front differential housing and CV-style axleshafts connected to it were once an area of concern for IFS vehicles. Currently, the Bronco's front differential is either a Dana 35 (M190) or Dana 44 (M210). With the Dana 44 you are getting a selectable front differential locker, just as you would in the Wrangler. While the jury is still out on long-term durability of the factory CV axleshafts, the fact that Ford is equipping the Raptor version of the Bronco with 37-inch-tall tires means they trust them plenty. It's also worth noting that Wrangler's flagship 392 Rubicon model comes equipped with CV-style axleshafts, not U-joints up front. So, there's that.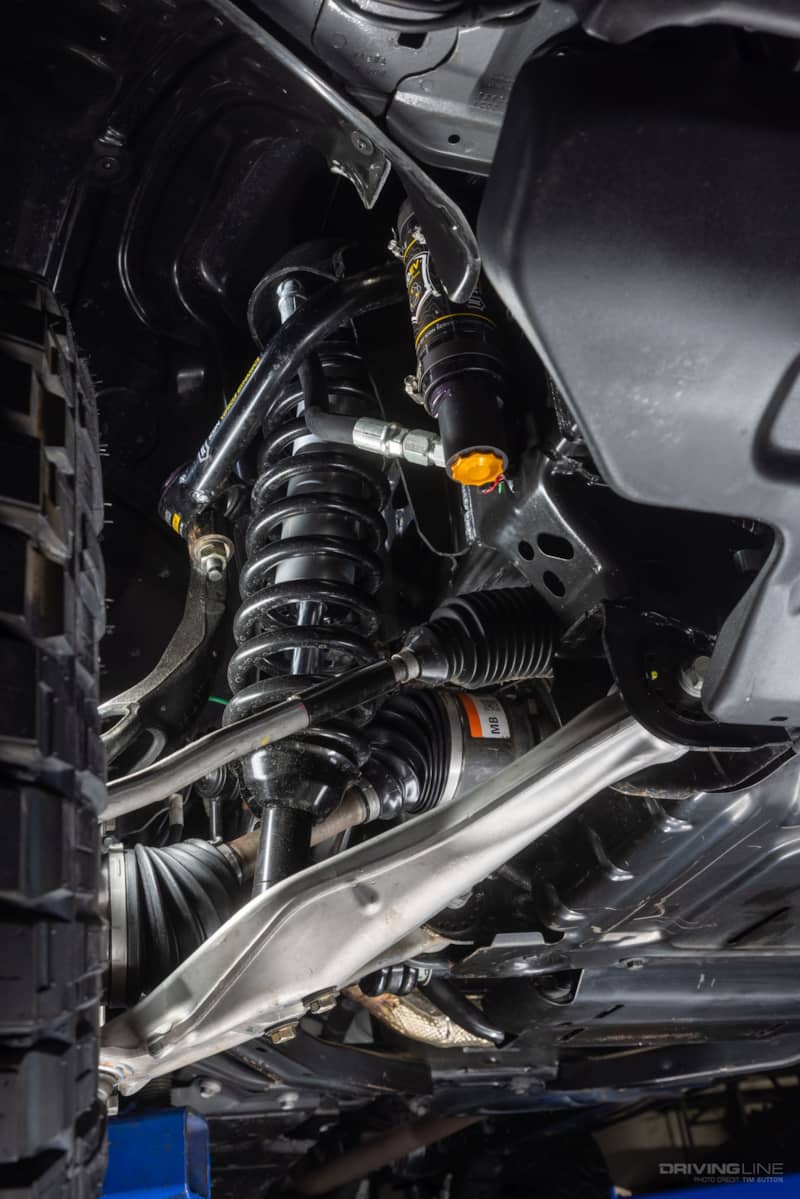 Solid Rear
With the exception of the Raptor, all Broncos currently receive a Dana 44 (M220) solid rear axle, which uses a four-link with track bar suspension configuration. Synergy uses adjustable control arms and track bar to properly dial in the axle given the new suspension height. To maximize ground clearance, Synergy bends the lower arms.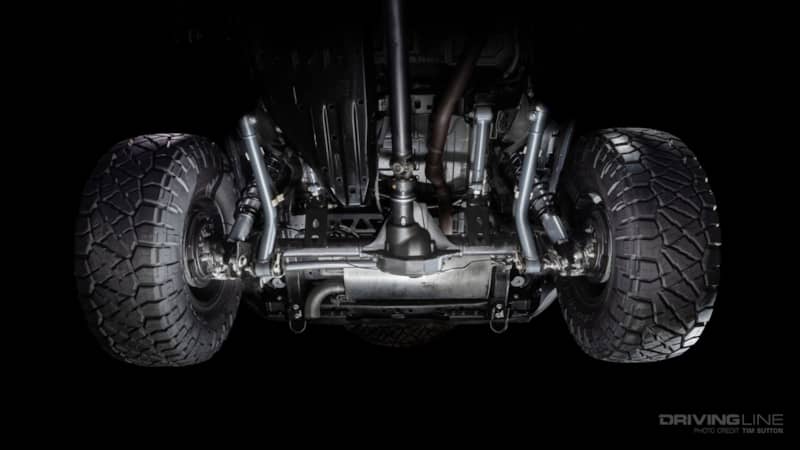 The Solid Axle Champ
It's one of the last solid-axle SUVs sold in the U.S. and Jeep's flagship vehicle, the Jeep Wrangler Rubicon 392. This particular 2022 model has been upgraded with 38x12.50R17 Nitto Ridge Grapplers and 17-inch ICON Rebound Pro wheels. Heavy-duty 1350 Series drivelines from JE Reel are also under build, along with Synergy's Stage 3 suspension and steering upgrades.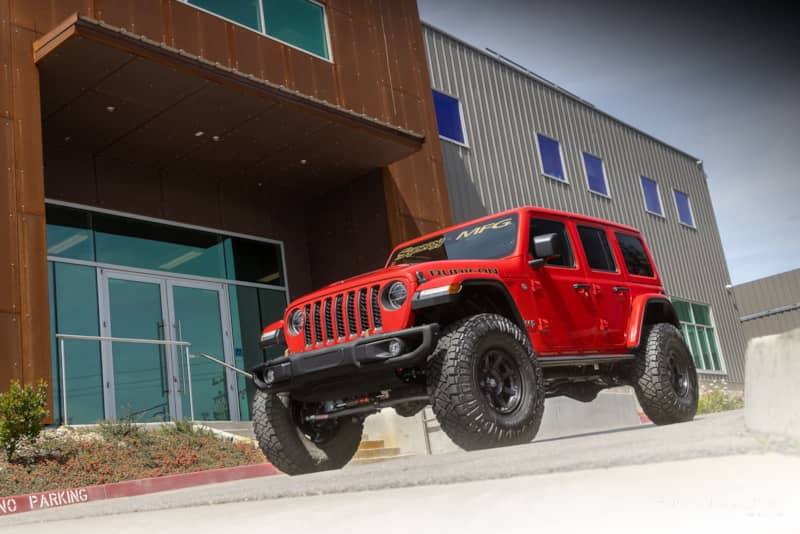 The Basics
A solid front axle has less parts, a simpler (and one could argue stronger) overall design and is very predictable off-road. The main issues have to do with un-sprung weight and the fact that the rigid housing transmits terrain input from one side to the other. All Wranglers come with a high-pinion Dana 30 (M186) or high-pinion Dana 44 (M210) solid-front axle.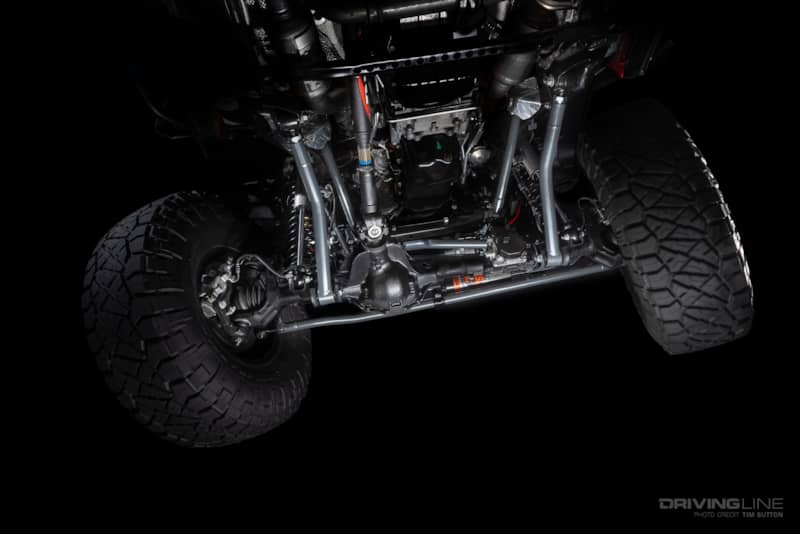 FAD's Change
In an effort to squeeze out more fuel economy, Jeep reintroduced the FAD (front axle disconnect) with the 2018 Wrangler JL. This was a known problem area when it last appeared on the YJ platform (1987 to 1995). The idea is that the FAD allows the passenger side axle to disconnect in 2WD. This results in less parts rotating as you travel down the highway, thus lessening drag and wear. So far, the axleshafts are not known to be a common weak link, but we have seen some housing failures around the FAD unit.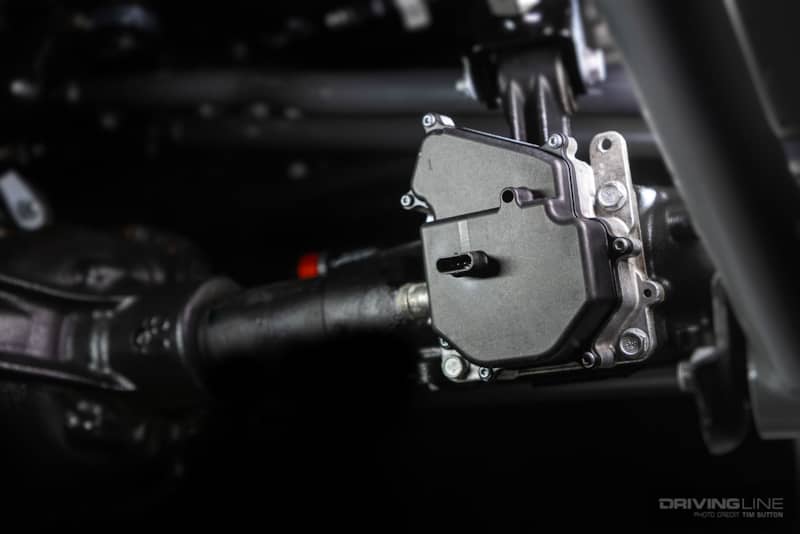 Carry Over
The JL Wrangler carries over a similar suspension architecture that has been around since 1997 with its four control arms and track bar. On Synergy's Stage 3 suspension system, they not only upgrade the strength of the arms, but make them adjustable. This is critical for dialing in suspension castor and axle position.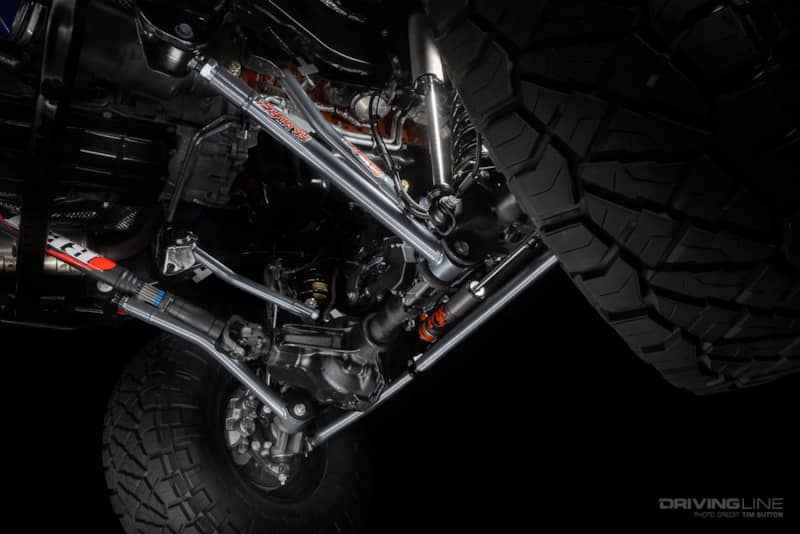 Coil and Shock
Unlike the Bronco which packages its coil and shock as a coilover, Jeep only offers the Wrangler with a coil and shock. The plus side of this is that it's very easy to work on and modify. This particular Synergy kit uses Fox 2.5 Performance Elite shocks with DSC adjusters. This means that you can fine tune the high and low speed compression valving of the Jeep. The main difference between this and the Bronco is that's you'll need to physically turn the knob on the shock's fluid reservoir.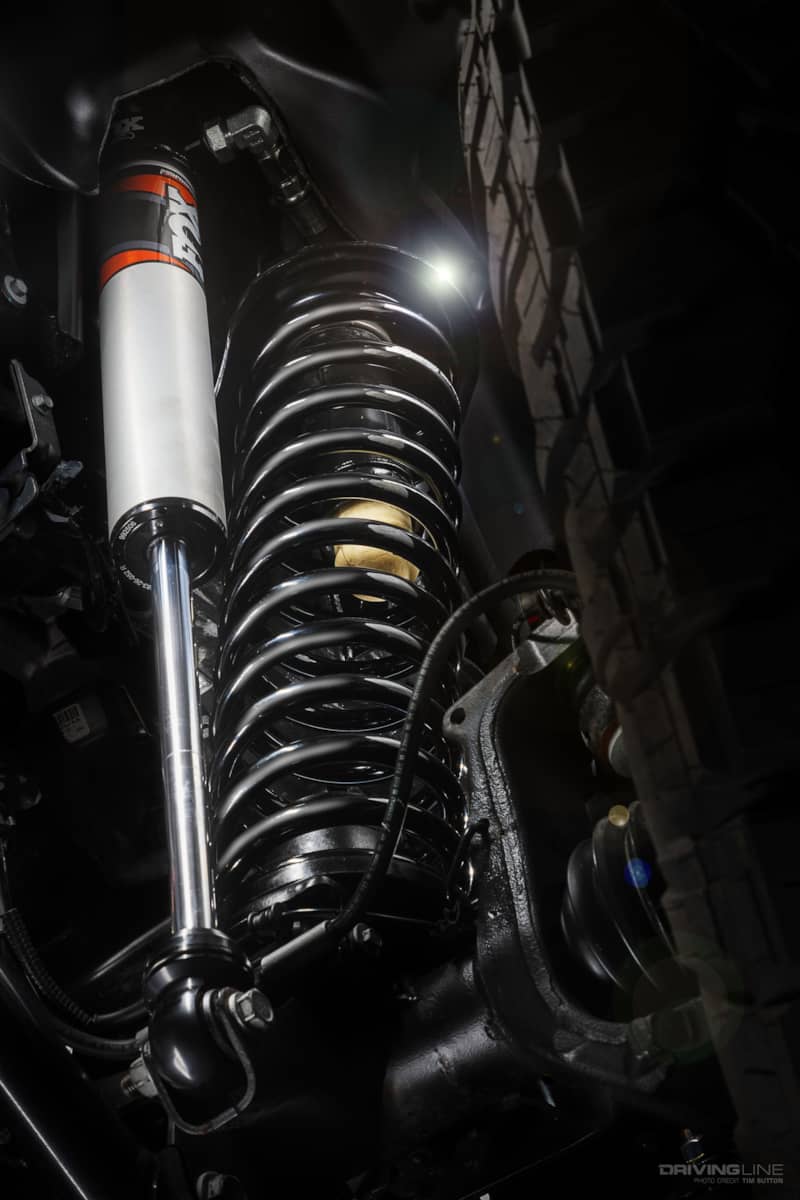 Steering The Future?
The steering system on the Wrangler is fairly simply, but very robust. From the factory, you have a steering gearbox that controls a drag link, which is connected to a high-steer knuckle. Tying the two steering knuckles together is a HD tie-rod. Compared to the Bronco, the Wrangler has beefier components. This is especially true with the Synergy high steer system shown here. That being said, a solid-axle vehicle drives far differently than an IFS one.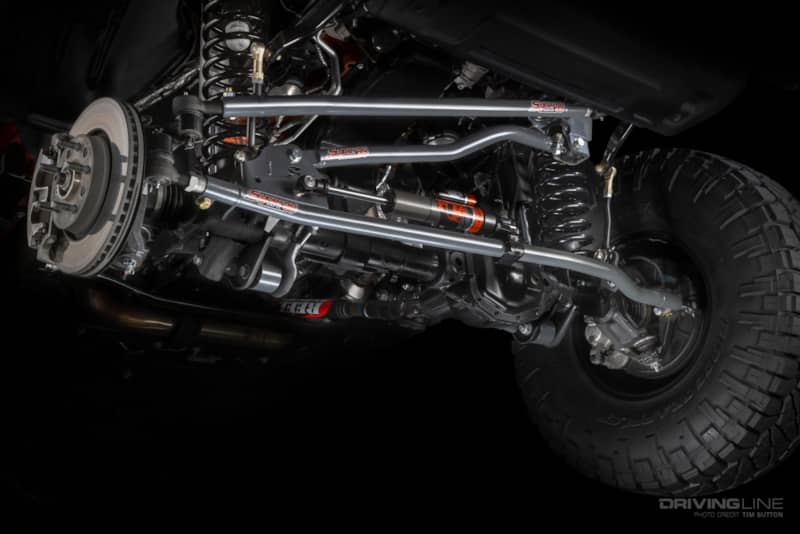 In The Rears
The rear suspension in the Wrangler is also a four-link design, just with the track bar on the opposing side. The 392 show comes with a semi-float Dana 44, while the new Rubicon models now offer a full-float Dana 44 rear axle. Similar to the Bronco, the Wrangler's rear lower arms have been bent for increased clearance.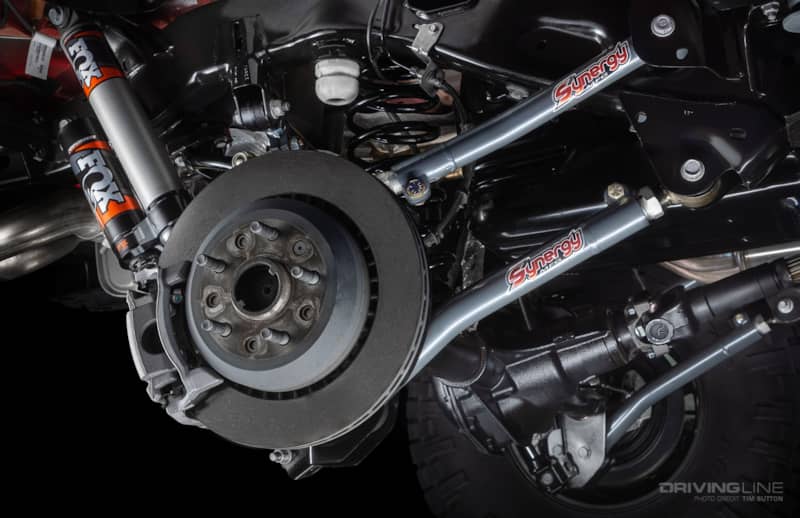 Parting Thoughts
With both SUV's coming with multilink, solid-axle rear suspensions, available with selectable front and rear lockers, and electronic sway bar disconnects from the factory, they are a great case study in modern IFS versus a classic solid-front axle. We don't think anyone can argue that IFS will more often than not offer better on-road handling. However, that's not what this is about. While we truly think Ford dropped the ball in the steering department, the aftermarket has already come up with a solution. Are there scenarios where the Jeep is far better? Sure, but the same can be said for Ford. Regardless of brand loyalty, one thing remains truer than ever- IFS is better than it's ever been and is improving. Is it still as simple and robust as a tried-and-true solid axle? No. But, from where it started, things are surely looking bright. For everyone's sake, we hope one day IFS or solid axle will no longer be a debate of strength, but one of preference.