Aaron Kaufman Races King of the Hammers... Again!
It's been awhile since we've caught up with our favorite bearded builder, and King of the Hammers week was a perfect opportunity to hear the latest from him. Catch up in this Driving Line interview with Aaron Kaufman as he races King of the Hammers for his third year, this time in a UTV.
Driving Line: After racing 4800 in 2018 and 4400 in 2019, why race a UTV at the 2020 King of the Hammers?
Aaron Kaufman: I was always curious about King of the Hammers and wanted to check it out. I figured, what better way than to show up and race, right? So, in 2018 we were filming a corporate television show when we built the 4800 car, the Scout. It wasn't supposed to be a racecar at all, not even close. But the timing worked out and we figured, 'Hey let's go out and do this.'
So we built the Scout fast. Having virtually zero experience in this I had the wrong perspective on it, so we had a tough time and we didn't do well. We managed to effectively get one mile per gallon out of our little diesel Scout that year!
"We've learned a few things since then."

When I got asked if I'd be interested in racing the next year the answer was 'Absolutely!' I got told that there was a race car sitting in Johnson Valley in a container. And if I was willing to, on the day before New Year's Day, haul ass out to California and get it out of the container then I could race the car. So I did just that! I screamed out nonstop from Texas, got the car and when Brian (Tilton) and I tried to go up Chocolate Thunder for a test drive, it was obvious that this car was broken. But we made it up a few times then went to Barstow and tried to do some shock tuning to see what it had—and that was a damn-near deadly event.
We got back to Texas and did a really quick prep on it before turning around for King of the Hammers 2019. We had a little bit of a rough time—I don't know how to do this without it being a rough time. We lost steering, PSC stepped up and helped us with the steering. I drove with Brian co-driving and I thought it was almost a really successful race. We finished—it was over allowed time and in the dark but unofficially we were 29th out of 109 cars. I thought that was pretty good for a car that had been to China, darn near destroyed, thrown a really quick prep on, and with a guy that had never driven the car. I thought we did okay!
So, I was looking forward to coming back this year but neither one of us really had a car. Brian was able to put together a UTV pretty quickly, so we decided to come and give it a go. We'd run 4800 and we'd run 4400, and we thought that neither one of us knew much about golf cart racing. So, we figured we'd put on our Kanga hats and Argyle socks and join the golf cart crew (otherwise known as UTVs.)
DL: With all the different types of racing you've got to take part in, how do those experiences build into racing out at King of the Hammers?
AK: While I've found that all the tools gathered in your driving-skills toolbox do apply to this, the one you won't find on any track in America is how to run the rock trails. I didn't really have the tools for that driving, so Brian's background as a competitive rock crawler was important to our success. Without his confidence in the rocks, I wouldn't have even finished. It was similar to when I ran ARA (American Rally Association) with Krista Skucas—her confidence, her ability in the car pushed my driving up. It clicked it up another notch, in a way I'd never experienced.
So, with Brian co-driving for me in the 4400 class last year, I'd look at him like, 'Up what? We can't go up that!' And he'd just talk me through it. And because he felt confident, I put it in gear and sent it. I wouldn't have been able to do what I did without him.
"I got to drive two very different events where my co-driver was able to push my driving up to the next notch."
DL: How does King of the Hammers compare to some of the other forms of racing you've done?
AK: It's not like just getting into a car and doing a track event or autocross, or even rally—it's not like any of that. King of the Hammers, because you're so far from help if you get injured or if you break the car, there's always a possibility that you might have to rely on your fellow racers. You might have a rough night, you might end up stranded out there on the race course. Its part of why I'm a huge fan of point-to-point races.
"I like it when the race track is trying to kill you as much as your competitors. This is really like the hardest one-day off-road race on planet earth—so why wouldn't we be here?"
DL: We can never guess what to expect from you, so what's coming up next?
AK: For 2020, we're launching the ALR banner (Arclight Racing.) ALR and Arclight are supporting Dean Kearney in Formula Drift. We'll be taking over the program for number 43, not to mention Barion's car, the C7 (Joao Barion.) So, we're supporting two FD cars. Then, I have to get my own car built, an E36, to  compete in Lonestar Drift. So, I'll be running the FD ProAm series while supporting two pros and we'll also run Pikes Peak Hill Climb in Colorado as well as Mount Washington with the Sierra guys.
DL: Your world seems to get more and more involved in racing each year, when did this obsession begin?
AK: I got asked that this week and replied 2014, but that's not true. It's as early as 2006. Back then, if anyone would buy me a plane ticket, I would prep a car, I'd sleep in the bed of a truck, under a truck to be out there. I'd run a fuel truck up and down the Baja peninsula. I'd do anything to touch and work on racecars and it was like I was always fighting to get there. You know, sometimes you take a divergent path and then eventually work your way back to where you feel you should be.
I just could never get enough of racing. I think some people are cut out for it and others aren't. It's like my wallet may not be, but I believe I am. So, we do everything we can to get there. It was in 2014 that I bought the Falcon and was able to build it on a TV show and that made it possible. Then I ran Pikes Peak with it and I fell in love with the community up there. I fell in love with racing. I fell in love with the risk that's on the table and what you wager. And then, there's this whole racing family that forms and I so completely love them and the shenanigans we get into. We've all got the same chemical deficiency, I guess!
"You know, they say you can't take it with you and it's all very true. It's whoever dies with the best story."
DL: With Arclight Racing becoming a thing does this mean the Ford F100 parts of Arclight Fab are done?
AK: No, negative. Initially I had made a decision to focus on some of the economical suspension solutions early on, but I really think that may have been a misstep. Because, ultimately, the emails and calls we receive are all for the high dollar stuff. After having to put everything on ice for the last six-to-seven months for an adult decision to buy my own building, I've been tentatively saying our new grand opening for Arclight Fab will be April 1st—I thought it was a fitting date! While, we'll have a lot of racecar prepping to do initially, when we get back into the swing of things we'll be developing and continuing our F100 program with a focus on building full chassis' and IFS.
DL: We're glad to hear that! So back to King of the Hammers… what's the goal for this year's race?
AK: It's cliché to say, but it's true—you've got to first finish to finish first. While finishing first won't be us this year, we'll focus on the other half of that motto and just try to finish. I've done very little in these golf carts so far. I've pre-run Baja 1000, but that's a lot different than Johnson Valley. To be honest…
"It's a little daunting of a task because there's not a lot of car here and there are boulders that are triple the size of the car out there!"
I guess we're just gluttons for punishment—it seems there are a lot of them out here. So our goal is simple, to finish and to have a good time.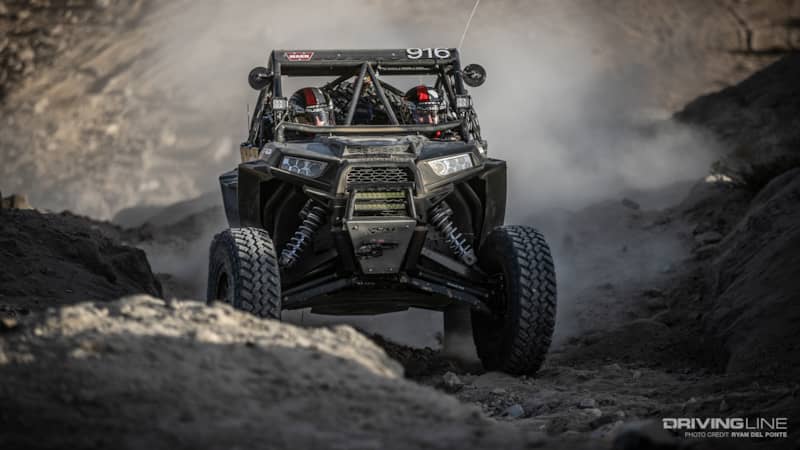 DL: Have you thought ahead for what you want to do at King of the Hammers 2021?
AK: I would love to build my own car, but as everyone out here knows the amount of time required is enormous. Between running the business, doing the other things we have to do and then investing that level of time into a car it's hard. Right now, we're really making a concerted effort to pull all of our weight and efforts behind Dean Kearney in the Viper for the Formula Drift series. We have a lot of faith in him, both personally and behind the wheel. It's our first year running a professional motorsports program and not just that but running two cars. So, that's our focus. But, if it's in the cards that we can put together a 4400 car for next year, I'd like to. I like big cars—I like the noise, I like everything they do.
Just like with Pikes Peak, I said that as long as I can make it happen, I will. And I really feel like Hammers is the same thing. It's relatively new for me but I absolutely adore it. I just like the brutal violence of it all. Looking at the cars built for it, they just scream mechanical gladiator.
Want more King of the Hammers 2020 coverage? We've collected all things KOH for you at this Driving Line KOH page.