An Improbable Scout
If you'd had been there to see it. If you were at the starting line at King of the Hammers 2018 watching this full-bodied, high-centered, black smoke spewing, Cummins-powered International Scout take off from the starting line on main race day… you would have had a lot of questions running through your mind. Who does Aaron Kaufman think he is? What is a Scout doing racing in the 4400 class? Why can't I help myself from rooting for it?
By now you might have caught the opening episodes of Shifting Gears on Discovery, where Kaufman and his new team set out to build unique, purpose-driven vehicles, then put them to the test in epic adventures. This '71 International Scout is their first project.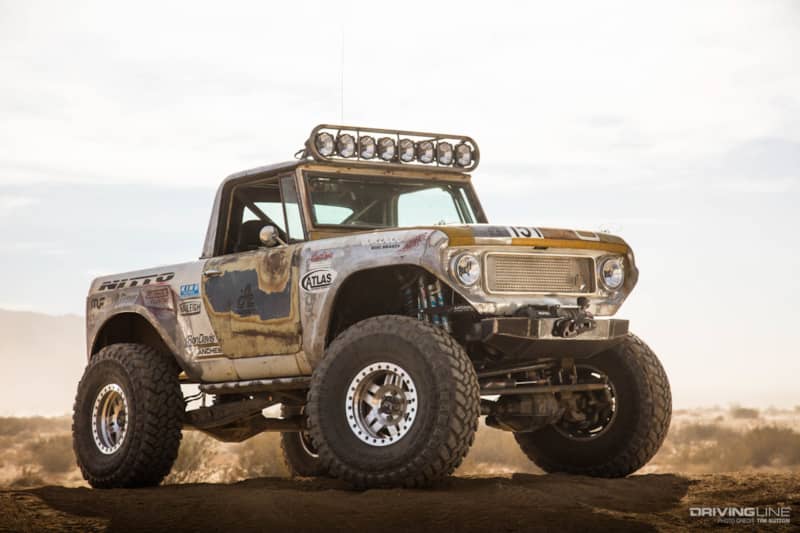 Last time we heard from Aaron, he was leaving Fast 'N Loud's Gas Monkey Garage and heading off to launch a company of his own, Arclight Fab, specializing in manufacturing parts for classic Ford F100 trucks. "Nowhere does a '71 Scout fit into my business model," explains Aaron. "It's not an F100 and I'm not developing any parts for it."
Just as he's always been drawn to unique builds, when the powers-that-be urged Aaron to star in a show of his own, he saw an opportunity to build a unique show. "If I was going to do this TV thing… I was going to hijack this and go have experiences that perhaps people didn't know they could have. Join in things that were happening that people didn't know were happening. Along the way, I'd enrich my life a little bit and maybe even give people something else to be interested in."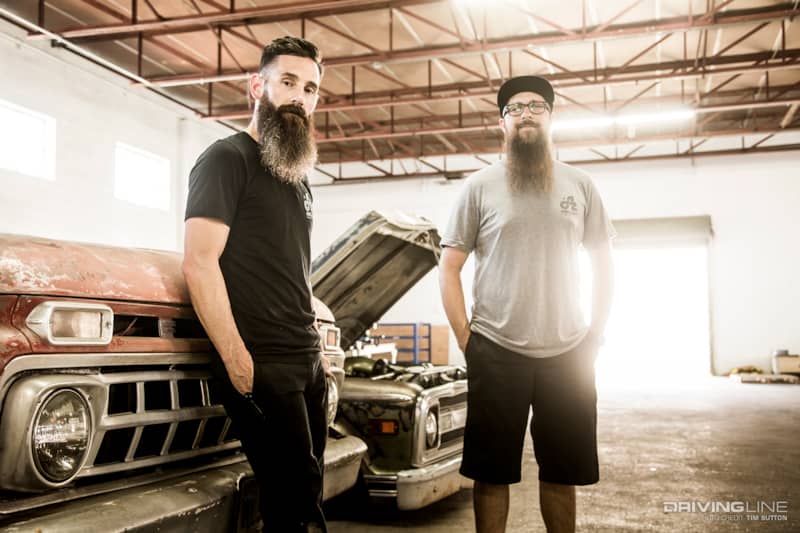 Before jumping into the hard details, let's get one thing straight. "I wanted to build this truck, but originally my plans were different—this was never going to be a race car. Never, never, never, never going to be a race car," explains Aaron. "I wanted to build a big-capability truck that I could drive every day." Since this story began with a starting line, we already know Aaron's initial plans went sideways. Way sideways. (Is this sounding like one of your own projects yet? We know it rings true for us.)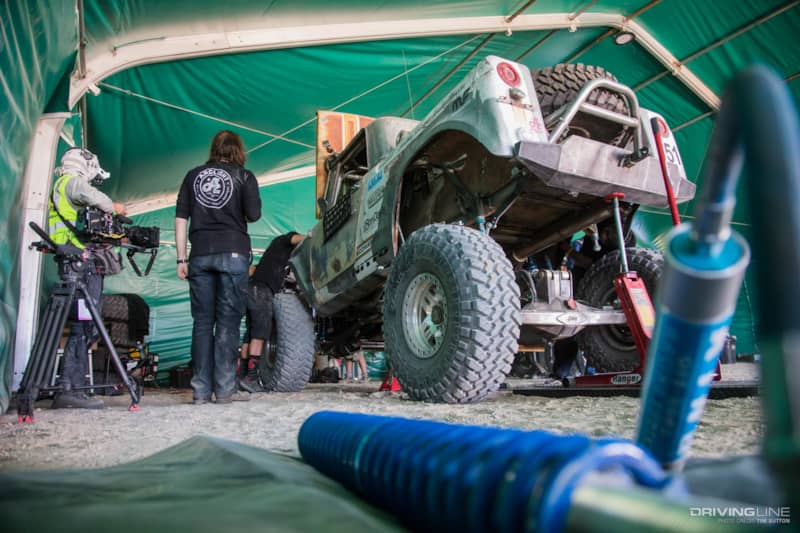 Meet the Players
The crew Aaron has assembled for Arclight Fab gets to test out its working relationships during the filming the first season of Shifting Gears. Unlike many car shows we've become familiar with, Shifting Gears doesn't fit an entire build into a single episode. They take three. This allows them not only to delve into more complex builds, but also get to point of the show—taking the car out and testing it. In the Scout's case, that meant a group road trip to King of the Hammers (KOH) in Johnson Valley, California.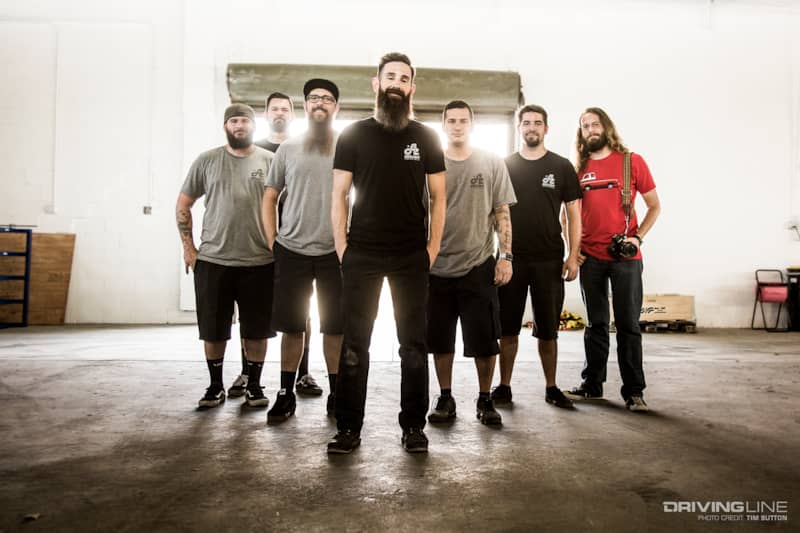 Jason Bowman is the all-around powertrain guy, who happens to love diesels possibly even more than Aaron. "When Aaron said 'Cummins' for the Scout, I said 'Hell yeah!'" Jason was the one person on this team who had actually been to KOH before. Attending each of the past seven years as a spectator, this year would be different bringing a car and co-driving in it.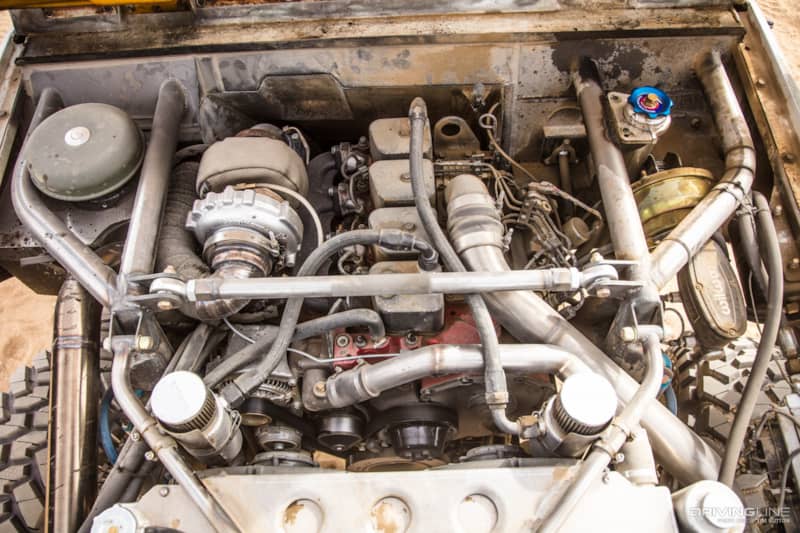 Jeremy Webster is all about fabrication, specializing in sheet metal work. He'll have his work cut out for him when Arclight Fab begins its production of late-model F100 parts, but he's also looking forward to the crazy projects Aaron is dreaming up for them on Shifting Gears. "I hope we get to build these vehicles that he's got in his head. The biggest thing I enjoy is the challenge."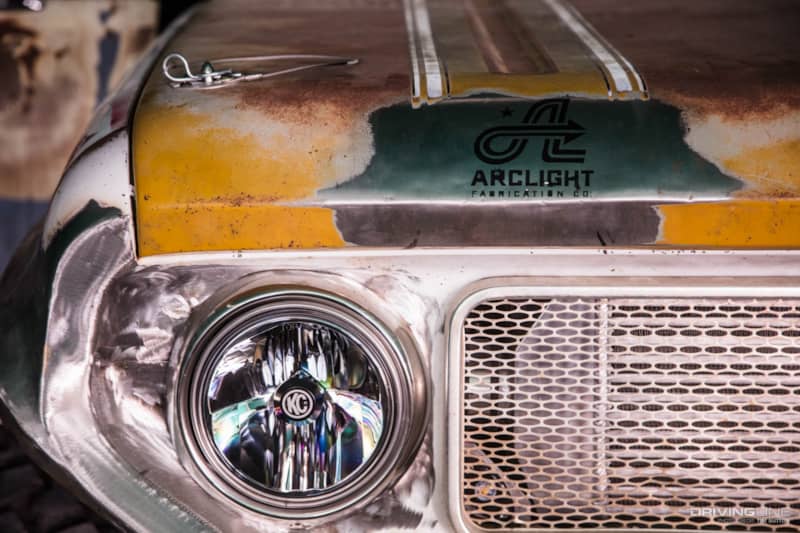 Jon Rodriquez, J-Rod for short, is the electrical guy who ensures everything is powered and doesn't catch fire! "I'm usually the last one who will work on a project… which sometimes means I've got the least amount of time," laughs J-Rod. On this Scout project, where things were constantly shifting as understanding of the Ultra4 rulebook was gained, he really rolled with the punches.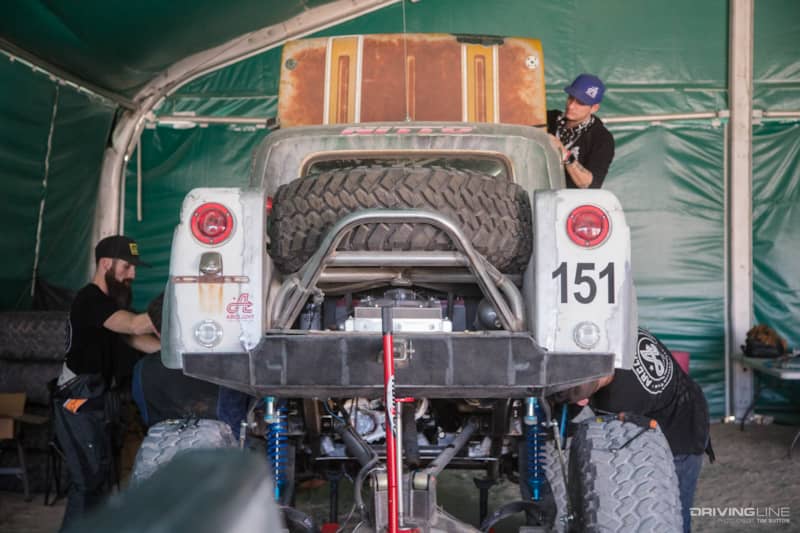 Of course there are others who support the work done at Arclight Fab, like Jonathan Mansour, the behind-the-scenes guy who makes shit happen and Brooks Martin, the social guru in residence. "We're building cars that challenge us and our range of experiences," notes Aaron. Though working together for the first time, while filming a TV program, on such a difficult project as the Scout was a tall order, Aaron makes a good point. "Had we worked on 2-3 cars that were super easy, I think that the team wouldn't have had to lean on each other as much. Everybody came together and figured out exactly where everyone stands."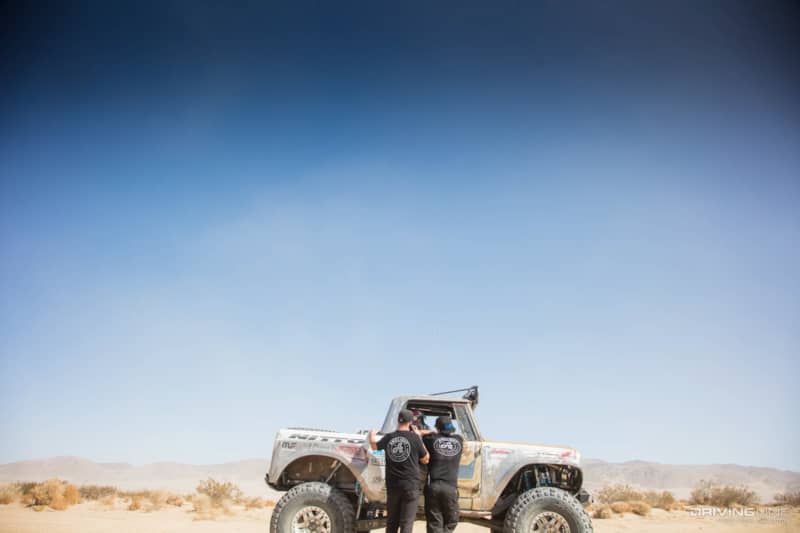 Build and Challenges
As if building a car from the chassis up in 100 days, while being filmed, wasn't difficult enough—"None of us here have built an Ultra4 car before," adds J-Rod. When asked what was most difficult about the process, Jason replied, "Let's just shorten it up and say 'The Truck.'" Starting off with a plan very different from a 4400 unlimited Ultra4 car, the shift in building alone required enormous adaptability. Add to it that this is a 1971 International Scout. It's a car very similar to an old Bronco in platform style—requiring a full custom chassis, roll cage and suspension set-up, mocking an engine and all its components into place, and fitting everything within the intact sheet metal shell of a vintage truck.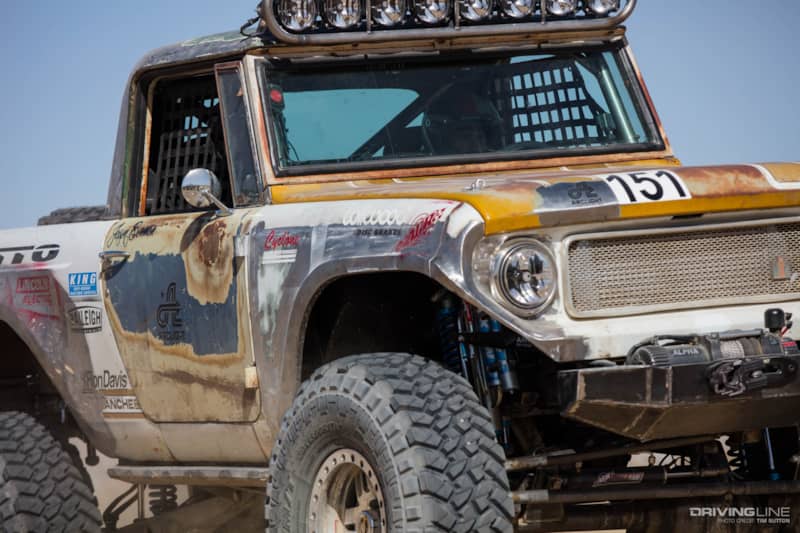 "We essentially built everything," says Jeremy. "If it wasn't built by us, it doesn't have our name on it." As the sheet metal fabricator, Jeremy had his work cut out for him. "The fender flares are actually one piece, front and back are one piece." Using a Baileigh power hammer, a new piece of equipment to them, "we came up with a solution to make that out of one piece and it was a task to get it done." What they ended up with is a stock profile, with all the original character of a Scout, including changes to enable heavy off-roading. To allow proper wheel articulation, the wheel wells were bumped about 2.5" taller, 6" longer and 1.5" wider while keeping their original body contours. The roof has been extended 2", though not entirely planned for. "We built a cage and then hit an 'uh-oh' moment when we went to put the roof back on." It's all part of the process of having shifting build specs with many moving pieces and a rulebook of regulations you suddenly must follow.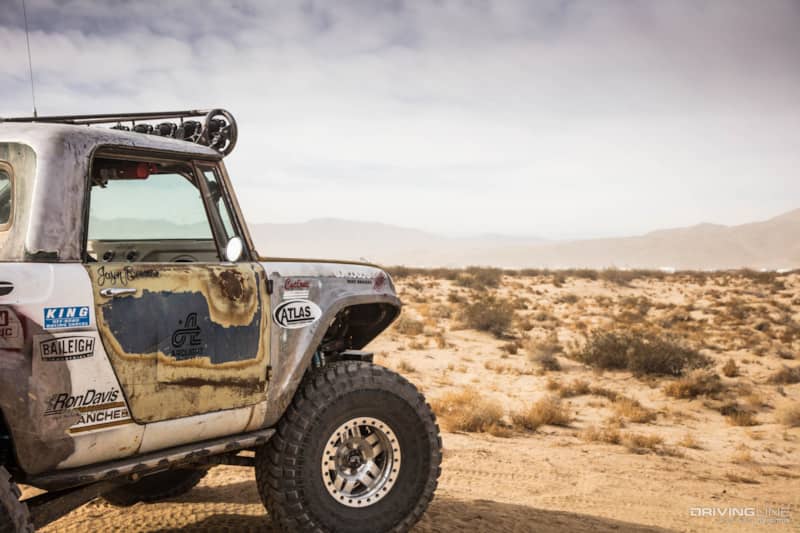 "I think the doors are the only thing that didn't get touched on the truck. Everything else was a challenge," laughs Jason. Under the hood a 4BT P-Pump Cummins provides the power paired with a compound turbo set-up.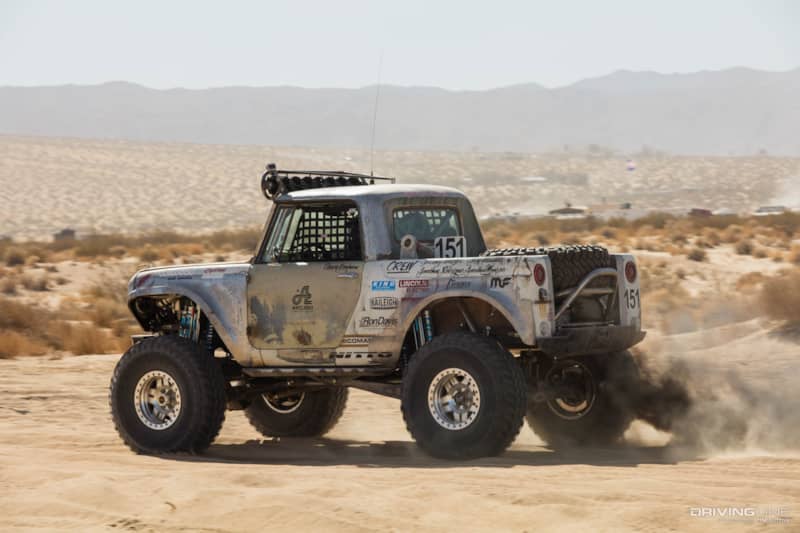 "When we first started to build this thing, there was room for days under the hood. Then you start putting more components in and now you couldn't fit a sheet a paper in there if you tried." The same went for wiring. "It was like putting 10 lbs of stuff in a 5 lb bag," notes J-Rod. They had just about 5 minutes of run time before loading it on the trailer and hitting the road for Hammers. Ultimately, engine performance, which affected fuel consumption, was the nail in the Scout's coffin on race day.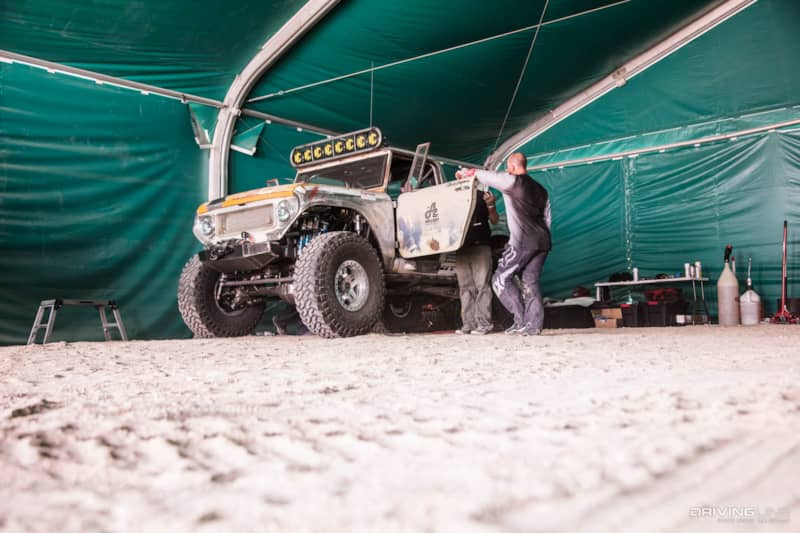 Time to Race
Landing on the lakebed that becomes Hammertown during King of the Hammers is a surreal experience, even more so when you're bringing a race car you've just worked on against the clock for the past 100 days. Jason was the only one on the crew who'd ever been. J-Rod had never even been in the desert when he arrived. Against the salty and seasoned long-time racers and off-roaders, the Arclight crew was green to say the least.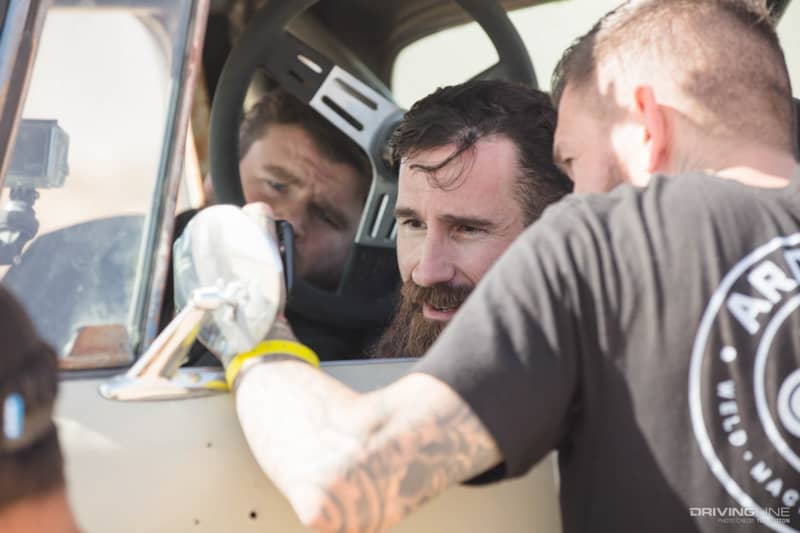 But that's part of the point for doing Shifting Gears—they're putting themselves into these new adventures where the point isn't to win, but to put the car in a real-life test with real-life experts. "Initially I wanted to drive the truck to Moab," notes Aaron. "I wanted everyone to see the vehicle that we built and be able to compare it to trails that everyone's run—and compare our experience to the one they'd had so they would know exactly the kind of vehicle we built."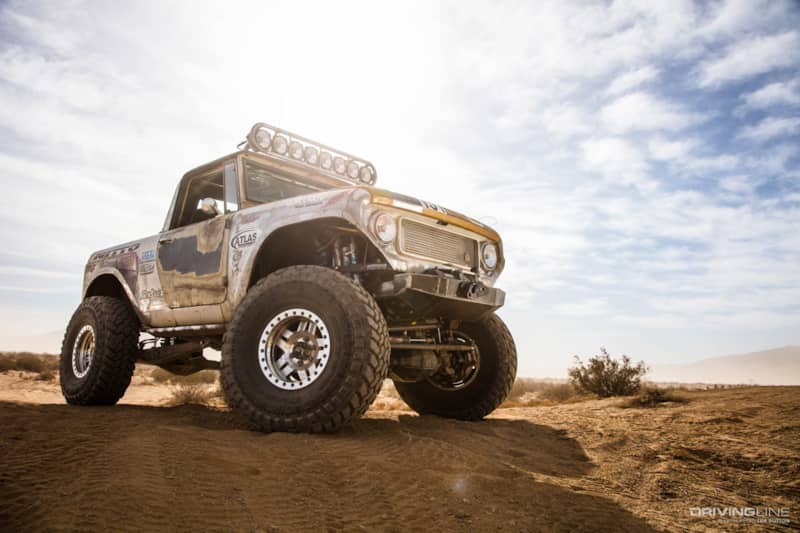 What we all know by now is that Moab isn't where the Scout landed. It was finished just in time to race KOH. "We pivoted and did what we could to make it work," explains Aaron. "And we came out with a vehicle that techs for 4400." Whether or not Ultra4's most competitive, unlimited 4400 class was the one it ought to be in is beside the point—decisions they'd made earlier in the build destined it to race there. So the team showed up ready for an adventure and ready to race.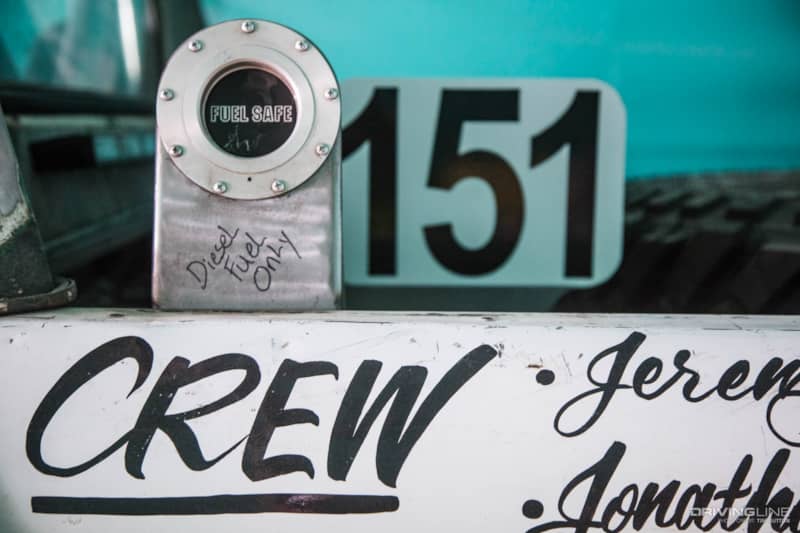 Race week is a blur—with tech, qualifying, testing and repairs all going on in a make-shift town that's dusty with action from racers and off-roading spectators alike. Main race day is on a Friday, and the Arclight crew worked on the Scout all week long, tuning shocks and trying to solve issues in the drivetrain. "I woke up race day morning and felt like it was almost finally over," recounts Jason. "I was ready to be in the car and get the race going."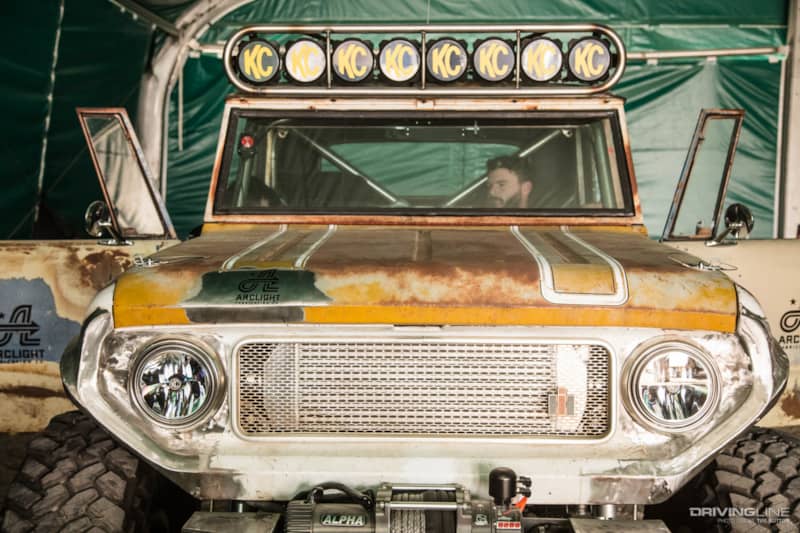 At the start line, the black-smoke spewing Scout was unlike any of the 102 race cars that took off that morning. You knew it wasn't going to win, but man, you were cheering for it in that underdog sort of way—hoping against all odds that it might finish, something that only 28 cars ended up accomplishing in 2018. By Race Mile 2 they'd blown the front axle and by Race Mile 3 a looming obstacle appeared. "You want to talk about taking the wind out of your sails, it's a stupid 100-yard sand hill at Race Mile 3 and this thing wouldn't go up it," tells Jason. "A John Deere tractor made more horsepower." After pushing the Scout to its limits, checkers or wreckers being the driving moto, Aaron and Jason piloted the Scout past the sand hill, where "every race mile we saw was like we won the lottery."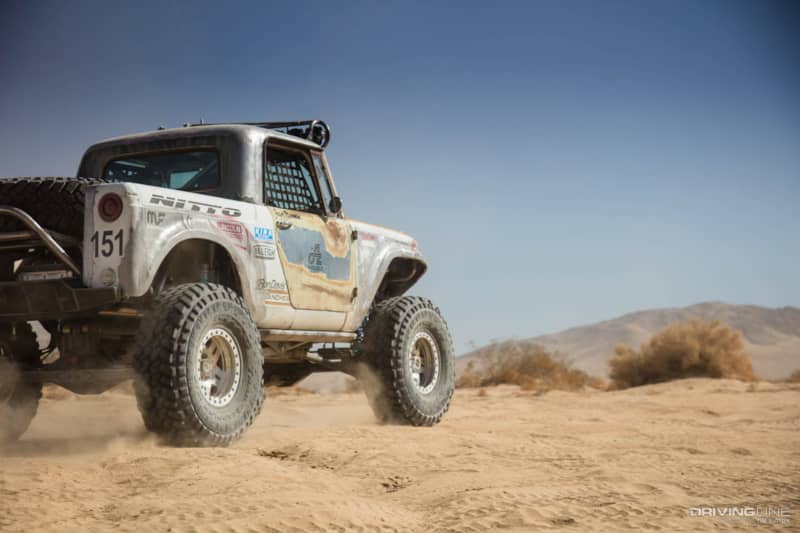 Race Mile 5 passed, then 12 and eventually the Scout made it to Cougar Butte, the first rocks section. As they tell it, going through Cougar Butte seemed like another awesome day on the trail. The Scout was performing splendidly through the rocks… until it wasn't. What everyone knew in the back of their minds was that the Scout only had a 25-gallon fuel tank and they were getting 1.2 mpg. It doesn't take a math whiz to know that with 199 miles, limited pit stops and no outside help on course, their chances of finishing were bleak. At Race Mile 26 the truck petered out and died. Not even hiking back to the pit and carrying fuel in would've gotten it to the next stop.
"We only got to Race Mile 26," recounts Aaron, "but there was a string of 4400 cars we passed that didn't even make it that far."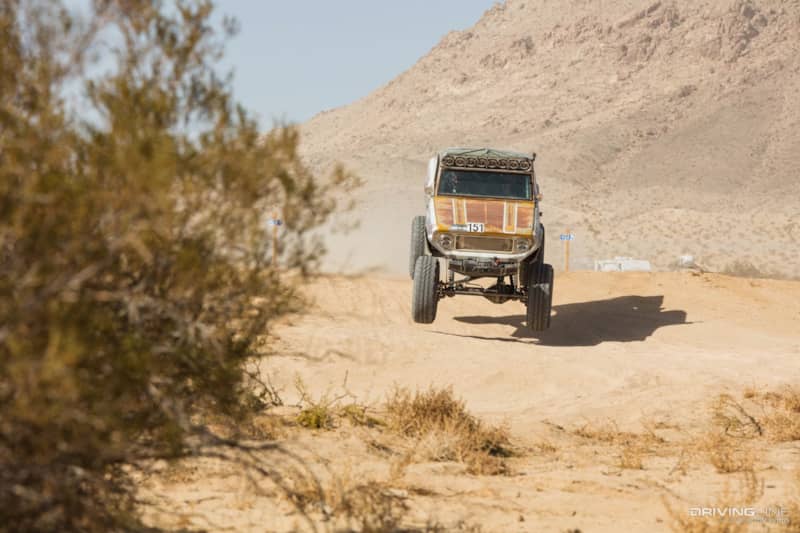 While it may not be a perfect Hollywood ending, it's a real-life ending that has its own successes. A crew of builders came together, having never built this sort of car, and on their first project together built a 4400 Ultra4race car in an extremely condensed timeline. It passed tech inspection and raced at King of the Hammers. "It's an amazing thing to step back and actually see something that you spent so much time on, to see it work, to see it function and do its job correctly," says Jeremy. "It makes all the hard work worth it."
What's Next
"Sometimes you don't realize that something's meant for you until you go do it," tells Aaron. "It was a powerful experience. I plan on being back and finding out exactly what we can get done out there when we bring the proper tool." While we're sure there will be a handful of other builds and many more car adventures sandwiched between here and there, we'll be anticipating seeing the Arclight crew back at Johnson Valley.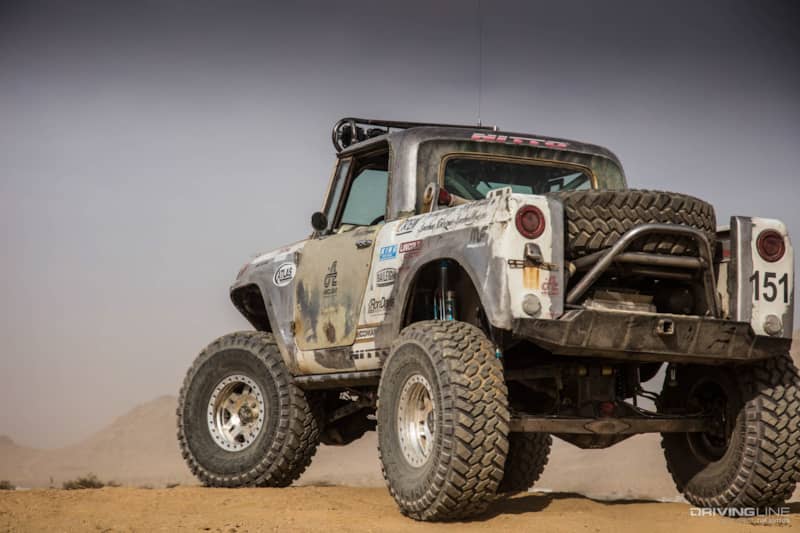 Until then, catch them in Shifting Gears on the Discovery network and look to see Arclight Fab manufacturing parts to support late-model Ford trucks when they're not throttling down into their next adventure.
Specs: 1971 International Scout 800, Commanche Edition
| | |
| --- | --- |
| BUILT BY: | Arclight Fabrication by Aaron Kaufman, Jason Bowman, Josh Freeman, Jon Rodriquez, Jeremy Webster and Jonathan Mansour |
| BUILD TIME: | 100 days |
| ENGINE: | 4BT P-Pump Cummins, machine work by Industrial Injection, Late Bowl pistons, Fire Ring head, Stage 2 cmshaft, Steed Speed exhaust manifold, Borg Warner compound turbo |
| DRIVELINE: | GM 6L80 by Monster Transmission built for 750 lb-ft with Kilduff Shifter, Atlas 2 transfer case, Currie front and rear diff with F9 housing and 3.5 tube, 35-spline axleshafts, ARB front and rear lockers, 4.56:1 gears, custom high-angle driveline shafts, Wilwood 14" rotors with 6-piston calipers |
| SUSPENSION: | 3-link; King coilover (2.0x14), bypass shocks (2.5x14 front, 2.5x16 rear), 2.0 bumps; 12" front travel, 18" rear travel; Currie Anti-Rock front and rear swaybars; AGR Steerco box and Ram Assist |
| WHEELS: | Fuel Beadlock Anza 17x9 cast aluminum |
| TIRES: | Nitto Trail Grappler 40x13.5R17 |
| BODY: | Arclight Fab custom fabricated chassis using 2x4 rectangle steel tubing, 108" wheelbase, 21.5" ground clearance, 6,210 lbs, stretched and re-radiused fenders; KC headlights and Pro-6 LED lights and rock lights, Bulldog winch |
| INTERIOR: | PRP Comp Elite seats, Arclight Fab custom interior components, RacePak dashes, Restomod A/C, VIAIR Corp on-board air |
| SPONSORS: | Nitto Tire, Industrial Injection, Monster Transmission, Advanced Adapters, Atlas 2, Fuel Wheels, Wilwood Brakes, Currie Enterprises, Ron Davis Radiator, FASS, RacePak, PRP Seats, Bulldog Winches, VIAIR Corp, Magnaflow |