Anatomy of a Pro Stock Diesel Truck
Building on our "Anatomy of" theme, this installment sheds some light on the ultra-competitive Pro Stock class in diesel truck pulling. Unlike the multi-turbo, fiberglass body Super Stock category, in Pro Stock restrictions are placed on key power-making components such as the turbocharger and injection pump, with frame and body limitations in place as well. While not quite as extreme as the 3,000 hp Super Stocks, the Pro Stock trucks are arguably more consistent and predictable. In this class, sled pulling is no longer a game of feet, but a game of inches. It's not uncommon to see the top 10 finishers at a national event be separated by only a few feet.
Follow along as we award this dynamic class its well-deserved 15 minutes of fame.
All-Iron Engines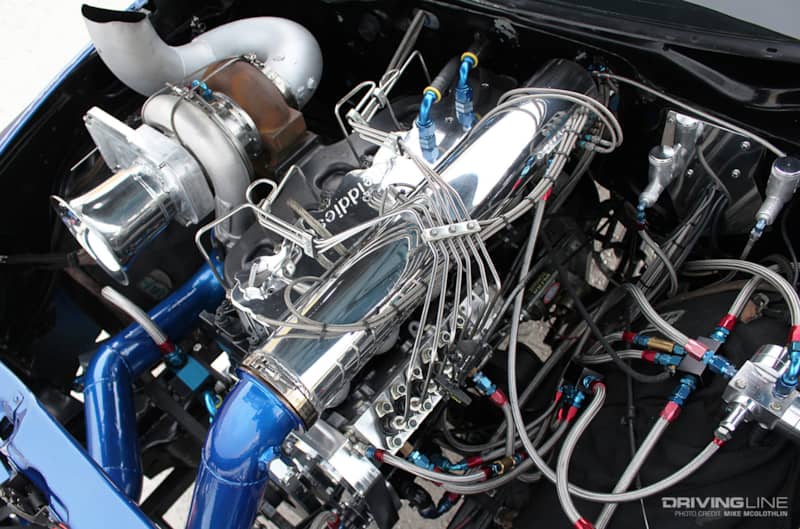 Unlike the Super Stock class, aftermarket blocks aren't permitted in the Pro Stock category. As a result, factory-based cast-iron crankcases — such as the 6.7L-based Cummins shown here — are heavily reinforced. The water jackets are filled with concrete, the crankshaft is secured via girdle, billet connecting rods and low-compression pistons are used, the cylinders are sleeved and deck plates are employed. Scheid Diesel and Haisley Machine all but own the Pro Stock class as far as engines are concerned, and the two companies are constantly duking it out for the top spot in an unbelievably competitive field.
High-Flow 12-Valve Head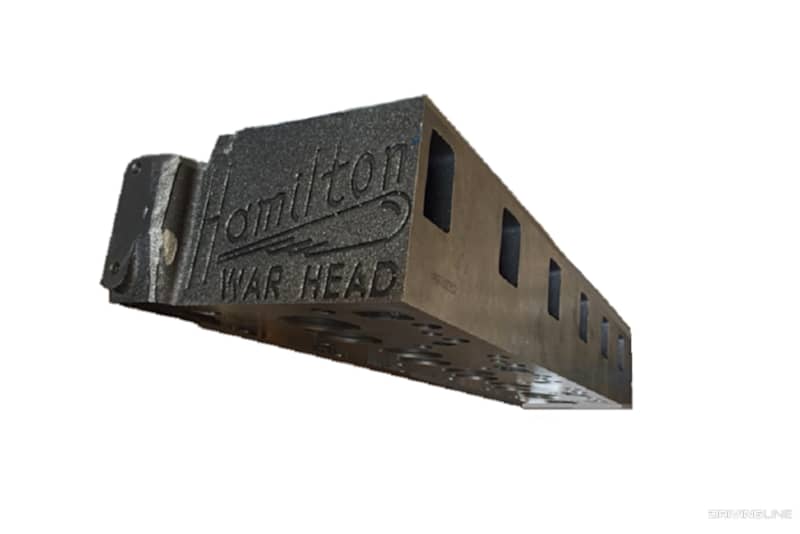 With no billet blocks (of any material) being allowed, it stands to reason that no billet-steel or billet-aluminum cylinder heads are allowed in Pro Stock either. However, OEM or OEM cast replica heads are permitted, which makes the cast-iron 12-valve piece from Hamilton Cams one of the go-to items in this class. Thanks to a thicker deck and more material around the ports than what you'll find on an OEM 12-valve head from Cummins, the Hamilton War Head can be opened up in a big way via CNC porting. In fact, a thoroughly worked over version (complete with larger valves and a complementary high-lift cam) can flow more than twice what a factory unit can (310 to 340 cfm vs. 150 cfm stock).
3.6-inch Smooth Bore Turbo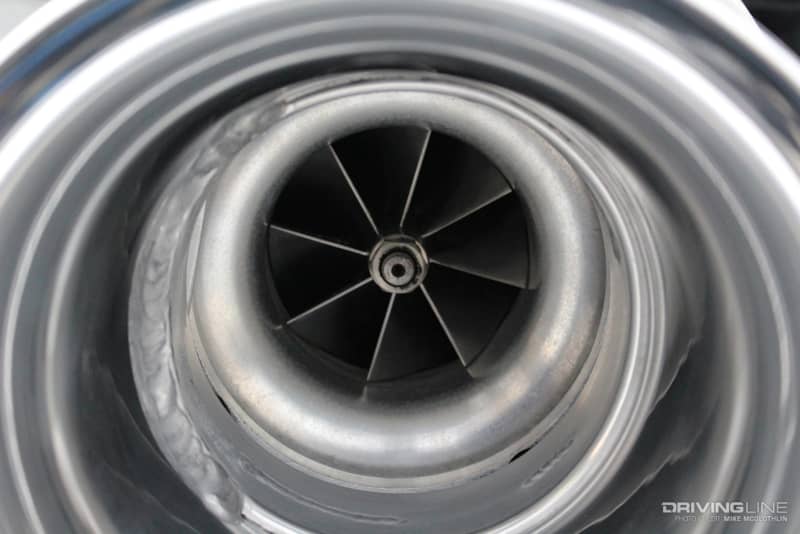 In the Pro Stock field (and just as is the case in the Pro Stock tractor category), only one turbocharger can feed the engine. For the Pro Stock diesel trucks, the turbo must be of a smooth bore design, no map groove can be present and the compressor wheel inducer can measure no larger than 3.6 inches (91.4 mm). It's typical for a charger in this class to produce 55 to 65 psi worth of boost. While it's a far cry from the 120 to 150 psi the compound and triple-turbo engines in Super Stock ingest, the milder boost levels the Pro Stock engines see afford them exceptional reliability. Most competitors opt for a refresh each winter, but we wouldn't put it past a Pro Stock engine to survive two full seasons (if not more) of abuse without a rebuild.
Cooler Air = More HP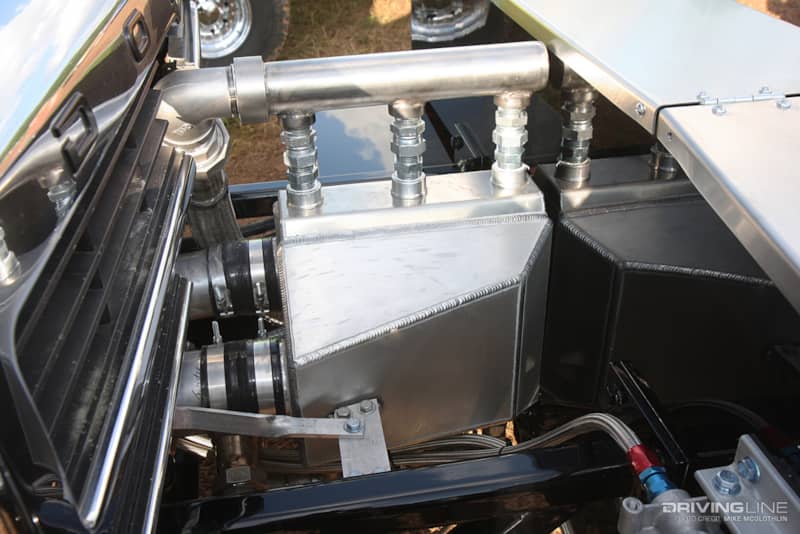 One of the more overlooked components on a Pro Stock rig is the type of intercooler most competitors use. Of a water-to-air design, these multi-core units (available through Precision Turbo & Engine, Frozen Boost and others) require the use of an auxiliary water pump and an ice box in order to function, but they're known to drop the temperature of the compressed air leaving the turbocharger by more than 400 degrees. Most water-to-air intercooler systems provide for 60 to 75-degree air to enter the engine (vs. 500 degrees). It's not uncommon for more than 100 pounds' worth of ice to be consumed on one pass. We'll note that water injection is also allowed (and employed) in Pro Stock, to keep exhaust gas temperature in-check.
13mm and 14mm P-pumps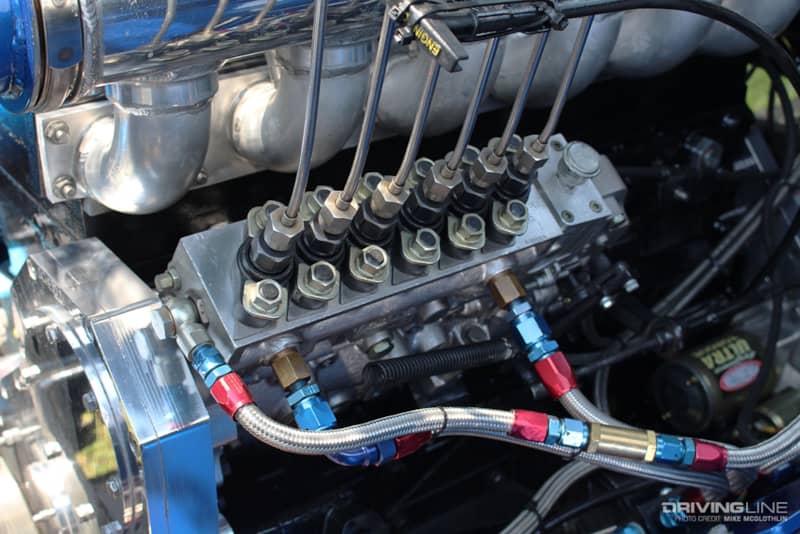 Injection pump stipulations dictate that P-pumps can be run so long as just one plunger exists per cylinder (i.e. dual plunger pumps are illegal), but the exotic Sigma pumps found in the Super Stock aren't permitted. One of Scheid Diesel's 14 mm P8600 P-pumps is shown in the photo above, which incorporates 14 mm plungers and barrels, a quick-rate cam and an Ag governor that provides full fueling past 6,000 rpm. Other popular injection pump choices in the Pro Stock class include the 13 mm versions offered by Northeast Diesel Service and Hart's Diesel. Most injection pumps send fuel to custom, triple-feed injectors with 5-hole, SAC-style nozzles.
Reverser Transmission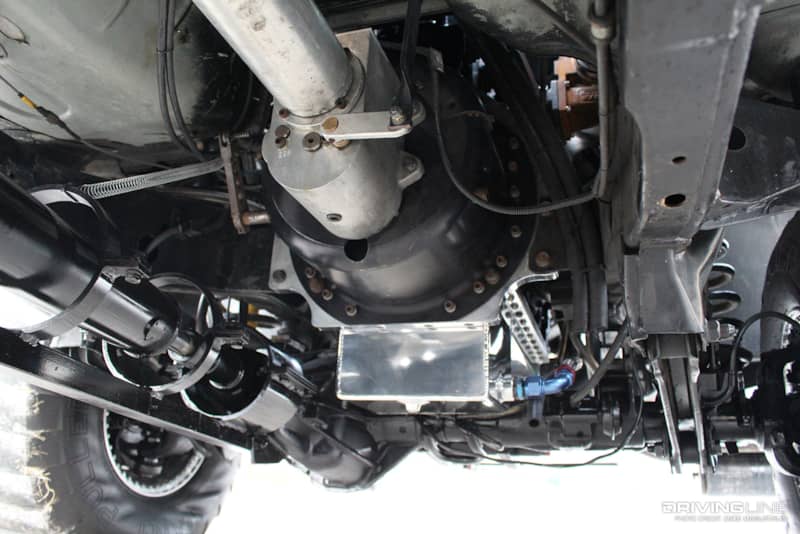 Just like the Super Stock class, the one-speed reverser transmissions and quick-change transfer cases offered by Pro Fab Machine and SCS Gearbox are utilized by all Pro Stock competitors. A Pro Fab reverser can be seen above, positioned directly behind the blow-proof bell housing in Daniel Whalen's '01 Dodge, a truck named "Cumminzed Out." Also similar to the Super Stock field of trucks, Pro Stocks are typically fitted with a four-disc clutch from either Hays, Crower or Molinari Racing Products.
100 Percent Sheet-Metal Body
Fiberglass body panels are prohibited, but removable panels are not — hence the use of them here for serviceability purposes. And while trucks can be fitted with an aftermarket hood, it too must be sheetmetal. We'll also point out that 0.060-inch thick engine shields that span the length of the block have to be used for safety purposes, which equates to running a steel inner fender.
Shedding Weight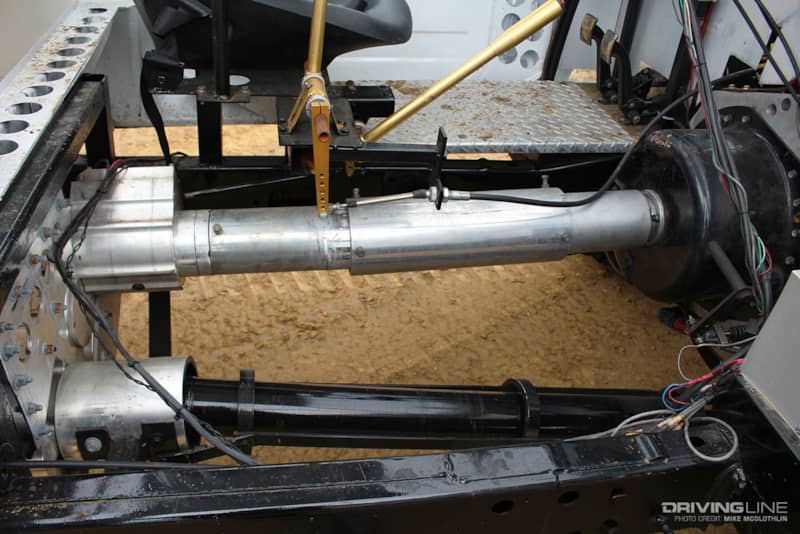 Just because the rules state the factory sheetmetal body has to be retained doesn't mean you can't cut weight in certain areas. And by cut, we mean cut loose… Take the interior of Todd Cox's '80 Chevy, for example, in which he cut out the cab floor entirely and then took a hole saw to the interior. As a result of all of his handy work (along with removing the dash, and rear and side windows), he was able to trim more than 400 pounds out of the cab and then relocate it where it needs to be — forward of the front axle, in the weight box.
OEM Frame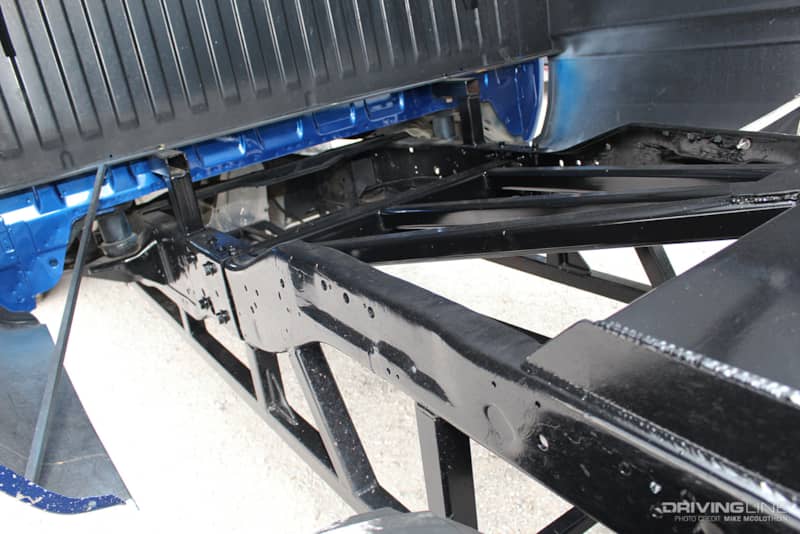 One of the biggest differences between the Pro Stock and Super Stock trucks rests in the chassis. While a tube chassis frame can be employed (and almost always is) in Super Stock, Pro Stock competitors must retain the full OEM frame, from axle to axle. But even though the sheetmetal bed has to be left alone, rules do permit the bed floor to be cut out in order to shave weight. Remember, the goal in all truck pulling classes is the same: Get as much weight forward of the front axle as possible. The maximum weight allowed for trucks competing in Pro Stock is 7,800 pounds (vs. 7,500 pounds in Super Stock).
Axles Built for Battle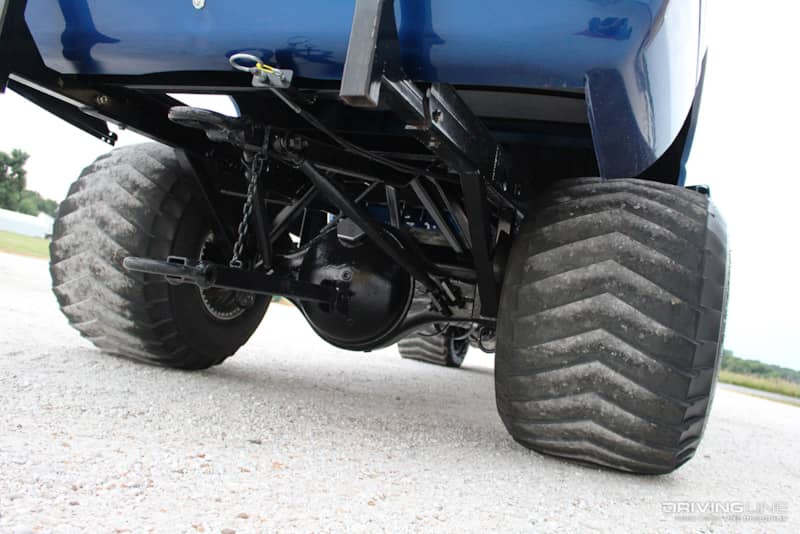 Other than planetaries being prohibited, no limitations are placed on front or rear axle choices. Armed with this freedom, most competitors opt for the strongest and most common rear axle used in truck pulling today: the Rockwell SQHD. Gun-drilled axle shafts, spools and lighter-weight hubs are employed in an effort to reduce weight and keep each wheel digging. Up front, it's common to find a Rockwell 106 that's been fitted with steering knuckles, but a lot of trucks (namely Dodge Rams) still sport the factory-based Dana 60.
Suspensions Geared Toward Maximum Traction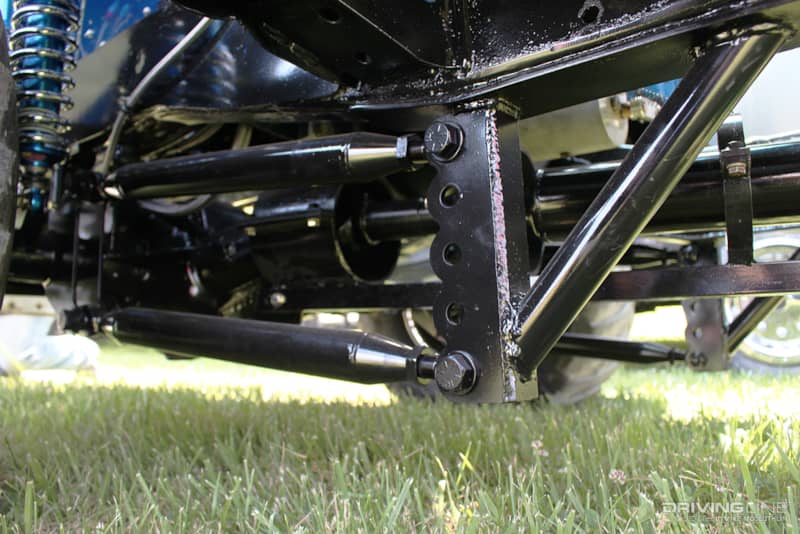 While the rear suspension is rigid (i.e., non-existent) on Pro Stock trucks, it's not uncommon to find a four-link configuration up front. This burley setup effectively loads the top arm and pulls in the bottom one in order to keep the axle housing from rotating under load. On this particular truck, two adjustable AFCO shocks reside on each side up front, allowing the owner to fine tune the suspension to his specific needs.
Aggressive, Cut Tires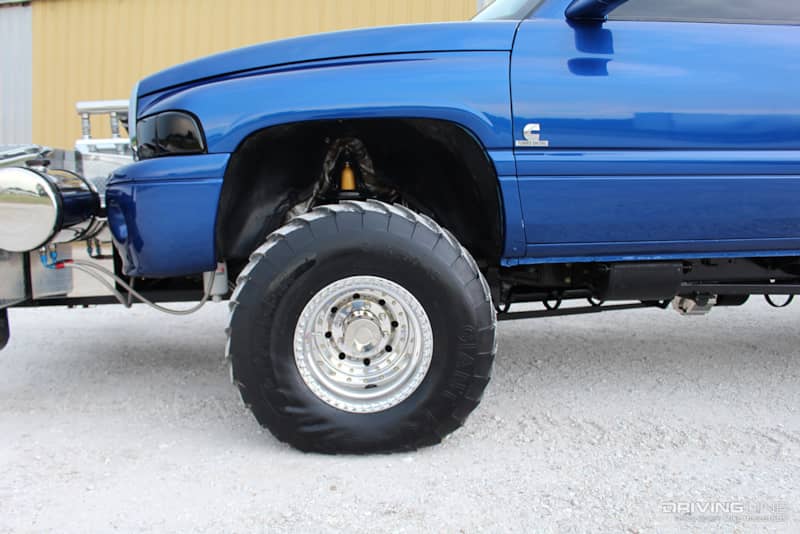 Although both DOT-approved tires and cut tires are legal in the Pro Stock class, most competitors opt for cuts. Just like in the Super Stock field, the traction that bar tires provide is far superior to what any DOT tread pattern can offer in the dirt. And (once again) just like in the Super Stock class, Real Racing Wheels measuring 15 inches in diameter can essentially be found on all Pro Stock trucks.
Here's where you'll find the hottest-running Pro Stock diesel trucks competing this summer:
Lucas Oil Pro Pulling League Schedule
DATE
EVENT
LOCATION
July 6
Midwest Summer Nationals
Freeport, Illinois
July 8
Southeast Illinois Summer Heat
Fairfield, Illinois
July 21

Montgomery County Fair

Montgomery City, Missouri

July 22

Platte County Fair

Platte City, Missouri

July 26

PPL Pull

Holland, Michigan

July 27

Elkhart County Fair

Goshen, Indiana

July 29

Rocky Top Diesel Shootout

Terre Haute, Indiana

September 23

Macon County Truck Pullers

Lafayette, Tennessee

October 6-7

Rudy's Diesel Truck Jam

 

Julian, North Carolina
See the full PPL schedule at ProPulling.com.