Ultimate Callout Challenge 2017: Sled Pull
The last torture test for Ultimate Callout Challenge (UCC) competitors to undergo in 2017 would be the most demanding: the sled pull. Not only is the potential for broken parts greater than what you'll find at the drag strip or on the dyno, but transforming an 8, 9 or 10-second truck into one that can effectively lug the sled 300 feet is a tall order. To make it happen, many teams turned to nearby shops for adequate working space, tools, parts and other resources as a lot of trucks received vast suspension tweaks, axle swaps, different torque converters and ring and pinion changes — not to mention the addition of aggressive tires and front weight boxes.
After experiencing the failures, mishaps and hardships that often accompany trucks making four-digit horsepower, a few more teams had no other choice but to bow out following the dyno competition. By the time the first truck hooked to the sled on Day 3, just 18 of 31 entries remained in the running. As for the points tally, a First and Second Place finish from Lavon Miller earned him the top spot heading into the sled pull, with Derek Rose's Second and Third Place efforts keeping him within striking distance. Thanks to solid showings on both the drag strip and dyno, Wade Minter couldn't be counted out either. With the right distance and a win in the sled pull, Wade and especially Derek still had a legitimate shot at First Place. Things were about to get interesting…
It's worth noting that two rounds of sled pulling take place at the UCC. After the first round, an hour intermission is observed (for repairs and cool down) and then the second round serves as a way of giving competitors a chance to improve upon their initial distance. The furthest distance achieved in either round becomes the competitor's final distance.
Sled Pull Prep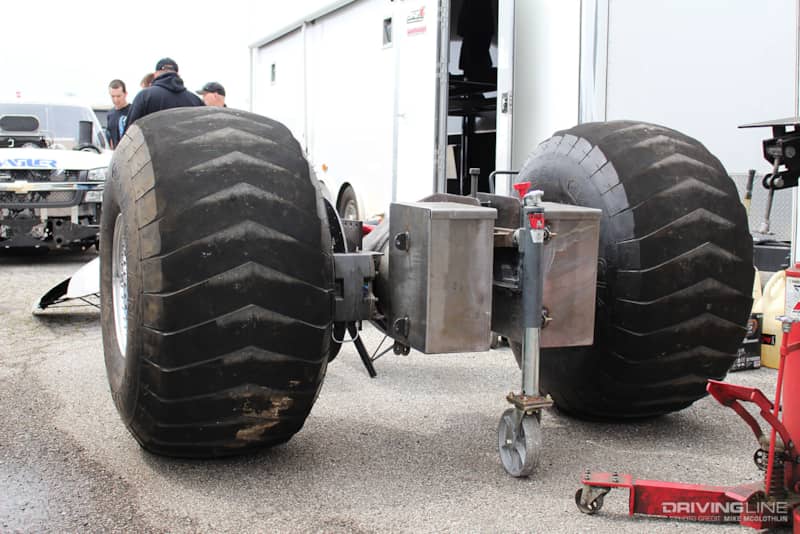 While a simple tire change might've been able to get you by between the drag race and dyno events, the same couldn't be said for the sled pull. With massive axles, aggressive tires, ring and pinion swaps, blocked suspensions and hanging front weights making their way onto most of the trucks, they didn't even look the same. The transformations many of these trucks underwent between events was truly remarkable.
Jeremy Wagler: 297.05 ft.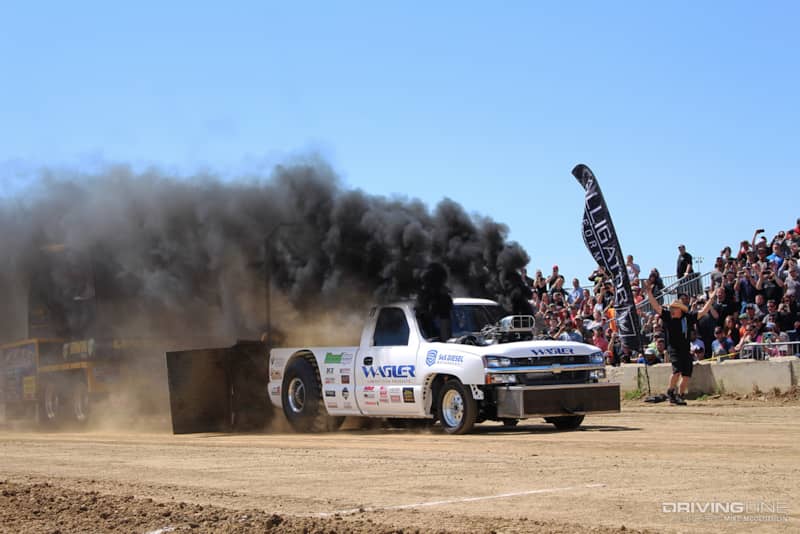 Back with a freshly built DX500 Duramax (if you recall, the truck melted two pistons during the drag races on Day 1), the Wagler Competition twin-turbo'd and blown "Shop Truck" reappeared for the sled pull. This time, the two-wheel drive Silverado was rocking a massive rear axle from Engler Machine & Tool — complete with cut tires. Taking advantage of the 30-inch hitch height rule for two-wheel drives (vs. the conventional 26-inch requirement for 4x4 trucks), the Wagler monstrosity's best hook of the day yielded a respectable distance of 297.05 feet.
Aaron Rudolf: 247.02 ft.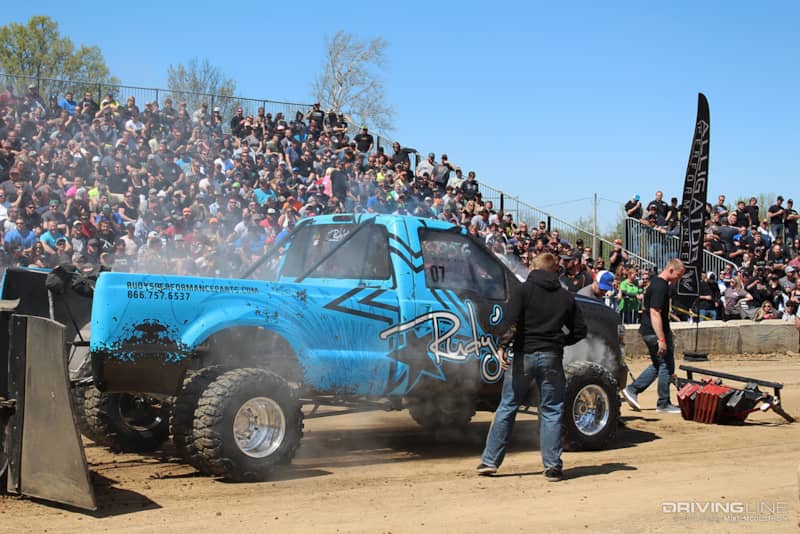 Also back with a brand new engine was Aaron (Rudy) Rudolf's 6.4L Power Stroke powered Super Duty. Rudy's truck is running Nitto Mud Grapplers, which are one of the favorites of regular sled pullers. During the course of his pull, the front and rear axles — both of which were drag strip-friendly 9-inch units — suffered damage. Then just as the truck came to a jarring halt, the weight box literally flew off. Despite the carnage, commotion and the fact that Rudy had basically brought his drag race setup to the pulling track, he still managed to squeeze a 247-foot effort out of his Ford.
Wade Minter: 311.05 ft.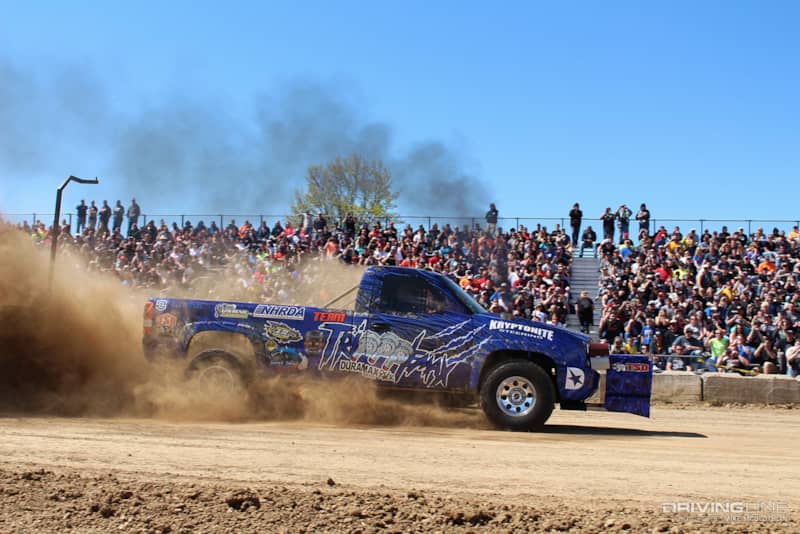 With so many dedicated drag racers competing at UCC, a lot of folks were curious how these trucks would react with a sled in tow. In a 311-foot show of force, no one would've ever suspected it was Wade Minter's first time ever hooking to the sled. His Fourth Place pull surprised everyone that knew his 9-second Silverado was built exclusively for drag racing.
Mike Graves: 275.11 ft.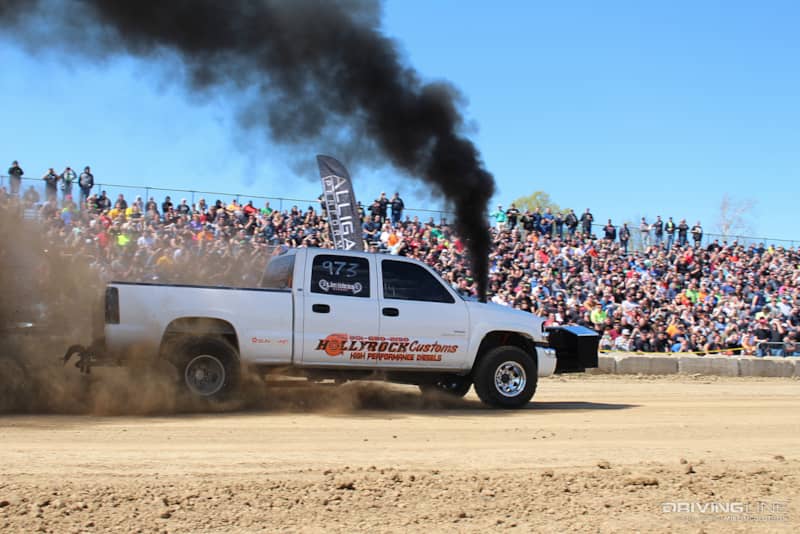 The carnage gremlins would unfortunately come calling during Mike Graves' hook. At the tail end of his pull, the rear AAM 1150 axle rotated, causing all kinds of driveline mayhem. Still, the dually-converted GMC was able to go 275 feet and change, which would be good enough for 10th Place and a Seventh Place finish overall.
Todd Welch: 321.02 ft.
Stirring things up in more way than one was Todd Welch and the Power Driven Diesel Dodge. Not only did the truck show up to pull sporting an SQHD rear axle fitted with dual cut tires, but its 321-foot run would end up placing Todd roughly 10 feet ahead of Derek Rose — the competitor with the best chance of catching Lavon Miller for the overall points win. After all the mishaps at the drag strip and on the dyno, it was nice to see the Power Driven Diesel truck finally live up to its potential.
Jesse Warren: 283.03 ft.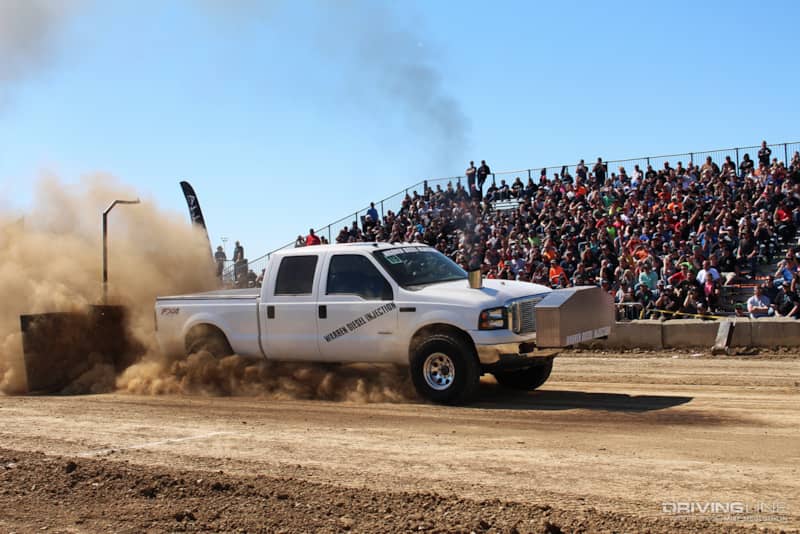 With years of sled pulling experience on his side, Jesse Warren finished ninth in the sled pull despite foregoing a dual rear wheel conversion and running a hurt atmospheric turbo. Jesse's 283-foot haul solidified him a Fifth Place overall finish — not bad for a full weight, 6.0L-powered, crew cab Super Duty.
Donavan Harris: 312.11 ft.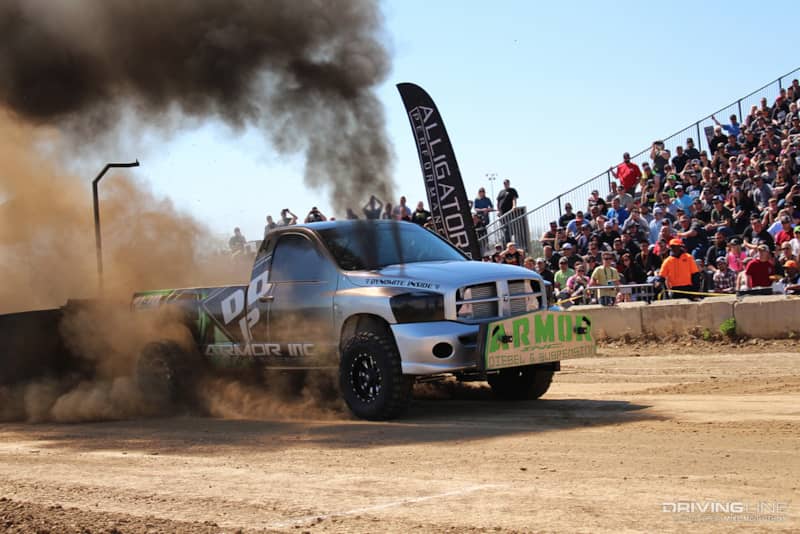 After finishing 10th on the dyno, Donavan Harris came roaring back in the sled pull. His fire-breathing Ram's 312.11-foot hook would surpass Wade Minter's distance for the No. 2 spot — and in the process propelled him back up toward the top of the overall standings.
Derek Rose: 312.07 ft.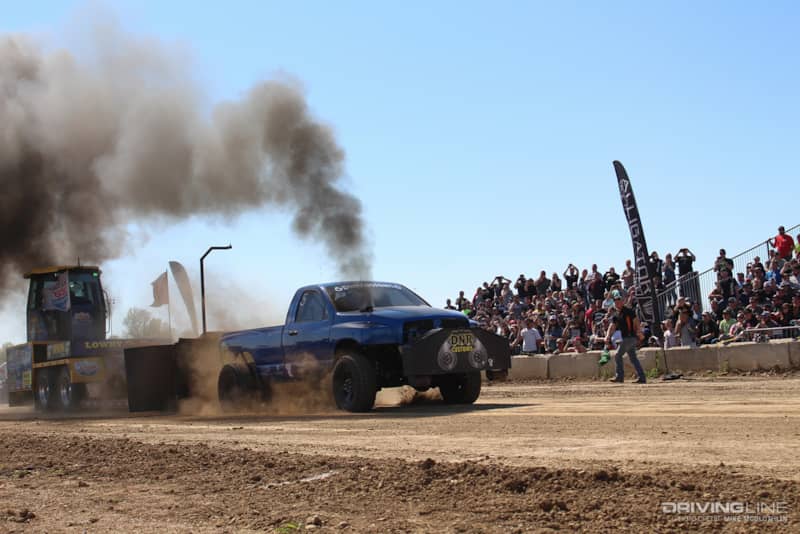 Knowing he needed a strong pull in order to catch Lavon Miller, Derek Rose tried to apply every ounce of his truck's 2,100 hp to the track. While the power was there, the track simply wasn't. When the dust settled, Derek's Dodge would end up less than an inch behind Donavan Harris' Second Place distance.
Chase Fleece: 296.06 ft.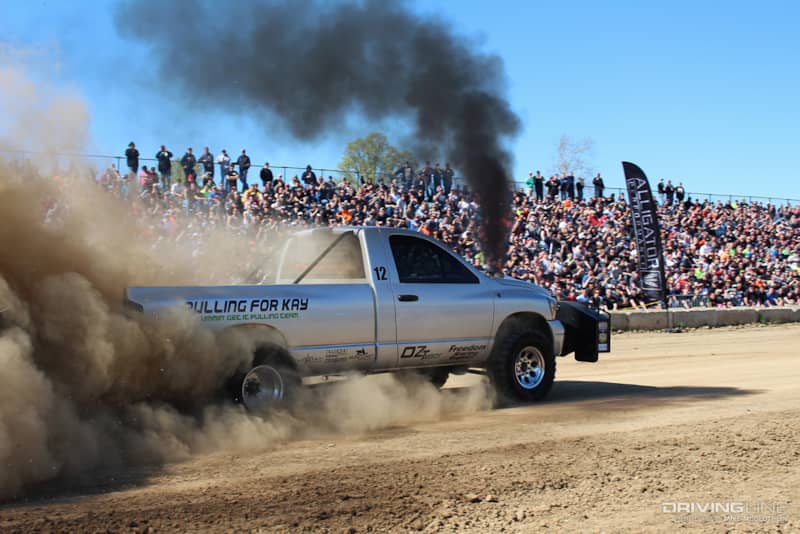 Equipped with rear duals, six Nitto Mud Grapplers and an NV4500-based, three-speed manual transmission from Pro Fab Machine, Chase Fleece's regular cab Ram pulled off one of the smoothest pulls of the day. Unfortunately, a loose track never allowed him to apply everything the truck had to the ground. Still, Chase would finish with a 296.06-foot hook — Seventh Place on the day.
Derek Rose: Round 2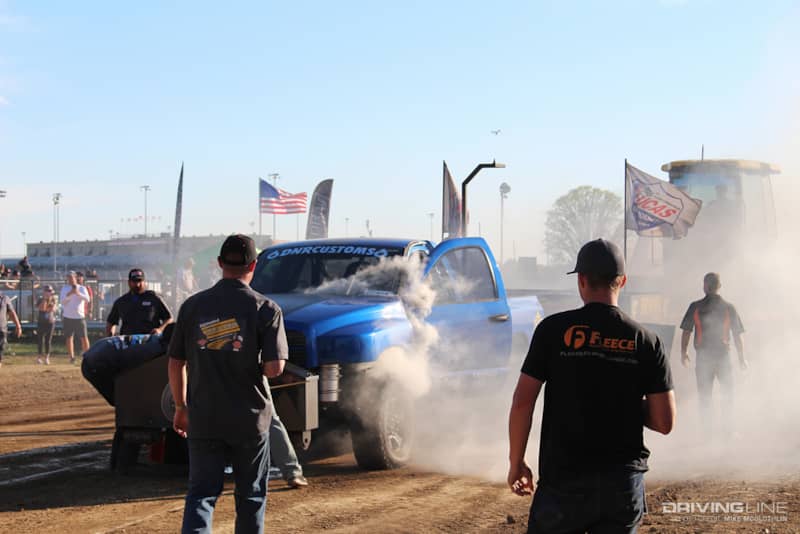 Knowing he'd hurt something in his valve train, Derek Rose went for broke and took one last shot at getting the sled as far as he possibly could. In his final blast down the track, the DNR Customs Dodge looked strong. But just as the truck reached ground speeds at or approaching 30 mph the engine checked out, bringing his hard charge to an abrupt halt. While this cemented Derek into the Runner-Up position at UCC 2017, his valiant, last-ditch effort was exactly what fans came to see: a fierce competitor laying it all on the line for a chance to win.
Lavon Miller: 296.09 ft.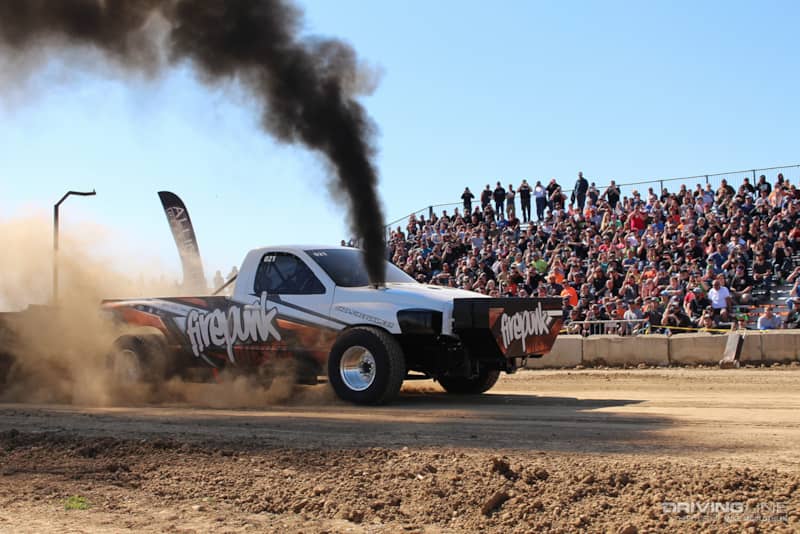 Following his 2,399 hp dyno performance with a mechanical Cummins under the hood, Lavon Miller reverted back to the common-rail power plant that sent his Dodge through the quarter-mile in 8.63 seconds. Along with the engine swap, Lavon also tore apart the truck's 48RE transmission prior to the sled pull (namely to inspect its internals) and then added a converter with a pull-friendly stall-speed. Dual rear wheels, more aggressive tread and hanging front weights made their way onto the truck as well. The combination of all of the above culminated in a 296.09-foot pull, which earned Lavon his second UCC title.
Back-to-Back Wins
To us, Lavon Miller's performance on the chassis dyno illustrated just how talented he and the rest of the Firepunk team is. What's crazy is that mechanical injection is new to these guys. Lavon's family-owned and operated shop, Firepunk Diesel, specializes in common-rail injection technology (i.e. '03-present Cummins) and Dodge transmissions, so his crew's ability to take on a whole new animal, tame it and finish near the top with it was beyond impressive.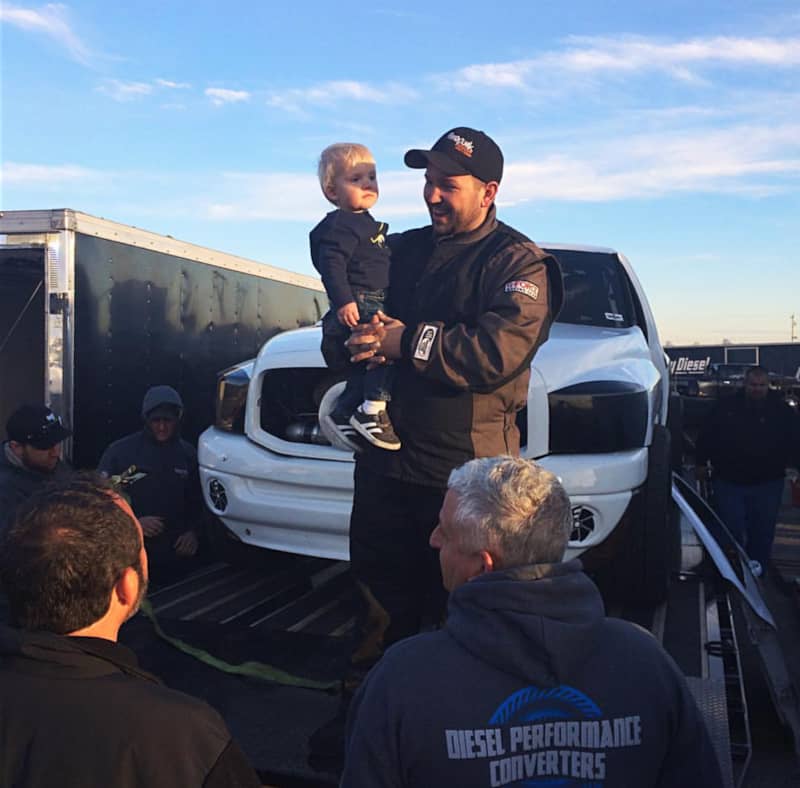 Lavon has now won back-to-back UCC events, not to mention his previous back-to-back wins in Diesel Power Magazine's Diesel Power Challenge. It's clear that he and his team thrive in these types of competitions — where a truck has to be a versatile, all-around performer and not just a one-purpose vehicle. Lavon and the people around him are the definition of dedication and determination. Until another team can match Firepunk Diesel's level of tenacity, work ethic and support, expect this group to continue to dominate any competition they enter.
SLED PULL RESULTS
| Position | Name | Team | Distance |
| --- | --- | --- | --- |
| 1. | Todd Welch | Power Driven Diesel | 321.02 ft. |
| 2. | Donavan Harris | Armor Inc. / DDP | 312.11 ft. |
| 3. | Derek Rose | DNR Customs | 312.07 ft. |
| 4. | Wade Minter | SoCal Diesel | 311.05 ft. |
| 5. | Jeremy Wagler | Wagler Competition | 297.05 ft. |
| 6. | Lavon Miller | Firepunk Diesel | 296.09 ft. |
| 7. | Chase Fleece | Fleece Performance | 296.06 ft. |
| 8. | Josh Gruis | Jag's Pro Truck Shop | 286.07 ft. |
| 9. | Jesse Warren | Warren Diesel | 283.03 ft. |
| 10. | Mike Graves | Hollyrock Customs | 275.11 ft. |
| 11. | Jaran Holder | Holderdown Diesel | 263.09 ft. |
| 12. | Cody Hopkins | Destructive Diesel | 255.01 ft. |
| 13. | Aaron Rudolf | Rudy's Diesel | 247.02 ft. |
| 14. | Zach Fuller | Starlite Diesel | 247.01 ft. |
| 15. | Tom Hauser | RevMax | 226.10 ft. |
| 16. | Dan Snyder | Snyder Performance Engineering | 183.11 ft. |
| 17. | Randy Reyes | Randy's Transmission | 141.09 ft. |
| 18. | Shawn Baca | Industrial Injection | 81.07 ft. |
FINAL POINTS STANDINGS
Position

Name

Team
Points
1.

Lavon Miller

Firepunk Diesel

2,386.578
2.
Derek Rose

DNR Customs

2,337.118

3.

Wade Minter

SoCal Diesel

2,249.627

4.

Donavan Harris

Armor Inc. / DDP

 

2,145.022

5.

Jesse Warren

Warren Diesel

2,038.652

6.

Josh Gruis

Jag's Pro Truck Shop

1,999.048

7.

Mike Graves

Hollyrock Customs

1,936.522

8.

Zach Fuller

Starlite Diesel

1,787.361

9.

Aaron Rudolf

Rudy's Diesel

1,710.491

10.

Cody Hopkins

Destructive Diesel

1,600.915

11.
Tom Hauser

RevMax

1,579.023

12.

Jaran Holder

Holderdown Diesel

1,480.332

13.

Shawn Baca

Industrial Injection

1,475.256

14.

Randy Reyes

Randy's Transmission

1,445.616

15.

Chase Fleece

Fleece Performance

1,444.872

16.

Jeremy Wagler

Wagler Competition

1,320.450

17.

Todd Welch

Power Driven Diesel

1,281.591

18.

Cody Hale

Anarchy Diesel

1,252.085

19.

Ben Shadday

Done Right Diesel

1,249.792

20.

Shawn Ellerton

 

982.923

21.

Dan Snyder

Snyder Performance Engineering

937.099

22.

Justin Hyatt

Husker Diesel 

737.200

23.

Wesley Beech

Beech Performance 

641.000

24.

Chase Lunsford

KingSpeed Race & Repair

597.385

25.

Anthony Reams

XDP

589.177

26.

Andrew Tovornik

Midget's Diesel

413.600

27.

Ashley Black

Black's Diesel

293.000
Learn more about these amazing diesels in Trucks of UCC Part 1 and Part 2.