Anatomy of a Pro Stock Tractor
They sport 130mm turbochargers that produce triple-digit boost. They're propelled by 680 cubic inch engines that belt out more than 3,000hp. They impress everywhere they go. They're called Pro Stock tractors, and they are the kings of the dirt—the 10,000-pound wheels-up wonders of the sled pulling world. Hardly resembling the machines they were when they left the assembly line and no longer performing their intended duties on the farm, these babies are built for one thing and one thing only—lugging a 20-ton, weight-transferring hunk of iron as far as possible.
Each summer, thousands of fans pay good money to watch them storm down the track in 15-second, 300-foot intervals. At any given event, these ground-pounding machines often serve as the headlining act—the show people most want to see. John Deere green rules the roost these days, albeit with select Case IH, Massey Ferguson and even Minneapolis Moline candidates scattered in between. With their front tires hovering above the ground, the steering handled via foot brake and the engine running on the absolute ragged edge, it's a wild ride for both competitors and spectators. For the drivers that are fortunate enough to pilot these behemoths, there is no other adrenaline rush like it.
To find out what makes these Pro Stock monsters tick, we'll give you the powertrain lowdown, a glimpse at the rulebook and a taste of who the top-running tractors are in 2018.
Tinker Toy John Deere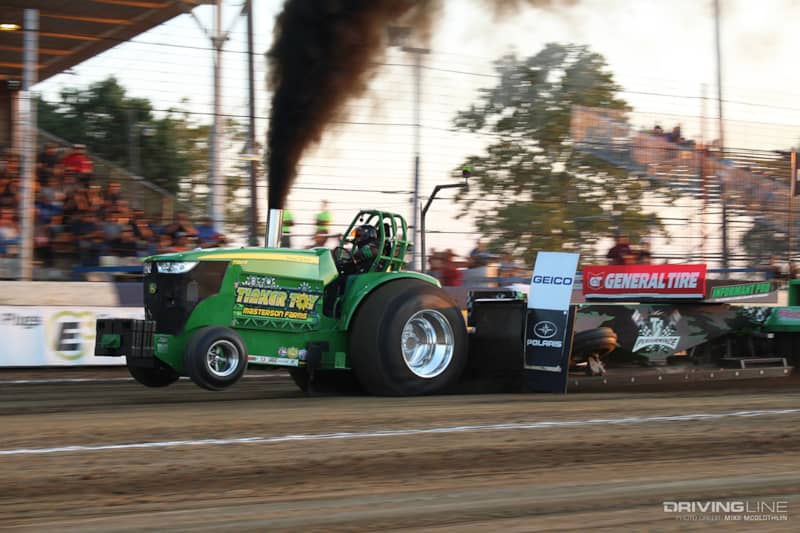 Don Masterson is no stranger to the podium, having won the prestigious Championship Tractor Pull at the National Farm Machinery Show on three occasions (including 2018), earning a Bowling Green ring and accumulating countless wins over the past 40 years of seat time. He and his "Tinker Toy" John Deere are currently sitting at the top of the Pro Stock heap in the Lucas Oil Pro Pulling League series. It's a position that doesn't come easy, especially when you're competing against the hardest-running tractors in North America. At the present time, there are three competitors within immediate striking distance of Don's points lead, and he'll be trying to hold them off for the last three hooks of the season.
Trailblazer Massey Ferguson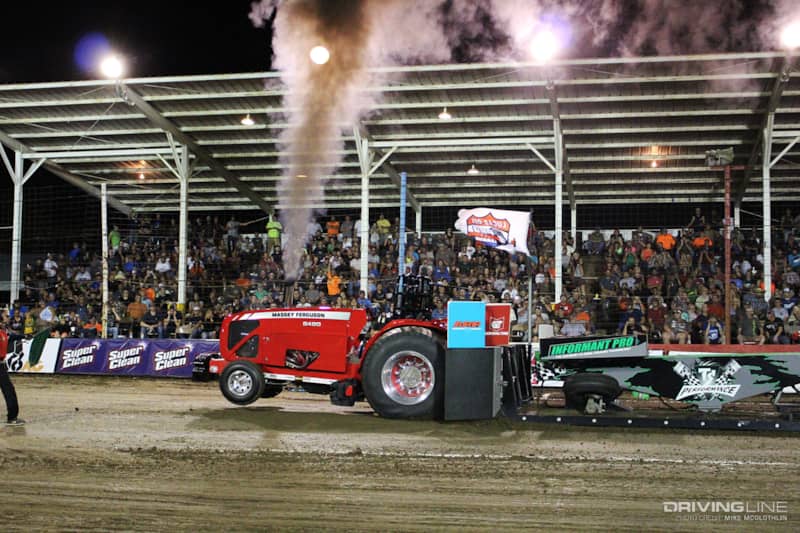 Campaigning a V8 in an I6 world can be a bit lonely—but Dan and Travis Kuhns, a father and son team from Arthur, Illinois, don't seem to mind. They've been fielding an eight-cylinder, Perkins-powered Massey Ferguson for more than a decade. Fittingly named "Trailblazer," the 8480 Massey represents something completely different in a class dominated by John Deere. But the Kuhns' one-of-a-kind machine does more than simply look and sound unique. Thanks to its approximate 3,500hp, it can run neck-and-neck with the heaviest hitters in Pro Stock, having made a run for the PPL title in 2016. We're told the 640 ci V8 was originally sourced from a combine application (specifically a White/Massey 9720) and that, due to aftermarket blocks not being allowed for V8s in the Pro Stock class, the Kuhns keep several core blocks on hand at all times. To see (and especially hear) this truly unique tractor in action, watch this video.
Beyond Limits Massey Ferguson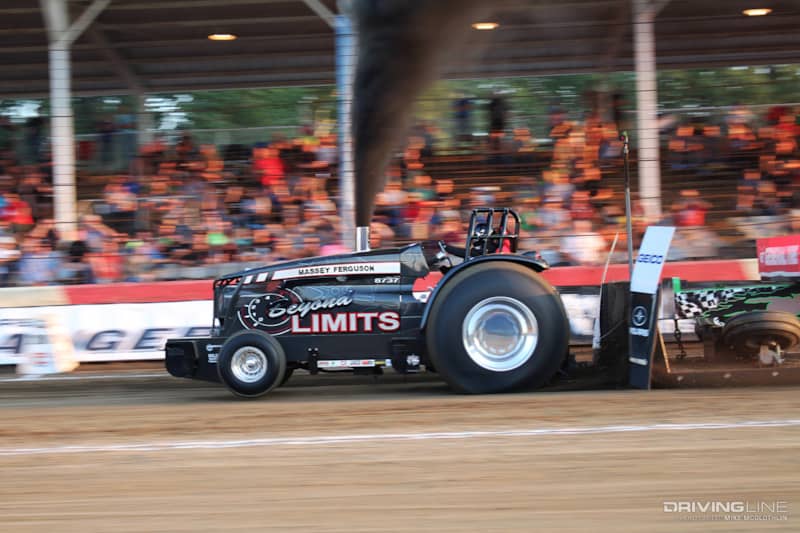 This Massey Ferguson isn't V8-powered, but it's a nasty-running machine nonetheless. Dustin Hart drives the tractor owned by Hart's Diesel & Machine, a company from Fayette, Missouri that specializes in competition turbo and injection technology. Named "Beyond Limits," the 8737 model Massey has two wins under its belt in 2018 and is currently sitting fourth in the overall points chase. Hart's tractor and those like it carry anywhere from 4,500 to 5,500 rpm going down track, and some of them are wound up as tight as 7,000 rpm before they leave the starting line!
680 Cubes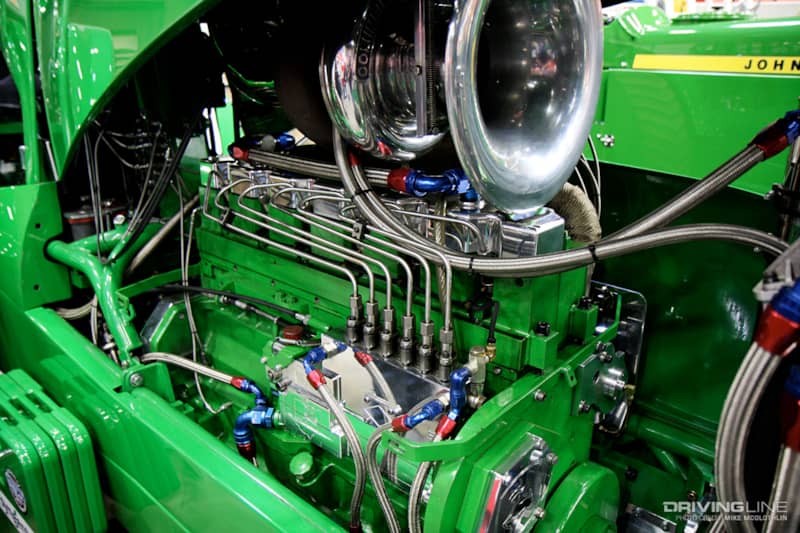 Per the Lucas Oil Pro Pulling League rulebook, Pro Stock engines can displace as much as 680 ci, and most competitors opt for a John Deere inline-six as their foundation. A maximum of eight cylinders can be run, but as we alluded to already, there are very few V8s competing in Pro Stock. Aftermarket replacement blocks are permitted, but with certain stipulations (six cylinder only, derived from a two-wheel drive tractor, camshaft in the factory location and final approval from an official before assembly). To keep the top (combustion) portion of each cylinder from distorting, a one-inch thick deck plate is utilized. Down below, a girdle or bed plate is typically employed to eliminate movement in the crankshaft. Billet-steel or aluminum cylinder heads are allowed, with many being equipped with massive, 2.5-inch diameter intake valves and sizeable intake and exhaust ports. Aftermarket rods, pistons and wild profile camshafts are par for the course, as well.
Any Size Single Turbo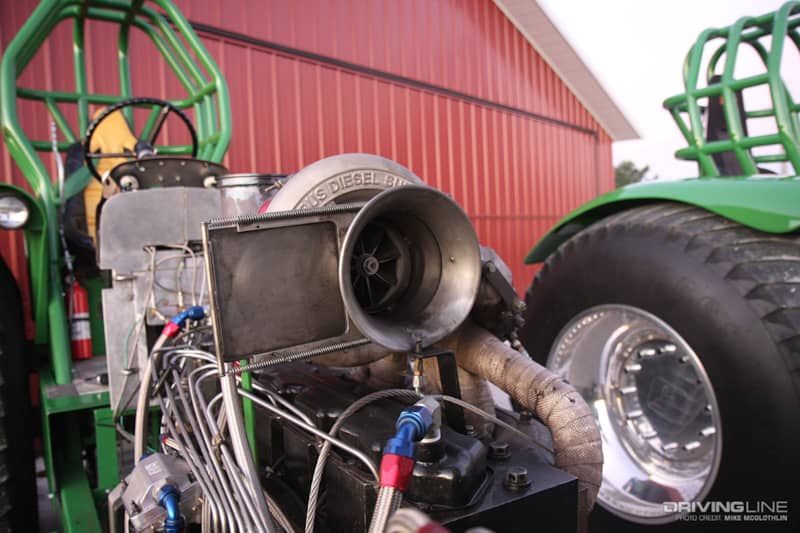 Pro Stock engines are limited to one turbocharger, but there is no restriction on its size. This means you can go as big as you want—and most do. How does a charger with a 130mm (5.2-inch plus) compressor wheel sound? These exotic turbos are often Holset-based, equipped with ball bearing center cartridges and can spin 100,000 rpm while producing well north of 100 psi of boost. Columbus Diesel Supply is the big game in town as far as Pro Stock turbos are concerned, but we've seen Hypermax cast into a few compressor covers in our day, too.
Billet B.A.-ness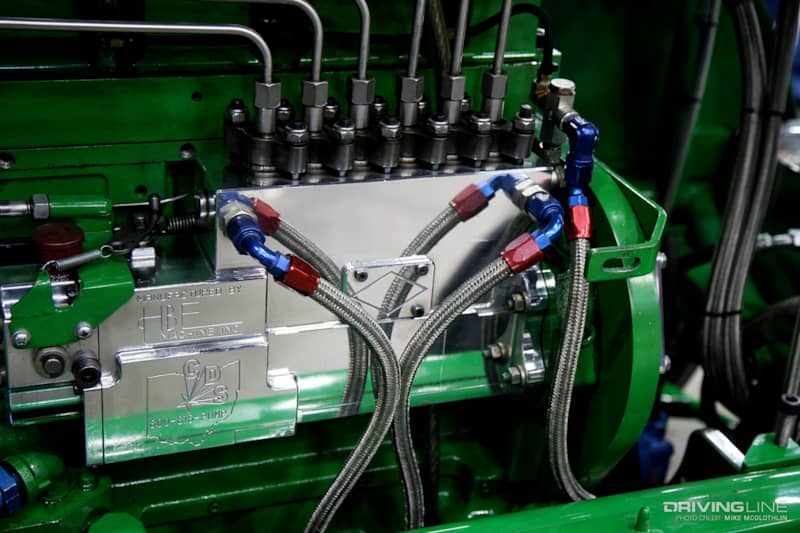 For all the fueling the engine will ever need, the Billet Sigma from Columbus Diesel Supply answers the call. A step beyond its 16mm Sigma pump, the inline mechanical injection pump's body is machined from billet-aluminum, features 17mm plungers and barrels and a proprietary custom grind billet camshaft. It can support more than 3,000hp when used in conjunction with the right injector and airflow combination (which is often the case in Pro Stock). The only real stipulation in the injection pump section of the Pro Stock rulebook is that the pump must be mounted in the factory location.
Extensive Water Injection Systems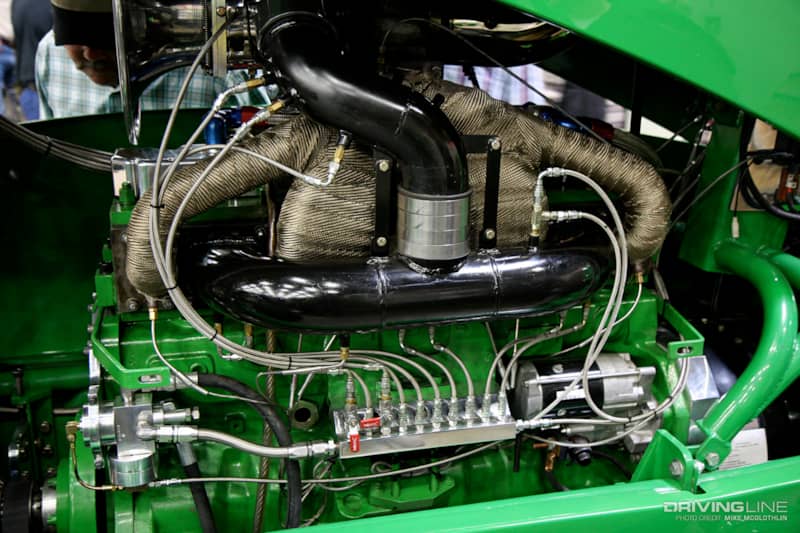 As is the case in most diesel tractor (and diesel truck) pulling classes, diesel fuel is the only accepted fuel. However, water-injection is permitted (along with intercoolers) for the sole purpose of cooling. That means no combustible agents can be present in the water being injected (such as methanol). As a result, elaborate water injection systems are employed to keep in-cylinder heat from melting pistons or causing other internal catastrophes. The benefits of running water injection are two-fold: First, you get cooler exhaust gas temps for improved engine longevity, and second, the cooler intake temps make the incoming oxygen more dense, which means additional horsepower. It's common to find half a dozen or more nozzles scattered throughout a Pro Stock engine's intake tract.
Pre-Turbo Water Injection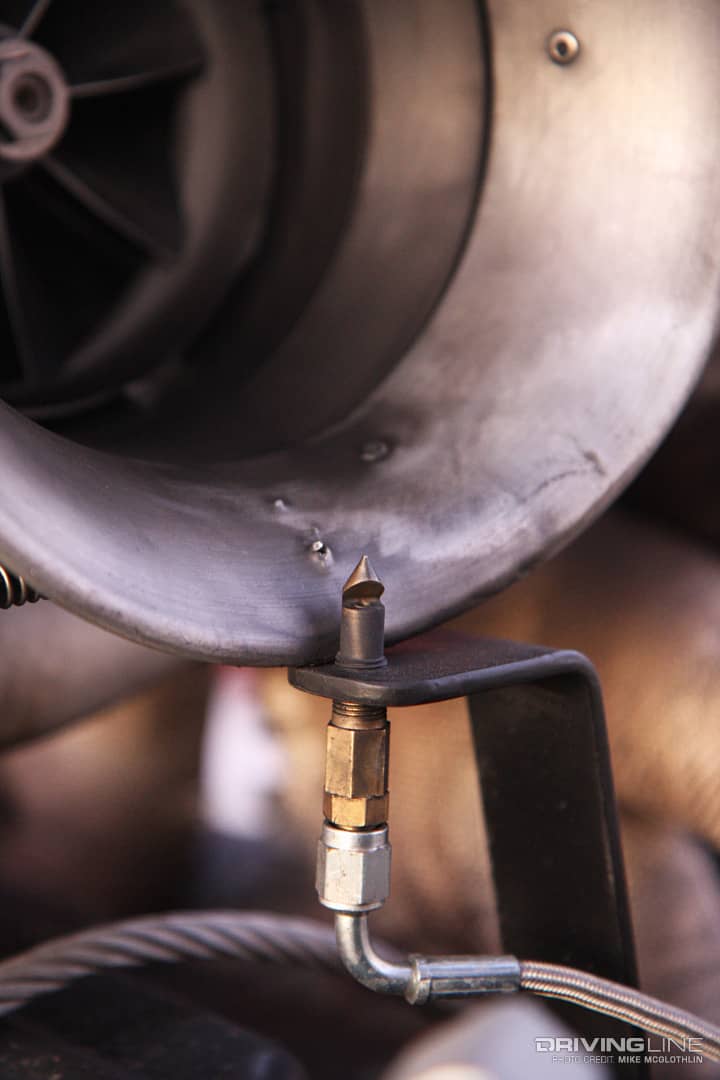 Oxygen that's compressed to more than 100 psi heats up in a hurry. We're talking 500 degrees F or warmer heading toward the cylinder head and a compressor wheel that's at risk of distorting from the heat and stress. To keep intake temps lower, denser and more horsepower-friendly—along with keeping the compressor wheel safer—many competitors inject water pre-turbo, spraying H2O directly across the blades of the compressor wheel.
Dry Sump Oil Systems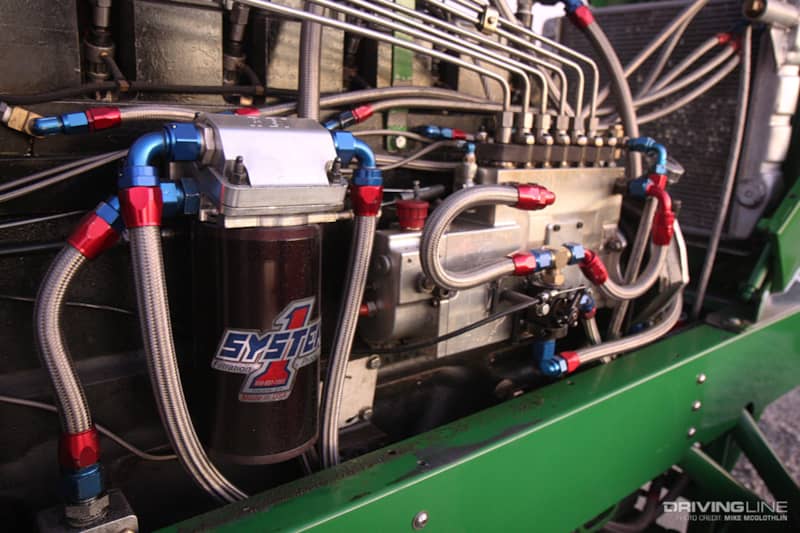 Virtually no different from any other form of extreme racing, engines employ dry sump oil systems with multiple scavenge and pressure stages for optimum lubrication and reliability. In order to protect the expensive components attached to the engine, many competitors run separate oiling systems for the engine, turbocharger and even the injection pump. This keeps the $15,000 turbocharger safe in the event of an engine failure and vice versa.
10,000-Pound Weight Maximum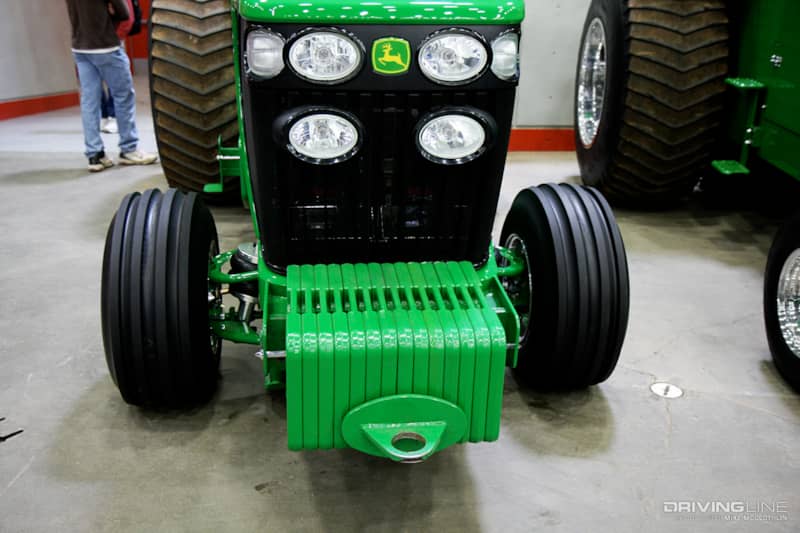 With most (if not all) Pro Stocks sitting on chromoly tube chassis frames these days, a lot of weight can be added in critical areas. Competitors can add suitcase weights (such as what is pictured above) up front, on the sides or at the rear of the tractor, so long as there is ample clearance between them and the draw bar in the rear. In seeking the perfect weight distribution for optimum traction, it's not uncommon for competitors to reposition weights while waiting in line to pull. Because this type of alteration is plainly visible to other competitors, a bit of hoodwinking is also known to occur, where some weights are nothing more than fiberglass or aluminum replicas. For a more "hidden" approach, chassis builders often include what is known as "belly weight" inside the frame of the tractor.
A Wild Ride Deserves a Cage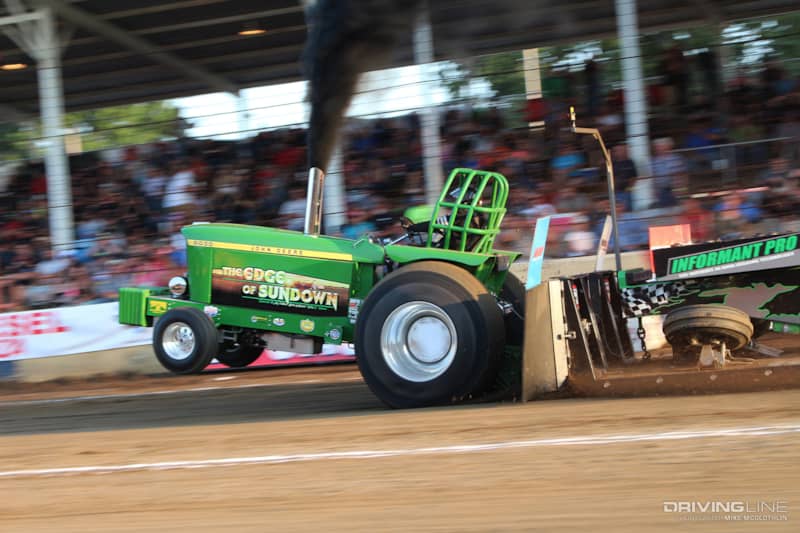 Although a myriad of safety measures have to be adhered to in the Pro Stock class, this is perhaps the biggest: rollover protection. All roll cages must meet SFI Spec 47.1 in order to be legal on the pulling track. Other safety regulations dictate that exhaust exits vertically, there be a driver-operated air shut-off, a rear-mounted kill switch and a driver restraint system that meets SFI Spec 16.1.
Out-of-the-box Thinking Offers the "Edge"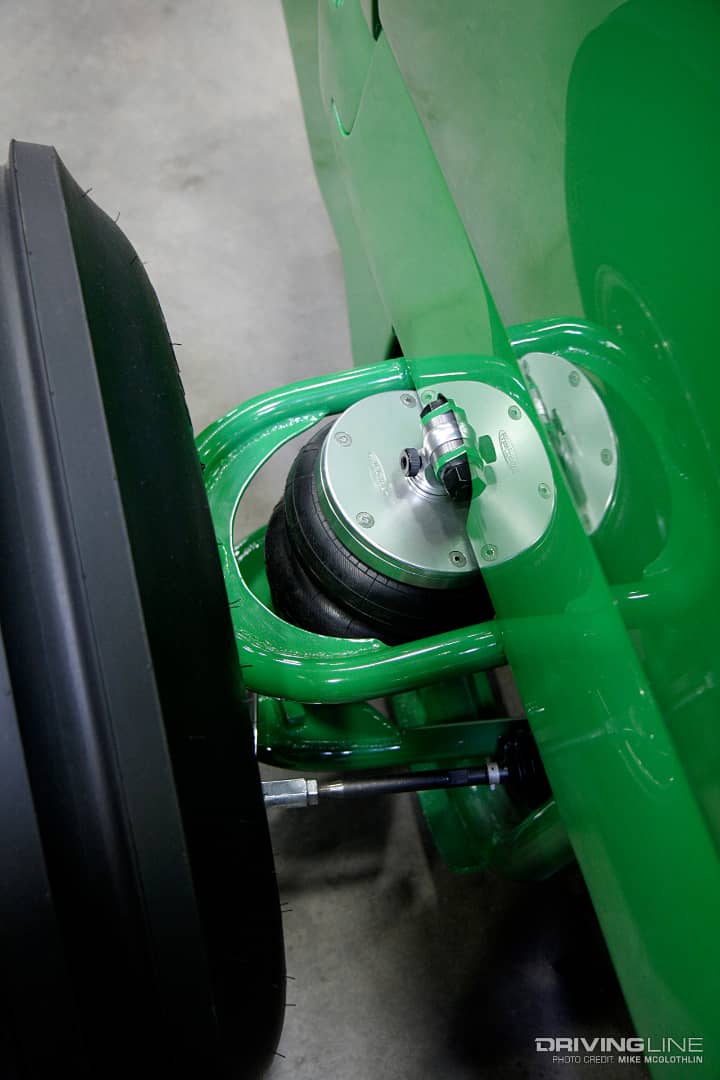 You won't find any shortage of innovation in the Pro Stock class, or tractor pulling in general for that matter. When every inch counts, pullers often experiment with different things. For example, a set of air springs were first utilized on the front of Brad Moss' "Young Buck" Pro Stock John Deere back in 2010-2011. His intention was to keep the chassis from unloading the rear tires when the front end bounced during the course of a pull, as each time the rear tires break traction or unload, precious distance is lost. Brad's tractor has been a forced to be reckoned with ever since, and he even took home the PPL Pro Stock championship in 2017.
Want to see a massive truck puller? We profiled a Cummins-Powered Third Gen Chevy that dominates in the dirt.