Aqua-Tested Part II: Wet and Dry Track Driving In A Nitto NT01-Equipped Ford Mustang GT
Not every track day fan has the space, or budget, to keep a set of rain tires in reserve for when conditions get wet. Being able to store a second set of tires and wheels is a lot to ask any urban dweller already tasked with the feed and caring of a vehicle dedicated to high performance driving events, time trials, or autocross. Finding a way to schlep those tires to the next event, on top of all the other gear (and in some cases, alongside a set of rubber specifically aimed at dry pavement) is often out of reach of anyone who hasn't invested in a tow rig and a decent trailer.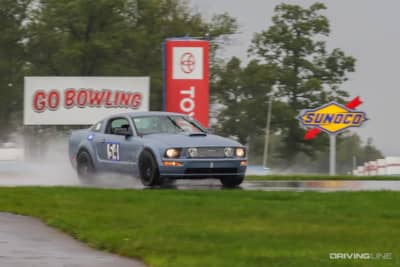 Photo credit: Robert Badar

It was with this in mind that my father and I headed to Watkins Glen International at the end of September. Eager for two days of fun at one of the fastest road courses in the country, we were also wary of a weather forecast that predicted a mix of damp and dreary downpours in between sunny breaks. Each of us had just installed a set of full-tread Nitto NT01 tires on our respective vehicles, and we were about to discover what it was like to deal with changing track conditions on rubber that isn't traditionally known as a rain-specific tire.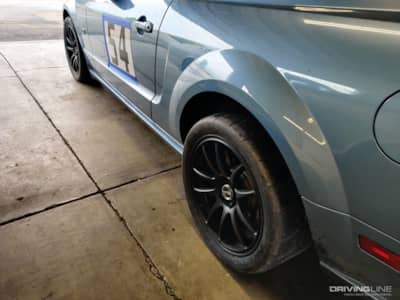 I've already written about the experience in my 1978 Datsun 280Z here, but my dad was facing down a distinctly different set of challenges. Instead of a modestly-powered, lightweight sports car, he was forced to tackle a wet track while managing the significant torque produced by the 4.6L V8 of his 2005 Ford Mustang GT with a solid rear axle.
Photo credit Robert Badar
Here's what it was like to pilot an American muscle car on R-compound tires while dodging puddles and dealing with constantly shifting traction on a wet, then dry, then wet race course.
Full Tread Fun
The NT01s installed on the Mustang GT were a replacement for a previous set that had worn hard over two years of track excursions curtailed by the pandemic. Having never previously driven Watkins Glen, my father felt it prudent to slap on fresh rubber given how notorious the facility is in terms of generating top speeds.
The event began under clearing skies, and with approximately 32 psi of air in each tire the Mustang performed as expected during the early sessions feeling out the track and learning the braking zones, passing areas, and more challenging corners.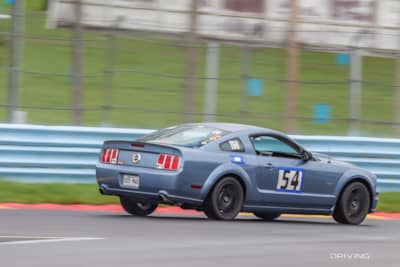 Photo credit Robert Badar
It wasn't long, however, before the dark clouds broke up the scene and dumped enough precipitation to force a recalculation on how to best attack the track. The light rain forced every driver at the event to back off and figure out which areas of the course had become the most slick (typically from old rubber and dropped fluids like oil surfacing from the asphalt).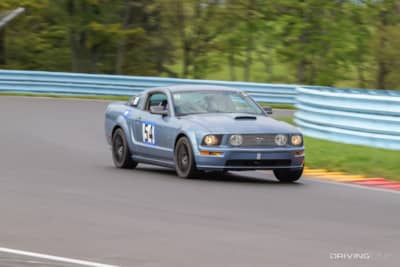 Photo credit Robert Badar
Despite the intermittent wet, the Nitto NT01 tires remained reliably stuck to the pavement. "You could tell who had rain tires on when it stopped raining," my father said when I spoke to him after the session. "They were the ones looking for areas of the track that were still soaked so they could keep their tires from overheating. I didn't have that issue with my Nittos, which moved back and forth between wet and dry without a large gap in grip levels."
At the end of the day, a torrential downpour kept all but the most dedicated drivers from testing their skill on a waterlogged WGI course. The NT01 doesn't have a traditional rain channel, and although the tires outfitted to the Mustang were still showing near-full tread depth, the presence of so much standing water made it a risk not worth taking, especially with a second day of driving on the horizon.
Real Deal Wet
The next morning provided a much wetter prospect than what the two of us had encountered the previous day, but although the track stayed consistently wet for the first two hours of driving the rain at least fell at a more reasonable rate. It was here that my dad was able to truly get a feel for how the Nitto NT01s handle a fully slick surface.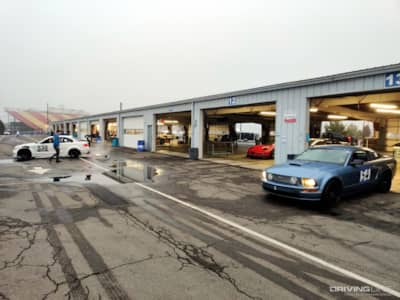 "When I drove through the hardest rain, the tires weren't bad at all as long as there wasn't any standing water," he reported. "I certainly never felt like I was going to lose control of the car. The only areas where the wet could have been a problem, if I wasn't careful, was on the flat main straight, where pools of standing water had gathered." He could feel the Mustang start to hydroplane and move from side to side a little bit when encountering the deeper puddles on this very fast segment of Watkins Glen.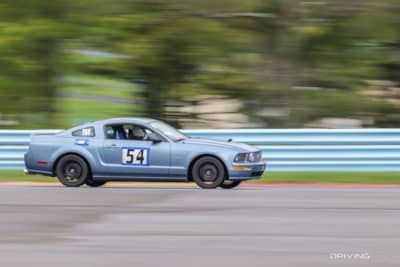 Photo credit Robert Badar
I asked him about acceleration, as he had enough power to seriously upset the apple cart if he stood on the pedal in a puddle. He reported that almost every section of track where he got on the throttle had good drainage, especially coming out of the corners, and not even the traction control light flickered when he hit the gas. Even under braking, he said, there was no skidding with the anti-lock system in operation.
All-Around Impressive
Overall, the Nitto NT01s performed impressively underneath the old-school S197 platform in conditions that would have sent other R-comps huddling under the safety of the pit garage. With careful driving that avoided barreling into deeper reservoirs of water on the racing surface, the Nittos provided confident handling and braking that remained consistent even as the track began to dry.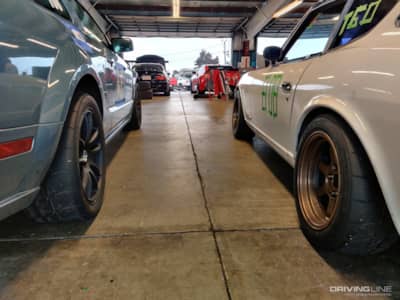 Would a dedicated rain tire have been a better choice? It's difficult to say. Of those in our run group who headed out into the worst of the weather, it was the drivers who installed full rain rubber who ended up wiping out the hardest in terms of spins and off-track excursions.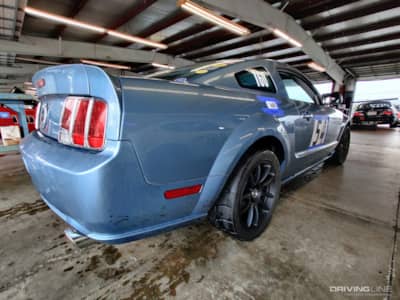 A rain tire can put you in a state of mind where you push past the limits of the existing conditions, something that's less common when cautiously driving a traditional 'dry' tire in the wet.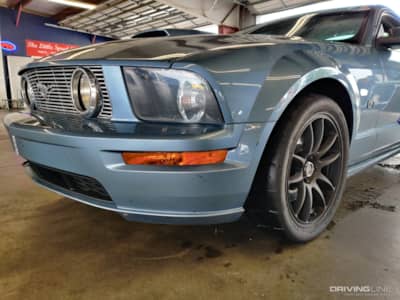 While the NT01 was excellent during sunnier stretches of the event and still fun and fast in the wet, it's also important to remember that the Mustang was equipped with a set of full-tread rubber. Although Nitto tires have a tendency to retain their grip even after their tread has worn down to near-invisibility, an almost-slick NT01 would not have delivered the same kind of performance in the rain. The condition of the tire's tread is a big factor in determining whether you'll have fun despite the weather, or decide to wait out the dark clouds.