Aqua-Tested: Wet And Dry Track Time In The Nitto NT01
Changing track conditions are a challenge almost every driver will have to face at least once or twice in a given season. Whether you're competing door-to-door, trying to beat the clock in a time trial (time attack), or turning in fast laps at a high performance driving event, understanding how your vehicle's tires respond across a variety of different surfaces, temperatures, and dryness levels is a key aspect of getting the results you're looking for.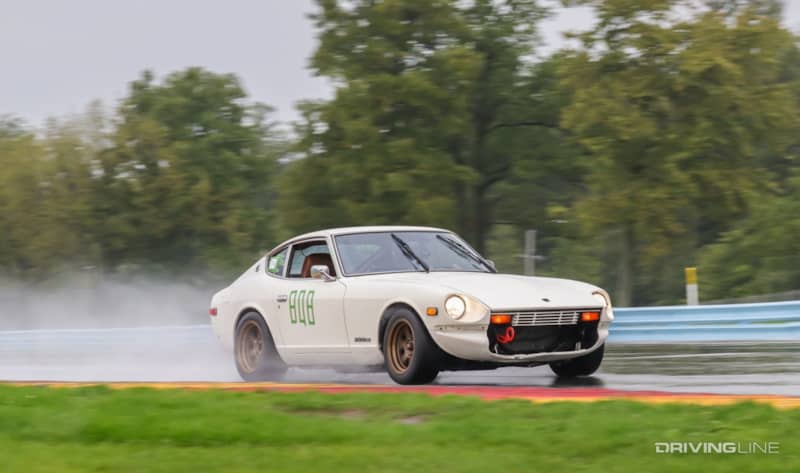 Photo credit: Robert Badar
Recently, I found myself facing down a wet start to the week at Watkins Glen International. One of America's oldest race tracks, its ribbon of asphalt sprawls nearly three and a half miles across some of the most beautiful, hilly terrain that upstate New York has to offer. With a weather report threatening to dump thunderstorm levels of precipitation on the area during the two-day time trial event, it was the perfect opportunity to see how the new set of Nitto NT01 tires I had sitting in the garage responded when pushed hard on both dry and water-slicked pavement—and sometimes both—during the very same on-track session.
Last-Minute Substitution
My initial plan hadn't been to install fresh tires on the car at all, as the four 225/45/R15 NT01s that were already wrapped around my Datsun 280Z's rims only had two track days on them. This was primarily due to a slow summer season that saw a cracked head in early May that kept the vehicle out of competition for several months.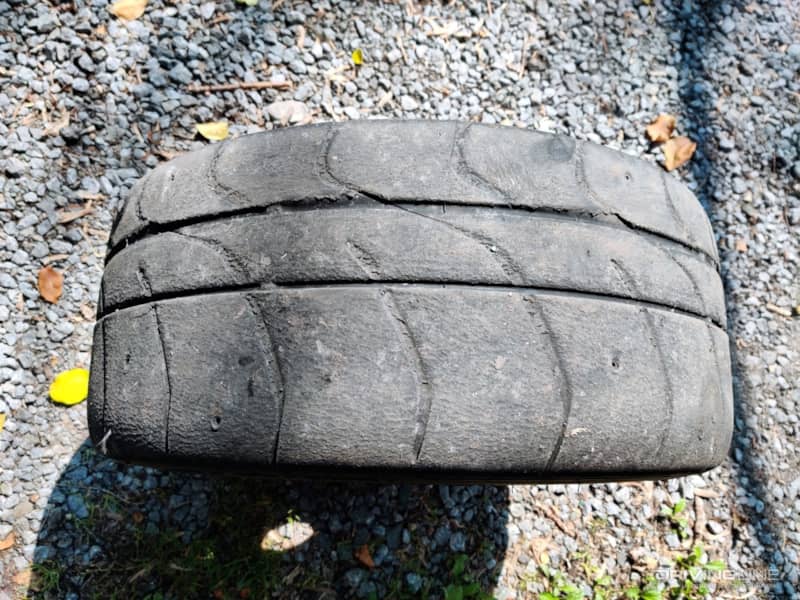 When I pulled up those tires for inspection and compared them to the new set, however, I quickly changed my mind. Weather predictions were getting worse by the day, and I realized that the amount of tread remaining didn't look compatible with a potential deluge.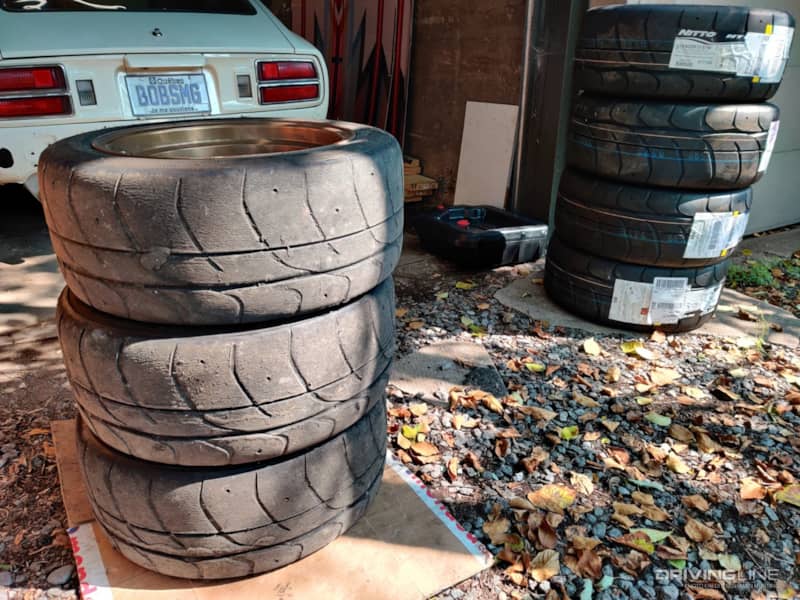 In my experience, one of the best aspects of the NT01 is that it wears long and hard (which goes a long way towards providing a consistent feel on-track), but that's the rubber compound, not the tread. A slick Nitto tire provides excellent grip in the dry, yet with potential standing water in the picture I knew it was time to swap on brand new tires.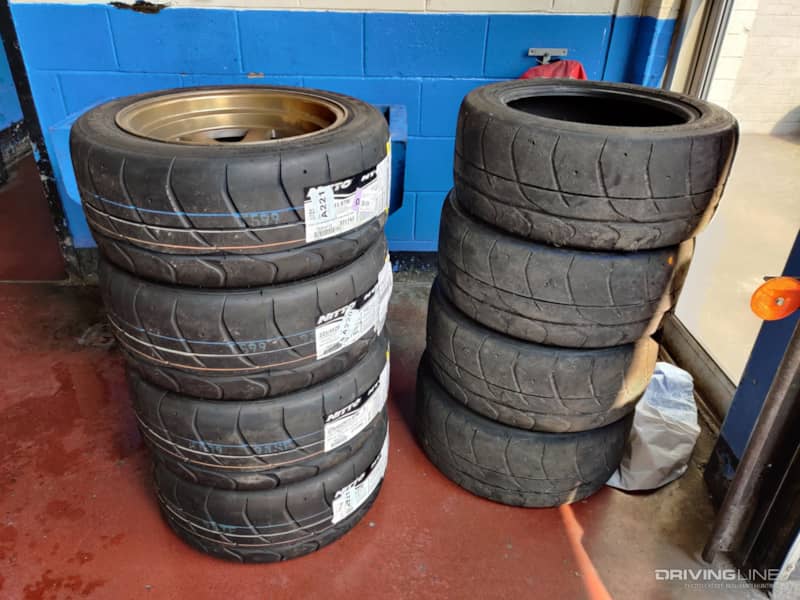 I want to stress that the NT01 shouldn't be confused with a dedicated rain tire. Nitto doesn't advertise it as such, and it doesn't offer the same type of dedicated channeling to whisk wet stuff away from its large treadblocks. Still, as a DOT-approved R-compound tire, a full-tread NT01 does offer a safe level of grip on wet roads, and for drivers like myself who aren't able to bring a rain-specific tire to the track (or who might be driving themselves to an event through the rain), I was still curious to see how it performed as an all-weather option at speed.
Sunny Skies... At First
A misty, fog-filled morning gave way to sunshine for the first two sessions of the day, during which the NT01s performed as expected on the dry track surface. I recently raised the ride height of my Z by about half an inch in order to better deal with absolutely awful Montreal roads, and it turns out that the increased suspension travel also paid dividends at the track as well, allowing for better control when encountering curbing without sacrificing body control.
I further pumped up tire inflation from where I normally run them. This is more in line with Nitto's recommendations, and I wanted to keep the tire's footprint reasonable in case rain did show up. In my mind, it was important to have a good baseline in the dry to compare to the wet later on, both in terms of evaluating the tire's performance and helping it stay predictable and safe in terms of communicating conditions to me behind the wheel.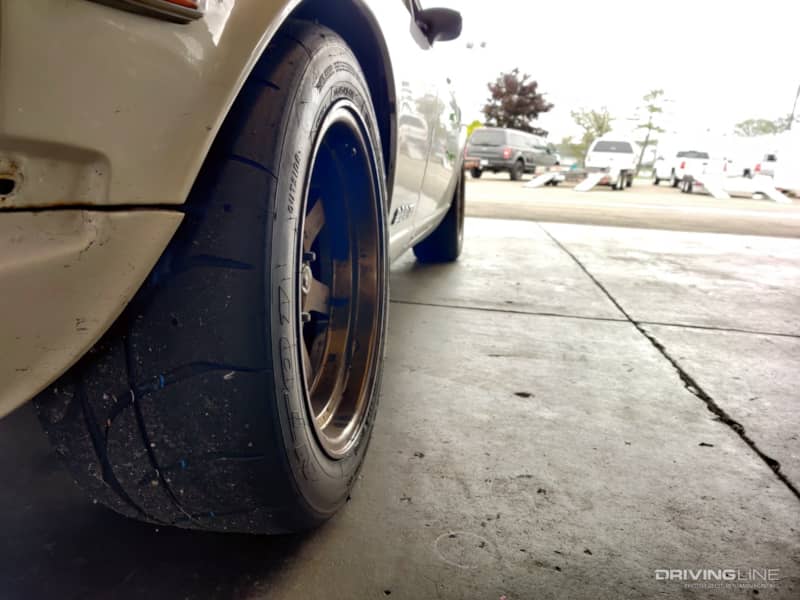 My first opportunity to experience the NT01's transition from dry to wet occurred later that afternoon when a cloudburst opened and began spattering my windshield. Initially, I backed off to do a reconnaissance lap and see if there was any serious soaking going on, as Watkins Glen International has numerous elevation changes that can pool and direct water to specific areas.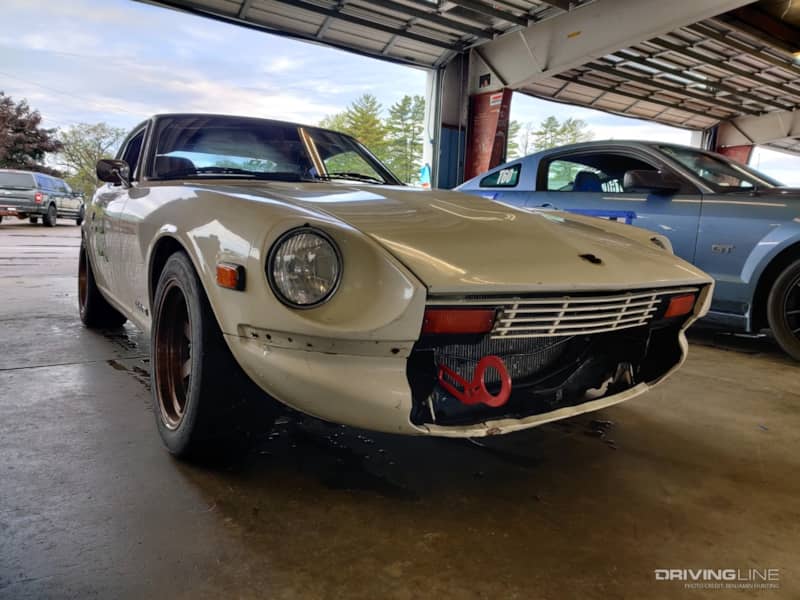 Although the rain remained very light and the racing line stayed almost completely dry, I kept in mind that the first few minutes of rain often lead to the most slippery conditions. This is when oil and other fluids are lifted out of the asphalt they've settled into and sit on the surface of the track, adding a level of slickness that can be deceiving.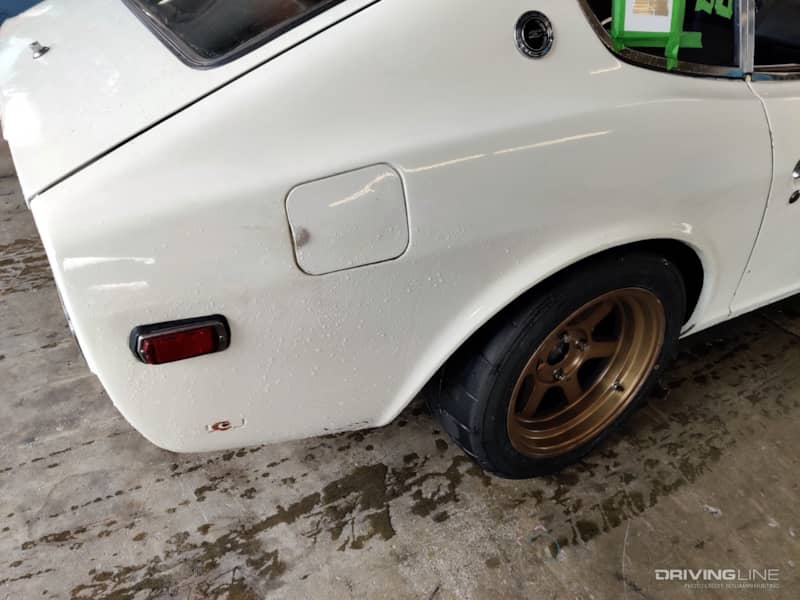 Throughout the session, the Nittos stayed grippy and predictable, and as the water vapor evaporated from the ground and disappeared from the sky, I was back to nearly the same times I'd been posting that morning. That being said, the skies turned black with a vengeance a few hours later, washing out the final session entirely thanks to rain so hard that my 44 year old wiper motor couldn't hope to keep the glass clear in front of my face as the track loaded up with an uncomfortable level of standing water.
Success In The Wet
That last point is an important one when considering use of the NT01 in the rain. Standing water introduces the danger of hydroplaning even for a more aggressively-treaded design, and given that the treadblocks on the Nitto present a large amount of surface area—which is ideal for dry traction—they can be overwhelmed by deeper puddles.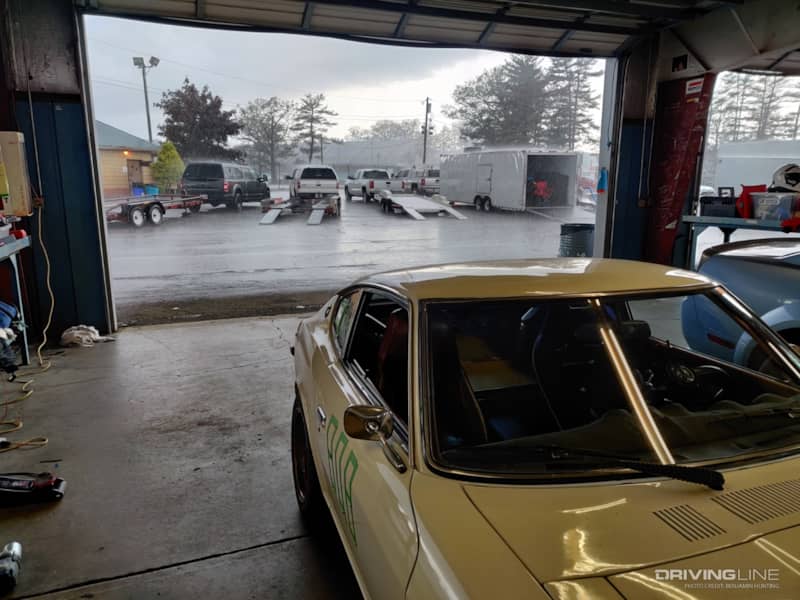 The morning of the second day delivered the best kind of conditions to truly test out the Nitto's wet capabilities. Clearly, the tire isn't intended for use during the monsoon conditions that had ended the event the previous afternoon, but a damp track is an entirely different story, which is what I faced during my first session. After a full overnight storm, combined with consistent drizzle through the early morning hours, Watkins Glen International was thoroughly wet, requiring an entirely different driving line and a keen eye to detect patches where water had gathered into shallow puddles.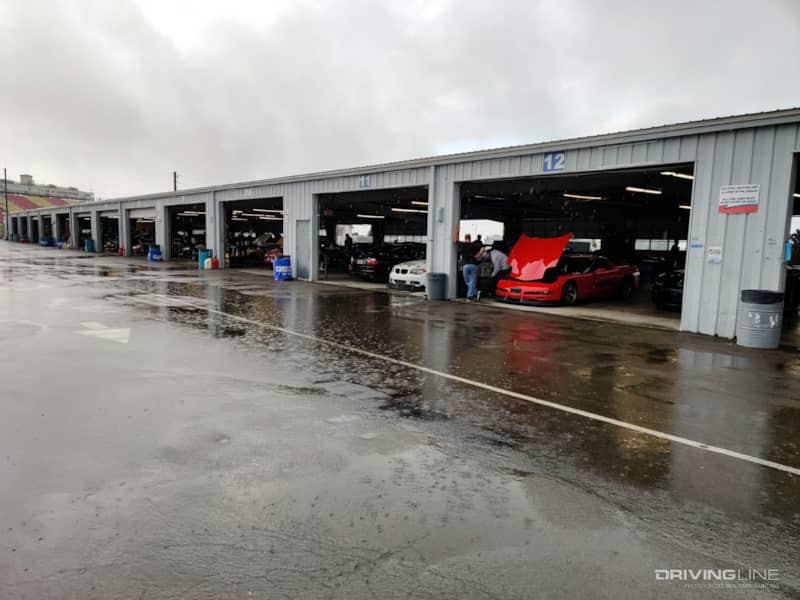 On the first lap it was clear that the NT01s had enough traction to handle three-quarter throttle acceleration, even during uphill sections of the track, working together with my car's limited-slip differential to keep wheelspin nearly non-existent. The next time around had me pushing somewhat faster, although I kept RPMs roughly a thousand under redline in fourth gear, a margin that gave me a bit more breathing room to deal with any push-back from the tires.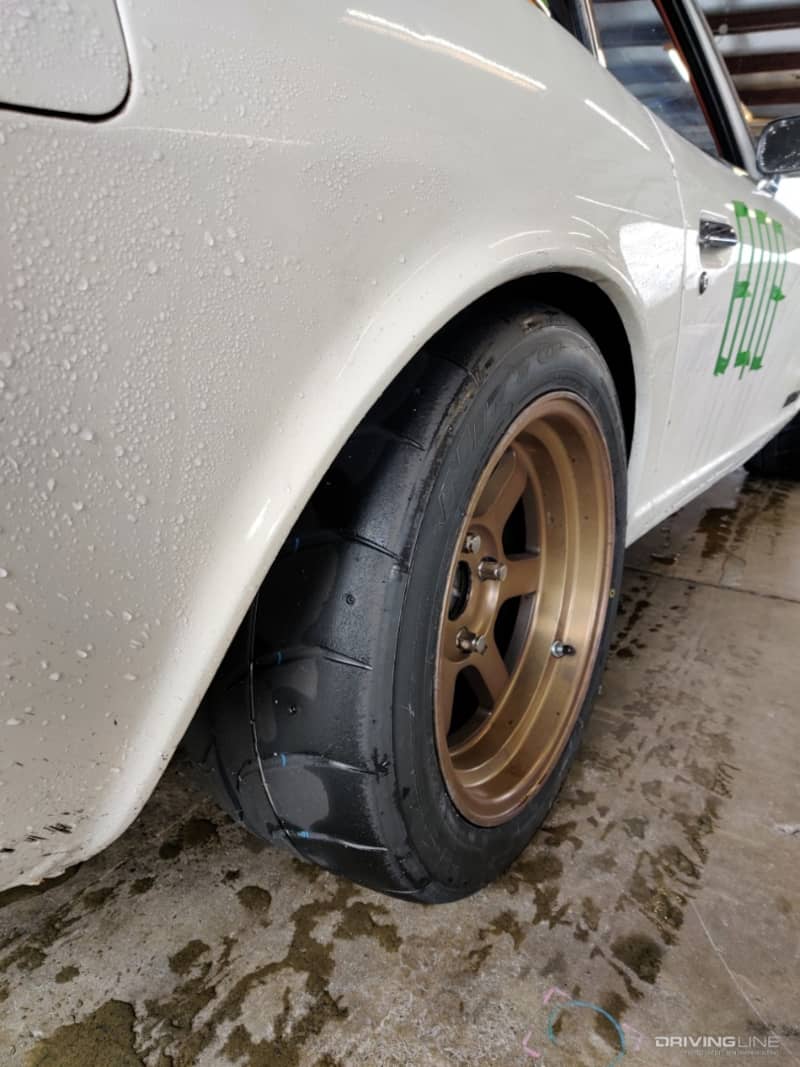 The only areas where the Nitto encountered any issues was during high-speed braking, which in certain areas of the track meant plowing through small patches of standing water. This resulted in a wiggle or two from the front end, and had me limiting the amount of trail-braking I did going into corners that led to the track's front stretch. Puddles also presented something of a problem in another low-speed corner, but the NT01s grabbed traction almost immediately after clearing through the water.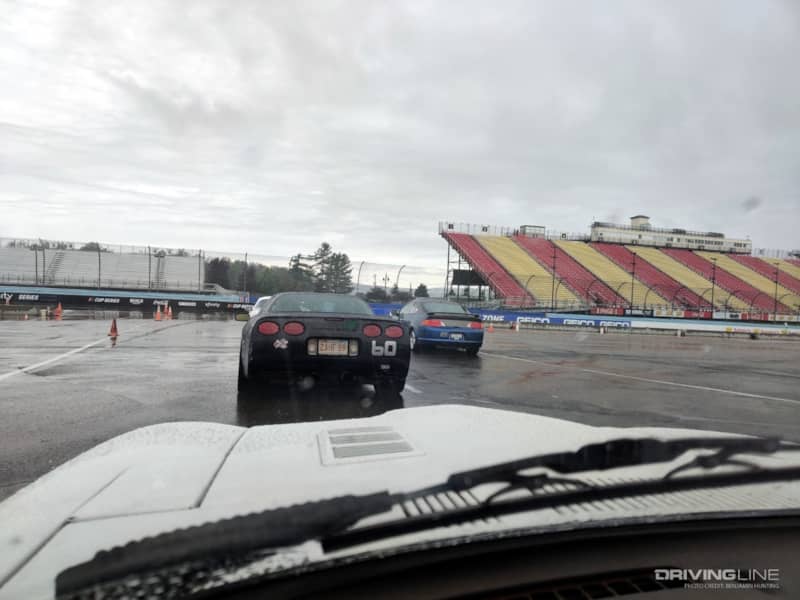 Most startling? The car never got sideways on my at any point, and remained utterly predictable at all times. By the time the second wet session of the day rolled around, part of the racing line had begun to dry, which meant regular transitions from wet to dry and back again, something that was easily managed by the tires. I was back within 15 seconds of my dry times of the day before, a testament to the performance of the rubber and the confidence it gave me to keep pushing the limits of damp traction.
An All-Around Option In Full-Tread Form
My takeaway from two days of flip-flopping back and forth between a bone-dry track and a sopping wet racing surface is that the NT01 is a surprisingly versatile tire, and one that shouldn't be dismissed out of hand when bad weather rolls in. There's really no reason to stay trapped in the pits if all you brought for your weekend is a set of these Nittos, as long as you are careful about throttle, steering, and braking inputs, and make sure you understand which areas of the track are the most slippery so you can attenuate your attack accordingly.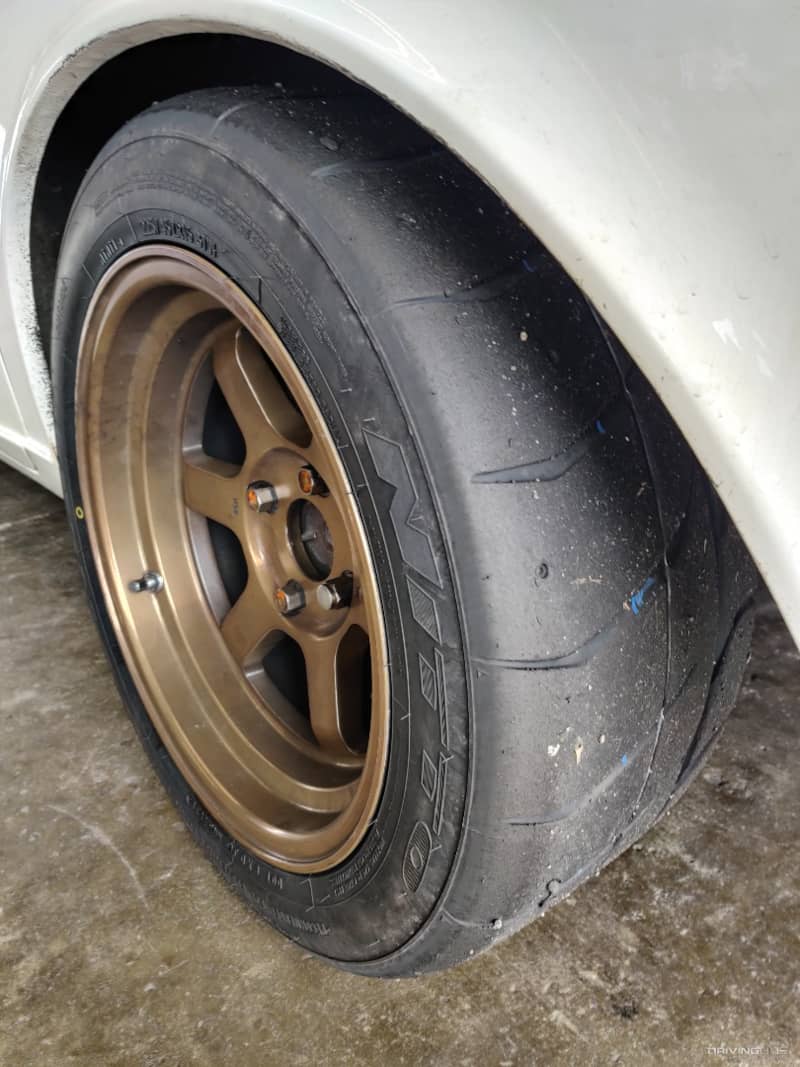 There's a major caveat to go with this recommendation, and that's the state of the tire's tread. You'll really only want to hit the wet with a relatively fresh set of NT01s that have yet to wear down their tread blocks down to the 3/32nd of an inch mark, at which point they function more like a slick tire than a street tire when it comes to dealing with rain.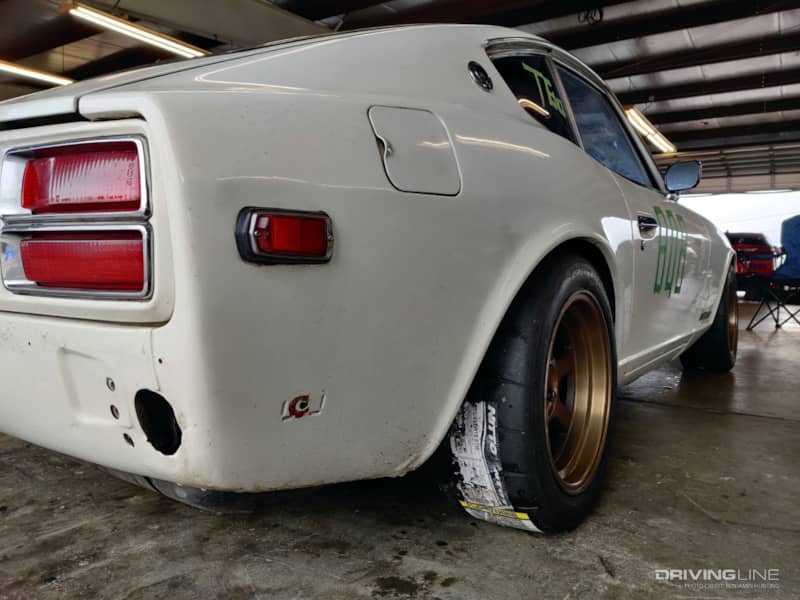 The bottom line? If you're on a set of nearly-new Nitto NT01s, don't be afraid to run a wet session. You might be surprised at just how safe and capable this tire is as an all-in-one answer to the occasional trackside rain shower.