Baja Forged Ford Super Duty All-Terrain Workshop
LGE CTS Motorsports is a family affair. Sisters Theresa Contreras and Sara Morosan along with Theresa's husband Jason, produce full custom builds for the public and many manufacturers including Ford, KIA, and several aftermarket companies. They specialize in both style and functionality when it comes to off-road trucks. And, when the weekends hit and it is time to relax; they venture out to the desert valleys and mountains of Southern California for off-roading fun.

Built to Handle Any Task
Living a mix of work and play; the goal of their Baja Forged Ford Super Duty was not only to build an overland-centric off-road rig for hitting the trails in Johnson Valley and Big Bear; but to serve dual purposes as a work truck that could haul parts and projects to their shop in Upland, California.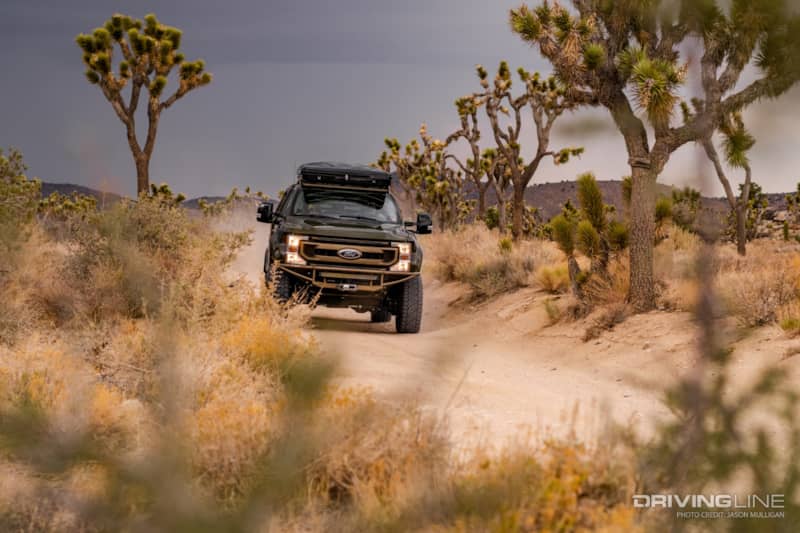 They also looked to create a mobile workshop for events with Real Deal Revolution; a non-profit group that was started to help teach automotive and industrial-related trades and encourage other women to get hands-on and involved in the industry.
Off-Grid Workshop
The first step on the journey of creating the ultimate dual-purpose overland work truck was replacing the factory aluminum bed with a Hiroad Utility Box.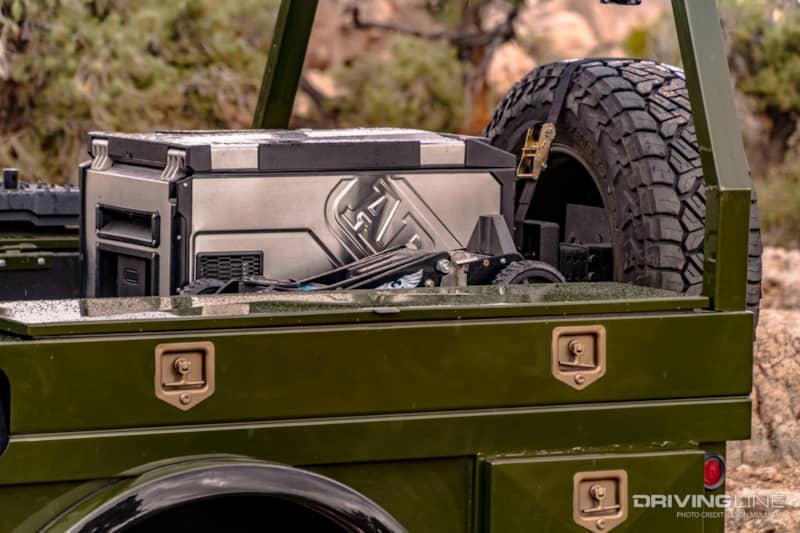 The new flatbed provides plenty of secure storage for tools and extra parts, and a platform to mount a portable Kaiser air compressor, an ARB 63-quart fridge cooler, beefy Pro Eagle jack, and a swing mount for a full-size Nitto Recon Grappler spare tire…just in case the work truck gets into some trouble itself. Removable top rails were fabricated in order to mount a set of Rigid LED scene lights and dual ARB awnings to provide plenty of light and shade out in the desert or in a parking lot during one of their events.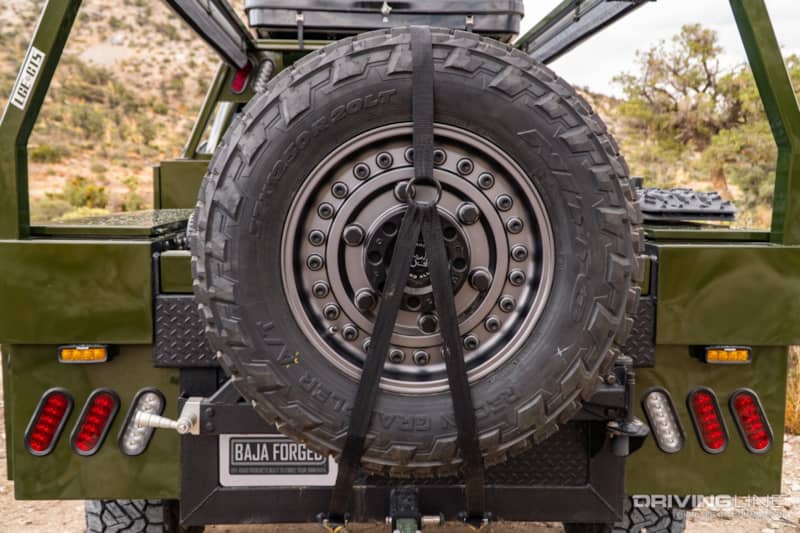 In order to handle the added weight and off-road terrain; the truck was outfitted with an ICON Vehicle Dynamics Stage 5 suspension kit raising the front up 4.5-inches along with a Hellwig Sway Bar and ICON dual steering stabilizers. Outback, the ICON kit brought the rear up 5-inches before a set of Hellwig Big Wig helper bags with VIAIR compressors were installed in order to handle the extra load when towing.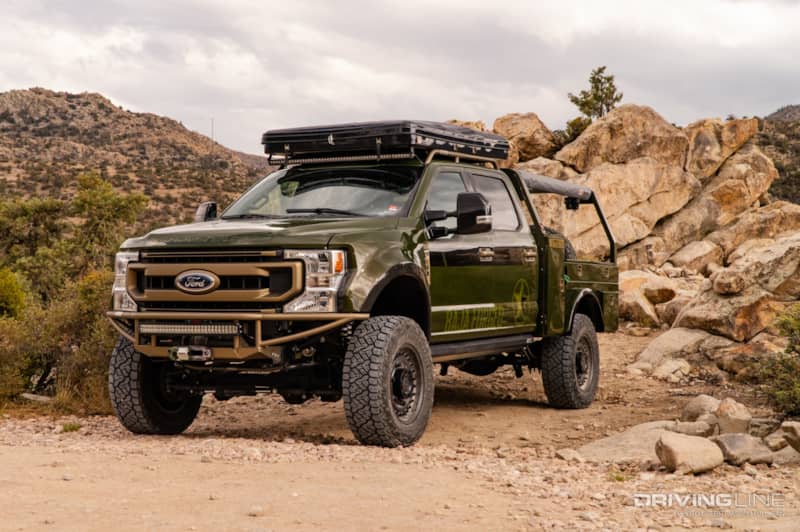 The Super Duty also serves as a chase truck when the sisters take their Baja Forged Ford Ranger Prerunner out in the wild. In order to provide some extra power when towing the Ranger out to the dirt, or hauling a new project to their shop from out of state; the 6.7L Power Stroke diesel was upgraded with a Borla exhaust, and Pedal Commander. For those longer hauls and overland trips, they hooked up a 60-gallon TransferFlow fuel tank nearly doubling the truck's fuel capacity.
Optimized Interior
The inside of the Super Duty was kept clean and comfortable with a set of custom Katzkin leather seat covers, a Ford safe, and Builtright Industries dash mount for GPS units, radios, and other accessories. When even more storage room is needed; the rear seat can easily be flipped down thanks to a seat release kit from Builtright Industries and a set of Pelican cases can be stacked up.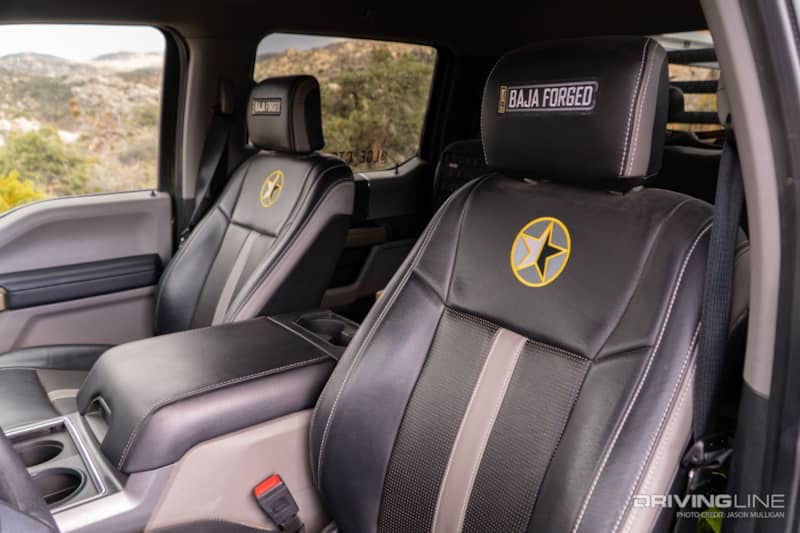 Baja Forged Tough
With decades of experience outfitting, customizing, and taking off-road rigs out into the wild; the LGE CTS crew decided to design and produce their own line of accessories inspired by their journeys that would serve their purposes without being overbuilt and bulky.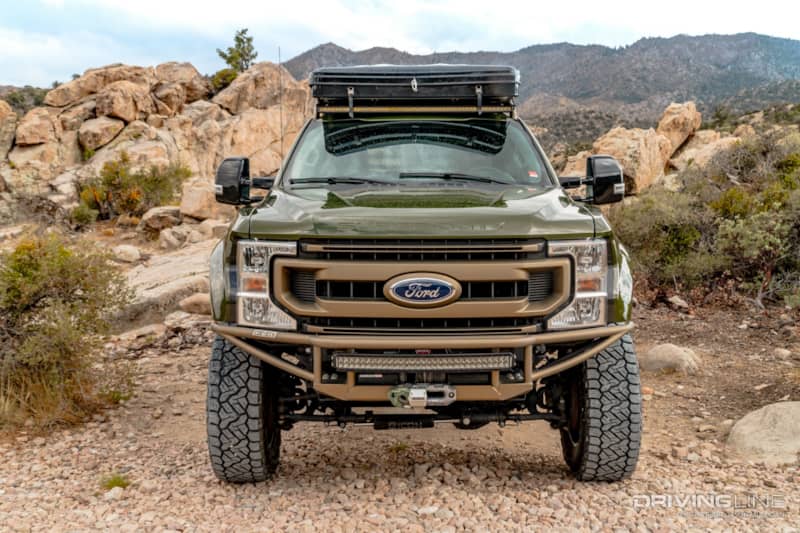 Their Baja Forged Super Duty served as the perfect platform to showcase their Baja Forged front bumper that provides increased ground clearance and mounting points for a Rigid LED light bar, Warn 10S winch, and any other accessories they might need. Their roof rack was also installed in order to mount a Tepui rooftop tent for those overnight trips in the mountains of Big Bear.
Desert Hues & Carbon Fiber
When it came time for Theresa to spray the truck in PPG paint; she looked to match their Ranger's style with desert hues of green and gold. One of Baja Forged's latest creations is their Carbon Fiber Fenders that were painted to match the rest of the truck with a transparent fade in order to showcase the raw carbon fiber. The fenders provide increased travel and tire clearance needed for the all-terrain work truck.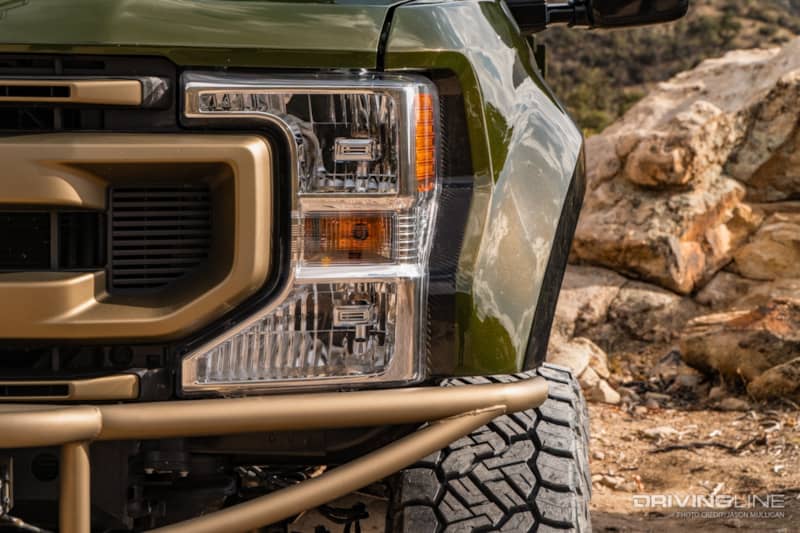 All-Terrain Handling
Being that the Super Duty serves multiple purposes both on and off-road; mounting up a set of all-terrain Nitto Recon Grappler tires allowed them to maximize the overall performance of the versatile truck.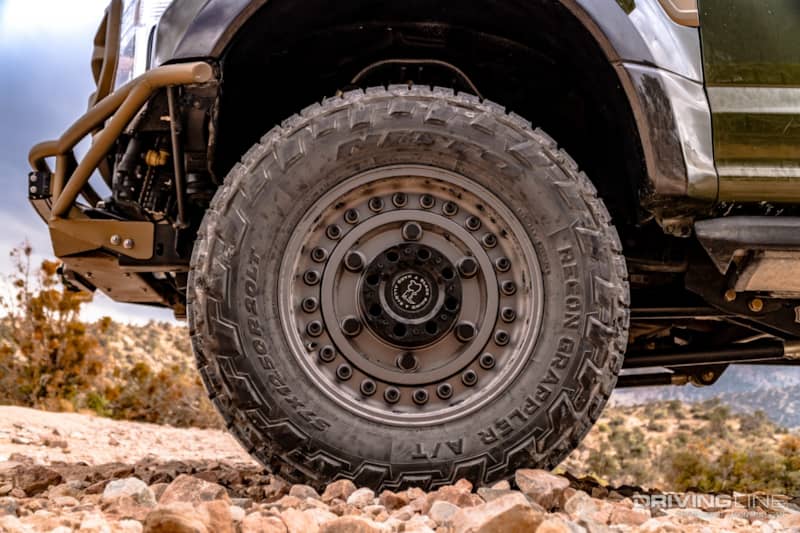 "Having an all-terrain tire is really the way to go these days, because we still want some good off-road performance since we're hitting off-road trails every weekend," Theresa said.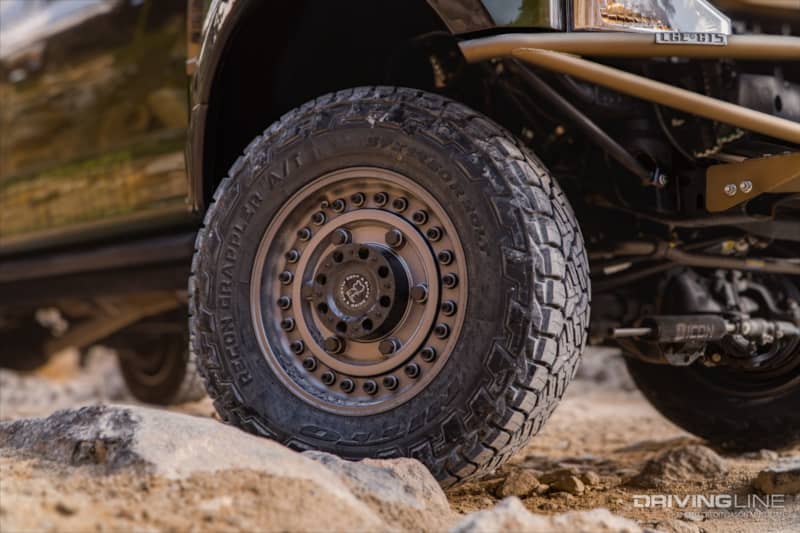 For a tough look that matches the desert-military-inspired paint scheme; LGE CTS Motorsports mounted up a set of 20x9.5-inch Black Rhino Armory wheels wrapped in 37x13.50R20 Nitto Recon Grappler tires. The tires are an amped-up all-terrain tire designed with a tough sidewall and staggered shoulder lugs to provide plenty of traction over rocks and sand when hitting the dirt.
Off-Road Traction
"The Nitto Recon Grappler is a great mix of on and off-road, providing us with a great ride all week, and gripping the terrain off-road from loose gravel to crawling over rocks when aired down on the weekends."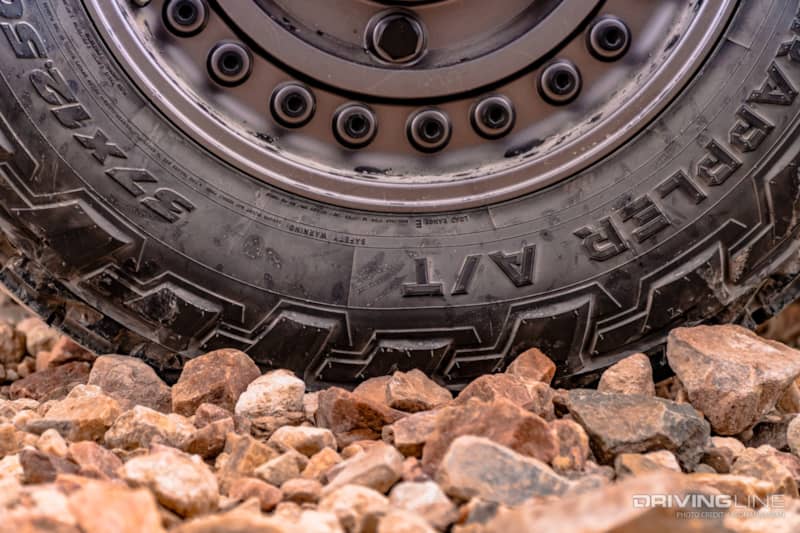 Airing down before heading off-road is a must, not only maximize the traction provided by the tread design and shoulder lugs, but to provide some comfort over the rugged terrain as well. Given that the Super Duty is a heavy-duty platform, combined with the new utility work bed and all of the overland gear needed for a weekend trip, there's no issues out on the trail with this tire.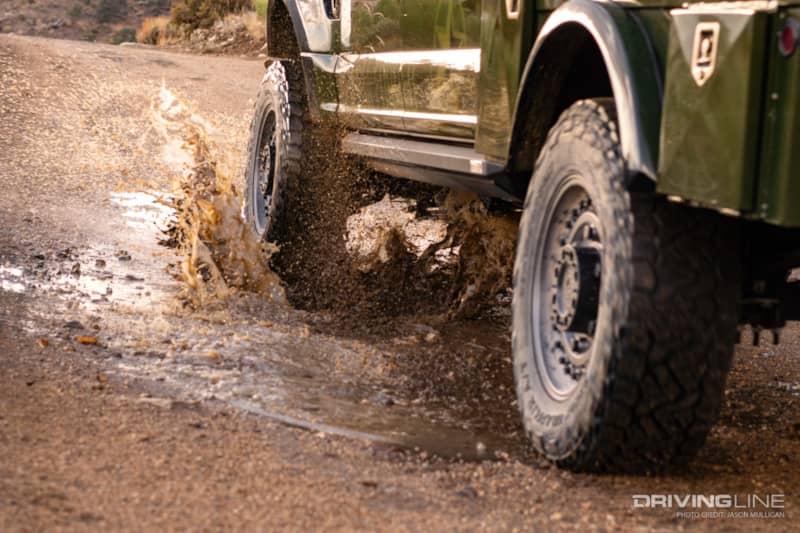 Highway Comfort
The beauty of the Nitto Recon Grappler all-terrain tire is that it also provides a comfortable ride, with minimal road noise, and proper handling on the highway. Often, more aggressive tires designed for use in the mud  don't fare as well on the highway in terms of road noise and ride quality. The tread design of the Recon Grappler features a mix of wide and narrow grooves that bridge the gap between on and off-road performance. This design allows for a reduction of road noise while maintaining traction and handling in difficult weather.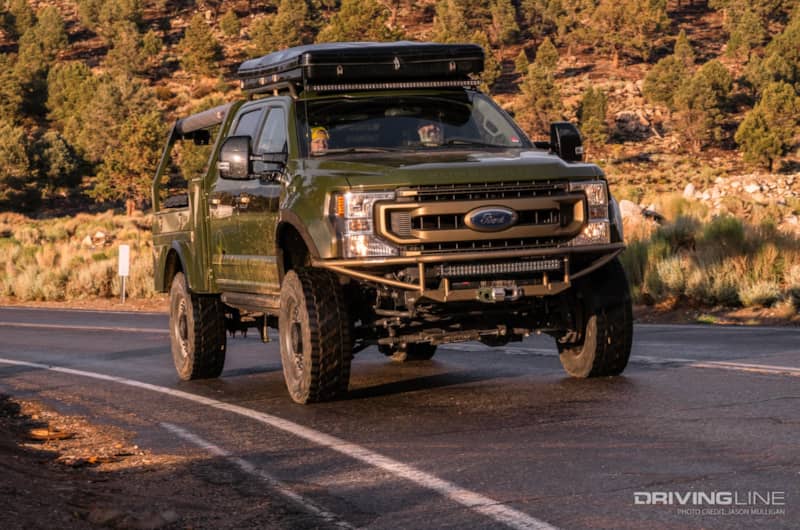 "Fully aired up, these tires track great down the highway, gripping it well, while still allowing for a great ride quality." Its versatility across various terrains made the Nitto Recon Grappler a perfect match for the Baja Forged Super Duty's multipurpose duties both on and off-road.
HARD FACTS
| | |
| --- | --- |
| VEHICLE | 2020 Ford F250 Super Duty |
| OWNER/BUILDER | LGE CTS Motorsports/Baja Forged |
| ENGINE | 6.7L Power Stroke Turbo Diesel, Pedal Commander, Borla Exhaust, Transfer Flow 60-Gallon Fuel Tank |
| FRONT SUSPENSION | ICONVehicle Dynamics Stage 5 4.5-inch Lift, Hellwig Front Sway Bar, ICON Dual Steering Stabilizer |
| REAR SUSPENSION | ICON Vehicle Dynamics 5-inch Lift Blocks, Hellwig Rear Sway Bar, Hellwig Big Wig Air Springs, VIAIR Dual Air Compressors & Air Tanks |
| WHEELS | 20x9.5-inch Black Rhino Armory Gunblack Wheels |
| TIRES | 37x13.50R20 Nitto Recon Grappler |
| BODY | Baja Forged Front Bumper with Warn 10S Winch, Baja Forged Roof Rack, Baja Forged Carbon Fiber Fenders, Hiroad Box Utility Bed, B&W Hitch, Custom PPG Paint |
| LIGHTS | Rigid SR-Series Pro 50-inch LED Light Bar, RDS Midnight 30-inch Light Bar, Chase Lights, Site Lights & A-Series Rock Lights |
| INTERIOR | Katzkin Leather Seat Covers, Ford Safe, Builtright Rear Seat Release, Dash Mount, Pelican Cases |
| OVERLAND GEAR | Tepui Roof Top Tent, ARB 2500 Awnings, ARB Tred Pros, ARB 63QT Fridge Cooler, Pelican Cases, Builtright Bedside Rack, Pro Eagle Beast Jack |