Battle of the Big Family Off-Roaders: Sequoia TRD Pro vs Expedition Timberline vs Grand Cherokee L Overland
Typically if you are buying a new SUV and have a goal of hitting off-road trails or getting out and exploring the wilds, you'd be expected to so with something like the tried and true Jeep Wrangler, the Toyota 4Runner, or new Ford Bronco.
But what if you want to haul a bunch of people, a bunch of gear—or both—when you head out for some adventure? Or maybe it's just that your day-to-day duties require a vehicle larger than your typical off-road rig.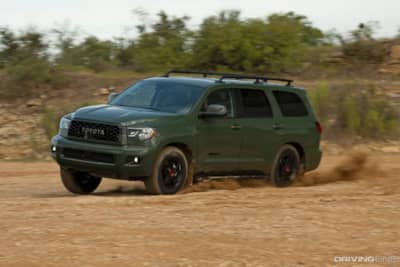 There are still plenty of choices out there when it comes to late model, full-size, three-row SUVs that can be factory-equipped for all terrain fun.
Three of the most popular are Toyota's Sequoia TRD Pro, Jeep's new Grand Cherokee L and the recently introduced Ford Expedition Timberline. Which delivers the best mix of off-road capability, performance, value, and practicality? Here's some insight to help with your search.
Toyota Sequoia TRD Pro
The current generation of Toyota Sequoia is one of the oldest SUV designs currently on the market, going back to the 2008 model year. The TRD Pro model though, is a more recent addition, joining the lineup for the 2020 model year.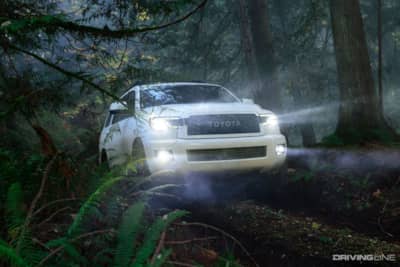 Mechanically, the TRD Pro has the same powertrain as every other Sequoia, a 5.7 liter V8 and a six-speed automatic transmission. The TRD Pro gets four-wheel-drive of course, along with some other upgrades to earn the badge.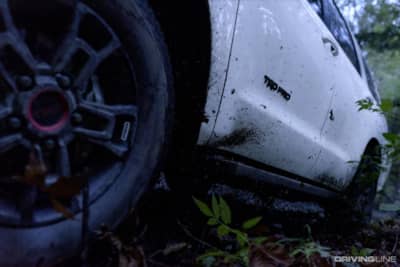 The biggest change was made to the suspension, which gets unique TRD-tuned FOX shocks. The TRD Pro also gets Rigid foglights, a roof rack and a unique set of forged, TRD-branded, wheels made by BBS.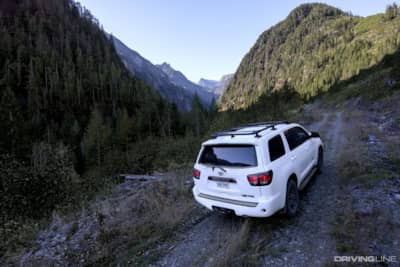 With an MSRP of about $65,000 the Sequoia TRD Pro doesn't come cheap, and while it may be long in the tooth—it's a known commodity, famous for both its capability and bulletproof reliability. 
The biggest reason not to get a Sequoia TRD Pro is that the current model is basically at the end of its if lifespan. Toyota has already started selling an all-new, fully redesigned Tundra pickup, which the Sequoia has always been based on.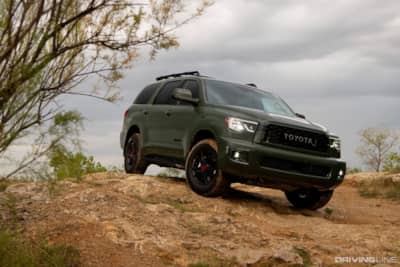 At the moment Toyota hasn't yet debuted a next-gen Sequoia built on the same platform, but it's release is imminent. The smart money may want to wait a little longer to see what the new model brings. 
Jeep Grand Cherokee L Overland
Next we have the Jeep Grand Cherokee L, a new model launched for the 2021 model year that's basically a lengthened Grand Cherokee with a third-row seat.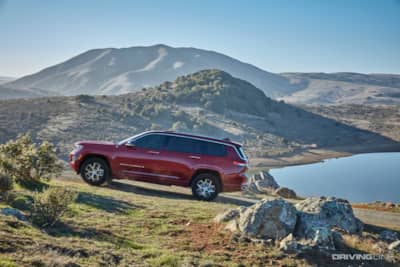 While Jeep doesn't currently offer the off-road specific Trailhawk trim on the Grand Cherokee L, the Overland model has an optional Off-Road package that boosts capability.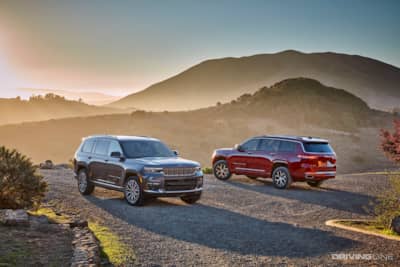 Along with the upgraded Quadra-Drive II 4x4 system, the Off-Road Group option adds larger tires, a larger rear axle with an electronic limited slip, underbody skid plates and of course Jeep's famous "Trail-Rated" badge.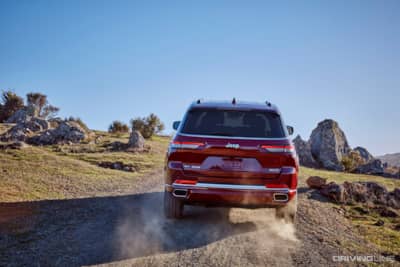 As for powertrain, a 290 horsepower 3.6 liter V6 is standard, while the 357 horsepower 5.7 liter Hemi V8 is a $3,300 option. However, even when equipped with the larger engine, the MSRP still comes out a bit cheaper than the Sequoia TRD Pro at around $64,000.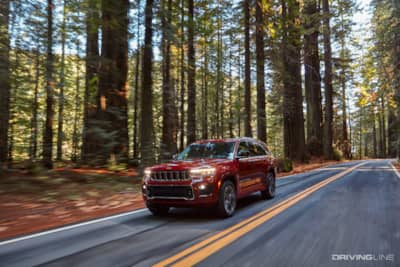 For that money, you get a new model riding on a new platform and that famous Jeep off-road ability. And while the maxi-sized Grand Cherokee might not be the most popular Jeep model for off-roading, there's no doubt it can get the job done.
Ford Expedition Timberline
Finally, we get to the Expedition—the latest SUV to get Ford's rugged Timberline branding. If you wanted to buy a Ford Raptor but in the form of an SUV, this is currently as close as you'll get.
It's powered by a very similar engine to the Raptor—a 3.5 liter EcoBoost V6 that makes 440 horsepower and 510 pound feet of torque, and sends power to all four wheels via a ten-speed automatic transmission.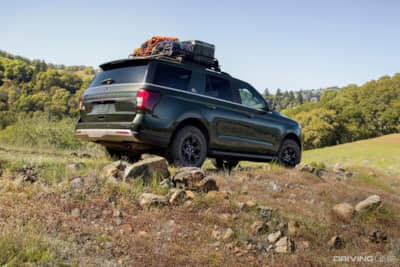 Along with unique branding, the Timberline also gets larger tires, lifted suspension, a two-speed transfer case, a turn-assist system borrowed from the Bronco and more.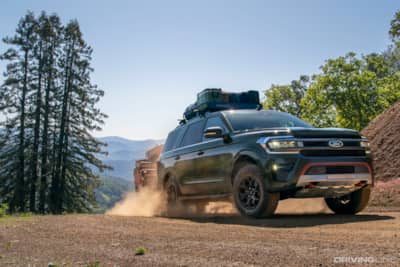 Along with having the most horsepower and torque of this trio, the Expedition Timberline also has the highest price, with an MSRP just over $68,000.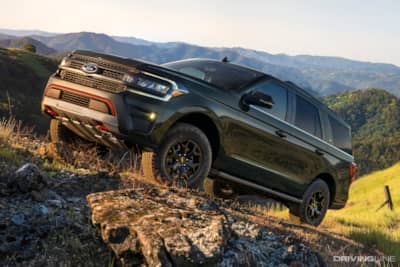 However, with just a few thousand dollars separating these three SUVs priced deep into the $60,000s, price likely won't be the deciding factor for most buyers.
It's really hard to go wrong with any of these picks. And whether you choose the bulletproof reputation and exclusivity of the Sequoia TRD Pro, the legendary Jeep capability of the Grand Cherokee L or the high tech power of the Ford, buying a full-size, three-row SUV doesn't mean you have to miss out on off-road fun.
More From

Driving Line
Looking for a solid full-size SUV on more of a working class budget? Here's why the first gen Sequoia is one of our top picks.