Battling for the Crown: 2018 King of the Hammers Recap
A week of perfect weather set the stage for a fantastic race day as the sky broke clear and bright for the 2018 King of the Hammers. No one had any idea what was in store for the day. Hopes, dreams, money and time had all been spent preparing for this moment. A host of heavy hitters sat alongside former Kings and bright-eyed hopefuls as King of the Hammers was set to unfold. You may have watched the live feed, but here's an opportunity to follow along as the action unfolds. Three two-time Kings were looking for a third, one triple King was hungry for his fourth, a solo wanted a double, and 90 other drivers just wanted a shot at the crown. The stage was set!
KOH 2018 4400 Race Recap
6:30 a.m.
The excitement is tangible as crew chiefs line up their cars and Hammertown comes to life with anticipation for the 2018 King of the Hammers. Cars go off the line at 8 a.m., 2 by 2, every 30 seconds.
KOH Lap 1= 60 miles, high speed desert designed to spread the cars out before the rock trails
8:00 a.m.
Paul Horschel and Jason Scherer are the first to leave the line with Paul on the pole. Leaving Hammertown, Paul hits the gas and takes a quick lead, surprising Jason who took the initial hole shot.
8:01 a.m.
Shannon Campbell takes a quick jump on Levi Shirley, who is driving a Campbell Enterprises car, as they both scream off into the desert for the high speed first lap.
8:22 a.m.
Paul Horschel is still commanding the field and pulling away from in the desert as he is the first to pass Remote Pit 1. He does not stop.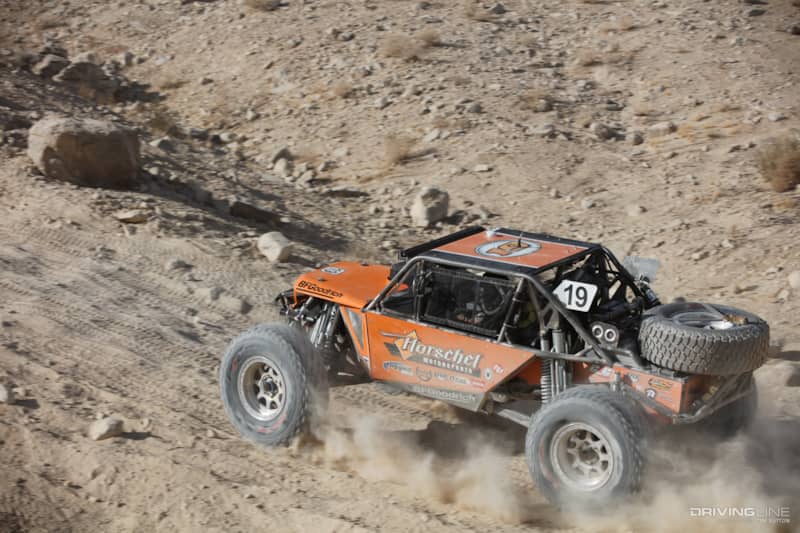 8:47 a.m.
Loren Healy is maintaining third just past RM 25 in the Red Dragon. After last year's fire, fans are holding their breath to see if he clears the desert section this year.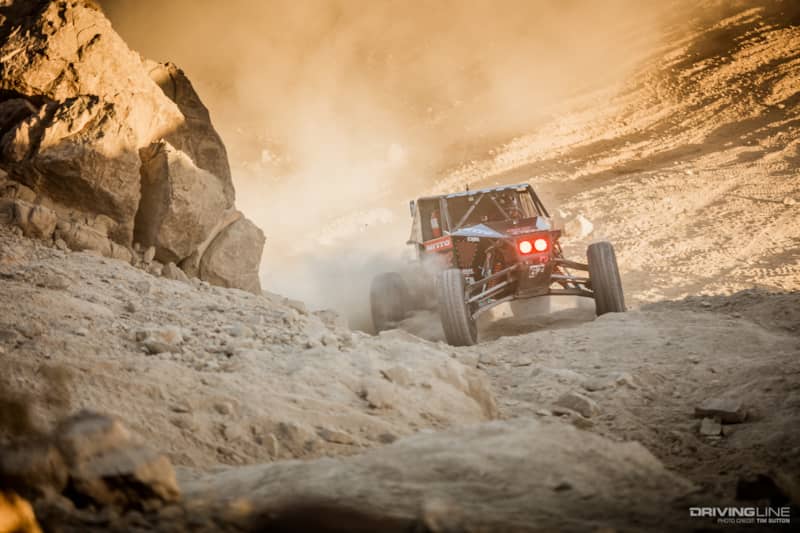 8:55 a.m.
Marcos Gomez and JP Gomez are driving through Cougar Butte right next to each other in a battle for position, while not wanting to wreck teammate and family member's cars.
8:59 a.m.
Bailey Cole winches/pulls Mike Slawson back upright in a classic display of sportsmanship. This is a hallmark of Ultra4 Racing and King of the Hammers. Only drivers can assist other drivers. This is a no chase and no outside assistance race. If any team accepts outside assistance, they are disqualified.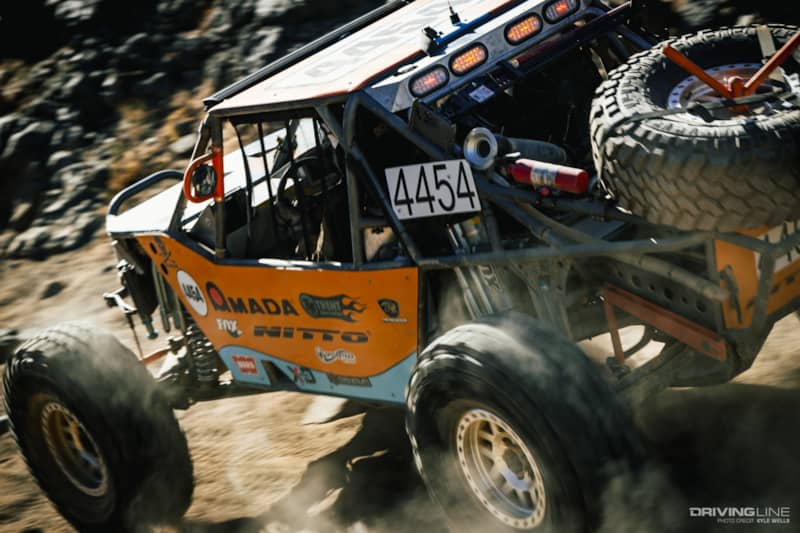 9:03 a.m.
Top 6 at RM 40: Horschel 19, Scherer 76, Healy 67, Randy Slawson 4448, Adler 210, Shannon Campbell 5.
9:18 a.m.
Horschel and Scherer have a 4-mile lead on the rest of the field at mile 54 and are starting to pull away from the pack heading into lap 2.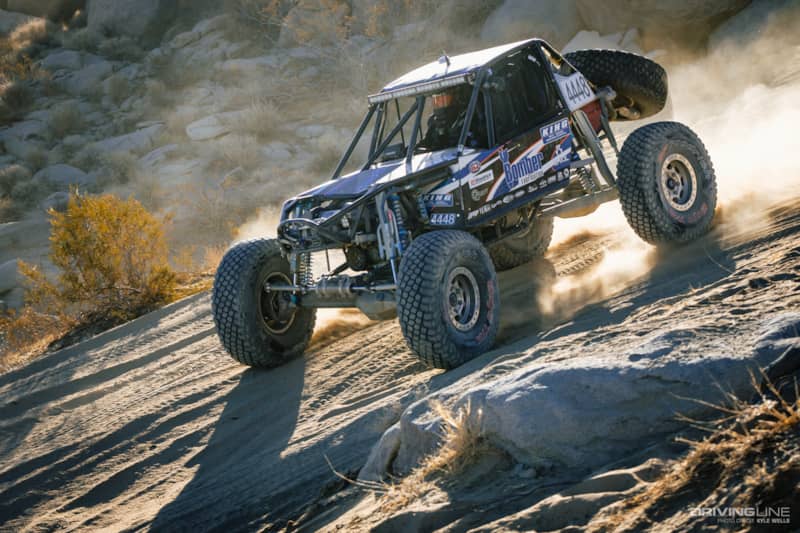 9:27 a.m.
Horschel at Backdoor, in the lead, and looking to blast out into lap 2 and tackle the rock trails.
9:28 a.m.
Scherer at Backdoor, a minute and a half behind Horschel and charging hard. Teams are discussing pit strategy at this point as well as track position.
9:30 a.m.
Scherer finishes first lap 1 20 seconds after Horschel at the line, but he has pitted while Horschel has chosen to not pit at the end of lap 1.
9:36 a.m.
Healy crosses the line in fourth. The Red Dragon lurks and is hungry to join the Triple King club.
9:40 a.m.
Top 5 across the line for lap 1: Horschel 1:29, Scherer 1:30, Randy Slawson 1:32, Healy 1:35, Adler 1:38. Shannon Campbell is hunting in sixth.
Lap 2: short desert section, then the longest lap of rock trails to truly test the cars
9:44 a.m.
After skipping pit 1 and a pit at main, Horschel is now into clearer air, a strategy that is working well for him as he keep putting distance on Jason Scherer.
9:52 a.m.
JP Gomes is in pits. The entire rear spare carrier broke off and was dangling for lap 1, and he will not have a spare for the second lap of the race. JP Gomez had a "small fire" in the pit, but fortunately, the crew got it out immediately. Marcos Gomez has lost his sway bar. Rough pit sequence for the Gomez family.
9:59 a.m.
Jason Scherer has made the pass with Horschel finally stopping at Pit 2. They are followed by Randy Slawson, and then Loren Healy on lap 2. This top 4 has a good jump on the rest of the pack and is beginning to separate themselves as in years past.
10:21 a.m.
Erik Miller and Levi Shirley are battling it out at Wrecking Ball in a classic dual of two talented drivers doing work. Eric is solid axle, Levi is IFS.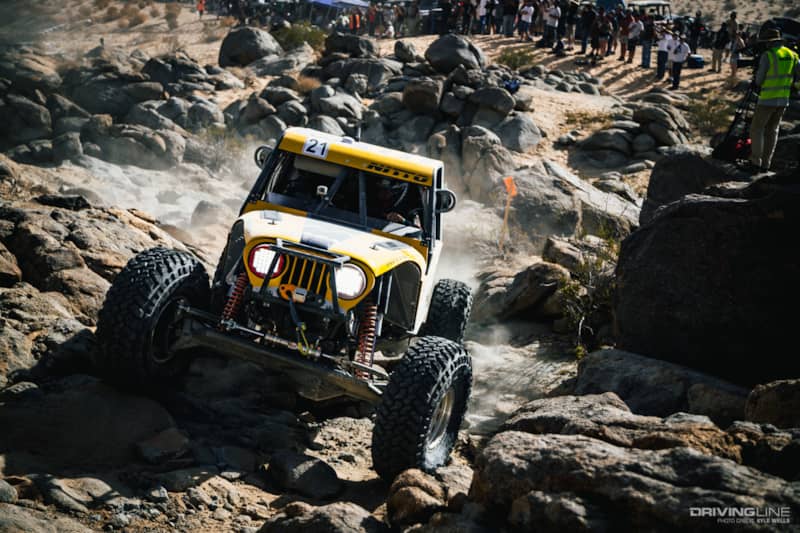 10:27 a.m.
Erik Miller started 10th but is now sitting physically in fifth. He appears to be mounting one of his patented charges.
10:30 a.m.
Clay Gilstrap is having troubles in Wrecking Ball. This trail is one that everyone is concerned about becoming a road block as the race goes on.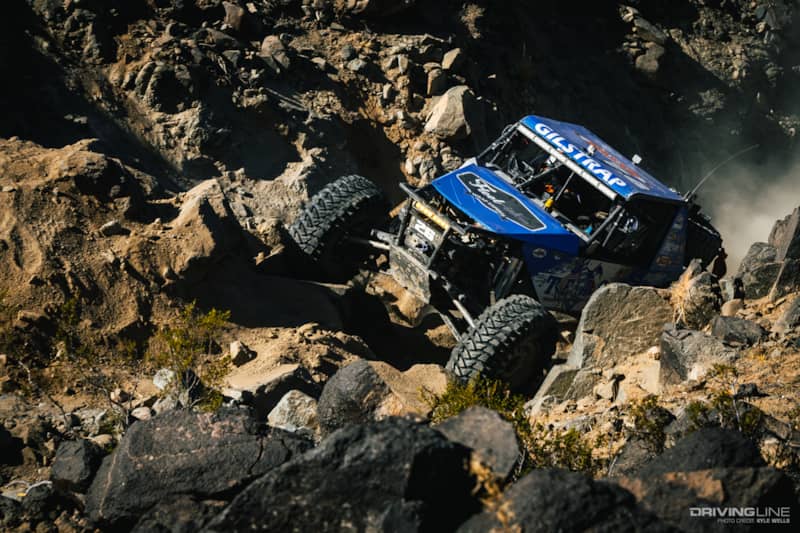 10:31 a.m.
Two vehicles are broken on Backdoor, causing a course blockage. Gary Ferravanti Sr. has lost front wheel drive.
10:35 a.m.
Jason Scherer is in the physical lead, but we are checking on corrected time to see if he's the leader. It's close with Randy Slawson.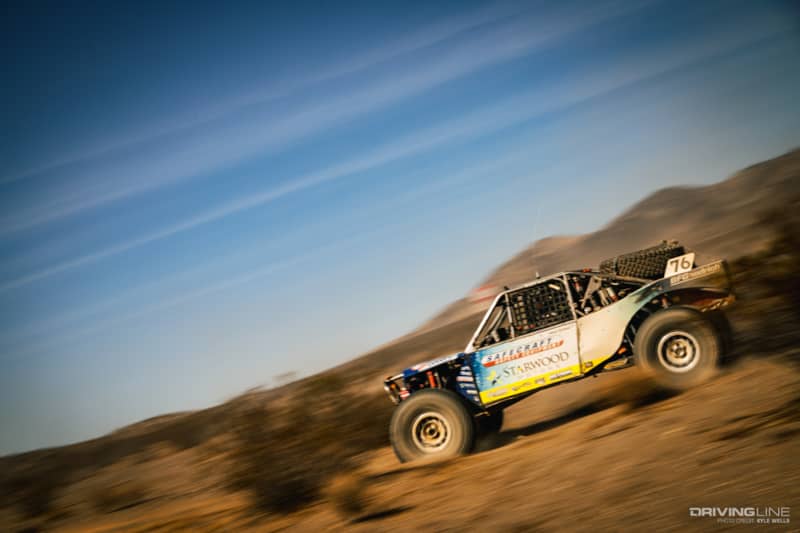 10:37 a.m.
Horschel in the #19 car is on his side and now out of his vehicle near RM 90 at Chocolate Thunder.
10:42 a.m.
Horschel's car is back on its wheels. Loren Healy has just overtaken him.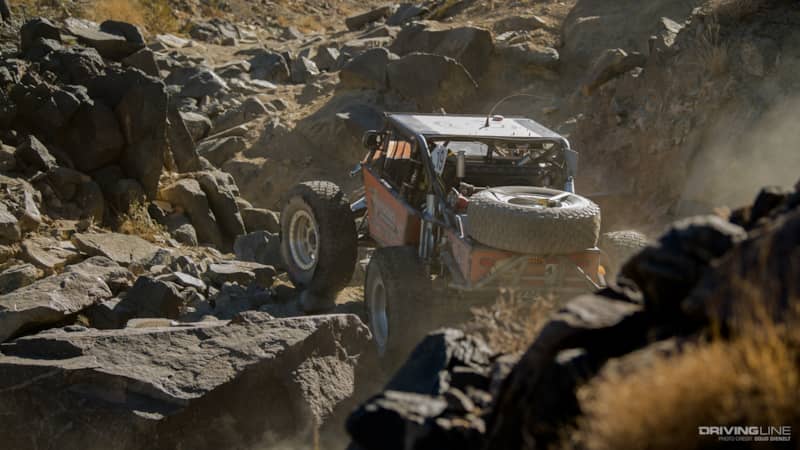 10:50 a.m.
Randy Slawson and Jason Scherer are nearly 100 miles into this race, yet only a few seconds separate them through Jackhammer. "We've got ourselves a good old fashioned shootout." Both cars are being aggressive with each other in the rocks.
10:51 a.m.
It looks like Shannon Campbell may have a flat tire near RM 90, and he's not carrying a spare. The closest pit for him to potentially swap tires is still 10 miles out at RM 101. This is not the first time Shannon has driven on a flat, however.
11:01 a.m.
We have confirmed that Casey Currie has had a timing chain failure at RM 56.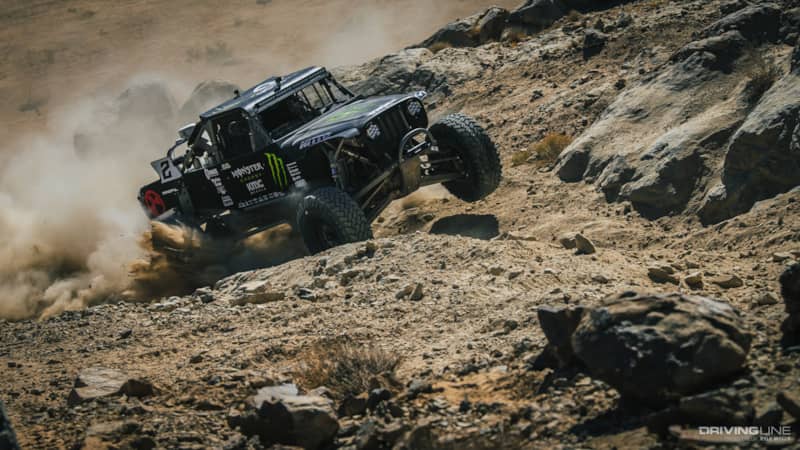 11:02 a.m.
Wayland Campbell has overtaken Levi Shirley at Jackhammer as a battle of the Rock Royalty squad breaks out. Wayland and Levi went neck and neck all season long in 2017.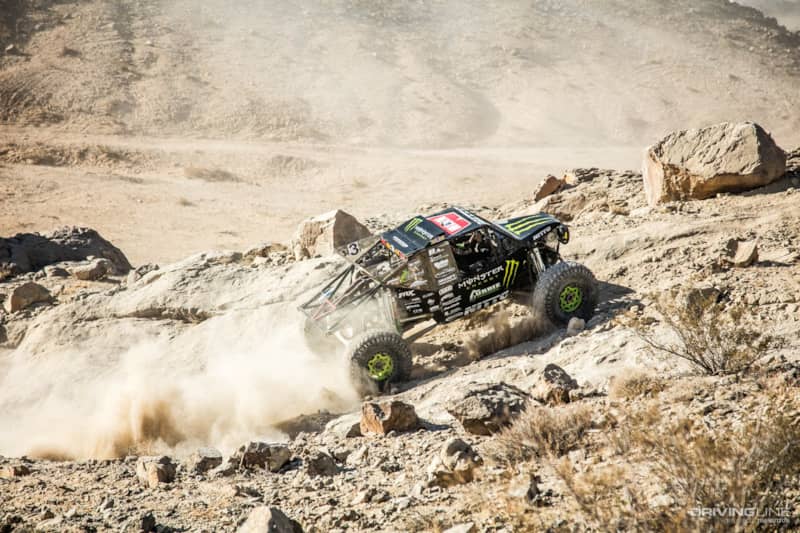 11:08 a.m.
Clay Gilstrap rolled onto his side at Chocolate Thunder. The course workers are quick to get him right side up, and he's back off within seconds.
11:17 a.m.
Scherer has maintained the lead, followed by Randy Slawson. Erik Miller has taken over physical third and is very closely followed by Wayland in fourth. Levi Shirley is fifth. Raul Gomez has moved up to sixth. Josh Blyler is bringing up the rear of the "lead pack" in seventh. Healy is a distant eighth.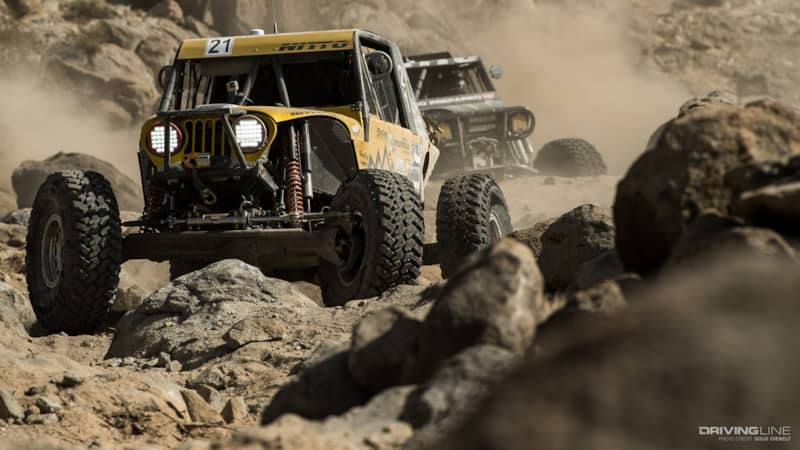 11:18 a.m.
Accounting for corrected time, Randy Slawson is in first place. Jason is still in physical first.
11:21 a.m.
JP Gomez is continuing to power through Chocolate Thunder, his car lacking the spare tire it had at the beginning of the race. Not far behind Raul, considering all three cars had to pit after lap 1.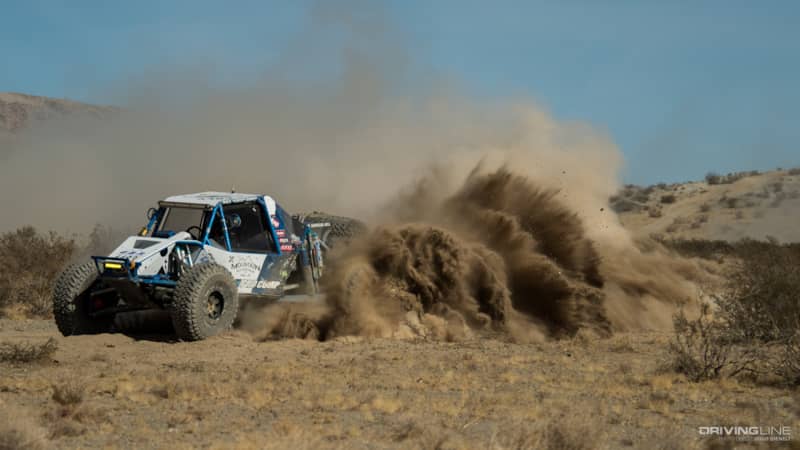 Noon
Physical running order: 1. Jason Scherer 2. Randy Slawson 3. Erik Miller 4. Wayland Campbell 5. Levi Shirley. The rocks are doing their damage and the top 5 is starting to mix up.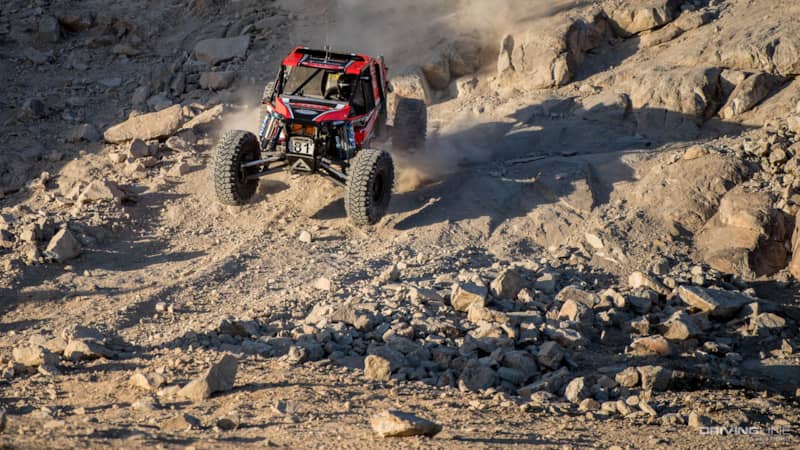 12:07 p.m.
Scherer is stopped in Remote Pit 2b. Raul Gomez hits 107 mph as he makes his way toward Outer Limits
12:12 p.m.
Slawson has taken the adjusted time lead over Scherer again! The two battle back and forth.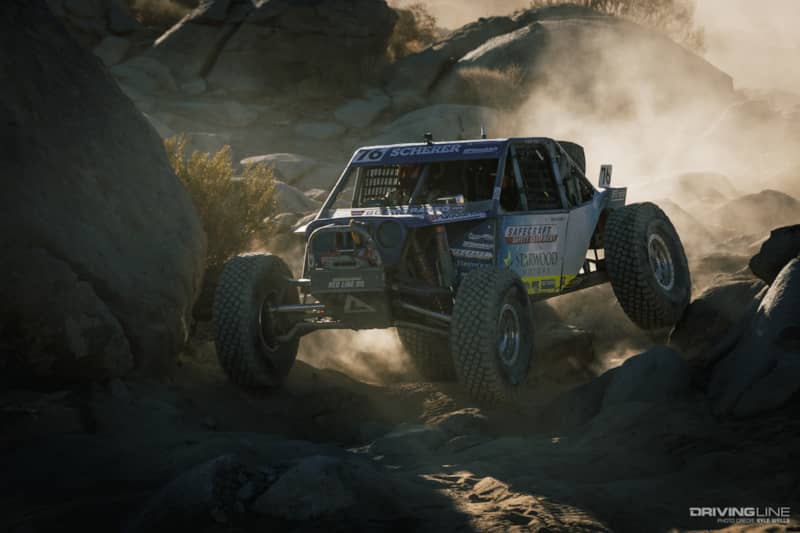 12:20 p.m.
Slawson now takes over the physical lead as well, creating a larger gap for Scherer to overcome, since he has to take the physical lead as well as the gap in adjusted time.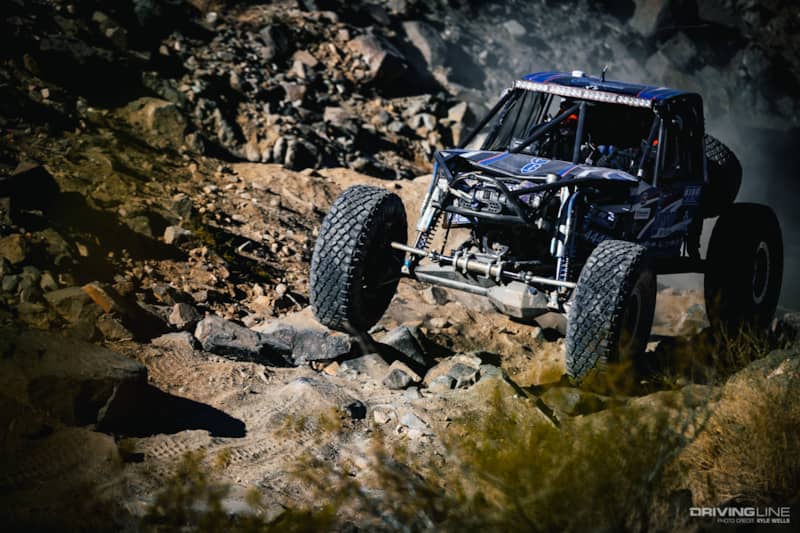 12:35 p.m.
Slawson and Scherer neck-in-neck as they go down Backdoor. Side by side! Scherer hits Slawson's front tire and passes him in a possible payback from Randy driving over Jason earlier in the race. Both are racing clean, just hard. The will to win is strong in these two.