Best Tires for the Jeep Wrangler
Changing out the tires on your Jeep Wrangler is one of the easiest ways to increase its off-road performance. Obviously, there's no shortage of tire options on the market. With so many options, it can be hard to spot the difference between one company's all-terrain tire versus another. It's even more difficult to determine why one might be substantially better or worse.
To give you a better idea at which is the best fit for your Jeep, we're diving into the tire details that matter. While we've compared all-terrain versus mud-terrain tires in the past, this article highlights not only those differences, but important features that will greatly impact your Wrangler. Items such as load ratings, weight, and tread pattern are just a few of the many factors that affect how your Jeep performs on-road and off.
Yes. We know that not all Wranglers are built alike and the differences between a 1987 Wrangler and 2023 one is pretty dramatic. However, the tire information in this article is applicable to all years. So, let's get started.
Load Rating
The absolute first thing you should always check before purchasing a new tire is that it is load rated correctly for your Jeep. This load rating number will be printed on the sidewall of the tire and can be found directly on the manufacturer's website. LT (Light Truck) tires have a higher load rating over Hard Metric (aka passenger tires). So, be mindful when looking at your options. If your Jeep is heavily modified, the standard curb weight figure you'll find in your owner's manual may no longer be accurate. So, it's worth taking a trip to the scales to find out just what your ride is weighing these days. While the LT tires will be a little heavier over a Hard Metric, they are better suited for serious off-roading. If you plan on crawling more than speedbumps at the mall, the LT will be the better choice.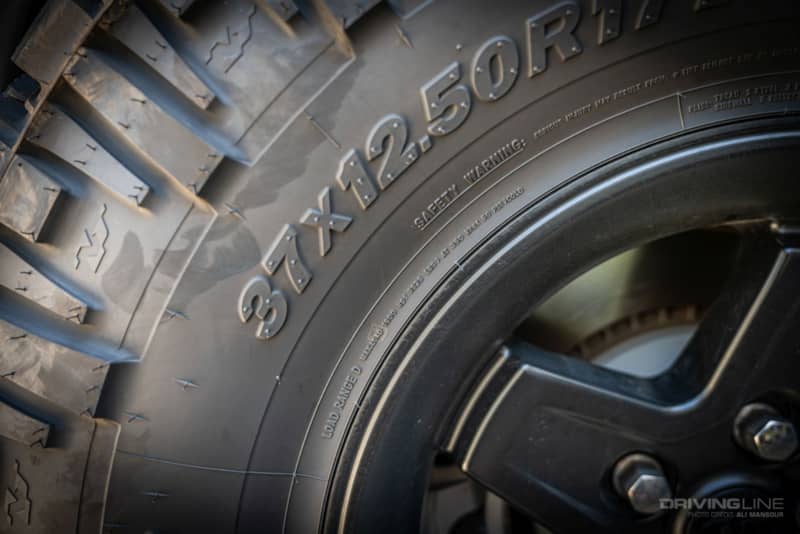 Weight
If you are moving up tire sizes, you can expect an increase in tire weight. The heavier the tire, the greater the hit will be to your vehicle's performance and fuel economy. Most manufacturers' list the tires weight on their website. So, you can compare how heavy each is before you upgrade. While lighter is better, there's more things to consider than the weight of the tire.
Sidewall
Looking at two different tires from different companies, you may see that one tire is lighter than the other in the exact same size. More often than not, a heavier tire means more tire material. In our experience this heavier tire equates to a stronger sidewall, which is an extremely important feature for those looking to push their Wrangler hard on the trails. Companies such as Nitto Tire pride themselves on building extremely durable sidewalls. For dedicated off-road enthusiasts, the performance hit from the added tire weight is well worth the tradeoff for having a more durable sidewall. While a heavy-duty sidewall doesn't influence the ride quality as drastically on newer (and heavier) JL and JK Wrangler platforms, on the earlier YJ and TJ series Jeeps, it will feel stiffer on the road.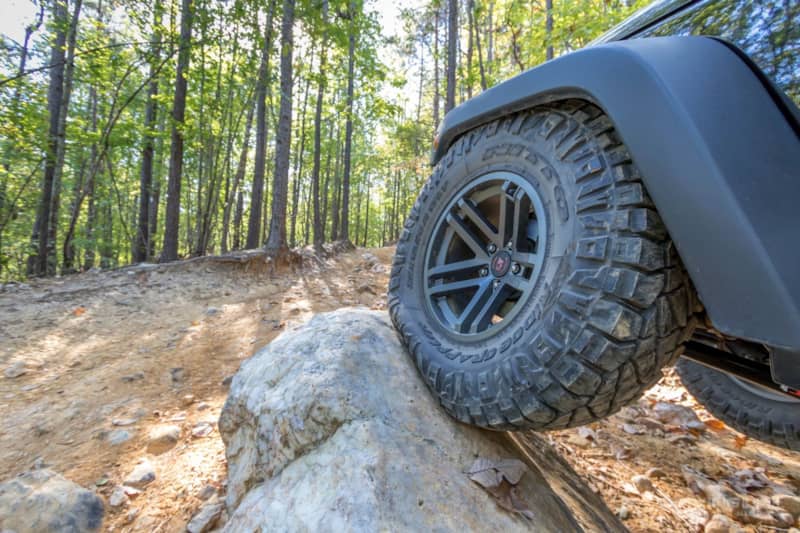 Road Noise
If you are curious if the tire you are looking at will have road noise, a good indicator for that will be how large the spacing is between the lugs. The larger the space and more staggered the tread, you'll likely find they will create more noise on the highway. This is one of the reason all-terrain tread patterns are more tightly spaced.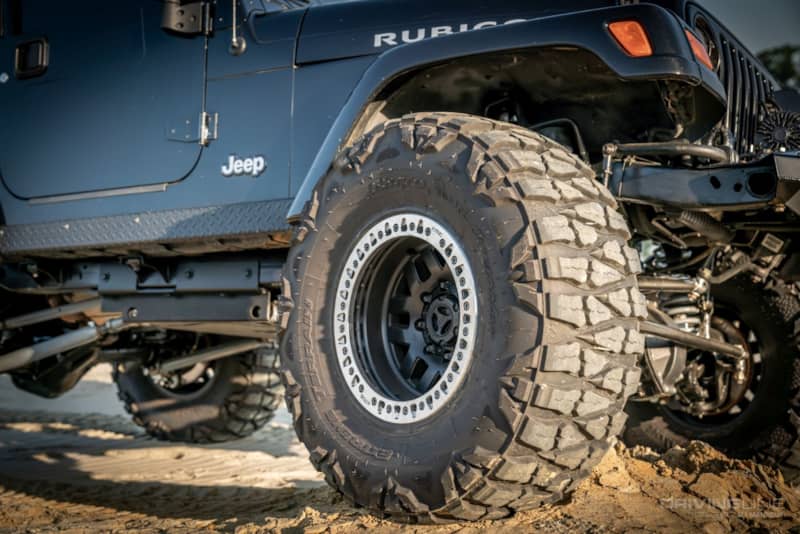 Sipes
Those small grooves running across the tread block are extremely important for wet-weather grip. They are called sipes. Mud-terrain tires have fewer cut into the tread than all-terrain tires. If your Jeep frequently sees rainy roadways, looking for a tire with a good helping of sipes.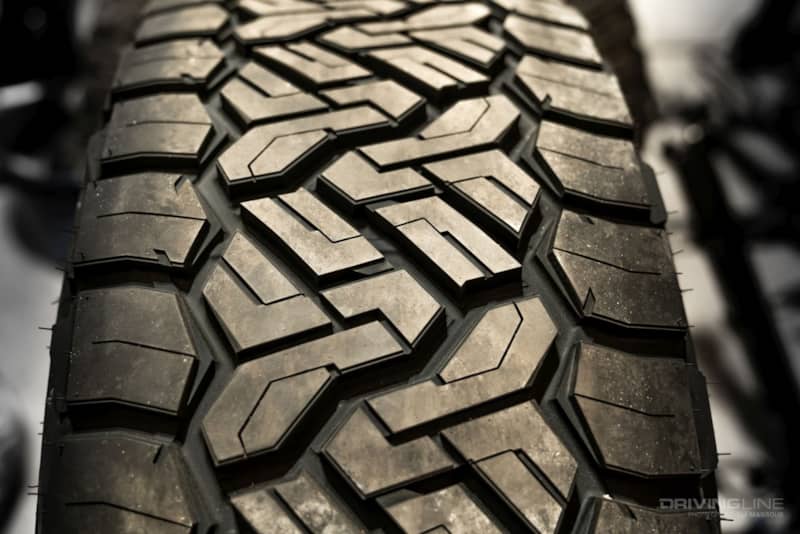 Mud Terrains
If you are looking to measurably increase the off-road performance of your Wrangler, we highly recommend a mud-terrain tire. The added spacing between the lugs, along with larger and deeper tread blocks, will make a tremendous difference off-road. Modern mud-terrains such as the Nitto Trail Grappler have a reputation for being quiet on the road, which is something that has often been a challenge for more aggressive treads. Though mud is the category, we find this tire category to excel in most off-road scenarios over an all-terrain tire.
All-Terrain Tires
As the name states, all-terrain tires are designed to work well in every terrain you'll face. In general, this is true. However, don't expect an all-terrain to be a high performer in mud. There's a reason why mud terrain's get their own category. All-terrain technology has come a long way (something that's very evident with tires such as the Recon Grappler). However, if you know mud is frequent factor in your trail riding, save yourself the frustration and go with a mud-terrain tire.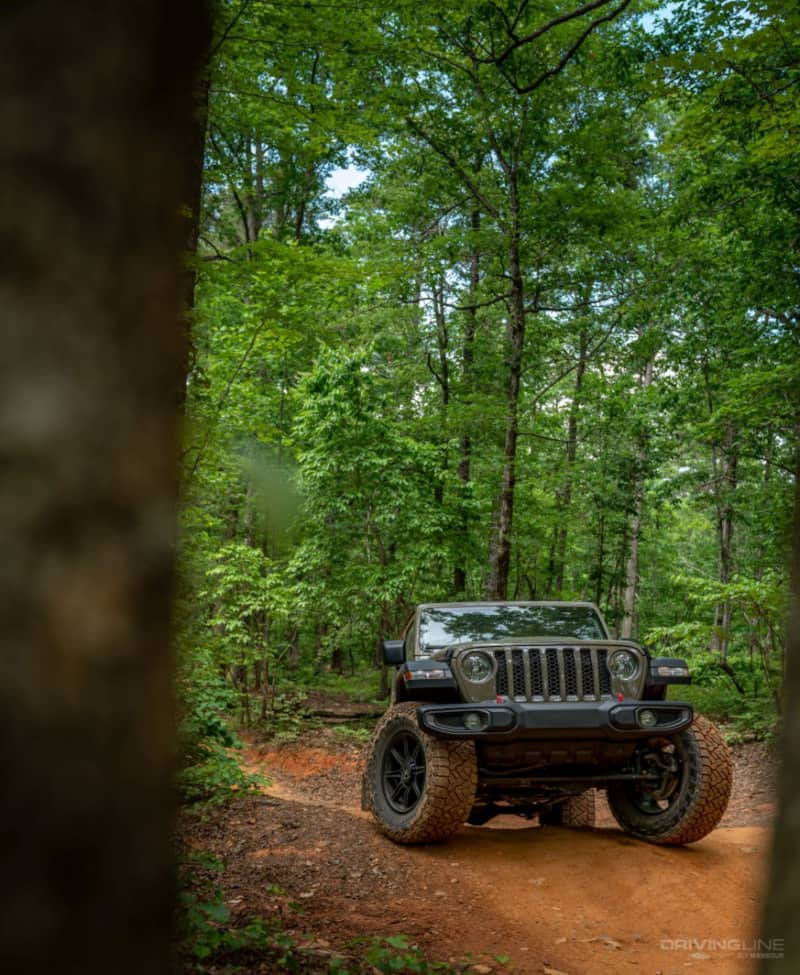 Longevity
You'll be hard-pressed to find a mud-terrain with a tire milage guarantee. However, that's commonplace for all-terrain tires. We all want to get the most life out of our treads, but for those with long commutes, it's especially important. If life expectancy is near the top of your list, bypass the mud and go straight for the all-terrain tire.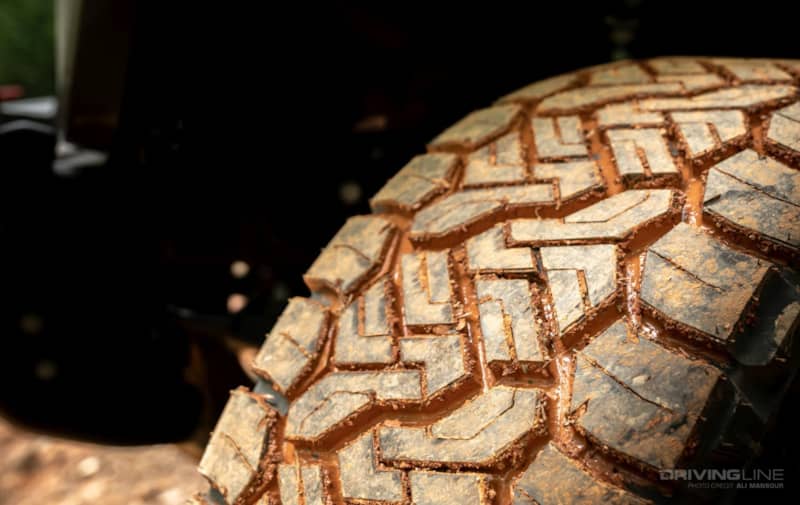 Snow
If snow is going to be a frequent opponent for your Wrangler, then look for a tire with a 3-Peak Mountain Snowflake rating. This tread compound and pattern is designed specially to shine in winter weather. Some are even engineered with studs in mind. So, you can easily outfit them if needed.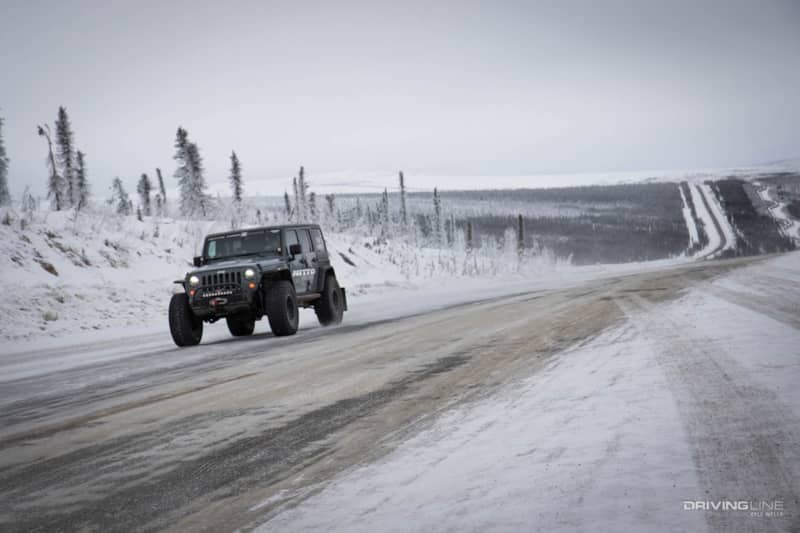 The Perfect Tire?
Tire technology has come a long way in the last decade. With the introduction of new hybrid category tires such as the Ridge Grappler, the line between true off-road and on-road performance has never been more blurred. Without knowing the intended users' exact needs and Wrangler setup, we can't say which is the perfect tire. However, if you use what you learned here, navigating your choices should be much easier.