Big Power, Surprising Package: 7.3L Power Stroke Edition
Any horsepower junkie entrenched in their own automotive niche knows what it takes to reach a certain level of performance with their preferred engine, so when a few setups over-achieve they take note. When it's done with a dated engine platform, it only adds to the intrigue. Such was the case for the trucks and their owners showcased in this piece. Each of them a highly modified version of the 7.3L Power Stroke, the last engine most diesel enthusiasts choose to pursue big horsepower with, these underdogs make considerably more horsepower than their comparably modified counterparts.
In the first two examples, the notorious 650rwhp wall that most stock internal 7.3Ls can't get past was breached. In the last example, an old body style Ford sporting a fully-built 7.3L cleared more than 900rwhp on fuel—easily the most we've ever seen from a HEUI-injected 7.3L (and which turned out to be a new "fuel-only" record for the 444 ci V8). If you're not into dyno racing, they've also been successful in backing up their dyno numbers at the drag strip. For the inside scoop on these anomalies, we'll spell out their parts combinations, along with how well they've fared so far at the track.
Daniel Sayres' '00 F-350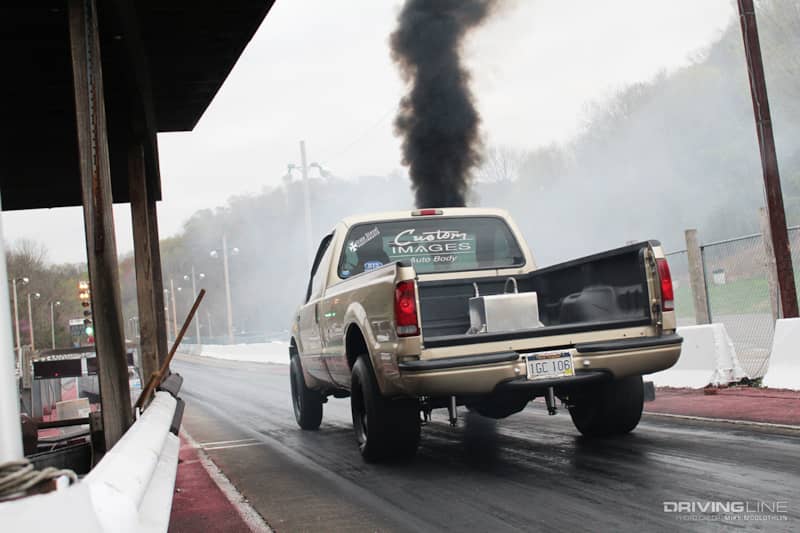 Daniel's standard cab, two-wheel drive Super Duty has been his baby since he acquired it at age 16. Throughout the years its horsepower has grown from the 235hp it left the factory with to more than 800hp at the crank. In that time, the stock bottom end has remained completely untouched, with the factory rotating assembly racking up more than 200,000 miles along the way. Equipped with slicks, it's been as fast as 123 mph and change through the quarter-mile. In the eighth, Daniel has run a 7.4 with a conservative launch. Both of those numbers say his F-350 is capable of running mid-to-low 11s.
More Than Just a Pretty Engine Bay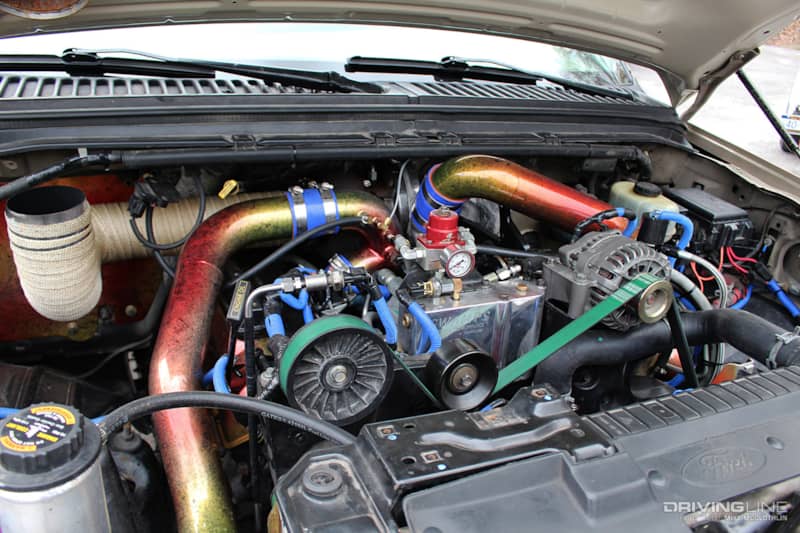 Not looking to reinvent the wheel, Daniel selected some of the most proven aftermarket components in the 7.3L world for his build. Comp Cams' shimmed 910 valve springs replaced the factory units, the stock pushrods were ditched in favor of Smith Brothers' chromoly versions and the head bolts were replaced with ARP head studs one at a time (so as to not have to replace the head gaskets). The injection system was pumped up with a set of 250cc Full Force Diesel hybrid injectors equipped with 200-percent over nozzles, a Marty's Diesel Performance electric fuel system based around the use of an Aeromotive A1000 was installed and a Swamps Motorsports Gen3 high-pressure oil pump was bolted above a stock 15-degree HPOP. Thanks to a T4 turbo mounting system from Irate Diesel Performance, the box S467.7 from BorgWarner feeds the engine plenty of boost.
709RWHP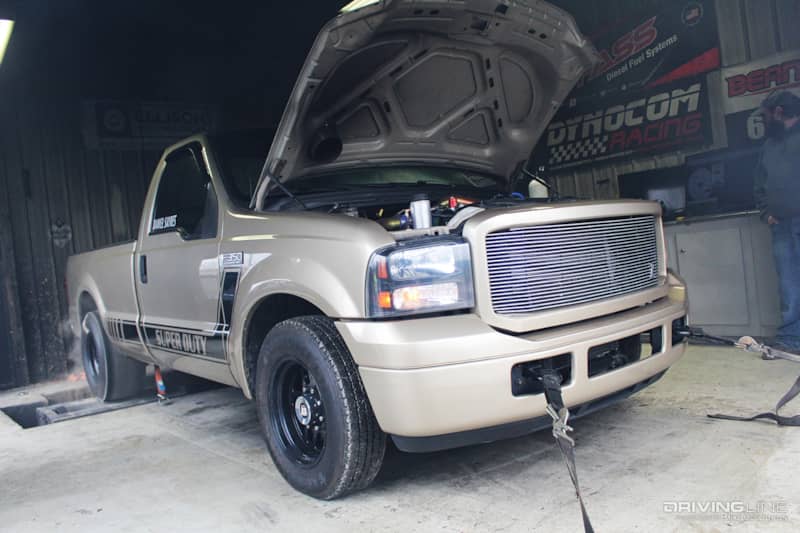 Despite having the restrictive, factory heads still in the mix and running 250/200 injectors (whereas most 7.3L gurus making 650hp or more run 350/200s or larger), Daniel's Super Duty laid down an impressive 709rwhp on the dyno. When we asked him if that number came with the assistance of nitrous he told us it hadn't. Then he proceeded to activate his nitrous system, drawing gas from a cold and near-empty bottle and made 742rwhp on a subsequent pull. Whether its 700-plus number was facilitated with Gearhead Automotive Performance tuning, help from the BTS 4R100 transmission or a bit of luck, Daniel's truck makes 75-100 more horsepower than similarly-equipped 7.3Ls do.
Caylon Golden's 724RWHP Short Bed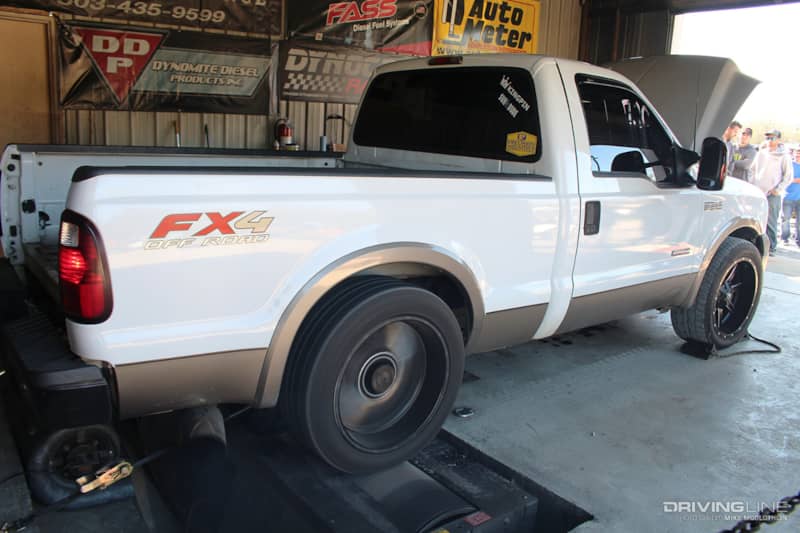 When Caylon Golden's short bed '00 F-250 pushed right past the proverbial 650rwhp wall on the dyno, we had to find out more about his setup. Was he running ported heads? Was the bottom end built? The answers to both of those questions was no, and no. The short block was completely as it left the factory (stock crank, forged-steel rods, pistons, cam) and only the inevitable upgrades had been made to the heads and valvetrain (stiffer valve springs and chromoly pushrods) with a set of H11 head studs anchoring them to the block. For fuel, a set of 300cc, 200-percent over nozzle (300/200) hybrid injectors and a fuel supply system making use of an A1000 are employed. High-pressure oil volume is maintained thanks to an SRP1 high-pressure oil pump. Airflow comes in the form of a billet compressor wheel S475 BorgWarner turbo from Barder Turbo Service.
Low 11s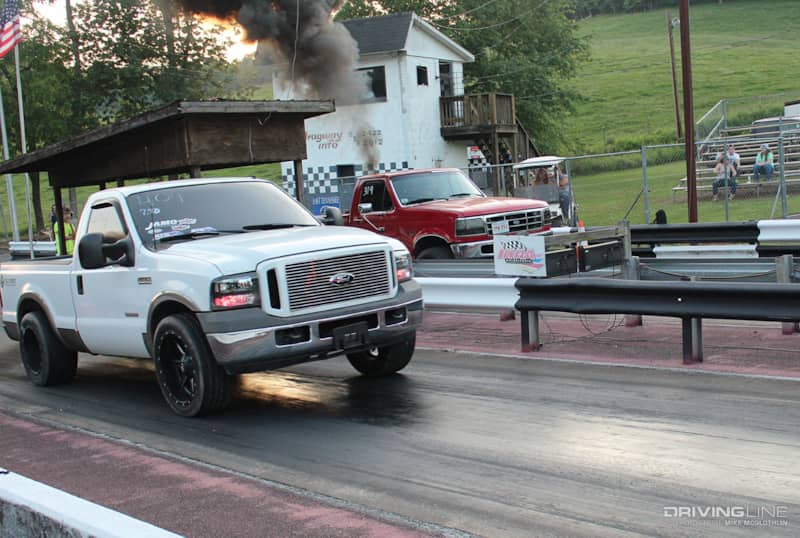 At the drag strip, Caylon applies at least 700rwhp to the track to trap more than 93 mph through the eighth-mile. Despite leaving the starting line with little-to-no boost on tap, the shorty Super Duty still managed to cover the '660 in 7.6 seconds. With the type of 60-foot his truck is capable of (1.6 to 1.8-seconds), Caylon is all but guaranteed low 11s in the quarter-mile. So what makes his engine so much more potent than most 7.3Ls with similar mods? Whether it's in the tuning (he runs Tyrant Diesel files), the S475, the 300/200s, the Tyrant-built 4R100 or all of the above, it's clear Caylon knows what he's doing.
Nicholas Lima's 920RWHP OBS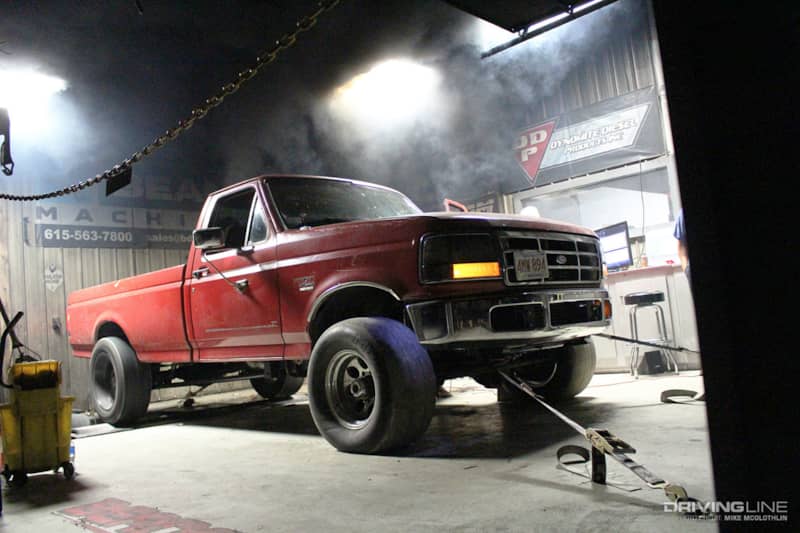 Having already dipped into the 10s in the quarter-mile with his old body style F-350, Nicholas Lima has quickly established himself as one of the heavy hitters in the 7.3L community. At a recent get-together coined the 7.3 Jamboree, his OBS put down 920rwhp on the chassis dyno—a new fuel only horsepower record for the 7.3L Power Stroke. On this same set of rollers, a reputable Dynocom load cell unit in use at Bean Machine, another nasty 7.3L set up in much the same way laid down 808rwhp two years before. When Nicholas beat that number by more than 100hp, those gathered around the dyno were in awe.
What's Under the Hood?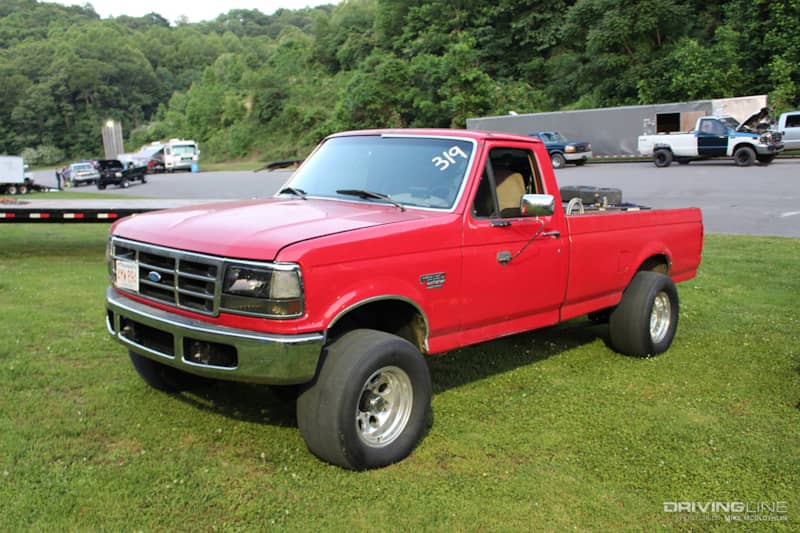 Unlike the previous two trucks that still sport factory-assembled rotating assemblies, Nicholas grenaded his a few years back. However, with no plans to slow down, he enlisted the help of Morris Motorsports for a built engine. The competition-ready 7.3L sports ported heads and a custom grind cam in addition to aftermarket rods and a girdle. Endless fueling is made available courtesy of a set of Unlimited Diesel Performance's Stage 5 injectors, which flow 455cc of fuel through 400-percent over nozzles, aptly named the company's "Fire Hoses." For air, a T4 turbo mounting system accommodates an S400SXR "Gangster 76mm" charger from Forced Inductions. Longtime 7.3L diehard Dan Kropinak of SDK Performance is responsible for writing the 920rwhp tune.
Putting Those Ponies to Work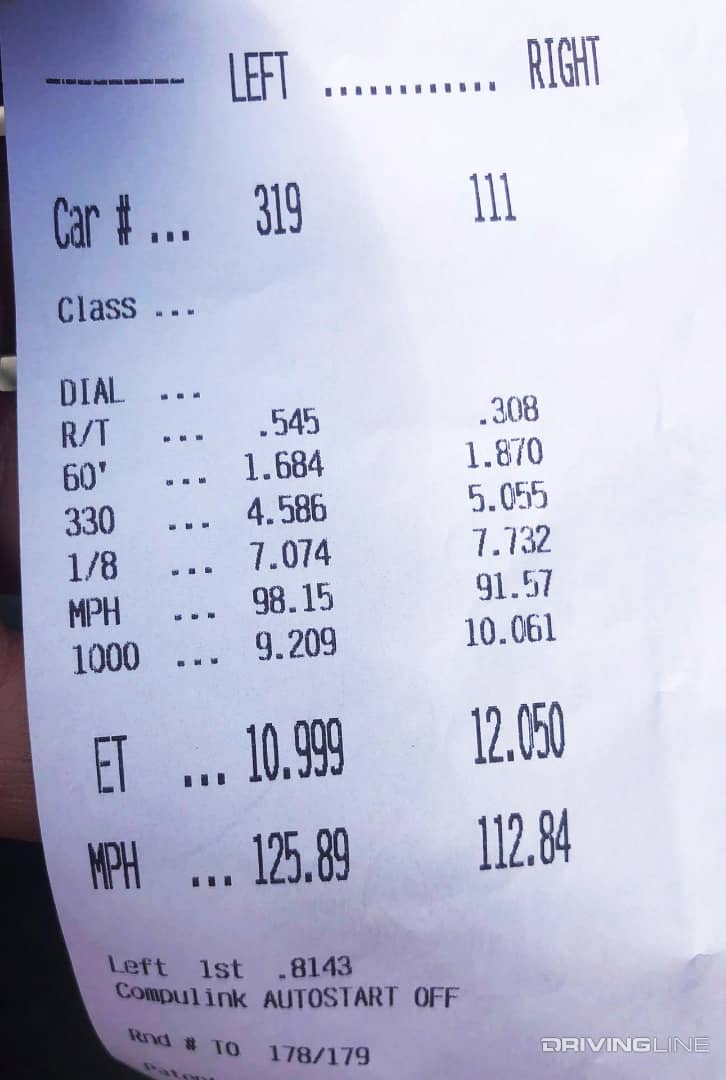 Despite fighting some shifting issues with the 4R100 automatic, Nicholas still squeaked into the 10s on an older setup (smaller injectors, different tuning). With the transmission issues addressed, the 920rwhp punch his F-350 currently packs should be good for getting him deep into the 10s, along with trap speeds approaching 130 mph. This isn't the first time we've taken note of what the engines leaving the confines of Morris Motorsports are capable of (on top of the impressive time slips they help achieve). It's a small North Carolina shop that obviously has a lot figured out when it comes to the 7.3L Power Stroke—and Nicholas plans to keep leaning on his even harder in the years ahead.
Upgrade your 7.3L Power Stroke on any budget with our budget diesel mods!