5 Most Extreme 7.3L Power Strokes
Ah, the 7.3L Power Stroke. It's a platform that—at least in the motorsports arena—assumes the underdog role among modern, direct-injection diesel engines, and rightly so. The all-iron V8, while displacing 444 cubic inches, was saddled with the complex, performance-challenged HEUI injection system in stock form. As such, it's the last engine most enthusiasts would ever consider pursuing big horsepower with. Yet it remains. Some 15 years after the last one was produced in Indianapolis, the 7.3L lives on—thanks in large part to a die-hard fan base that's convinced it can be competitive.
From time to time, we come across these dyed-in-the-wool enthusiasts, some of which have pushed the 7.3L into (and in a few cases, beyond) the realm of four-digit horsepower. In the list of extreme 7.3Ls below, some have done away with HEUI, instead converting the big V8 to mechanical injection (i.e. P-pump). Others have stuck it out with the oil-fired fuel injection system and benefitted from a slew of modern advancements in HEUI technology as a result. Regardless of their injection method, the following engines represent some of the most extreme versions of the 7.3L we've ever come across.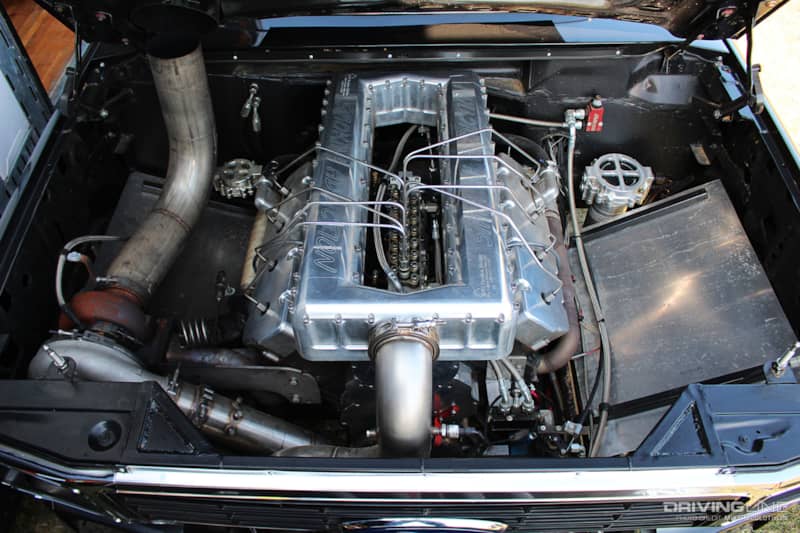 When Nate Bailor and Ben Burnworth took a break from pulling their 7.3L-powered '81 F-350 in 2010, they had exhausted nearly every possible way of gleaning more power out of the HEUI-injected engine that was powering it. As hardcore Ford fans, they never considered a Cummins swap, but instead focused their efforts on building a mechanical 7.3L—with an inline eight cylinder Bosch P7100 in the lifter valley. The engine's long-block consists of a factory-based, cast-iron block that's void of water jackets thanks to concrete, an internally-balanced OEM-derived crankshaft (anchored in place via a Hypermax Engineering bed plate) that swings eight forged-steel R&R rods attached to D&J Precision Machine fly-cut FSR pistons and a set of fire-ringed replica cylinder heads that were cast without water passageways. The P-pump, built by Northeast Diesel Service, sports 13mm plungers and is capable of flowing 950cc of fuel (although less than 600cc is typically used). The flashy, billet-aluminum intake manifold was made by D&J Precision Machine. Per Limited Pro Stock truck pulling rules, a single smooth bore turbocharger with a 3.0-inch inducer is tasked with feeding air into the mechanical menace.
The Smokin' Addiction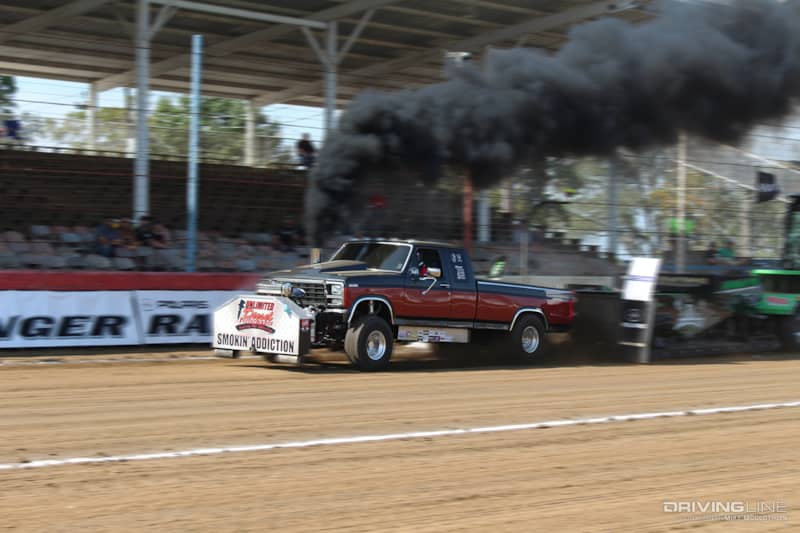 While recent turbo rules have eliminated the freer flowing map groove turbos (in which the V- engines seemed to have benefitted the most from) used in previous years, Nate and Ben's 7.3L still hangs tough against all the Cummins and Duramax competition—and it undoubtedly gives the Ford faithful something to look forward to in the ever-popular Limited Pro Stock class. When turbo rules are lax, such as at local county fairs or during exhibition hooks, the cubic inch advantage of the 7.3L can truly be utilized. On one such occasion, Nate and Ben uncorked the hidden potential of their P-pumped 7.3L monster by turning up the P-pump, swapping out the 3.0-inch smooth bore turbo in favor of a 4.1-inch inducer charger from Columbus Diesel Supply and running the engine upstairs. The result was 6,300 rpm leaving the line, nearly 6,000 rpm heading down track and probably somewhere around 1,400-1,500hp being made.
2. Scott Morris: Compound Turbos & HEUI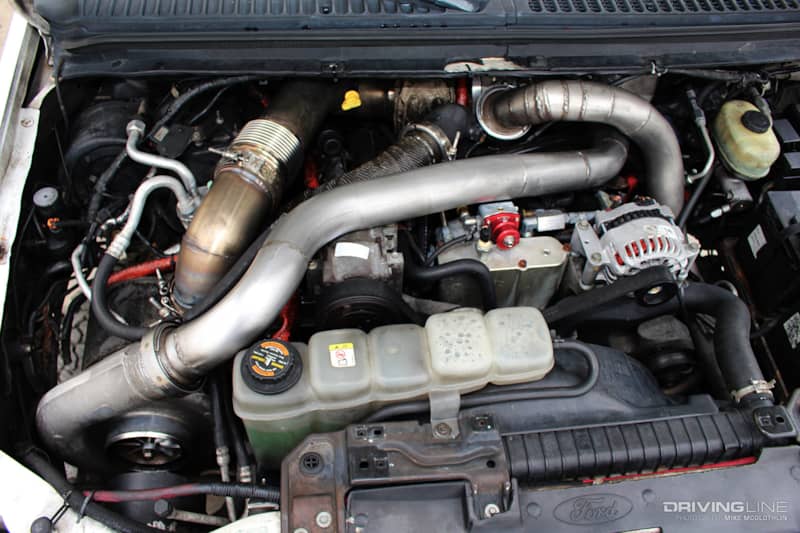 Sticking it out with the factory injection system since buying his '00 F-350 dualie brand new means that Scott Morris has seen the evolution of HEUI technology first hand. His 7.3L sports one of the largest oil-fired injectors you can buy (Swamps Diesel's 400/400 hybrids), one of the only "big oil" options on the market (a Swamp's Diesel Gen3 high-pressure oil pump) and a competition-caliber fuel supply system (based around an Aeromotive Eliminator pump) with 5/8-inch lines feeding each head. To bring enough air to the table, Scott relies on a compound turbo system that parks a massive S510 charger out front and an S475 in the valley. With both the 104mm atmospheric S510 and valley-mounted S475 running at full song, the 100 psi boost gauge performs a full sweep. Now throw in good custom tuning and a BTS-built 4R100, and you've got a regular sports car killer.
The Big White Sleeper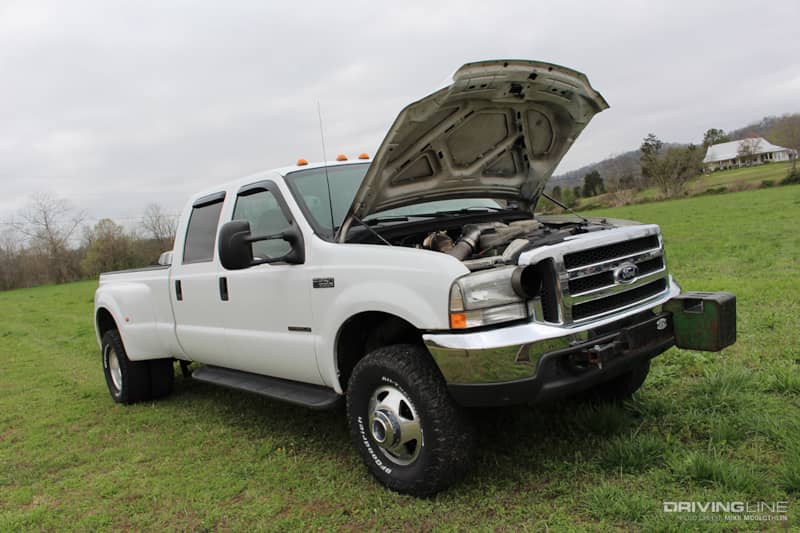 To make an 8,200-pound dual rear wheel Ford boogy like Scott's does, it takes some pretty serious horsepower. Basing the truck's power figure off of a blazing eighth-mile pass of 7.3-seconds at 96 mph, we calculate that the 4-ton-plus Super Duty is sending at least 900rwhp to the ground. However, with a traction-limited, boosted four-wheel drive launch on the 7.3-second run, that number may be closer to 1,000rwhp. Scott's high-powered 7.3L holds together reliably at 900hp+ and 1,800 lb-ft of torque thanks to a built bottom end (main bearing girdle, Crower rods, cut and coated Mahle pistons), while a custom grind cam complements a set of thoroughly ported (and fire-ringed) OEM-based heads from Crutchfield Machine and the aforementioned compound turbo arrangement.
3. Matt Kubik: P-Pump'd 7.3L Mustang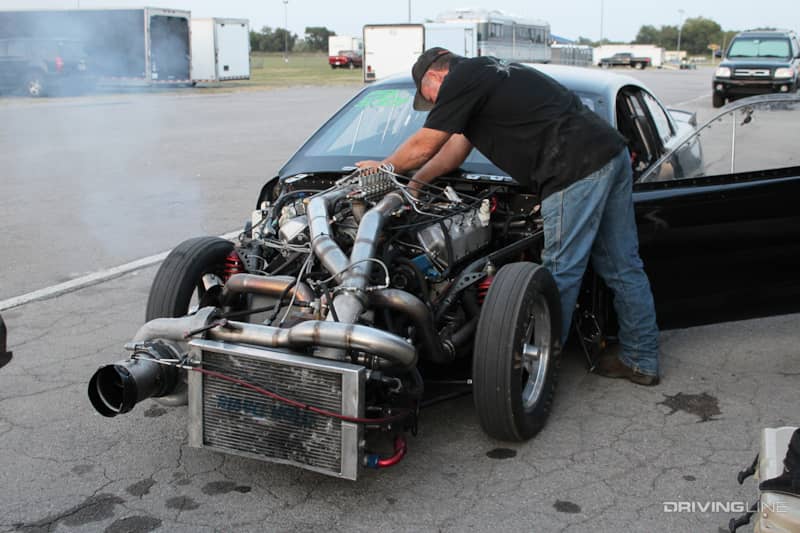 When it comes to P-pumped 7.3Ls, you're much more likely to find one in a truck pulling application than a drag racing one. However, just like the 9-second, compound turbo'd, 6.0L Power Stroke-powered Ford Ranger he used to campaign, Matt Kubik seems to have a flare for deviating from the rule. Not only is he competing in diesel drag racing's Pro Mod/Pro Stock category with a P-pumped 7.3L Power Stroke, but he's doing it in a fourth-gen Mustang. Sourcing a compacted graphite iron (CGI) 7.3L block from Hypermax Engineering, it's fitted with a bed plate, forged-steel rods, D&J Precision Machine FSR pistons and factory ported cylinder heads that accept 8.3L Cummins-based injectors. A complete Hypermax Power Stroke inline pump package was used to convert the engine to mechanical injection.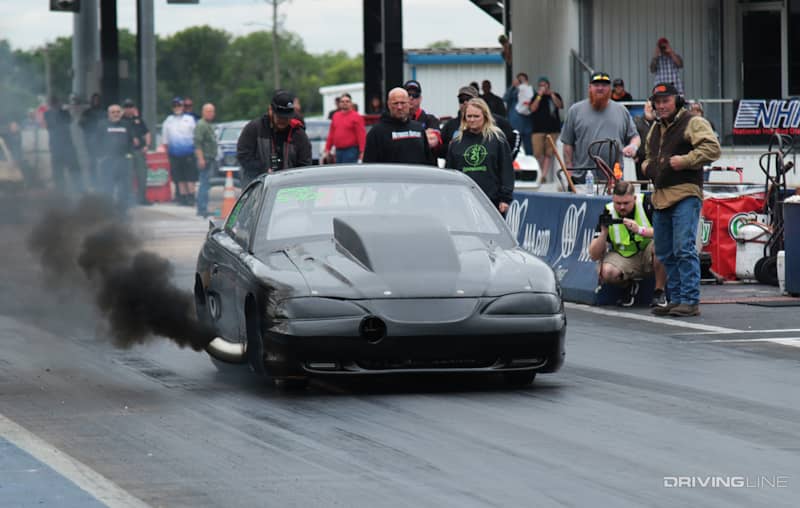 If you were wondering if it's fast, the answer is YES! In fact, Matt's 7.60-second quarter-mile at 192 mph is a Power Stroke record—not to mention that, at 3,300 pounds, some 1,600hp is making it to the rear wheels. All-out effort passes in the car consist of 1.2-second 60-foots and the Hypermax 4.1-inch/Garrett GTX5533R compound turbo arrangement producing 150 psi of boost. After recent tweaks to the injection system were performed by Scheid Diesel, we wouldn't be surprised if Matt's Lenco-shifted, P-pumped monster of a Mustang clicked off a low 7 in the 200-mph range and set a few new records in the process. After all, it was already knocking on the door of the NHRDA's Pro Stock elapsed time record (7.46) before its recent upgrades…
4. Brian Jelich: Big Single, Nitrous and Still HEUI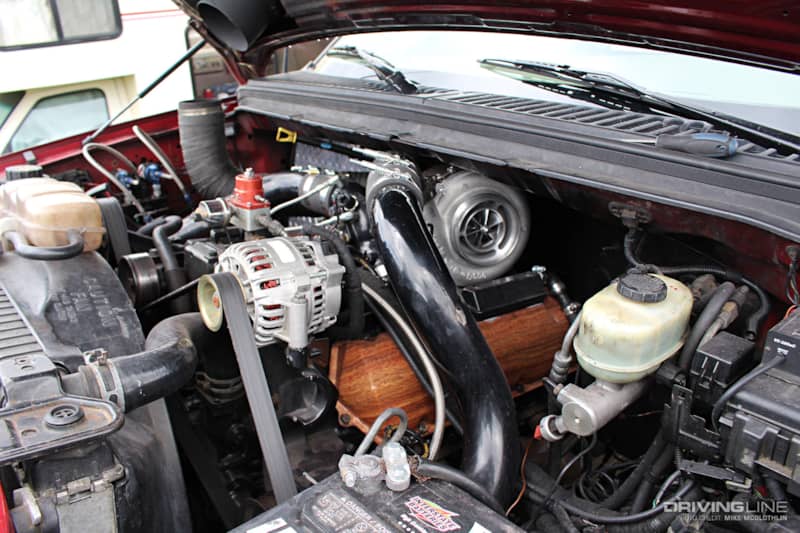 Another beneficiary of all the advancements that've taken place in HEUI technology over the last 5-8 years is Brian Jelich. The 7.3L in his '00 F-350 makes use of a built bottom end, Swamps Diesel 400/400 hybrid injectors, a Gen3 high-pressure oil pump and custom PCM tuning that Brian performs himself. Thanks to a set of Crutchfield Machine (heavily ported) heads, Stage 2 Gearhead Automotive Performance cam and an S476 "Gangster" turbo from Forced Inductions, Brian's engine breathes as well as any 7.3L you'll find. This culminates in some pretty serious power numbers, too. On fuel alone, his F-350 makes roughly 850rwhp. With the nitrous bottle warm and both stages of N2O brought into the equation, 1,100rwhp is on tap.
5,700 Pounds of Iron in the 9s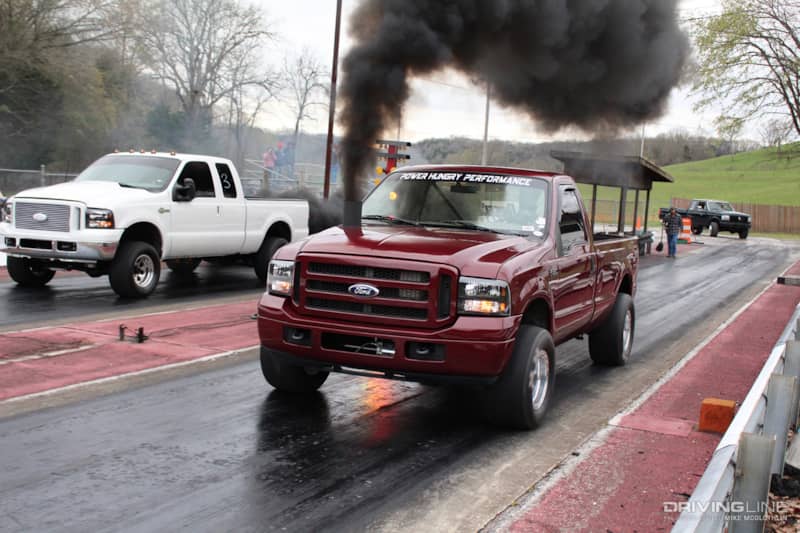 After scrapping virtually every amount of weight he could off of the standard cab, steel Super Duty, the one-ton still tipped the scales at 5,700 pounds. Still, Brian was able to squeeze a 6.19-second eighth-mile out of the F-350 at that weight. Thanks to great head flow—and despite being sprayed with 250hp worth of nitrous—the engine makes great power with 55 to 60 psi of boost (fairly conservative boost for any high-powered diesel). Rumor has it that Brian's lust for 5s recently led to him placing the truck under the knife again. The next time it hits the track, it'll be even lighter, sport a four-link front suspension and will probably be capable of running high 5s in the eighth (low 9s in the quarter).
5. Billy Zimmer: Stroked Out 7.3L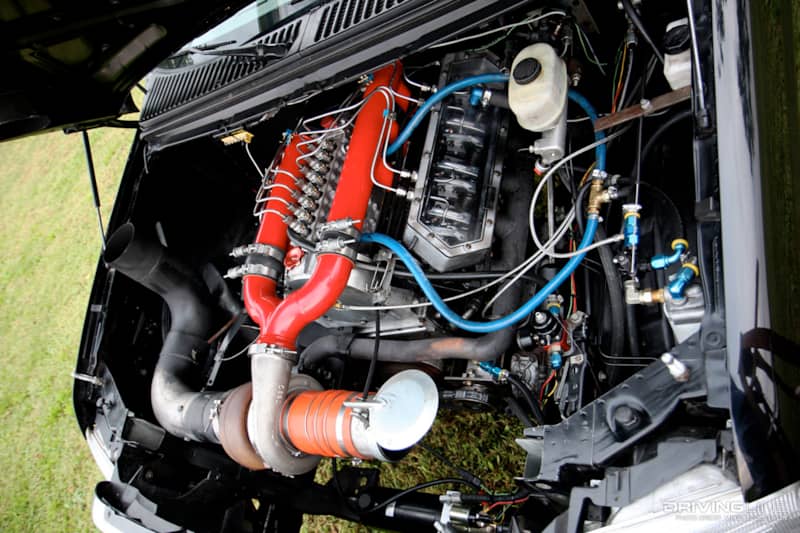 This one is a throwback, but it certainly doesn't make it any less interesting. West-central Illinois farmer Billy Zimmer used to mix things up in the ultra-competitive Pro Stock Diesel Truck Class (3.0) with this P-pumped 7.3L engine. To pull off the injection system swap (it's not exactly cheap to P-pump a 7.3L Power Stroke), Billy enlisted the help of various local businesses and a few from neighboring states, but handled all the wrenching himself. The eight cylinder Bosch P-pump was built by Area Diesel Service (as were the 8.3L Cummins-derived injectors), while Billy fabricated the intake manifold that surrounds it. Surviving the potent fuel system's horsepower potential was a concrete-filled, factory 7.3L block that'd been fitted with Crower rods, Arias pistons, a custom grind cam, ported heads and a 76mm S400. Any time Billy popped the hood, you could find a crowd. Just look at those Lexan valve covers!
A Dark Horse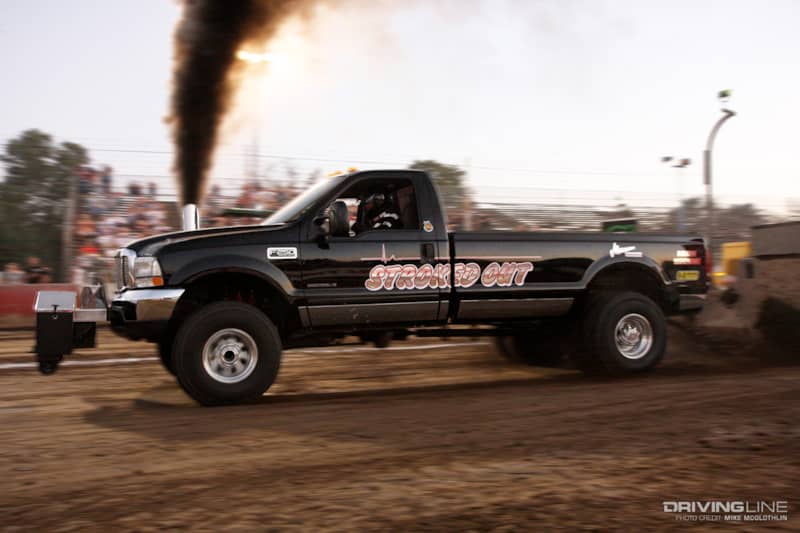 The truck the beastly 7.3L resided in was once Billy's daily-driven '01 F-250. While it was never a front-runner at the pulls, the one-of-a-kind creation was very competitive—especially after Billy found that the engine enjoyed the 1,800-degree EGT range (a no-no for most pullers, who typically frown on anything warmer than 1,600) and big rpm. We were once told the engine was brought up to 6,500 to 6,800 rpm before the truck and sled ever got moving (a factory 7.3L redlines at 3,600 rpm). Later on, the truck was fitted with a 10-foot bed (shown above) and a few other changes to help keep it competitive in the then-growing Pro Stock (3.0) class. After semi-retiring the truck, Stroked Out was spotted at a pull a couple years ago with a freshly-tweaked P-pump, different turbo and a water-to-air intercooler onboard, but has since been absent from the local pulling circuit.