Budget Diesel Mods: 6.7L Power Stroke
When Ford announced its plan to produce its own Power Stroke, a 6.7L V8, in-house beginning with '11 model year Super Dutys, the stakes were extremely high. After having sourced its diesel mills from Navistar since 1983, many believed FoMoCo was leaping out into the great unknown. The engine would have to be excellent. "Good enough" wouldn't cut it. After being released with a compacted graphite iron (CGI) deep-skirt block, six-bolt mains, reverse-flow aluminum cylinder heads making use of four valves, four rocker arms, four pushrods and six head bolts per cylinder, it was clear Ford had done its homework. On top of that, the wild-appearing, dual compressor wheel turbocharger and 30,000 psi, third-generation Bosch common-rail injection system looked great on paper.
As for enthusiasts, they were chomping at the bit to know whether or not the Ford-built Power Stroke could match what the outgoing 6.4L was capable of, in terms of both performance and durability at higher horsepower. Could a tuned 6.7L-powered Ford crank out 580rwhp like the 6.4L trucks had been able to? The short answer to that—at least as far as the '11-'14 trucks were concerned—was no. Thanks to the aforementioned dual compressor wheel turbo being extremely restrictive and the newfangled injection system flowing much less than what was employed on the 6.4L, the early 6.7L power plants hit a horsepower wall before ever cresting the 500rwhp mark. However, once these areas are addressed, power can be made to match what the 6.4L powered ('08-'10) trucks could produce.
By the time the second-generation of the 6.7L Power Stroke debuted, virtually all of the '11-'14 engine's shortcomings had been addressed. The biggest improvements came in the form of the '15 models being graced with a traditional style, single compressor turbo and a higher-flowing injection pump. With just a tune, aftermarket calibrators can boost the power of the '15-newer trucks into the 540 to 580rwhp range. Almost immediately, retrofitting a '15 or newer style turbo and injection pump onto the '11-'14 trucks became big business.
For all the details on how to bring your 6.7L Power Stroke to life on a budget, check out the power recipes below.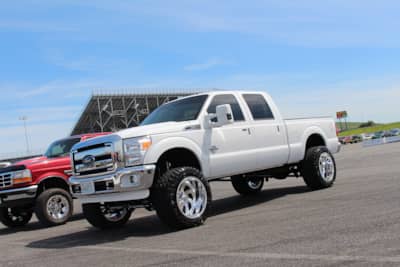 Things to Keep in Mind:
Note that '15-newer engines came with a higher-flowing (more reliable) turbocharger and a higher-volume injection pump, so more horsepower can be realized right out of the box with custom tuning.
Because of the ladder, two lists of budgets are shown below: one set for '11-'14 Power Strokes ($1,400 to $9,400) and a second for '15-'16 engines ($1,400 to $8,100).
Due to changes Ford made to the '17 model year powertrain, many of the aftermarket components that make the '15-'16 trucks run so well aren't yet available. Therefore, as these same components aren't yet proven on '17 models, '17 models are left out of the final two budgets.
In the long run, the '15-'16 trucks can get to the 650rwhp mark cheaper—but all '11-'16 trucks can get to that point with stock injectors.
Even better than the 5R110 TorqShift used on the '08-'10 trucks, the 6R140 automatic found in the '11-present Fords can handle 650rwhp in stock form. If you drive sensibly, there is no need to build the transmission.
Each budget assumes you're starting with a healthy, bone-stock truck.
The labor to have these parts installed has purposely been excluded.
 $1,400 Budget (450–500 rwhp, '11-'14)
Custom Tuning: $789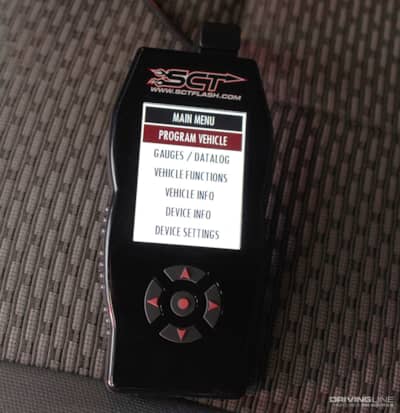 Unlike the high-volume K16 injection pump found on the 6.4L Power Stroke that was 20-percent stronger than a CP3, the CP4.2 employed on the '11-'14 6.7L Power Stroke flows less than a CP3. As you can imagine, this lack of fueling—along with the very restrictive turbocharger aboard'11-'14 engines—limits the amount of power than can be unlocked with just a tune. Still, a respectable 450 to 500rwhp can be made with '11-'14 trucks.
Competition Exhaust: $330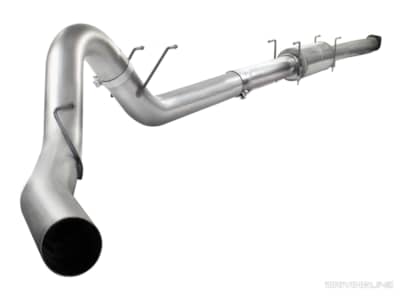 While basic, an aluminized, 4-inch diameter, downpipe-back exhaust system such as this is the most affordable path to opening up flow on a 6.7L Power Stroke. And although aluminized exhaust systems don't hold up as long as their stainless steel counterparts, those living in the rust belt can still expect to get a solid 5-6 years out of them.
H&S Motorsports Intercooler Pipe Upgrade Kit: $279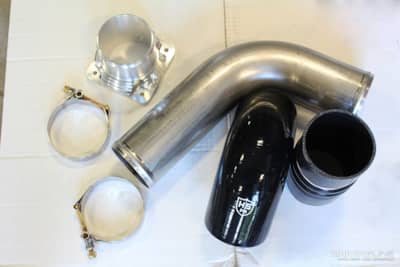 With custom tuning introducing more boost into the equation, the plastic factory cold side pipe is known to blow apart. To permanently solve this problem, H&S Motorsports offers a bead-rolled, stainless steel replacement cold side pipe, along with a CNC-machined aluminum replacement air intake valve that accommodates a traditional, proven T-bolt clamp.
$4,000 Budget (480–525 rwhp, '11-'14)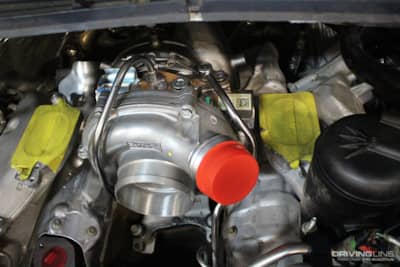 This one blows up the budget in a hurry, but it's the first step in making more power with any '11-'14 Super Duty. The factory turbocharger on these trucks is simply too restrictive to leave in place. Just as the name implies, Midwest's kit allows you to retrofit a higher-flowing, '15-'17 style turbo (and downpipe) onto your '11-'14. When kits like this are added to the early 6.7L Power Strokes, 30 to 40hp gains are seen, along with a much broader power band (the engine can make power beyond 3,000 rpm). Owners of '15-'17 trucks, you're already at this power point (if not past it) with a $1,400 budget (see below).
Custom Tuning (Mentioned Above): $789
Competition Exhaust (Mentioned Above): $330
H&S Motorsports Intercooler Pipe Upgrade Kit (Mentioned Above): $279
$5,000 Budget (540–550 rwhp, '11-'14)
High Output ('15+) CP4.2 Pump: $1,050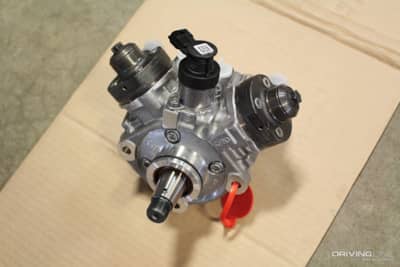 If you're looking to get a maximum of 600rwhp out of your '11-'14 Ford, the '15-newer style Bosch CP4.2, often referred to as an H.O. or high output pump, will get you there. This later style high-pressure fuel pump flows 9 percent more volume than the early units and is a direct, bolt-in replacement. Elite Diesel Engineering offers the H.O. pump for the $1,050 price shown above.
Midwest Diesel & Auto Budget Retrofit Turbo Kit (Mentioned Above): $2,549
Custom Tuning (Mentioned Above): $789
Competition Exhaust (Mentioned Above): $330
H&S Motorsports Intercooler Pipe Upgrade Kit (Mentioned Above): $279
$9,400 Budget (650 rwhp, '11-'14)
Elite Diesel Engineering 2CPX Twin High-Pressure Fuel Pump System: $2,425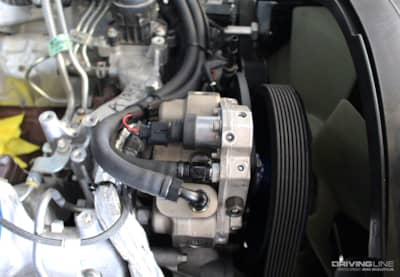 If you want to go beyond 600rwhp and push the stock injectors to their limit, you'll want to add a second high-pressure fuel pump in order to maintain adequate rail pressure for the injectors to use. Elite Diesel's system combines a proven, belt-driven CP3 off of an LBZ Duramax application with the factory CP4.2 in the valley. We'll note that, if you're looking to save a few bucks or can only run a single pump for competition purposes, River City Diesel offers a stroker version of the factory CP4.2 for $1,899.
H&S Motorsports Low-Pressure Fuel System: $1,299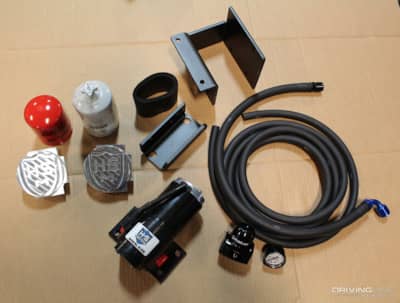 With dual high-pressure fuel pumps on the engine, a stronger lift pump is a mandatory upgrade. The H&S Motorsports low-pressure fuel system is the most comprehensive fuel supply system in the aftermarket. It bolts directly in place of the factory lift pump assembly, requires minimal wiring and features a 200 gph pump that's more than capable of maintaining fuel supply for the CP4.2 and CP3 combination to use.
Midwest Diesel & Auto Budget Premium Retrofit Turbo Kit w/StreetMax X: $3,899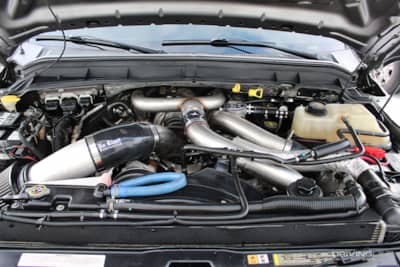 This upgraded version of Midwest Diesel & Auto's retrofit kit adds 3-inch diameter intercooler piping, Vibrant Performance boots and clamps and (most importantly) a larger, 66mm turbo. Called its StreetMax X, the turbo retains its variable geometry turbine functionality but utilizes a billet compressor wheel, 360-degree thrust bearing assembly and supports up to 700rwhp.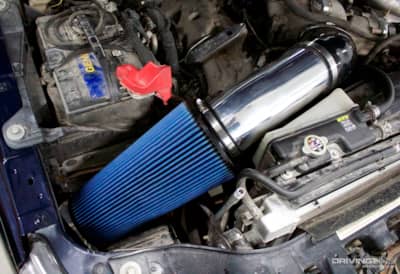 With larger drop-in turbo options capable of outflowing most cold air intakes on the market, it pays to add a cold air intake that's suited for supporting higher flowing turbochargers. No Limit's intake for the '11-'16 6.7L Power Stroke comes with a 5-inch diameter intake tube and a 5.5x9-inch air filter that can be had in oiled or dry form.
Custom Tuning (Mentioned Above): $789
Competition Exhaust (Mentioned Above): $330
H&S Motorsports Intercooler Pipe Upgrade Kit (Mentioned Above): $279
2015 to 2016 Models 
$1,400 Budget (540–580 rwhp)
 Custom Tuning: $789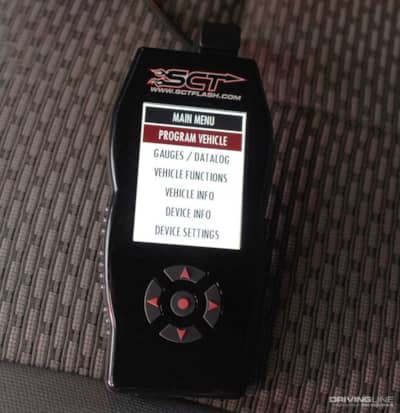 When Ford bumped up the factory power rating on its 6.7L Power Stroke for the '15 model year to 440hp, a higher capacity CP4.2 high-pressure fuel pump was one of the key ingredients in making it happen. Thanks to the updated CP4.2 (which again moves 9 percent more volume than a '11-'14 pump) and in conjunction with a higher-flowing, Garrett GT37 turbocharger, the '15-newer Super Dutys can lay down as much as 580rwhp with custom tuning.
Competition Exhaust (Mentioned Above): $330
H&S Motorsports Intercooler Pipe Upgrade Kit (Mentioned Above): $279
$4,500 Budget (600 rwhp, '15-'16)
 Midwest Diesel & Auto StreetMax X Turbo: $2,599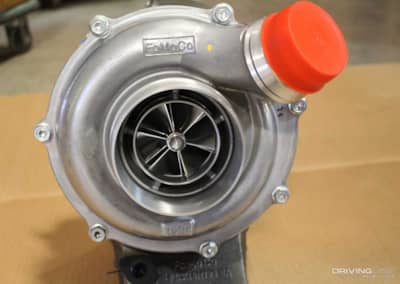 On the '15 and '16 model 6.7L Power Stroke, Midwest Diesel's aforementioned 66mm StreetMax X turbo can boost power to 600rwhp simply by bolting it in place of the stocker. However, 600rwhp is about as far as you can push the factory high-pressure fuel pump, injectors and low-pressure fuel system.
Custom Tuning (Mentioned Above): $789
Competition Exhaust (Mentioned Above): $330
H&S Motorsports Intercooler Pipe Upgrade Kit (Mentioned Above): $279
No Limit Fabrication Cold Air Intake (Mentioned Above): $359
 $8,100 Budget (650 rwhp, '15-'16)
Elite Diesel Engineering 2CPX Twin High-Pressure Fuel Pump System (Mentioned Above): $2,425
H&S Motorsport Low-Pressure Fuel System (Mentioned Above): $1,299
Midwest Diesel & Auto StreetMax X Turbo (Mentioned Above): $2,599
Custom Tuning (Mentioned Above): $789
Competition Exhaust (Mentioned Above): $330
H&S Motorsports Intercooler Pipe Upgrade Kit (Mentioned Above): $279
No Limit Fabrication Cold Air Intake (Mentioned Above): $359