Built-To-Order Explorer: Our Black-On-Black Twin-Turbo ST Arrives
After six months of waiting, our built-to-order Ford Explorer ST is here. And just like that, this family of five is much more inclined to go on a road trip, find a reason (any reason) to cruise up town or run a "quick" errand. From weekend getaways to shuttling the kids to practice, the twin turbo Ecoboost V-6, the 10-speed transmission, the ergonomics and the sporty suspension make the Explorer ST more than just a run-of-the-mill sport utility—it's a performance SUV in every sense of the word. At the same time, it's highly practical. Compact enough to fit in any standard garage, ample space to accommodate adults in the second-row and technologically on pace (if not ahead of the curve) with every competitor in its class.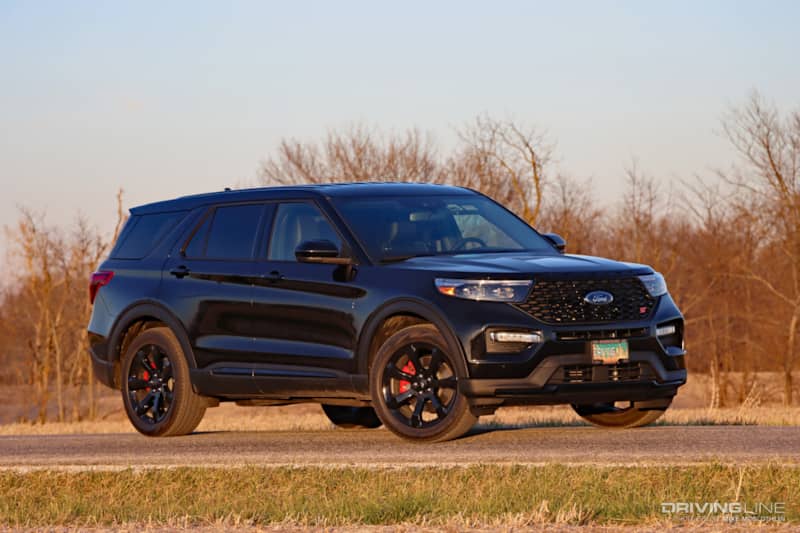 The final act in our built-to-order process began with Ford letting us know our Explorer had been built, trekking over to our local dealer to take delivery, making sure we got the exact SUV we ordered and driving off into the sunset. No surprise fees, extra paperwork or gimmicks, just a straightforward business transaction that ended with all parties satisfied. This time, we're detailing the conclusion of our car-buying process: taking delivery, the new-car smell, exterior and interior walk-arounds, features and first impressions. If you're considering the built-to-order approach, hopefully our experience will be enough to convince you to pull the trigger. We have zero regrets and you likely won't either.
The Final Letter From Ford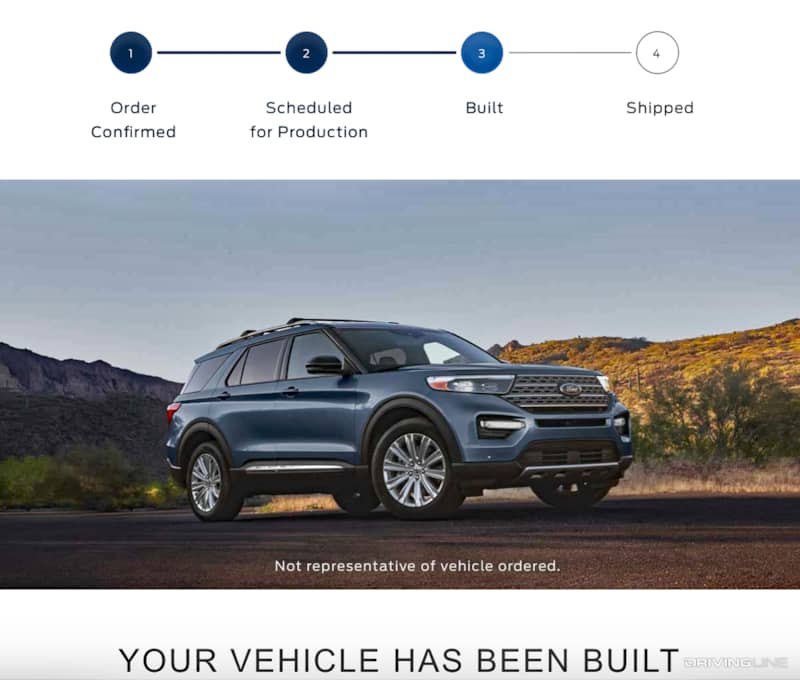 As an automotive enthusiast with Blue Oval leanings, there is nothing quite like seeing an email from Ford Motor Company in your inbox. At the time this note was received, we were well-beyond the 45-day updates we'd been getting as Ford had already scheduled our Explorer's production date. The words YOUR VEHICLE HAS BEEN BUILT said it all, and an almost-unbearable waiting game of taking ownership began. Our Explorer ST rolled off of the line at the Chicago Assembly Plant on October 14th, nearly six months to the day after ordering it through our local dealership.
Exterior Walk-Through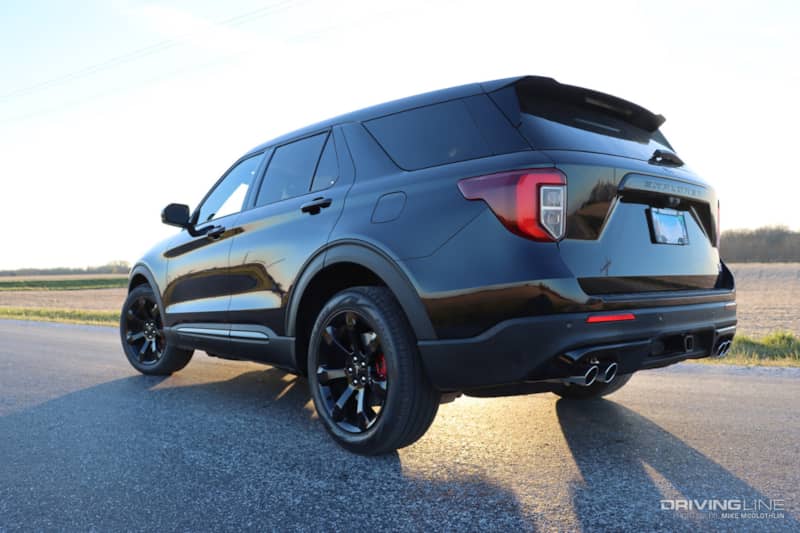 Our first meeting with the Agate Black Metallic Explorer ST entailed a walk-around of the exterior. We quickly spotted the 21x9-inch aluminum wheels with 275/45R21 all season tires, the vented brake rotors and the red painted calipers that are part of the ST Street Pack, as well as the Class IV receiver hitch, LED tail and fog lamps and quad tip dual exhaust that come standard. We then verified that the remote start system worked and configured the SecuriCode keyless entry keypad with our preferred numbers. Immediately, we noticed the projection LED lights, positioned within the sideview mirrors, that illuminate the "ST" logo on the ground, which we were pleasantly surprised to learn is standard equipment.
A Look Inside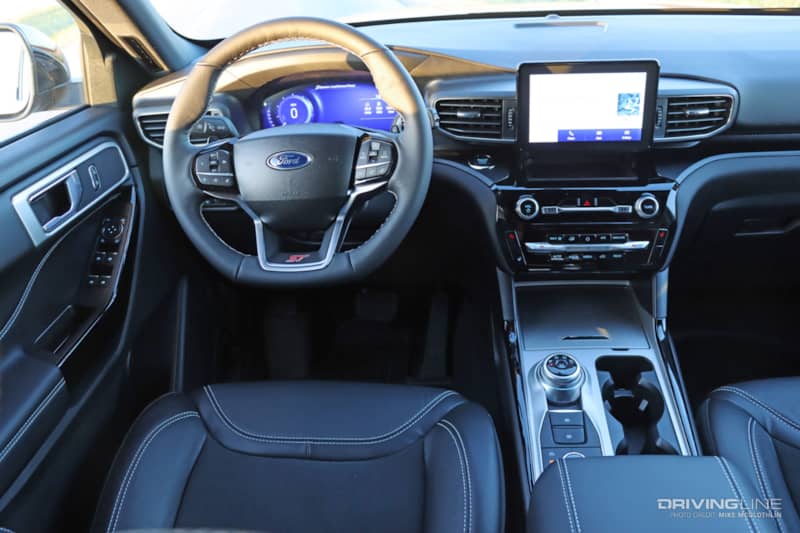 Entering the cockpit we were greeted by the sport bucket, heated leather front seats with Miko perforated inserts, the 12.3-inch digital gauge cluster, the leather-wrapped and heated steering wheel and the 8-inch infotainment touchscreen. Because we opted for Equipment Group 400A rather than 401A to save a few bucks ($4,995 to be exact), our built-to-order Explorer is about as budget-friendly as it gets. But despite being conservative with our options we still got Ford's Co-Pilot 360 technology and all the benefits that go along with it, such as automatic high beams, lane-keeping assist, blind spot information system and hill descent control. The power lift gate and integrated second-row sun visors were more or less icing on the cake.
Brand-Spanking New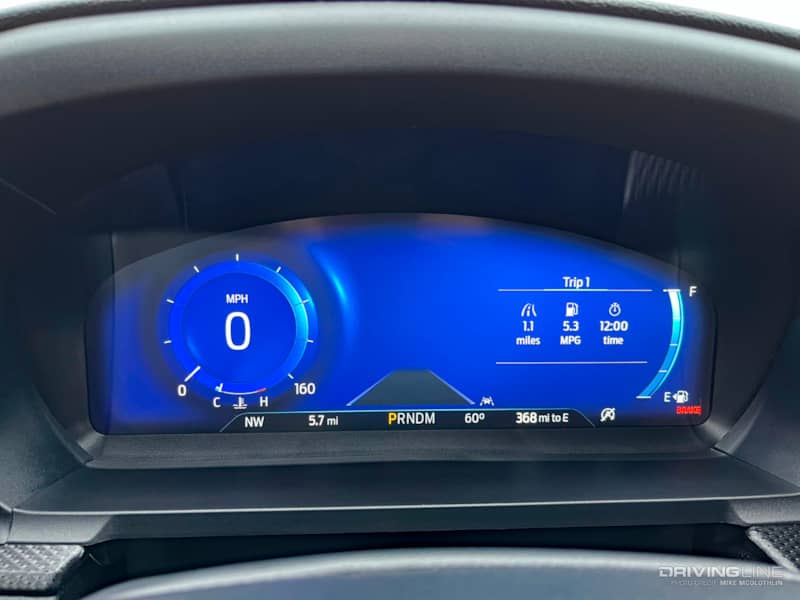 Road trip time. Our first impression from behind the wheel—other than the fact that the little EcoBoost could easily hurt some feelings—was that the brakes were exceptionally powerful. This portion of the Street Pack, which includes rear rotors that measure 1.25-inches larger in diameter and front rotors measuring ¾-inches larger than standard Explorer equipment, was well worth the money. As it pertains to the digital gauge cluster pictured above, we immediately put the ST's mpg coach function to use on the drive home. We also put the heated steering wheel to use right away, which has been extremely convenient with the onset of a Midwest winter.
EcoBoosted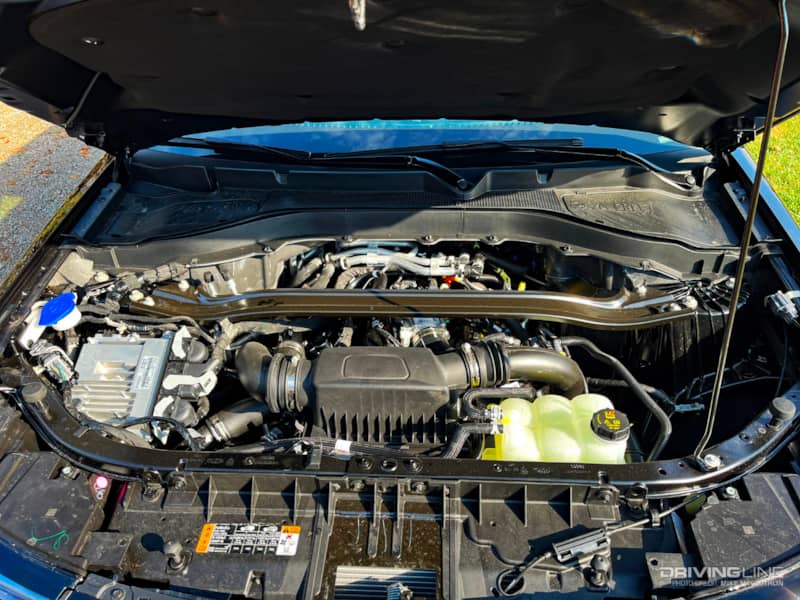 We won't lie. Twin turbos, 400 hp and 415 lb-ft of torque in an SUV in the $50,000 range is what got us to this point. No other vehicle in this segment offers you this much fun-factor for that kind of price. The 3.0L aluminum DOHC EcoBoost V-6 produces its 400 ponies at 5,500 rpm but its torque curve is equally impressive, if not more so. Torque peaks quickly at 3,500 rpm but holds fairly flat, making at least 350 lb-ft or more until 4,500 rpm. The EcoBoost's pairing with the 10R60 10-speed automatic transmission is silky smooth and always seems to be in the right gear. Without a doubt, the Explorer ST feels like the high 13-second SUV many claim it is—but we'll find out for sure with a visit to the local drag strip once spring arrives.
3 Rows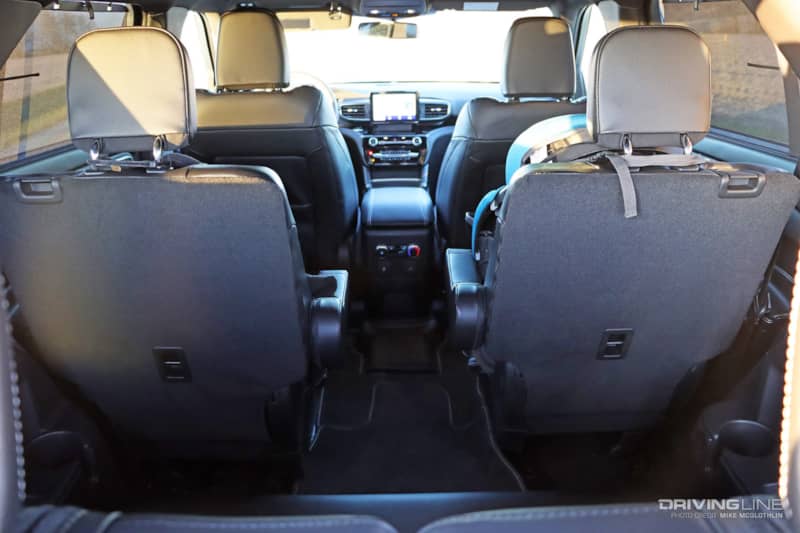 All performance aspects aside, the driving force behind the purchase of our Explorer ST is on full display here: three row seating. Opting for second-row captain's chairs lowered overall occupancy to six (as opposed to seven with the 35/30/35 bench option), but it definitely helps open up the floor plan in the back. For a young family, the Explorer accommodates three little ones sufficiently, although a growing teenager might not appreciate long rides in the third row. Cargo space beyond the 50/50 third row is tight for luggage, but folding one seat forward (manually in our case) opens up another 24 cubic feet of room.
Built-To-Order Was The Right Choice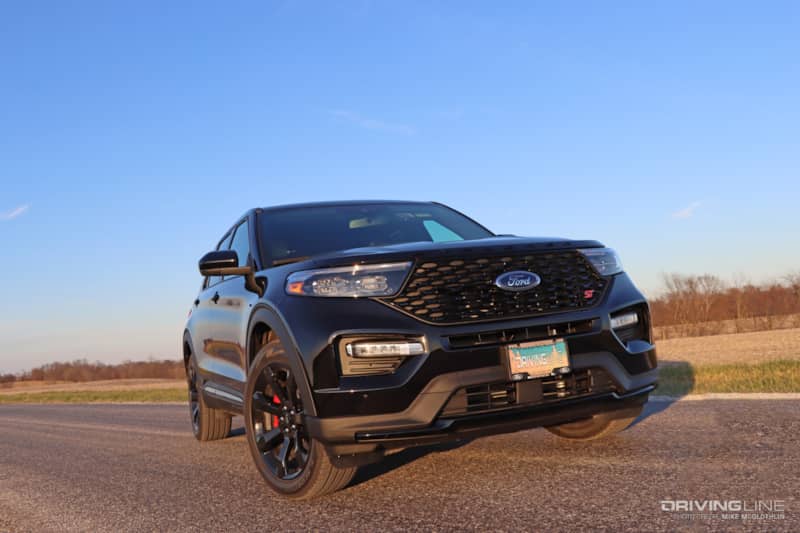 As we've said before, if you can tolerate waiting, the built-to-order car buying experience is the way to go. In the current automotive landscape, it may also be the only way to get all the options you want in a vehicle. Working with an honorable dealership is part of the deal, too, and it would feel criminal not to call out Morrow Brothers Ford for their work in making our Explorer ST possible. Through them, our price was locked in at the time we ordered and we avoided any dealership market adjustments or chasing down an ST at a faraway location. From wire to wire, the small-town Ford dealership—which has been in business since the Model T was in production—treated us like family.
Wheel & Tire Plans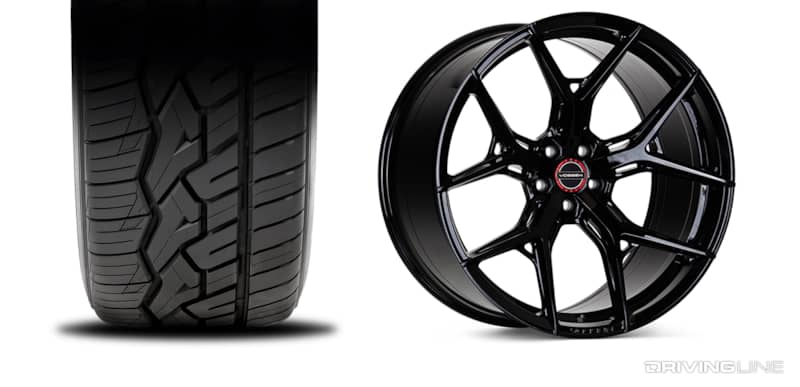 Now for a little after-the-sale love. While we like the factory 21-inch wheels, their oddball-ish diameter makes running our favorite tread impossible. We've got our eyes on a set of Vossen Wheels' gloss black Hybrid Forged HF-5's measuring 22x10-inches, which we'll wrap in Nitto NT420V all seasons. A wider tire will aid cornering—and a broader footprint will only work to improve our four-wheel drive launches.
More From

Driving Line
Need more convincing that built-to-order is the best way to order a new car, truck or SUV? Hear us out by clicking 

here

.