Challenge Accepted: '18 Dodge Challenger Show Car and Daily Driver
Owning and building a custom vehicle can be a rewarding experience, but you can go too far with them. Having a vehicle that scoops up awards at shows usually means that the owner has gone off the deep end with modifications to make it stand out. Most customizers make sure the vehicle functions when they are done, but that doesn't necessarily mean that a person would want to daily-drive them. Things like unique and expensive paint can make a person weary of leaving a ride in a mall parking lot and custom paint can spike nerves about getting door dings or rock chips from regular use.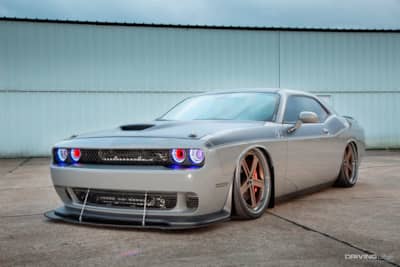 The Struggle is Real
Andrew Lowe knows the inconveniences of owning a custom vehicle all too well as he has owned several over the past two decades. One of the first vehicles he showed was a Ram that was slammed on air bags and afterwards, he built a number of diesel-powered, lifted trucks. After building those trucks, he realized that parking and traversing drive-throughs were a daily struggle for a truck with 38-inch-tall tires.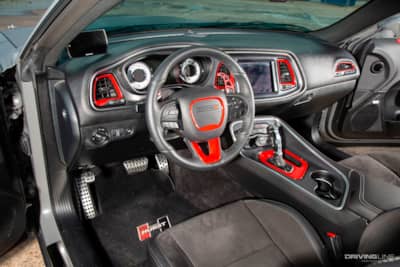 Switch Up
Not wanting to give up on owning custom vehicles, Andrew made a switch to this '18 Dodge Challenger T/A. Though the Hellcat was an available option at the time, he wanted the freedom to add his personal flavor to it. This was especially true for the suspension as he knew it would all be changed and didn't make sense to pay more for things that would be removed.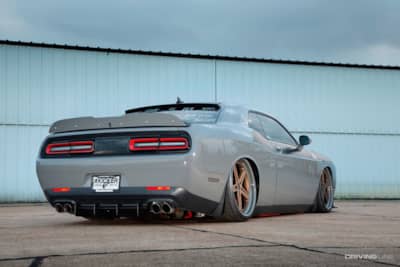 Getting Low
Knowing that he wanted to get this car lower than the others, Andrew turned to Casey Foster at All Out Off Road and Performance to add an adjustable air ride suspension that could lay the car out and handle the power of the Hemi engine. Getting the job done, the team fabricated new control arms along with Air Lift 'bagged struts. Making this car more rigid is the front and rear strut tower braces sourced from Petty's Garage. The rear brace was also customized to hold the Air Lift 3p air management system, air compressors, and FLO air tank.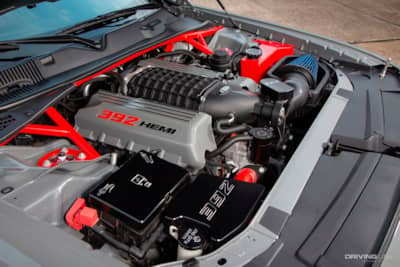 Boosted
Under the hood is a 392ci Hemi V8 which is now boosted with a Magnuson 2.6L supercharger. Making the most out of the forced induction gains is a set of new push rods, lifters, and a COMP custom camshaft installed by Rick Mack of EFI Specialties. Adding additional power is a pair of Flow Tech headers combined with a full Hurst exhaust system. While at EFI Specialties, Dave Katz tuned the engine with a Superchips unlocked ECU and DiabloSport tuner to make 580hp at the rear wheels, which is 140 horses more than the advertised factory package. Dressing things up here is a set of Billet Technology dress up pieces along with custom paint and pinstriping by Czar and Amanda Zamora of MasterMind Designs.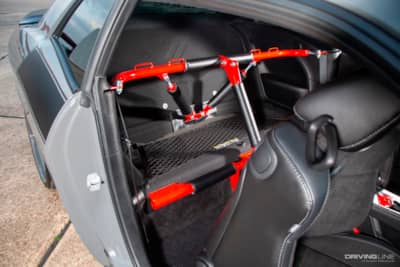 The Cockpit
On the inside, things were pretty cozy as is with bolstered seats that are easy to hop in for daily driving. To increase rigidity and performance, Andrew removed the rear seats with special ordered Challenger Demon delete pieces and added an ADD Performance harness/brace. The interior has a sprinkling of Hurst components, paintwork and billet trim pieces by Kyle Schrock of Showtime Metalworks to level things up. Making long rides more enjoyable is a custom Kicker audio system installed by Kevin Guy of Guy Designs.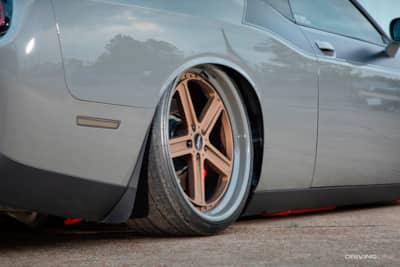 Style and Function
Out of the box, these cars look killer and Andrew didn't need to stray far away from the original. Making this car more distinct is the SpeedKore Hellcat carbon fiber front end with splitter and a host of LED lighting from Rigid Industries. In the rear is a custom spoiler up top and a diffuser below. Replacing the factory 20s is a set of 22x10 and 22x12-inch one-off American Racing VF310 3-piece wheels with 265/30ZR22 and 295/25R22 Nitto Invo tires. Not only are these tires stylish, they were the best choice for fitment of the staggered wheel sizes.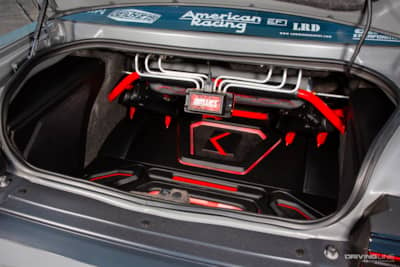 The Ultimate Ride
Now completed, Andrew is completely satisfied with the results. The car is comfortable to drive to distant shows and almost always brings home trophies. In his quest to build the perfect dual-purpose vehicle, Andrew found the right combination of modifications that make this Challenger the ultimate ride!