Chasing 1,000 Horsepower With a 2006 Ford F-350
To most in the diesel industry (and many outside of it), the 6.0L Power Stroke diesel that appeared in the 2003 to 2007 Ford Super Duty is a love-it-or-hate-it proposition. Yet, for a very small group of enthusiasts, some can't get enough of them. Take Justin Gerebizza of Crystal Lake, Illinois, for example. He's on his second highly modified 6.0L Super Duty truck. After building a 2005 F-250 that made a respectable 650 horsepower and ran mid 12's in the quarter mile, it suddenly wasn't enough power once he and this 2006 F-350 crossed paths.
"It was a great deal and a fully built truck to build off of," Gerebizza states.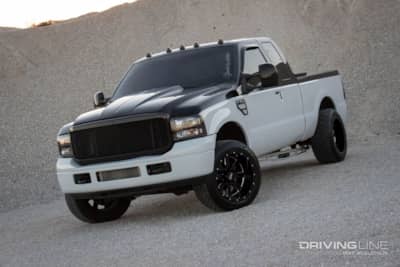 Originally built by Robert Shockley of Precision Automotive & Diesel in Hampton, New Jersey, the Power Stroke V8 had all the right parts and just 10,000 miles on it when Justin took over the reins. The fully balanced rotating assembly consisted of a cryogenically treated OE crankshaft, R&R connecting rods, de-lipped, valve-relieved, and ceramic coated 0.020-inch over pistons from River City Diesel, and a River City Diesel Stage 2 cam. The factory-based, cast-iron heads were fitted with River City's High Rev valve springs, chromoly pushrods, and are anchored to the block via ARP Custom Age 625+ head studs. One of the 6.0L's most notorious failure points, the oil cooler, was replaced with a remote-mounted, air-cooled version from Maryland Performance Diesel.
With an engine built for battle, the fuel system is no slouch either. A set of 340cc hybrid injectors with 150-percent-over nozzles dwell in the heads, while a regulated return system ties both fuel rails together and keeps the fuel free of air. Thanks to careful PCM tuning from Gearhead Automotive Performance — along with the oil conservative nature of hybrid injectors — Justin is able to get away with running a stock displacement high-pressure oil pump. Supplying fuel to the injectors is an Aeromotive A1000 lift pump.
Producing an obscene 85-psi worth of boost for the engine to inhale comes courtesy of a compound turbocharger arrangement. The low-pressure turbo is based off of an S400 frame BorgWarner unit built by High Tech Turbo. It employs an 88 mm compressor wheel. The high-pressure charger in the valley is a 66 mm S300 based turbo, straight from BorgWarner. The intercooler piping, exhaust plumbing, and turbo pedestal came by way of a combined effort between Maryland Performance Diesel and the truck's previous owner, Robert Shockley.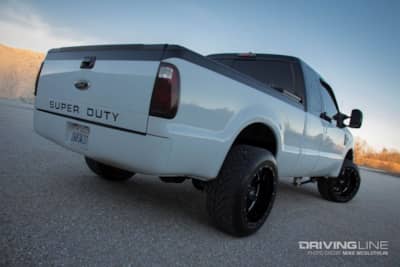 While most enthusiasts would be thrilled to own a high-powered, yet perfectly streetable 6.0L Power Stroke, Justin isn't. In fact, he's forging ahead with a goal of pushing the truck well beyond the 1,000 hp mark. But regardless what the future holds, Justin's 8,000-pound Corvette-killing Super Duty will continue to illustrate what the 6.0L platform is truly capable of… in addition to being every Duramax and Cummins owner's worst nightmare.
The 6.0L V8 diesel might have a bad reputation in stock form, but with the right assortment of parts, it can be made nearly indestructible. R&R rods, a cryogenically treated block and crankshaft, and a host of River City Diesel internals (Stage 2 cam, 0.020-inch over, fly-cut and de-lipped pistons, High Rev valvesprings, chromoly pushrods) made their way into the long block.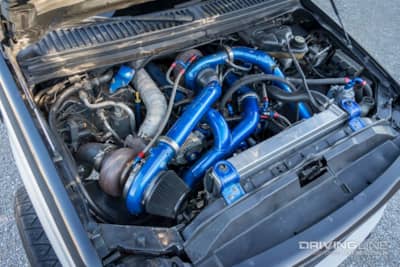 An 88 mm S400 based BorgWarner turbo serves as the low pressure (or atmosphere) charger in the compound equation. The S488 was built by High Tech Turbo and features a T6 flange, 96 mm turbine wheel, and 1.32 A/R exhaust housing.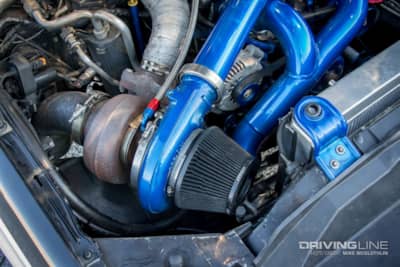 As for the high-pressure (valley) turbo, an S366 from BorgWarner got the nod. This time-tested charger is a great performer right out of the box and uses a 74 mm turbine wheel, 0.90 A/R exhaust housing, and a T4 flange. At full tilt, the S488/S366 turbo arrangement crams 85 psi of boost into the engine.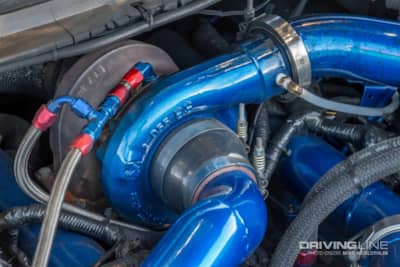 You always know a truck is packing some heat when an A1000 is bolted to the framerail. In Justin's case, the proven Aeromotive fuel pump is in charge of feeding adequate fuel supply to a set of 340cc hybrid injectors (equipped with 150 percent over nozzles).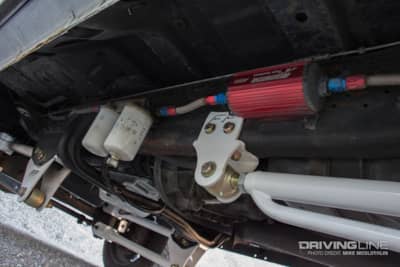 Most recently, the transmission was in need of a refresh. It was sent to Maryland Performance Diesel, where it was transformed into the company's Stage 2 TorqShift. The race-ready 5R110 automatic houses a billet triple disc torque converter from Diesel Performance Converters, a custom modified valvebody, and billet input, intermediate, and output shafts.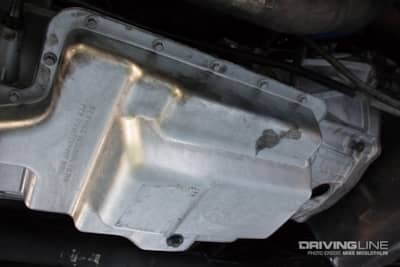 Ladder bar style traction bars built by Flight Fabrications, keep the rear 10.5 Sterling rear axle from rotating under load. They're constructed from 1026 DOM tubing, feature ¼-inch thick bolt-on mounting brackets, which utilize Currie Johnny Joints for utmost functionality and added serviceability.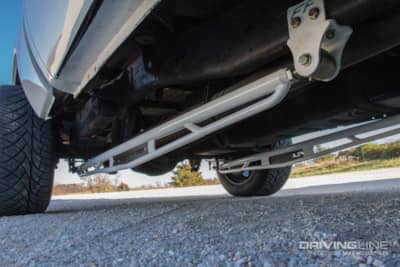 To rule out wheelhop or differential failure during four-wheel-drive launches, the front radius arm suspension was ditched in favor of a four-link system from Flight Fabrications. The system is completely TIG welded, ensures positive caster in even the most brutal of environments, and looks like a million bucks to boot.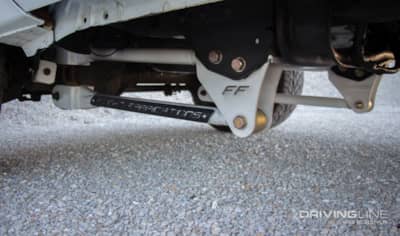 Finding traction in a highly modified diesel can be a chore — even in four-wheel drive — which is why Justin runs Nitto 420S treads at all four corners. The 305/50R20 420S Nittos are mounted on 20x12 Moto Metal 962 wheels. This combination has proven more than capable of giving the truck owner the grip he needs on the street and at the track.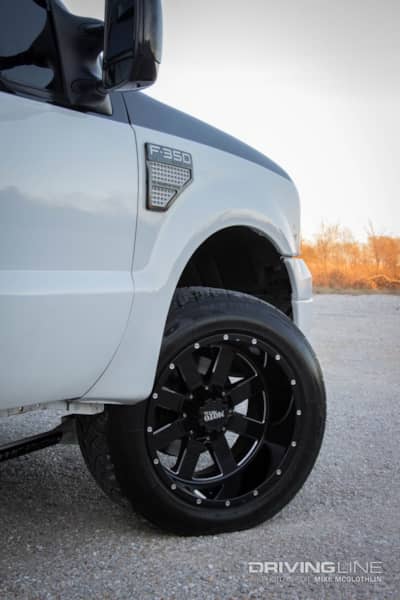 The homestretch for getting power to the ground resides in the axles, and Justin's F-350 uses a rear Grizzly Locker from Yukon (along with chromoly axleshafts) to help get the job done. The rear ring-and-pinion also comes from Yukon—its ratio checks in at 3.73:1, the same as factory.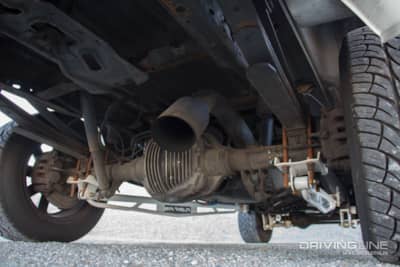 A white-faced gauge cluster, Isspro A-pillar gauges, and a white dash panel sets off an ultra clean interior. To maximize storage, the stock center console was replaced with a roomy unit out of a 2008 to 2010-era Super Duty. With a factory displacement (albeit brand new) high-pressure oil pump feeding the 340/150 hybrid injectors, you can bet this is an important gauge to watch. Luckily, careful tuning via Gearhead Automotive Performance keeps the truck from dropping ICP (injection control pressure) under wide-open throttle.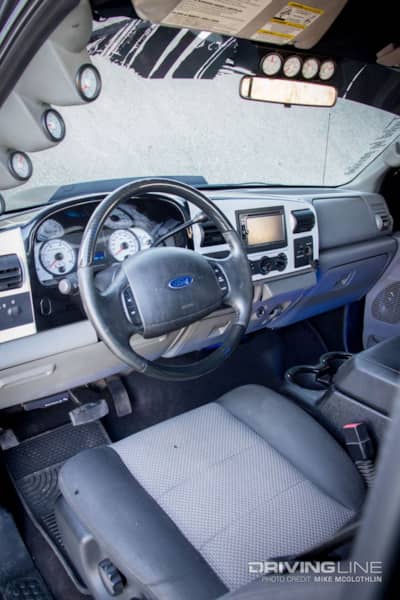 Hard Facts
VEHICLE: 2006 Ford F-350
ENGINE: 6.0L Power Stroke built by Precision Automotive & Diesel with cryogenically treated Ford block and crank, R&R chromoly connecting rods, River City Diesel 0.020 over de-lipped, fly-cut, ceramic-coated pistons, River City Diesel High Rev valvesprings, chromoly pushrods, Stage 2 cam, ARP Custom Age 625+ head studs with Ford head gaskets, Maryland Performance Diesel oil cooler relocation kit, Flex-a-lite electric fans, Mishimoto radiator, 5-in-diameter over-axle exhaust
FUEL SYSTEM: Maryland Performance Diesel 340/150 hybrid injectors, OE high-pressure oil pump, Aeromotive A1000 lift pump, fuel tank sump, Precision Automotive & Diesel regulated return
TURBO(S): S488/S366 compound turbos, Maryland Performance Diesel piping, pedestal, up-pipes, Mishimoto intercooler
TRANSMISSION: Maryland Performance Diesel Stage 2 5R110 TorqShift with Diesel Performance Converters billet triple disc torque converter, billet input, intermediate, and output shafts, and modified valvebody
TUNING: Gearhead Automotive Performance via SCT X3 tuner
TIRES: Nitto 420S 305/50R20
WHEELS: 20x12-in Moto Metal 962
SUSPENSION: Flight Fabrications four-link front suspension and rear traction bars