Clawing To Victory: Diesel Truck Pulling From the 25th Scheid Diesel Extravaganza
For diesel truck enthusiasts, the Scheid Diesel Extravaganza is the event of the summer. The late-August classic has been around since 1997 and lives on today at Wagler Motorsports Park in Lyons, Indiana. With the affair's roots based in truck pulling, that's exactly where the bulk of the action is on both Friday and Saturday mornings, as well as Friday and Saturday night. Over the years, the top-dogs of the pulling classes here have gone from campaigning 1,000hp trucks to rigs that are now capable of 4,000 hp. That's a pretty substantial leap—and it is a testament to just how far diesel technology has come over the past 25 years.
Amid sunny skies and relentless, 90-degree Midwest heat, the quarter-century-old Scheid Diesel Extravaganza rolled along right on schedule in 2021, and we were trackside for all of the ground-pounding action that went down in the dirt. Below, you'll find some of the hardest-charging diesel trucks our lens could capture, learn about some of the equipment they were running and find out how they fared amongst a sea of competitors. Big horsepower, high rpm, aggressive tread and even a bit of carnage gave spectators their fill in what was a jam-packed weekend of sled-yanking activity.
2 Pulling Categories With Nearly 100 Entrants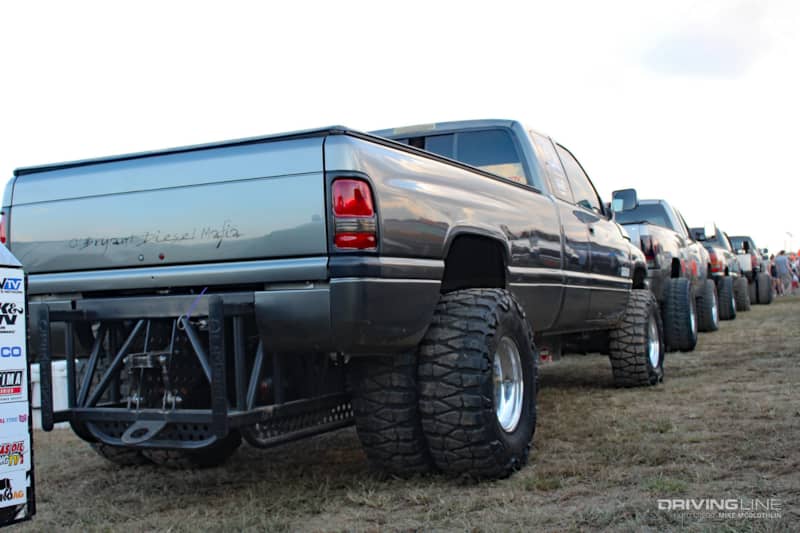 Due to the abundance of Limited Pro Stock and Pro Street diesel trucks that show up to compete at Scheid's, drivers must first qualify during the day in order to hook during the main event that evening. In 2021, 57 Limited Pro Stock trucks attempted to qualify, with just the top 20 being allowed into the nighttime show. Of the 36 Pro Street diesel trucks that made the call, only 12 were granted entry into the big show. Within the ranks of both the Limited Pro Stock and Pro Street diesel truck classes, the Nitto Mud Grappler is still a hot tire and the most aggressive tread pattern you'll find in these mandatory DOT-tire categories.
Competing With Common-Rail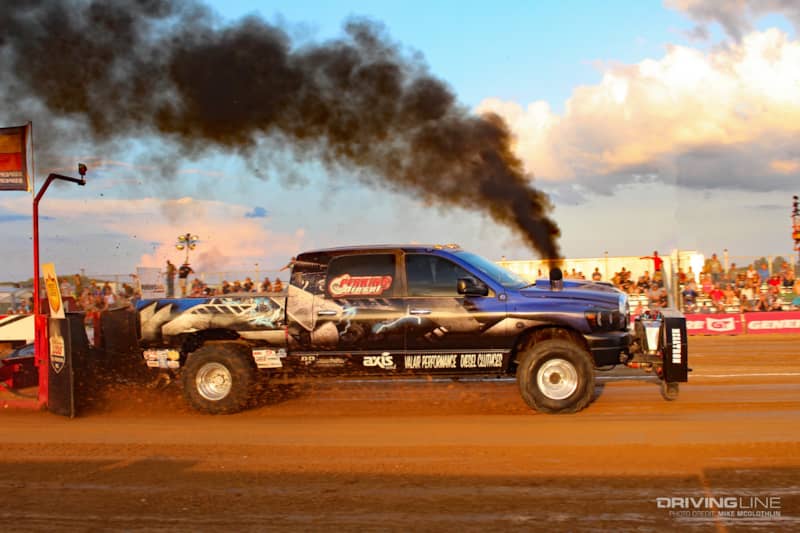 Although mechanical injection (i.e. P-pump applications) rules the roost in the ultra-high horsepower classes, in Limited Pro Stock—where horsepower still checks in at a respectable 1,400 to 1,500 hp for most engines—common-rail injection is more than capable of winning. Jason Wayman's "Megatron" Dodge, driven here by friend, Jon Meusberger, qualified fourth on Saturday afternoon and took Eighth Place in the evening finals. Wayman's Cummins was built by Perkins Diesel, sports a Dynomite Diesel Products fuel system and breathes through a 3.0-inch smooth bore turbo.
Fierce Competition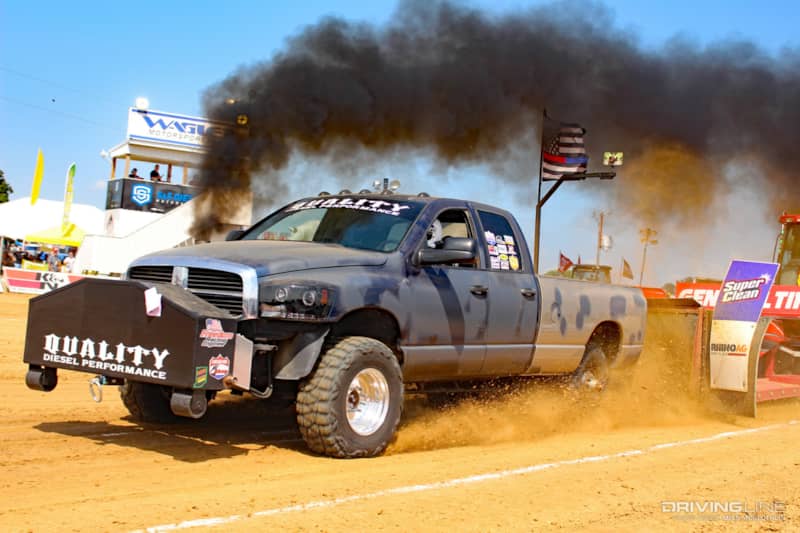 In the Pro Street diesel field, turbo restrictions are even tighter than they are in Limited Pro Stock. The snail's compressor inducer can measure no larger than 66mm (2.6-inches) in diameter and the bore must be smooth. Yet somehow, some way, the front-runners of this class sport engines capable of belting out more than 1,000 hp. In the photo above, 75-year-old Jon Shew takes the Quality Diesel Performance third-gen Cummins for a 303.14-foot ride. In the effort, he wound up with a Seventh Place distance during the qualifying pass—missing a trip into the nighttime finals by mere inches.
Project Underdog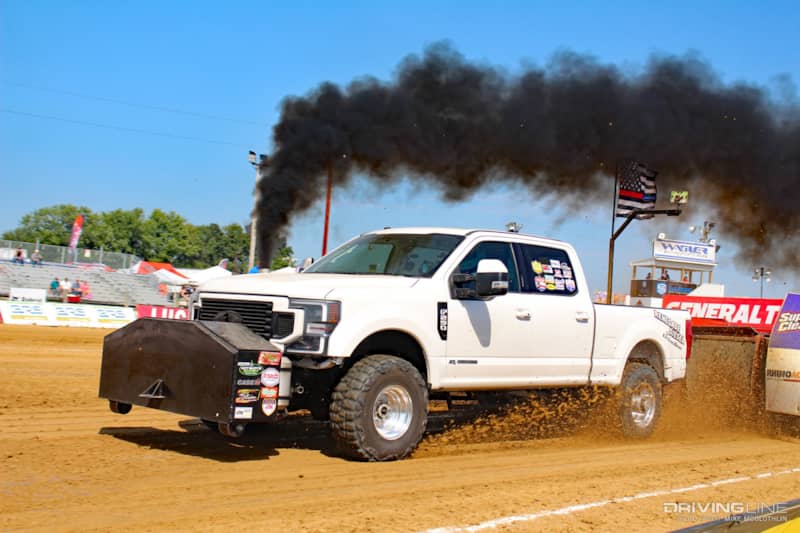 Sheldon D'Huyvetter's late-model F-250 is a rarity in the competitive ranks of modern truck pulling. This is because it isn't Cummins swapped. It's Ford-powered. And to our surprise, the 6.7L Power Stroke V-8 under the hood is a runner! After qualifying second in the Pro Street class early Friday afternoon, Sheldon pulled out a Fifth Place finish that evening with a 296.60-foot hook. To put things into perspective, there were only 12 Pro Street spots available in the nighttime show, but 41 trucks were competing for the chance to be in it. If you're a Ford fan, this should definitely give you hope.
Carnage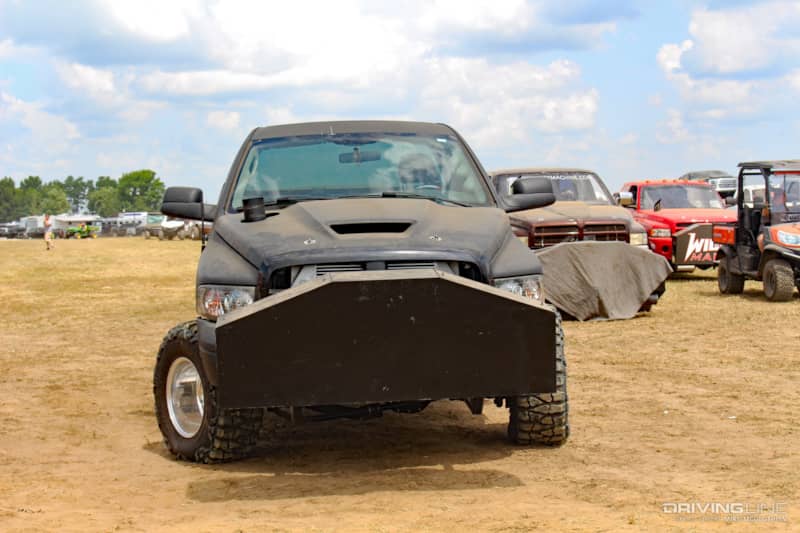 Sooner or later, you're going to have carnage at any sled pulling venue. In this case, the toxic combination of a bouncing truck, plenty of horsepower and aggressive tires led to an early end to the weekend for this Pro Street competitor. The weekend would also produce a few broken drive shafts, front-ends and even a hitch failure before all was said and done.
#1 Qualifier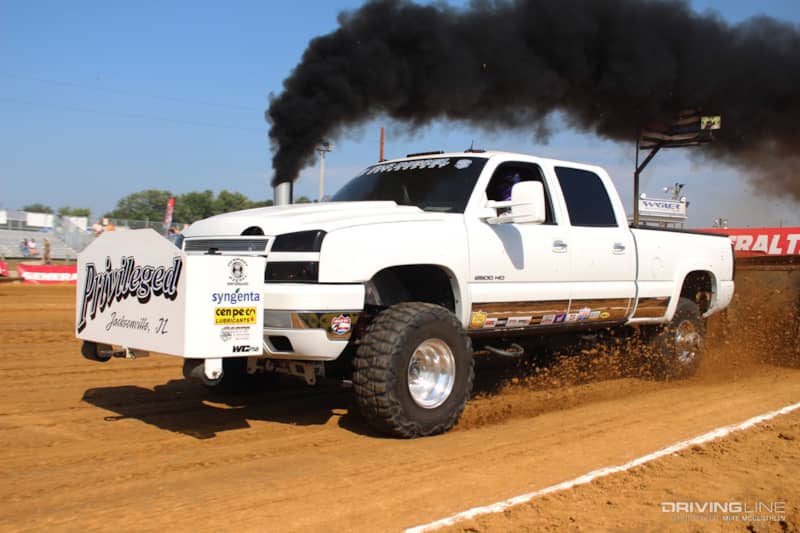 Lee Stiltz's '05 Chevrolet Silverado has been on a tear recently. After terrorizing the Missouri state fair two nights in a row, Lee pointed his tow-rig and Pro Street truck east to do battle at the Extravaganza. His 1,000-plus hp LLY Duramax didn't let him down, either. Lee would qualify for the main event on both Friday and Saturday at Scheid's, which included earning the number 1 qualifier spot on Saturday morning. Stay tuned for a closer look at this hard-running Bow Tie on Driving Line in the weeks ahead.
Diggin' Deep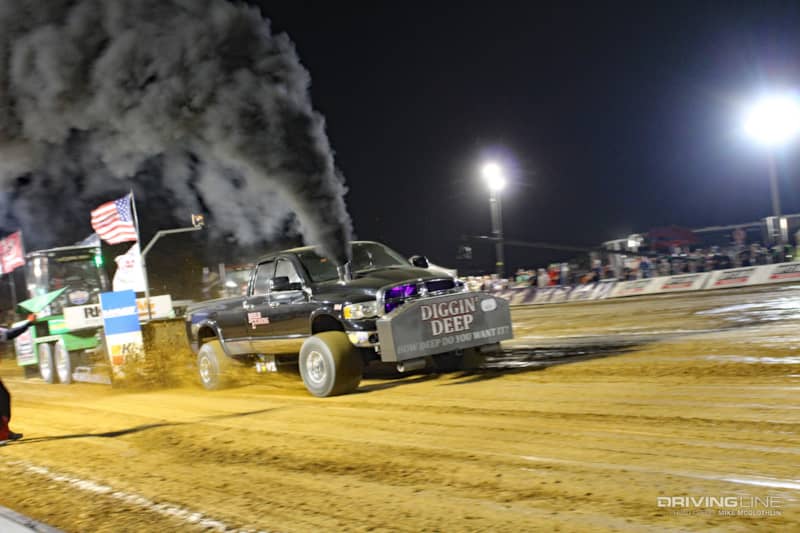 The Pro Stocks are the largest single turbo truck class to run at the Extravaganza, with their lone charger being restricted to a 3.6-inch smooth bore unit. These four-wheel drive machines pack somewhere in the ballpark of 2,000 hp and in 2021 there were 17 of them in attendance on Friday night, and two more than that on Saturday. Above, Dustin Beheler's "Diggin' Deep" Dodge aims for the end of the track. When the dust settled, he ended up dragging the iron sleigh 295.17 feet—good enough for Third Place.
Cummins Killer III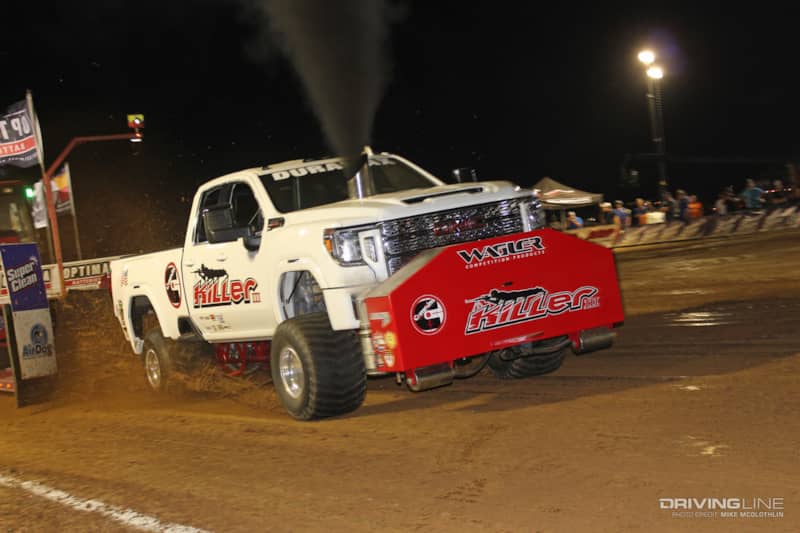 At the height of the action in the dirt, 17 Super Stock diesel trucks provided exceptional entertainment value. Most of the trucks in this class benefit from triple-turbo Cummins mills capable of producing 150 psi of boost and that can turn out in excess of 3,500 hp (and we'll note that many of these engines are put together by Scheid Diesel). But beyond all the Cummins-powered vehicles in Super Stock, you can find a few outliers—one of which is coined Cummins Killer III, the P-pumped and triple-turbo'd Duramax campaigned by Craig Dickey and Wes Kusilek. Its engine, fuel system and turbochargers are the most extreme take on GM's V-8 diesel you'll likely ever see.
More From

Driving Line
If the Cummins Killer name mentioned above rings a bell, it should. The P-pumped Wagler DX460 V-8 in this brand-new GMC happens to be the 

most powerful Duramax in the world

.