The World's Most Powerful Duramax Diesel Engine
If you were thinking this was no ordinary Duramax, you guessed right. Not only have the 6.6L diesel V-8's block and heads been replaced by gigantic pieces of polished aluminum in this case, but there are literally hundreds of pounds in turbochargers hanging off the passenger side of it. And thanks to the hulking P-pump parked in the lifter valley, it runs and sounds more like a Pro Stock tractor than a modern era "quiet diesel." But why? What's the mission? It was designed, machined, assembled and tested to run with the most powerful Cummins-powered pulling trucks in the world—and it might even match the almighty I-6's pound-for-pound.
When Wagler Competition Products teamed up with Wimer Fuel Injection & Turbo on Wes Kusilek and Craig Dickey's engine project, a wild, mechanically-injected, triple-digit boost-producing chunk of madness was the result. It's never been on an engine dyno, but several educated guesses—from both top-tier diesel engine builders and veteran drivers—have it pegged for way more than 3,000 horsepower. So far, the engine has been able to keep pace with the top dogs of the Super Stock world—a pulling category that's primarily populated with exotic Cummins power plants rumored to be at or beyond 3,500 hp.
Below, we'll go inside the high-rpm, 150-psi of boost monster that makes the truck it powers so capable in the dirt.
The DX460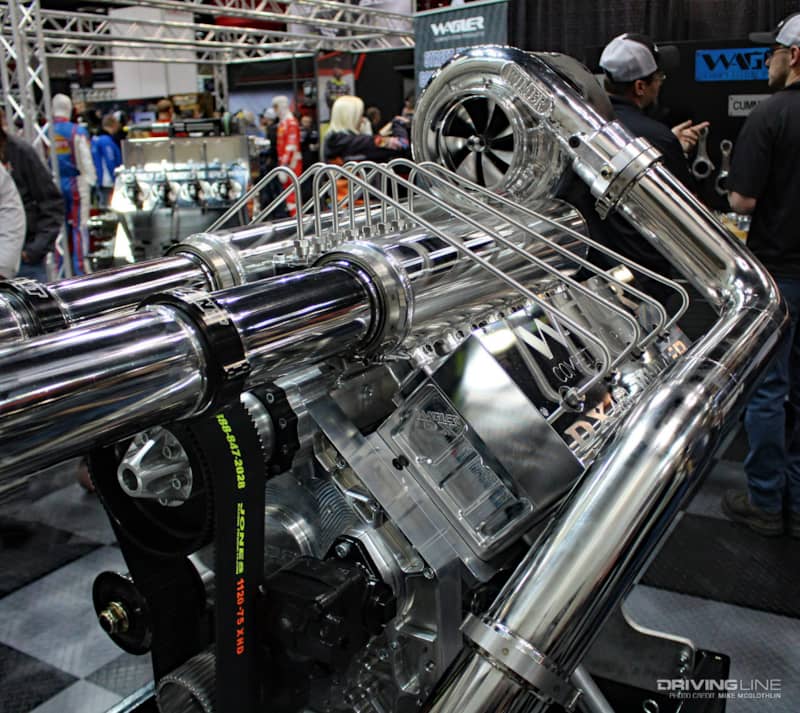 Starting with billets of aluminum delivered on pallets, the pieces that make up a Wagler Competition Products DX460 Duramax are eventually machined to perfection. While certain aspects of the engine are the exact same as an OE 6.6L—with the center line of the crankshaft and camshaft, and the main journal spacing mirroring factory specifications—little else is shared with GM's original V-8. The block, heads, connecting rods, oil pan, water-to-air intercooler and rocker assemblies were all created in-house at Wagler's Odon, Indiana facility.
Cutting-Edge (To Say The Least)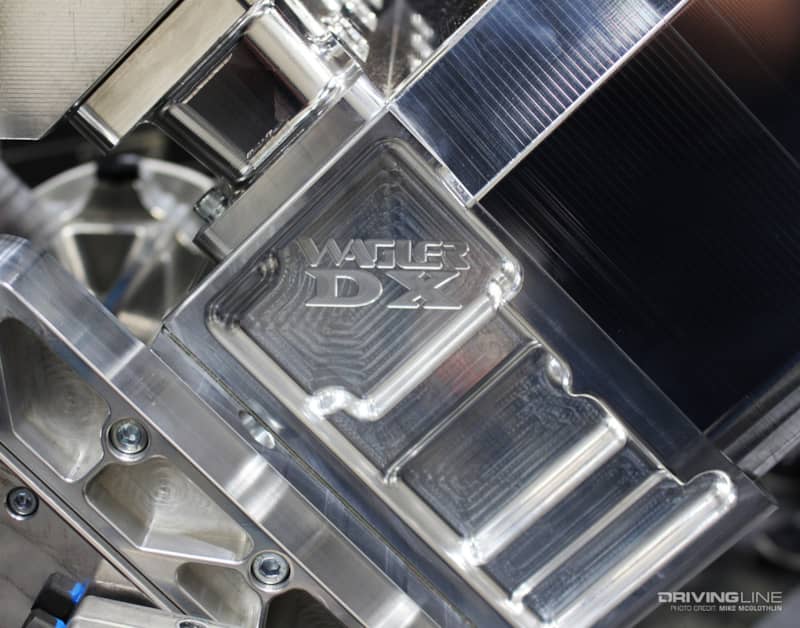 Within the aluminum confines of the Wagler DX460 you'll find a full bed plate that not only ties the main caps in with each other, but tethers them to the block as well. A Winberg crankshaft (complete with custom Hemi journals) swings eight Wagler aluminum connecting rods mated to low-compression Ross Racing pistons. The con-rod assemblies do their work inside PowerBore cylinder sleeves, while a camshaft from Comp Cams handles valvetrain actuation. A Peterson dry sump oil system ensures an abundance of oil pressure to keep the engine alive. At its original public unveiling (the previous photo), the DX460 was saddled with a pumpkin-sized, 5.9-inch Pro Stock tractor turbo, but that would change before the DX460 made its first pass in the dirt.
Inline 8-Cylinder Pump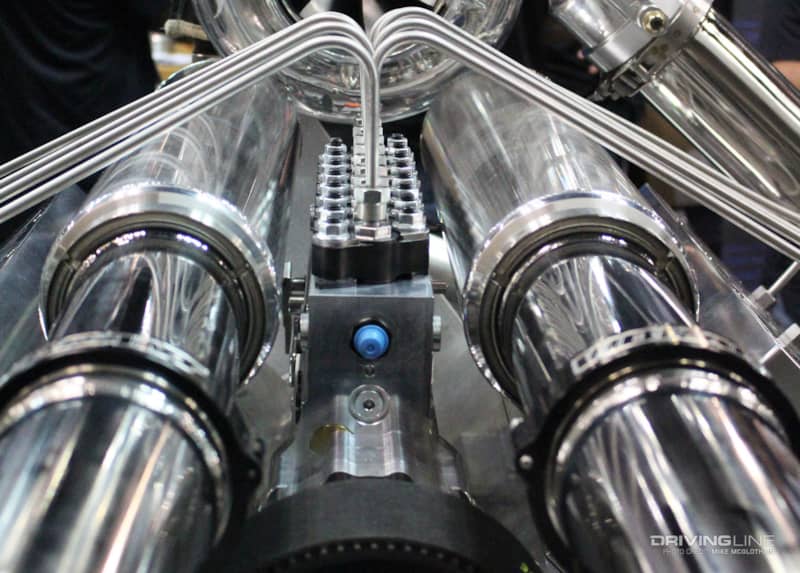 In more ways than just the block and heads, this DX460 in particular is very different from a traditional, common-rail injection Duramax. It might not win the high-pressure game, but the old-school mechanical inline plunger pump moves the kind of fuel volume that brings more than 4,000 horsepower worth of potential to the table. The 8-plunger, billet bodied P-pump comes from Wimer Fuel Injection & Turbo. It makes use of 17mm plungers and is set up to flow just under 1,100 cc's worth of fuel (by comparison, a P-pump in a 12-valve Cummins sports 12mm plungers). The Wimer pump sends a deluge of fuel to mechanical, John Deere-derived injectors similar to what you might find in a Pro Stock tractor engine.
3 Turbos, 150-PSI Of Boost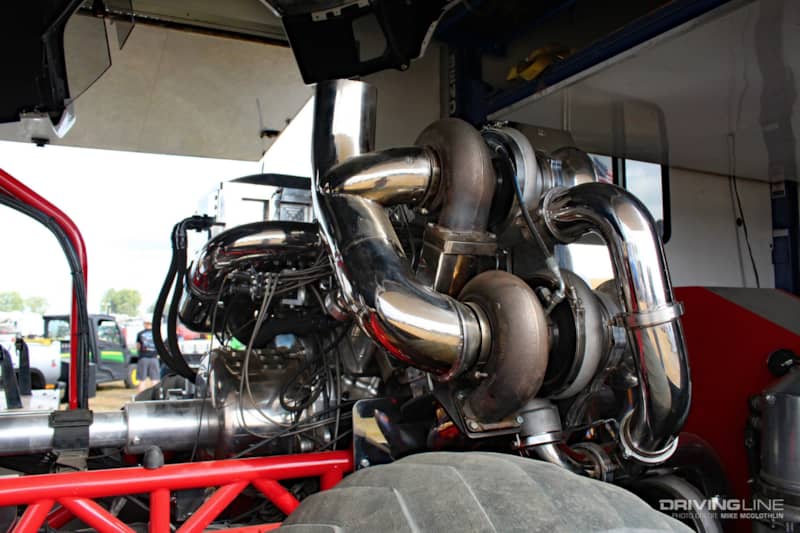 Trust us, the DX460 engine is in there somewhere… The two-stage, triple-turbo configuration is based on the use of three similarly-sized, Holset-based turbochargers from Wimer Fuel Injection & Turbo. Both chargers stacked up top are exactly alike, their compressor wheel inducers measuring 4.1-inches in diameter, and essentially serve as a single atmosphere unit. The third turbo, located on the lower right, serves as the high-pressure charger in the system. It's inlet also measures 4.1-inches. Use of 4.1 turbos is likely not a coincidence, as they are commonly run as singles in Limited Pro Stock tractor classes—so you can bet that Wimer has this turbo proven both on and off the track.
Chromoly Tube Chassis With IFS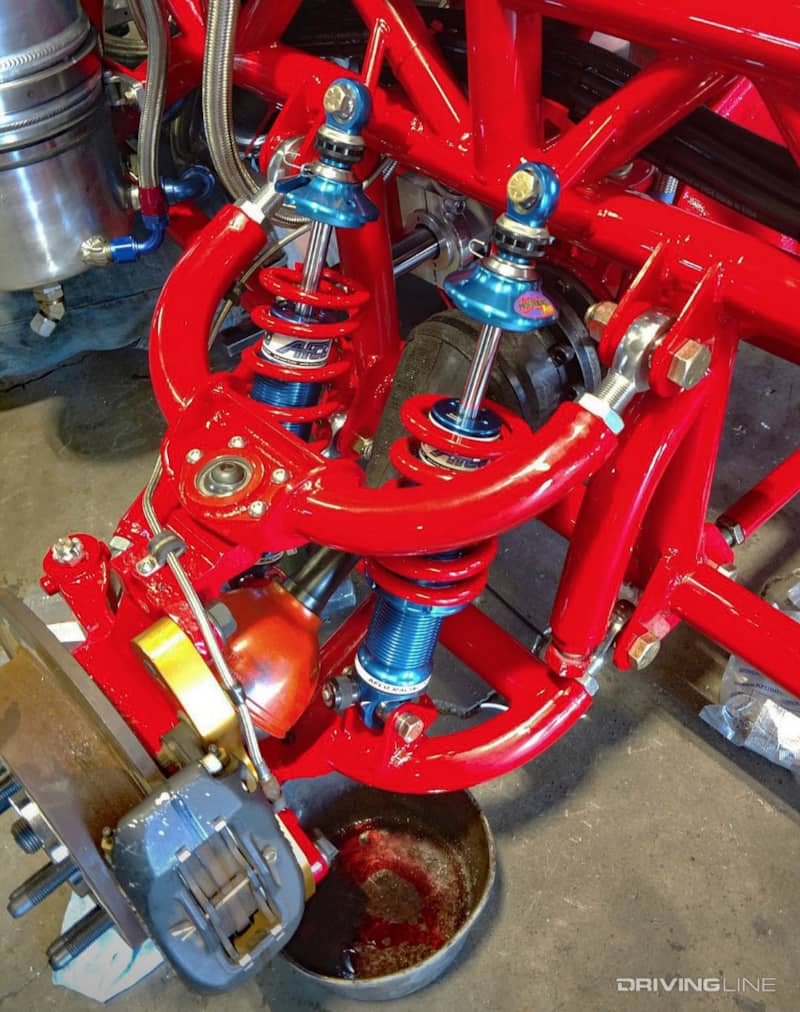 Fittingly, the DX460 powers a GMC Sierra-bodied Super Stock pulling truck named Cummins Killer. But that's not all. In addition to owner and driver Wes Kusilek and Craig Dickey remaining true to the Duramax power plant and their affinity for GM trucks (as well as their pulling trucks that preceded this one), the truck sports an independent front suspension. The independent front suspension chassis was built by Proformance Pros. A TIG-welded, chromoly tube chassis accommodates RCV CV axles and a pair of double-adjustable AFCO shocks per side up front, while a suspension-less Meritor/Rockwell 20-145 axle resides in the rear.
On The Track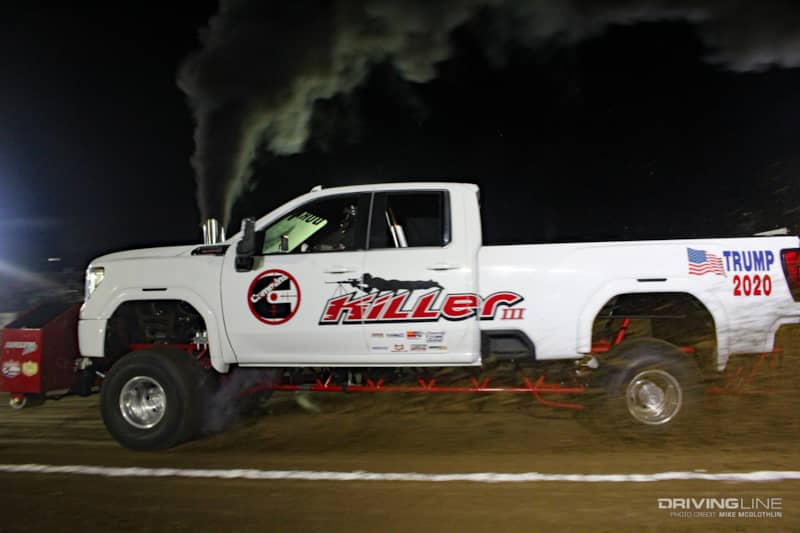 In truck pulling, 33-mph worth of ground speed is moving. But unbelievably, the engine isn't even at full-song until mid-track, the moment when Dickey knows all 3,000-plus horsepower can be applied to the tacky dirt. A typical trip down the track begins with Dickey building engine speed up to 5,000-5,500 rpm, easing off the starting line and even allowing rpm to fall into the 4,300-rpm range before whacking the hand-throttle full-forward and carrying 5,000 or more rpm the rest of the way. As far as sound, the truck is reminiscent of the V-8 diesel tractors you occasionally see in the coveted Pro Stock class.
Cummins Killer May Own The Common-Rail Duramax Horsepower Record Too…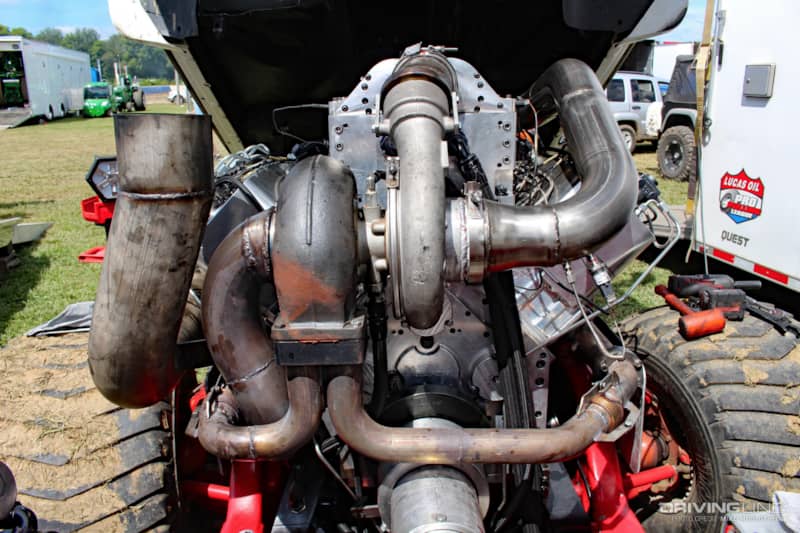 Prior to turning to Wagler and Wimer for their current mechanical DX460 monstrosity, Kusilek and Dickey had arguably pushed common-rail injection to its vertical limits. On their previous engine platform, an incredible 2,980 hp was coaxed out of the Duramax on the engine dyno thanks to S&S Diesel Motorsport. S&S supplied the Bosch Module Common Rail System injectors out of a Cummins QSK60 application, along with a Bosch stand-alone ECU to make the big number possible.
A Little History On Cummins Killer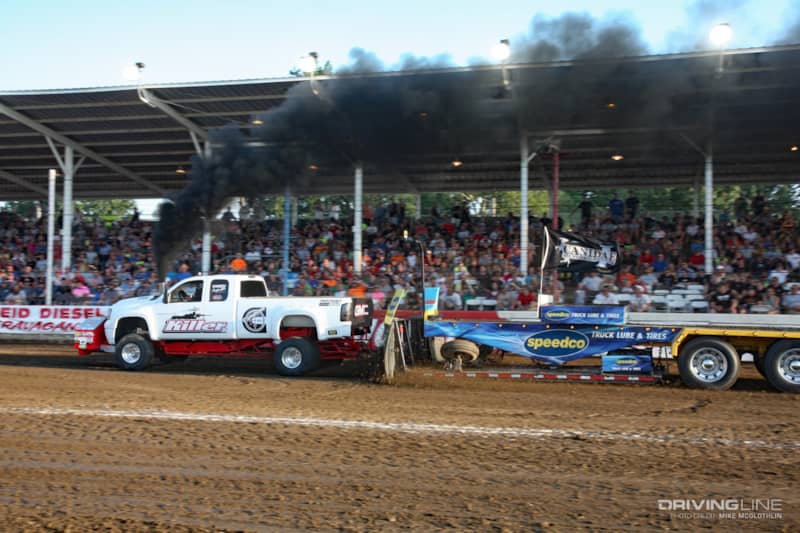 Back before Kusilek and Dickey joined the ranks of Super Stock, they wreaked havoc in the Pro Stock field—the class directly beneath Super Stock that adheres to a single turbo rule). In 2013, they shook things up in a major way after showing up at a national event that May with Nitto Mud Grapplers under their truck. They proceeded to win in dominant fashion, effectively starting a Mud Grappler trend that lasted until DOT tire regulations were done away with in the class.
More From

Driving Line
Curious what they're up to in the Power Stroke camp? Check out this wild, 2,180 hp mechanical 7.3L!