Climbing Up Big Bear's John Bull Trail
John Bull Trail (3N10) has the reputation of being one of the most difficult and challenging trails in the Big Bear Mountains of San Bernardino National Forest.  It's a rite-of-passage trail for any rock crawler and it's not uncommon to be asked "Have you done John Bull yet?" by someone trying to judge your skill level.
This fun and challenging trail is also a favorite among Southern California off roaders because of the beautiful mountain scenery. The most difficult black diamond portion isn't the majority of the trail (depending on how much of the easy section you want to call John Bull), but once you hit the technical section there are 2.2 miles of non-stop boulders, rock gardens and steep uphill climbs that can take hours to get through.
Lockers are strongly recommended and high clearance is a must. There is a good possibility of vehicle damage. But as with any challenging trail, a skilled driver with a good spotter can make it through with ease.
It had been a few years since my last John Bull run and I was excited to do it again because it's so much fun, even though this time it was my husband's turn behind the wheel. Being a passenger can add a whole new level of "excitement" to a technical trail because you don't have control - all you can do is hang on tightly!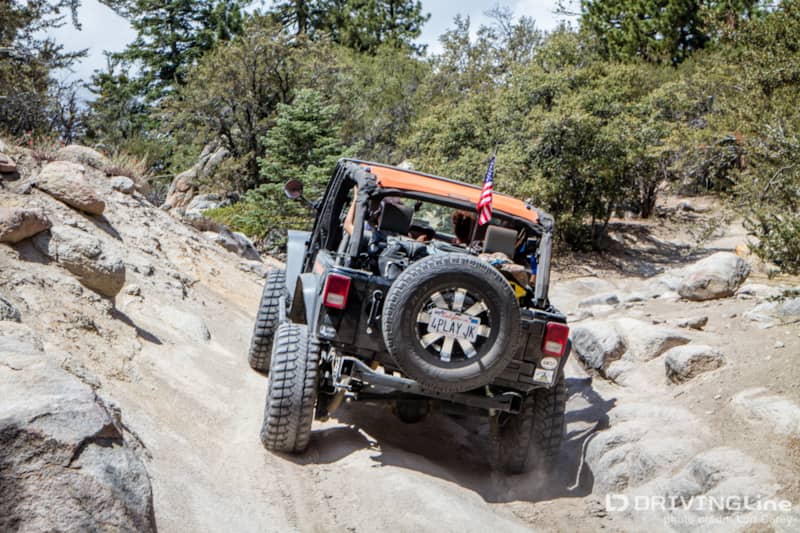 For this run we met up with the crew from 4 Wheel To Heal and the Misfits 4WD Club for a weekend of wheeling with eleven Wounded Warriors and eight caregivers. The first time I ran John Bull we did it West to East with three rigs and it didn't take much time at all. This time we were running it in the more challenging East to West direction, and with seventeen rigs in our lineup we knew it would take some time to get everyone safely through.  We headed straight for the rocks and began making our way up the mountain under an overcast sky.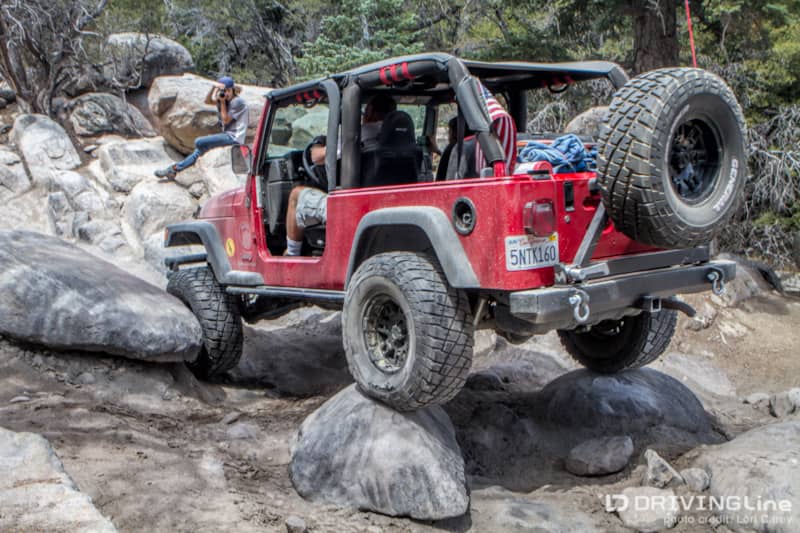 The trail is constantly changing as the weather and Jeeps move the rocks and sand.  The first rig through has the fun of finding the right line. Short wheel base vehicles have the advantage as they are less likely to high-center on an obstacle.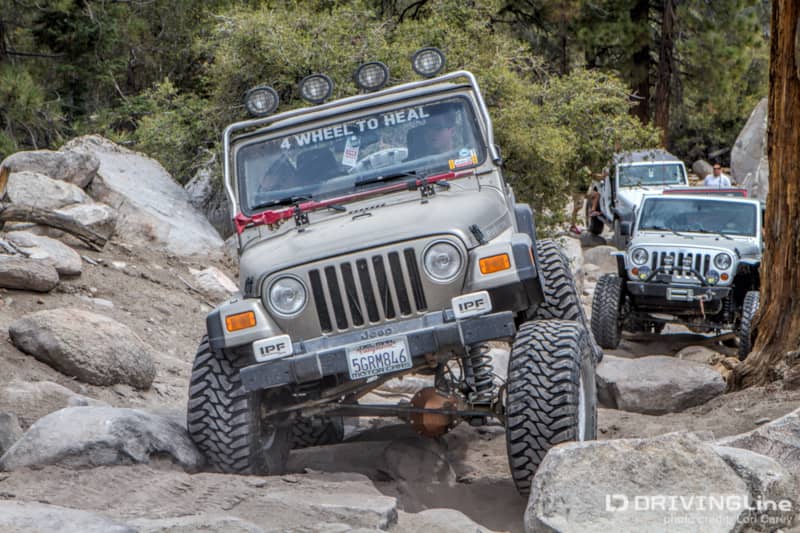 As we worked our way up the mountain, our group split into two when someone got hung up on an obstacle - and the front six rigs kept going in order to keep the line moving.
I hear someone say on the radio, "Just when I think I've made it through and can relax, there's more rocks!" My group climbed on until making it to the summit where we'd planned to stop for lunch.
We could see a storm brewing a few ridges over and we heard the thunder. The storm got closer and closer as we waited for the rest of our group, and soon we began to get nervous. The second part of the group had been left at the waterfall, which is the last place you want to be during a thunderstorm. It's just dry rocks most of the time, but during a storm it can become a torrential river of water with enough force to move a vehicle.
They were out of radio range so we sent one of the kids to run down and check on them. One person had lost oil pressure and another was hung up on the rocks, but we were assured they had it under control and would be up soon.  After a too-long and nervous wait, they finally made it up.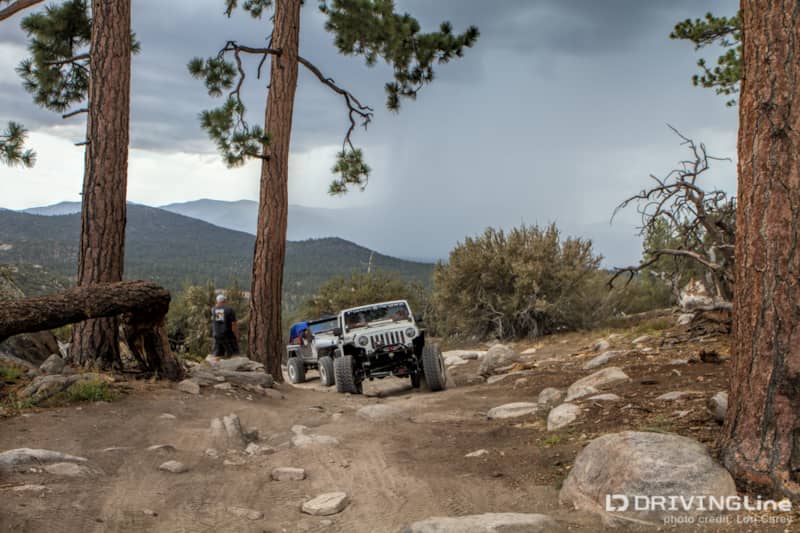 Everyone was in good shape, and after a quick lunch we continued back down the mountain in a race to beat the storm.
We made it back down the mountain without incident and managed to make it to camp before the torrential rain storm hit!
For a full version of the trail map shown above, see the San Bernadino National Forest Motor Vehicle Usage Map. Continue scrolling for more pictures of the action or check out our other trail reviews here at DrivingLine.