Diesel Paradise: Big Boost Engines, Innovative Parts and Monster Trucks at the DPI Expo
Although the action on the drag strip, dyno and sled pull track takes center stage at the Ultimate Callout Challenge, ignoring what transpires in the Diesel Performance Industry (DPI) Expo would be a sin. It is here, consuming a sizable chunk of the east grandstand side parking lot at Lucas Oil Indianapolis Raceway Park, where the state of the diesel performance world is on display. You could spend an entire day perusing through the expo, conversing with company reps (and sometimes even the owners), learning how the latest performance parts work, gawking at wild engine builds and collecting souvenirs.
An added benefit of the DPI Expo for 2023 was that the overflow entries for the sold-out show 'n shine competition were in close proximity. So, after we were finished poring over everything on display in the expo area we did the same thing in a sea of diesel pickups, and even made it a point to make our own best-in-show selection. Later on, we made our way into the puller's pits, the dedicated 2.6 Pro Street and 3.0 Limited Pro Stock trucks that were to be part of Saturday night's entertainment in the dirt. In the diesel realm, it doesn't get any better than this.
A Duramax-Powered '72 C10 Masterpiece—With Twins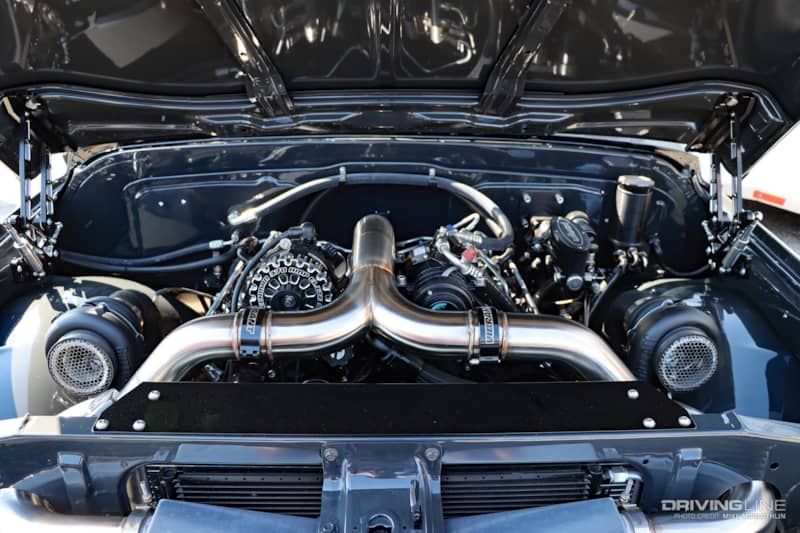 Dustin Sterling's '72 C10 dream build first made the rounds at the 2022 SEMA Show, but it seemed closer to being finished (if not completely finished) at the DPI Expo. The truck itself is a masterpiece, built at Sterling Diesel Performance with a restored body having been set atop a four-wheel drive, '07 Chevrolet 2500 HD chassis, and it actually won best-in-show at U.C.C. 2023. However, the engine was the main attraction for us. The Duramax V-8 under the hood boasts a true twin-turbo (i.e. parallel) arrangement rather than the common compound setup most diesel owners opt to run. A 58mm Garrett GTX feeds each bank, and each turbo creates 45 psi of boost. Fun fun!
The Ultimate Turbo Solution For 6.0L Owners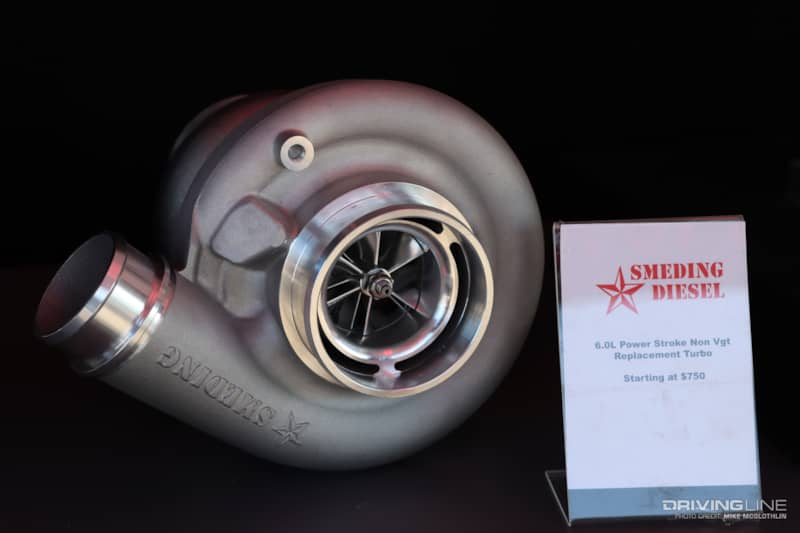 For 6.0L Power Stroke owners that've experienced the notorious issues associated with the factory variable geometry turbo, Smeding Diesel developed a direct, non-VGT drop-in replacement option. Its turbo is based on the reliable BorgWarner S300 platform and bolts right up to the 6.0L engine's factory turbo pedestal. Better yet, it works with any cold air intake system, downpipe or hot-side intercooler pipe on the market. If it fits the OEM Garrett GT3782VA, it will fit this fixed geometry replacement. The company's non-VGT replacement turbo is also available with four different compressor wheel options, of which a high-flow, billet 63mm version will move enough air to support 550rwhp or better.
Motivating The Shiftless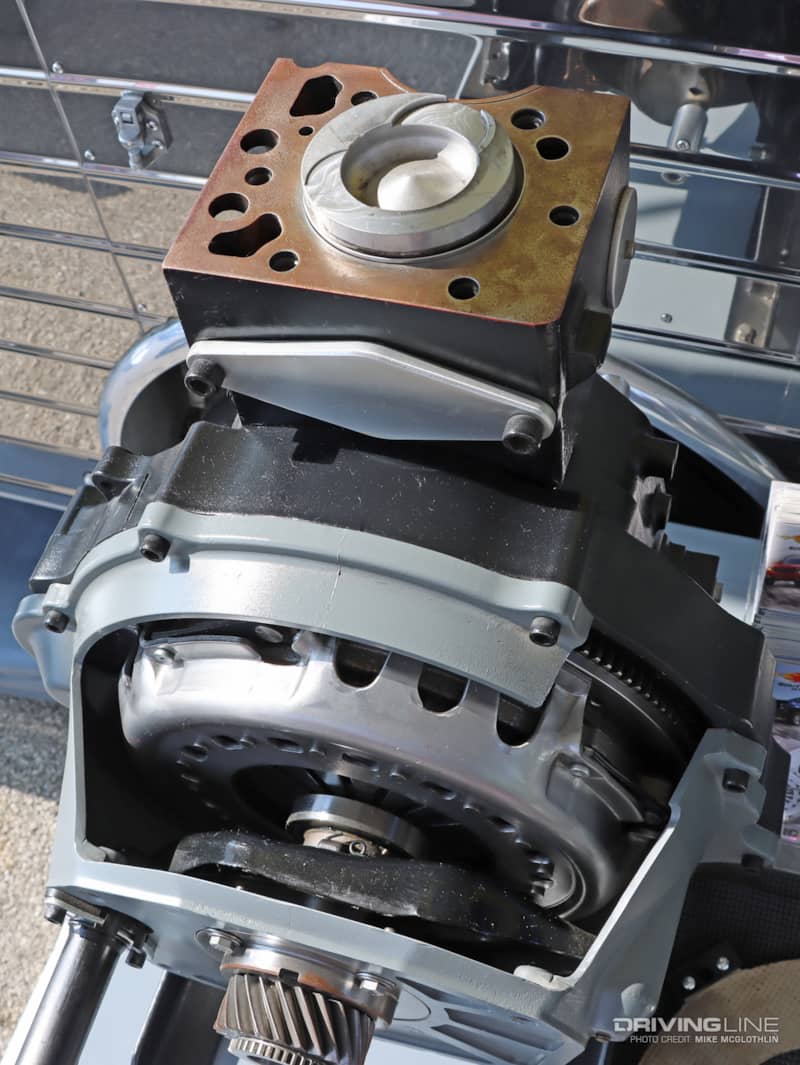 Our (unofficial) award for the best cutaway at the DPI Expo goes to South Bend Clutch. Complete with the number 6 cylinder and back sixth of a 12-valve 5.9L Cummins block, their show prop offered a unique look inside a bellhousing. For decades, South Bend has been building street, tow and sled pulling clutches for the diesel truck aftermarket. It's a company, now in its fourth generation, that not only enjoys a reputation for building reliable power-transferring equipment but that also offers what is arguably the best customer service and product support you'll find in any industry.
Our Best-In-Show Pick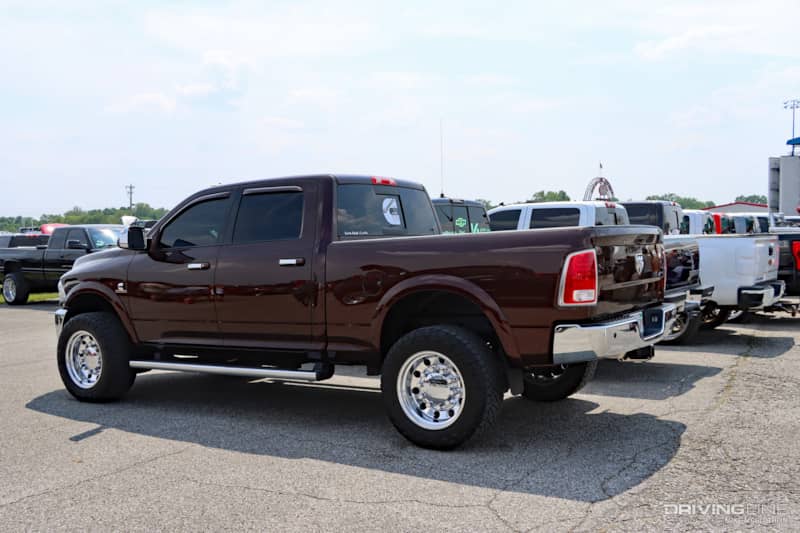 Call us crazy, but in a world where every truck seems to be on 24's (and where 26x16-inch wheels are even on the table) we have a strong desire for a simpler, more subtle look in a show truck. Maybe that's why this fourth-gen Ram gets our approval for best-in-show honors as far as the Cummins category is concerned. Remember when 20-inch super singles were all the rage? How about before 40-inch rubber essentially became a requirement? For us, this 6.7L-powered Ram parked on 35x13.50R20 Ridge Grapplers fit the bill perfectly. The fact that it was equipped with a six-speed manual didn't hurt matters, either.
More Than Fancy Wheels And Paint-Matching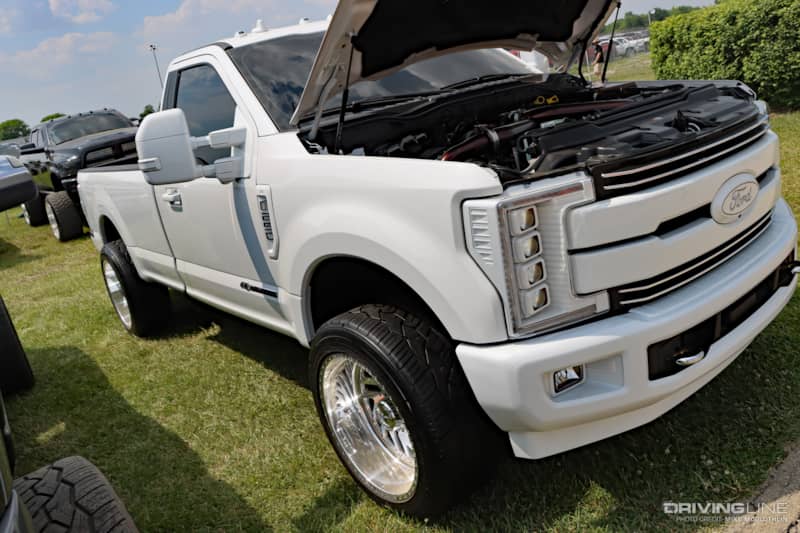 it seems like everyone owns a crew cab short bed diesel these days. Needless to say, this regular cab Super Duty stuck out in a sea of late-model, four-door trucks. But that's not the whole story. Aside from the noticeable paint-match work and attention to detail, the owner had obviously poured some money into the 6.7L Power Stroke. An S400 from Bullseye Power Turbochargers was mounted between the passenger side battery and valve cover. The big atmosphere charger works in conjunction with the factory VGT in the valley—a combination that would support 600rwhp without changing anything in the factory injection system.
Cummins Power, Ford Body, And A Dodge Chassis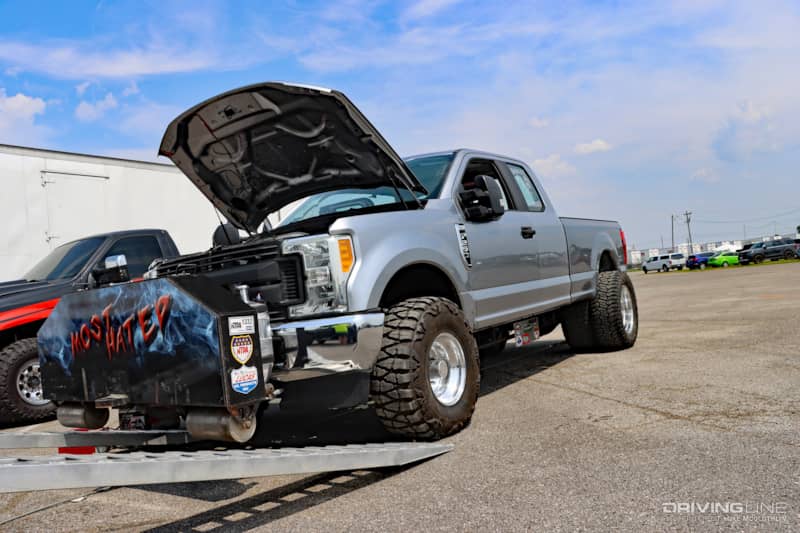 Don't be mistaken, the weight box on CW Cartmell's 3.0 class sled puller read "Most Hated" long before he swapped a '17-newer Ford body onto this second-gen Dodge frame. For years, CW's truck has been the one to beat in the Limited Pro Stock field. It still is, but now it's sporting an aluminum Super Duty shell. The body swap is rumored to have shaved several hundred pounds off of the truck's curb weight, savings that was likely then added right back into the weight box. Under the hood, you'll find a Haisley Machine-built, P-pumped 12-valve Cummins capable of belting out more than 1,400 hp. CW relies on a pair of 35-inch Mud Grapplers up front to help him claw his way to victory.
Cummins: More Than An Engine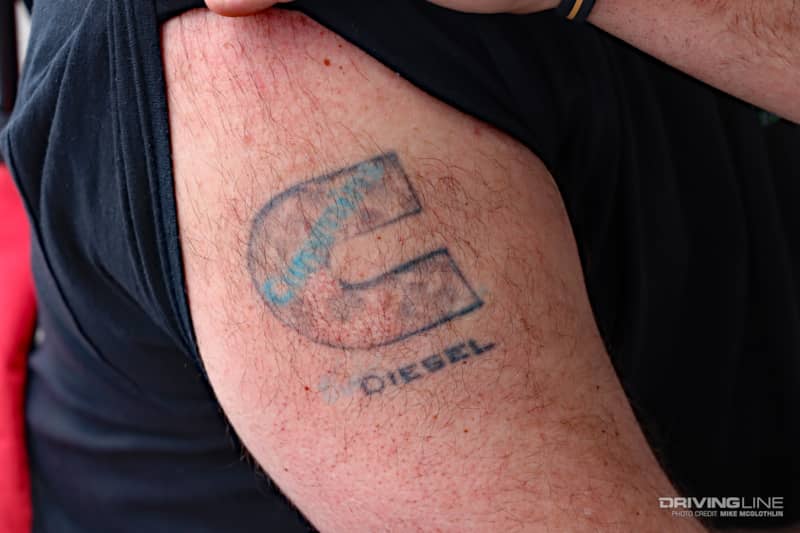 Cummins is much more than a global diesel engine builder. This legendary company has a following that is beyond loyal, especially in the pickup truck segment. While many diesel enthusiasts are Dodge fans, most are Cummins fans first and foremost. Even for diesel outsiders it's obvious that Cummins dominates diesel performance. Throughout the top ranks of diesel truck pulling you'll find a Cummins in the winner's circle most often. At the track, the quickest ET's and fastest trap speeds are almost exclusively held by Cummins-powered vehicles. On the chassis dyno, a Cummins holds the record for most horsepower. Without Cummins, the diesel performance industry might be very different today. In fact, it might not even exist at all.
American Outlaw: The Cummins-Powered Monster Truck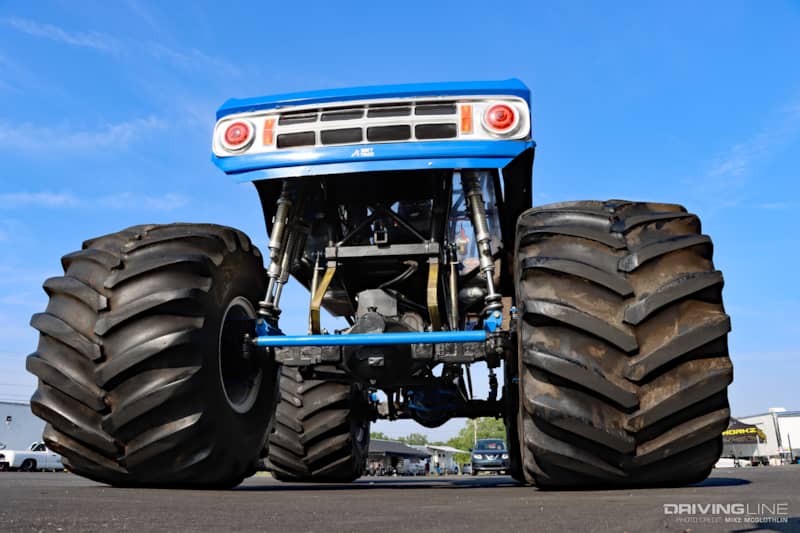 There weren't any cars to crush, but that didn't stop Brandon Overmyer from showing off his Cummins-powered monster truck known as American Outlaw. The vinyl wrapped, '69 Dodge Sweptline body sits suspended above Galion planetary axles and 26-inch Overtime shocks. Behind the cab, you'll find a 12-valve 5.9L Cummins that produces roughly 900 hp on fuel. The low-compression, B-series engine breathes through a Stainless Diesel S475 and receives fuel from a 13mm P-pump and 5x25 injectors—parts that come from the truck pulling world, which Brandon also knows plenty about. Much more than a showpiece, American Outlaw spends most of its summer catching major air and pulverizing old sedans.
More From

Driving Line
For another look at what went down at U.C.C. 2023—like a show 'n shine with more than 500 entries, 5-second eighth-mile times and a midnight truck pull—enjoy this recap.