Paths To Power: The Mixed Bag That Is Diesel Performance
There is definitely no "one-size-fits-all" formula associated with diesel performance. In fact, it's about as diverse a niche as it gets in the automotive world. Though the common goal among enthusiasts is to make intoxicating amounts of horsepower, there are various ways to get there—and we see new examples born every day. Below, we'll explore some of the most common paths compression-ignition lovers follow to make their numbers. From single turbo die-hards to boost-smitten compound (and even triple-turbo) owners, mechanical injection vs. electronic common-rail, nitrous as opposed to fuel-only and even 4x4 vs. two-wheel drive, the diesel performance world is a smorgasbord of power recipes.
Turbo Choices: 1, 2 Or 3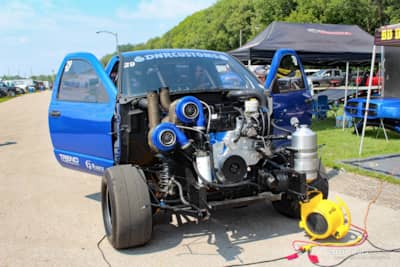 The turbocharger has long been a key ingredient in a diesel's ability to make horsepower, but these days you never know what you'll find under the hood of any given truck. Single, compound and even triple-turbo configurations are all popular—and a strong case can be made for choosing either one. Thanks to the latest compressor wheel and variable geometry technology, a properly-sized single can offer respectable horsepower potential without sacrificing much in the way of low-rpm drivability. Two-stage compound turbos, where a larger (low-pressure, or atmosphere) unit is paired with a smaller (high-pressure) charger, offer great low-rpm response, big torque and can peg a boost gauge in short order. As for triples, they're usually configured as two stage arrangements and provide performance that's similar to compounds—but they offer a lot more cool factor. After all, what's cooler than two turbos? Three!
4X4 Vs. 2WD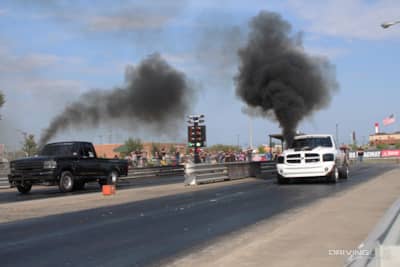 When it comes to the drag strip, four-wheel drive diesels have predominantly made up the lion's share of the vehicles competing. However, in recent years two-wheel drive diesels have become more and more prevalent. And now, they've all but taken over the top-tiers of diesel drag racing. Part of rear-wheel drive's success in diesel comes from its weight reduction over 4x4 configurations, which not only makes it easier to go fast but easier on parts—especially transmission parts. The biggest killers of diesel transmissions is big torque combined with immense weight.
Nitrous Vs. Fuel-Only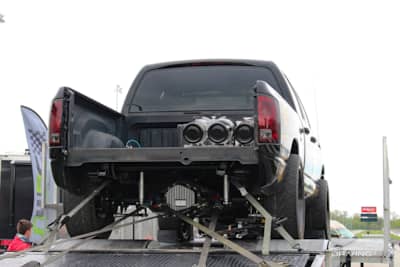 In the gas world, they call it all-motor. Here, they call it fuel-only—and many diesel heads (especially truck pullers, who aren't allowed to use injectables) believe diesel and boost are all you need. Over at the drag strip, the guys on slicks say not so fast—and many of them use nitrous oxide for more than simply adding power. In the top ranks of diesel drag racing such as the Pro Mod field, big single turbo applications—which are often void of an intercooler—are being campaigned, making more than 2,500 hp, staying cool while doing it and lighting the giant windmill within seconds. But while N2O has worked wonders in diesel drag racing, that doesn't change the fact that it's outlawed in most truck pulling classes, which helps explain why mechanical injection is still king in the dirt. In fact, we're told the top truck pullers are running mechanical engines capable of making more than 3,500 hp at the present time. Found in the Super Stock category, these engines are typically Cummins-based, equipped with two-stage triple-turbo arrangements, water-to-air intercoolers and water injection.
Mechanical Vs. Common-Rail Injection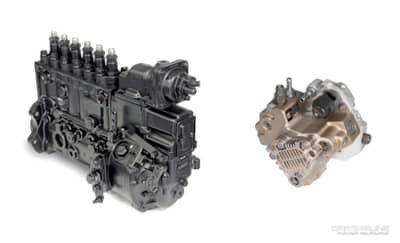 As far as all-out horsepower is concerned, old-school mechanical injection and modern-age, high-pressure common-rail are at each other's throats in nearly every possible way. In the world of drag racing, common-rail is currently on top. When a sled is involved, mechanical injection tends to dominate. On the chassis dyno, it's anyone's game—but last time we checked common-rail had the upper hand at 2,920rwhp and 4,026 lb-ft of torque. This rivalry is nothing new. For years, we've known that fans of the P-pump will never surrender (or give up on) their tractor technology and that proponents of common-rail believe it's only a matter of time before electronics take over completely—and that's exactly the way we like it.
Inlines Vs. V-8's: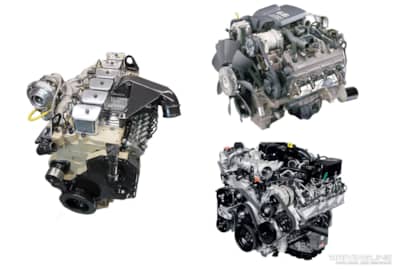 In the world of diesel trucks, this one could also be called Cummins vs. the world. But while the Cummins is still the king of horsepower, it does have its work cut out for it against the GM and Ford V-8's. In truck pulling, watching a Duramax take the win is never off the table, even in the top ranks of the sport, while over at the drag strip both brands can hold their own against the almighty I-6. The Duramax has vaulted through the eighth-mile in low 4's in rail form and four Power Stroke Pro Mods have dipped into the high 4's. On the dyno (and as we alluded to earlier), Cummins is the clear winner with horsepower numbers fast-approaching 3,000—although the Duramax has broken the 2,000rwhp barrier and at least two Power Strokes have knocked on the door.
2-Valve Vs. 4-Valve

If the caption above read as Cummins vs. the world, this one narrows it down even further and could be summed up as 12-valve vs. everything else. Aside from a few outliers, the current horsepower generators of choice all make use of 4-valve cylinder heads (Duramax, 6.0L, 6.4L and 6.7L Power Stroke, as well as the 6.7L Cummins). But even though 4-valve technology makes the aforementioned engines extremely drivable while cranking out serious power, the verdict is still out as to whether or not they'll overtake today's top-of-the-line 12-valve heads. One reason for this is that huge strides have been made in 12-valve technology in recent years. The highly restrictive factory cast-iron 12-valve head can be opened up to flow twice as much and aftermarket billet (steel and aluminum) versions bring even more potential to the table. One thing is for sure: this one won't be settled for a while.
Automatic Vs. Manual Transmissions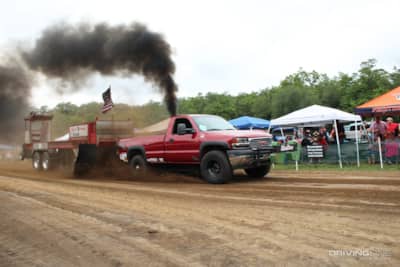 Similar to the way newer, 4-valve engines with common-rail injection have become the majority of the diesel performance population, automatic transmissions have also overtaken the manual transmission options. This includes truck pulling to a certain extent, where street, stock-appearing turbo and Work Stock-type classes are chock full of Allison-equipped GM's, 48RE-shifted Rams and even TorqShift-equipped Fords. However, for 1,400-1,500 hp and up, a one-speed manual transmission known as a reverser runs the show in truck pulling. Coupled with an aggressive three or four-disc clutch, these transmissions have proven nearly indestructible. At the drag strip, it goes without saying that autos are dominating, namely Turbo 400's and built-to-the-hilt 48RE four-speeds.
More From

Driving Line
First time? We've been covering the wild world of big boost diesels for years now. Check out this 8,000hp, six-turbo bit of eye candy and you'll see why we're so addicted.