Diesel Swap Special: 9 Oil Burners So Fine They'll Make You Cry
Most auto enthusiasts have that one particular event they never miss; the one they go all out and make special preparations for. To diesel truck owners living in the Midwest, that event is the Scheid Diesel Extravaganza.
Held every August in Terre Haute, Indiana, the all-diesel affair attracts hundreds of oil burners and thousands of enthusiasts. While a majority of the show's 13,000 to 15,000 spectators come first and foremost to watch truck pulls and drag racing, all attendees end up perusing the Show-N-Shine area at some point. It's here that you'll find the finest Cummins swaps, Duramax re-powers, diesel rat rods and the highest caliber 8-lug equipped showpieces in the country.
Saying the 2016 Show-N-Shine was packed would be an understatement, as a record 123 trucks were signed up to be judged. With a considerable payout and a trophy awarded to the owner of the best Ford, Chevy, Dodge and Custom truck in attendance, word on the street was that the Extravaganza was the place to be that summer.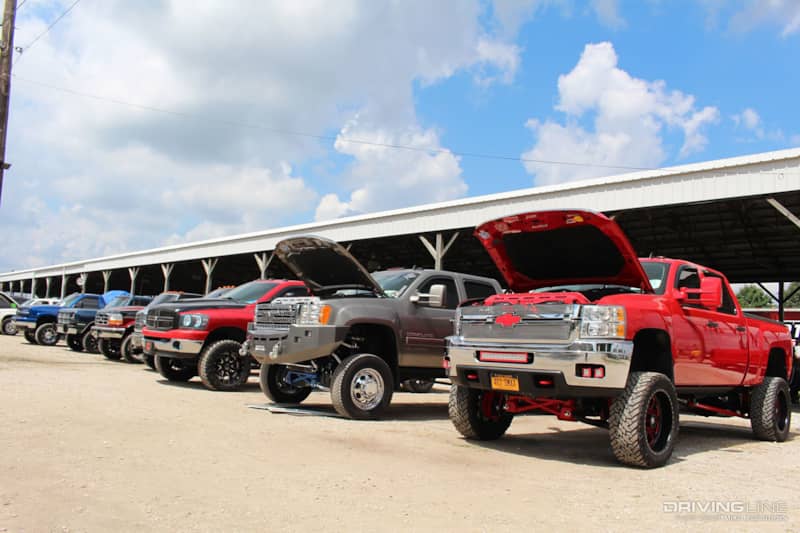 And because the Show-N-Shine is always loaded with so many awesome swap vehicles, we decided to narrow it down to the top nine this time. How about a 46-year-old Chevy C10 that looks like it left the factory packing a Cummins? What about a six-door, Duramax-powered Suburban? Get your diesel swap fix!
1. Packing Twins
Saving the best for last? Not us. Without a doubt, this is the craziest thing we found at this year's show: a twin (Cummins) engine truck! Put together by the Mollet family, it's based off of a 1970 Dodge Sweptline. While not yet completed, it's a work in progress that—unlike a lot of wild, out-of-the-ordinary diesel projects we come across—is still making headway. Considerable chassis and suspension modifications have been made and much of the engineering needed to fit both engines under the hood is already complete, including a four-link rear suspension, radius rod front suspension, and air springs.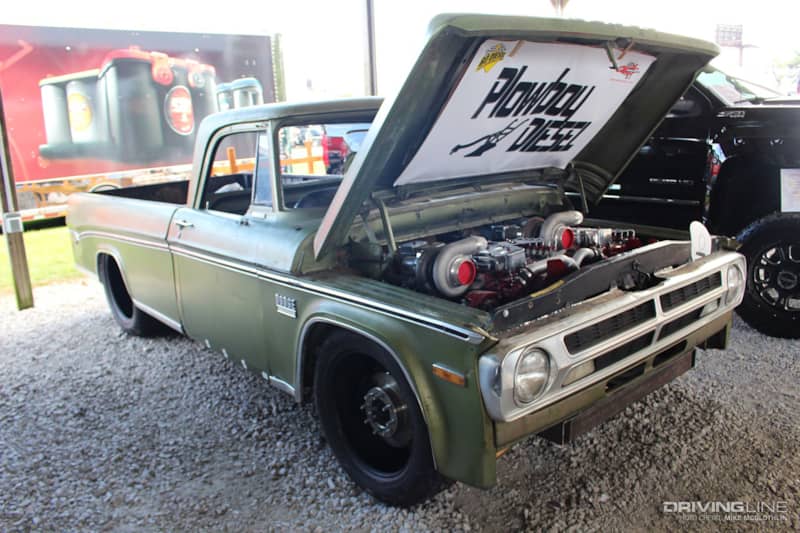 The Cummins engine(s) of choice for the Mollet's '70 Dodge project is the P-pumped, 12-valve version of the 5.9L (the most frequently used engine of all B series mills). Both engines are freshly overhauled, and fitted with 60-pound valve springs, O-ringed heads, and head studs. And, as is visible in the photo above, each engine will be fed with a compound turbocharger arrangement. After all, what's better than four turbos and two Cummins power plants under the hood of one vehicle? Use of a multi-engine gearbox (similar to what is used in tractor pulling) will allow the engines to be linked together and bolt to one transmission.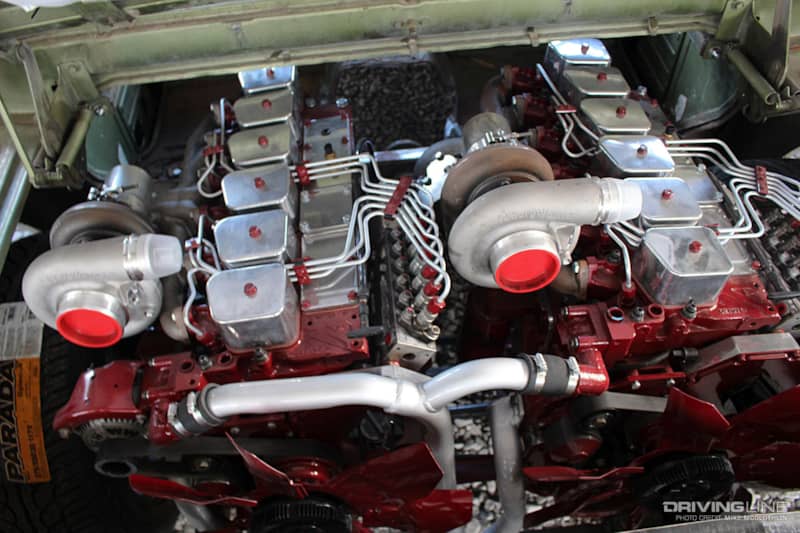 2. Classic Duramax
Another diesel swap we couldn't help but drool over was this 1953 Chevy 3100, built by Jeremy Schultz of Red Lion, Pennsylvania. Formerly owned by his grandfather, you could say the classic Bow Tie holds a little sentimental value for Jeremy. During a full frame-off restoration, a Mustang II front suspension with QA1 adjustable coil overs was added, a TCI rear leaf spring suspension kit was employed and a chromoly fabricated Ford 9-inch rear axle (complete with 40-spline Moser axles and a Strange center section and spool) also made its way onto the truck.
Helping Jeremy shoehorn an LB7 Duramax into his '53 Chevy was Young's Farm Service & Repair in nearby Brogue, Pennsylvania. The used LB7 engine was fitted with new injectors, head gaskets and head studs while in Young's care, with a five-speed Allison A1000 automatic transmission handling the truck's shifting duties. Graced with Lime Rock Green paint (think C7 Corvette), 18x8-inch Boss 338 wheels up front and 20x10's in the rear, Jeremy's Chevy offers the classic lines that vintage truck enthusiasts love, but also one heck of a unique powertrain and tasteful cosmetic appeal to boot.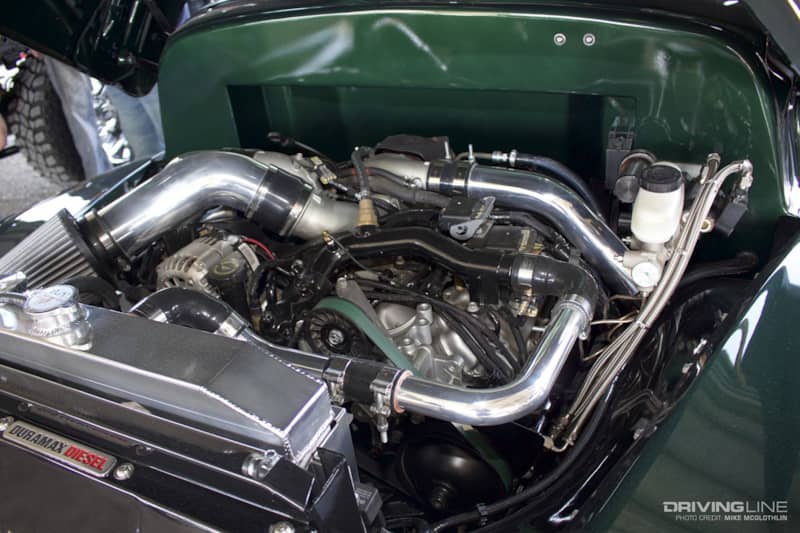 3. Ultimate Highboy
While most Cummins swap projects bolt a B-series between the frame rails of a Ford, it's usually performed on the Super Duty platform ('99-newer). Seeing the swap executed to perfection on an old Ford highboy had our mouths watering.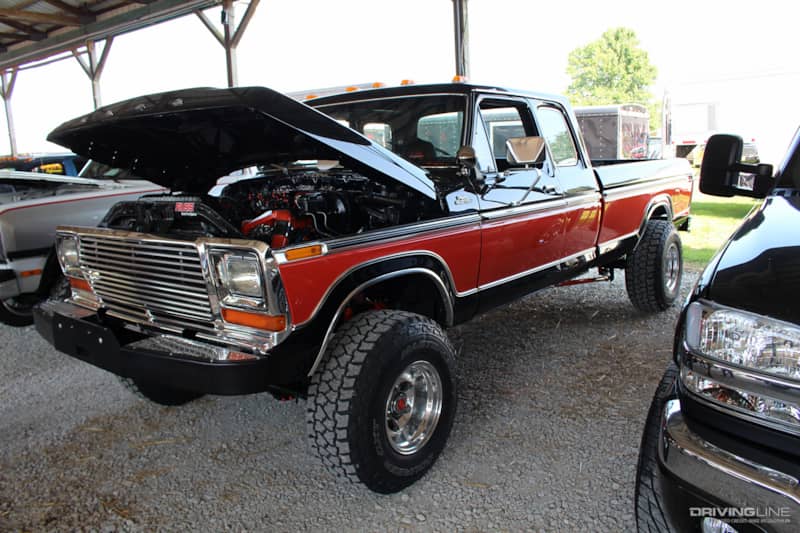 Fitted with a 12-valve 5.9L, the mechanically-injected Cummins breaths easier thanks to a BorgWarner S300 turbocharger and Steed Speed T4 exhaust manifold. And as you can see, the truck's orange accents carry over into the engine bay, too. Even orange zip-ties are used to secure and clean up the under hood wiring along the firewall!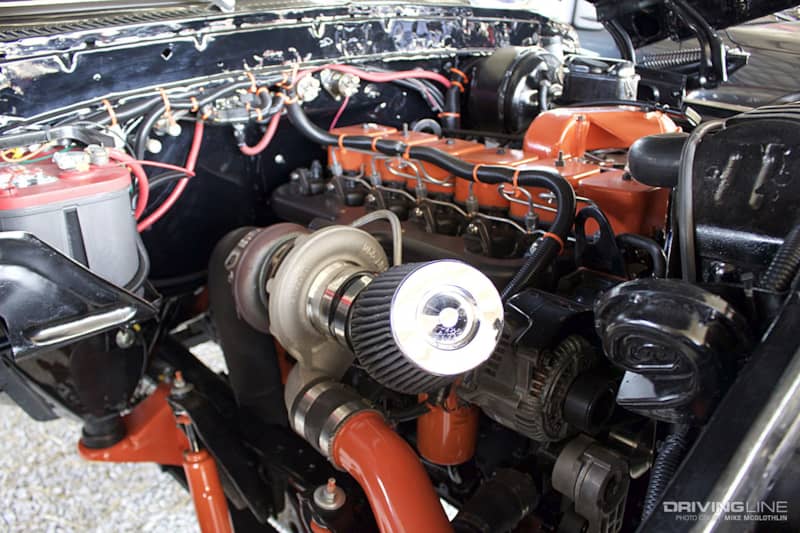 4. 4BT Dakota
We're actually surprised we don't see more swaps like this: a '97-'04 Dodge Dakota housing a 4BT Cummins. This isn't Mike Basten's first time entering his truck—a '00 Sport model—at the Scheid Diesel Extravaganza Show-N-Shine, and we don't blame him. It's unique, capable of 30+ mpg and offers him the ability to tow 8,000 pounds with ease.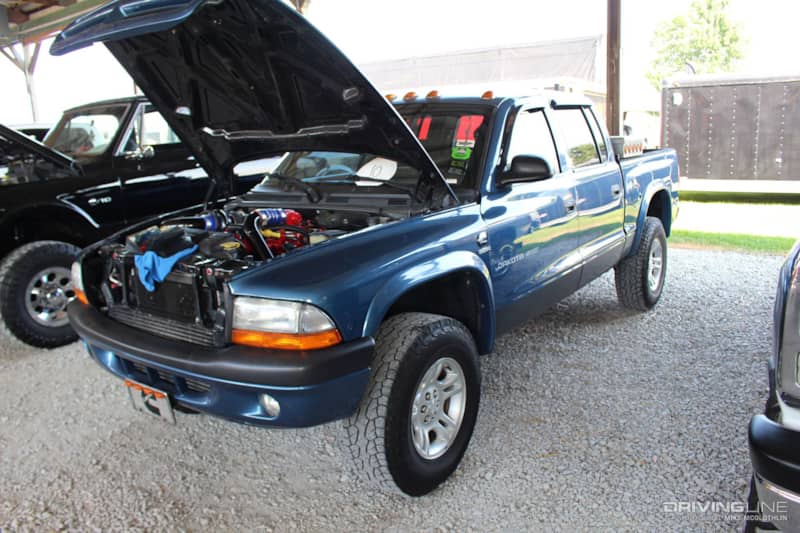 Not satisfied with the dismal fuel economy the truck's original gasoline V-8 provided, Mike turned to a 1993 model 4BTAA Cummins to get him down the road more efficiently (the "AA" meaning air-to-air intercooled). The mechanical, VE injection pump-equipped 3.9L benefits from a set of compound turbos that combine to make nearly 60 psi of boost, and he reports that the pyrometer (exhaust gas temperature gauge) never crests 1,050 degrees with a load in tow.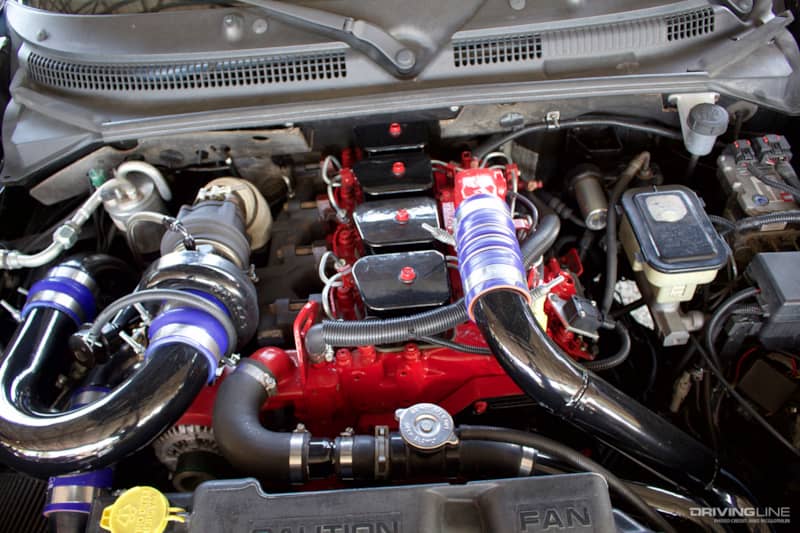 5. All GM
Over the years, we sensed that a Duramax swap craze could be on the horizon—and this year's Show-N-Shine at the Scheid Diesel Extravaganza might have confirmed it. Even with a fair amount of electronics required to pull it off, enthusiasts are no longer afraid to take the leap (hence the '53 Chevy 3100 previously mentioned and the C10 pictured here). Thanks to standalone wiring harnesses, an abundance of available donor trucks and parts and aftermarket tuning, the task of integrating a Duramax into an older vehicle is as close to being a seamless process as it's ever been.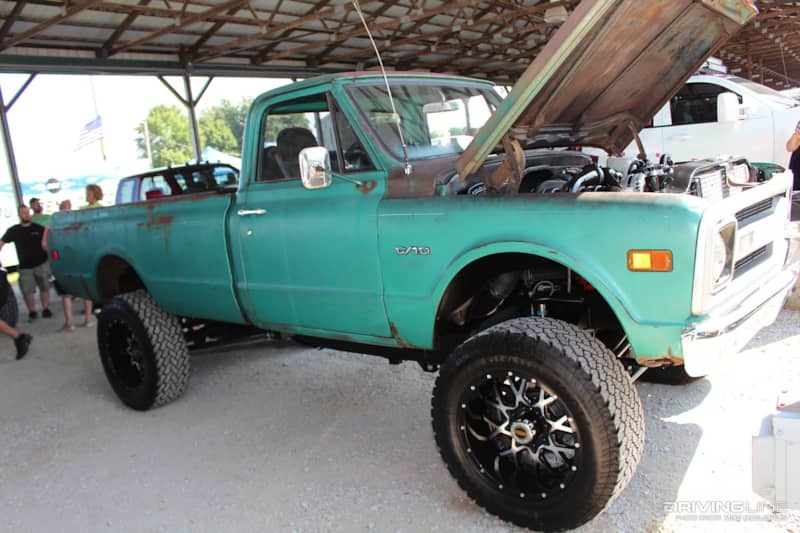 Some are going all out, adding big power along with good looks under the hood of their Duramax swaps. This compound turbo arrangement, built by Wehrli Custom Fabrication, will have no problem supporting 700-rwhp, should the owner of this C10 ever decide to push things that far.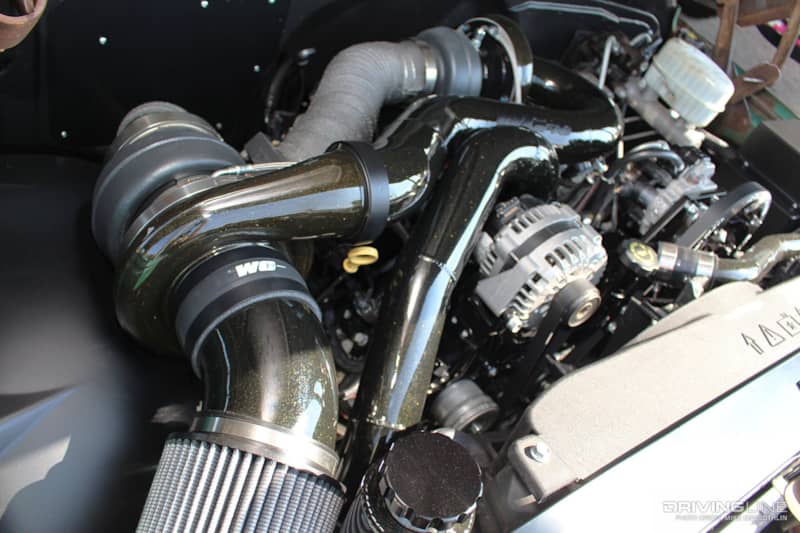 6. Work & Play
Just when you thought 24-inch wheels and light bars were set to take over the world, a subtle Cummins swap like this shows up and shuts the whole thing down (at least, for us it did). With black paint, black wheels, a wooden flat bed and powder coating used to call out the compound turbo arrangement, it has the look of a modern moonshine hauler: ready for work, but ready to run.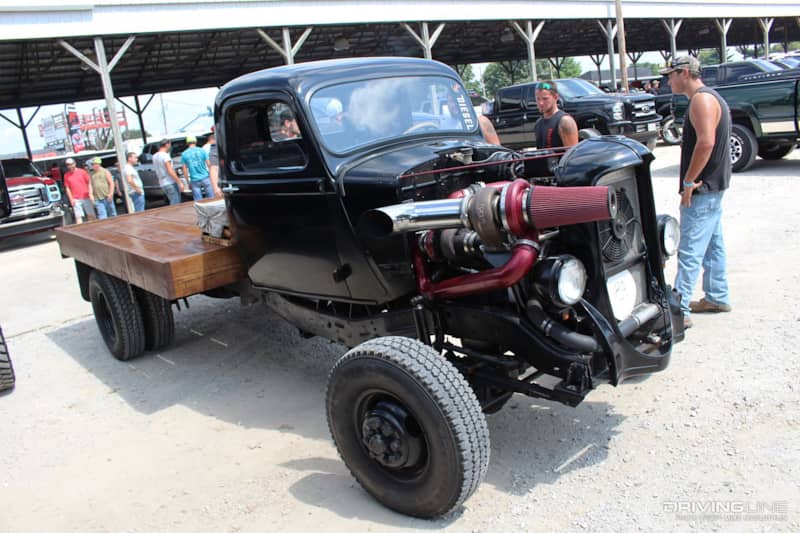 Even though the VE-pumped 5.9L Cummins (found on '89-'93 Dodge trucks) can't fuel nearly as hard as the P-pumped engine that followed it ('94-'98), they can still supply ample power for what most folks use them for (350 to 400-rwhp). High availability and ease of integration spell out the other reasons for its continued popularity. Thanks to their widespread use in gen-sets, medium duty trucks, tractors, loaders and boats, they can be found pretty much anywhere. And thanks to being mechanically controlled, they require virtually zero electronics to start and run.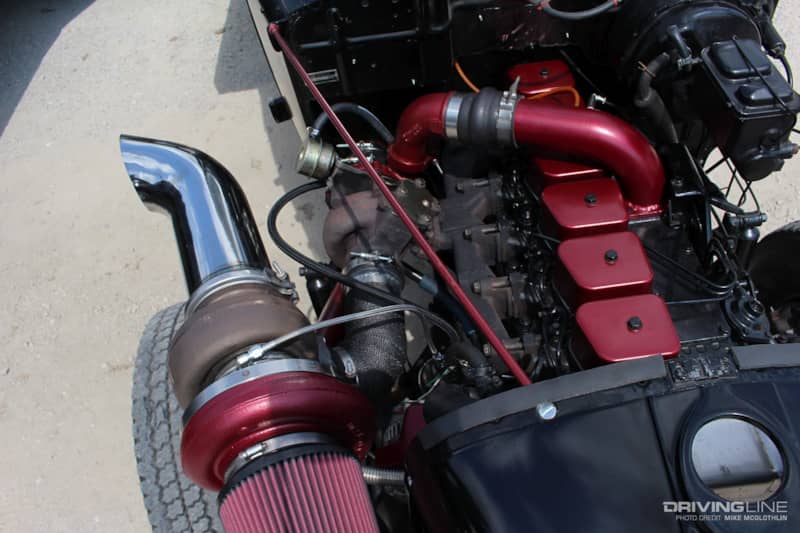 7. Suburbamax
Right when we thought we'd seen it all, a six-door Suburban falls into our lap. This one-off diesel SUV started out life as a 2003 model year 2500 HD Silverado before going under the knife and collecting a mixture of Suburban and Tahoe parts. A full leather interior and seating for seven make it the ultimate way to tote a boat to the lake or a toy hauler to the trails.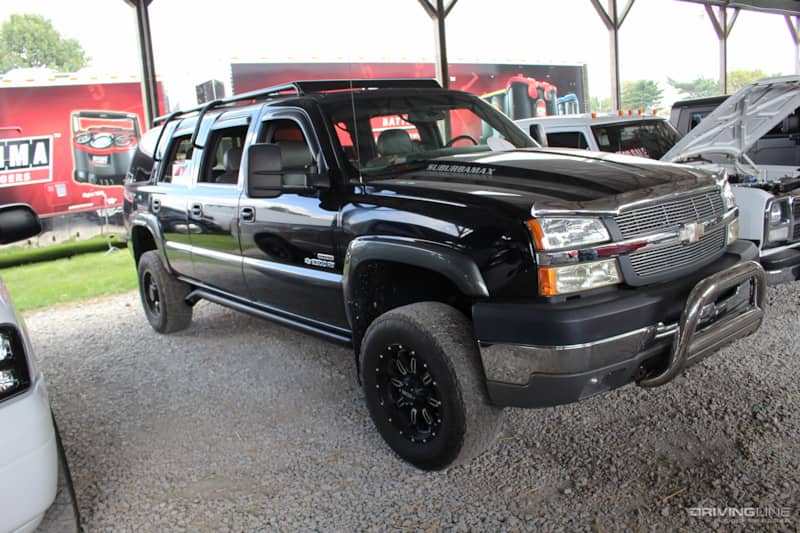 A nice designation rests on the cowl of the hood to let passersby know it's a diesel (and that it had a right to be parked in the "diesel-only" Show-N-Shine at the Extravaganza). We're told an LB7 Duramax with just over 50,000 miles and 10,000 miles on a new set of injectors rests under the cowl hood.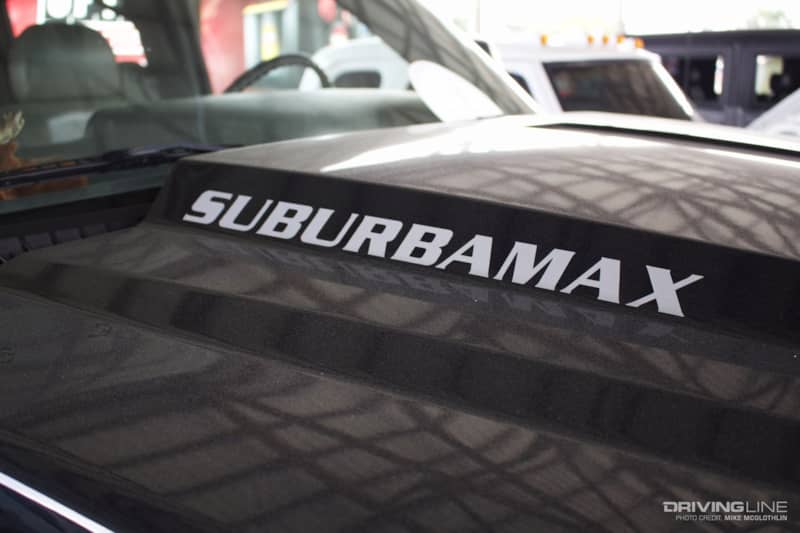 8. Not a 4BT
Hook, line and sinker. We won't lie, the license plate on this Jeep Wrangler reeled us right in on this one. Indeed, it didn't have a 4BT Cummins under the hood.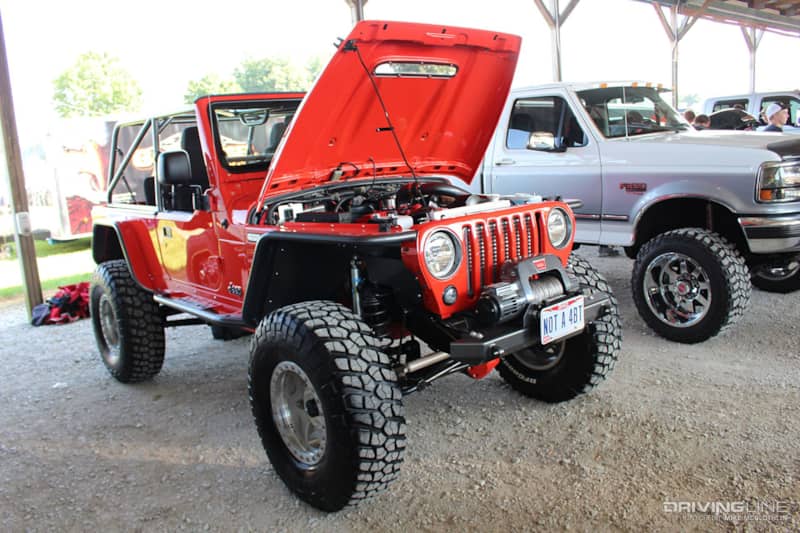 Meet the 3.8L ISF Cummins. Don't worry if you've never seen one; they're geared toward the European industrial market, and this was the first time we'd seen one ourselves. Much more advanced than the older 4BT we're used to seeing, it features common-rail injection, a variable geometry turbocharger, and has a dry weight of just over 600 pounds (vs. 760 pounds for a 4BT). Executed to perfection, the baby Cummins looked right at home aboard the late model Wrangler.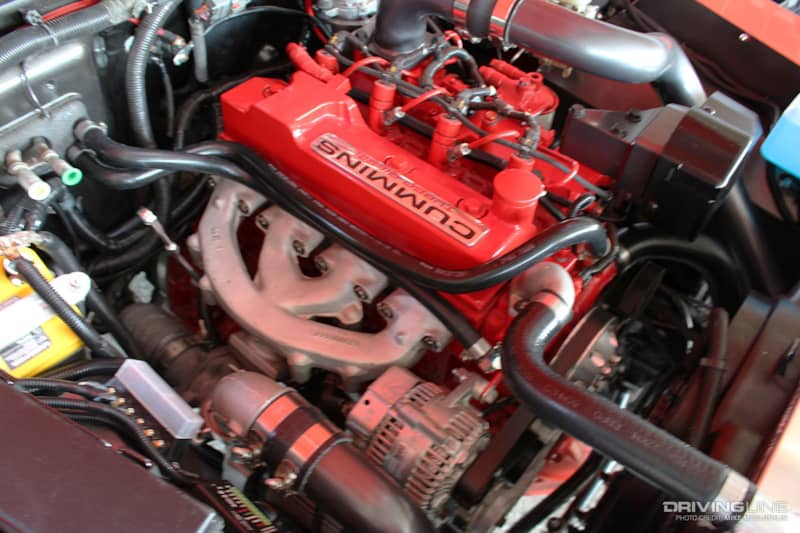 9. Black Beauty
On day two of the massive Show-N-Shine we found another beautiful Chevy C10—diesel-powered of course. This one was adorned with a 4BT Cummins (4BTAA, to be exact).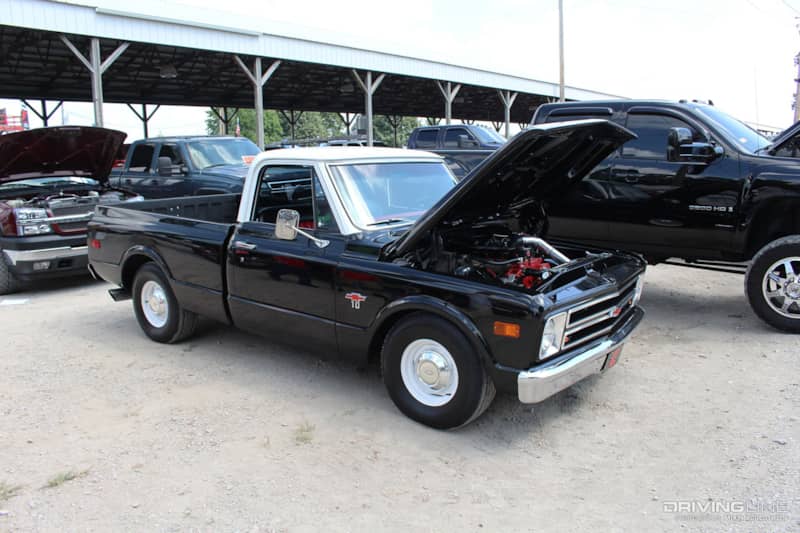 It's tough to beat the reliability, durability, horsepower potential and fuel economy the Cummins B series (both four and six cylinders) provide the vehicles they reside in. With little to no modification at all, they can push lightweight trucks (such as the C10 shown above) into the 30+ mpg range and full-size ¾-ton and 1-ton trucks past the 20-mpg mark... and last half a million miles while doing it.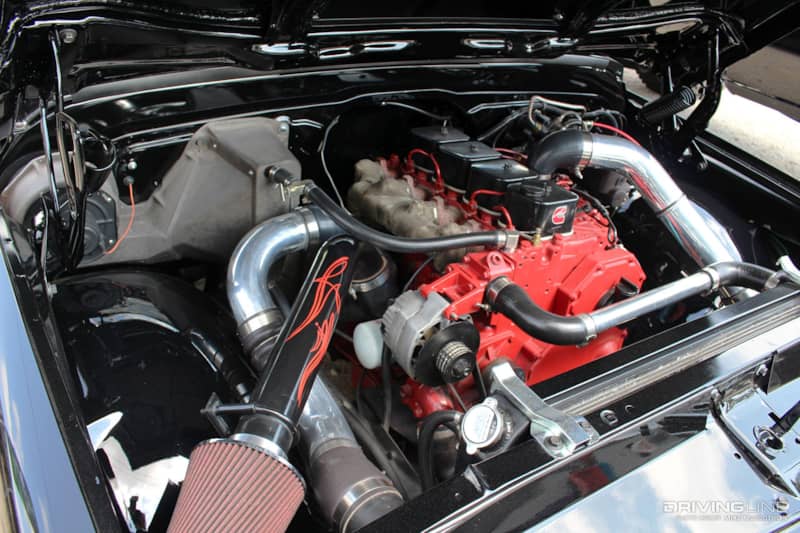 The 2017 Scheid Diesel Extravaganza is coming right up, August 25-27 in Indiana! Visit ScheidDiesel.com for more information.