Dirt Drags: The Latest Craze Among Diesel Truck Owners
When most people hear the word "diesel" and "motorsport" paired together they picture truck pulls or drag racing, but there's a growing sensation in rural America today that blends aspects from both of these together. It's called dirt drag racing (or simply dirt drags) and its popularity is rapidly expanding. This heads-up form of competition brings the best ingredients of diesel drag racing (reaction time, four-wheel drive and leaving under boost) to the table. The twist is that these 150 to 200-foot sprints take place in the dirt, and oftentimes on the same tracks used for truck pulls. From May through October, dirt drags are hosted throughout the Midwest and upper South.
Part of the dirt drag appeal is that, like traditional drag racing, the cost of entry is cheap. Simply bring your truck (no matter the power level), enter it in the appropriate class and have some fun. One organization, KOI Drag Racing, makes it easy to get involved. They bring the Christmas tree and the timing system, conduct the qualifying and ladder programs, log the results, work with fairgrounds and event promoters to pull everything off and they don't even require a membership from competitors. Over the past decade, we've watched this sport swell in popularity and the folks at KOI Drag Racing have capitalized on it. Below, we're exploring what one of this organization's events is like.
The Track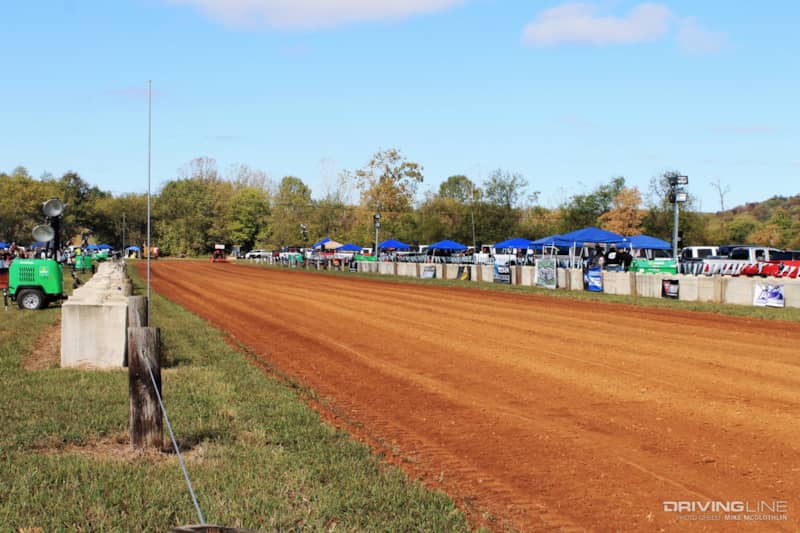 Most KOI Drag Racing tracks are the same ones used to host truck pulls, but instead of spanning approximately 300 feet, the dirt drags typically consume 150 or 200 feet. The majority of the organization's dirt drags are held at county fairgrounds, with events taking place in Indiana, Kentucky, Ohio, Michigan and Pennsylvania. In addition to its diesel truck classes, the folks at KOI Drag Racing also offer categories of competition for gas trucks, buggies, ATV's, side-by-sides and even semi-trucks.
The Tree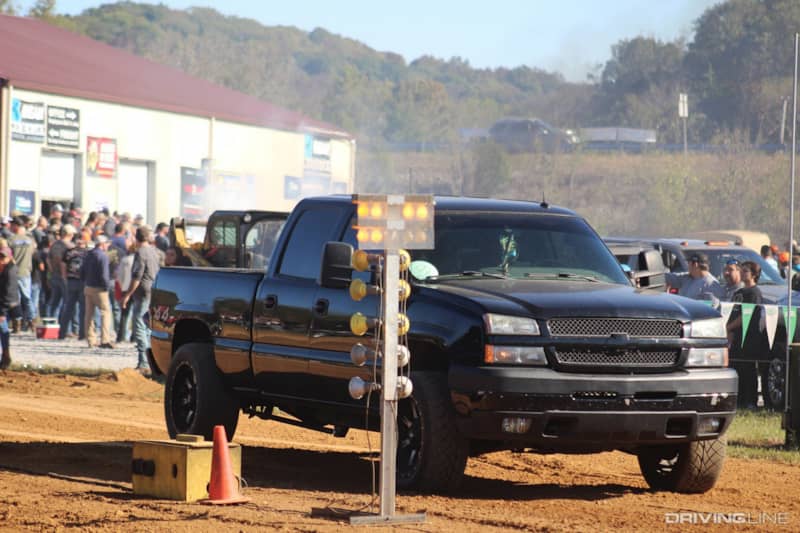 For proven accuracy and consistency, KOI Drag Racing uses a Portatree timing system. This includes a full Christmas tree, all necessary sensors and the ability to see red lights, reaction times, elapsed times and the win light. If you've drag raced at your local drag strip's test 'n tune, you'll feel right at home using this tree. If you haven't, you'll get used to it quickly, hence one of many reasons why so many newcomers are trying their hand at dirt drags these days.
Winning at the Tree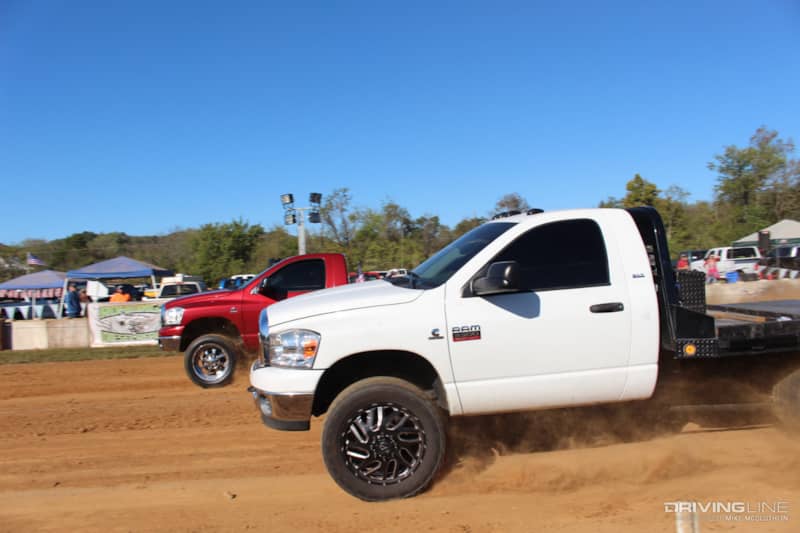 Reaction time is everything in the dirt drag game. A truck that's down on power versus the competitor in the other lane could still take the win should that neighbor fall asleep at the tree. With a track that spans just a couple hundred feet, there isn't much time to make up ground if you botch the start. It's all over with in a matter of seconds.
Varying Racing Conditions Help Level the Playing Field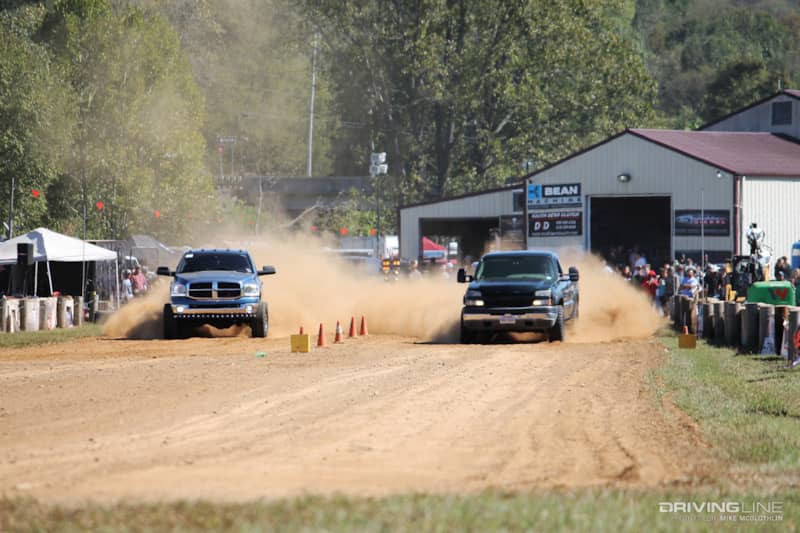 The one variable that always keeps things interesting is the fact that the races are conducted on dirt. That means everything from loose tracks, hard-packed racing surfaces and everything in between can be seen at any given event. Depending on the specific track, the soil available, the time of day and the prep work performed, competitors face a variety of different tracks while following the KOI Drag Racing circuit. On looser tracks, horsepower may actually cost you the race if too much is applied and you break traction. On hard-packed, clay-type tracks, big horsepower tends to shine.
Work Stock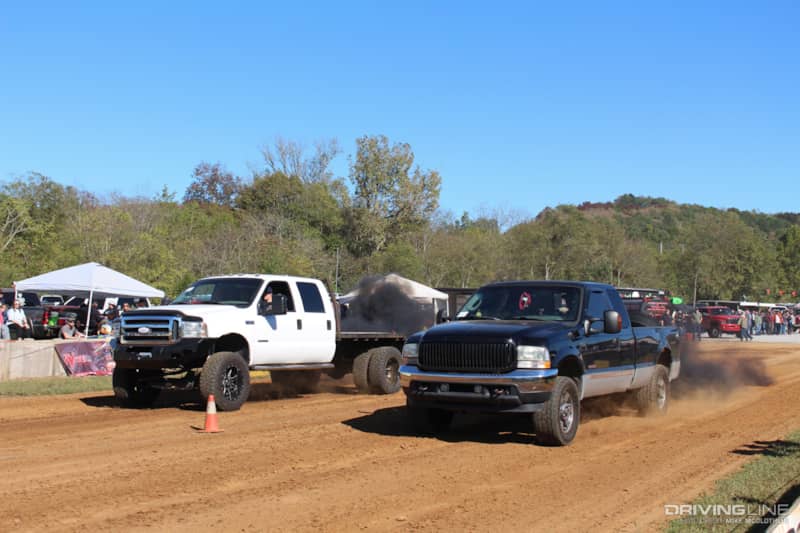 In the entry-level, Work Stock diesel truck class, a stock-appearing turbo is a requirement. This rule means that most trucks are limited to the 500 to 550hp range (at the wheels), although we're sure some are squeezing closer to 600 ponies out of a factory turbocharger. The Work Stock category also mandates that the engine matches the make of the truck it's in, which means no Cummins swaps. Additionally, trucks in this class must have a full body (flat beds are OK), no gutting of the interior (full dash and all seats) and be registered. Last but not least, DOT tires are required, with Nitto's Terra Grappler G2 and Ridge Grappler seeing success.
Hot Street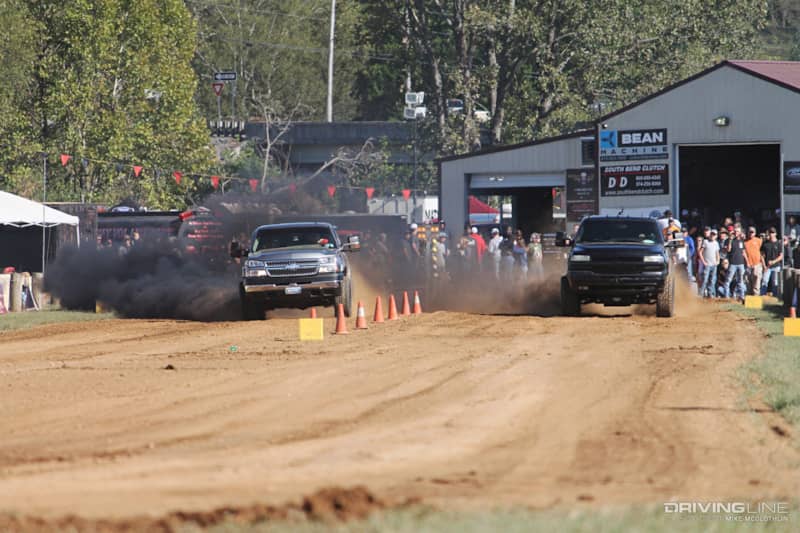 Higher horsepower street trucks with items such as compound turbo systems, dual CP3's and even fuel cells find themselves delegated to the Hot Street class. Here, a 3.95-second breakout time applies on a 200-foot track (vs. 4.3 seconds in Work Stock) before you're sent to the Mod class. Like Work Stock, trucks running Hot Street must have a full body and interior, along with the engine matching the make of the truck (Duramax in a GM, Cummins in a Ram and Power Stroke in a Ford). No nitrous or other injectable (such as water injection) is allowed.
The Nastiest Daily's Around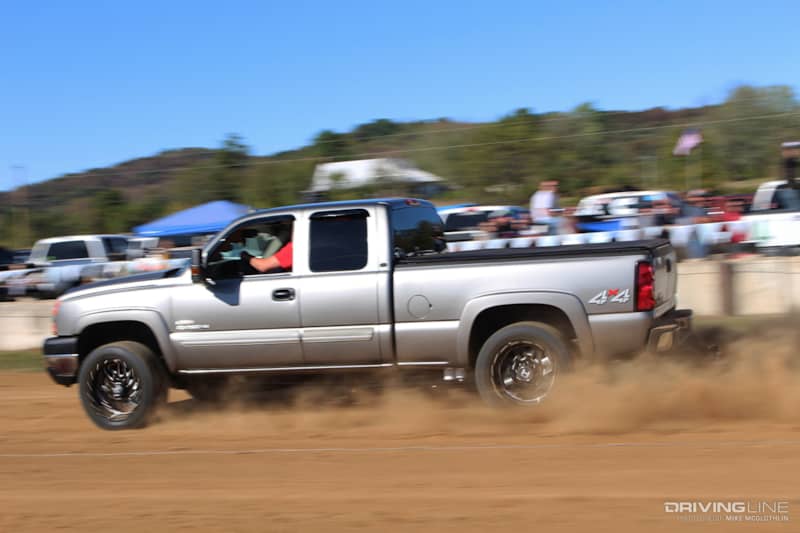 In the Hot Street class, you'll find heavy hitters like this LB7 Duramax-powered Chevrolet Silverado 2500 running at the top of the heap. Owned by Dustin McCandless, the classic body Chevy sports a built engine, a 14mm CP3 that supports 150-percent over injectors and an overall package that makes 1,100 hp.
Mod Class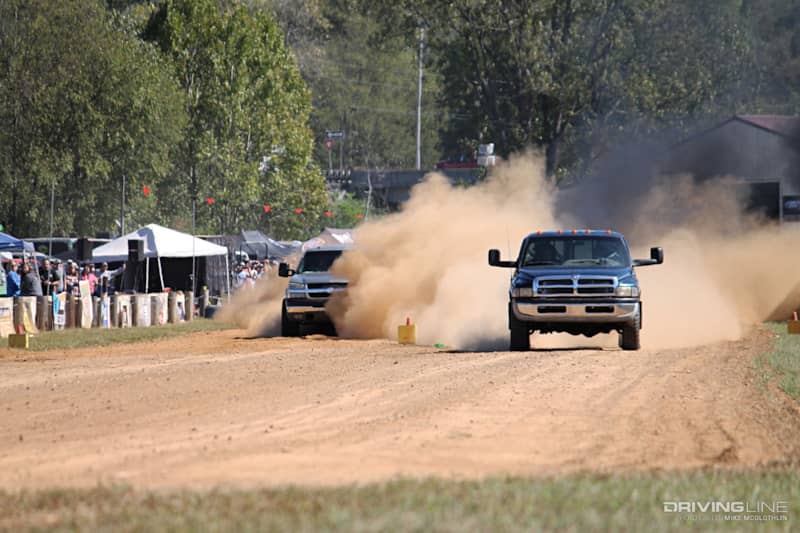 The Mod class headlines the diesel-related action at any KOI Drag Racing event. Trucks that compete here are capable of turning out 3.5-second sprints to the 200-foot mark. Unlike Work Stock and Hot Street, engine swaps are allowed, as is any size turbo and nitrous oxide. One of the quickest rides in this class belongs to Wes Cavinder. His '96 Dodge Ram 2500 is known for blasting out of the hole and mid-3-second E.T.'s thanks to the potent 12-valve Cummins under the hood.
Tie Rod Rules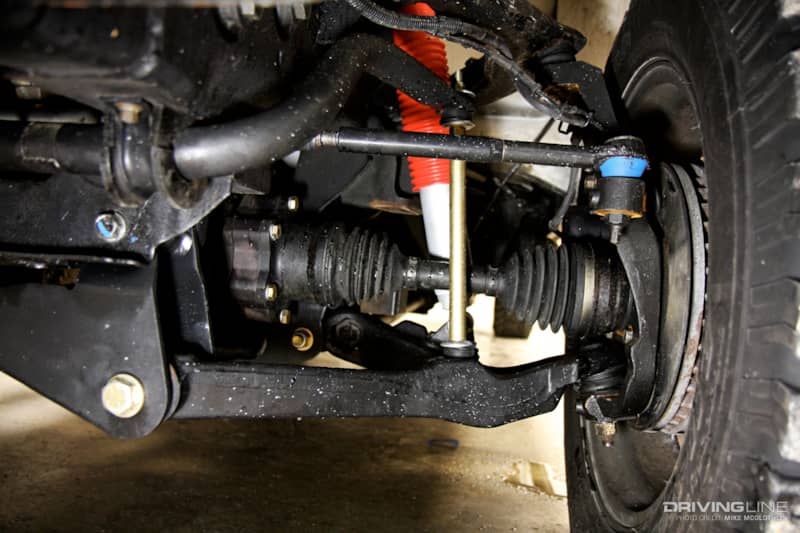 With the tie rods being such a well-document point of weakness on '01-present GM's, KOI Drag Racing rules strongly encourage tie rod sleeves or upgraded tie rod assemblies for both the Work Stock and Hot Street classes. However, for the Mod field, they are mandatory. Luckily, addressing the tie rods is the first step most Duramax owners take when adding power.
A Winning Combination: Aired-Down Tires & IFS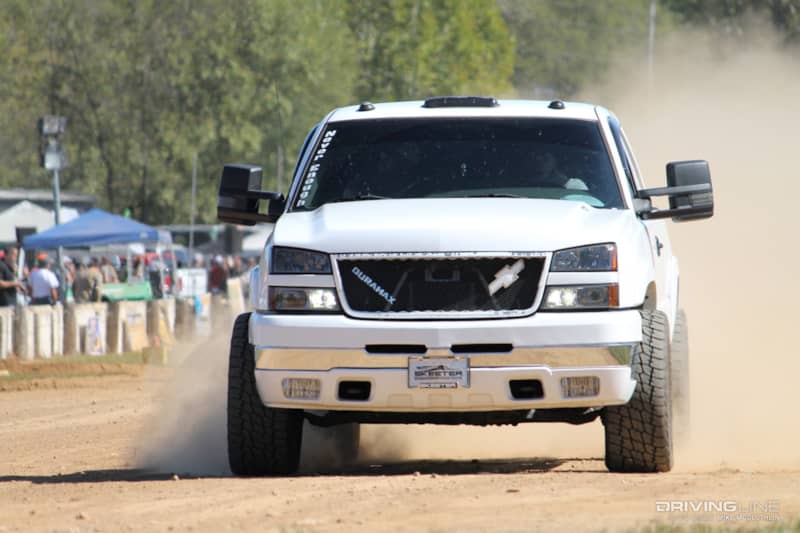 Also akin to conventional drag racing, many competitors air down for a wider foot print. Most find the sweet spot somewhere between 20 to 35 psi of air pressure, with track conditions also playing into some driver's plans for maximizing traction. Provided the factory tie rods have been reinforced or upgraded (as mentioned above), IFS-equipped Chevy's and GMC's tend to shine in dirt drag competition. The fact that the pre-2011 versions of these trucks are significantly lighter than the competition (i.e. Ford and Ram) doesn't hurt matters either.
No Problems with Spectator Turnout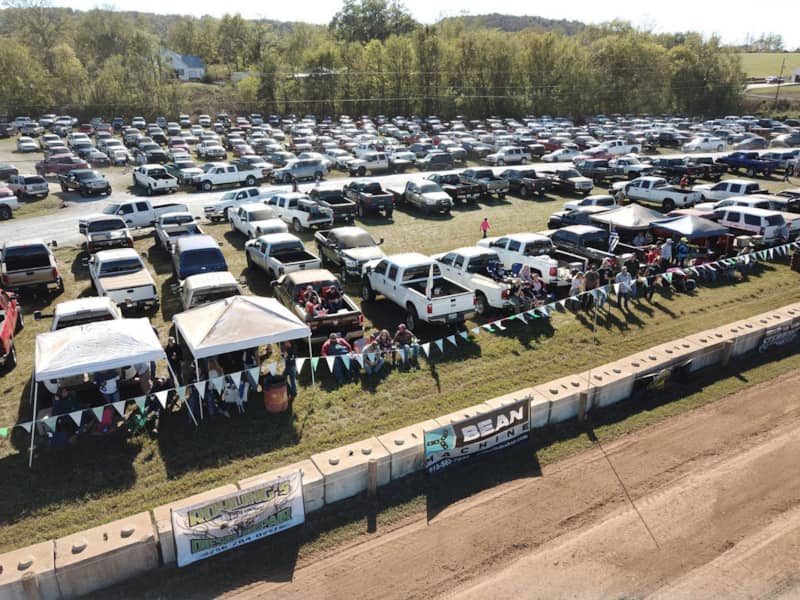 As you can see, there is no shortage of spectators interested in watching this emerging sport. The atmosphere at dirt drags is generally laid back and reminiscent of the crowds that gather for small town truck pulls. In this case, both events are taking place. At the 2019 Blackout in the Country event put on by Bean's Diesel Performance, a nighttime sled pull is preceded by afternoon dirt drags.
Truck pulling more your thing? Here's a list of everything you need to do before you go toe-to-toe with the iron sled.