Speed and Skill: Drag Racing From the 2018 Scheid Diesel Extravaganza
In case you didn't know, the truck pulls aren't the only major draw for the Scheid Diesel Extravaganza. Thanks to the drag race portion of the show being sanctioned by the Outlaw Diesel Super Series (ODSS), the heaviest hitters in the nation descend upon Terre Haute, Indiana every year, too. For two full days (Saturday and Sunday), the best drivers and the fastest vehicles in the world of diesel drag racing take to the eighth-mile track at Crossroads Dragway. Positioned just 800 feet from the truck pulls (the way the crow flies), it's a hop, skip and a jump that thousands of spectators are willing to make to see the best of the best going head-to-head in the August heat.
With everything from daily driven, E.T. Bracket trucks to 2,500hp rails, a little bit of everything was on tap for the fans that made it over to Crossroads Dragway. Not only were four, five and six-second eighth-miles common at this year's show, but the Index and bracket classes yielded some of the closest races we've seen to date. On top of that, we learned that several Index rigs are capable of going way quicker than their dial-ins—especially in the relatively new 5.90 Index category. The growing Pro Mod field and the crowd-favorite Pro Street class didn't disappoint, either, with wheels-up two-wheel drives and 2,000hp 4x4s battling it out all weekend.
To find out who brought their A-game to one of the nation's biggest diesel drag races, keep reading.
Pro Street First Place: "Old Hustle New Flow" Does It Again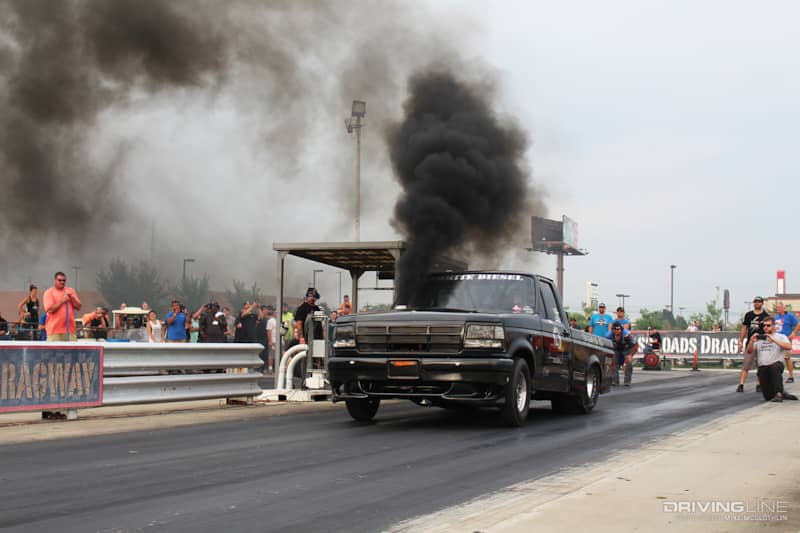 In what has become all but his normal routine, Dustin Jackson made winning the heads-up Pro Street class look easy. His Cummins-powered, first-gen F-150 Lightning (coined "Old Hustle New Flow") is notorious for its hard, wheels-up launches, its 1.2-second 60-foots and its subsequent five-second elapsed times. Things were no different at the Scheid Diesel Extravaganza, as Jackson took his third win in a row and now sits comfortably atop the ODSS Pro Street points chase.
Stupid-Fast Silverado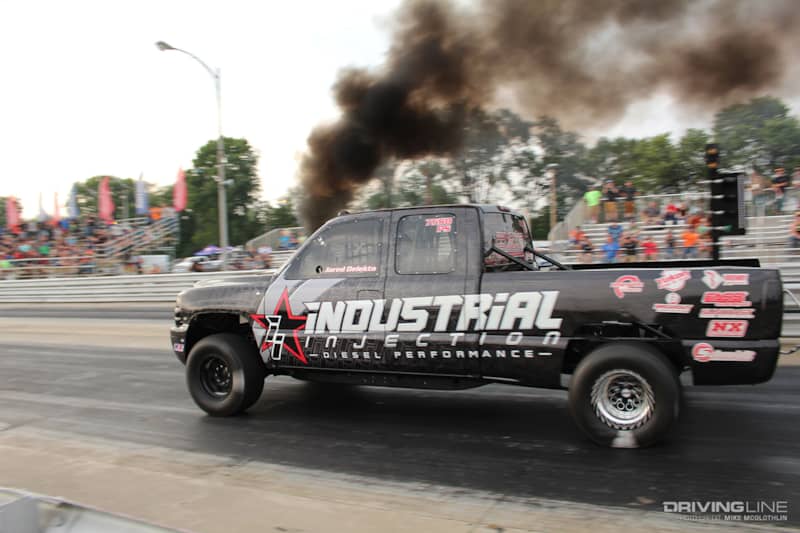 Now sporting a big Garrett single in place of the previous two-into-one triple turbo arrangement, we were curious to find out how Industrial Injection's Cummins-powered '01 Silverado (i.e. "Demaxed") ran on its new setup. Short answer: the same. It's still a 5,400-pound four-wheel drive truck that kicks butt and takes names in Pro Street. After putting up consistent 5.40s (even after roasting off the front slicks in round one of eliminations), driver Jared Delekta found himself side-by-side with Dustin Jackson in the Pro Street final. He ended up second on the weekend but catapulted himself into the number five spot in the ODSS season standings. For reference, this is the same truck that went 8.07 in the quarter-mile (at an insane 180 mph) at U.C.C. 2018.
Pioneering Parts: Trans-Braked TH400 in a 4x4 Truck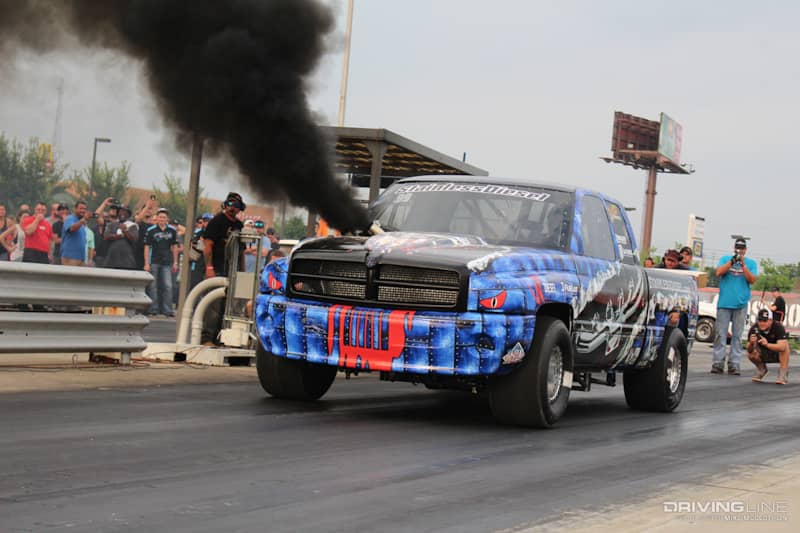 With diesel competitors having great success using the TH400 transmission in two-wheel drive applications, it was only a matter of time before someone tried it with a four-wheel drive. That someone is Johnny Gilbert of Stainless Diesel. Even though he was still testing the new setup, Gilbert managed a 5.44-second pass at Scheid (without locking the converter) and took third in Pro Street in the process. The Trans-braked, Wilson Patterson Diesel-built TH400/Sun Coast converter setup might just be a game-changer for the Stainless Diesel crew and could have Gilbert knocking on the door of bottom 5's by the end of the season.
Pro Mod First Place: Larson Miller and Team Firepunk Cruise to Victory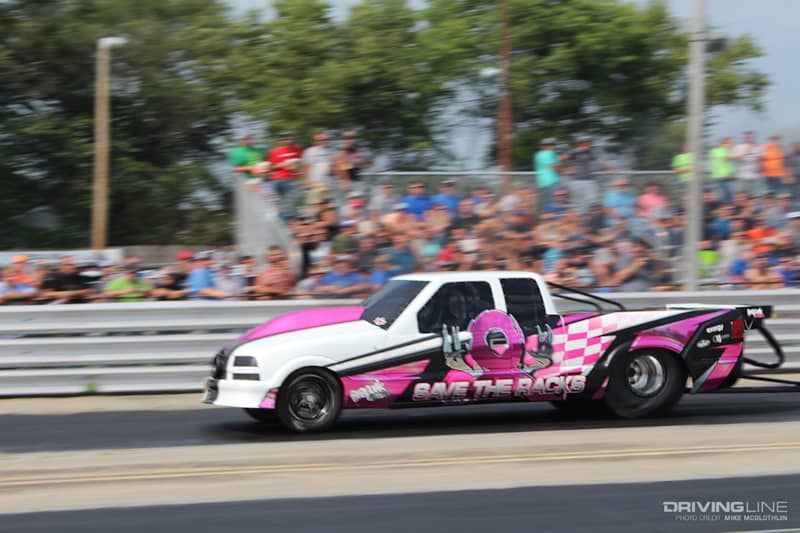 After watching Larson Miller click off repeat 4.7-second performances at the Scheid Diesel Extravaganza, we'd say he and the folks at Firepunk Diesel finally have the Save the Racks S10 figured out. Competitively speaking, this is potentially devastating news for the rest of the Pro Mod field, as once team Firepunk lines out a chassis, endless W's tend to follow. In the Pro Mod finals, Miller piloted the single turbo, D&J Precision Machine Cummins-powered Chevy to a 4.76 at 154 mph for the win over Steve Royalty.
Climate Change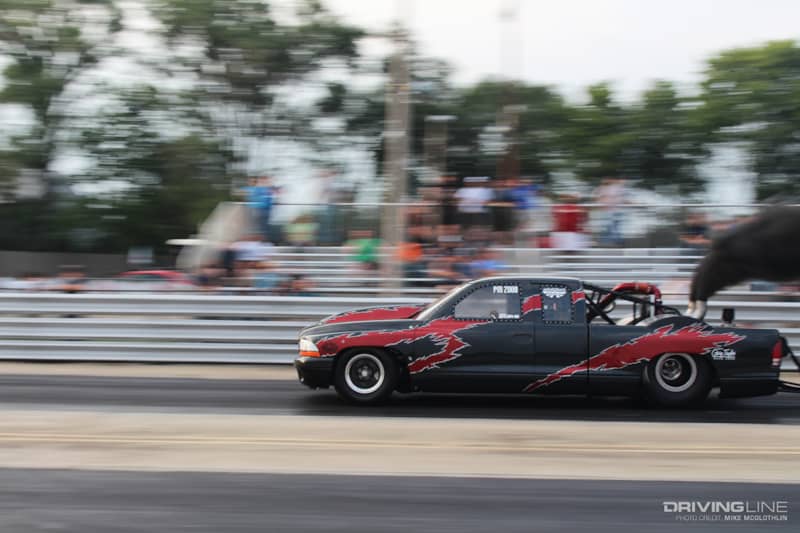 This was the first time we'd seen the triple-turbo, Cummins-powered Dodge Dakota driven by Steve Royalty in person, and it didn't disappoint. Representing Warren County Diesel Service of Franklin, Ohio, the P-pumped 12-valve is rumored to produce more than 150 psi of boost at full tilt, and it ran consistent enough at the Extravaganza to take second place in the Pro Mod category. In the image shown above, Royalty and the "Climate Change" Dakota are in the midst of a 5.71-second qualifying run at 125 mph.
Right Back in the Hunt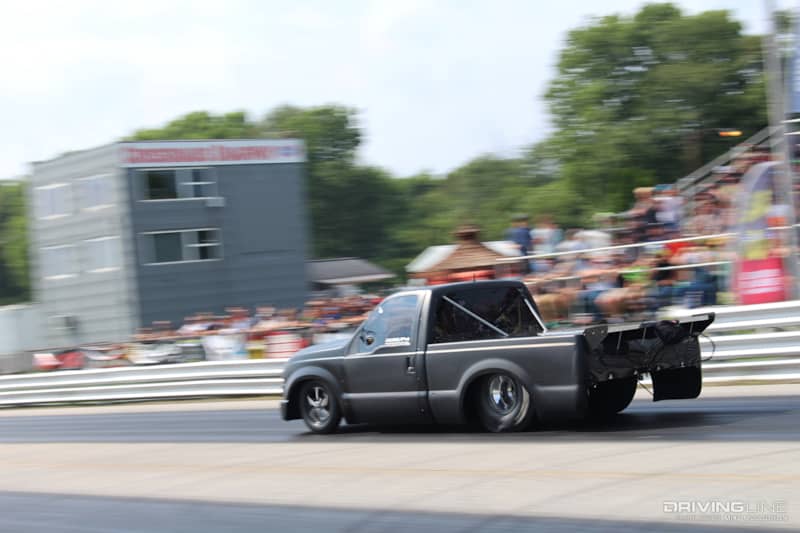 Despite tagging the wall at the Rocky Top Diesel Shootout just four weeks' prior, the Rudy's Performance Parts F-250 was back in action with Rawlings Barnes at the helm. One thing is certain: The brass at Rudy's are committed to campaigning their 6.4L Power Stroke in diesel's second-fastest category (Pro Mod). Not even the substantial damage sustained at RTDS could keep them from chasing the points championship. A few days before the Extravaganza, the truck nabbed a couple 4.70s during testing. At Scheid's, Barnes ran a 5.02 during qualifying and ended up taking third overall.
Ironing Out Issues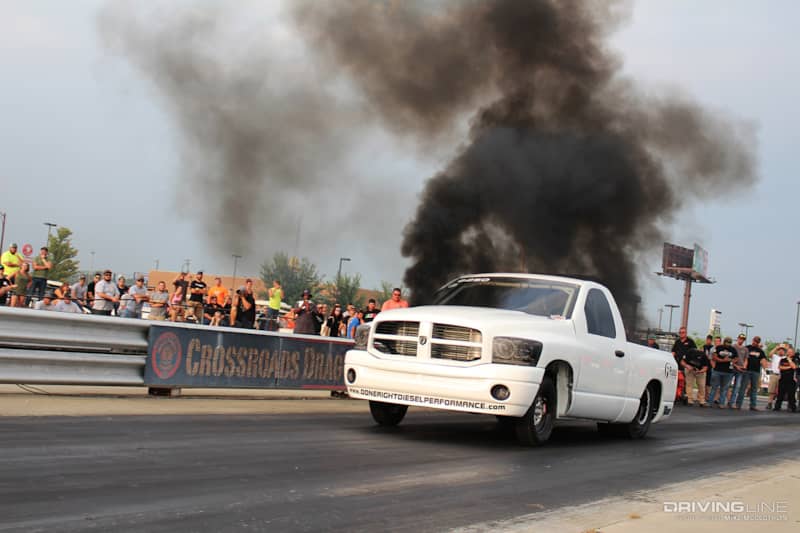 Unfortunately for Pro Mod points leader Ben Shadday, hard luck plagued him and his '06 Dodge Ram most of the weekend. After stepping up to a larger, 4.3-inch single turbo, the truck wasn't quite itself at the Extravaganza, going 5.62 vs. Firepunk Diesel's 4.72 in the first round of eliminations. However, you are looking at the Pro Mod record holder for both E.T. (4.712) and speed (155.33 mph), so don't be surprised if Shadday has things ironed out by the next race on the ODSS circuit. In fact, we think it's only a matter of time before he and this highly-capable truck begin to dig deeper into mid-four-second territory.
Pro Dragster First Place: Wade Moody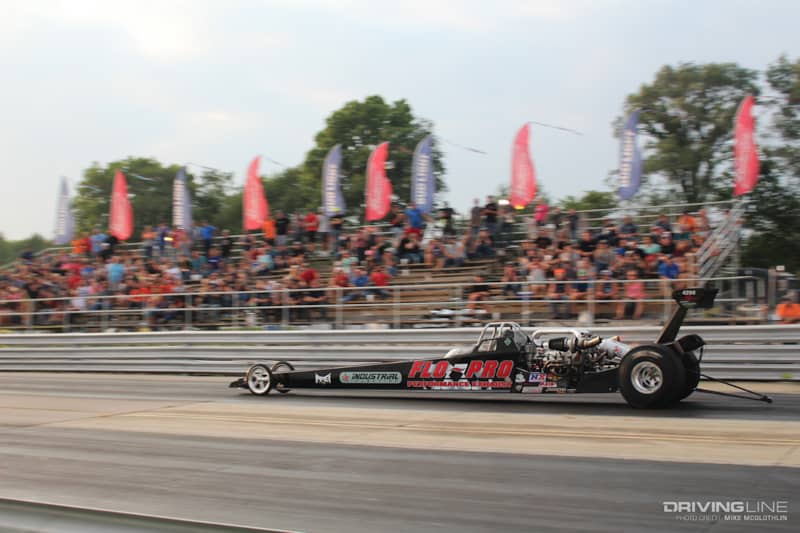 Although a Cummins laid claim to nearly every drag racing category at the 2018 Scheid Diesel Extravaganza, the fastest vehicle at this year's show proved to be Wade Moody's twin-turbo'd, Duramax-powered, '05 Spitzer chassis'd rail. Despite making a 4.22-second pass at 174 mph in which his parachute failed to deploy, Moody remained unfazed and consistent throughout the weekend. Pitted against Jared Jones and the Scheid Diesel rail in the Pro Dragster final, Moody took the win with a 4.22 at 176 mph vs. Jones' 4.68 at 144 mph.
5.90 Index First Place: Rick Fox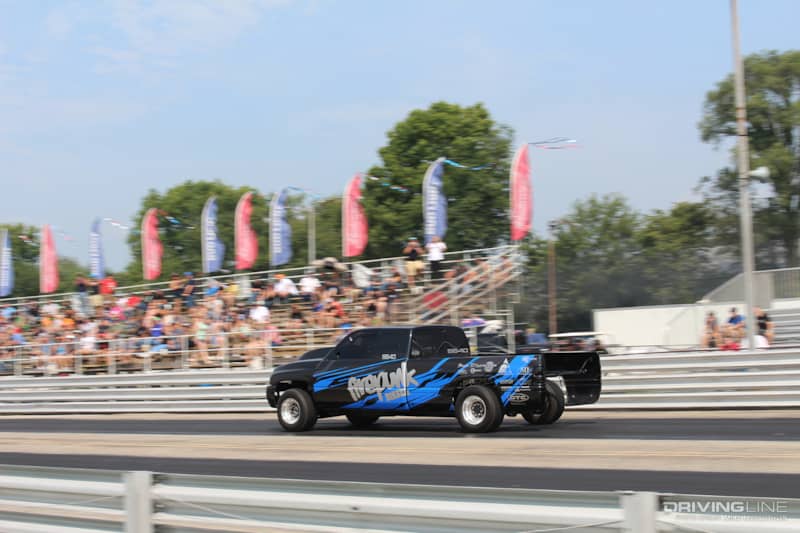 Rick Fox proved unbeatable for the second event in a row in the Outlaw 5.90 Index class. His common-rail Cummins-powered '00 Dodge has been nothing short of rock-solid repeatable since making the extensive switch from 6.70 to 5.90—and he has a 25-point lead to show for it in ODSS standings. Having earned the number one qualifier spot, Fox set the cruise on "Win" heading into eliminations and squeaked past runner-up Dallas Wade (with a 5.97 at 109 mph) in the final round.
By a Nose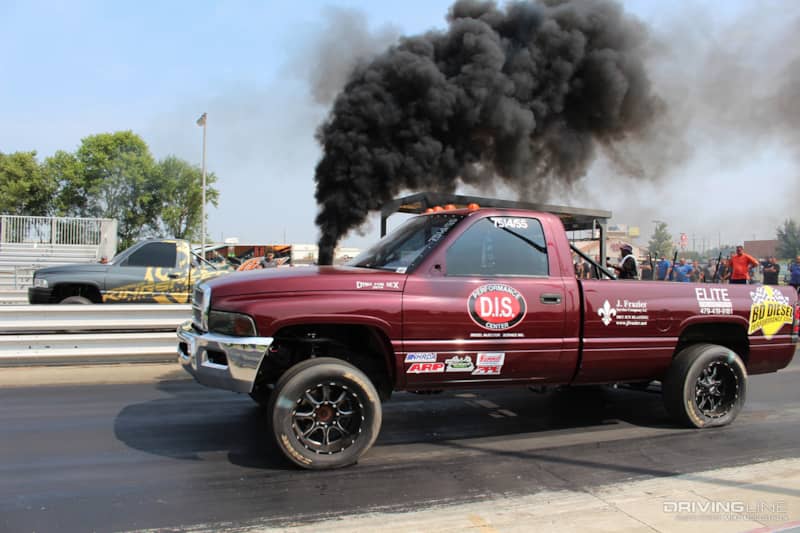 In a close race for the 5.90 Index win, Dallas Wade and his '00 Dodge lost by just 0.03633 seconds. While we're sure he would've preferred to get the win, it was a pretty good outcome for Wade's first ODSS race—especially when you consider the company he was in. To nab second place, Wade had to directly or indirectly beat the likes of two-time Ultimate Callout Challenge runner-up Derek Rose, a hard-charging Josh Scruggs, Seth Higgins and Austin Doidge.
6.70 Index First Place (Sunday): Art Maupin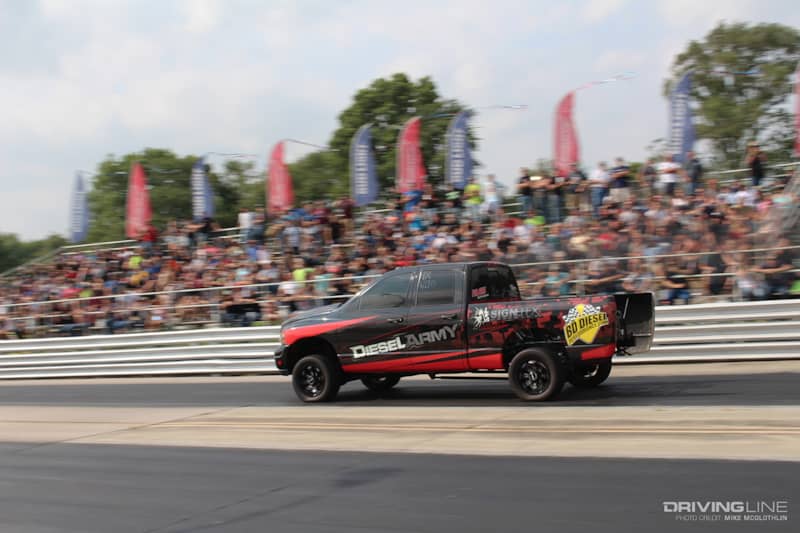 It's no secret that the ODSS circuit has prompted some of the major players in diesel-related media to get more involved in the racing scene. For example, Diesel World sponsored the far lane at Crossroads Dragway, Diesel Power sponsors the series' 7.70 Index class and Diesel Army's Art Maupin even campaigns his own truck. Turns out, Maupin is a lights-out drag racer. After making the quarterfinals on Saturday, he picked up the win at Scheid on Sunday and, in addition to a win at the TS Performance Shootout back in June, is now working with a 20-point cushion in 6.70 Index heading into the final two ODSS races of 2018.
The Scheid Diesel Extravaganza is about more than just racing. We made a list of our favorite parts and builds from the show!