Durango Hellcat, Charger Redeye & Challenger Super Stock: Dodge Triples Down on Muscle for 2021
As the Fourth of July holiday weekend approaches, it's not surprising that Dodge has decided to announce its 2021 performance lineup, which comes packed with All-American Hemi muscle.
Dodge revealed three new additions to the lineup for 2021 based on the Challenger, Charger and Durango SUV—each of them squeezing out additional horsepower and adding new performance tricks.
2021 Dodge Charger SRT Hellcat Redeye
Let's start with the Charger. After going widebody for the 2020 Charger Hellcat, Dodge has now applied the Redeye treatment to its four-door muscle sedan for 2021.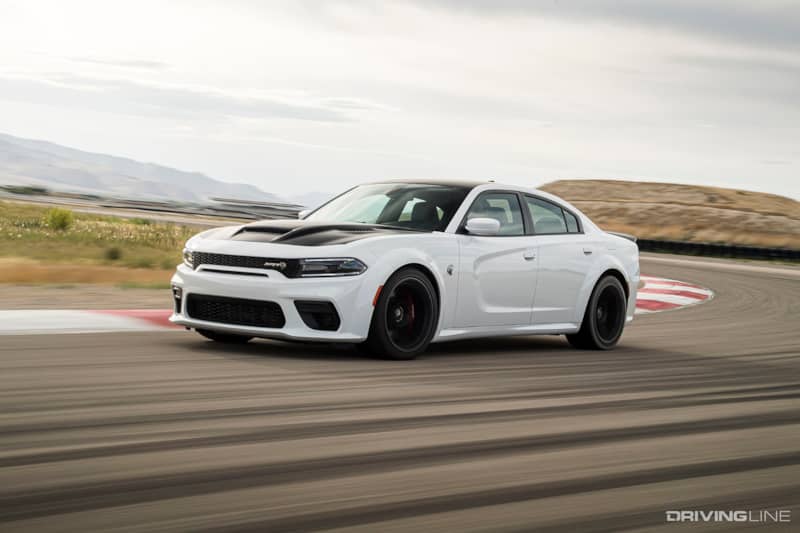 As with its Challenger counterpart, the SRT Charger Hellcat Redeye gets a horsepower boost up to 797 horsepower from its 6.2 liter superchargeed V8.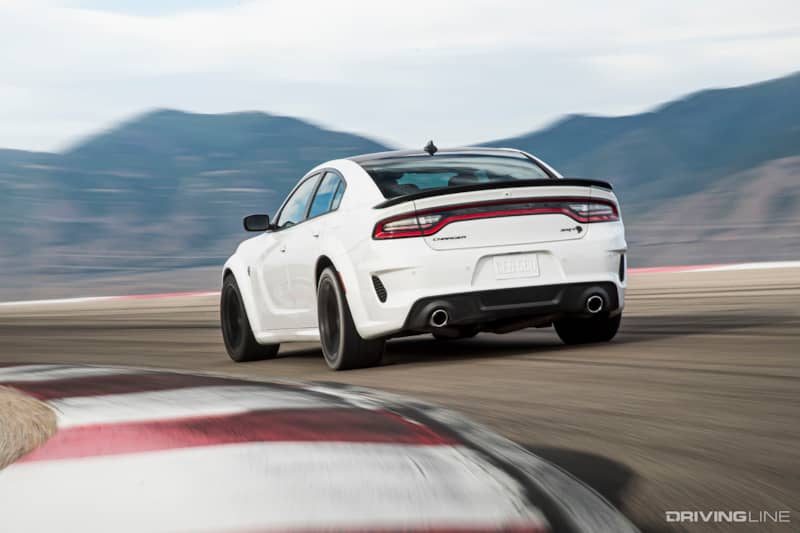 That's enough for Dodge to call the Charger Redeye the "world's fastest mass-produced sedan" thanks a a top speed of 203 miles per hour.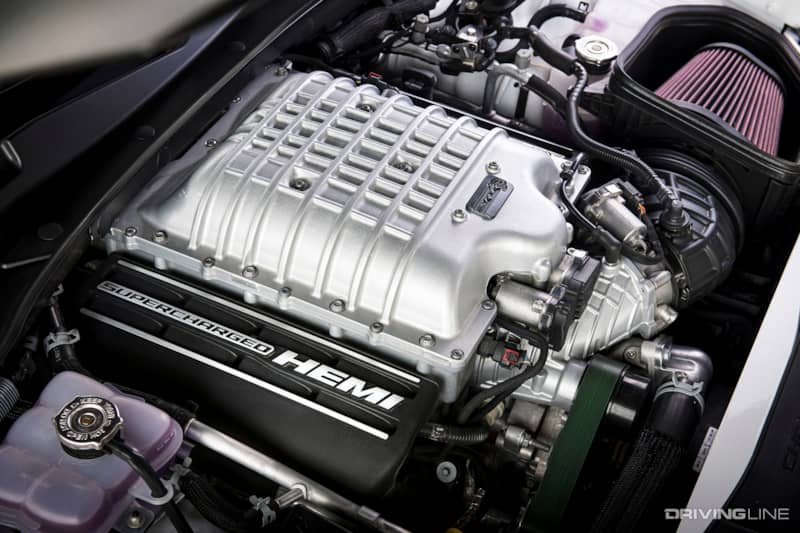 The Quarter mile time meanwhile comes in at 10.6 at 129 miles per hour.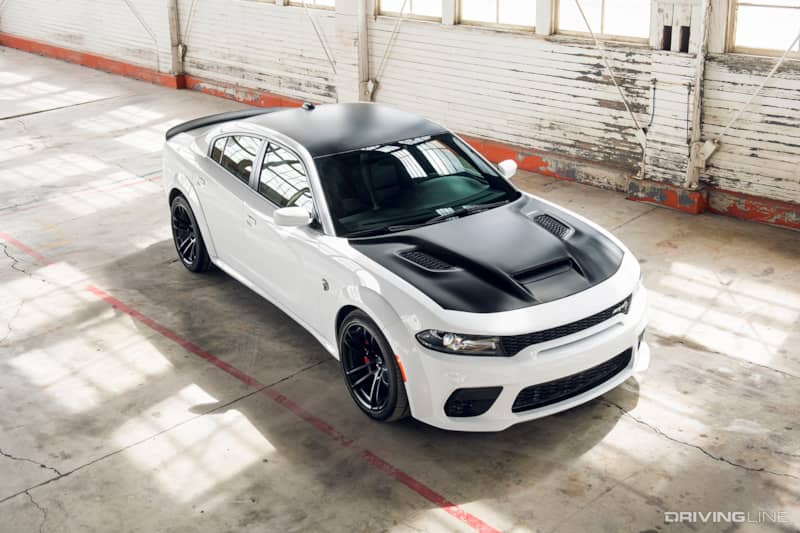 2021 Dodge Challenger SRT Hellcat Super Stock
Over on the Challenger side, a new drag-focused model called the SRT Hellcat Super Stock joins the lineup for 2021.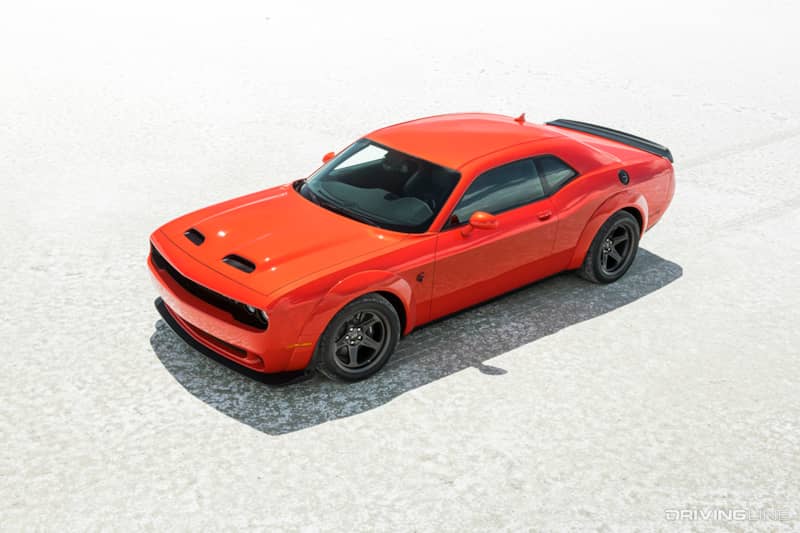 It brings to the table many of the same tricks we saw on the limited production Demon a couple years back.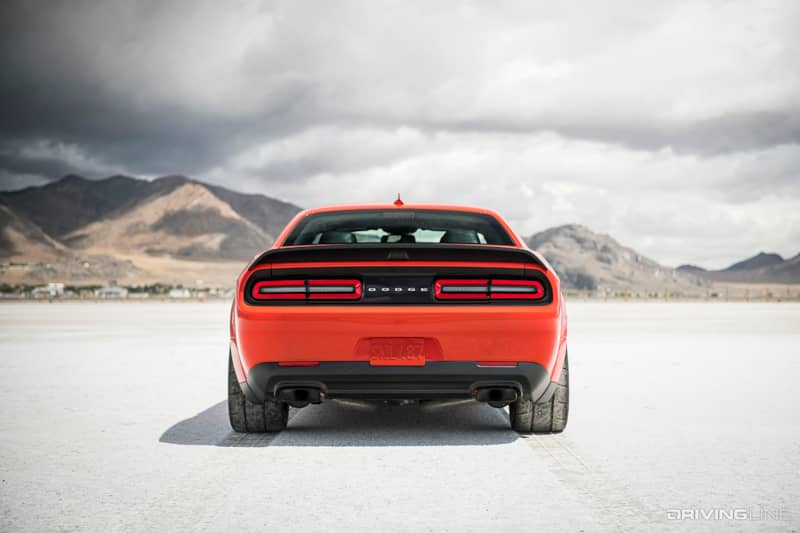 A special engine tune raises the output of the blown Hemi to 807 horsepower—a ten horse improvement over the Challenger Redeye. Torque comes in at 797 pound feet.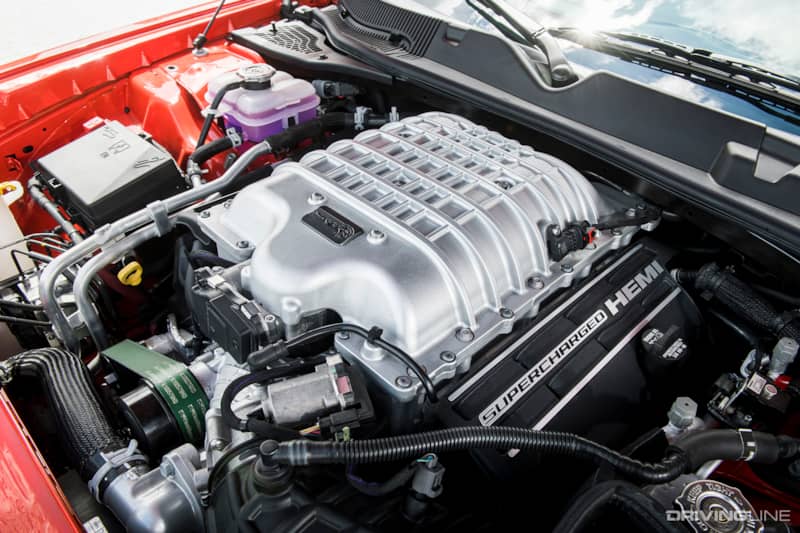 Much more important is the vastly improved drag strip traction provided by a set of 315/40R18 Nitto NT05R D.O.T. approved drag radials mounted on lightweight 18" wheels, plus maximum performance Nitto NT05 tires in the front for better handling in the corners.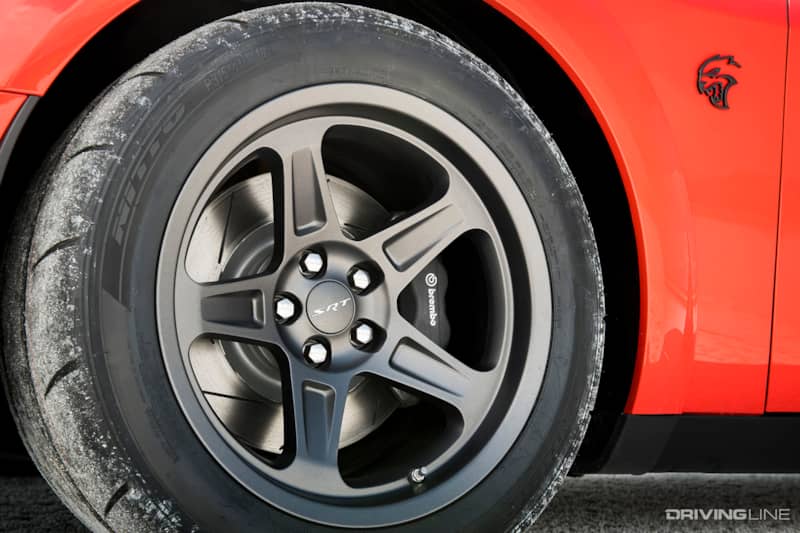 Along with a few other tweaks aimed at the drag racing set, Dodge claims the Hellcat Super Stock will do 0-60 in 3.25 seconds and run the quarter mile in 10.5 seconds at 131 miles per hour.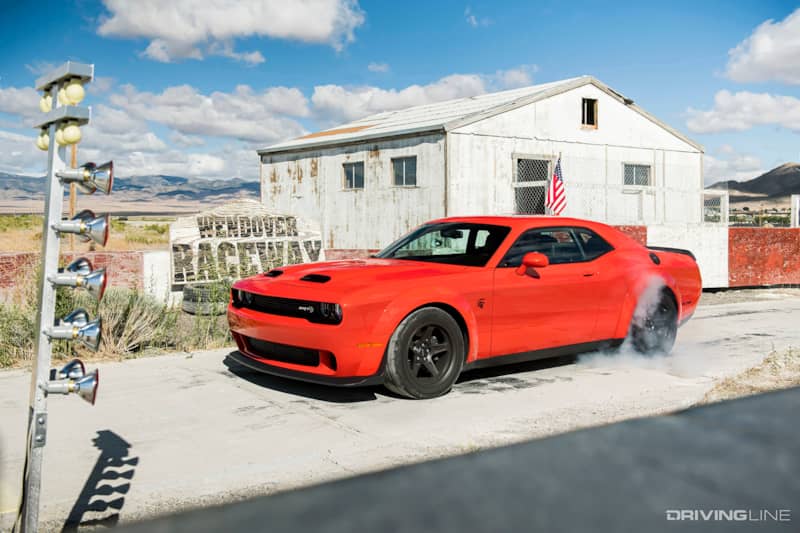 2021 Dodge Durango Hellcat
Perhaps the most exciting vehicle announcement though is the 2021 Dodge Durango SRT Hellcat.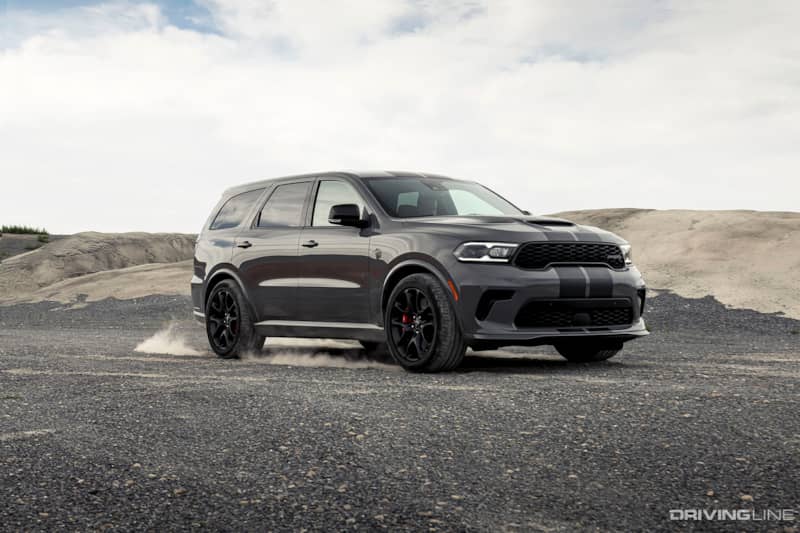 As its name suggests, Dodge has finally dropped the Hellcat engine into its three-row Durango SUV, using a very similar formula to Jeep's Grand Cherokee Trackhawk.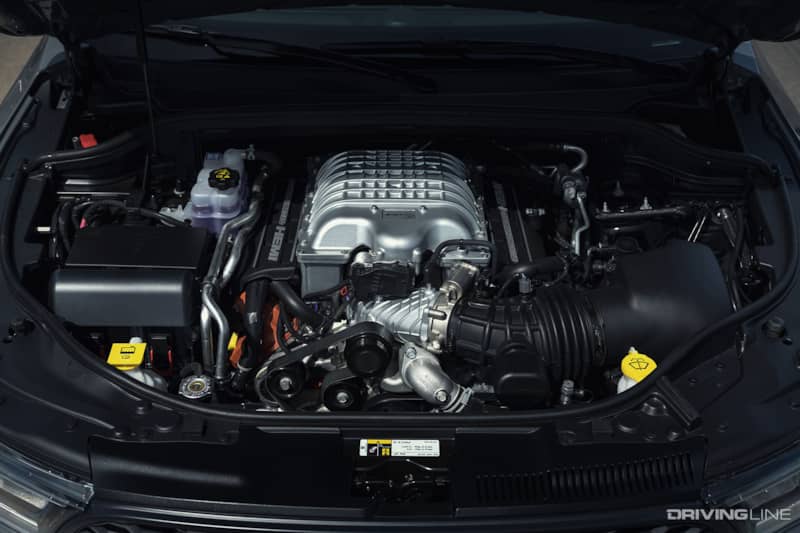 The Durango Hellcat makes 710 hp and when propelled by its standard AWD system, it can do 0-60 in 3.5 seconds and run the quarter mile in 11.5 seconds.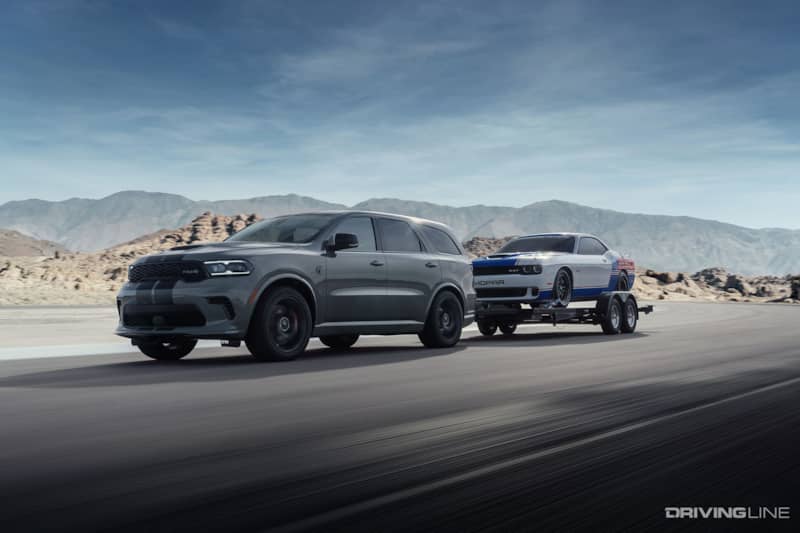 The addition of the Hellcat model comes amid a 2021 refresh for the whole Durango line which includes a new fascia with a heavy Charger influence and a new driver-centric dashboard layout, along with the latest in Dodge's infotainment features.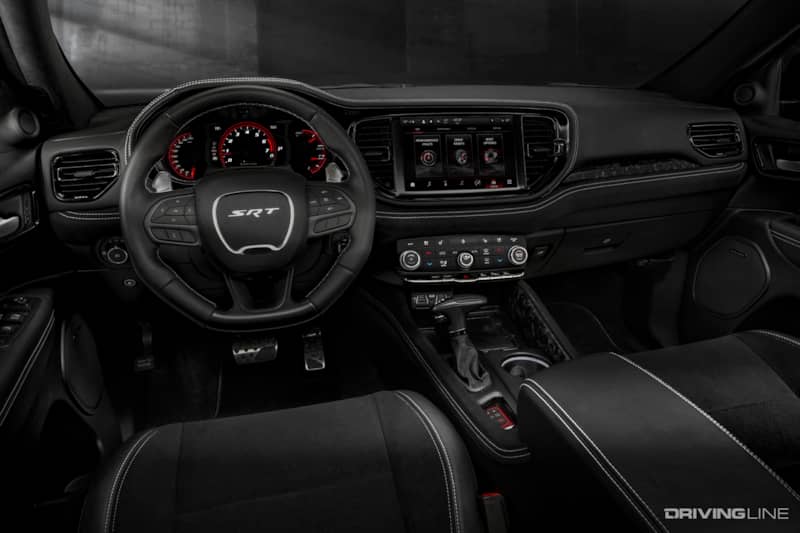 Dodge says the Durango Hellcat is going to be a one-year only offering, meaning that if you've ever wanted a three row SUV with over 700 hp now might be the time to get one.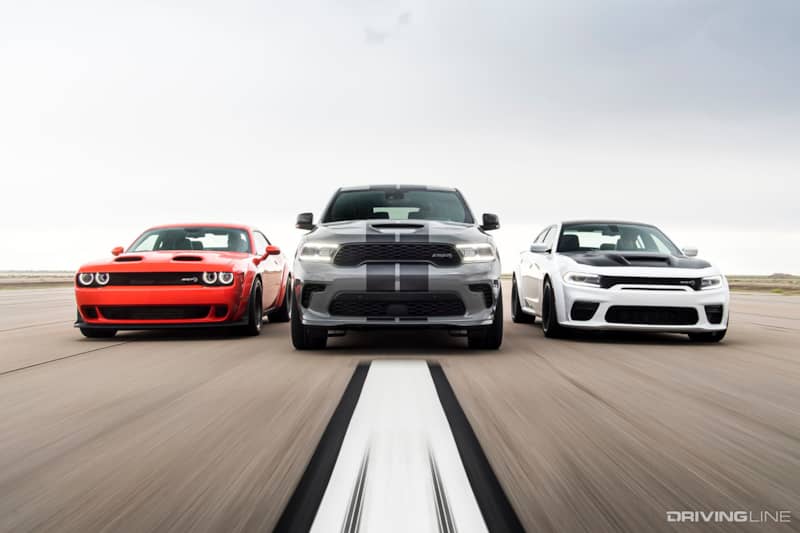 With all three of these vehicle platforms getting up there in age, its great to see that gearheads at Dodge and SRT working to keep them fresh continually pushing the envelope when it comes to performance. What could be more American than that?
Click here to see our comparison between the new Chevy C8 Corvette vs the Dodge Challenger Hellcat.