EcoFlow Delta Mini Portable Power Station Review
If you have the need for power when you are far off the grid, you may find yourself searching out portable power stations as we did. For us, our power demands were not extreme. We primarily needed something that could power our fridge and camping accessories along with recharge our camera gear overnight. In this article, we are diving into a product that we've found extremely helpful- the Delta Mini from EcoFlow. It's a compact charging station that easily fits behind the seat of your truck or Jeep.
We picked it up a few months ago and immediately put it to use. Here, we'll cover how it works, what makes it unique, and some important things to consider if you are thinking about using this as your new overland power station.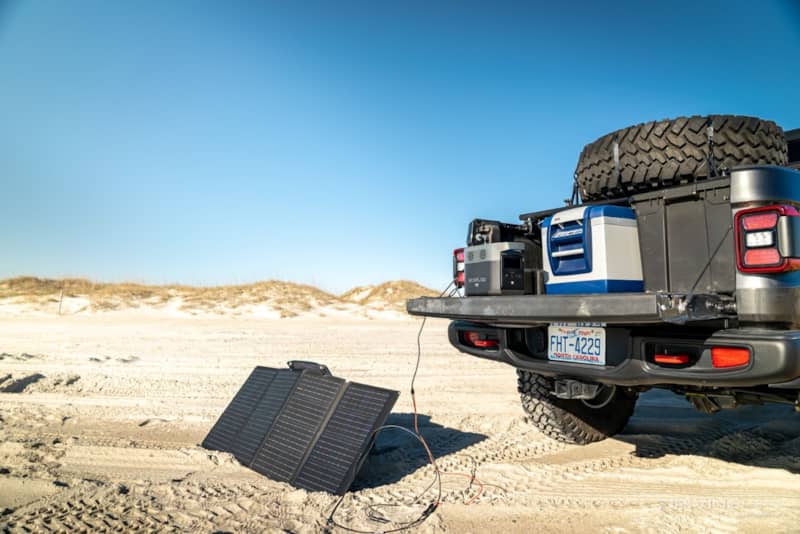 Just A Little Guy
The Delta Mini is extremely compact, but surprisingly powerful. It's capable of 882-watt hours and can handle a consistent draw of 1400 watts. This makes it powerful enough to run just about any electric appliance in your house. For what we use it for, we rarely come close to its peak output even with multiple devices drawing power. Given that it weighs just under 24 pounds, and has two grab handles, we've found it extremely easy to not only haul around, but strap safely in place.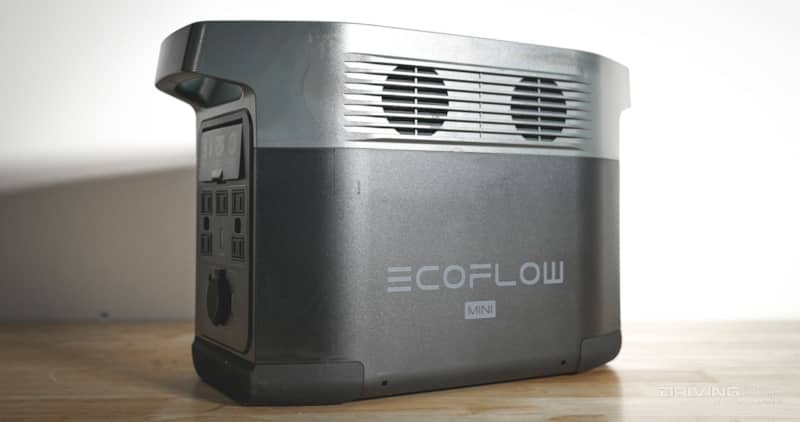 Port City
The unit comes with a 100-watt USB-C port and three additional USB-A outlets at the front. Out back, it has five A/C ports and a single car-adaptor port. The big thing to be aware of here is that the outlets are spaced tightly together, so you need to plan ahead to ensure all of your power cords can fit without blocking others. Some SLR camera battery charging blocks are fairly large, so you may need a small extension cord or aftermarket charger to get all of your devices you need power.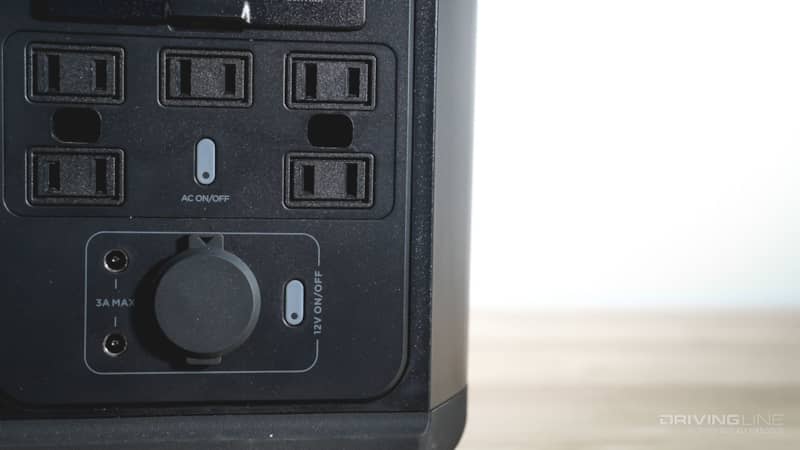 Charging Options
You have three ways to recharge the Delta Mini. By far the fastest is using the AC cord, which allows up to 900 watts to take the lithium-ion batteries from 0 to 100 in less than two hours. Also included are cords for your car's cigarette lighter and one to attach to a solar panel. Using solar or your car's DC cord can take 3 to 8 hours to get the unit fully juiced depending on how drained it is. More on that in a minute.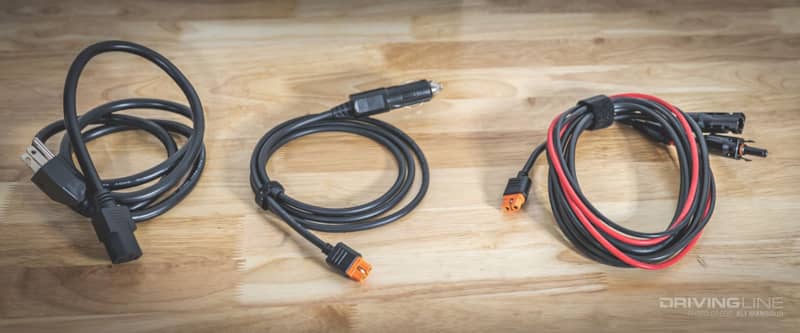 There's An App for That
If you are curious about how much power each port is sending out or want to turn off an individual port without unplugging anything, you can use the EcoFlow app. This app is designed to service all of the EcoFlow power stations and allows you to make changes to the input speed at which the batteries are recharging among other things. Slowing down the input watts will help prolong the life of the batteries.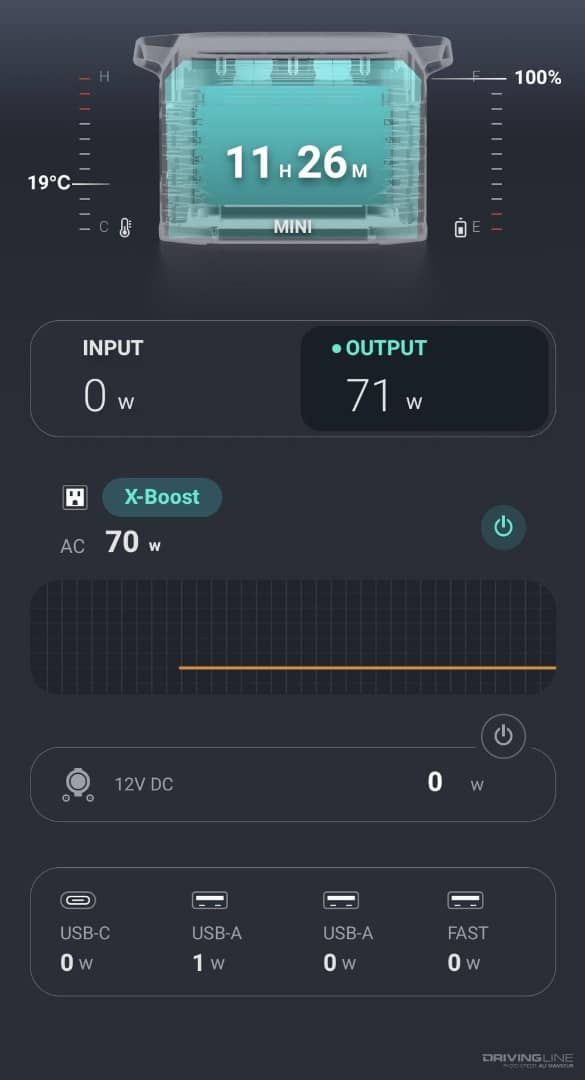 Cool It Down
One of the primary reasons we were looking for a power station was to keep our 37qt ARB Fridge running overnight and on day trips to the beach. Typically, our cooler pulls around 70 watts to reach 32 degrees from room temperature. Once reached, it draws between 1 to 7 watts to maintain temperature. We've found we can get 34 hours of continuous use before the Delta Mini's power is completely depleted. We were hoping for a little more, so we ended up getting a solar panel to supplement the power. More on that next.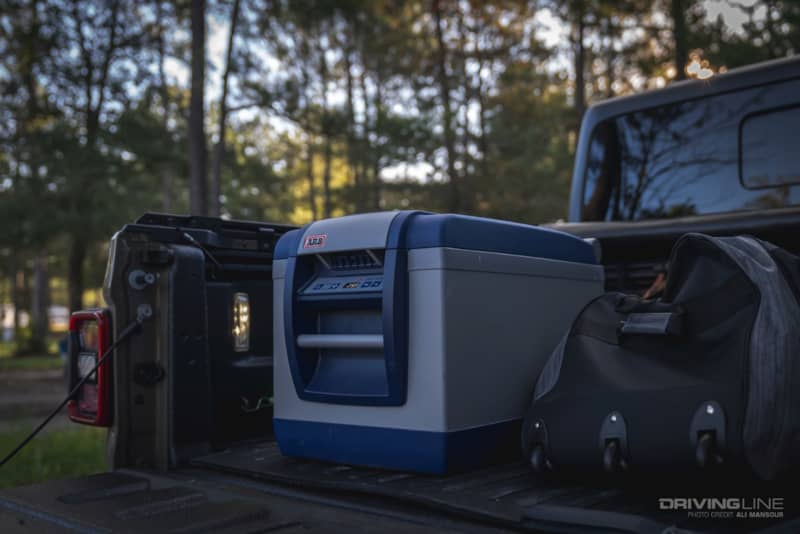 EcoFlow Solar
We initially got the Delta Mini without a solar panel, but found out that for longer camping trips, we were going to need a little more juice. Rather than relying entirely on the car adapter for power, we picked up two 160-watt EcoFlow solar panels. Pairing the two panels together offers the maximum allotted 300 watts to feed into the station. That's the good news. The not so good news is that the panels are pretty sizable once folded out. So, we rarely bring both with us. Thankfully, the single panel generally feeds us more power in that we are pulling down, so we can recharge and continue to use the Delta Mini as we needed. While we do appreciate the carrying case that doubles as a solar stand, we would love it if this single panel was enough to get us those 300 watts.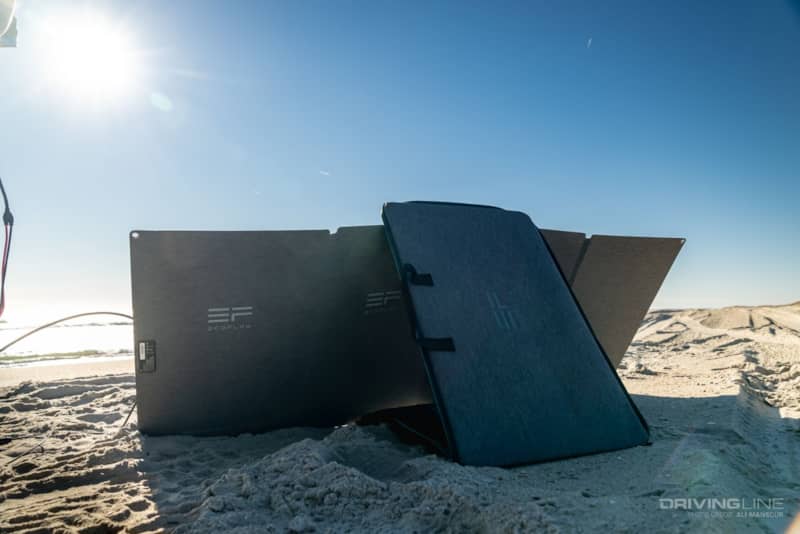 Watch It
One of the nicest features of the Delta Mini is that you can actually view in real time how much power it is using. This not only shows you power going out, but lets you know how much power you are putting back into the machine. The time estimate shown is fairly accurate, so you can quickly plan out if you'll need to recharge the unit.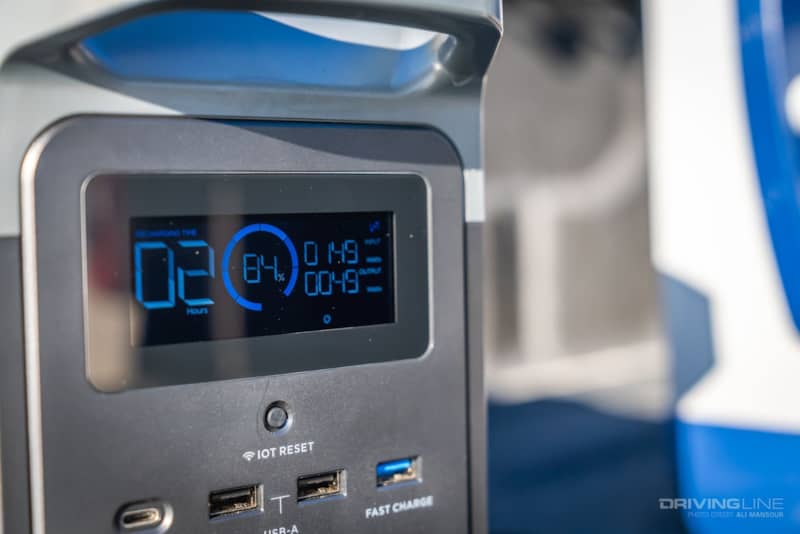 Camera Center
We film and photo with a wide assortment of gear. Some of this equipment eats up batteries fairly quickly. While we carry spares, it has been extremely helpful being able to get the equipment powered back up on the fly. We tend to have an assortment of gear plugged into the machine and have not found it to be an issue. The power deliver from the Delta Mini is consistent and even our large V-style battery packs don't have an issue. The flat spot at the top is also very handy for setting up gear.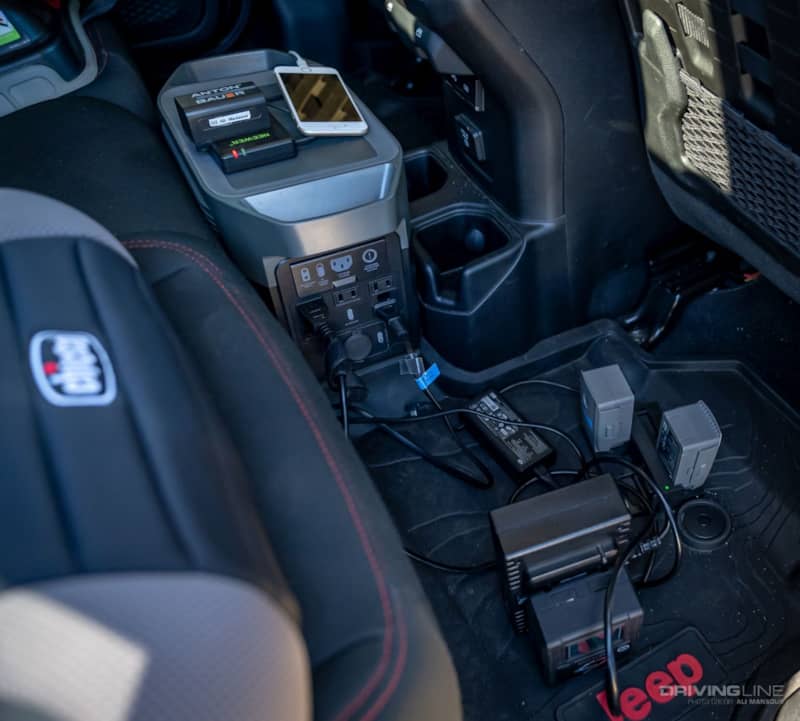 Other Uses
Our camera gear and cooler were the big-ticket items that we wanted this unit to handle on the trail. While we've used the Delta Mini for a variety of work and assorted household needs, we've also found it handy to topping off our electric dirt bike Sur-Ron batteries. Though a full charge on the unit is only capable of getting a depleted Sur-Ron battery 40 percent of additional range, we find it very helpful for topping off the batteries on the way to ride. Pulling down 600 watts and powering the cooler has not been an issue for this unit.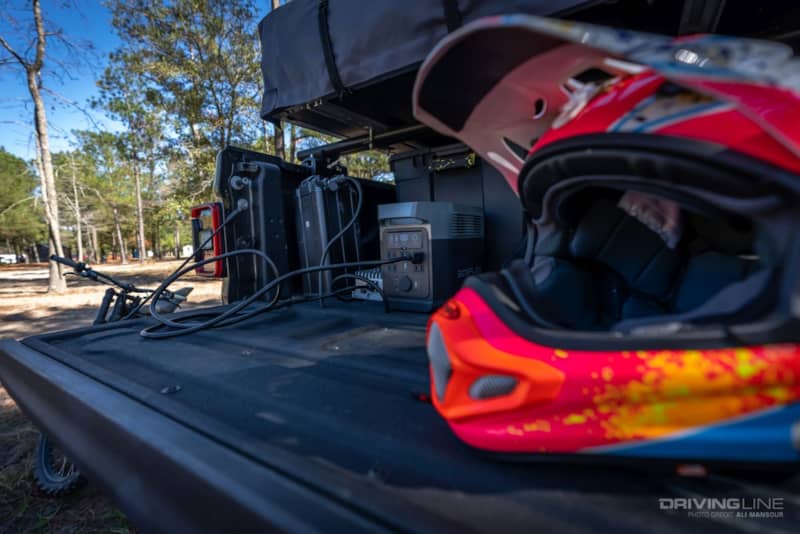 Final Thoughts
We understand that each wheeler's power needs will vary, and most are not toting around the amount of camera gear we are. However, from powering our small trail toaster to keeping our food cool, this unit has been a terrific addition. We especially like that it fits neatly behind the center console of our Jeep Gladiator. It's also worth mentioning that it's less than the cost of a dual battery setup, and for us, way better since we have multiple rigs. Overall, we are very happy with this unit and look forward to putting it to good use for years to come.