EVO JL: 2018 Jeep Wrangler with Over 15 Inches of Suspension Travel
The 2018 Jeep Wrangler JL has only been out for a few months, but that hasn't stopped the aftermarket from rolling out a host of new components for it. One company in particular that seems to have the edge up on the competition in the suspension department is EVO Manufacturing. While EVO has offered a 2.5-inch suspension system since the first JL rolled off of the assembly line, it picked Easter Jeep Safari to unveil its new bolt-on coilover kit and high-clearance long arm. We got a chance to catch up EVO's CEO Mel Wade and chatted a little about the kit (which you can check out in the video above).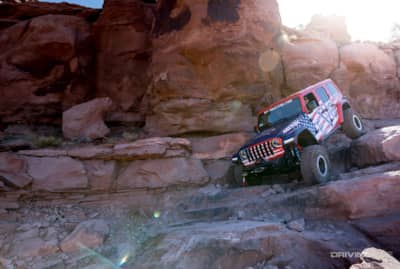 The full production kit offers a jaw-dropping 15.5 inches of suspension travel at all four corners. This is thanks to EVO-spec King coilovers and a long-arm system that stays neatly tucked by the framerails. On EVO's 2018 Rubicon Unlimited JL, it's setup for 3.5 inches of lift. Despite the low lift height, it easily clears (and cycles) the 37x12.50R17 Nitto Trail Grapplers.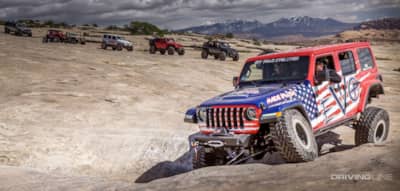 To ensure the kit meets EVO standards, EVO used Moab, Utah, as its proving ground for the system. This also gave the company a chance to try out its JL bolt-on rocker guards as well.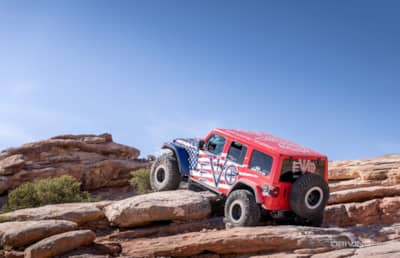 EVO also installed its Pro Series JL front bumper and high-clearance rear fascia. Aside from the EVO upgrades, the Rubicon was mostly stock (i.e. factory axles, driveshafts and so on). While the JL is still in its infancy, it's off to an incredible start. We can't wait to see what's in store later this year as we attend the first annual JL Experience!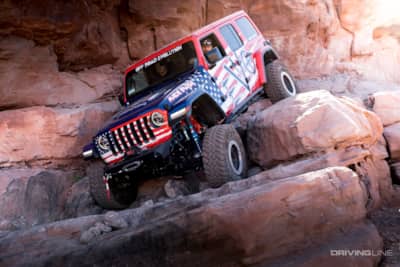 (Additional photos courtesy of Will Griffin.)
Want to see more Jeep action? Be sure to watch as we tackle Moab's Trail Trifecta!