Fallon 250 Race Recap: Shaken, Stirred or Straight Up
The sun breaks across the open desert as cars line up single file, crew and family members checking last minute items and offering encouragement, while drivers prepare to take the field of battle for the final Western series race of 2016, The Carbon Off Road Fallon 250. Easily the longest event of the 2016 season, the Fallon race consists of six 40-mile laps filled with dust, whoops, twisting canyons and salty dry lakebeds. Heavy dust, heavy horsepower and a host of heavy hitters would set the stage as team Nitto driver Jason Scherer rolls to victory.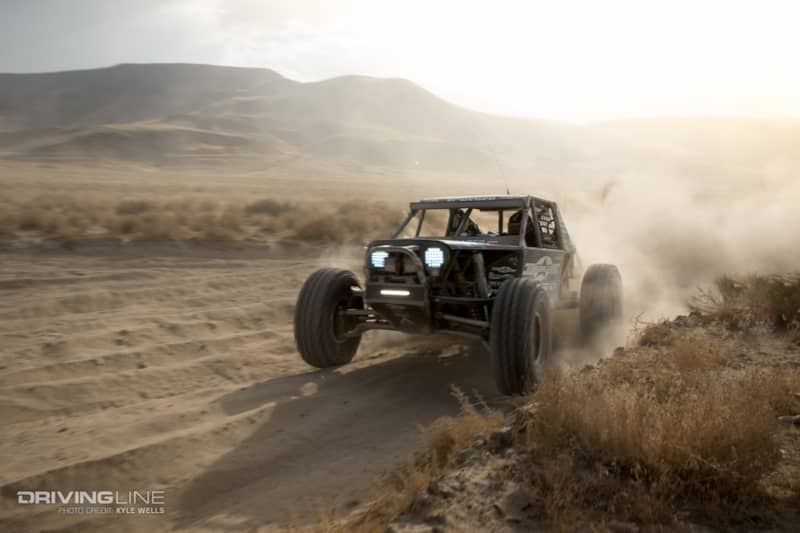 While not as vast as the King of the Hammers, racing in Fallon evokes memories of KOH, with teams placed in the barren desert, away from support and spectators. In this isolated realm, racers prepare to test themselves and their equipment in true endurance racing. In events such as this, you battle yourself as much as you battle the course and your competitors. Intense focus for five to seven hours, heat, noise and near blind conditions for extended periods of time take their toll. Lose concentration in the dust for one moment, and your day may be finished.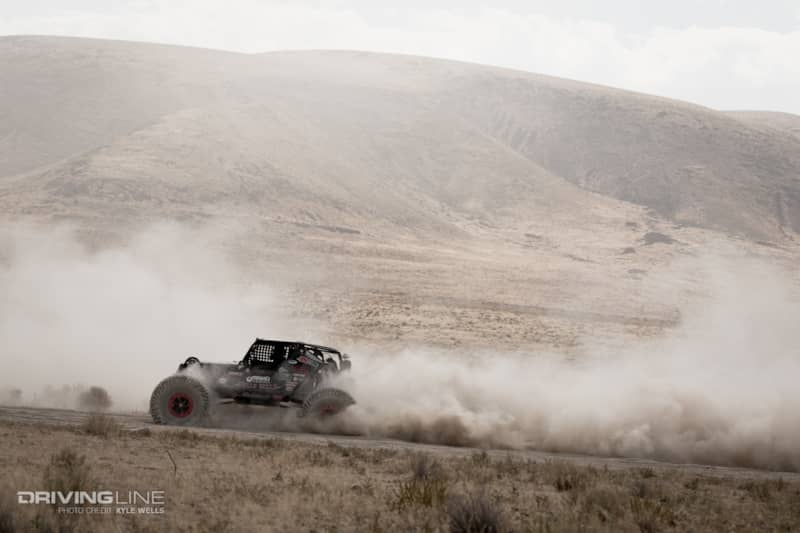 Starting Things Off at Fallon 250
Teams started arriving at the race site on Thursday, with pre-running allowed at a reduced speed both Thursday and Friday. Knowing the course would be low visibility due to race day dust, teams took time to mark their GPS routes and get familiar with course. There would be no qualifying for starting order at this event as the starting grid was set based upon inverting the top 20 in points and then placing the rest of the field according to a random draw.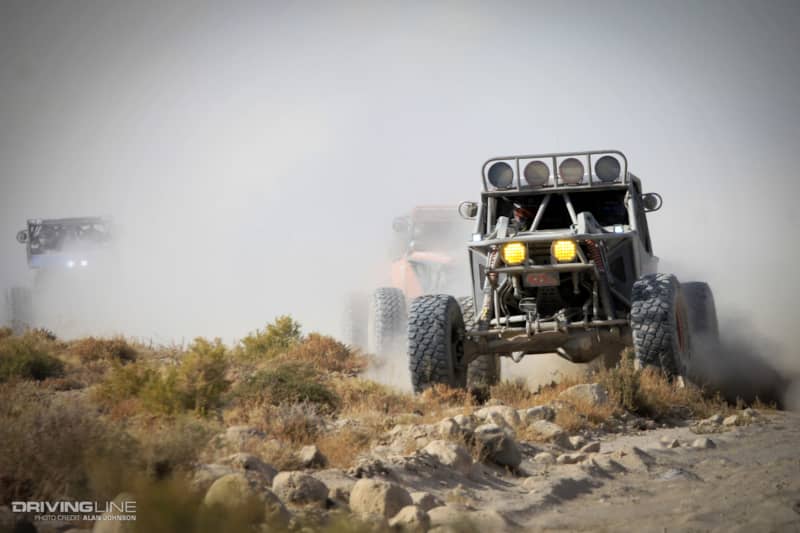 The starting order method would set up interesting scenarios on race day, putting series leaders, such as Erik Miller, almost 20 cars deep into the field, directly behind Shannon Campbell and his "Dragon Slayer." Mike Trebino had the dubious honor of being "last man up", starting in 58th. Even though final finishing times are adjusted for starting order position, clean air and building a lead is a significant advantage in races such as this and starting order matters. Brendon Thompson would have the honor of pole position and clear air initially, followed by Andrew McLaughlin then Cody Addington rounding out the starting top three.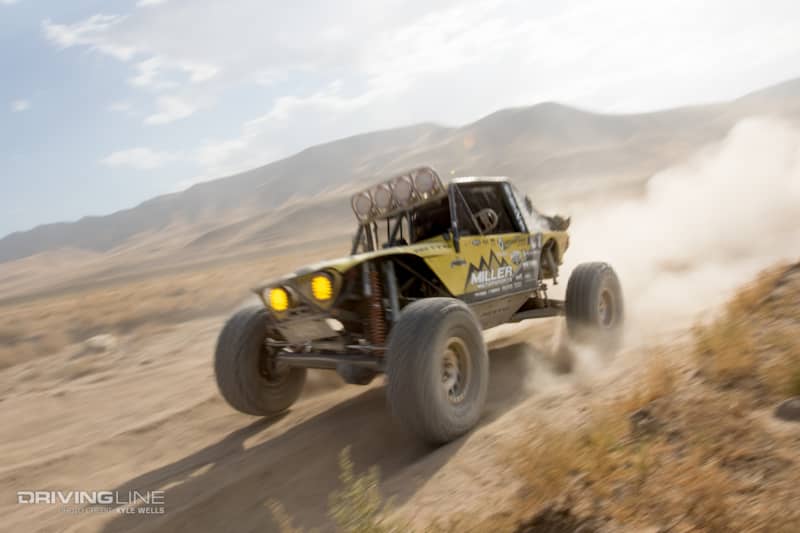 Off the Line
20 miles into the race, both Brendon Thompson and Andrew McLaughlin saw their race advantage slip away as each had flats and were forced to pull over to change tires. This opened the door for Cody Addington to take and hold the lead for the first two laps. Cody became an off-road cult hero in 2012, after finishing the KOH Everyman Challenge in an old Toyota pickup with only a paper map for navigation, displaying that "never give up" mindset which personifies Ultra4 racing. Having come a long way since that day, Cody kept his new Fishmouth Fab car out in front of the likes of Loren Healy, Erik Miller and Levi Shirley for over 80 miles before a fuel delivery issue took him out of the race.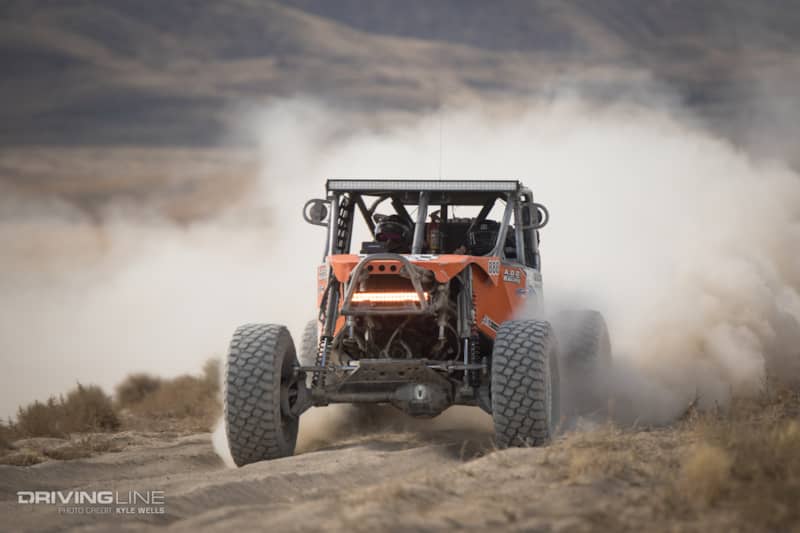 While Cody was enjoying clean air, the rest of the pack was doing work in the dust. Wind, typically a nemesis, was absent, letting the dust slowly settle on course as drivers relied upon their co-drivers for navigation as they raced at 80+ miles per hour in near-blind conditions, trying desperately to find a few miles of clean air to make up time. Top speeds reached over 130 MPH on the long backstretch with clean air.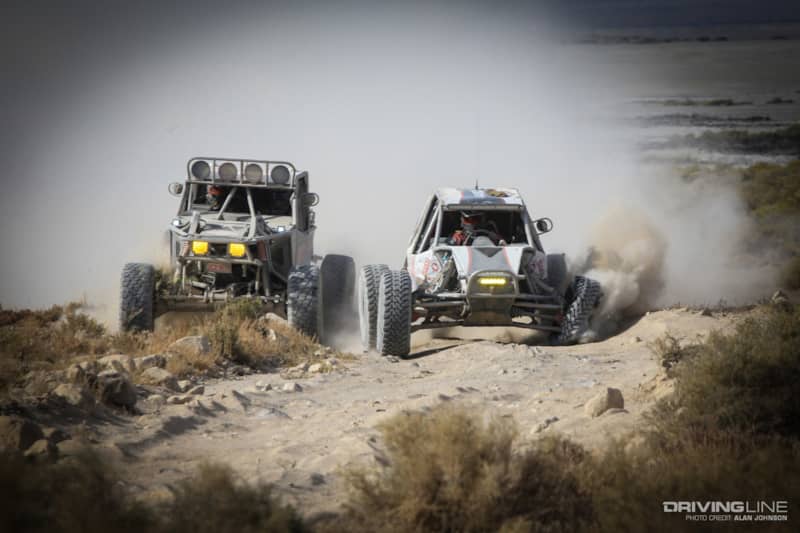 Loren Healy Works to Finish
Working his way up from a ninth place starting position, Loren Healy charged through the pack without the benefit of a co-driver, quickly working his way toward the front and into the top three. On his third lap, a charging wire broke, leaving Loren stranded just outside of main pits. After running to pits to get a jumper box and tools to repair, he was back in the race. The deficit, however, was too much to overcome. Loren finally finished the day in 14th position, still less than an hour behind the winner and still completing all six of the laps.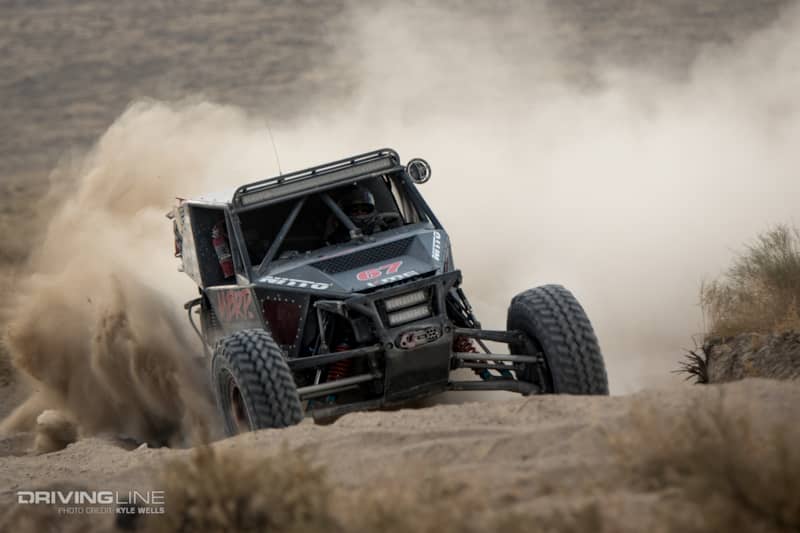 Because Sometimes Other Things Are More Important Than Points
Meanwhile, Darren Henke and Brian Caprara were in a dog-fight for position in the top five. On the fifth lap, Darren was the first to come upon Alex Wacker's car… on fire. Stopping his race to make sure a fellow competitor was safely out of the car cost Darren time on course, but his karma/good-guy points for doing the right thing made him a winner.
"There wasn't a question about stopping," said Darren. "Every time. We're out here racing, but safety is first and I'm never going to drive past another driver whose car is on fire." Darren eventually finished in a tie for third place with Brian Cabrara, taking his first Ultra4 podium of 2016.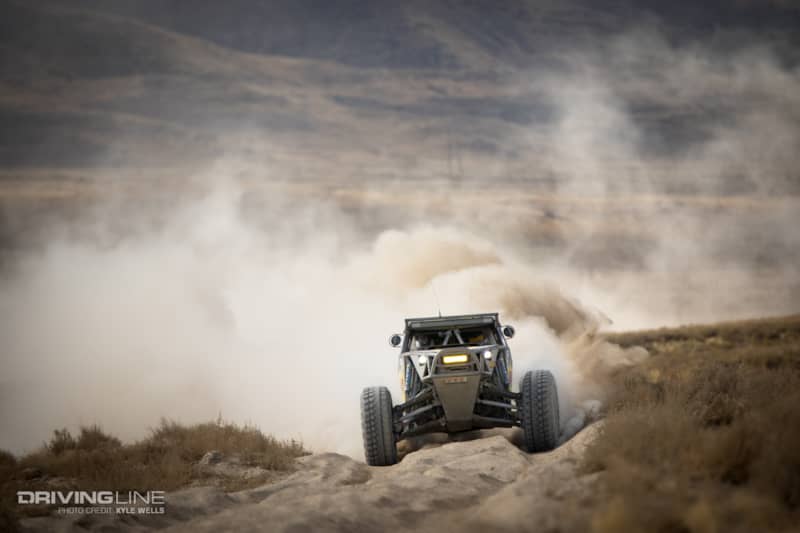 Jason Scherer's Relentless Pursuit and a Surprise Ending
Jason Scherer was also taking on this challenge in a single-seater and without the benefit of a co-driver. Starting in eighth, Jason was able to find the mythical clean air by lap two and made up considerable time, moving into fourth. On laps three and four he continued to close the gap on now race leader, Darren Henke, pushing his car and himself to the limit in the dust. With Shannon Campbell closing in on him, Jason took one final pit with a lap to go, then charged the racecourse with renewed focus. Pushing hard, he continued to pass lap traffic, eventually taking the checkered flag with brake rotors glowing red and the car giving Jason everything it had. Jason won by over five minutes on adjusted time.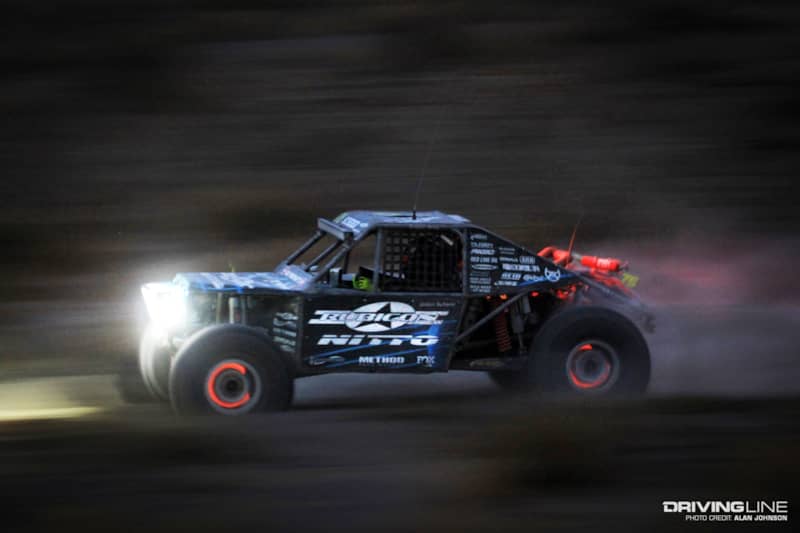 But the action didn't stop there. Immediately after crossing the finish line, Jason whipped the car around for celebratory donuts, but in epic fashion, rolled the car right at the start/finish line! Never one to miss an opportunity, Jason immediately popped out of the car and climbed to the top of his overturned race vehicle, arms held high in a V, and continued to celebrate with his team and his fans.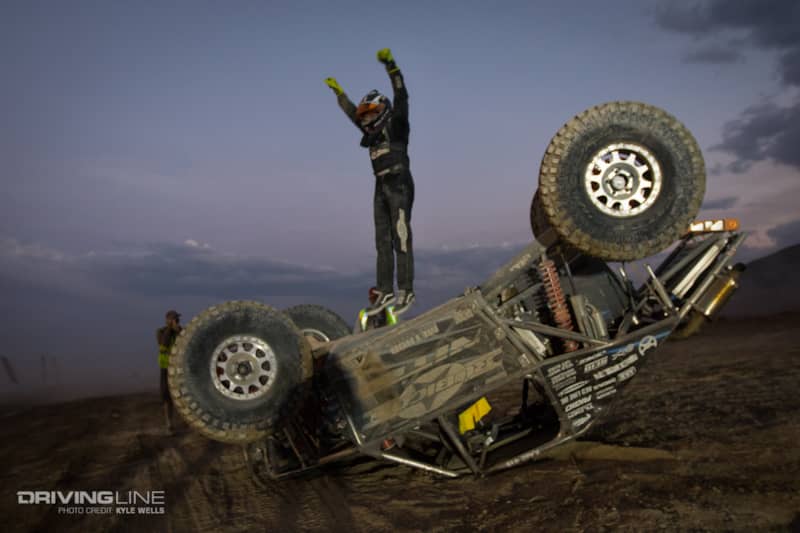 After 240 miles of keeping the car together, Jason waited until the right moment to put it on its lid. The victory, Jason's first since he moved to this car two years ago, despite a slew of pole positions and podium finishes, deserves congratulations for not only the win but also for having the best post-race celebration of the year!
"We named it the jelly donut roll," laughed Jason. "The race was good. I didn't have to work on the car one time - shocks were killer, no flats, and no dust in my helmet. As I only have a 20-gallon fuel tank, I had to make five pit stops for fuel. That adds up when Shannon's on your tail, who didn't need to make a single stop! Driving though the dust for such a long time took perseverance, but you just keep doing it and forging ahead. During the last lap I had my guys radioing in that Shannon was on my tail, so I just gave it all I had. I didn't want second again, I wanted first. I'm really stoked for the win, not just for me but for my entire team. They've been waiting and working extremely hard towards this."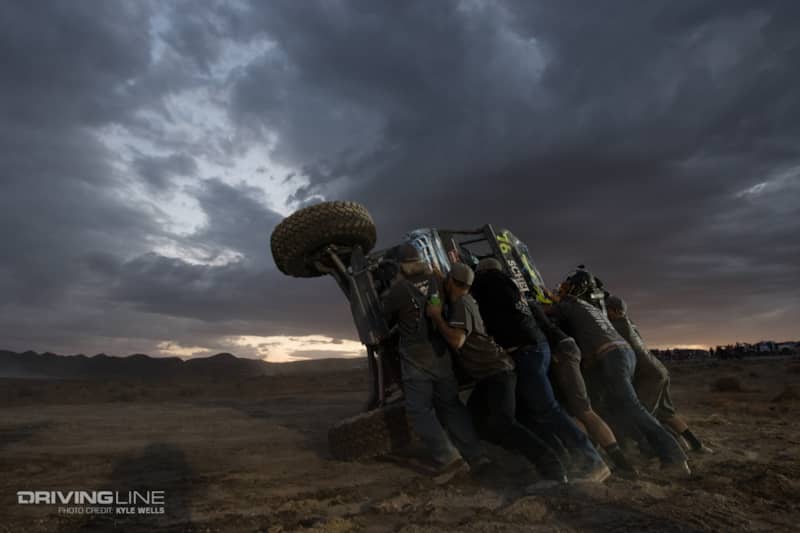 Congratulations to Ultra4's Carbon Off Road Fallon 250 Top 10
Shannon Campbell showed his desert experience and finished in second place, rounding out the podium between Jason Scherer in first and Darren Henke in third.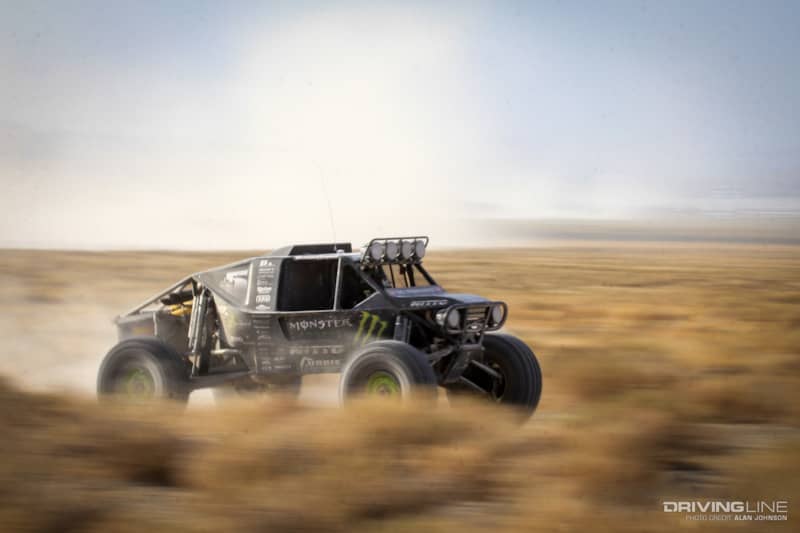 Top-10 finishes followed, including Tom Wayes, delivering another incredible come-up-from-behind performance, reigning King Erik Miller in fifth, Levi Shirley, Jon Cagliero (who started second from last), and Mike Bou, with Bailey Campbell bringing home 10th place. Find the full 2016 Fallon 250 results at ultra4racing.com.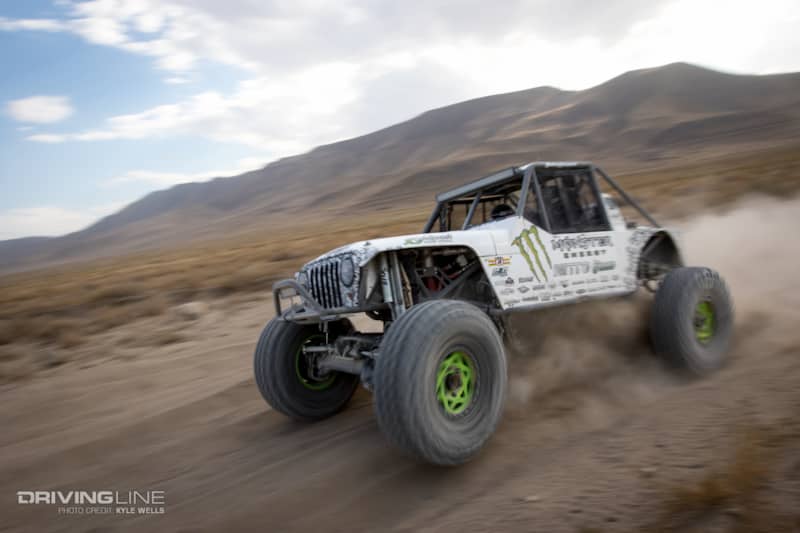 When the dust had finally settled, the Ultra4 Western series was at an end, with team Nitto drivers Jason Scherer and Shannon Campbell standing 1 and 2 and an entire field of drivers with war stories to tell and smiles to be shared. This race also marks the end of the regional series for the entire 2016 season as the Dirty Turtle Offroad race in Kentucky was the final Eastern series event. Next up for Ultra4 series is the National Championship race a few miles up the road in Reno, NV this coming October. After that race, a new series champion will be crowned. Current King of the Hammers, Erik Miller, is focused on his final task of cementing both the King title and the Points Championship for 2016.
Photos: Kyle Wells and Author