2016 Ultra4 Nationals Brings Another Round of Awesome
Beginning with King of The Hammers (KOH) and ending with the most exciting short course action of the series during the 4 Wheel Parts Nitto National Championship Presented by MetalCloak, the 2016 Ultra4 Racing season is now in the books. For the third year, the course at Wild West Motorsports Park outside Reno, Nevada, has provided an outstanding combination of short course racing with brutal rock climbs and challenging elevation changes that make Ultra4 so challenging.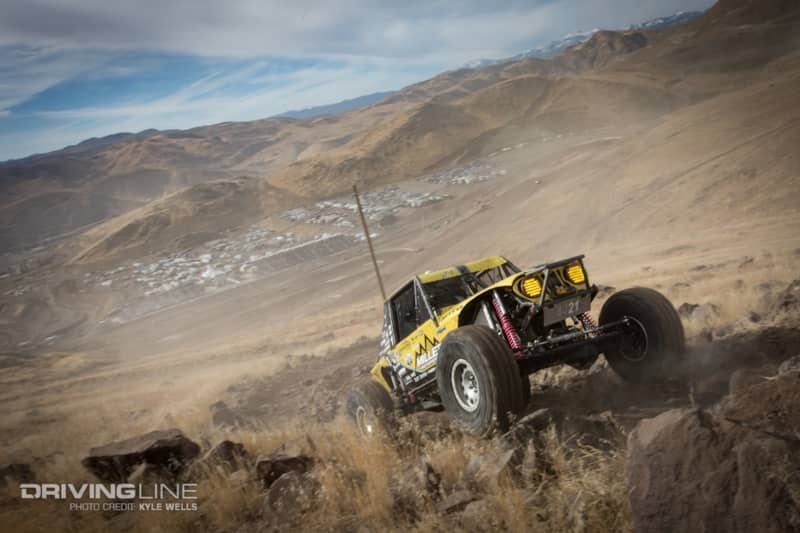 Part of the thrill of this race is that the points are a major factor in determining the year's National Champion. National points combine a driver's KOH points, their best three series events and their National Championship race points. Coming into the event with a series point lead doesn't necessarily guarantee that a the driver will leave with the Championship title, and we saw this play out in the 2016 National race with many surprising turn of events.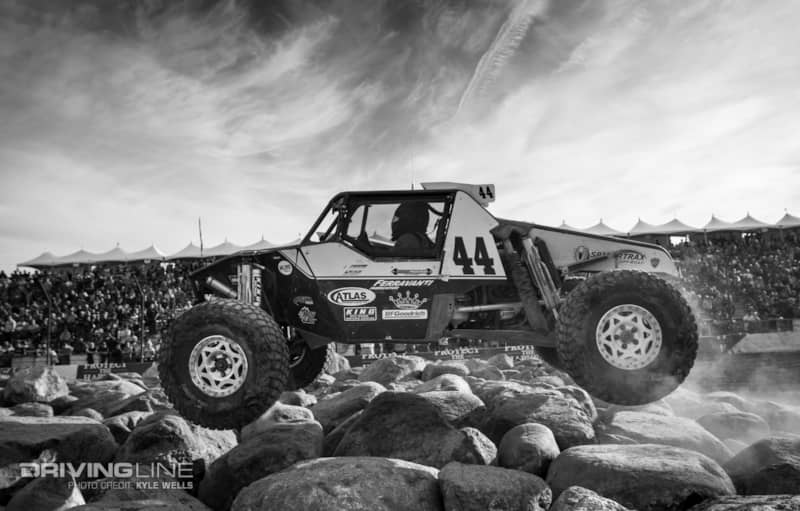 Single Qualifying Laps Kick Off Championship Competition 
With a field of nearly 70 registered cars, the event started on Friday afternoon with a single-timed-lap Qualifier. Based on their Qualifying time, drivers were placed in one of three Heats Saturday morning, which in turn dictated inclusion and placement in the afternoon's Main race.
One at a time, cars went off the line, with JT Taylor sending the next car off as the previous car reached the halfway point. The 01:20 separation seemed like a safe cushion until JP Gomez, Jason Scherer and Clay Gilstrap laid down blistering 01:16 lap times, putting almost 2 seconds on the next closest competitors and locking up pole positions for their respective Heats.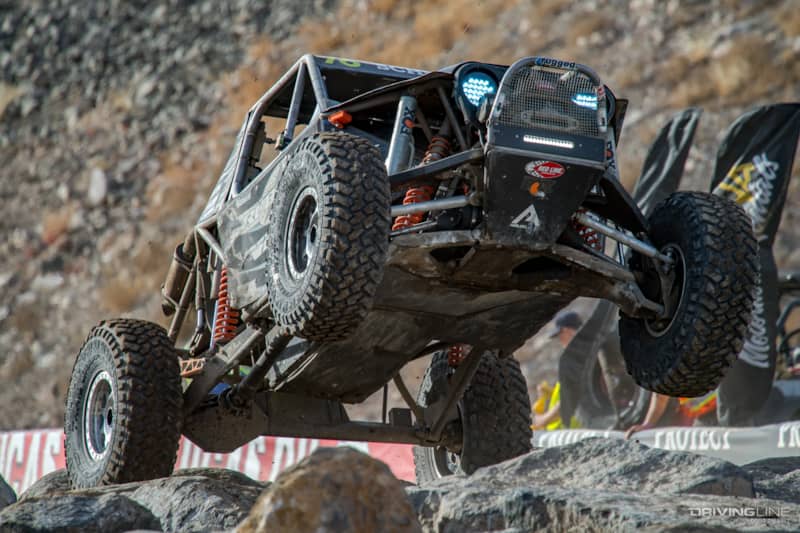 Heat Races and Big Surprises 
With six laps per Heat, racers didn't have much time to make their move into one of the top seven positions to advance into the Main. Racing was aggressive but controlled, as teams knew they had to keep their car together for the Main, and a mishap in Heat racing could potentially end their day. Each of these races featured adrenaline-fueled excitement for the sold-out crowd.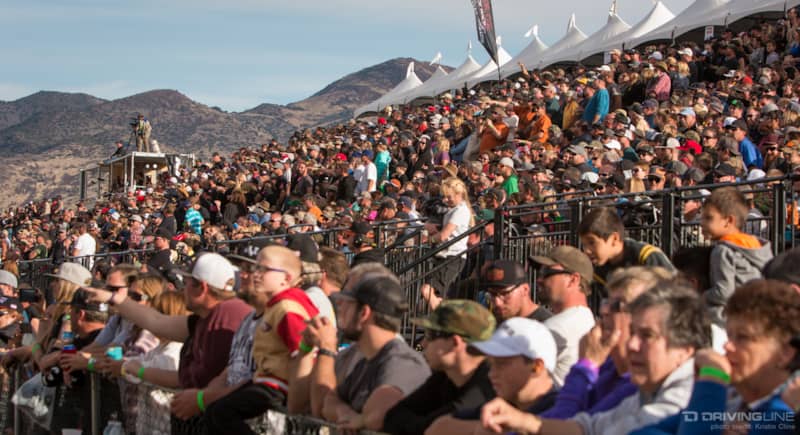 Shannon Campbell started side-by-side with Gomez and maintained the lead throughout Heat #1. A couple of flips and mechanical issues kept a number of racers from moving forward into the Main, including Tom Wayes and Derek West.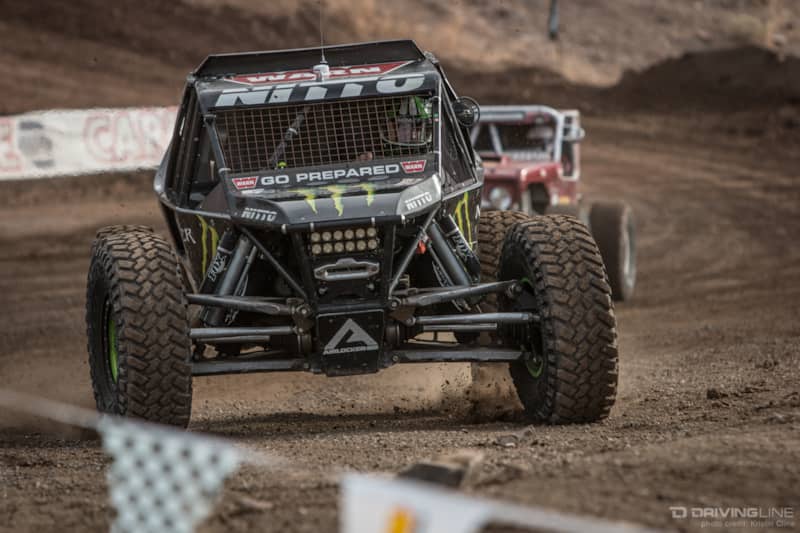 Scherer began Heat #2 aside Levi Shirley, who stayed close behind him throughout. Erik Miller had been working his way through the pack the first few laps before an incident put him at the back of the pack, sending him to the B Main Heat for another chance at qualifying for the Main.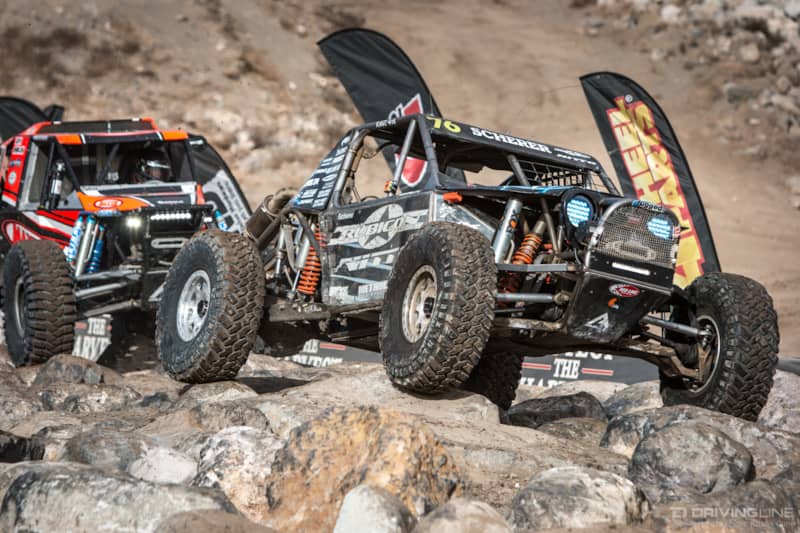 Gilstrap and Loren Healy launched off the line in Heat #3 with Healy jumping ahead, although not putting much distance between he and his opponent. Josh Blyler in his new Miller Motorsports Pro Series chassis did one heck of a job driving as well.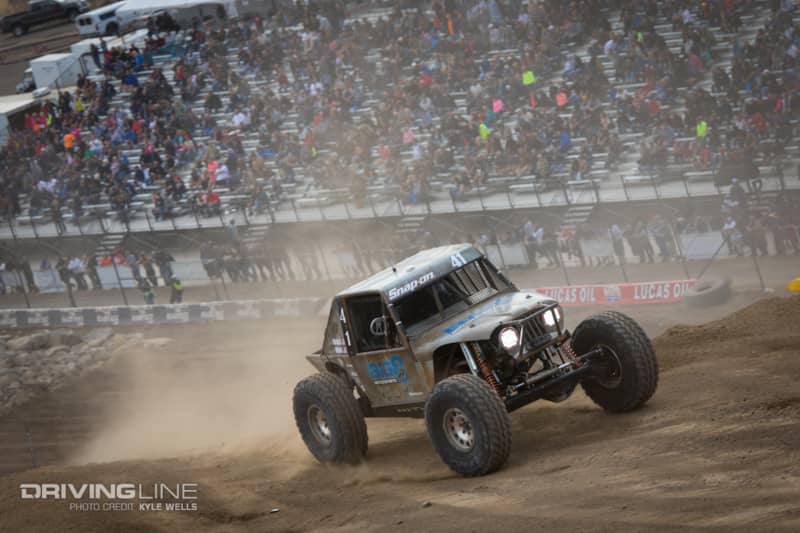 More drivers had issues on this round, including Jeff McCullough, who wowed the crowd at the race's end with a roll over the rock garden at the start/finish line.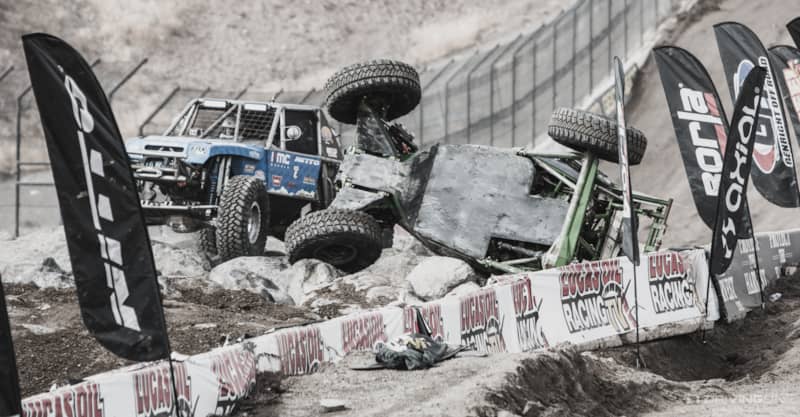 For those who didn't advance, the B Main Heat offered a second chance. With only five drivers moving on to the Main, this race featured enough talent to stand on its own as an event in its own right! Miller, Healy, Tony Pelligrino, Cody Addington, West and Wayes led a field of competitors determined to drive hard and make the Main after suffering a multitude of challenges in the Heats.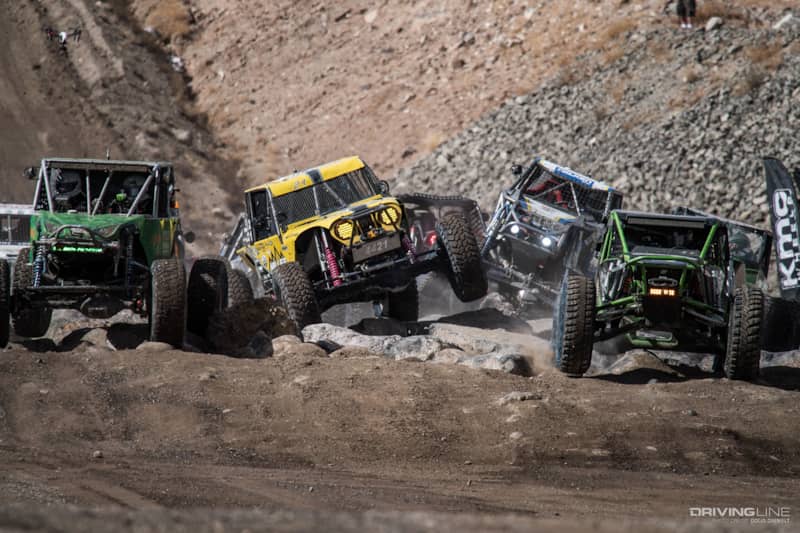 The tension and pressure of moving on to the Main kicked the race's intensity up a notch, as each driver knew this might be their last chance. Wayes took an early lead, while Healy followed closely behind, with the two drivers taking the first and second spots. Miller suffered a setback to his Points Championship goal after suffering steering failure, which left the Last Chance Qualifier (LCQ) as his only hope.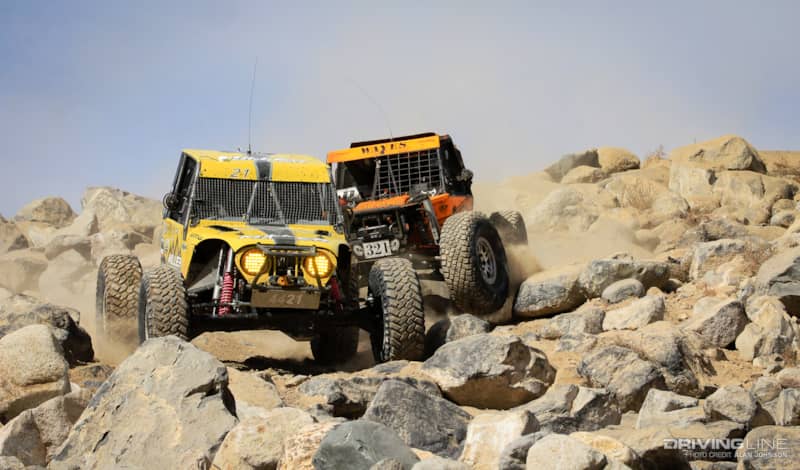 Only two laps in length, the LCQ was electrifying and quite possibly the best laps of Ultra4 Racing ever! 26 cars lined up for their last ditch effort, with only two spots available in the Main. Miller started dead last – again. Could he pull off another amazing "come from behind miracle" like his win at Dirty Turtle Off Road Park, or was his chance at being both the King and Champion in the same season over?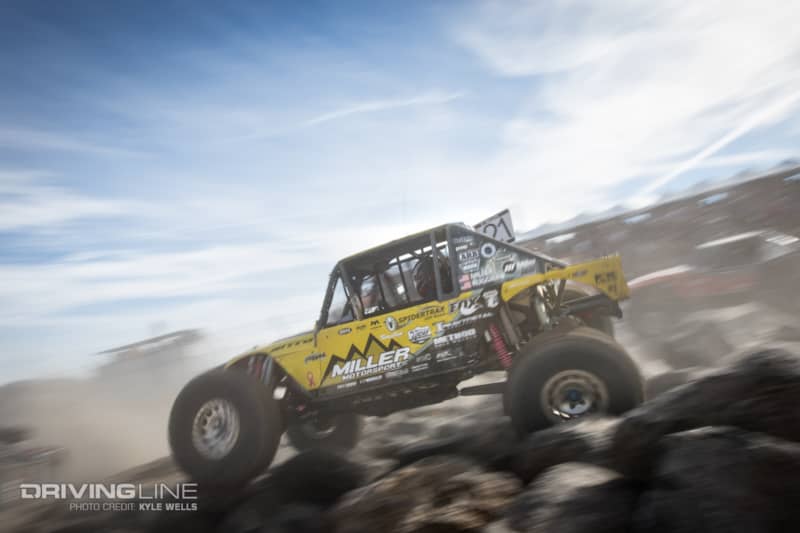 After one lap, Miller had worked himself into 7th position. The crowd was on their feet and cheering every position he advanced. However, with every driver giving it 200 percent, his efforts were not enough. Addington and Jon Cagliero took the top spots and moved on to the Main, leaving Miller on the outside looking in – a position he is not used to. The thrill of winning KOH was now tempered with the disappointment of ending a strong season without a Points Championship.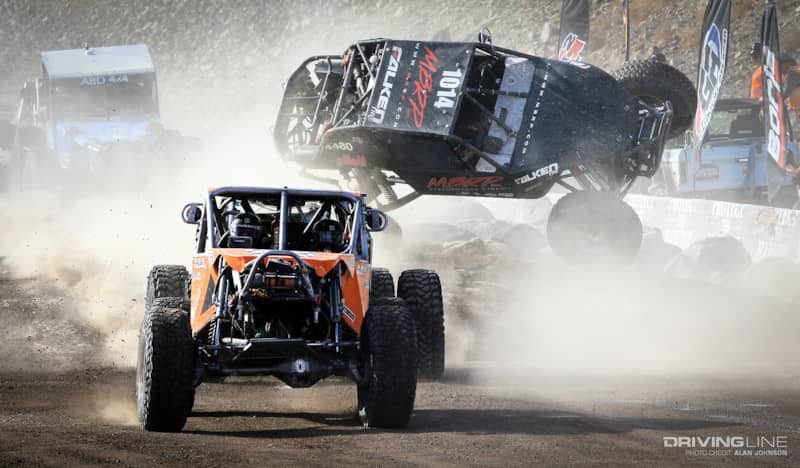 Jockeying for Position in the 4400 Main Event
For the big Main event, laps doubled in amount, up to 12, putting drivers on a course where anything could happen. The other big change had drivers going down the main rock hill rather than up as they had in the Heat races. The Main race featured Hotsprings winner Gilstrap in pole position, followed by MetalCloak Stampede winner Campbell in his "Dragon Slayer," Fallon 250 winner Scherer in 3rd and Ferravanti in 4th.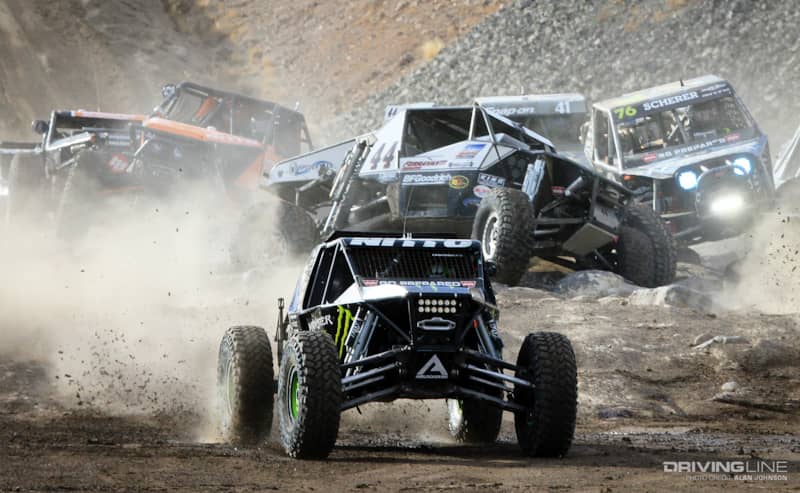 Jumping into the lead as the green flag dropped, Campbell looked like a man on a mission with Gilstrap staying close on his heels. Gomez, Scherer and Ferravanti formed a second group of competitors battling for position behind the two leaders. Drivers Shane Chiddix and Andrew McLaughlin would get hung up in the first corner, dropping them from 6th and 11th, respectively, to the back of the entire pack less than 30 seconds into the race.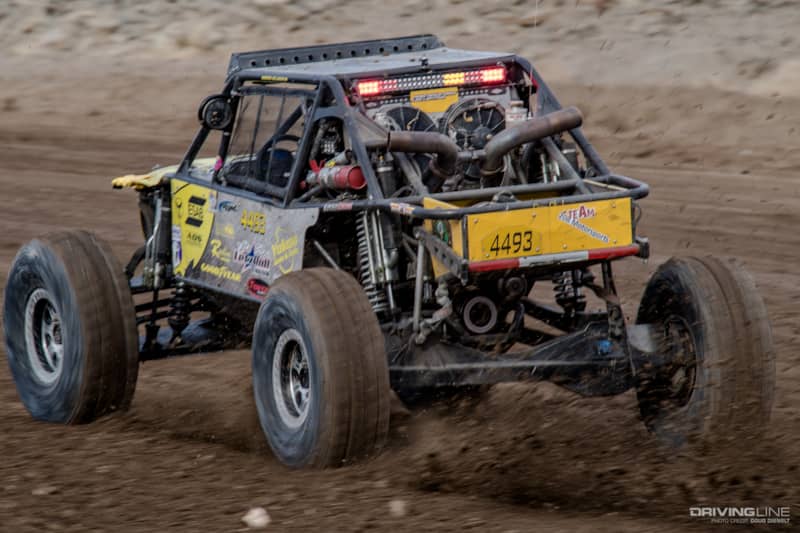 Action was spread out all across the course with the leaders battling it out and back-of-pack drivers working their way to the front. Wild West Motorsports Park offers a commanding view of the entire track, and spectators were on their feet in excitement with their biggest challenge taking in all the action at once. As drivers aggressively jumped and bounced their way through the finish line rock garden, huge cheers went up for the wildest rides.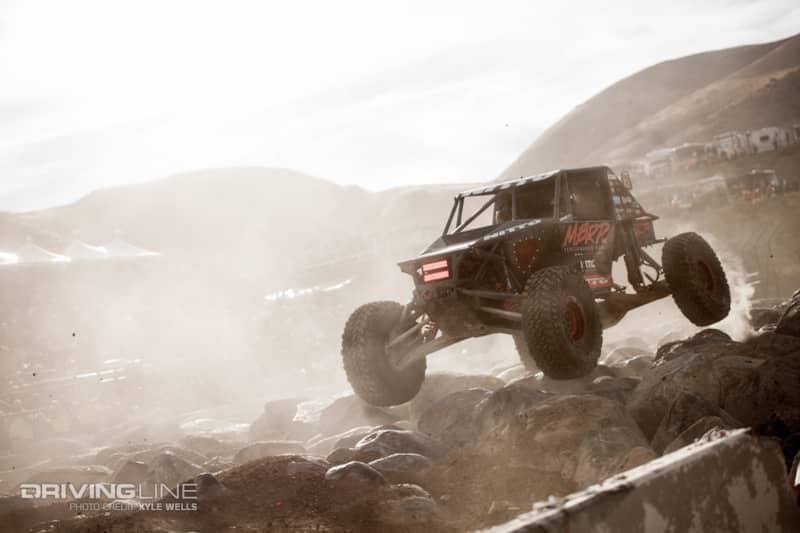 Midway through the race in this rock garden, fans saw race leader Campbell inexplicably slow down, moving from super-human "Shannon Campbell speed" down to a more normal "human speed." This allowed Gilstrap to take the lead and try to stay in front of Scherer, Gomez and Farravanti, who were quickly closing in as lap traffic came into play. Experiencing mechanical issues, Campbell made the difficult choice to drive more conservatively and finish in order to protect his National Points.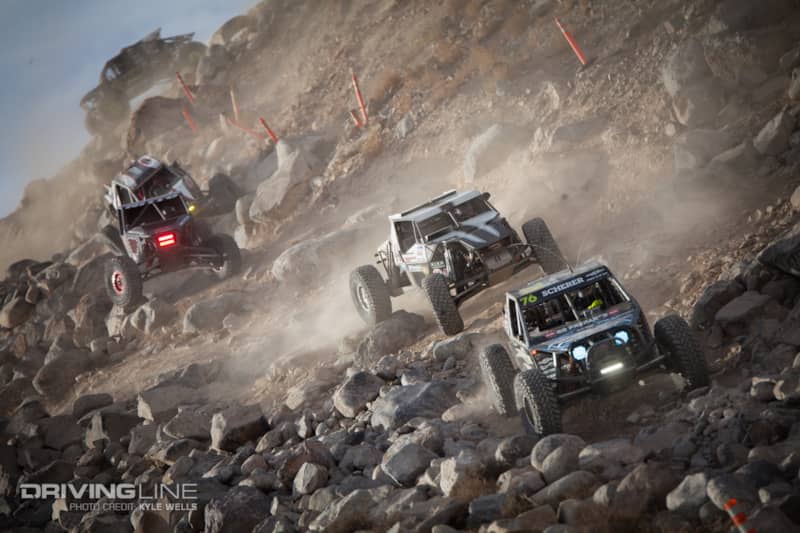 Healy had been spending the race powering to the front of the pack from his back-of-the-line starting position, but time was running out. Top drivers such as Wayes and Shirley were already out of the race, and Jason Shipman had just pulled over. Gilstrap started to run further away from the other lead cars until he encountered lap traffic.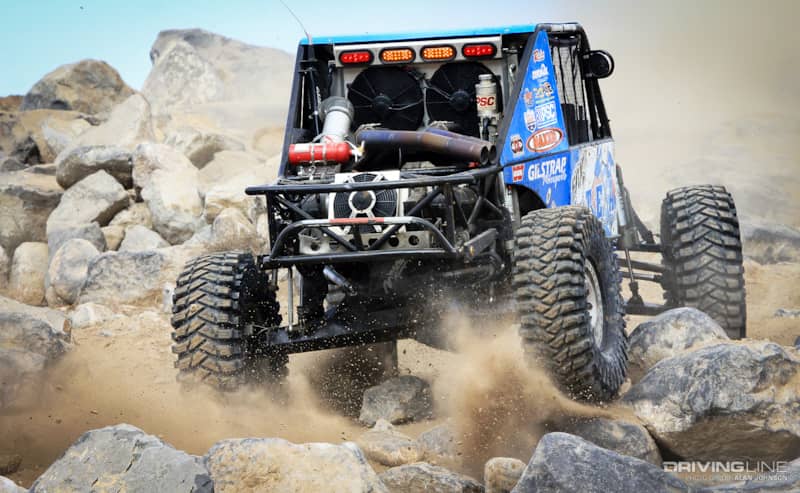 With Shannon Campbell pacing slower, son Wayland Campbell had taken up the "Campbell Wild Man" mantle and was making a charge for the front. Meanwhile, Ferravanti was able to get around Shipman and Scherer and started making a serious push for the lead.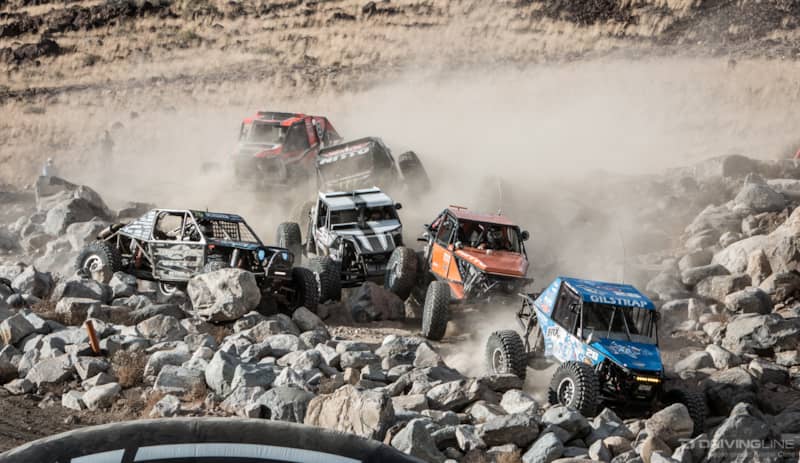 In this drama-filled day, one final surprise was bound to happen. At the end of the 11th lap, within sight of the "1-lap-to-go" white flag, race leader Gilstrap took a tumble, landing on his car's lid. This opened the door for Ferravanti to take the lead.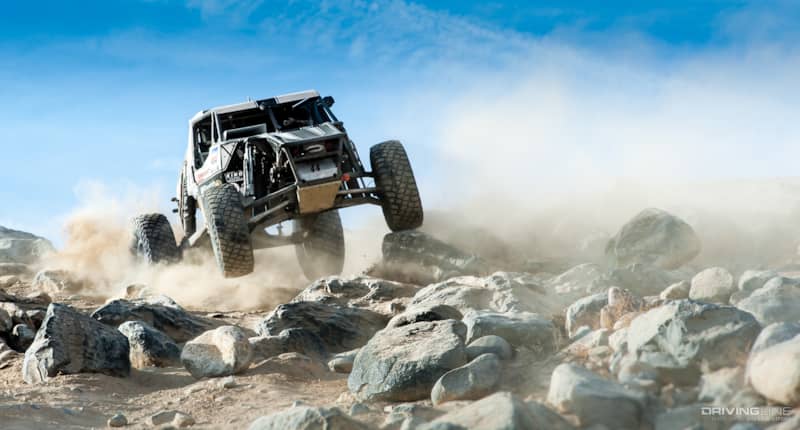 In a battle for 2nd, Scherer had his hands full with Gomez, while Wayland Campbell, Paul Horschel and Healy made their final push for the podium. All Ferravanti had to do was keep his car together for one last lap to claim his first ever Ultra4 Racing victory.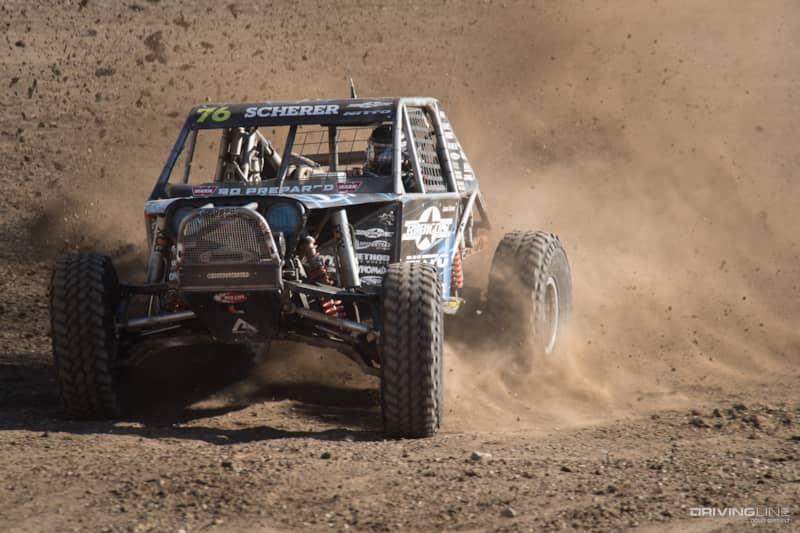 Taking an "all-or-nothing" approach, Gomez launched his car across the rock garden in a dramatic, breathtaking fashion (not unlike what Miller did last year,) to edge out Scherer for 2nd place.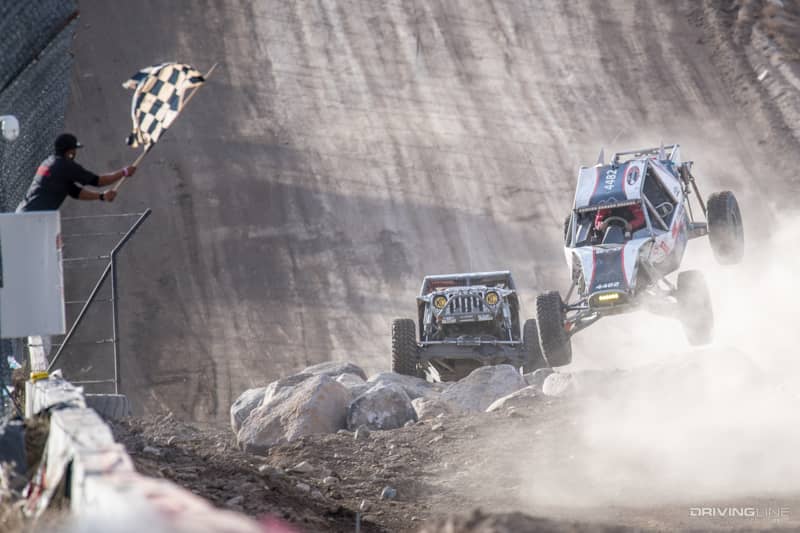 Always fast and competitive, Ferravanti finally took 1st place as the Ultra4 checkered flag fell. "It's great," he exclaimed, "I can't believe we won!" In a season full of first-time winners, this victory was long overdue for Ferravanti.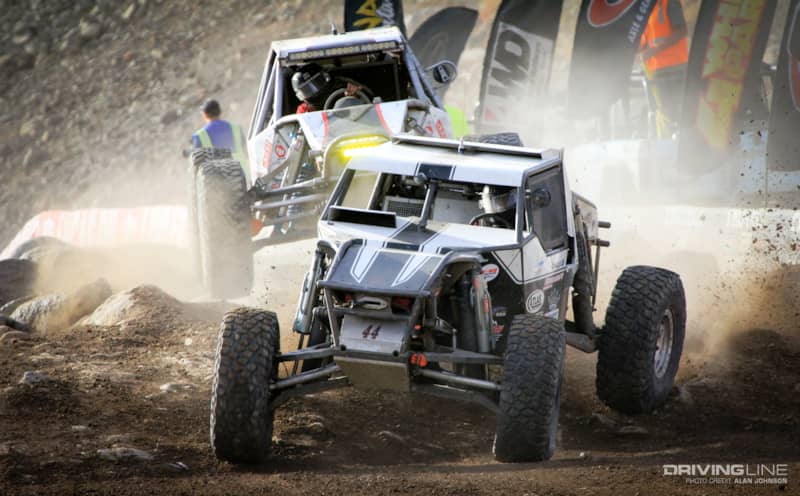 Gary Ferravanti Sr. Takes Checkered; Jason Scherer Takes the Title 
As Ferravanti celebrated his race win by waving the checkered flag, Team Nitto driver Scherer popped the top on a bottle of champagne to ring in his National Championship Points victory. Putting together a masterful season of podium finishes (including his first win in his new car at Fallon), Scherer raised his hands high in celebration and relief as his hard-fought battle over the 2016 season had finally come to a close.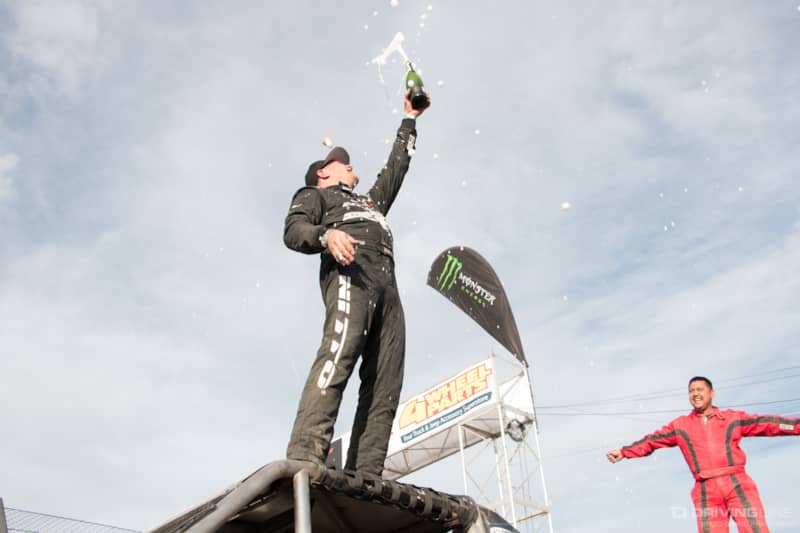 While it makes for exciting racing, this points format also sets the stage for disappointment. 2016 KOH winner Miller entered the final race of the season as the National Points leader, but after missing the Main, he dropped from 1st to 6th overall. Despite the frustration from the Final race, his season was a great success with much to be proud of, including becoming a member of the rare "Two-Time King of The Hammers" club.
Jason Scherer is the 2016 Ultra4 Racing National Champion, adding to his fellow Team Nitto drivers' victories this year. Erik Miller clinched 1st place at the Trail Gear Western Regional Series, and Jason Shipman at the 4WD Hardware Eastern Regional Series.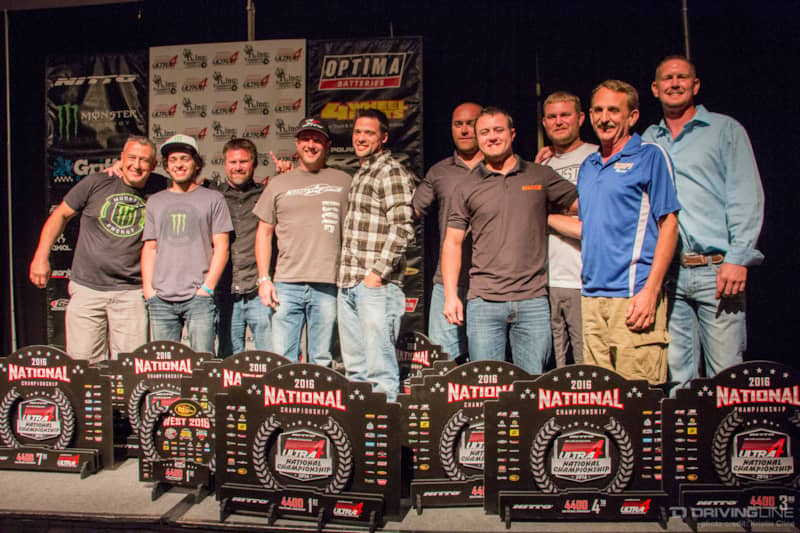 Congratulations to the 2016 Top 10 4400 Finishers:
Jason Scherer
Shannon Campbell
Clay Gilstrap
Jason Shipman
Wayland Campbell
Erik Miller
Brian Caprara
Baily Campbell
Levi Shirley
Andrew McLaughlin
4 Interesting Facts About the Top 10
Before wrapping this up, we'll leave you with a few tidbits of information about the Top 10 you may not know: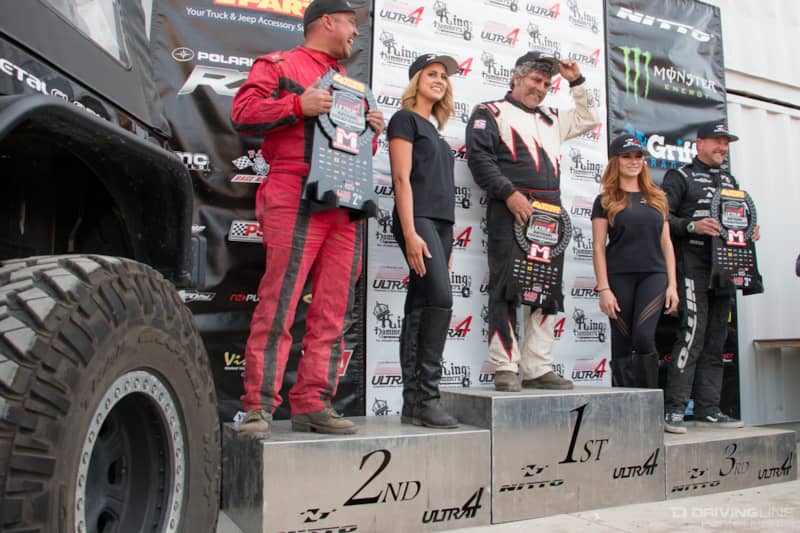 Six of the cars are built by Campbell Enterprises.
This is the 2nd year in a row that the three Campbells (Shannon, Wayland and Bailey) have finished in the Top 10.
Two of the drivers were not in the Top 10 prior to the final race.
Eight of the Top 10 were in IFS cars. Conventional wisdom, however, says it still takes a solid axle car to win KOH.
Based on this exciting end to the 2016 season, we have a lot to look forward to in 2017. As they say, "See you on the Lakebed" at KOH 2017!
Catch even more National Championship action: 4400 Gallery, Underclassmen Race Recap & Gallery.
Photos By: Kyle Wells, Doug Dienelt, Shana Whitford, Alan Johnson and Kristin Cline