Ultra4 Kentucky Battle in Bluegrass Race Recap: A New Track Yields a Familiar Result
Ultra4's Battle in Bluegrass wasn't Kentucky's first Ultra4 event, but Dirty Turtle Offroad Park provided a fresh stop for round 3 of the Ultra4 4WD Hardware Eastern Regional Series. The course provided 3.5 miles of aggressive short course track, tight woods, a rock bouncer style "Bounty Hill", Copperhead trail, and plenty of muddy clay.
The race itself also came with its challenges, as several red flag stops marred what was otherwise a great day of racing.
Timed one-lap qualifying kept everyone guessing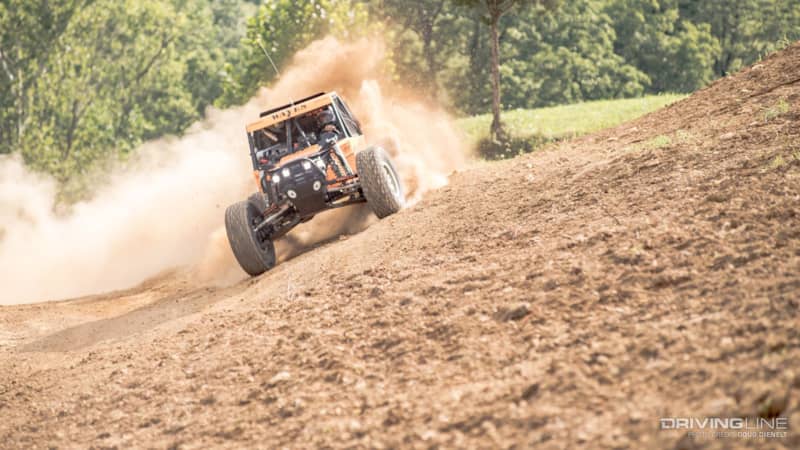 Qualifying occurred on Friday, with cars taking a blistering timed-lap around the spectator-friendly short course. Similar to a TORC/Crandon style course, the slightly more narrow "get up and go" short course featured a tabletop jump that had cars becoming airplanes as they took to the sky. Thunderstorms that were building during the day threatened, but all cars were able to complete before the rain hit later in the evening.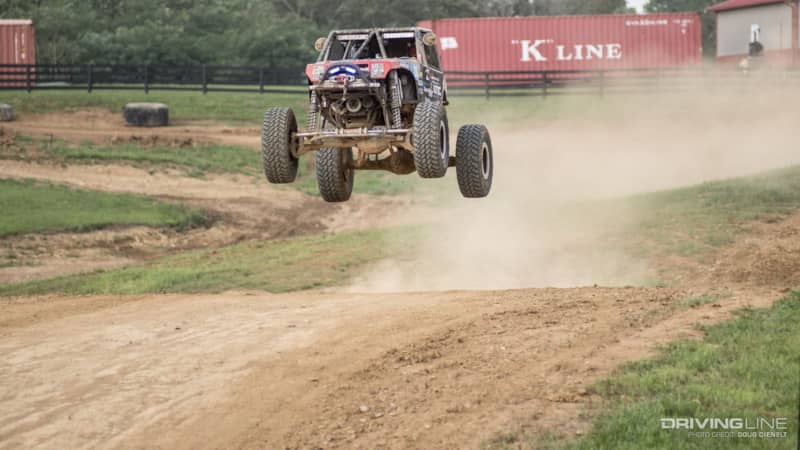 Derek West set down a solid run, setting him in line for first with a 1:11.6 lap time. Having won in Kentucky 2 years ago, Derek always shows strong in eastern wooded areas and this short course performance was proof of what a solid, well-rounded driver he is. Before Qualifying ended, wild man Tom Wayes one-upped West with a qualifying time of 1:10.8, less than 1-second faster.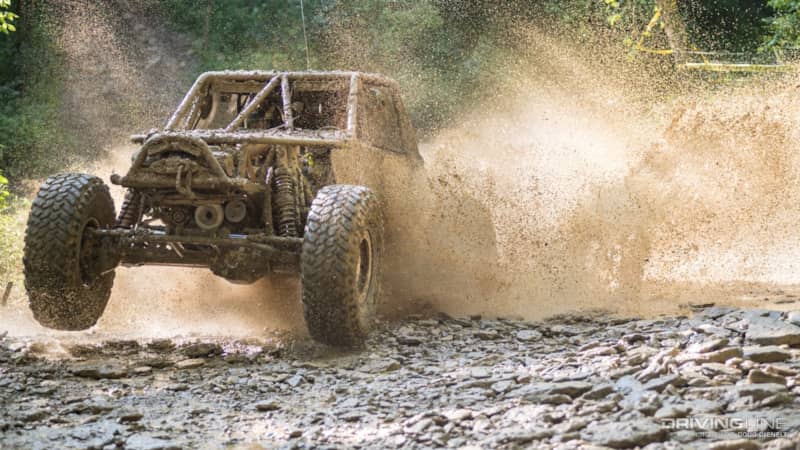 Despite great drainage on course, the previous rains had created tacky conditions in the Kentucky clay, which meant drivers had to be on point. Tires played a big role in keeping the cars under control, with most opting for 40" tires. Several cars, including Wayes, opted for 37's to continue to gain wheel speed with a more traditional short course setup. Derek West qualified in 2nd position, followed closely by the fast and competitive grouping of Levi Shirley, Clay Gilstrap, and last year's Sturgis winner, Jason Shipman.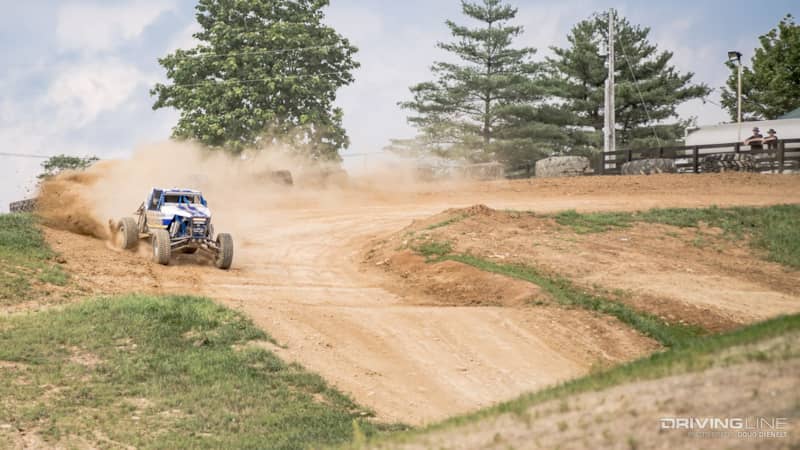 Qualifying was not without its drama. Two-time King of The Hammers, Erik Miller, rolled the 4421 in qualifying, sending him to the back of the main's start line. Consistently fast and aggressive Gomez Brothers also experienced setbacks during Qualifying, taking rear starts alongside Erik and setting up a combination of three fast, traditionally high finishers in the rear that would prove a dramatic setting for the Main on Saturday.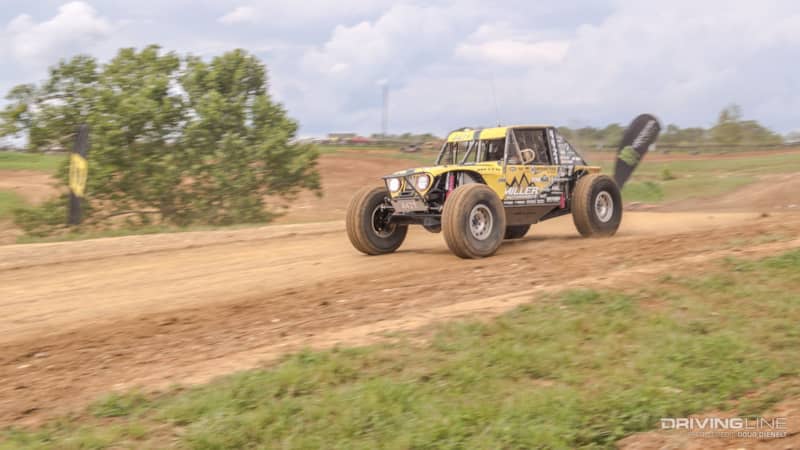 The 4500 Modified class Qualifying would be led going into race day by Duane Garretson, Jesse Oliver, and Matt Howell. 4800 Legends class Qualifying would conclude with Casey Gilbert on the pole, with Dave Schneider and Kent Fults rounding out the top three.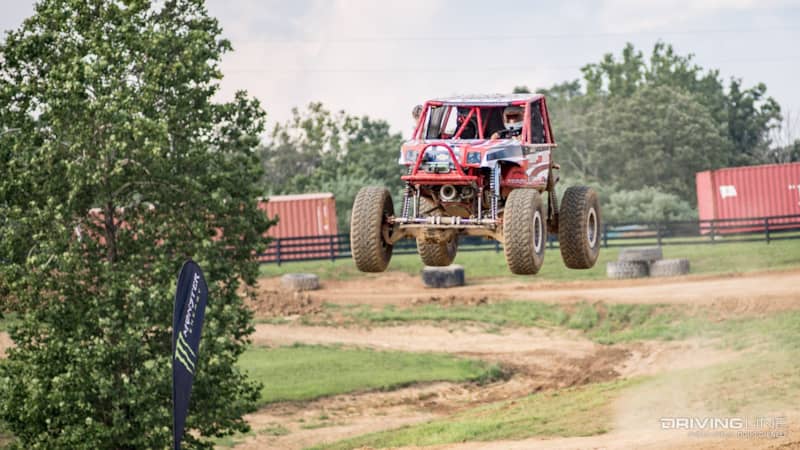 4400 Battle in Bluegrass race recap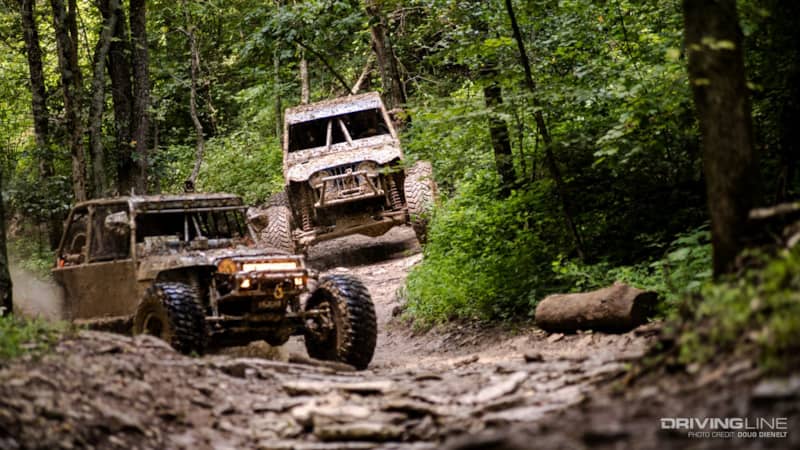 Despite additional overnight rain, race day would break bright and clear with the promise of speed and more than a little mud. The short course used in Qualifying would get a 2.5-mile addition that included a "rock bouncer style" bounty hill, tight woods, creek crossings and rock ledges to challenge even the most seasoned veterans. The 3.5-mile track was set for a day of race drama as red flags, driver emotions, and a challenging course set the stage for a last-to-first move by Erik Miller.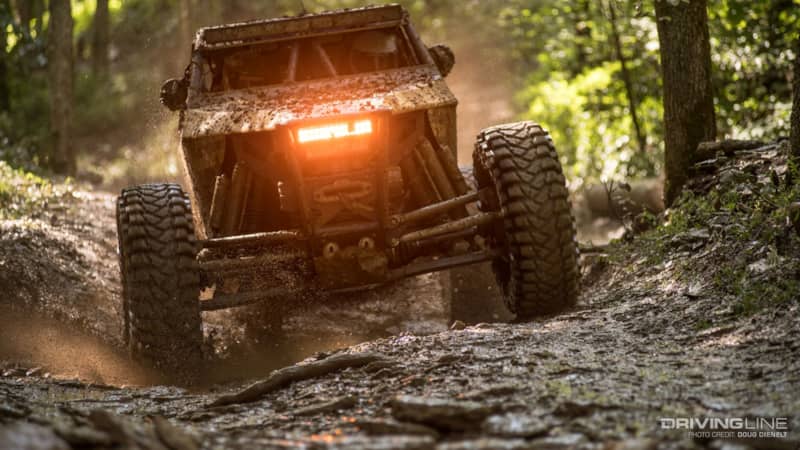 After a disastrous Qualifying day, starting at the back of the pack essentially meant the leaders would be within seconds of lapping Erik before he even left the line – the equivalent of starting a lap down with such a short course and 40 cars in the field. Erik was faced with the decision to simply keep the car together and go for points, or push the car and go for the win. With his "Never Lift" motto, he chose the harder route and went for the win instead of accepting a respectable Top 10 finish effort.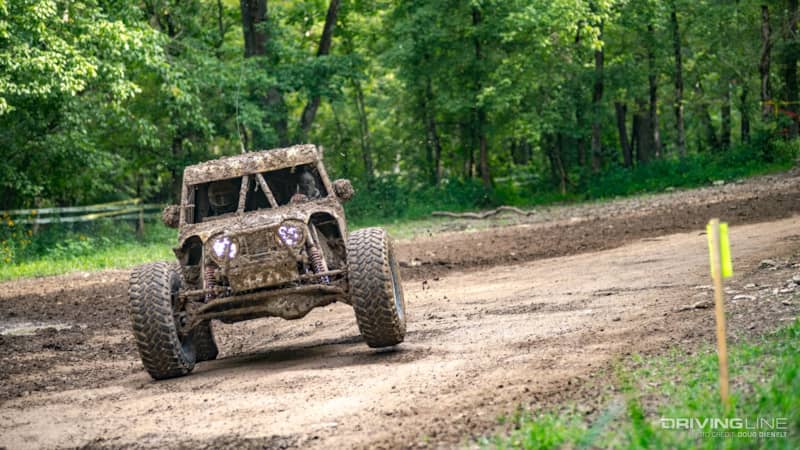 Tom Wayes charged hard off the pole with Derek West, Levi Shirley, and Clay Gilstrap hot on his heels. Less than a mile into the Main, everything came to a grinding halt as a car flipped in the middle of course, resulting in the first of several red flags. Lap one would claim Raul Gomez's car as he tangled with both a tree and another car. Macy Higgins and Michael Heston also experienced first-lap-woes. The caution flag at Bounty Hill created tension and impatience that would have ramifications throughout the day – as drivers gave into emotion in such tight racing quarters, and in some cases over-drove their cars, seeking to distance themselves from the competition.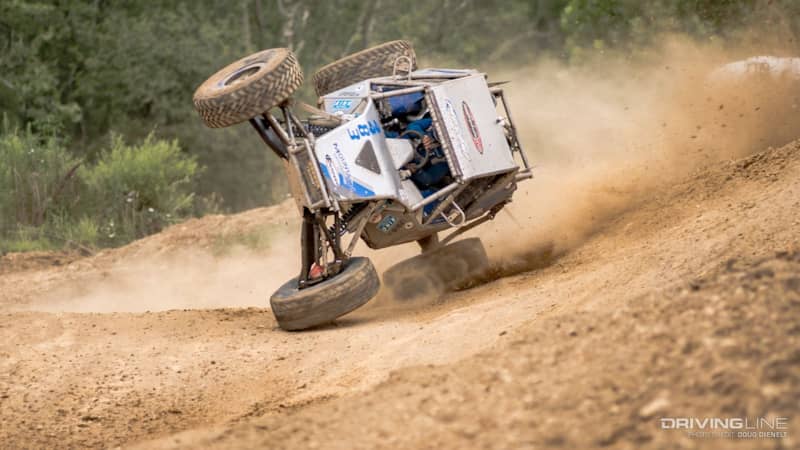 The wooded sections of the track were tight and fun, but passing areas were short and required aggressive, committed driving to get by. Trees would take out tires, steering components, and sway bars as cars created a bumper-car environment in between rock ledges and Bounty Hill. Once they got back to the short course, however, the foot would go down and they'd launch themselves over the tabletop jump and around the short course to the cheers of fans and teams alike.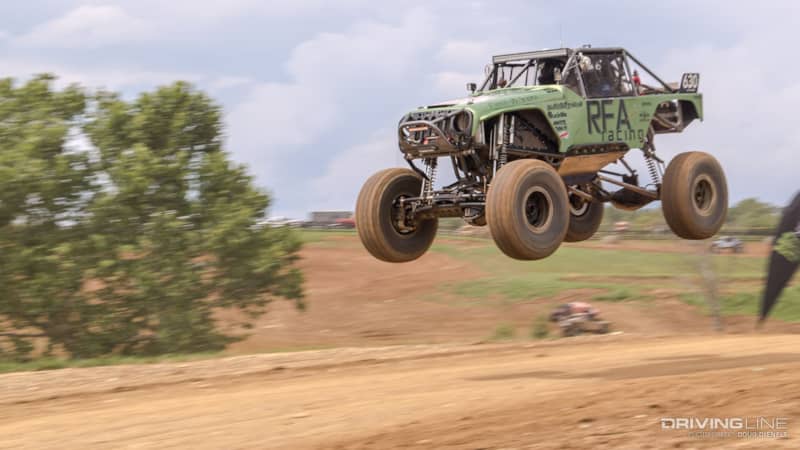 Between the first and second lap, Tom Wayes experienced a flat, requiring him to swing by pits for a tire change. This allowed the opportunity for Clay, Levi, and Jason Shipman to move out front. With a new rack and some steering adjustments on Tom's #321 prior to race day, he worked his car aggressively through the group to reclaim the lead. Trying out multiple lines on Bounty Hill, Tom got back around Clay and would retain the physical lead up until the last two laps. Course designers, Dave Cole and JT Taylor, gave the drivers a wide range of lines on the second rock shelf and this area proved to be a key location for strategic passing, if you had the courage and insight to run the alternate lines.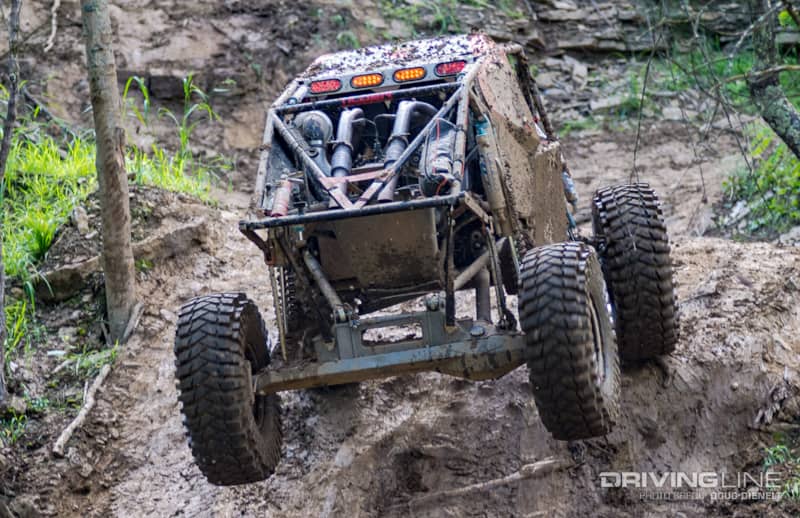 Late in the race, muddy conditions, combined with other factors, led to fading in Tom's brakes. Little did he and the other leaders know that Erik Miller had been pushing his car to its limits and was now within striking distance of the physical lead. With the course taking its toll on tires, cars and drivers, Erik had steadily worked his way from 36th position into first with only a few laps remaining. Typically a "full throttle racer," Erik found yet another gear on Saturday and executed one of the most exciting come-from-the-back victories in modern Ultra4 history.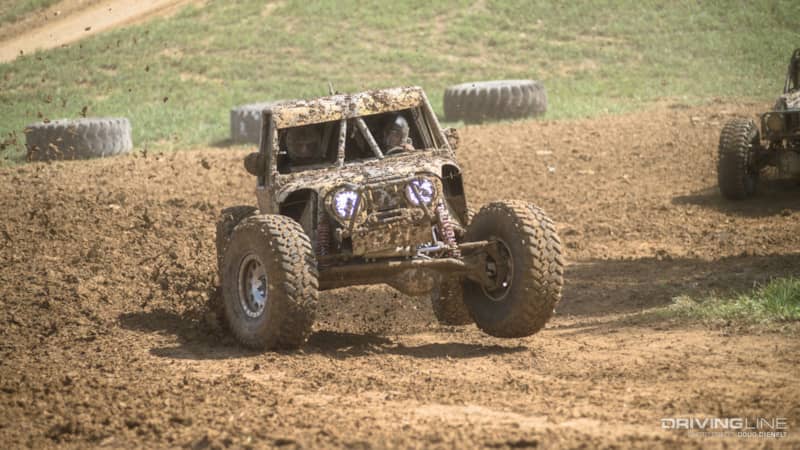 Ironically, Erik's push to the front was as much a result of his race radios being out as it was his single-minded focus on getting to the lead. After only three laps, Erik Miller had worked his way from 36th up to 6th, often utilizing Bounty Hill and Copperhead trail as bulk passing opportunities in a mad dash to the leaders. Picking off the additional lead cars proved to be a bit trickier, but by lap 15 Erik was in both the time-corrected and physical lead. Experience and a well-built, well-prepped car allowed Erik to avoid many of the mechanical and driver-related issues that put many other teams in the pits.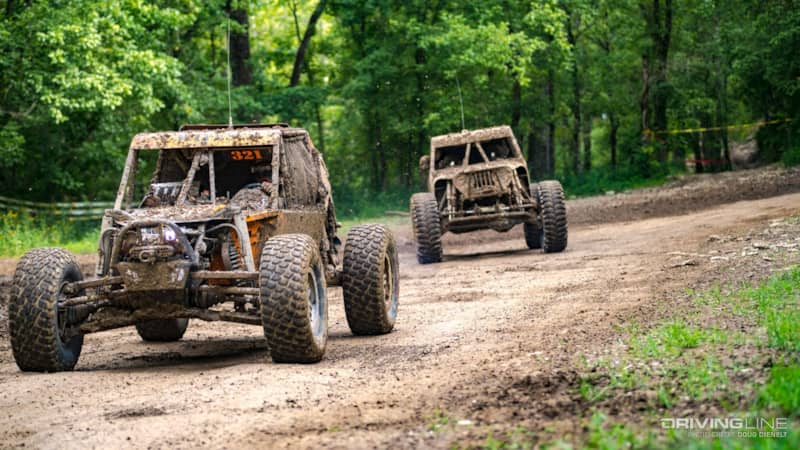 While Erik had his mindset on winning, his race radios cut out halfway through the race, so he had no communication with his team to find out where he was in relationship to the leaders. "I was comfortable, the car felt great, and I knew if I could get in physical first, then there would be no dispute about who won the race," said Erik post-race. "Our car is set up for this type of 'back East' wooded racing. The solid axle performs great, and my goal was to drive the car within my comfort level and physically catch the guys in front of me." By focusing on simply picking off the next car, and not knowing where he was in relation to the lead, Erik's determination drove him to the front of the field.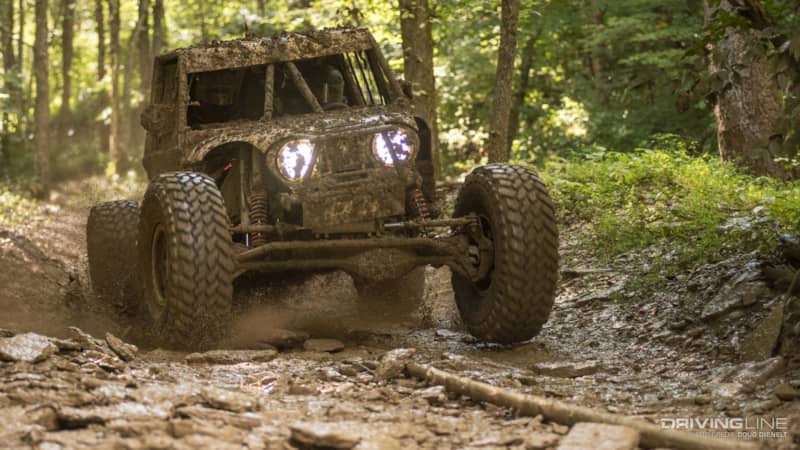 Tom Wayes and Clay Gilstrap continued to battle back and forth through the woods and up the rock facings despite Tom's flat front driver's tire on the last two laps. Meanwhile, Erik Miller maintained a clear line of sight to the finish line and nailed the last two laps to come across the finish line first. After accounting for starting order, Erik's total elapsed time would be over five minutes faster than 2nd, which was awarded to Clay Gilstrap with Tom Wayes taking the 3rd place on the podium.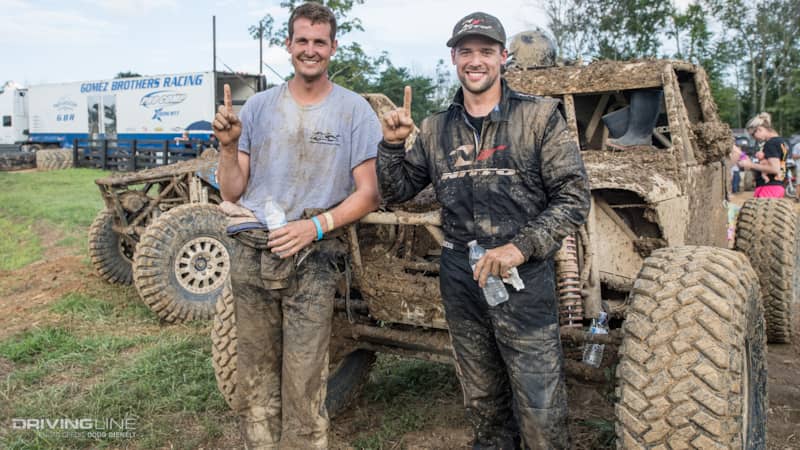 "This race was about patience, driving smart, and getting the most of the car while still being in control," said Erik after winning. Ultra4's Battle in Bluegrass makes Erik's 4th podium finish and 2nd victory during the 2016 Ultra4 National Championship year. Next month's VORRA 250 race will round out the Western Regional Series before October's final National Championship race in Reno, Nevada.
4500 Modified class Ultra4 Kentucky recap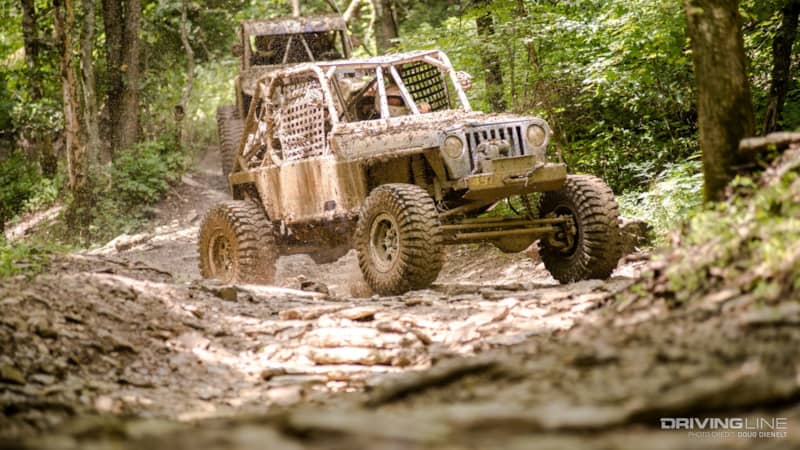 The 4500 Modified class featured a tightly packed group of competitive cars at the front with Duane Garretson taking the pole position over Jesse Oliver by a mere hundredth of a second. It would be Matt Howell who had the laugh, winning by a lap over Duane and three laps in front of eventual third place finisher Rob Matzell.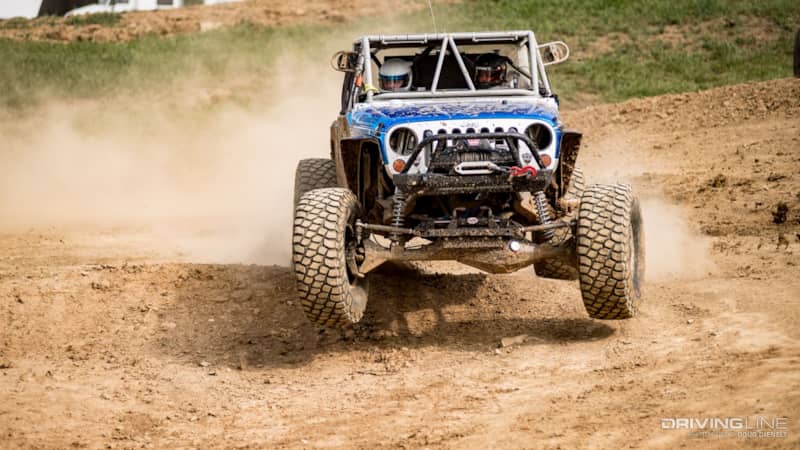 Matt raced back and forth all day in a close battle with Jesse Oliver. After steering issues forced Jesse to back off the pace, Matt and co-driver Adam Scherer maintained pace to stay in front of Duane. With a focus on finishing strong and continuing their push for national points, Matt drove within the limits of the car and avoided issue to take the checkered flag. This victory marks back-to-back victories for #4510, after also taking the checkered flag at Badlands.
4800 Legends Dirty Turtle class recap
Kent Fults built upon his 1st place finish in Hotsprings and his 2nd place finish in round two at Badlands and took home the checkered flag at Battle at Bluegrass. Coming from 3rd position after qualifying, Kent put one lap on 2nd and two laps on 3rd place. Always competitive, Casey Gilbert and Dave Schneider had the top two spots after qualifying, but both finished outside the top 3 on race day.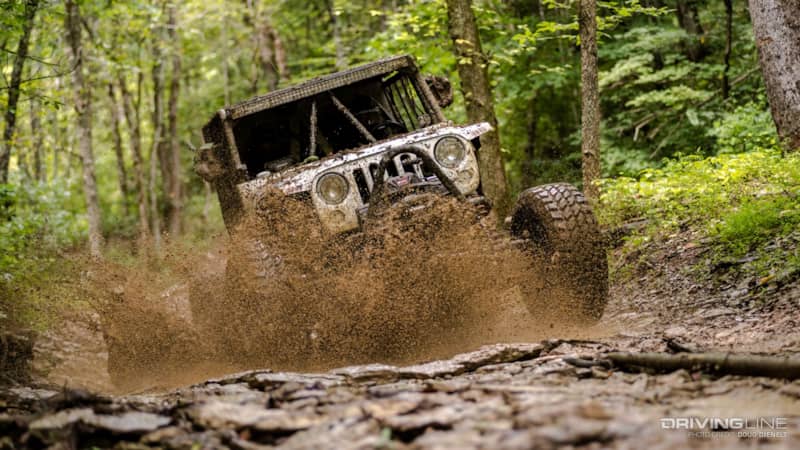 The Legends class (along with the Modified class) had the worst of the track mud, starting earlier in the day with the track having less time to dry out from the rain the night before. A muddy, clay-filled short course and tight twists and turn in the woods led to several brush-ups with trees. The course took the cars up a couple of rock bouncer style hill climbs and then DOWN one of the hills. There were significant navigation issues with the downhill section with one car taking out a tree while the rock bouncer section was eventually bypassed to keep the race flow moving. The continual pounding of the course by the Legends and Modified cars, however, helped dry the track and increase the speed for the 4400 cars later in the day.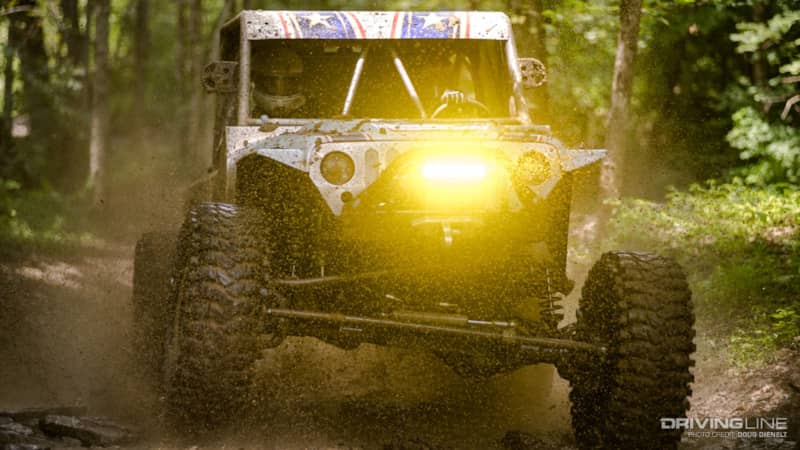 After all the back and forth, Kent Fults once again raised his arms in victory, followed by Adam McGough in 2nd and Lee Griffith in 3rd. This race at Dirty Turtle marks the final race of 2016 for the East series, with only the Nationals in October available as one last opportunity earn points for the coveted national championship title.
Onward toward the season-ending push
So, a new course but a familiar result as the two-time King Erik Miller took the checkered flag in dramatic fashion, driving from the back of the pack after rolling the day before the race. While rolling the day before a victory is a tradition Erik and team would like to stop, the general consensus of drivers and fans alike is that Dirty Turtle Offroad is a great park that truly challenges the Ultra4 cars and is a great addition to the race season. The park owners were open to feedback and actively engaged in making a safe, but exciting race environment that was both challenging, but spectator friendly.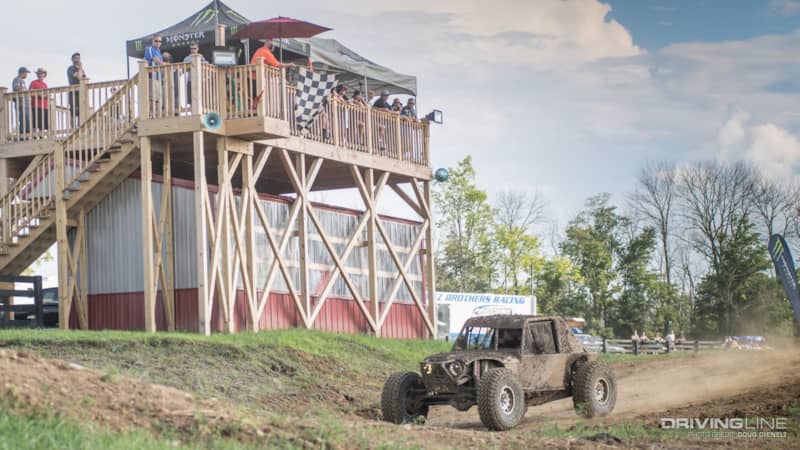 Driving Line will be covering the next stop for the Ultra4 season in Fallon, NV for the VORRA 250, then on to Nationals in Reno, NV, where the season points champion will be crowned.
Follow us on Facebook and keep an eye out for more LIVE videos posted there during races, you can interact and ask us questions in real time!