Family Tradition: A 2005 Jeep Wrangler Rubicon Rich with History
In many families across America, a Jeep Wrangler sitting in the driveway represents more than just a means of transportation. It's a mobile time capsule. Each imperfection and upgrade representing a special moment in time. When Ken Carter purchased his 2005 Jeep Wrangler Rubicon in March of that year, it was partly with the hope that one day it would be passed on to a grandchild.
While some family heirlooms remain tucked away safely for future generations, this Jeep has always played an active role. From off-roading adventures in the Carolina mountains to late-evening hauls to baseball practice, 17 years of memories have enveloped this machine. How you see the Jeep today coincides with one of the most monumental occasions in a person's life- a learner's permit.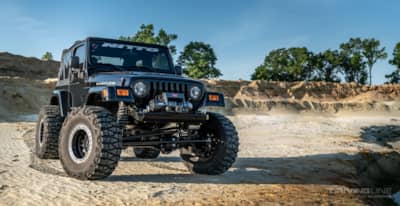 It's something that Jackson Carter had been waiting on for some time. Jackson, as you might have guessed, is Ken's grandson. While a stock Wrangler would be an incredible first ride, stock is not the Carter way. So, with his new-found driving freedom would come Jackson's turn to place his own spin on the TJ. Using the money from selling off many of the original parts (axles, wheels, tires, bumpers, and so on), Jackson was able to secure the funds and put his own sweat equity into the build.
Recently, we got a chance to catch up with Jackson and take a closer look at this legacy Jeep. With help from his father and grandfather, Jackson has started a new chapter for this Jeep. Three generations of this family have left their mark on this Wrangler, and in many ways, this Jeep has made an almost immeasurable impact on their lives. No matter how you see the Jeep, the future off-roading looks to be in good hands.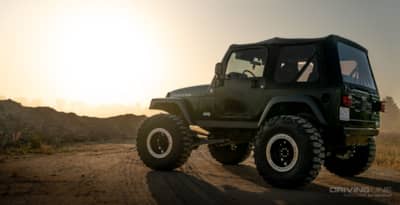 Reliable Power
Reliability was paramount for this build. So, the original 4.0L inline-six engine remains mostly as it came from the factory. It's backed by the 42RLE automatic transmission and original NVG241OR transfer case. The ARB Twin-Air compressor mounted near the grille provides onboard air and feeds the selectable lockers. Providing extra braking power is a master-cylinder from a late-90's Ram 1500.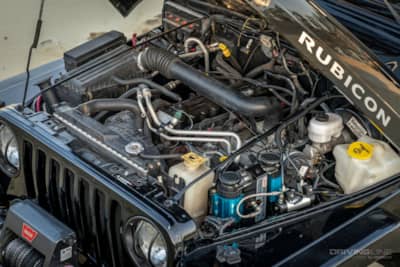 ECGS 60
The custom front axle comes from East Coast Gear Supply. It uses a high-pinion Dana 60 differential with outers from an '05 and up Ford F-350. The 35-spline chromoly axleshafts are guided by an ARB Air Locker which is mated to a 10.1-inch ring gear. The steering is a custom setup built by Low Range 4x4.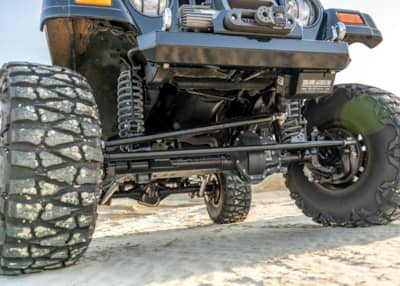 Van 60
Out back, a full-float Dana 60 was plucked from a Ford E-Series van and refurbished for the TJ. Like the front, it uses a 5.38 gearset along with an ARB Air Locker.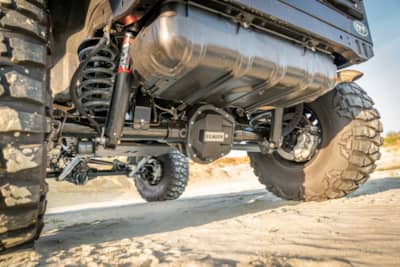 Long and Low
The Rubicon Express long-arm suspension has been on the Jeep for many years. This kit uses radius-style long-arms up front with a four-link with track bar out back. For coils, it's using the RE 4.5 lift springs with a 2-inch spacer up front and 1.5-inch isolator out back. Offering ride control are a set of Fox 2.0 IFP shocks.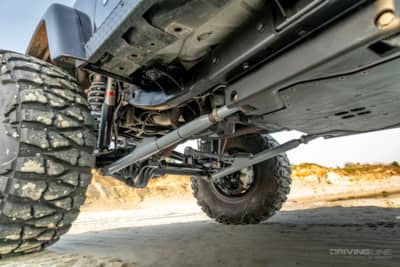 Locked Grapplers
One of the biggest upgrades Jackson wanted for the Jeep was a set of 37x13.50R17 Nitto Mud Grapplers. He loved the way they looked, roared rolling down the highway, and had witnessed them perform off-road. To ensure the Mud Grapplers would be ready for battle, they were paired with 17x9 KMC beadlock wheels.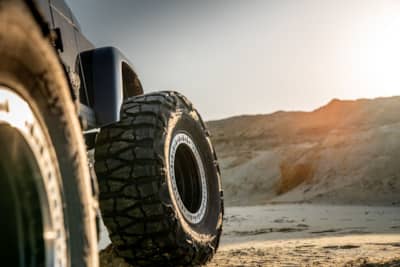 Stable Horizons
The 60-series Ford rear axle is a touch over 67 inches wide. Couple this axle width with 3.5 inches of backspacing and you have one very wide and stable rig. While he'll probably never need a spare, there are plans in the works for a full-size tire carrier to be placed outback.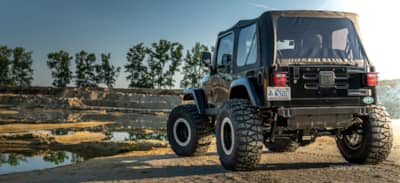 Gen-Light
For many years, this TJ has carried a Warn XD9000i recovery tool up front. To put his own spin on the front end, Jackson bolted on a fresh aluminum front bumper from GenRight. Along with the lightweight stubby bumper the Warn got a fresh spool of synthetic rope with a Factor 55 FlatLink.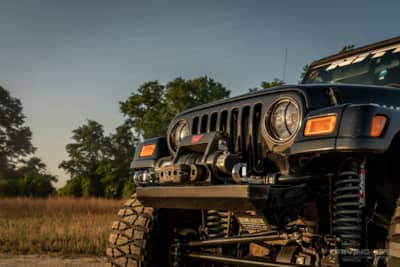 Covered and Cool
Like most 17-year-old Wranglers, this Jeep has gone through a soft top or two. It's currently running a Rough Country replacement soft top, which we are told has worked and weathered extremely well over the past few years. Inside, it remains mostly stock for now, but there is an interior cage upgrade in the works.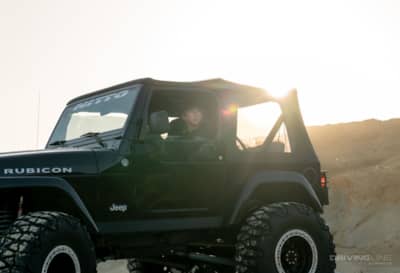 Trail Ready
By now, you might be thinking that this rig looks too clean to actually hit the trail. However, that's mostly because it's a fresh build. Jackson has piloted this Jeep off-road in its previous build configuration (shown here) and is excited to get it back up to Uwharrie National Forest to see how this stage will work in the rocks.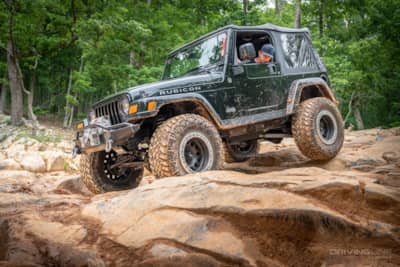 Like Father, Like Son
While it was Jackson's grandfather that set this build in motion all those years ago, Jackson's father was key in making his build dreams become a reality. Some of our long-time readers might recognize the white JK in the background. It belongs to Jackson's father Kelly Carter, who happens to be the owner of Low Range 4x4 in Wilmington, North Carolina. The off-road hobby has always been one that is family oriented, regardless of vehicle make. We love to watching new generations of off-road enthusiasts coming up and look forward see what the future holds for this up-and-coming Jeeper.