The LS LJ: Erik Miller's 2005 Jeep Wrangler Unlimited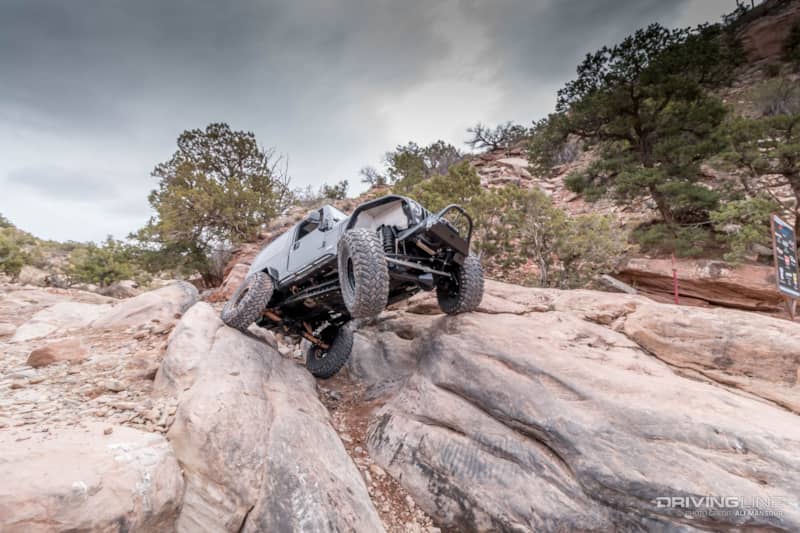 The 2004 to 2006 Jeep Wrangler Unlimited is one of the shortest-lived and highly sought after 4x4s Jeep ever produced. Often referred to as an LJ, the long-wheelbase Wrangler's demand a premium due to the scarceness and high demand. If you're looking to get one for a deal, you'll likely need to do what Erik Miller did with his 2005 LJ – find one that's in need of repair.
Since his Miller Motorsports race shop is constantly building and maintaining an assortment of off-road race vehicles, spare parts are bound to pile up around the shop. While most of us have an overflowing bolt bin that we should get rid of, Miller had some more elaborate components collecting dust. Itching to build something a little more on the conventional side (compared to a full-bore Ultra4 racer), Miller, along with help from his friends and cohorts Rob Ruggiero, John Balducci, and Dom Balducci, transformed the wrecked LJ into a formidable 'wheeling machine.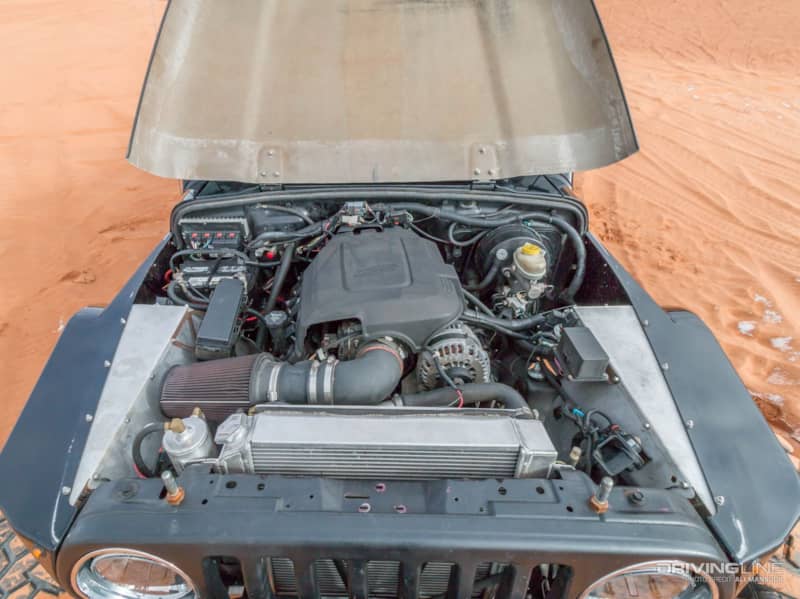 Miller states that there wasn't anything wrong with the stock 4.0L engine, but he wanted more juice for spinning over the 40-inch Nitto tires. To accommodate his power needs, a 6.2L L92 series GM V-8 was shoehorned under the hood. A Ron Davis radiator is used to cool the 420hp and 440 lb-ft of torque, while a Tilden Motorsports oil pan makes certain there's no starvation issues. Adding more breathing power are Doug Thorley Block Hugger Headers, which feed a custom 3-inch exhaust and DynoMax muffler.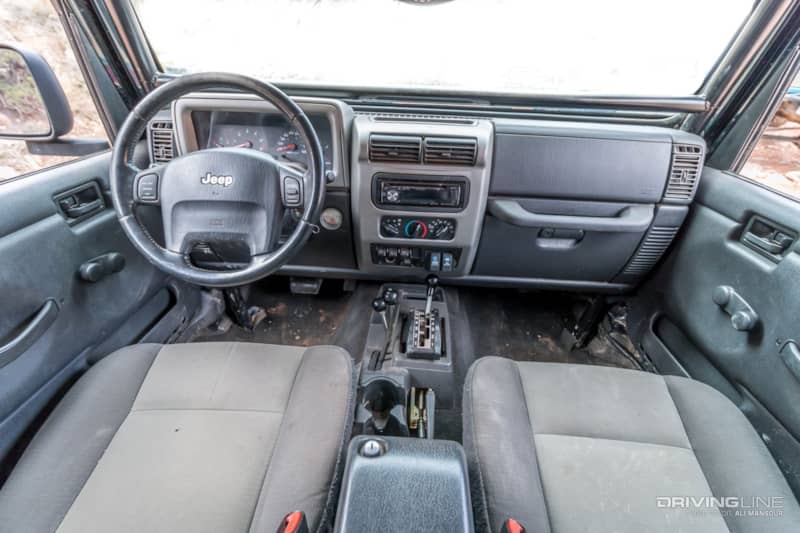 Channeling the Northeast Speed Shop tuned V-8 is a 6L80E transmission, which gets its marching orders from a Winter's shifter. Dividing up the power is a two-speed Atlas transfer case. The gear-driven T-case was fit with a 3.0:1 low range gear ratio. This provides an excellent balance of crawl control and wheel speed when he needs it.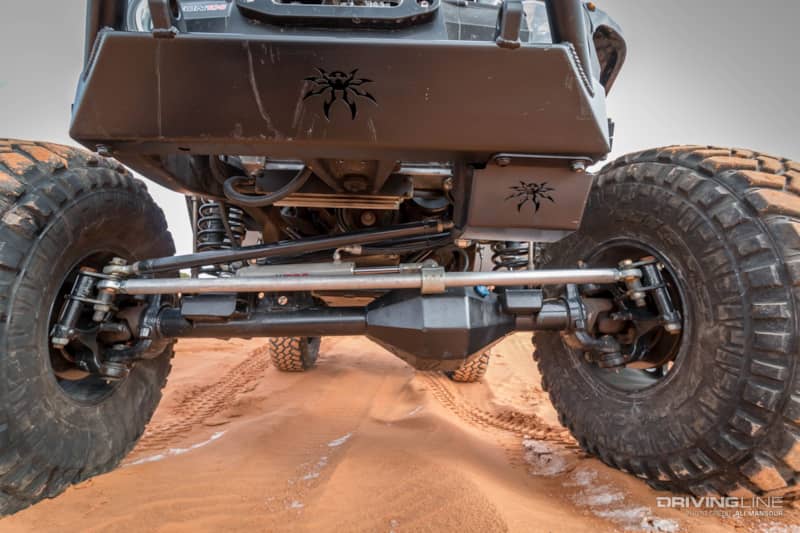 Up front, you'll find a Spidertrax axlehousing that was plucked from one of Miller's old Ultra4 cars. It's fit with a Hi9 third member, Spidertrax 300M axleshafts, spool, 5.40:1 gears, and Yukon locking hubs. For stopping power, Brembo rotors were teamed with four-piston calipers from a Toyota Tundra. The custom steering configuration uses JHF high-steer arms, along with Branik Motorsports 7075 T-6 steering linkages. For added ease of steering a PSC hydraulic-assist system was installed as well.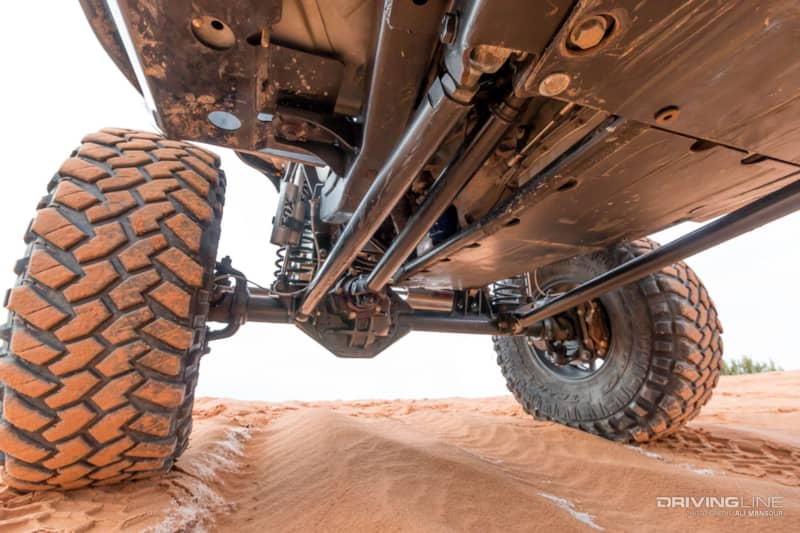 Feeding the high-pinion front differential is a 2-inch-round, 0.250-wall custom driveshaft that sports standard 1350 U-joints. Keeping the axle in check is a Rock Krawler 3.5 Pro Series suspension. This setup provides a total of 12 inches of wheel travel and plenty of bind-free articulation thanks to Rock Krawler's long-travel 3-link setup and progressive-rate coils.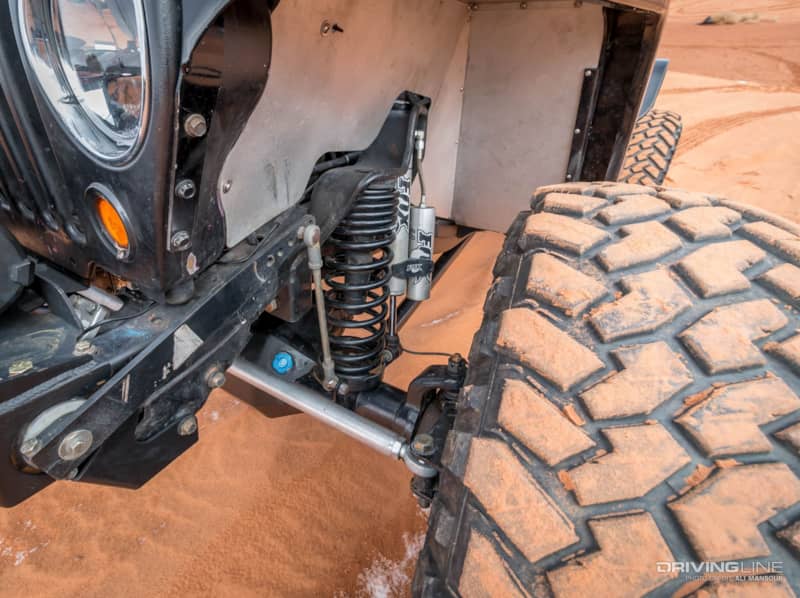 Miller knows a thing or two about going fast off-road. One of the keys to keep the Wrangler stable at speed is fitting it with proper shock valving. Fox 2.0 remote reservoir absorbers were placed at each corner of the Jeep to increase the ride and performance on the road and off. Additional suspension tuning and handling improvements come by way of Currie Anti-Rock sway bars.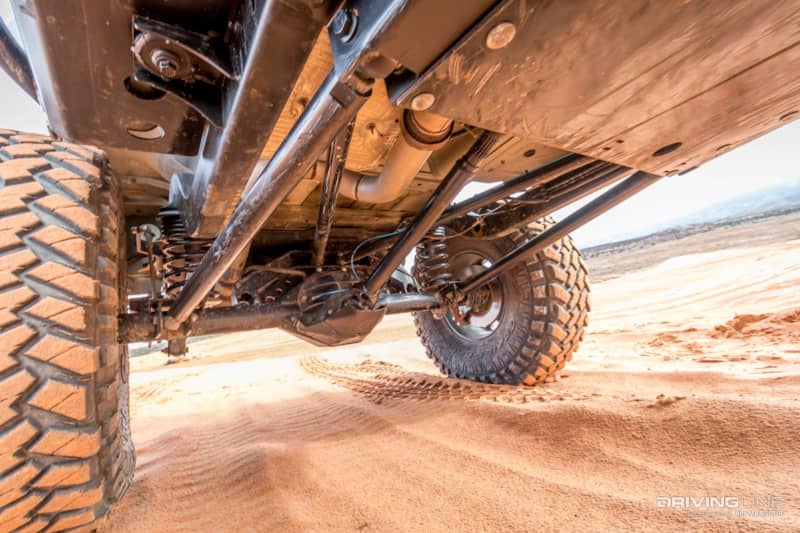 Out back, another race-axle found its way in place of the stock Dana 44. The Spidertrax 'housing uses an East Coast Gear Supply Comp 9 third member, which is mated with a massive ARB RD99CE rear locker. A set of 300M axleshafts are used to spin the full-float Spidertrax hubs. Thanks to Rock Krawler's triangulated four-link design, no track bar is needed out back.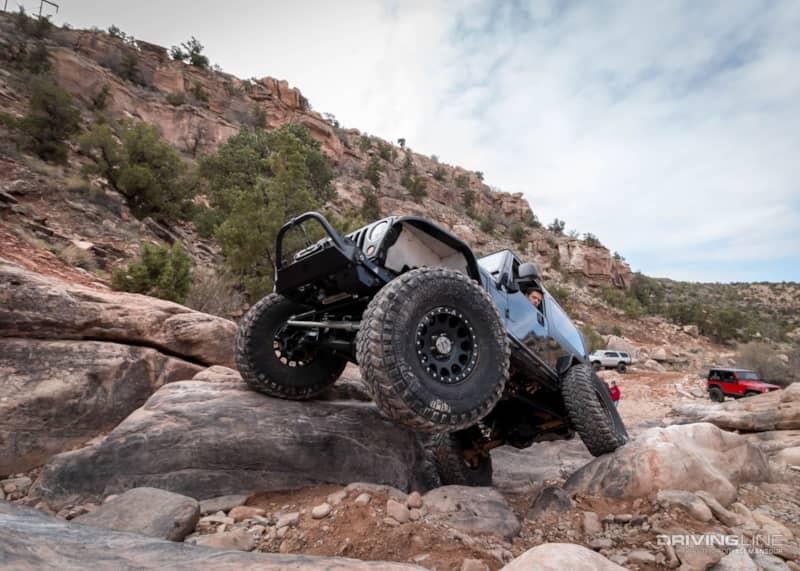 Providing grip on the trail and beyond are 40x13.50R17 Nitto Trail Grapplers. These nearly indestructible mud-terrain radials are the same size that Miler uses on his well-proven Ultra4 racer. To increase the tires footprint and allow single-digit pressure on the trail, Miller fit the LJ with 17x9 Method NV beadlocks.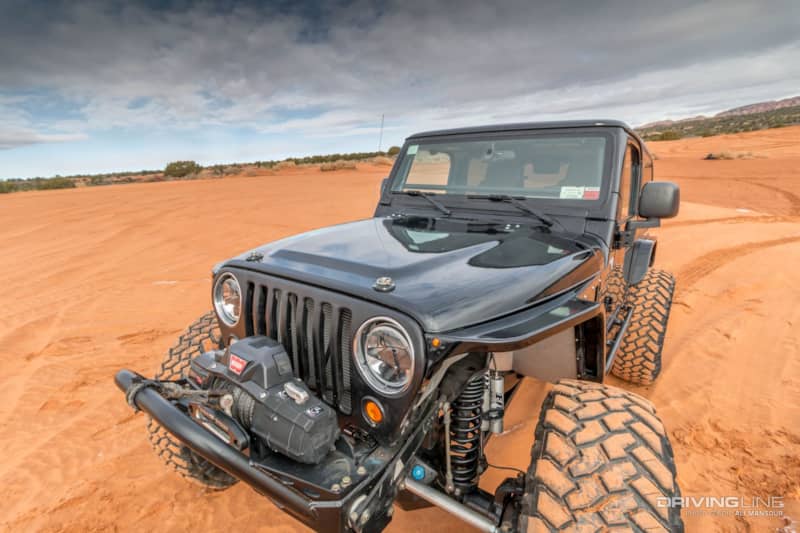 Helping to achieve the low-lift and big-tire combo, Miller installed a set of Poison Spyder Customs highline front fenders. Typically, the fender upgrade requires sawing away at your stock hood, but Miller opted to go with a lighter and slightly more stylized fiberglass hood from Chris Durham Motorsports.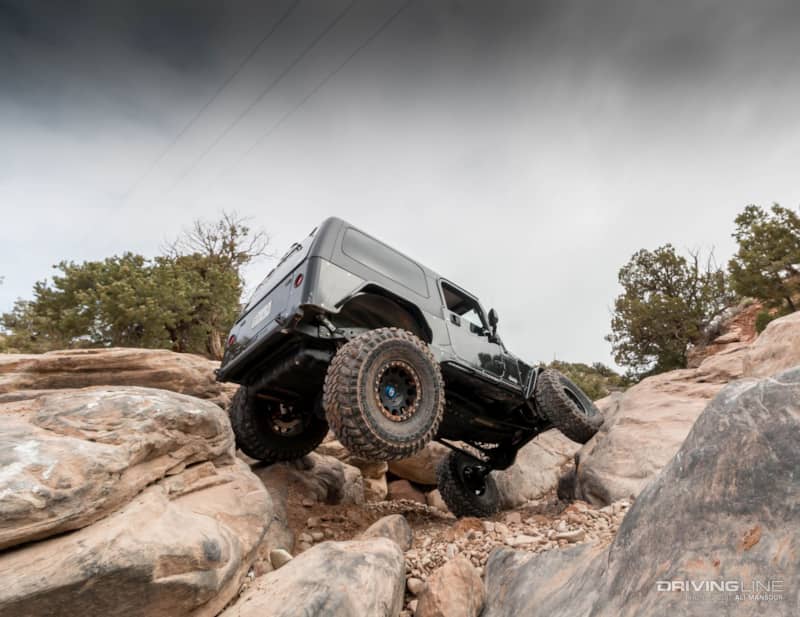 The 3/16-inch steel rear armor, rockers, and bumper all come from Poison Spyder as well. Here, Miller can be seen twisting his Jeep to its limit on the entrance of Upper Hellderado at Area BFE in Moab, Utah.
Recovery needs are handled by a Warn Zeon 10-S winch. To increase nighttime visibility, Truck-Lite 7-inch-round LED headlights were bolted in place.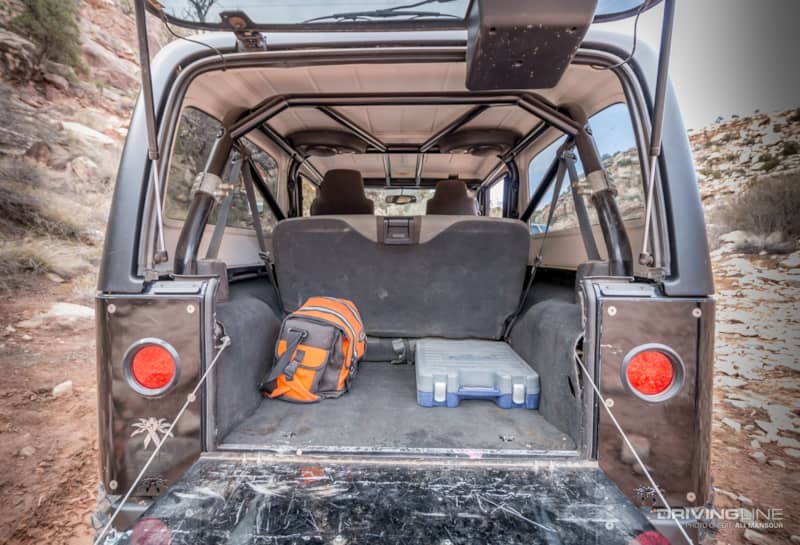 Rounding out the long list of quality modifications is an interior 'cage from Synergy Manufacturing. Sure, the Miller crew could have hammered out a custom 'cage, but with so much aftermarket support for the Wrangler, it didn't really make much sense.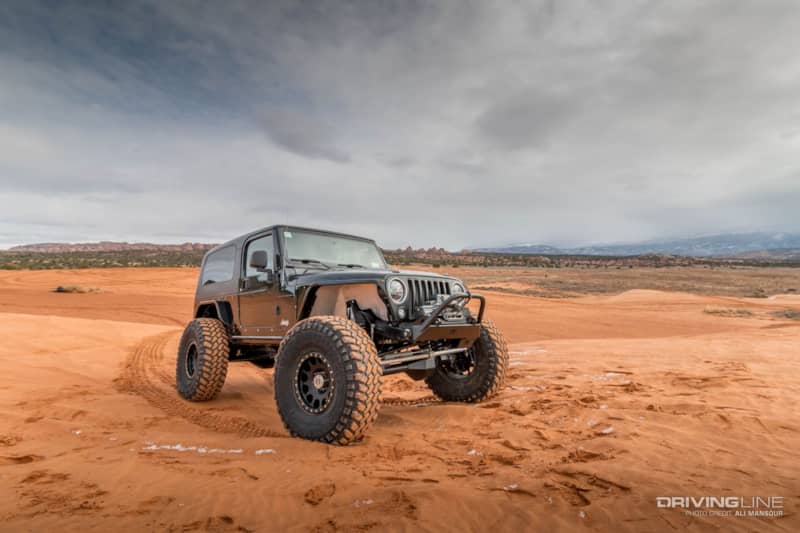 HARD FACTS
Vehicle: 2005 Jeep Wrangler Unlimited
Engine: 6.2L GM L92
Transmission: 6L80E
Transfer case(s): Advance Adapters Atlas II, 3:1 low range
Front axle: Spidertrax housing, Hi9 third member, Spidertrax 300M axleshafts, Yukon hubs, spool, 5.40 gears
Rear axle: Spidertrax housing, ECGS Comp 9, ARB Air Locker, 5.40 gears
Suspension: Rock Krawler 3.5 Pro Series w/Fox shocks
Tires: 40x13.50R17 Nitto Trail Grappler
Wheels: 17x9 Method NV beadlock
Misc: Poison Spyder Customs armor, PSC Motorsports hydro-assist, Synergy Mfg. 'cage, Warn Zeon 10-S winch