Fit For a Crossover: The Nitto Nomad Grappler Creates Its Own Category Of Tire
The crossover utility vehicle market is the fastest-growing automotive segment in America right now, so why not capitalize on it by offering a purpose-built tire for CUV owners? With a history of designing aggressive tires yet also taming them for street use, Nitto worked its magic on yet another groundbreaking product: the Nomad Grappler. Designed specifically for crossovers, Nitto's all-new crossover-terrain is as at home off the pavement as it is on it. Zigzagged lateral grooves, staggered sidewall lugs, triangular sipes, tapered tread blocks and staggered shoulder blocks ensure traction is never an issue, while a sidewall with the perfect amount of rigidity combines with a variable pitch tread pattern to provide a smooth, quiet ride on the highway.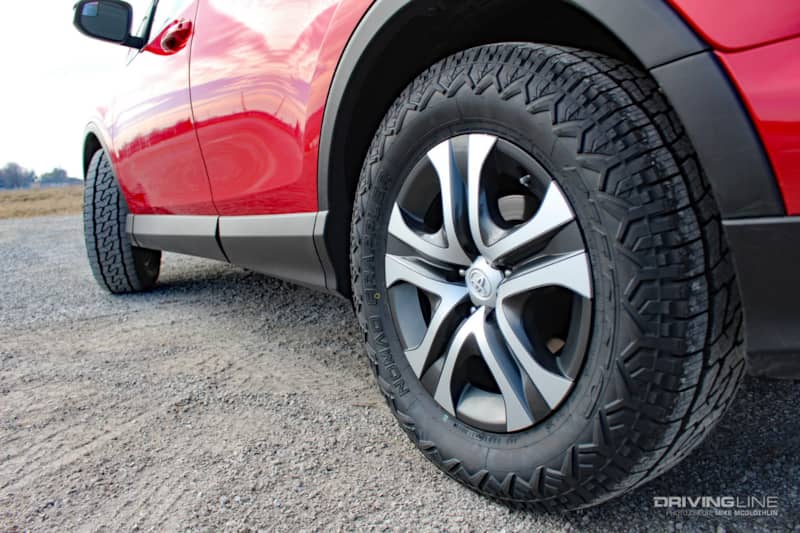 In development for some time, the Nomad Grappler was more than worth the wait. Nitto nailed it with these tires. They fit this author's '16 Toyota RAV4—a pavement-pounding child-hauler that occasionally gets its feet wet on the weekends—to a T. They're quiet, capable and fairly priced. So far we've seen what they can do in snow, sleet and rain, and we've thoroughly enjoyed the ride quality at 80 mph. If our experience with the Nomad Grappler is the same for other CUV owners, look for Nitto's crossover-terrain to be a huge hit.
Tire Specs
| | |
| --- | --- |
| Size: | 245/65R17 |
| Inflated Diameter: | 29.53 inches |
| Inflated Width: | 9.76-inch |
| Max Air Pressure: | 50 psi |
| Load Index: | 111 |
| Carrying Capacity: | 2,403 lbs/tire at 50 psi |
| Factory Tread Depth: | 12.9/32" |
| Miles Tested: | 600 miles |
Solid Sidewall Execution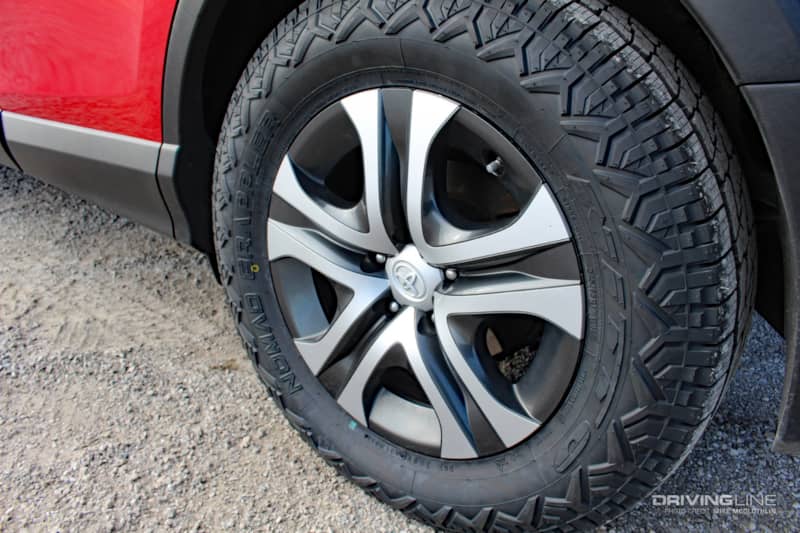 Nitto's Nomad Grappler is a steel-belted (tubeless) radial tire and its sidewall construction offers a near-perfect balance between rigidity and comfort. Load carrying capacity on our test set checks in at 2,403 pounds per tire at a maximum inflation pressure of 50 psi—overkill, yet peace of mind, for a vehicle with a 4,640-pound GVWR. Like the light truck Grappler line, the Nomad also boasts dual sidewall designs.
Sized Right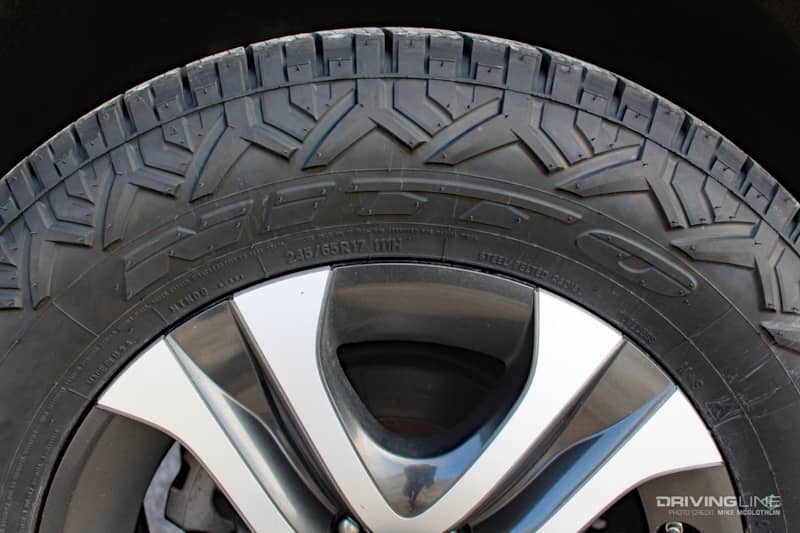 The Nomad Grappler debuts with 25 different sizes, spanning from 17-inch to 20-inch wheels. Our RAV4's factory 17-inch wheels accommodate a set of 245/65R17 Nomad Grapplers and, despite being wider (and taller) than the factory-spec 225/65R17 tread the CUV originally came with, there are zero clearance issues. The overall inflated diameter of our crossover-terrains is 29.53-inches and the inflated width is 9.76-inches. A weight of 34 pounds per tire directly compares to all-terrains of this size. Factory tread depth is listed at 12.9/32" which we found to be accurate.
The Decibel Diet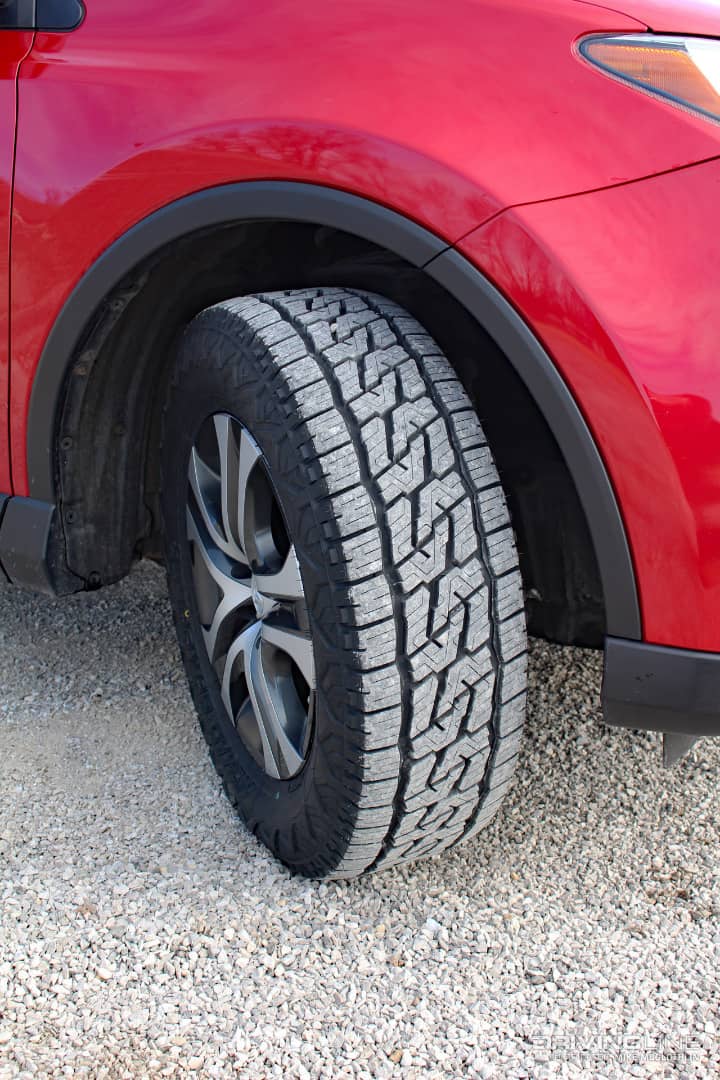 Without a doubt, the Nomad Grappler beats a comparable all-terrain in the road noise department. Nitto makes this happen with a variable pitch tread pattern, where tread blocks of varying sizes are employed to help break up and decrease noise frequencies as you roll down the highway. Thus far in our testing, the Nomad Grapplers are best compared to an all-season. They are quiet.
Superb Dry & Wet Traction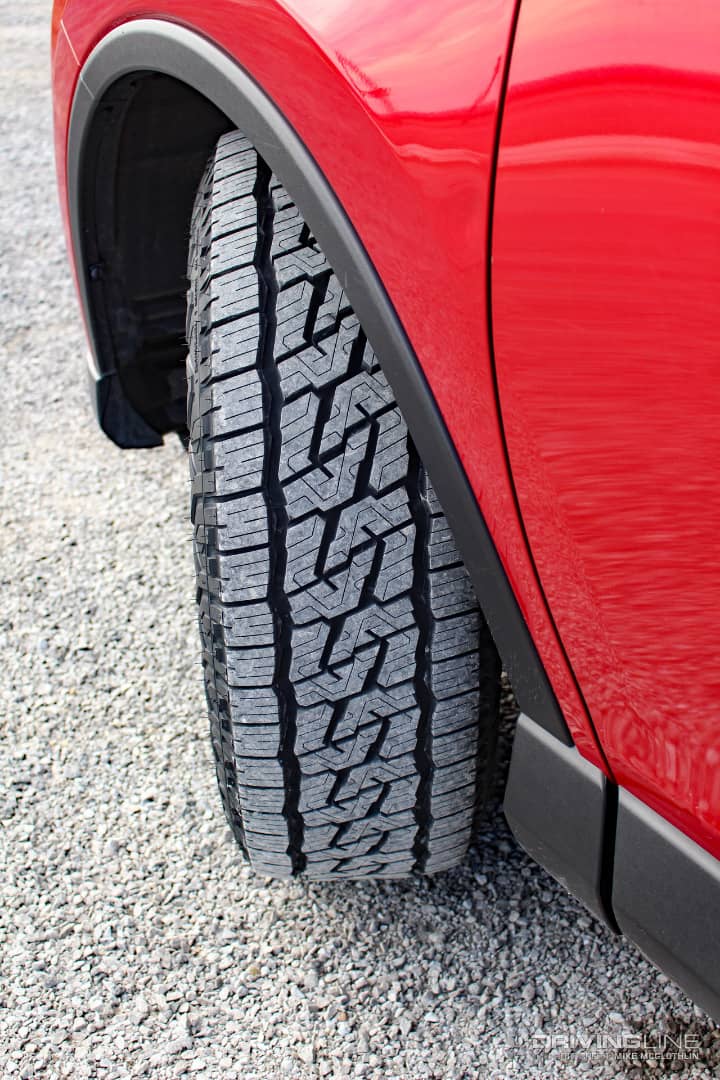 Supreme traction off-road comes courtesy of the Nomad Grappler's wide, zig-zagging lateral grooves and staggered sidewall lugs—and unsurprisingly, the tire enjoys a 4.5 out of 5 rating in off-road performance. Tapered tread blocks also improve traction in wet conditions by strengthening block rigidity. In sleet and recent rain, we've never once felt a disconnect between the Nomad Grapplers and the road. The aforementioned zig-zag grooves also help to evacuate water, while triangular sipes offer biting edges for further traction aid.
Snow Performance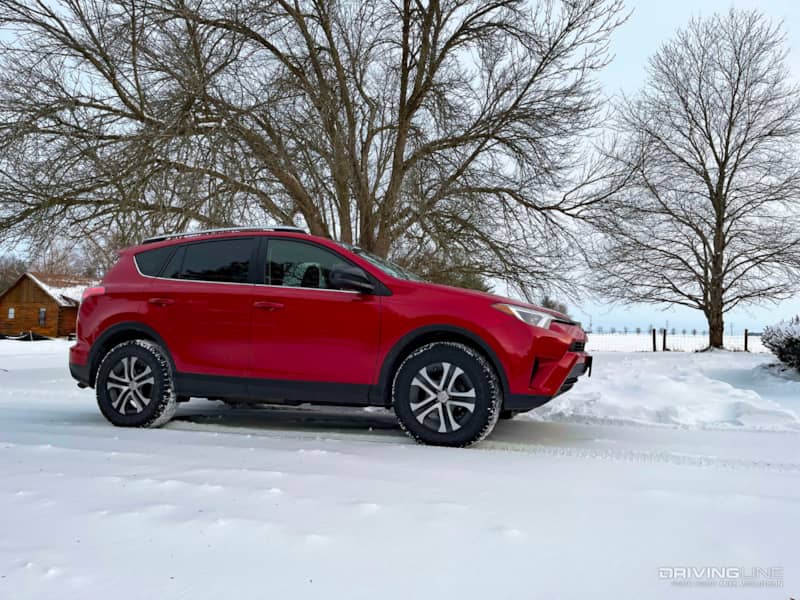 Nitto engineered the Nomad Grappler for solid wet-weather and snow performance, and the tire enjoys a 4 out of 5 wet performance rating. Days after mounting them, we were greeted with a foot of snow to play in, followed by another 10-inches shortly thereafter. Despite the RAV4's light weight, with the Nomad Grappler in the mix the all-wheel drive CUV had zero issues digging through more than a foot of powdery snow. Not only was low-speed acceleration uneventful, but so was stopping the crossover.
3PMSF Rated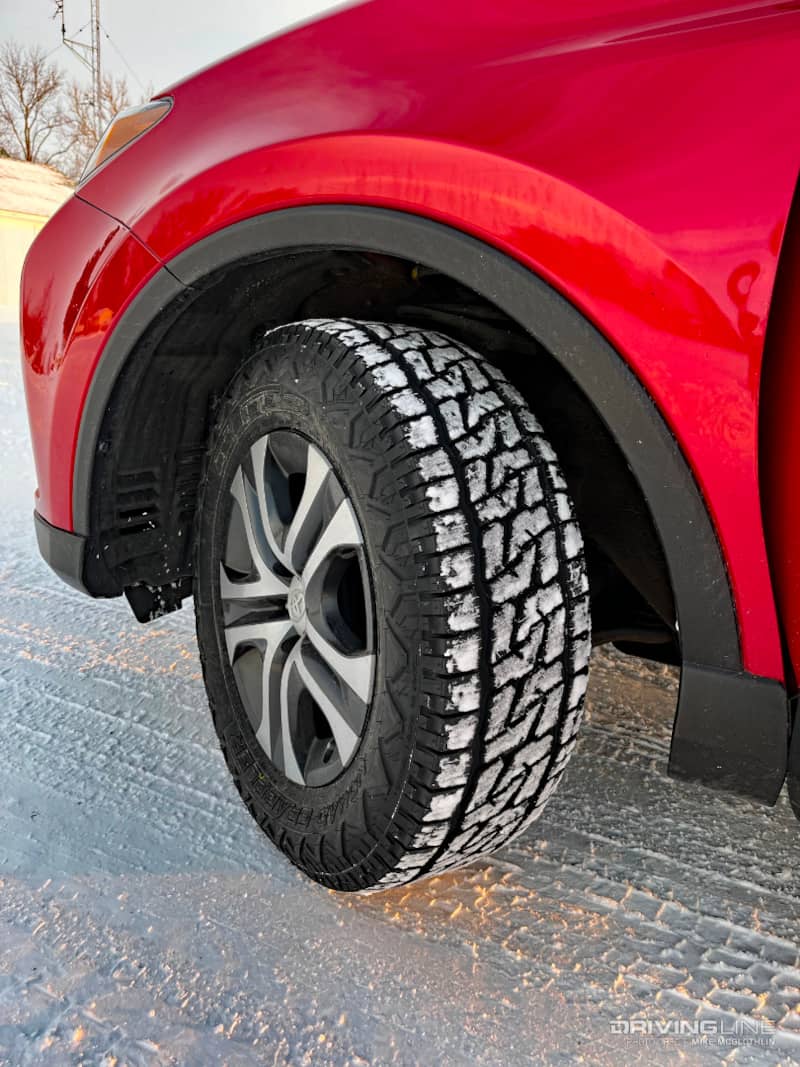 The Nomad Grappler's 3-Peak Mountain Snowflake rating (3PMSF) helps explain its strong performance in snow. A 3PMSF rating means that the U.S. Rubber Manufacturer's Association has approved a given tire for meeting the minimum requirements for performance in severe snow conditions. To some CUV owners, it's icing on the cake, but for loads of crossover drivers in northern and western climates the 3PMSF rating is a big selling point. Once again, it's clear Nitto did its homework with this tire.
60,000-Mile Limited Treadwear Warranty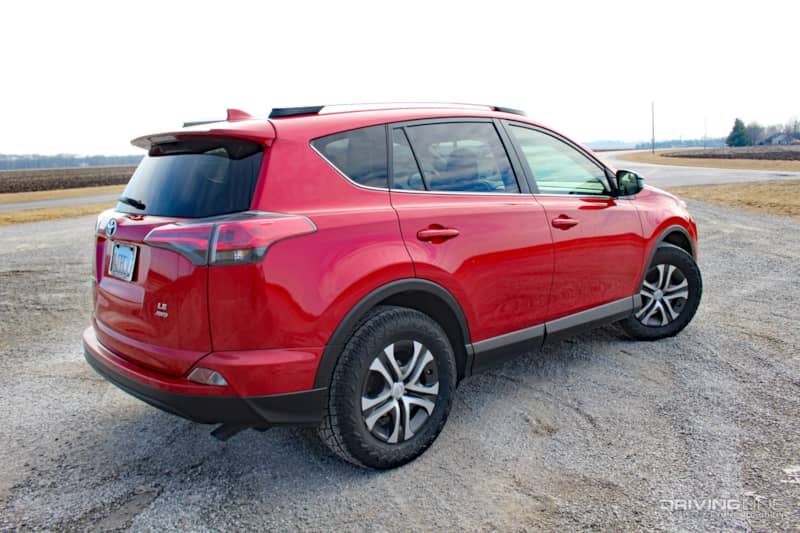 How long do we expect the Nomad Grappler to last? Let's start with what the manufacturer expects customers will get out of a set... Considering that Nitto offers a 60,000-mile limited treadwear warranty with the Nomad Grappler, we'd say the tire maker is highly confident in its crossover-terrain's ability to hold up over the long-haul. Rotating every 5,000 miles and checking inflation pressure regularly, we plan to get at least that out of the set mounted underneath our RAV4.
Initial Impressions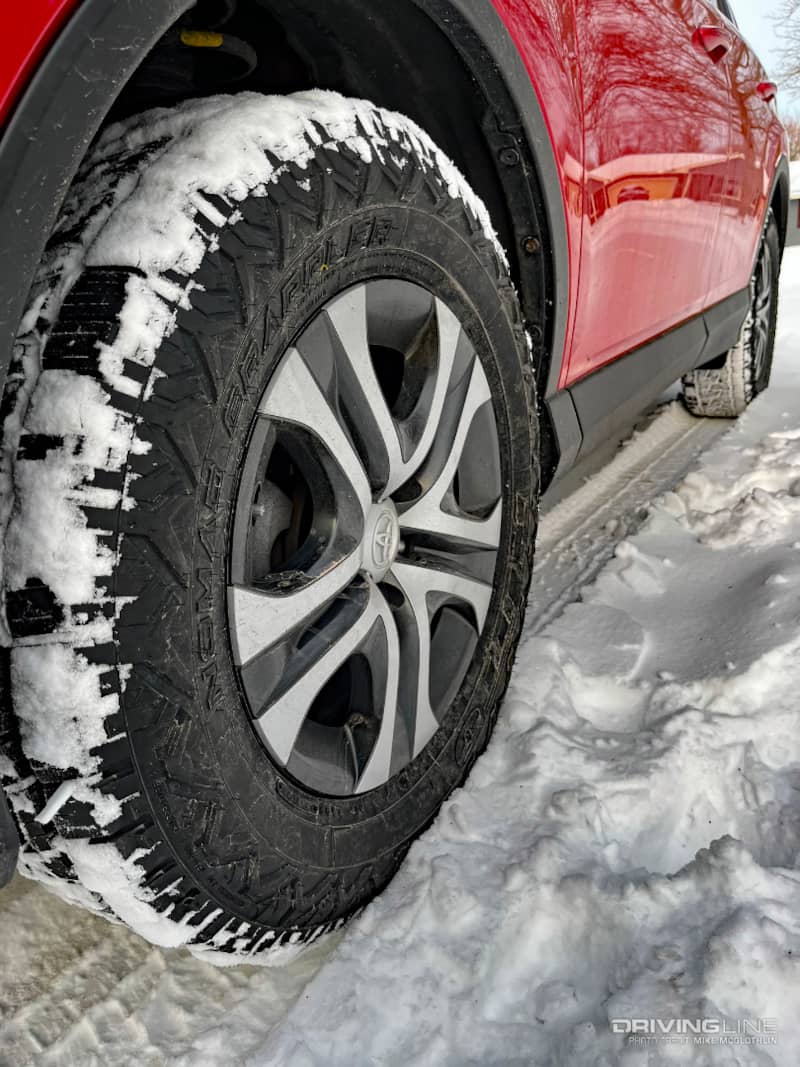 Over the course of the first 600 miles, we've been subtly impressed with the overall performance of the Nomad Grappler. It's unmistakable how well the tire fits our particular crossover. The ride quality is above average in terms of both comfort and tire noise, the tire's ability to find traction before, during and after a substantial amount of snowfall was particularly pleasing and we look forward to putting them through their paces as the spring thaw-out approaches. In the months ahead, they'll be exposed to light mud, rain and various highway trips. We'll be tracking mileage, tread depth and tire noise along the way. See you soon!
More From

Driving Line
Want the lowdown on another Nitto tread pattern that carries an outstanding limited treadwear warranty? Check out the F load range Terra Grappler G2 right 

here

.