Form Follows Function: A Lifted, Off-Road Focused '16 Ford F-150 FX4
The Ford F-150 is the best-selling vehicle in America and subsequently the most popular pickup truck on the road… But what about off-road? The release of the Raptor in 2010 offered an off-road capable truck at a steep price tag. The aftermarket would soon discover that there are ways to achieve a fair amount of capability out of the standard trim levels without shelling out quite as much cash as the Raptor required. Enter Seth Lowery's 2016 Ford F-150 FX4.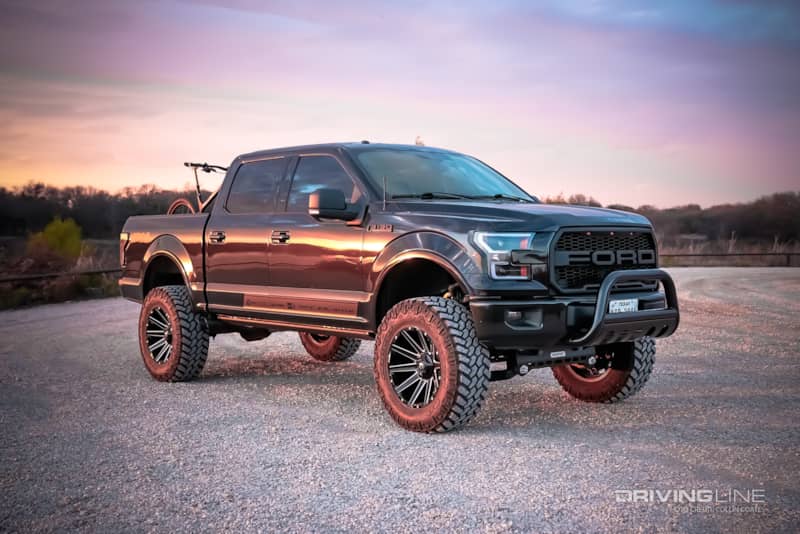 F-150 FX4 vs. Raptor
Seth needed a full-size pickup truck that would fit in with his outdoor lifestyle. If he's not off-roading in one of his Jeep Wrangler builds, he's hitting the trails on two-wheels, mountain biking his way through the Texas back country. Because of this, Seth wanted the ability to tow a jeep on a trailer behind his truck, and haul a couple mountain bikes in the bed. This is where the Raptor fell short. The 2016 SuperCrew Raptor had a max tow of only 8,000 lbs, compared to the nearly 11,000 lbs his 5.0L Coyote V8 equipped Fx4 is capable of towing, making the FX4 the obvious choice.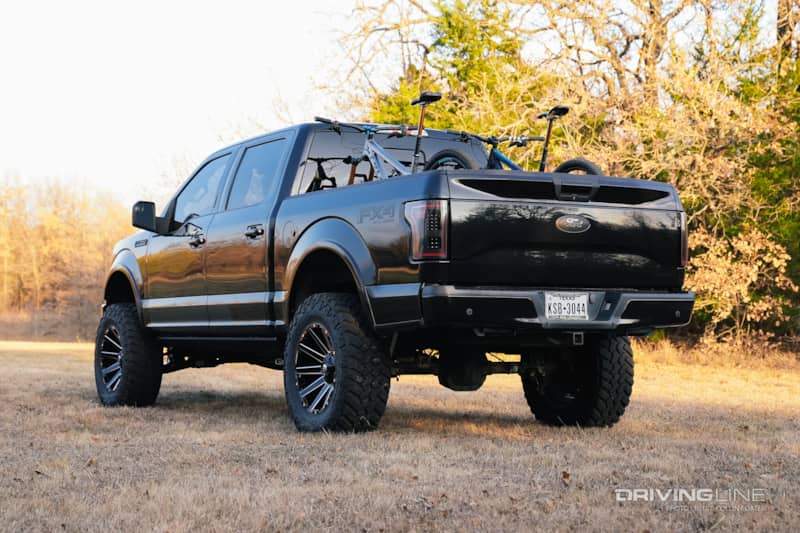 37" Trail Grapplers
Seth isn't one to leave any vehicle stock, and knew that his F-150 FX4 wasn't going to cut it from the factory. He wanted it to have some prominence on the street, and have the ability to take him to more secluded mountain biking trails when he wasn't towing the Jeep. Because his F-150 is the vehicle he drives most, he needed a tire that would provide an aggressive tread design for off-roading without compromising on-road performance. Having run the Nitto Tire Trail Grapplers on his last few Jeep builds with much success, Seth landed on the same tire for his truck build. He likes how aggressive they look and the fact that they consistently perform well on-road without musch noise compared to other M/T tires. He opted to run them in the 37x12.50R20 variant on a set of 20x10 Fuel Contra wheels. This combination stands out, with performance to match the incredible looks.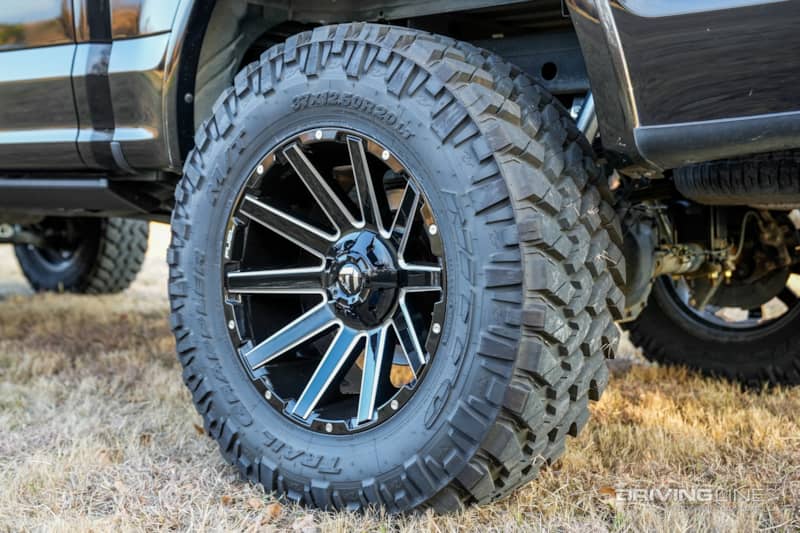 7" ReadyLIFT with Bilstein 5100 Series Shocks
Properly fitting a set of 37" tires on an F-150 isn't as easy as it sounds, but Seth was up to the challenge. He teamed up with ReadyLIFT, installing their 7" suspension lift complete with their rack correction system to maintain the factory ride and steering geometry. This kit also includes heavy duty cast nodular iron steering knuckles and an integrated differential drop bracket system to ensure correct CV axle angles and maximum performance in 4-wheel drive. Seth was excited to have the clearance needed to fit his 37" Nittos, but wanted his truck to drive even better than it did when it was stock. He added Bilstein 5100 series shock absorbers at all four corners and is blown away at how well his truck drives despite the tall lift and larger, 37" tires.
Form Follows Function
It's an age-old phrase coined in the late 1800s from famous architect Louis Sullivan. What Louis meant by this was that "the purpose of a building should be the starting point for its design." When translated to Seth's modern-day F-150 build well over a century later, the statement still holds true. Seth had the foresight to address specific areas of his truck build during the planning phase that would contribute to its intended functionality without taking away from the aggressive looks he was trying to achieve. The AMP Research PowerStep running boards are a great example of this. With a 7" Lift and 37" tires, the average individual would struggle to climb in and out of this truck. With AMP's running boards in place, they deploy automatically as the doors are opened, and close back up seamlessly as the doors are shut. Getting in and out has never been easier, and you wouldn't even know they are there otherwise.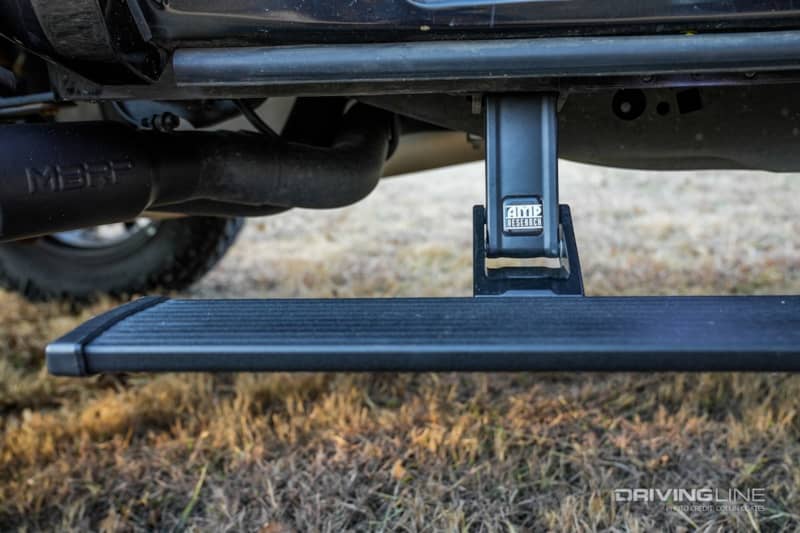 Another great example is the bike rack setup added to the truck bed. The RockyMounts bolt in track system allow Seth to stash two bikes in the bed with driveshaft mounts, both protecting them from being damaged in transport and preventing them being stolen as well. It also makes it very convenient for Seth to get his bikes to and from the trail, and keeps them locked in place even when he's off the beaten path on rutted out fire roads.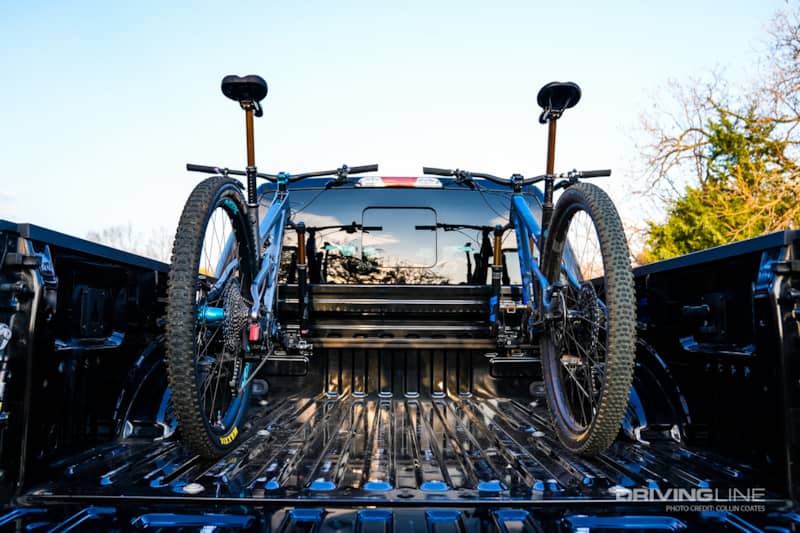 Additional Accessories
Other areas that were addressed in this custom lifted F-150 build include exhaust, lighting, and an appearance package up front. A MBRP dual outlet exhaust dumps just before the rear axle and allows the 5.0L Coyote V8 to breathe easier. It sounds incredible from inside the cab as well. Anzo LED headlights and taillights are a significant improvement over the stock lighting, and blend in nicely with the blacked-out theme of the build. Lastly, despite being quite the topic of debate, Seth added a "Ford Raptor" grille—he likes the look better than stock and isn't bothered by the purists who would disagree with the addition.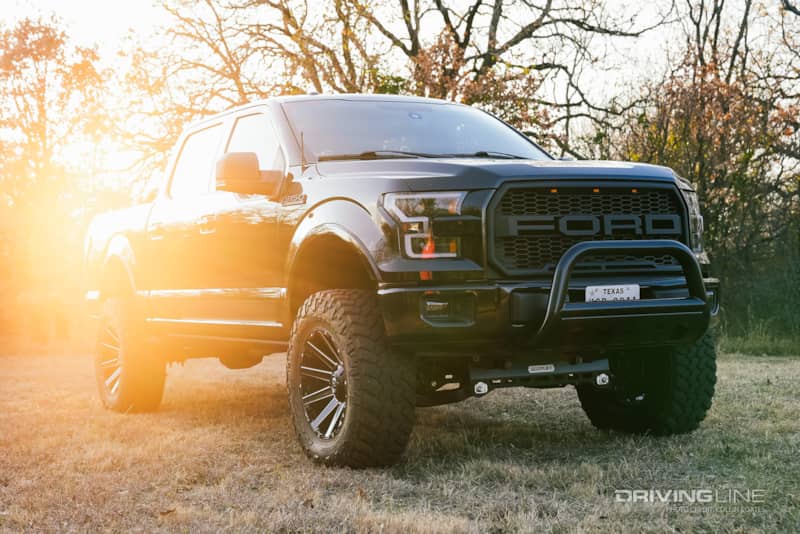 This custom F-150 FX4 has plenty of style without much compromise for capability. Be it towing a Jeep across the country to an off-road event, or simply loading up a pair of mountain bikes and taking the path less traveled to a secluded trail, Seth's truck can do it well and look good at it too. Be sure to check out the Built2Wander vlog series hosted by Driving Line to catch a full feature of this truck and see it in action.