Optimized for Overlanding: A Custom 3rd Gen Toyota Tacoma
The third generation Toyota Tacoma's are arguably the most popular mid-size truck on the market today. Due to their popularity, affordability, and the extensive list of aftermarket upgrades available for them, they might be the standard in overland builds. Yet, despite the platform's popularity, there is something not-so-standard about owner William Blount's Tacoma that sets it apart from the crowd.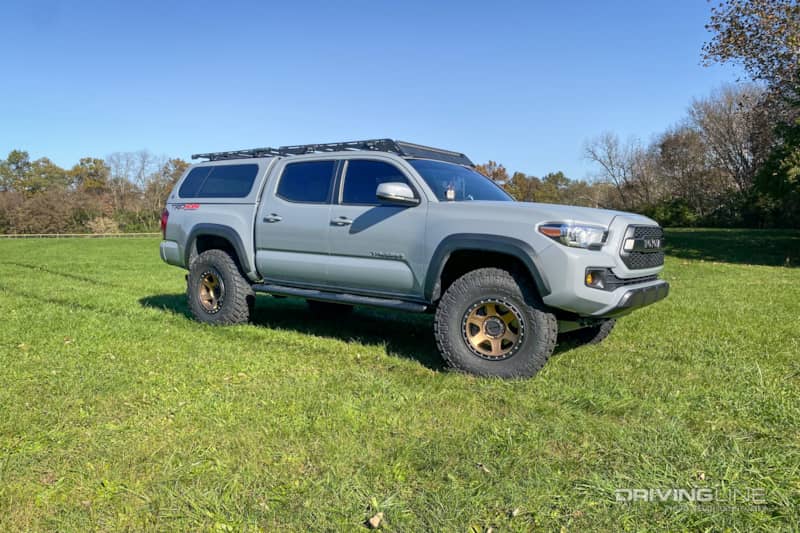 Simple and Effective Daily Driver
Will picked up his Toyota Tacoma TRD Off-Road new in 2019 and had a vision for a simple and effective build from day one. Serving as his daily driver, he knew he'd have to thread the needle of capability and functionality without compromising drivability. His build plan was straight forward yet still resulted in a head-turning, capable overlanding machine.

Chop Chop
It's almost too easy to fit a set of 33" tires on the third Gen Tacoma. A standard 3" lift with stock fenders and bumpers and you're in business! Fitting a set of 35s, to the point where you can cycle the suspension and avoid contact with the body… not so much. Trimming of the fenders and fabrication on the front body mounts is required at a minimum. And thanks to the help of 3D Off-Road in Colorado Springs, that's exactly what Will had done to his truck.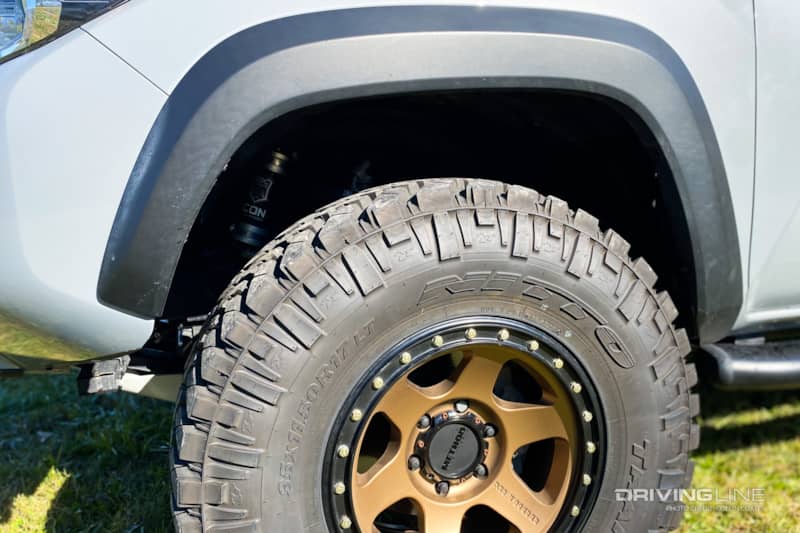 35x11.50R17 Nitto Tire Trail Grapplers
Instead of the typical 35"x12.50" Nitto Trail Grapplers, Will opted for the 11.50" wide variant mated to a set of 17" Method Race Wheels. The 1-inch difference in width made a huge difference in the amount of trimming required to fully cycle the suspension. The body mount still had to be chopped and re-fabricated, but Matt Thompson's team at 3D Off-Road has this procedure down to a science, so that part was of little concern. As they expected, the 35x11.50R17 Nitto Trail Grappler just looks perfect under the Tacoma. It fits the aggressive nature of Will's overall build, and lends itself well to both the street and trail. Given that this Tacoma is his daily driver, the Trail Grappler was an easy choice for maximum performance day in and day out.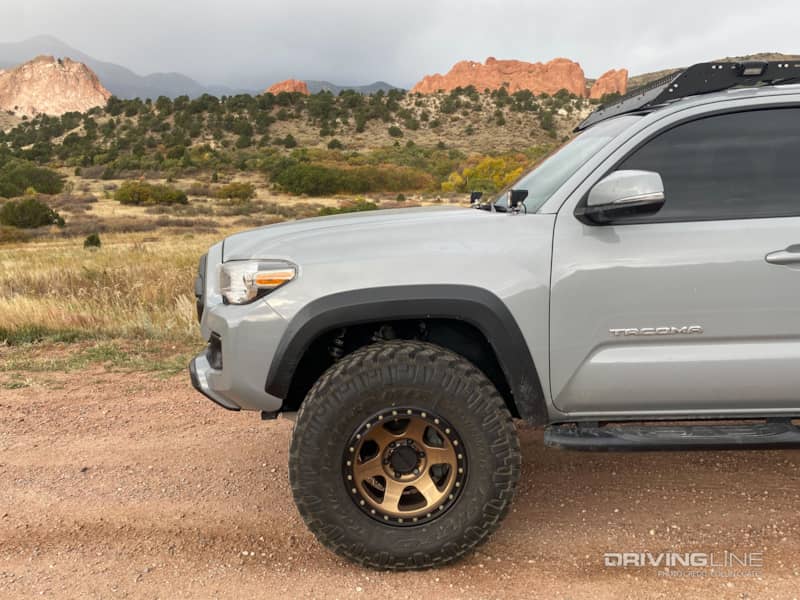 Icon Stage 9 Suspension
Speaking of maximum performance, Will turned to Icon Vehicle Dynamics and opted for their stage 9 suspension system with tubular upper control arms. A set of 2.5" adjustable coilovers with remote reservoirs up front and 2.5" remote reservoir shocks paired with multi-rate leaf springs in the rear account for a 2.5" lift. This stage 9 offering from Icon not only increases wheel travel and damping ability, but also allows for just enough room to fully cycle the aforementioned 35" Trail Grapplers. This results in incredible ride quality on road with excellent vehicle control off-road.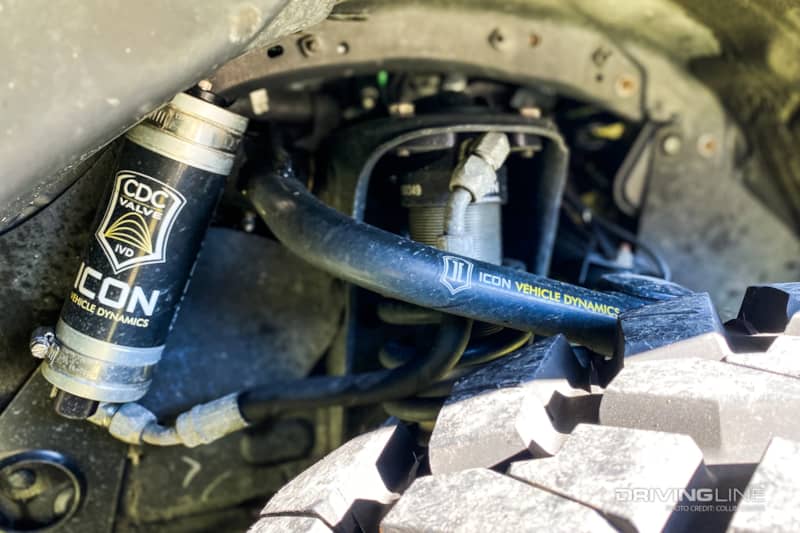 5.29 Revolution Gears
With oversized tires comes additional weight and rolling resistance. Add in a Leer Camper Shell, a CBI and Prinsu roof rack setup, and a roof top tent with a Rhino-Rack Batwing awning, and the power you felt before all of the upgrades will feel extremely subdued. That's where re-gearing comes into play. Not only does re-gearing increase the amount of torque to the wheels, it might also improve fuel economy. Will opted to have 3D Off-Road install a set of 5.29 gears from Revolution Gear & Axle, and the difference is night and day.
Functional Accessories
No well-rounded build is complete without functional accessories that contribute to the overall capability of the vehicle. With that in mind, Will added a twin air compressor from ARB for all on-board air duties, as well as a set of Baja Designs Squadron Sport LED lights mounted at the a-pillar and in the fog light pockets of the factory front bumper. Up top on the roof rack lies a Putco 40" light bar and Rigid Industries scene lights – providing plenty of lighting for wheeling at night or evenings at camp. Finally, an sPOD Bantam was added to control the compressor and lighting accessories.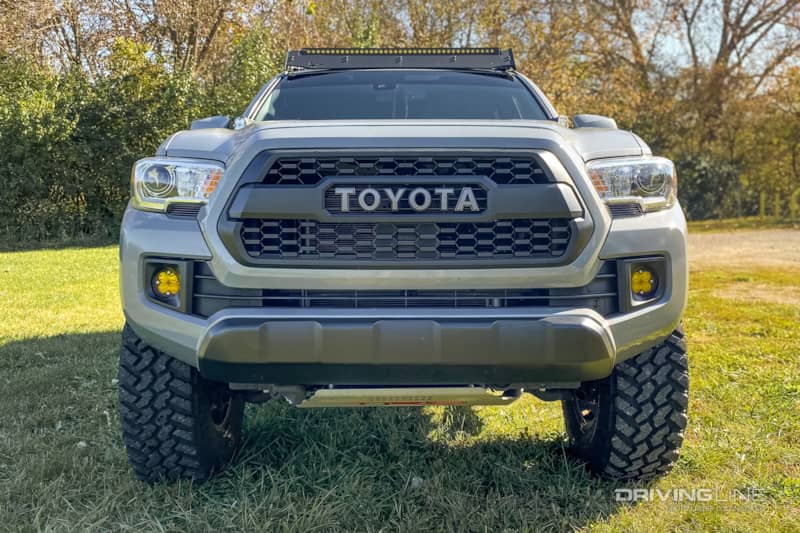 Equipped for Exploration
Designed for daily driving and equipped for exploration, this Tacoma is an excellent example of how to take a functional approach when building out your off-road vehicle. With 35" Nitto Tire Trail Grapplers, 5.29 gears, and a 2.5" suspension lift, Will's truck is far from the "run of the mill" Tacoma build.