Formula Drift: 20 Years of Increasing Horsepower
When the first Formula Drift cars hit the track at Road Atlanta in May 2004, the grid looked very different than it does today. Riddled with Nissan S13 and S14 cars, most of which were lucky to hit 300hp if the conditions were right, the driving was more about finesse and momentum than raw horsepower and grip. Fast forward 20 years and it's rare to find a Formula Drift car that can't spin 1,000+ horsepower on the dyno.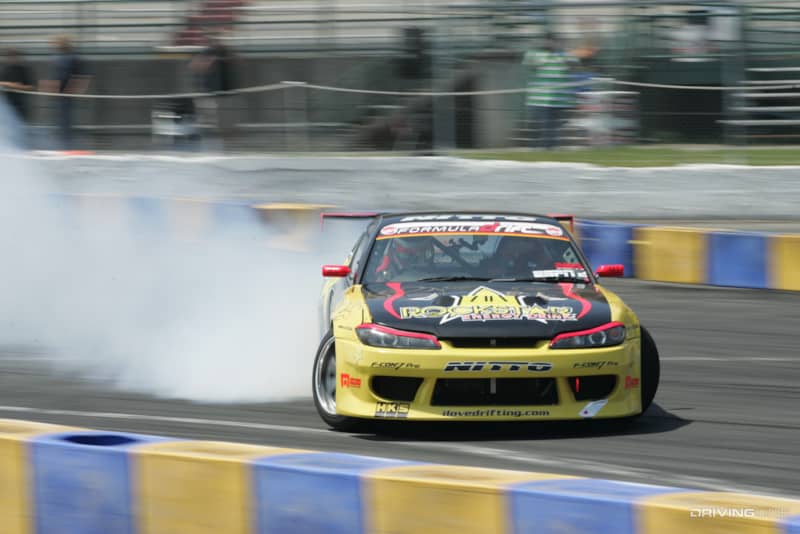 Formula Drift has long had open engine rules, meaning any engine is allowed to be swapped into any car (as long as chassis modifications required to fit the engine are allowed within the rule book), and there's no cap on horsepower, power adders, or other restrictions. This has led to a diversity of manufacturers, engine configurations, and tire manufacturers that have been involved with the series over the years.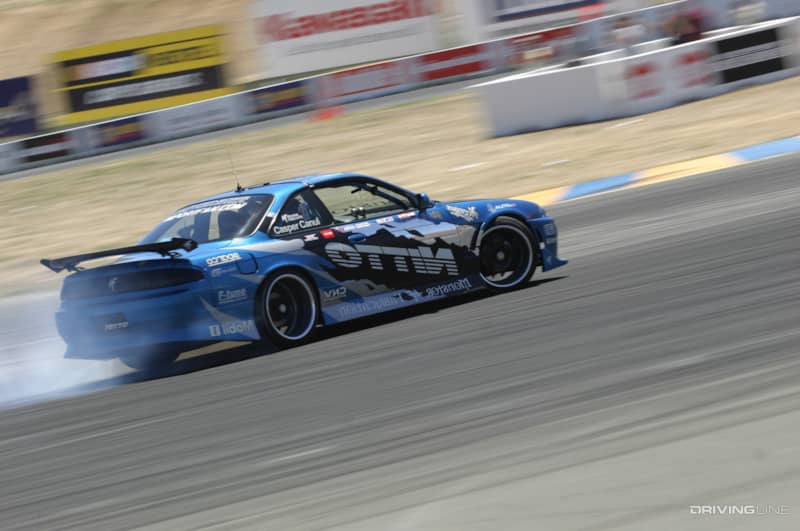 Here's our retrospective look back at the progression of horsepower and engine configurations on the Formula Drift grid over the years.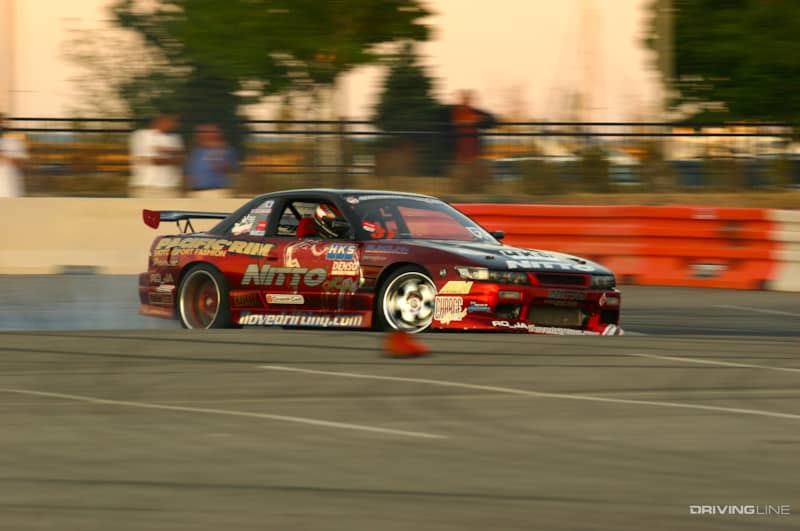 2004 to 2007: The Beginning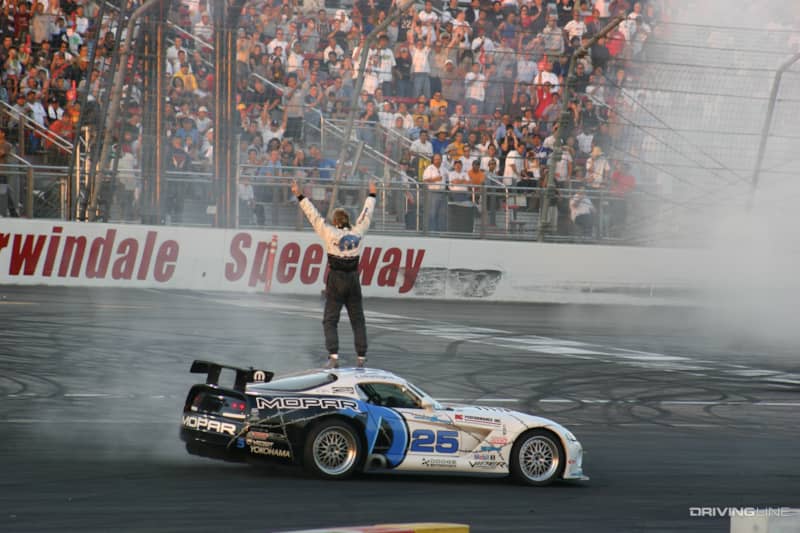 Samuel Hubinette's V10 Dodge Viper and Rhys Millen's V8 Pontiac GTO are the rare, non-import vehicles on the grid in the early years.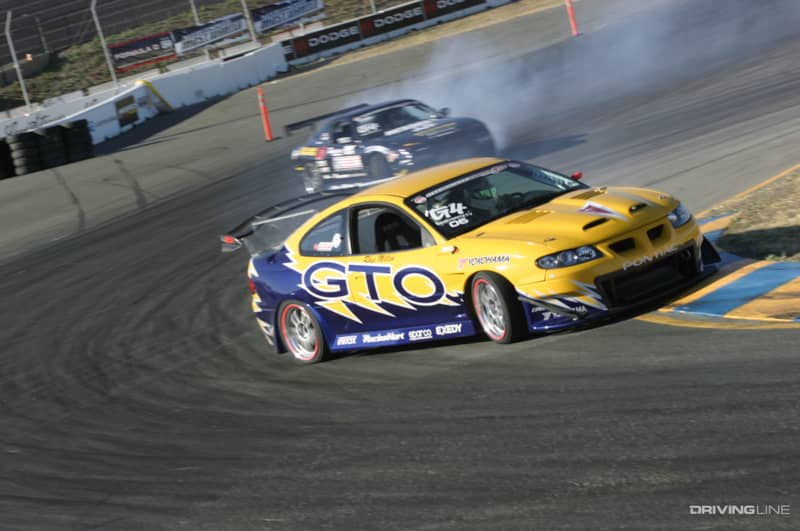 The majority of cars are Nissan S13's and S14's, many of them sporting the Japanese SR20DET engine swap. While many drivers upgraded the turbos to slightly larger T3/T4 turbines, it was rare to see more than 300hp out of these engines.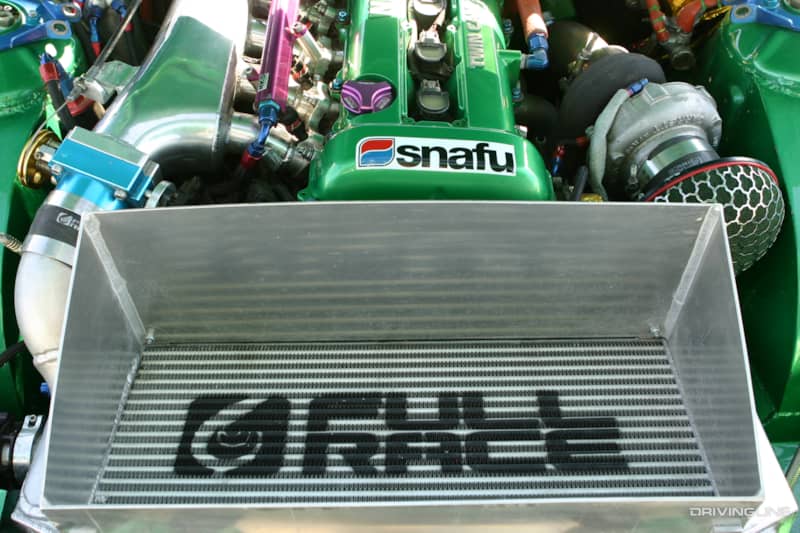 Some Nissan's used the USDM KA-T engine, or even the RB25 or RB26 inline-6 engine out of the Nissan Skyline.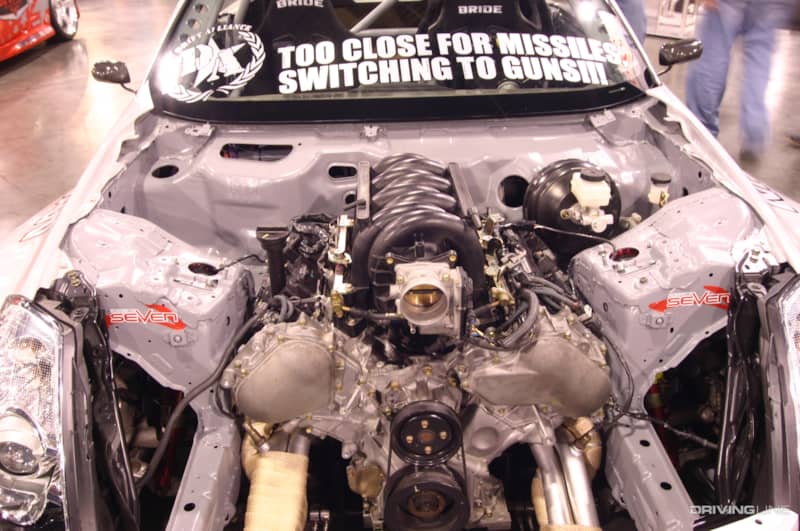 Chris Forsberg debuted his V8 VK56-powered Nissan 350Z at SEMA in 2005, piloting it on track in 2006. The vehicle put out just under 400hp, but with significantly more torque than the 4-cylinder SR20 he had used in competition in 2004 and 2005. This was the first of many V8 swapped cars in Formula Drift.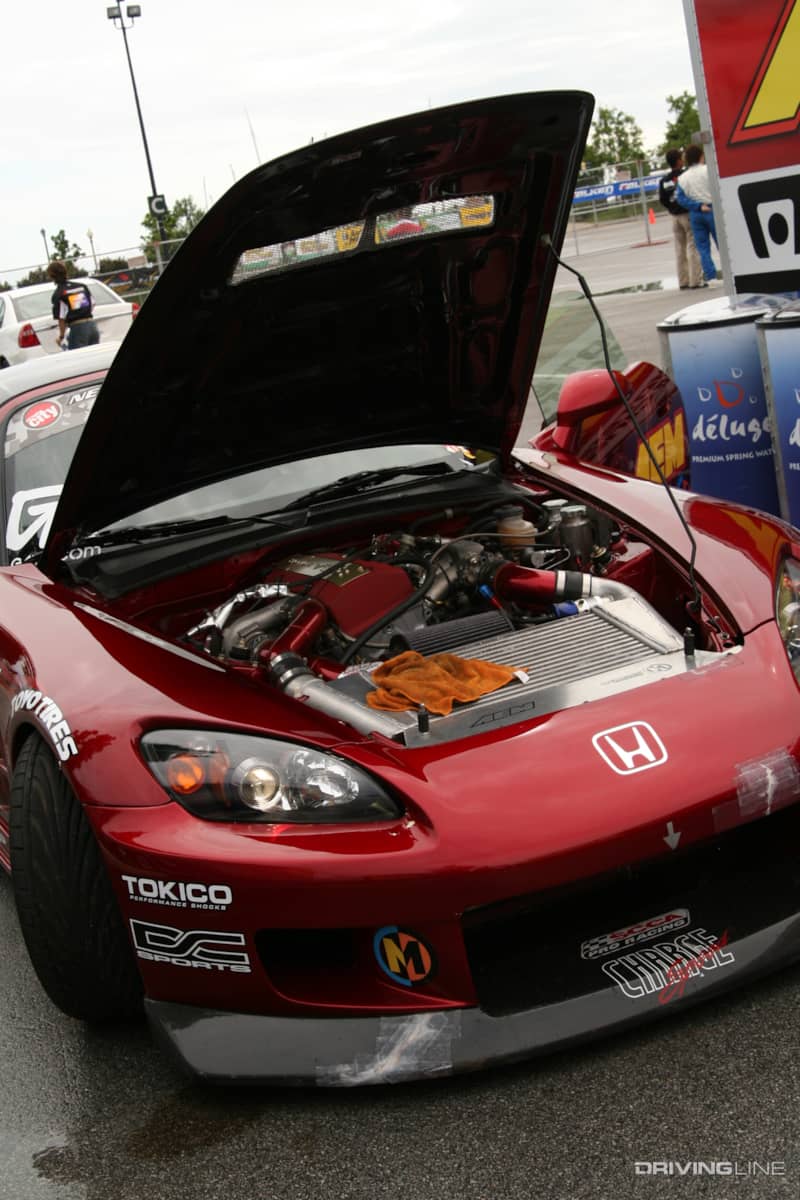 The occasional rotary car or Honda appears on grid. The Bergenholtz RX7 would sport a 13B rotary engine under the hood, while the few Honda S2000 drift cars would have turbocharged F20 engines. Both types of engines pushed 400hp or so.
2008 to 2010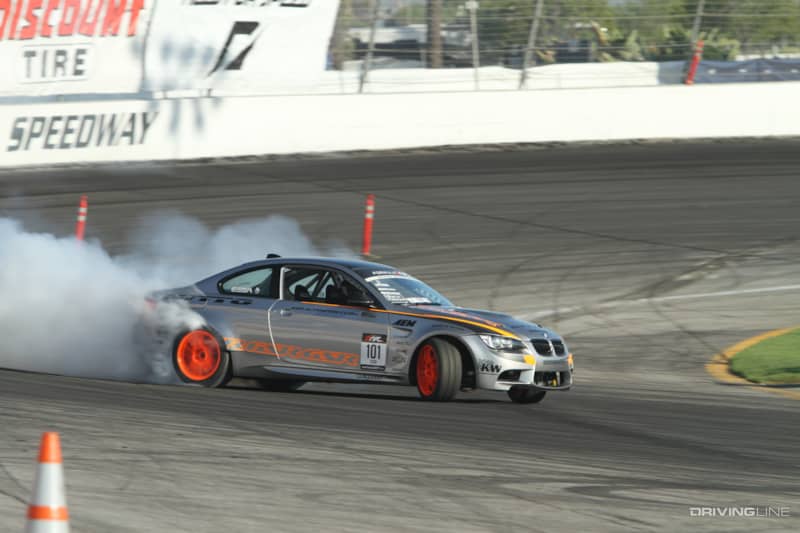 Overall, the grid started to diversify in makes and models of vehicles, as well as engine choices. Jeff Jones's S13 has a 1JZ engine, while Michael Essa swaps a V10 engine from an M5 into his E92 BMW 3-series.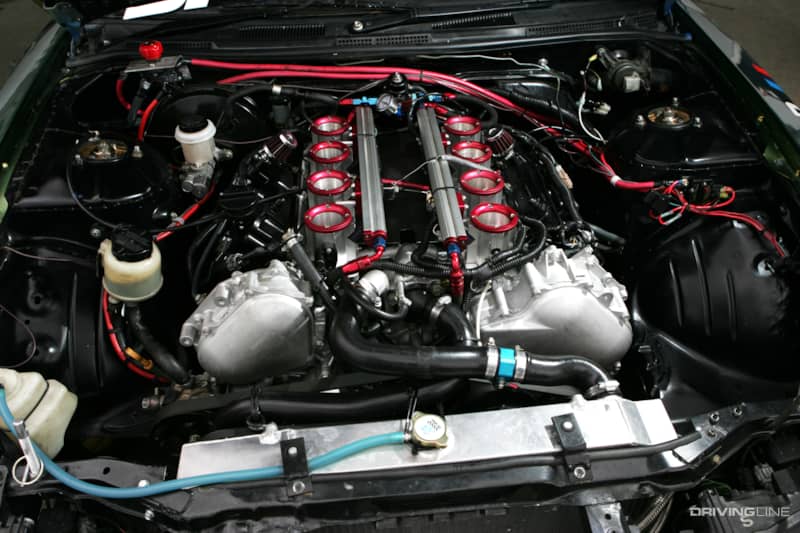 V8's became more popular as an engine choice, in large part due to their flat torque curves and fewer shifts required around the track which meant fewer opportunities to mis-shift.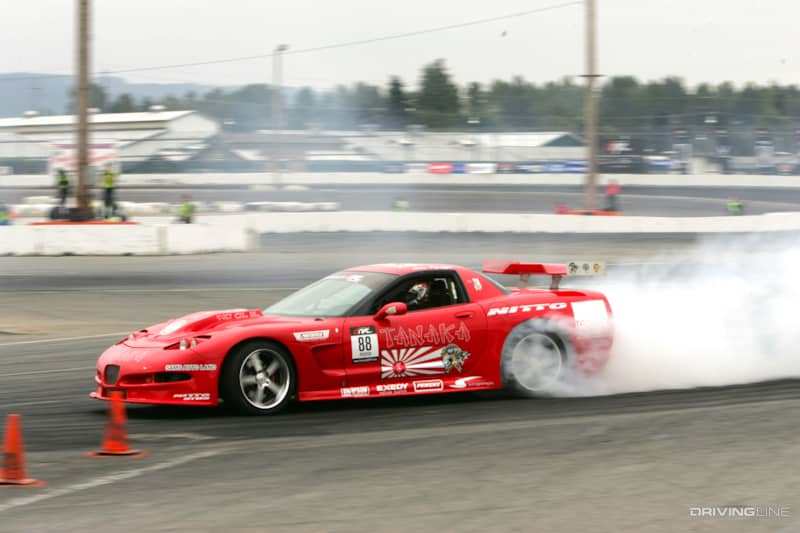 Several Ford Mustang's appear on grid, with the occasional Chevy Camaro or Corvette. Otherwise, the grid is still dominated by import vehicles.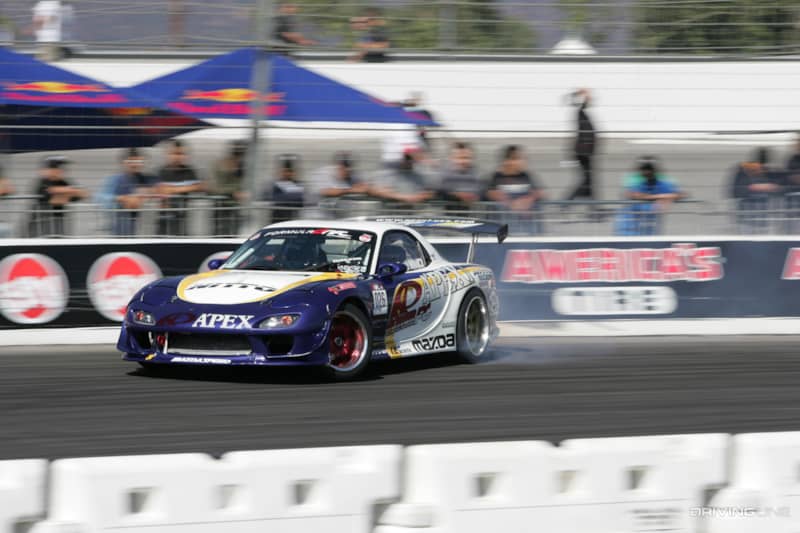 Reliability becomes the focus, and engines start to push up to 500hp over the years. Turbochargers, Superchargers, and Nitrous become commonplace throughout the pits. The Drift Emporium G35's had Stillen superchargers mated to the same VK56 engine block that Forsberg used in his 350Z (and later 370Z) for many years.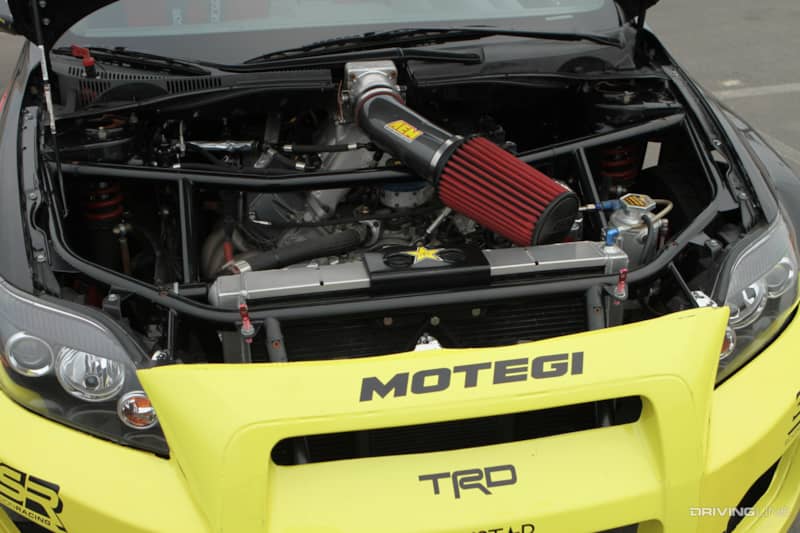 Several teams start experimenting with ultra lightweight vehicles with large displacement V8's on fat tires, creating inconsistent tandem runs. Tanner Foust's NASCAR TRD V8-powered Scion tC is one of many untraditional V8-powered cars on grid.
2011: Tire to Weight Rule Created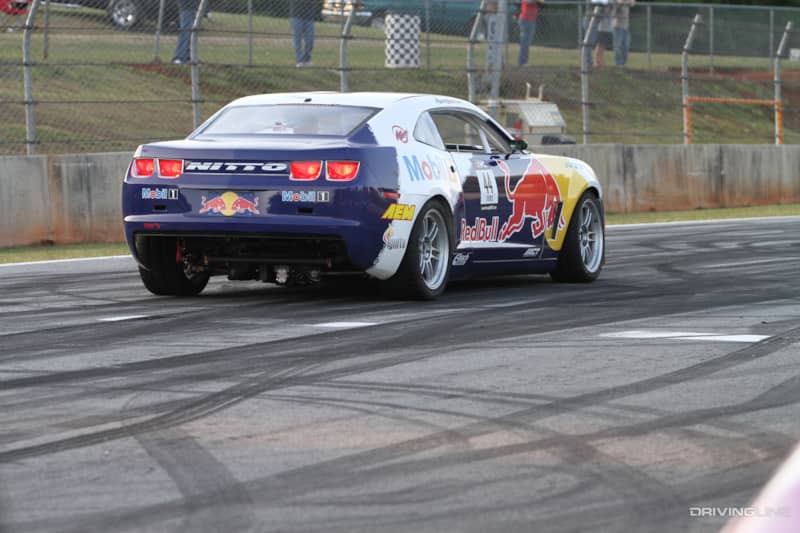 In an attempt to level the playing field a bit, Formula Drift introduces a rule in 2011 that creates a sliding scale of width of tire to weight of the car, so lightweight cars much run much slimmer tires than heavier cars.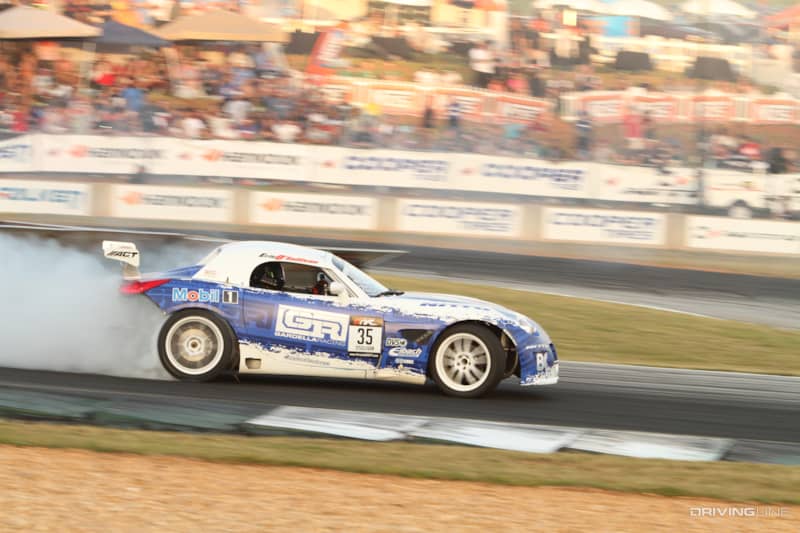 Smaller cars like the Pontiac Solstice are now competitive with the larger V8 cars thanks to the tire regulations. 4-cylinder vehicles are now pushing 600hp fairly reliably, while V8's like Ryan Tuerck's Camaro are starting to see 700HP or more.
Bergenholtz Racing builds a Rotary 20B-powered Mazda RX8, pushing nearly 800hp to the grid.
2012: The "Daigo" effect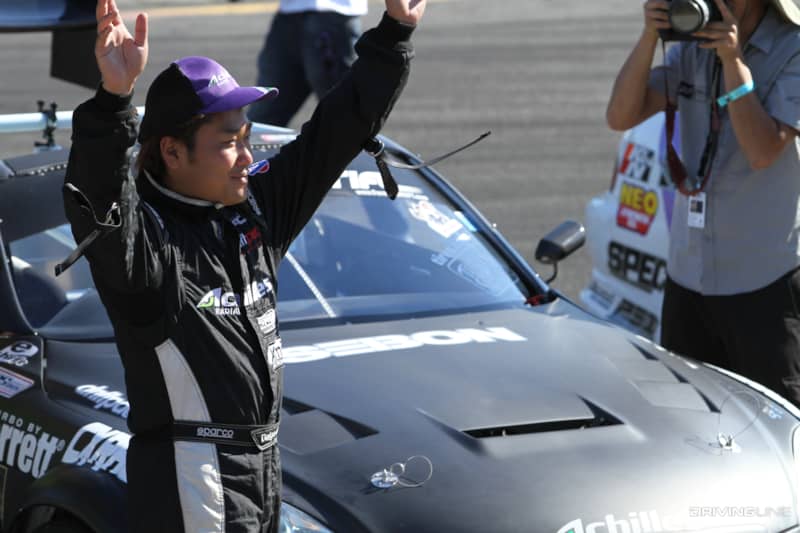 Daigo Saito brings his 1,200 hp Toyota 2JZ-powered Lexus SC430 to the US and instantly changes the game. His ability to maintain close tandem with an excess of horsepower becomes the new benchmark.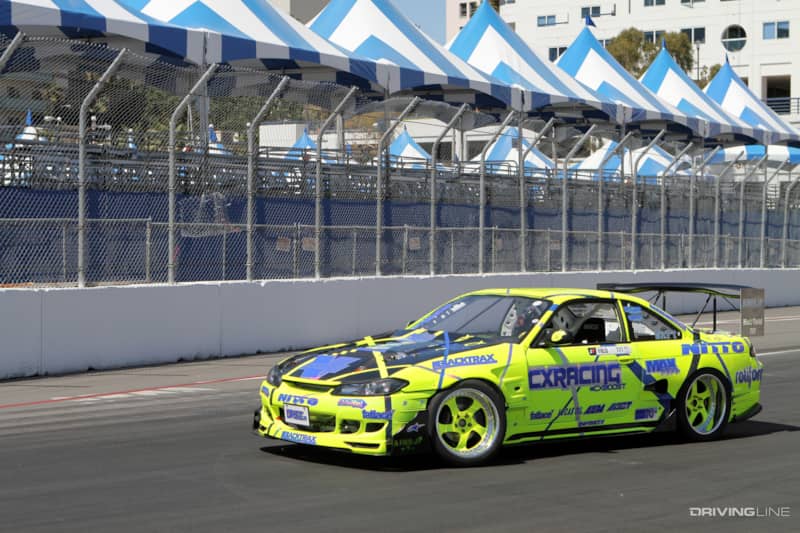 Torque becomes nearly as important as horsepower, and a majority of Nissan vehicles on grid are sporting Chevy smallblock V8 engines like the LS7 in Matt Powers' Nissan S14.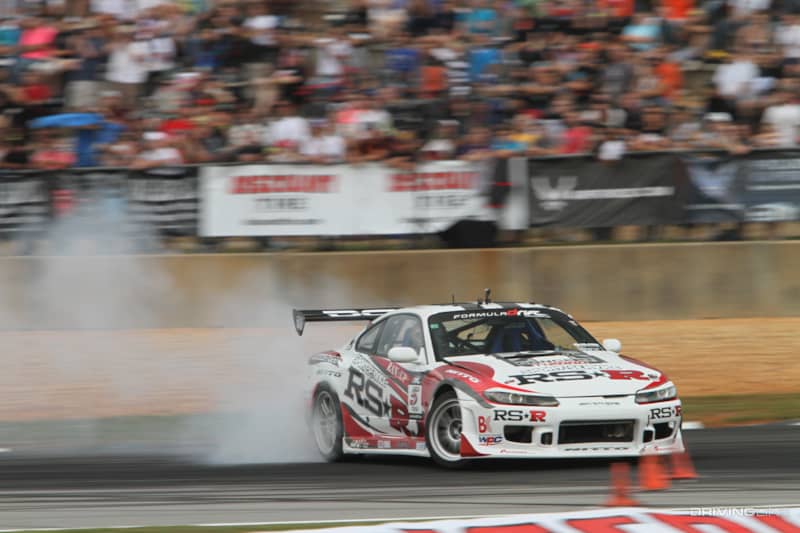 Some vehicles start to play with 6-cylinder engines as well. The RS*R Nissan S15 sported a turbocharged VQ35 engine out of the 350Z, pushing around 700hp to the rear wheels.
2013 to 2016: 1,000 hp or bust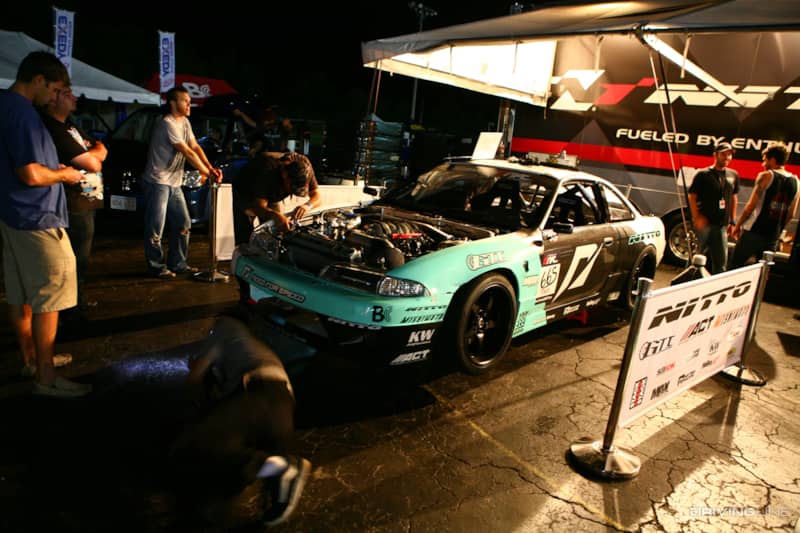 1,000HP becomes the new benchmark of horsepower. Many V8-powered cars start adding nitrous, turbochargers, or superchargers to bump up horsepower. The 2JZ engine replaces engines like the SR20 under the hood of many Nissan S13's and S14's.
Turbocharger technology starts to take center stage as sizing a turbo to the engine to maximize "power under the curve" is nearly as important as the peak horsepower number.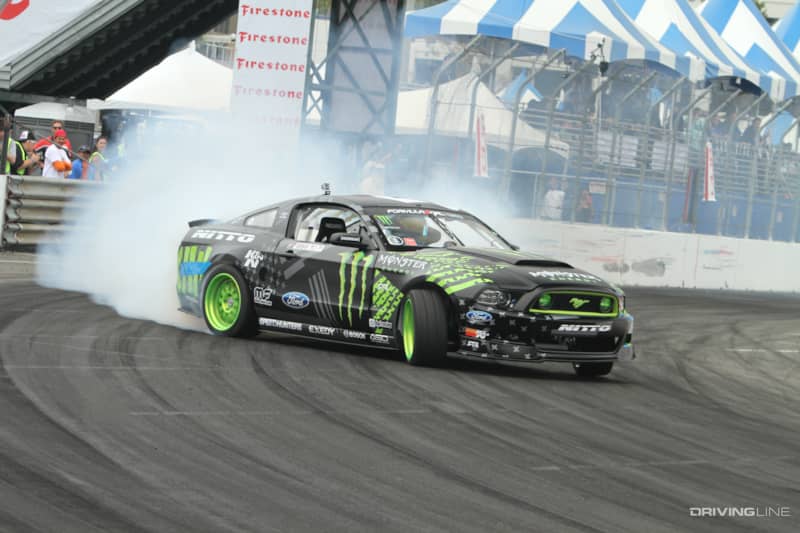 Suspension development and steering angle starts to elevate the top teams as they convert horsepower to traction.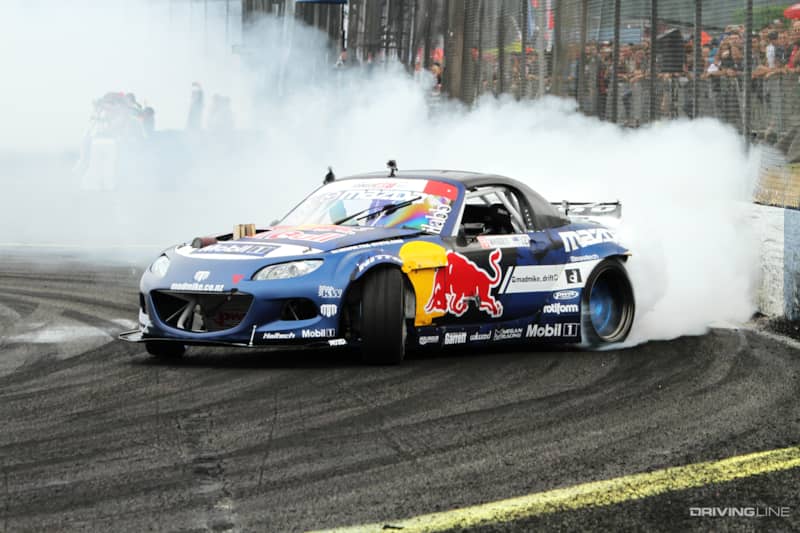 Tire wear and breakage starts to become the limiting factor. Driveline parts like driveshafts, differentials, and axles become equally as important as the engine configuration to ensure the car lasts the entire weekend.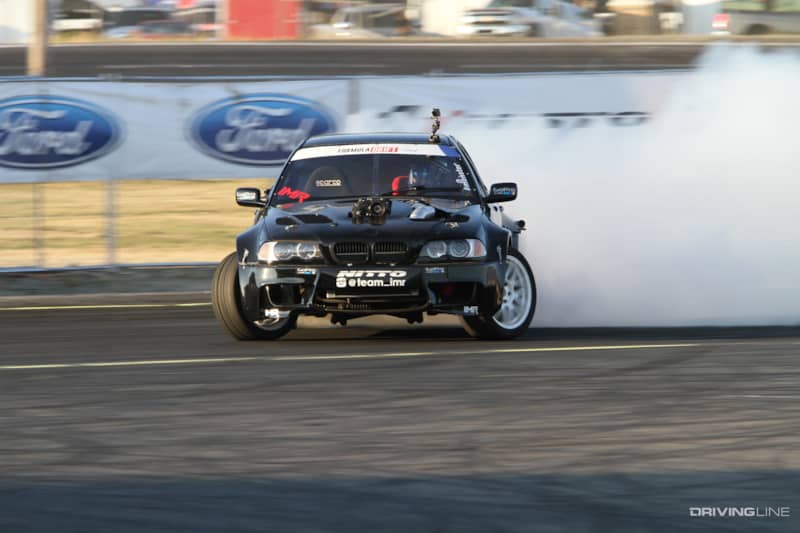 2017 to Present: Sustainability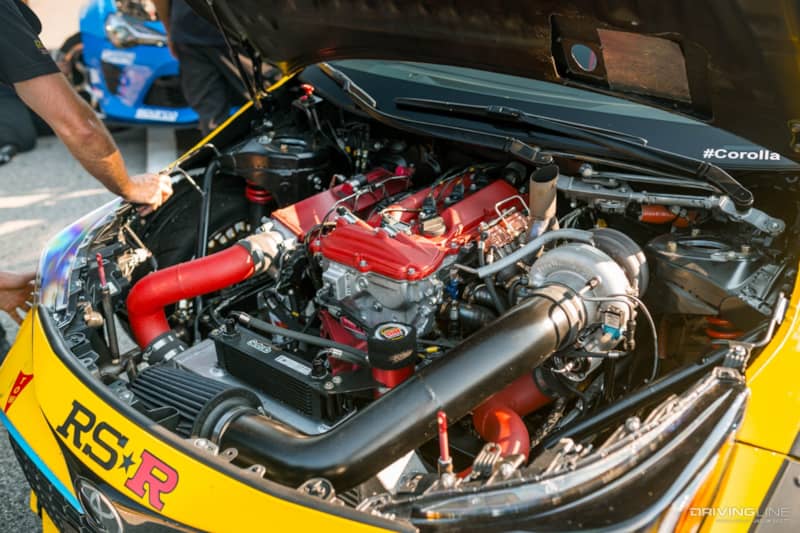 In 2017, the Pro 2 class (now called ProSpec) was limited to a 255 width tire, and in 2021, the series was further restricted to a single brand of tires. This was done in an attempt to make Pro 2 a bit more driver focused, and has led to a bit more reliability as less horsepower is needed to keep a 255 width tire spinning compared to larger sizes.
There have been small changes to the tire-to-weight classes in the top PRO tier of Formula Drift, which has largely kept the cars competitive. Many drivers who were flirting with 1,100 or 1,200 hp back in the mid 201x's are now closer to 800 to 900 reliable horsepower under the hood.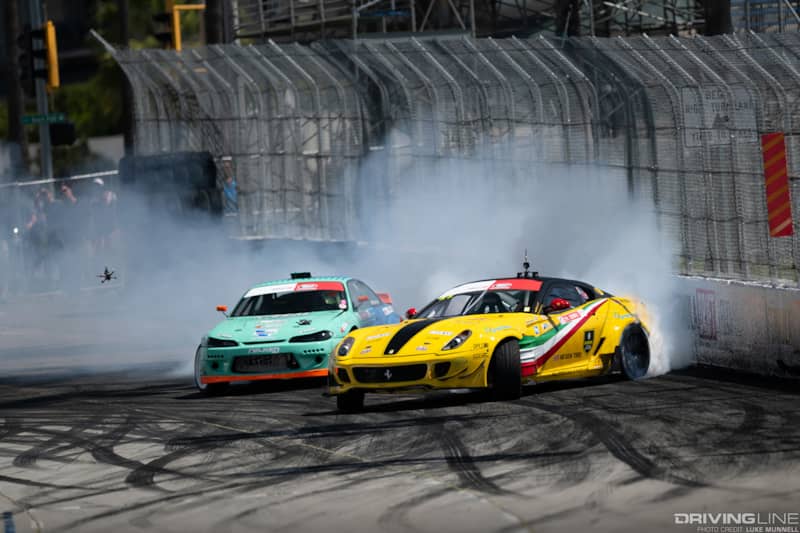 V8's still seem to dominate the grid, but the 2JZ engine has become more popular as well. You'll see an occasional V10 or V12 like Dean Kearney's Dodge Viper or Federicco Sceriffo's Ferrari 599 GTB, both of which have played with both supercharger and turbocharger options over the years in search of reliable horsepower.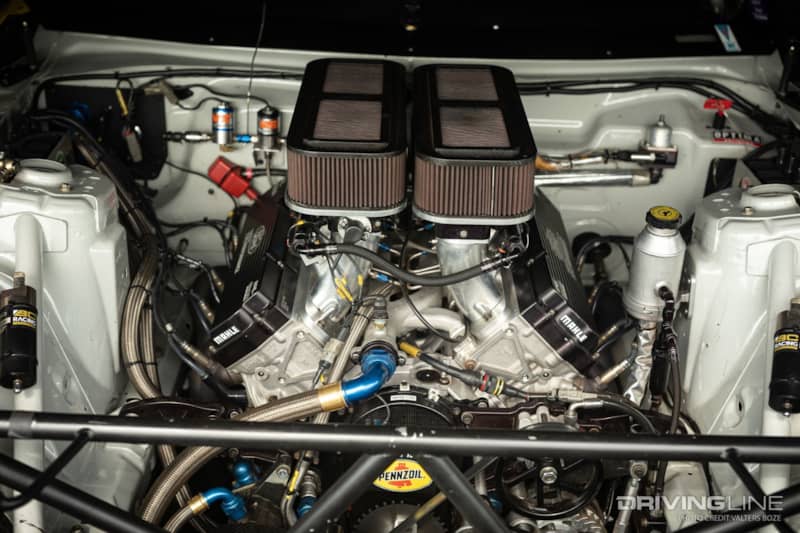 Top championship teams like the Ford Mustang RTR team often add nitrous on top of their race-built V8 engines to adapt horsepower based on track conditions and their opponent.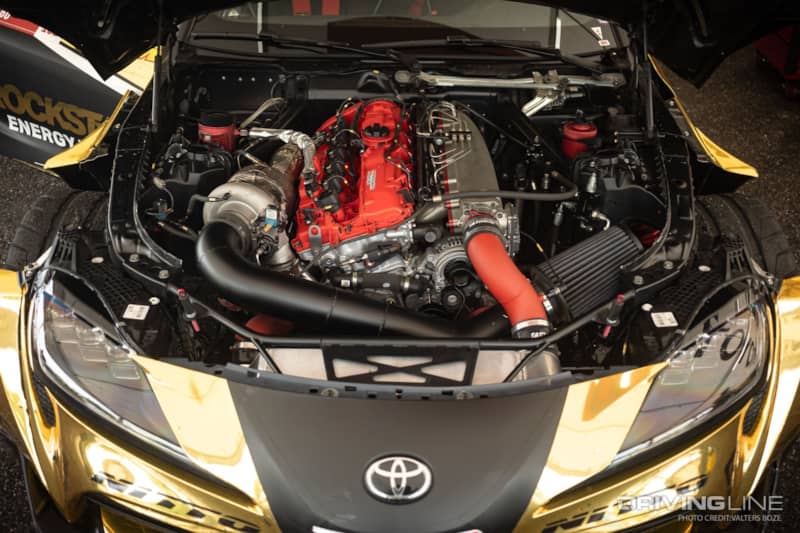 Teams like Papadakis Racing have even switched engine packages entirely, switching from the 2AR 4-cylinder package that powered Fredric Aasbo to multiple championships to the newer BMW-designed B58 engine that is under the hood of Aasbo's current Toyota Supra.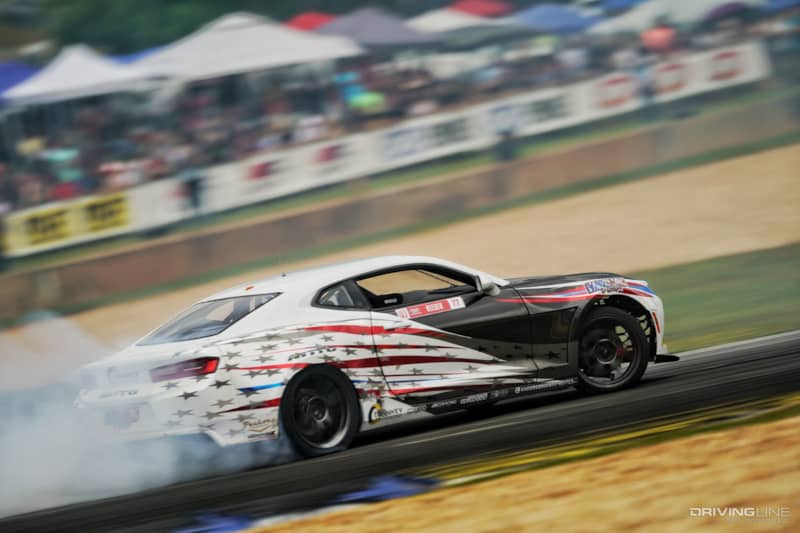 Turnkey Industries out of Texas played built the first Electric drift car in 2019, utilizing a Tesla drivetrain as a replacement for the original V8 engine that came in their Chevy Camaro drift car. While the car qualified at a couple of events, it only competed in Formula Drift for a single year, but was potentially a sign at where motorsports might be headed in the not-too-distant future.