Gateway to Power: Installing PHP's Hydra Chip on a 7.3L Power Stroke
Thanks to aftermarket tuning products such as the TS Performance six-position chip — which all but revolutionized the diesel industry nearly two decades ago — 7.3L Power Stroke owners have been able to navigate their performance settings on-the-fly. However, up until a few short years ago, owners of '94.5-'03 Fords were limited in the number of performance settings they had to choose from.
In addition, if they wanted to make any tuning changes, the chip had to be pulled and mailed to their preferred calibrator (i.e., custom tuner). This usually meant at least one week of downtime. And for owners running big injectors and aftermarket high-pressure oil pumps (which rely on custom tuning in order to maximize the performance potential of these components), this often leads to their truck being down on power or losing some of its street manners without the chip attached to the PCM (powertrain control module).
When Power Hungry Performance (PHP) released the Hydra Chip, it was a new day for 7.3L fans. In addition to holding as many as 17 tuning files at a time, the Hydra can be reprogrammed (i.e., re-burned) without having to mail the chip to your tuner. You simply download PHP's free HydraFlash software to your desktop or laptop, and you not only have the ability to program the chip yourself, but you also have unlimited access to PHP's vast library of proven tuning calibrations. In addition, the Hydra allows you to run performance files from different custom tuners — perfect for owners looking to test different calibrations or for those of us with different preferences.
Follow along as we program a Hydra and install it on a 7.3L test mule in a matter of minutes.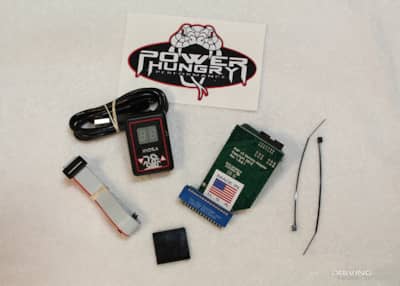 The Hydra Chip from Power Hungry Performance (PHP) comes with everything you need to install it. This includes the chip itself, switch with digital read-out, ribbon cable, USB cable, Velcro for mounting and zip-ties. Just as it was after the TS Performance six-position chip debuted nearly two decades ago, the Hydra is now the preferred method of tuning a 7.3L Power Stroke.
In the performance enthusiast realm, they're literally on 90 percent of the modified '94.5-'03 Ford trucks we come across. When used to take advantage of the awesome custom calibrations available in the aftermarket, the Hydra can hold every tune from Hi-idle (for quicker winter warm ups) to a powertrain-saving, heavy tow file to an all-out performance setting — all of which are available at your finger tips.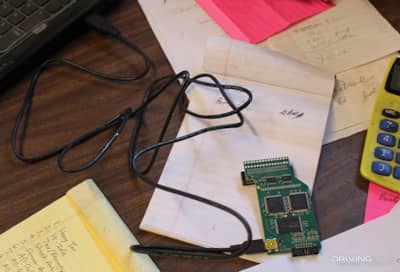 A supplied USB cable connects the Hydra Chip to your computer in order to program it. Without a doubt, the best aspect of the Hydra is the fact that you don't have to mail your chip anywhere to make tuning changes, which means virtually zero downtime. While you're still at the mercy of your tuner emailing you back (provided you don't write your own tuning files), with the Hydra you no longer have to pay shipping or risk your chip getting lost in transit.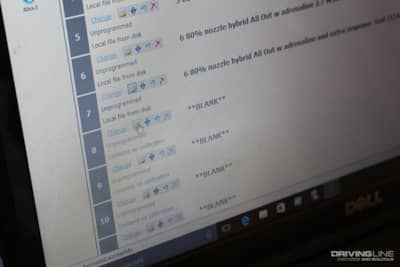 After downloading PHP's HydraFlash software to our PC, we were ready to upload the Hydra chip with the tuning files sitting in our Inbox (created and emailed to us courtesy of our preferred custom tuner). To do that, we downloaded each file and then opened the HydraFlash interface. Clicking on the open folder icon (shown) allows you to browse through your downloaded tuning files to find the calibration you want to run for each particular position. Notice that positions 8-11 are marked "Blank," which indicates no tuning files have been programmed into these numeric positions yet.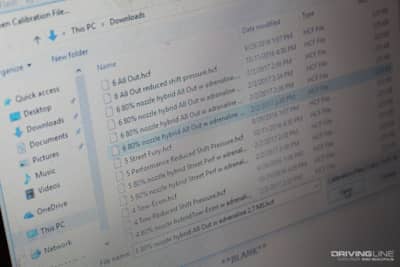 Once you've clicked on the aforementioned "open folder" icon, you can navigate to your downloaded tuning files and select the one you want to program into that specific numeric position. If you're new to custom 7.3L tuning, don't mind the file naming system… Your tuner will always let you know which tune does what and will name them accordingly.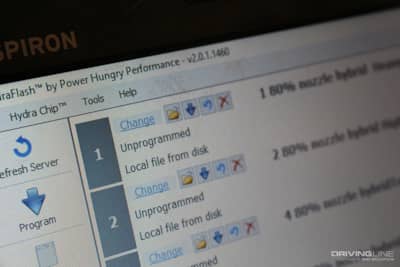 Following your tune selection, you'll be brought back to the previous screen. Notice that while a tuning file has been selected for the No. 1 and 2 positions, they're listed as "Un-programmed." We prefer to wait until all files are where we want them before programming them.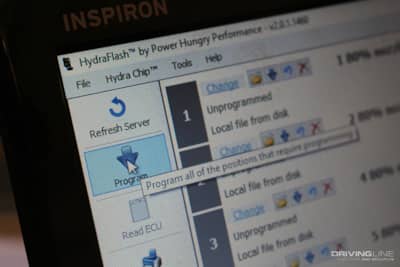 After all tuning files are arranged in the order you want them to be on the chip, you click "Program." Programming every position available on the Hydra can take a few minutes, but we're told that programming (or reprogramming) one position at a time can be performed in as little as 20 seconds.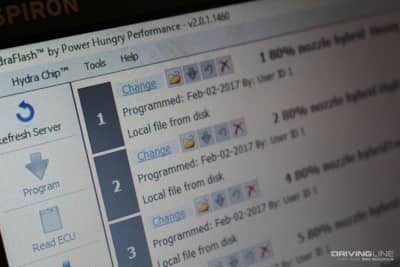 With all files programmed onto the chip, the previous "Unprogrammed" status changes to "Programmed," along with the date it was programmed (which in conjunction with the name of the file can be helpful for enthusiasts trying to differentiate between dozens of custom tunes in their library). From there, it's time to install the chip onto the PCM.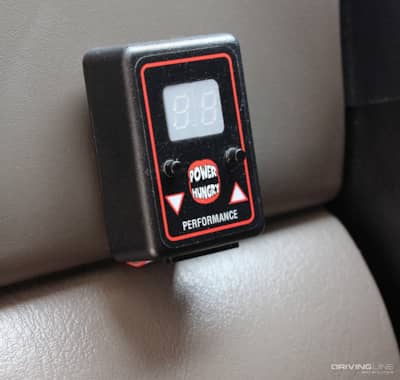 This is the switch that comes with the Hydra. It's the device that allows you to seamlessly navigate through all of your tunes. The easy-to-read digital display always provides visual confirmation as to which calibration you're running.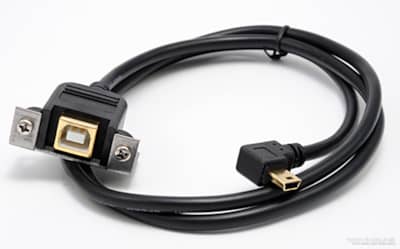 In addition to no longer having to mail your chip to your tuner, this USB extension cable and bracket allows you to permanently leave the chip attached to the PCM. Available as an added option with the purchase of any Hydra Chip, the cable retails for just $25 and makes it possible to retune your Hydra (via laptop) from the driver seat. It's ideal for making quick tuning changes at the track, on the dyno or even on the side of the road.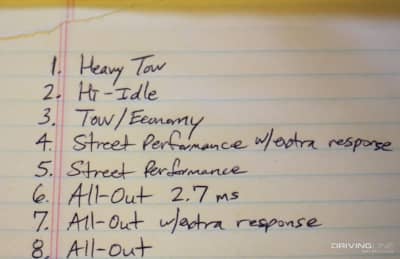 While we physically wrote out each tuning position on a piece of paper, it's worth noting that the HydraFlash software allows you to print out a customized calibration list (we didn't have a printer nearby…). Trust us, with 17 potential tunes on tap, it pays to keep a list of your tuning files on hand.
As for this particular truck, it was benefitting from a set of larger injectors from Unlimited Diesel Performance, a DieselSite Adrenaline high-pressure oil pump and a drop-in 66 mm turbo upgrade. These tunes were custom-built for our specific application and came from the tuning pros at Gearhead Automotive Performance. Our 7.3L test mule went on to clear 420 hp and 800 lb-ft of torque on the chassis dyno.