Hard to Choose at Hot Wheels Legends Tour
Many of our car obsessions began with Hot Wheels. Small, inexpensive 1:64 scale models of the real deal that let us play and imagine what one day could be in our garages. We grow up, start driving, get the real thing—but often keep that collection of Hot Wheels on a shelf somewhere. To celebrate the 50th anniversary of the toy's creation, a Hot Wheels Legends Tour is kicking off across the country with one winning real life car getting immortalized as a Hot Wheels.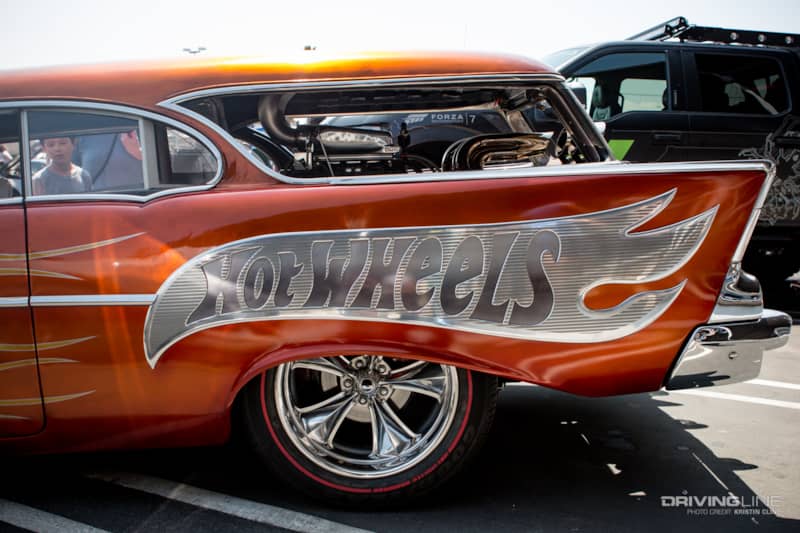 The Hot Wheels Legends Tour kicked off in El Sequndo, California at the Hot Wheels Design Center and some of Southern California's most unforgettable cars came out to compete. Rarely do we get the privilege of seeing such varied and fun-spirited builds in a single setting!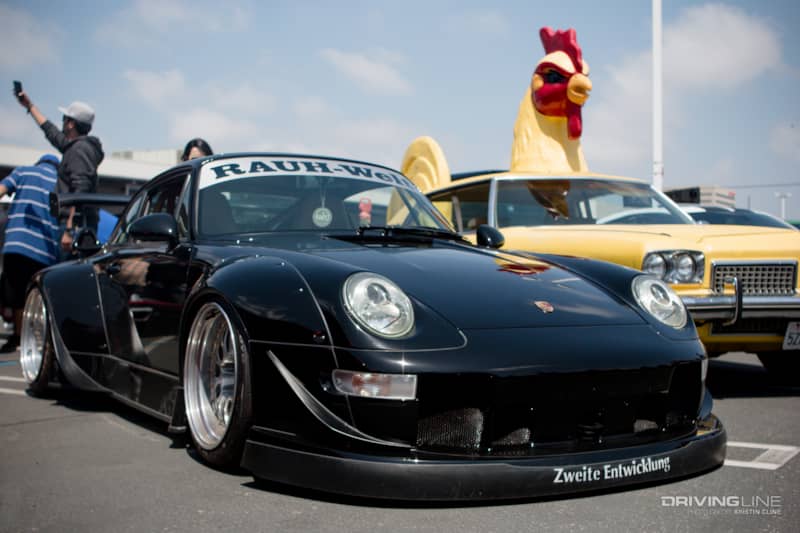 In addition to enthusiast cars, some custom life-size Hot Wheels cars were on display too. The first-ever life-size car created based on a Hot Wheels, the Twin Mill, was front and center. Parents and kid's eyes lit up in seeing fully operational versions of their favorite toys.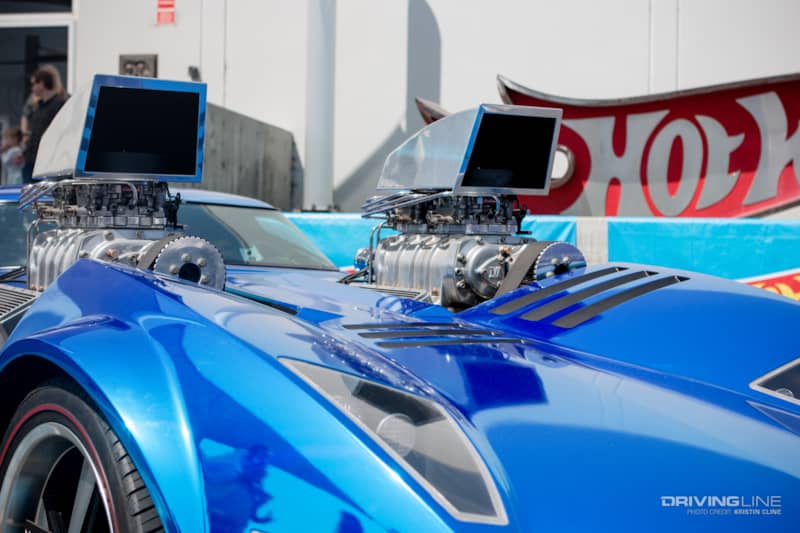 Some of the other Hot Wheels life-size cars on display included the Boneshaker, Doera II, Darth Vader Car, Star Wars X-wing inspired Carships, and the world record corkscrew jumping Buggy. Seeing kids show such a huge interest in all the details really makes us feel positive about the future of automotive enthusiasts!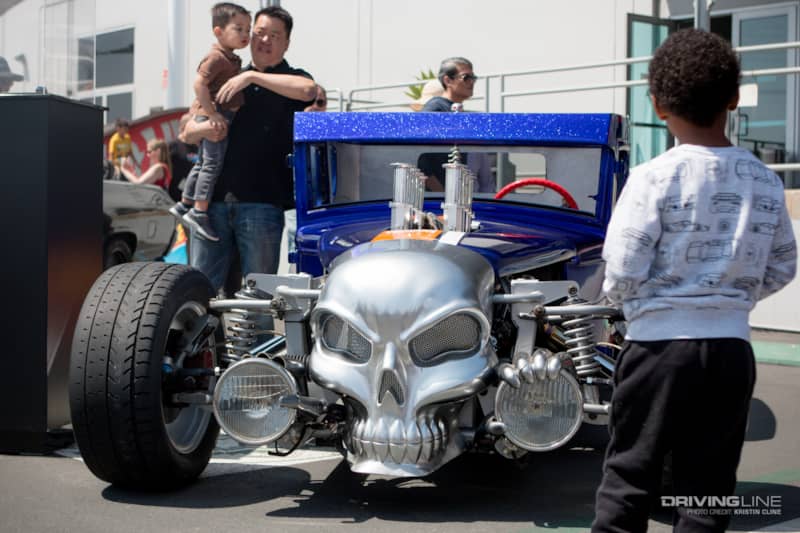 Before announcing the winning finalist from this stop of the Legends tour, current designers and special guest Mr. Hot Wheels himself, Larry Wood, described some of the attributes they were looking for in judging a finalist. Authenticity, originality and a garage spirit that favors building over buying are all components in choosing which car is worthy of being cast as a toy.
Many thought the Chicken Car may be a shoe-in for the win, but at the end of the day it was Mitch Allread's '49 Ford F-5 Truck Dually Rat Rod.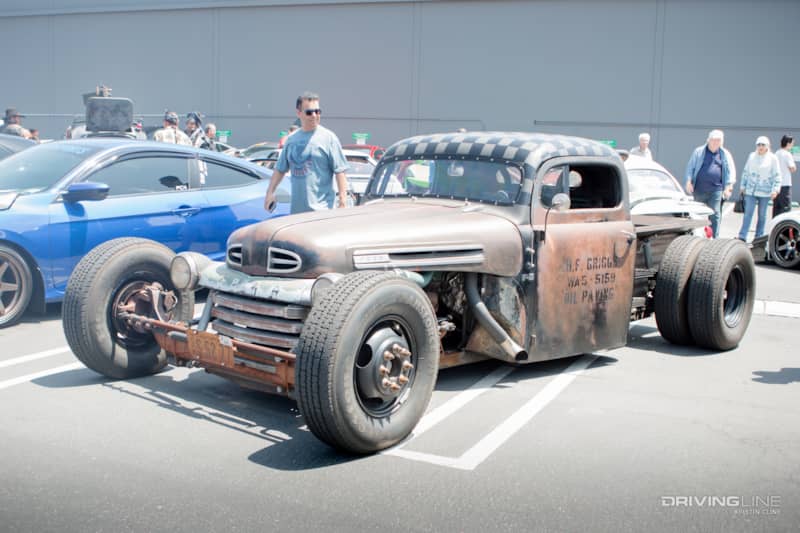 Imaginative details are found throughout this build, from the re-configuration of the original Ford F-5 body to the "oil paver" theme carried throughout.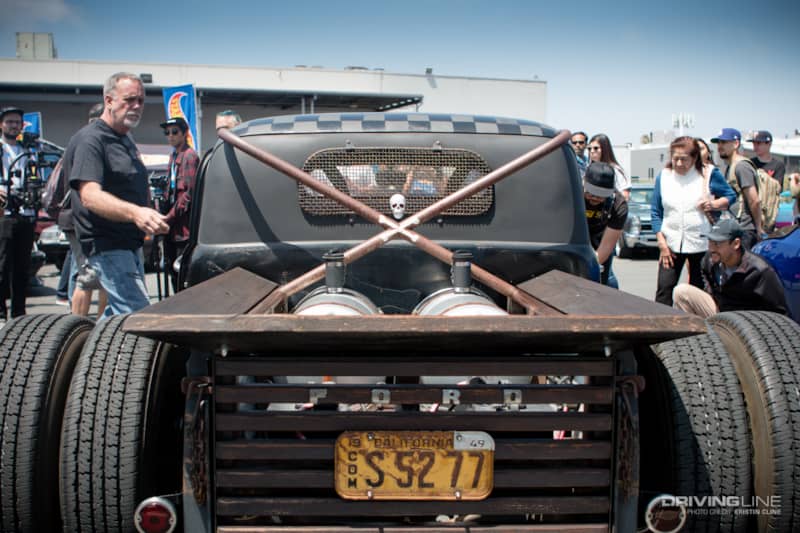 Honorable mentions included, of course, the Chicken Car. A '70s-era Oldsmobile Ninety-Eight topped off with an impeccably expressive chicken head and tail. We'll bet you wouldn't know what to think if you saw this rolling up in your rearview mirror!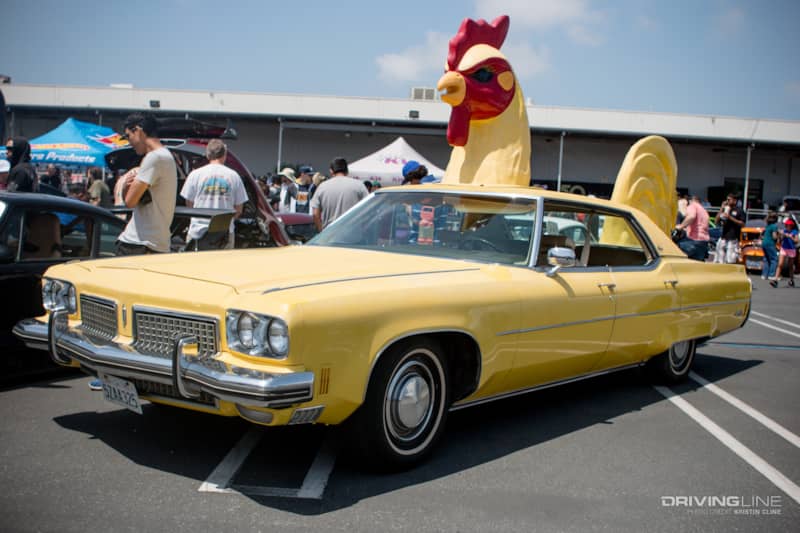 Also mentioned by Larry Wood as a standout of the day was a father and son hot rod build, the "Shoe This." A '27 Ford Roadster body with a '50 Shoebox Ford shrunken to fit it certainly embodied characteristics of a legend.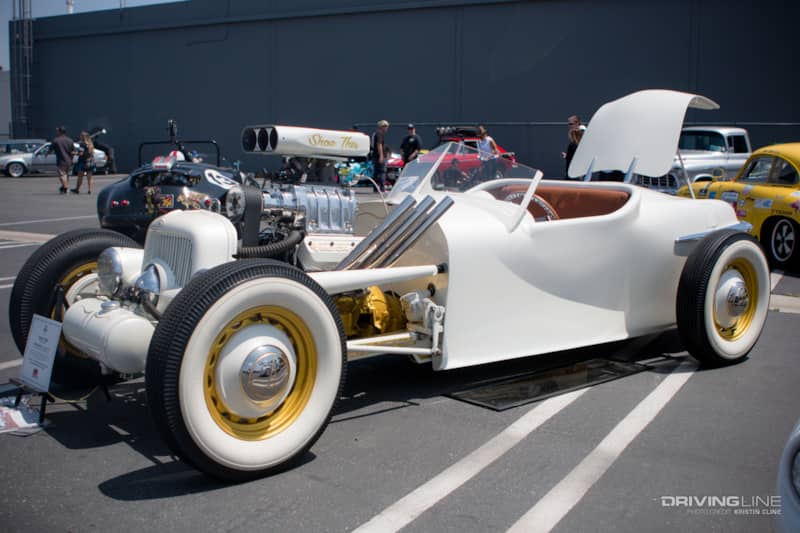 Jay Leno was also present a chose a '64 Mercury Comet gasser dubbed "The Rocket" as his "Jay's Pick" award.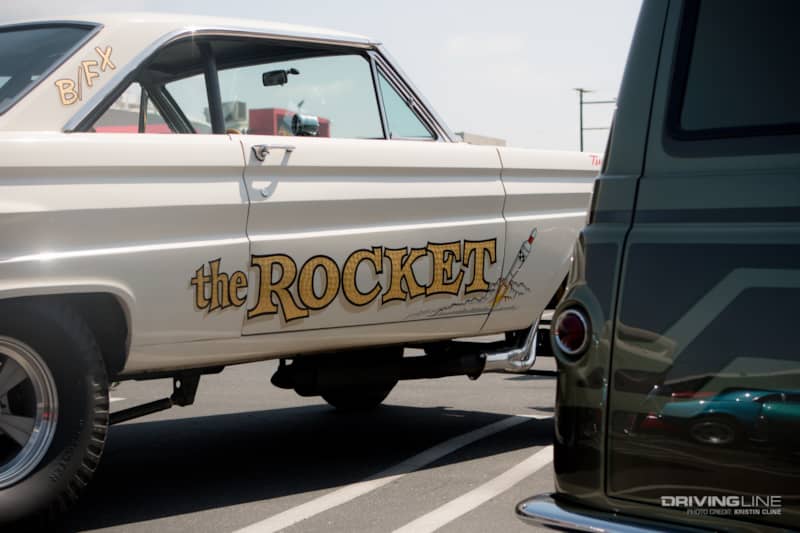 After making 15 stops total throughout the year, with one finalist from each stop, the Hot Wheels Legends tour will culminate at SEMA Show 2018 with each finalist present. We can't wait to see which car becomes a legend! Find out more at hotwheels.com/Legends and browse the gallery below for more extraordinary cars that make our roadways, garages and dreams a lot more interesting.
Ever wondered what the Hot Wheels collectors look for? Read about it here.