Searching For Sasquatch: San Diego 'Wheelers Brave Bigfoot's Stomping Grounds
It's been rumored for years that California's San Diego countryside has its very own Bigfoot. Historic tales of sightings and stolen pies have percolated amongst the locals for ages, but following a late-2008 boulder-tossing attack in the Ramona highlands, rumors of Bigfoot blossomed anew: the 'squatch was loose. With sightings occurring in almost every state of the union, it's no surprise that Southern California would have a few sasquatches of its own. Between the restrictive hunting laws and free avocados, who could blame the harry brethren from flocking to the western state?
For decades, sporadic attempts at relocating the big blurry jerky fan (dubbed "El 'Squatcho") have been spurred by local outdoorsmen and rally drivers who frequent the trails that connect the mountain hamlets east of San Diego, but success was limited. However, the practice of chasing the beast was popularized when a San Diego gearhead talk show began encouraging the participation of the area's off-roading community. This culminated in the first-ever Father's Day "Sasquatch Run" in 2011. A dozen vehicles full of eager souls pulled back the curtain on Bigfoot's realm; success was still limited. Regular searches for the elusive eight-foot ape-man-Piltdown yeti have gone on since.
We recently shifted our rig into 4x4 and set out on a local So Cal Bigfoot spotting adventure. Here's what we found.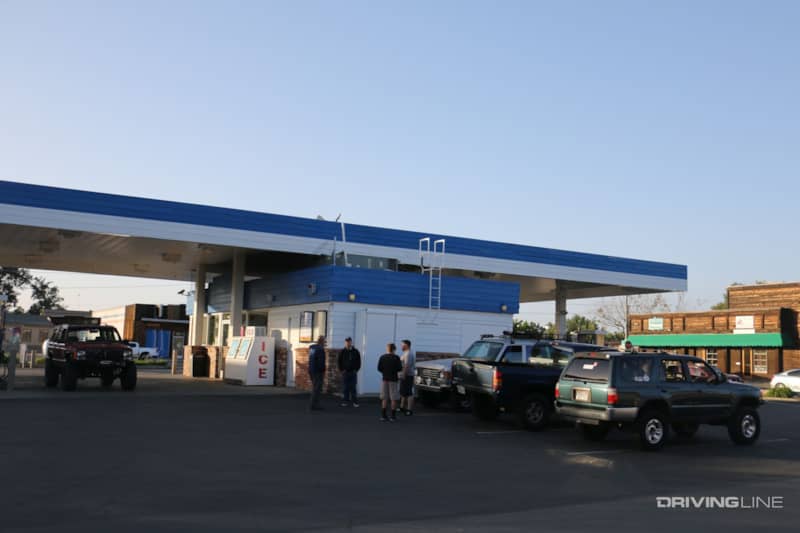 As the sun set, the pathfinders of the 'Squatch Run assembled at a local Ramona gas and gulp. Amongst the committed were a former SCORE driver, a former test driver, two privateer rally racers and an accountant. Guess which one had the nicest truck.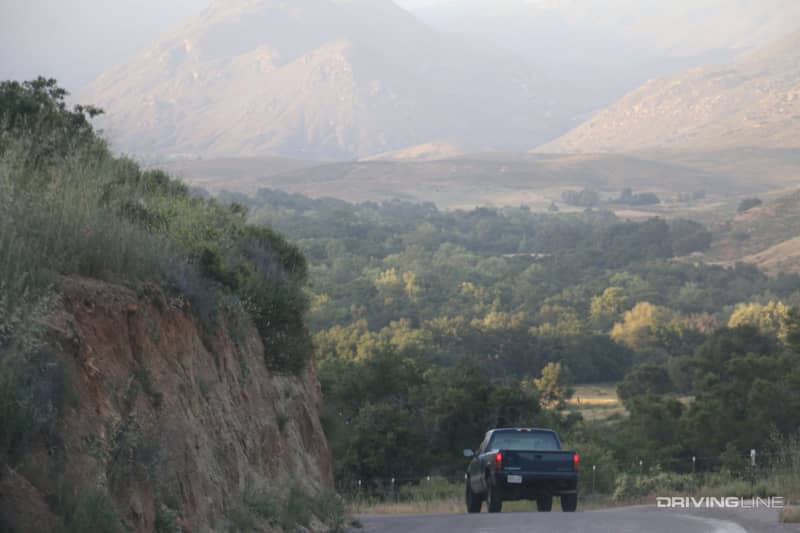 The drop into Pamo Valley should be done before sunset, namely because it's a damn pretty spot (and just five minutes out of downtown Ramona). This is Sasquatch country, so gird yourself for awesomeness.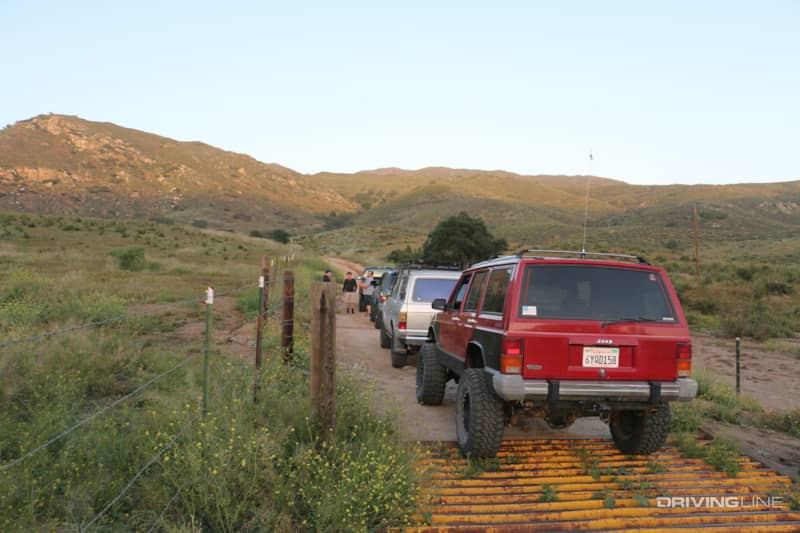 The Pamo Valley gate to Upper Santa Ysabel Trail (12S07) is a good place air down. Mind the cattle – appears Sasquatch has 'em all spooked. The other end of 12S07 loops to Black Canyon Road back into Ramona.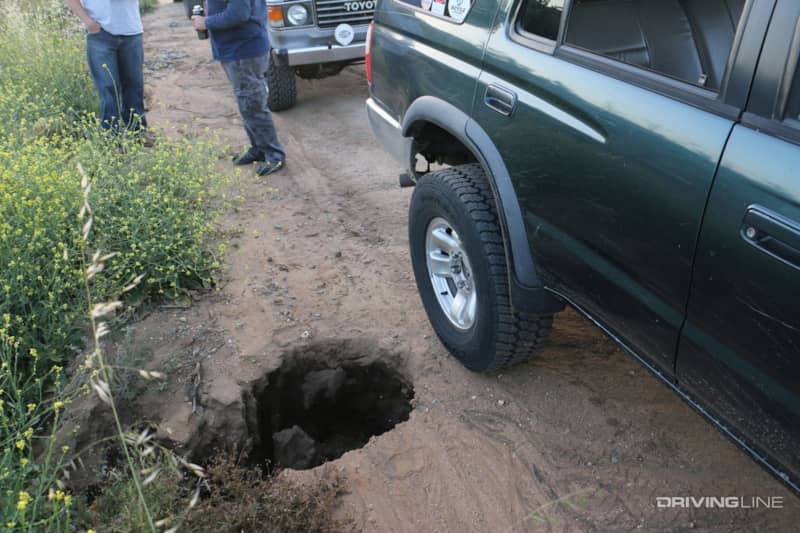 Rain in Southern California always makes the roads more interesting; some more than others. Runoff features like this were common on 12S07 and Black Mountain Trail (11S04), and made an easy run a little more sporty.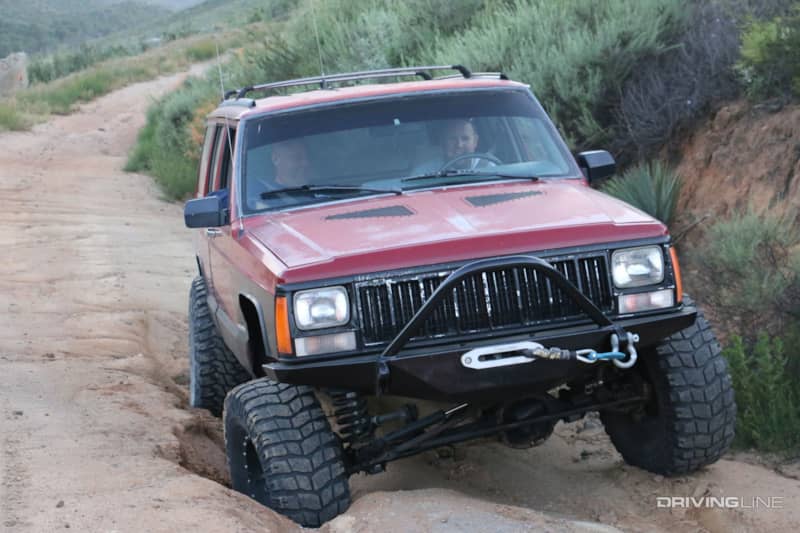 Leave it to the Jeeper to get stuck first. This 4.0L-powered '92 XJ bought with the three-inch coil lift for $3500 never broke a sweat on the 'Squatch Run. Charming, effective beaters like this make an excellent trail tool. The owner's added 1.5-inch spacers, Bilstein shocks and a Rubicon Express long-arm kit over the original Dana 30 high-pinion and Chrysler 8¼-inch (both with Powertrax Lock-Right lockers), and installed a Cadtech Industries front bumper and homebrew cooling improvements.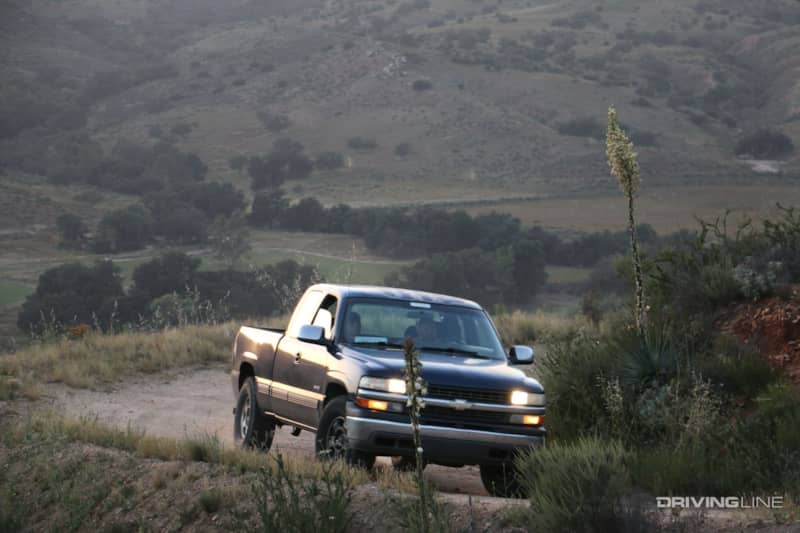 No run is complete without a ½-ton Chevy. Besides, without a pickup, wherever would they put all the Bigfoots? This '00 Silverado, recently de-bumpered by an uninsured driver, nonetheless managed to Z71 itself uphill with aplomb.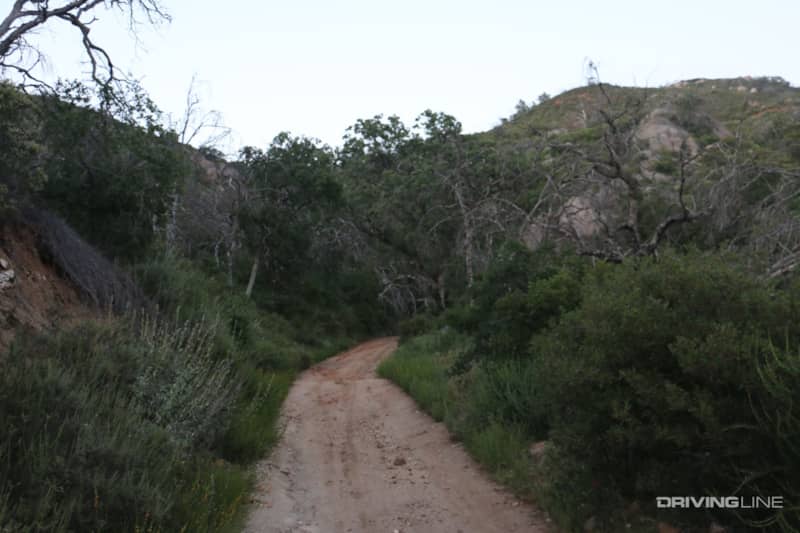 Both Upper Santa Ysabel and Black Mountain Trails are narrow dirt and rock conglomerate that frequently suffers from bouts of washouts. It's never difficult, just entertaining. Canyon switchbacks like this are densely vegetated because forest fires often skip over narrow gaps.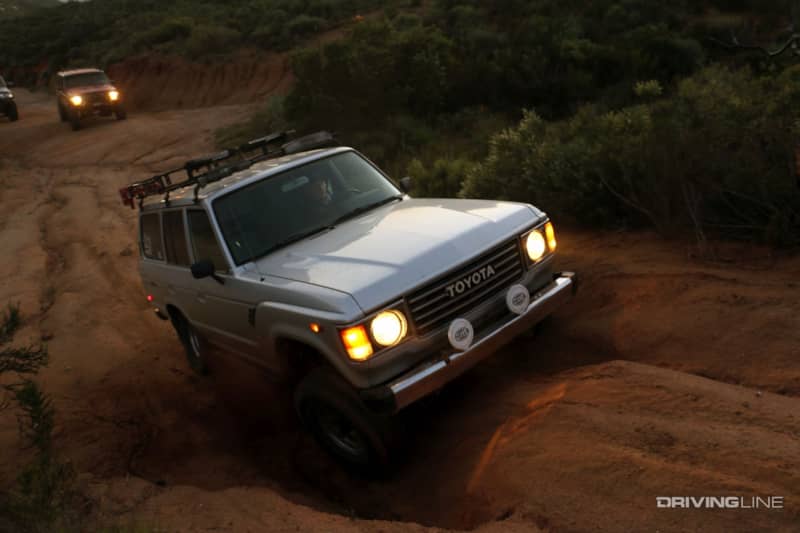 This super-subtle Vortec-powered '86 FJ60 made a heavily dug out bypass trail look easy. Hidden beneath the sheetmetal and bolted to the JDM H-55 FJ five-speed is a 5.3-liter LM7 installed by the Truck Shop in San Diego. All four corners are on Old Man Emu leafs and Bilstein shocks, and some super-stealth Truck Shop sliders are as hidden as the ARB Air Locker.
This third-gen 4Runner needed two passes to climb the bypass. Despite liberal 4Runner third-member movement, the OE E-locker finally got some use. The front suspension is first-gen Tundra and Bilstein parts, and the rear axle is hung with Old Man Emu 891s and Dodge 2500 front shocks. The bumper is from Addicted out of Colorado.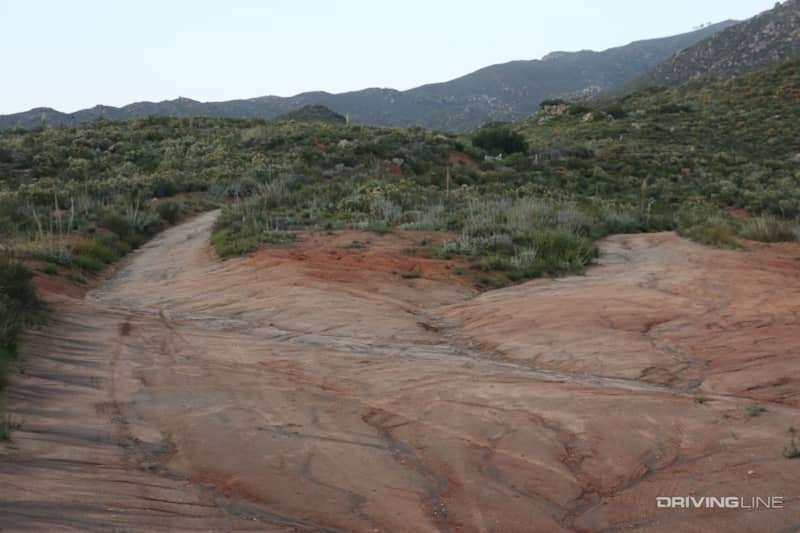 Transmission Junction. Turn right, and you're headed back to Ramona via Upper Santa Ysabel and Black Canyon Road. Head left, and you'll venture further up Black Mountain towards the location of the last known Bigfoot attack (and the best spots to search for Stinky).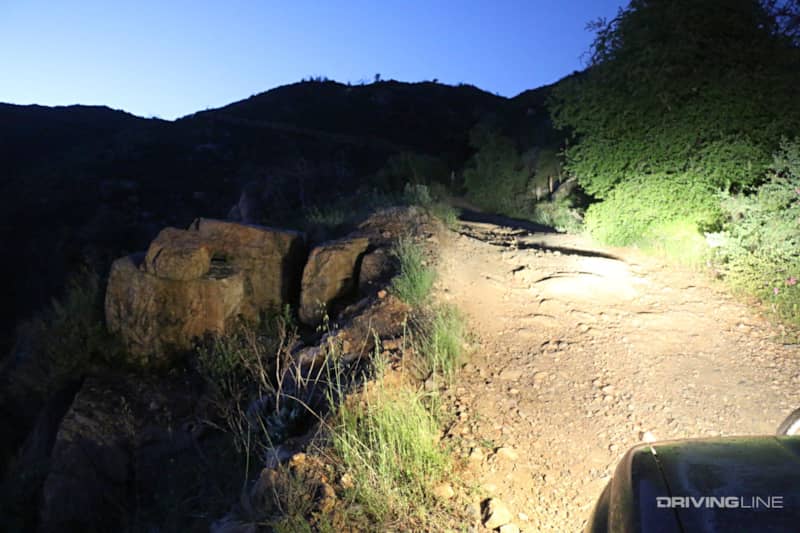 To its credit, the typically easy 11S04 gets a little hairy the further you get into Sasquatch territory. Of course, at night, you don't need to worry about that low shoulder on the left.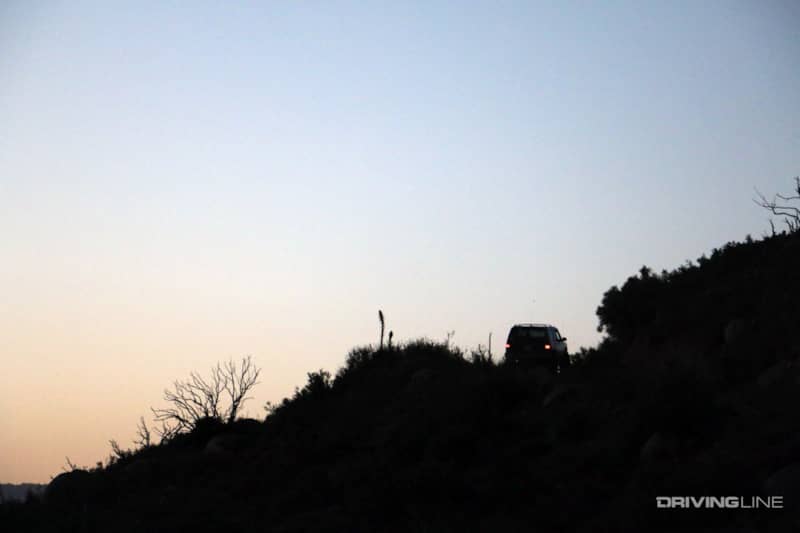 As the XJ rounds a bend near the top of Black Mountain and the selfsame trail, a look over the shoulder would witness Pamo Valley 2000-plus feet below. Black Mountain peaks at 4,051ft, another 800 vertical feet above.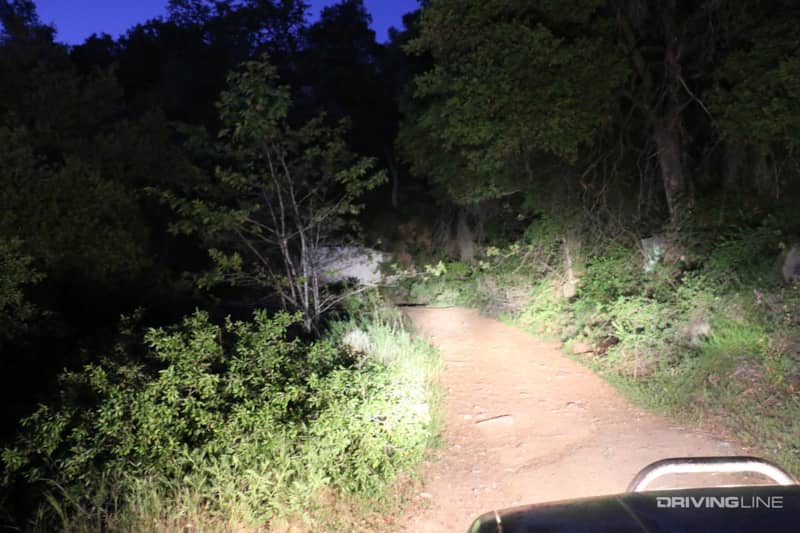 Close by Black Mountain's peak is Bigfoot's Bathtub (seen here in white, a shade left of dead-ahead). This old water tank has long been a draw for the Sasquatch, who is, as we've mentioned, stinky.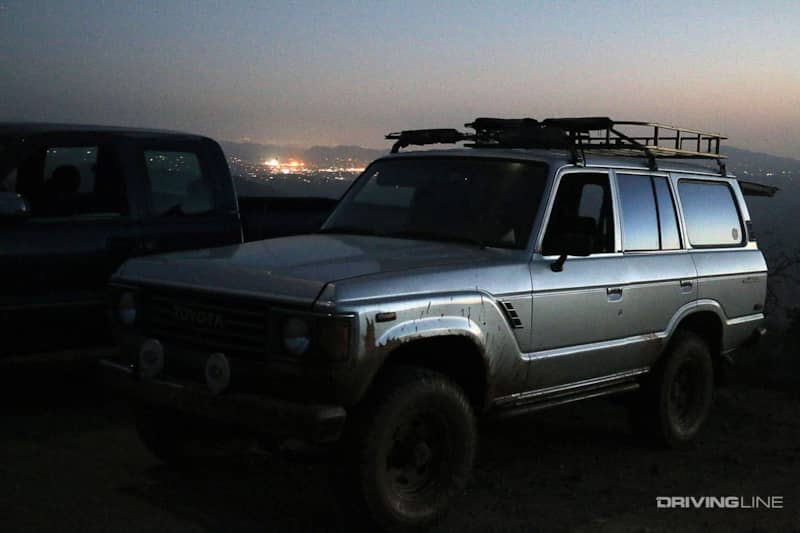 Primarily because it has the best paint of the vehicles on this run, we posed the V8-powered FJ60 with Ramona's twinkling lights in the background. Every man's surf wagon should be this cool.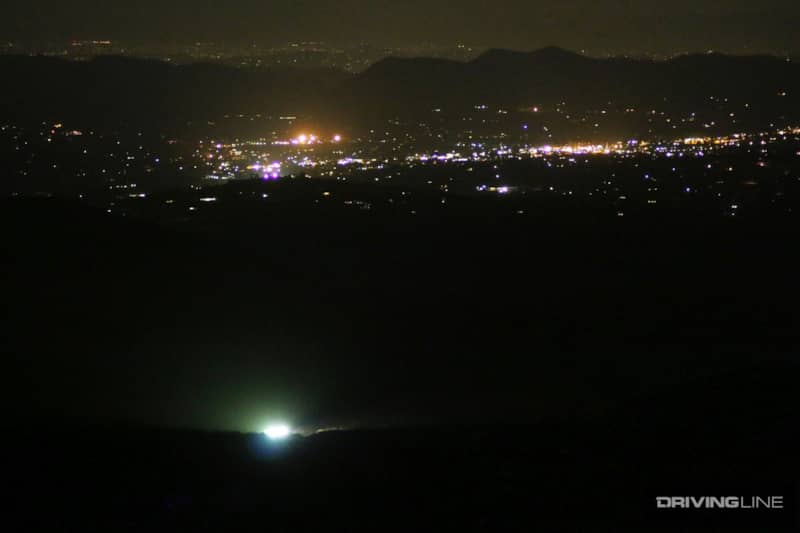 As is often the case on a Sasquatch Run, word gets out. Additional 'froaders made the run uphill trailing the vanguard (including a former Garage Hour cohost, who muscled a two-wheel drive GMC 1500 up the hill on street tires, just because). Betting on approaching vehicles is a fun way to pass the time, but for a real treat, catch one ascending through the fog, which is downright otherworldly.
A group of pre-runner types made their way into the darkness as well, one murdering his clutch en route. There was a '96 2.3-liter Ranger XL with the obligatory bent beams and modded radius arms. Along with was a '96 XLT four-liter, with coil-overed unequal-length J-beams in front and caged King reservoir shocks damping F31 leafs in back. The '94 Toyota ran hooped Fabtech reservoir shocks over big arms and a four-inch life spindle.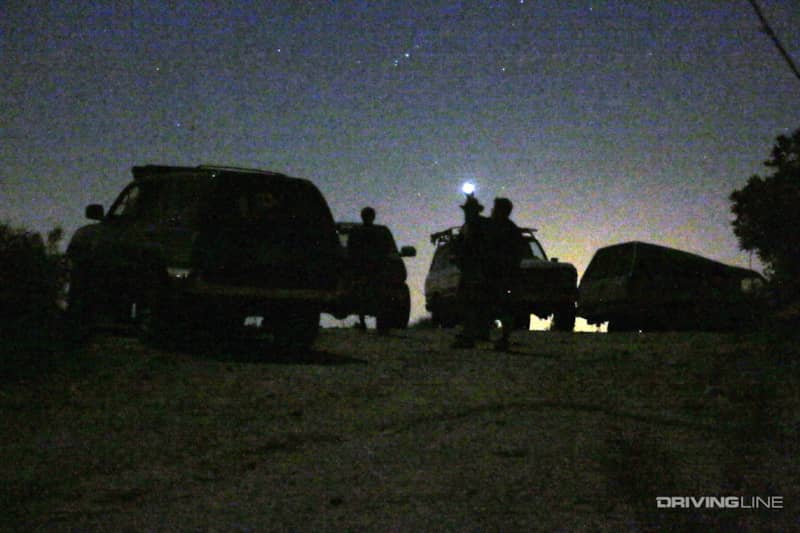 Gratuitous forced-shutter ambient light night shot. To get the full effect of how removed this point is from civilization, make your Sasquatch Run with as little moon as possible so the stars can come out.