Counting Jeeps On The Sheep Spring Trail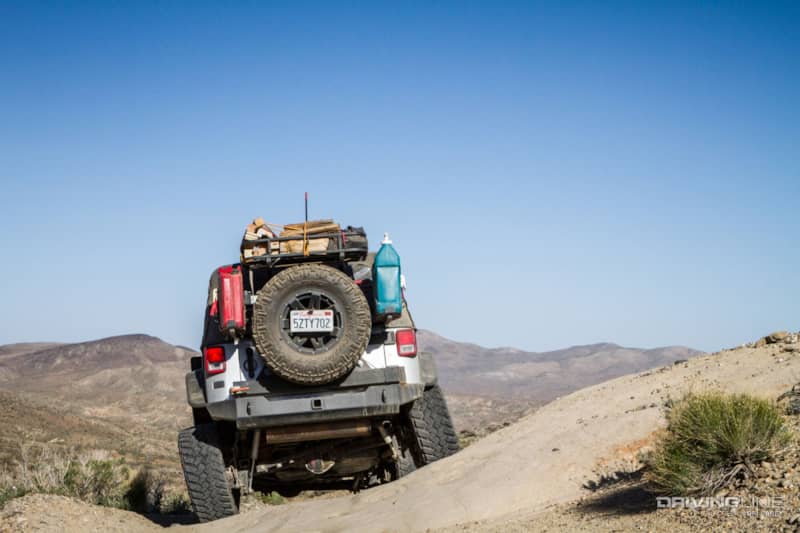 The last time we were in the El Paso Mountains (California, not Texas), we were hoping to revisit the Sheep Spring Trail on the eastern boundary of the El Paso Mountain Wilderness. But, we somehow managed to get diverted onto another trail and a different adventure. This time, we were armed with a better map for the area and it didn't take long to spot where we went wrong the previous time. The directions in our trail book didn't match up at all. This is another area where the trail numbers don't always match up with older maps or online maps. The OHV Trail Map by Friends of Jawbone Canyon is your best resource for this area.
To get to the trailhead from California 14, we turned onto Hart Road/EP15, 13.5 miles north of the intersection with Randsburg-Red Rock Road. You'll see a sign for the Burro Schmidt Tunnel.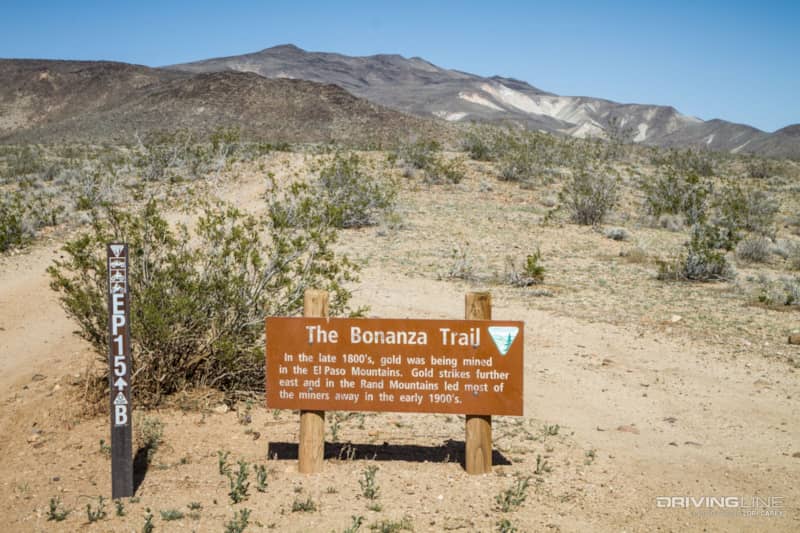 Follow EP15 approximately 1.5 miles to the four-way intersection at the top of a ridge. EP15 splits off in two directions and if you look on your map you'll notice that there are various segments of trail throughout the area that are designated EP15. Turn left onto the one that is marked EP15B. There will be a sign for the Bonanza Trail, a self-guided a four-wheel-drive tour of the old mines in this area. The trail got rougher as it began to wind its way down into a valley. We spotted the old Bonanza Gulch Post Office down below. It served as the Post Office for the mining community that was located here during the Great Depression.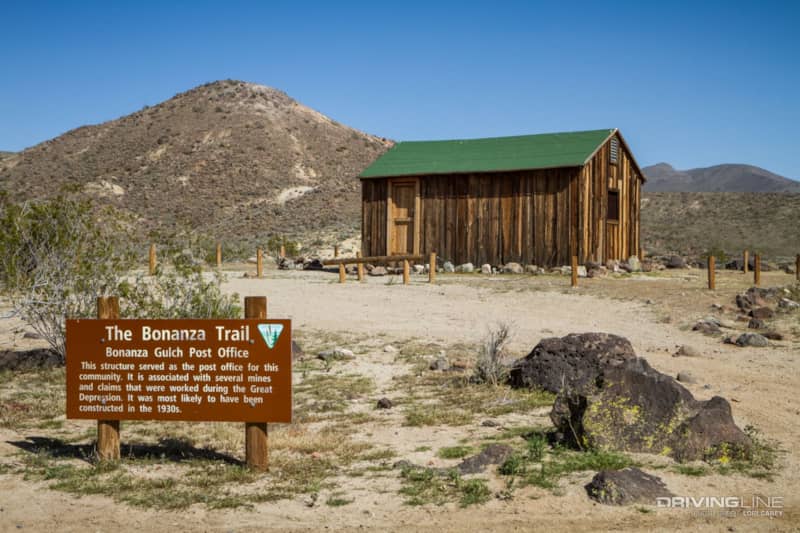 The building is open and you can go inside. There isn't much to see besides two metal bedframes and a table. You can camp here if you want. The building is clean and there is a fire ring outside. There is another campsite with fire ring just a short distance away behind the building. There are several cabins along the Bonanza Trail that are maintained by volunteers under the BLM's Adopt A Cabin program, and they are available on a first come first served basis.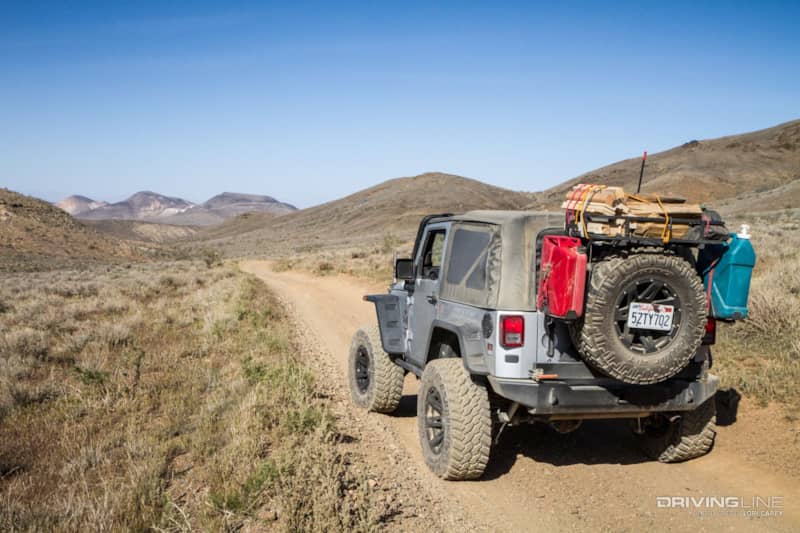 The road forks right before the remains of the Colorado Camp and we stayed left onto EP30. EP30 is a shortcut that eliminates a long section of EP15 where it heads out to the Burro Schmidt Tunnel before looping back. We passed Bickel Camp and after some time we rejoined EP15. We had traveled quite a ways deep into the desert and were beginning to wonder if we had somehow again miscalculated where the Sheep Spring trail would begin when finally we spotted the marker for EP26 off to our left. EP26 shows as Mesquite Canyon Road on Google Maps.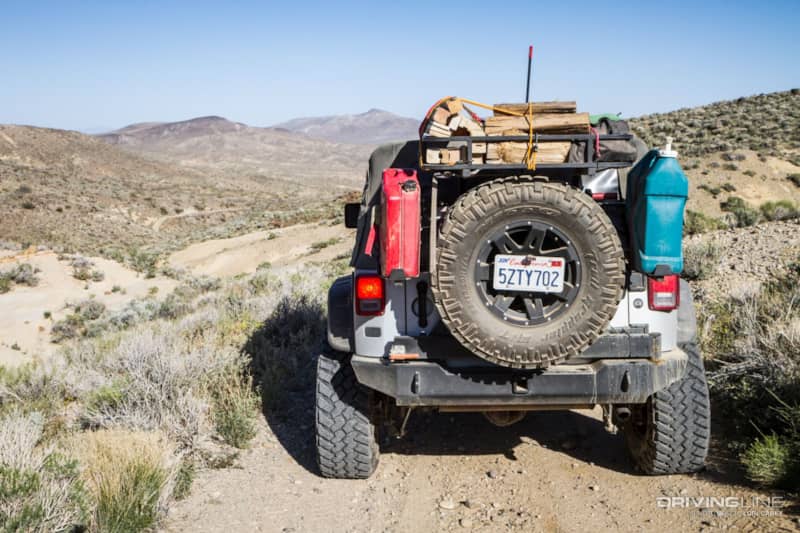 Sheep Spring Trail begins as an unassuming easy trail, but as it followed along the ridgetops and washes it quickly turned to an endless rock garden. Deep ruts from storm damage and erosion had filled with rocks, either naturally or from people repairing the damage. It's not technical rockcrawling with big boulders, but the trail is mile-after-mile of bone jarring rocks. There are also several very steep rocky climbs and descents. You will want four-wheel drive, high clearance, and good off-road tires. Our Jeep Wrangler JK is equipped with Nitto Trail Grapplers, which had no trouble getting us through. Our trail book gave Sheep Spring the same difficulty as Bird Spring Pass, but they are not even in the same class. We strongly recommend that you travel with another vehicle. This area is very remote and the nearest town with services is quite a distance away.
It seemed as if it took forever to reach our destination – a primitive campsite at Sheep Spring with picnic tables and fire rings. As it finally came into view, we were disappointed to find that a group had beaten us to it. We stopped to say hello, they recognized the Driving Line sticker on my Jeep, and we got to talking. It was their first time here and they didn't realize what was so special about this location, so we took them on a short hike.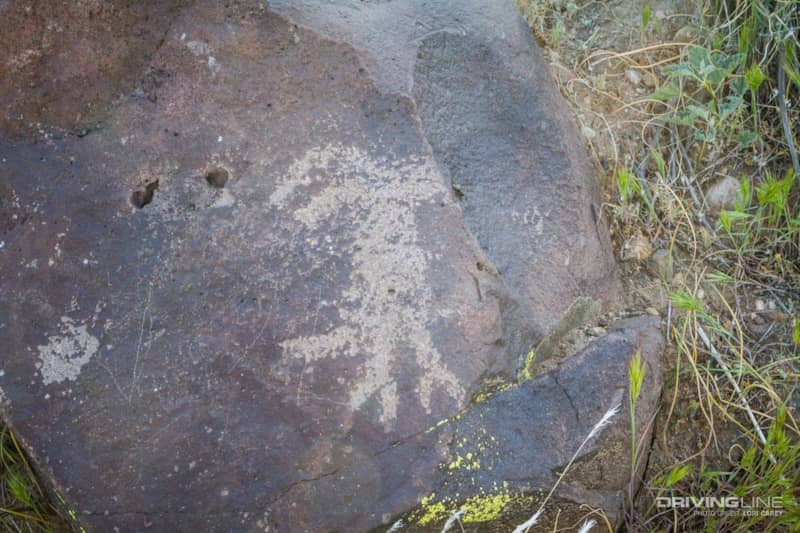 This is a Desert Culture site; there are numerous Kawaiisu petroglyphs on the hill behind the campsite. There is also a rock circle. As we walked around searching out petroglyphs it seemed to us that there were less than there had been when we last visited some eight years ago. We remember thinking they were everywhere we looked on our last visit. This time, it was much harder to spot any, and we wonder if people have been illegally removing them.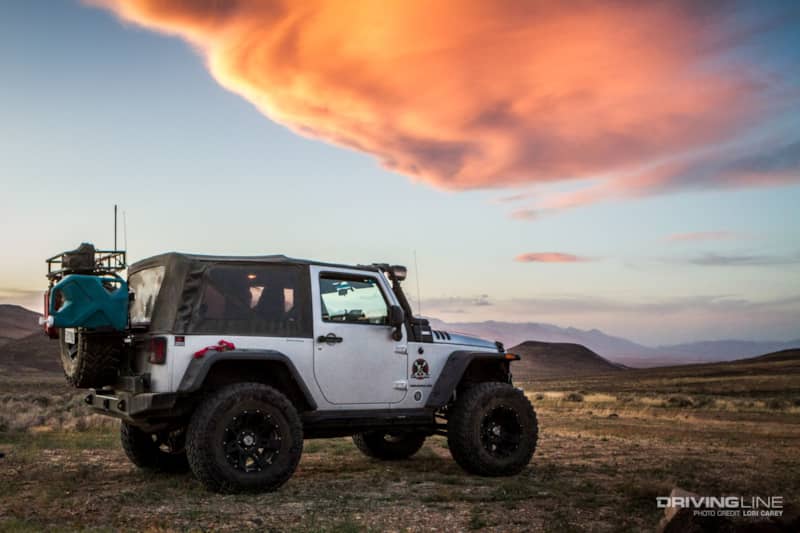 The sun was getting low and we needed to find somewhere to camp, so we said goodbye and continued down the trail. After the campsite the trail gets much easier. It wasn't long before we spotted a fire ring in a perfect spot. We actually liked this spot better than the one at Sheep Spring because the view here is spectacular.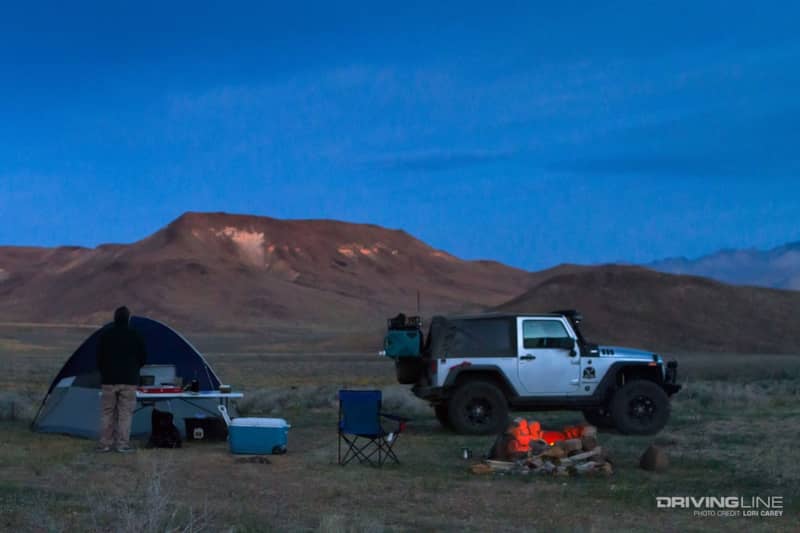 It was finally time to kick back and relax for a bit.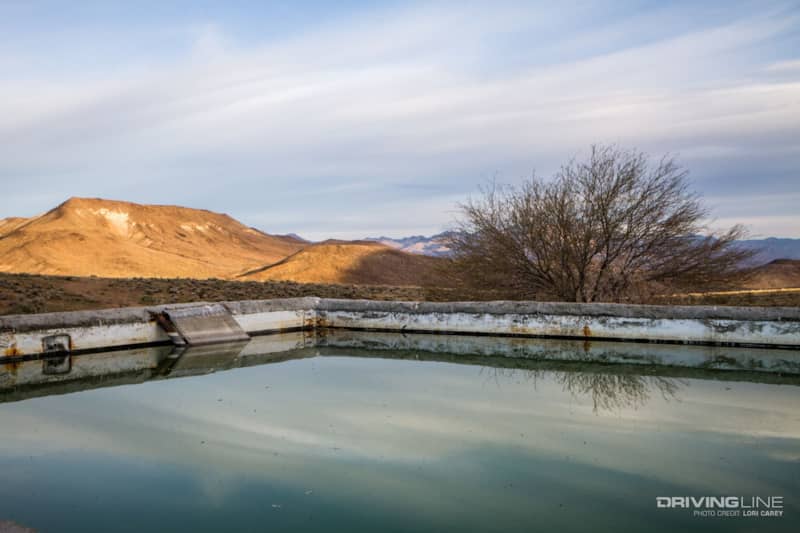 In the morning, we woke before dawn to a loud birdsong. We knew that must mean that there was water nearby, so we set off on a hike in the direction of a structure we had noticed when we set up camp. Down below our camp, we found a tank maintained by Quails Unlimited to provide water for birds and wildlife in this harsh desert environment.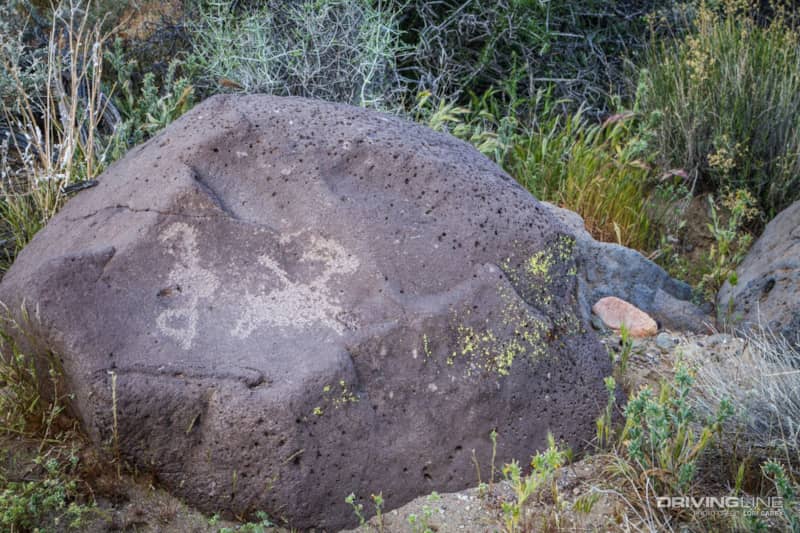 We continued hiking along the dry creek bed and found this wonderful petroglyph. The figure on the left is an atlatl, a spear or dart throwing tool used by indigenous people. The bighorn sheep on the right has a dart sticking out of its back.
After breakfast, we packed up and hit the trail again.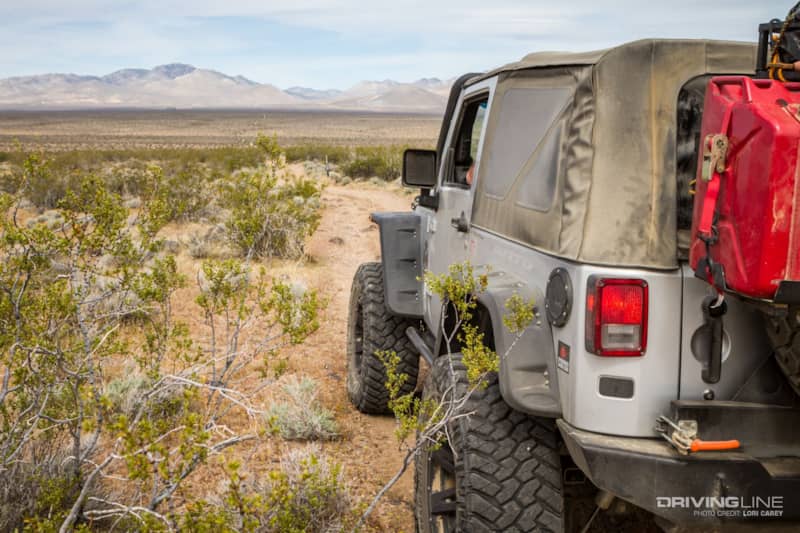 If you are not up to the rough and rocky climb to visit the petroglyph site, coming in from this direction is a much easier alternative. Don't be alarmed if you hear gunfire; the trail passes by a shooting range.
Past the shooting range, we turned onto EP1.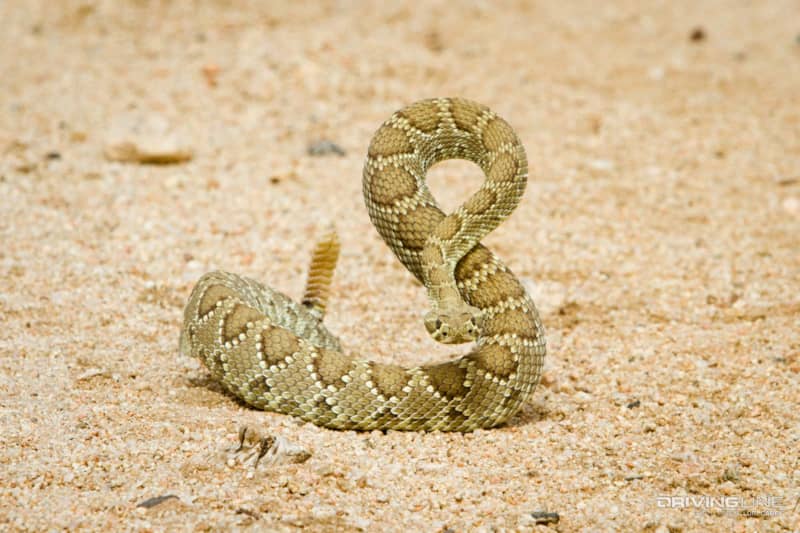 This deadly Mojave Green rattlesnake decided that he didn't want us to pass. Mojave Greens are said to be 16 times more deadly than the Western Diamondback, and they are very aggressive. We backed off and waited 15 minutes for him to leave, but he decided to hold his ground. So, we carefully pick a route off trail to go around him. Rattlesnake 1, Jeep 0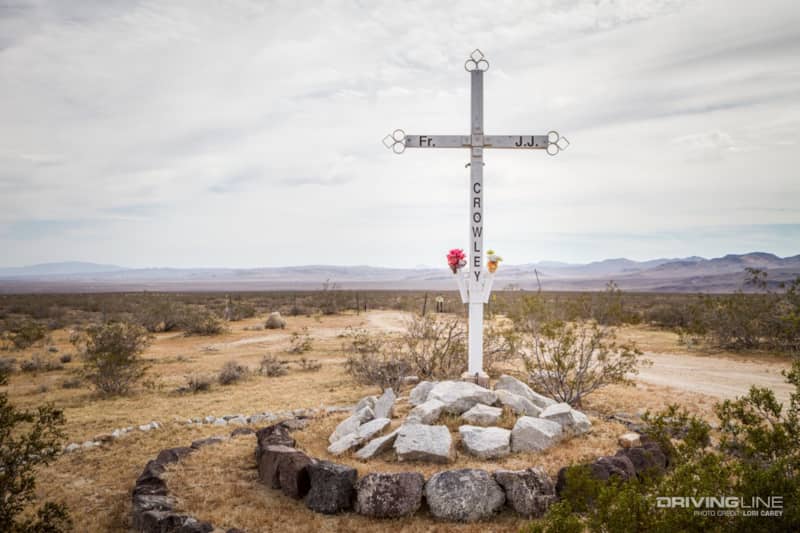 The trail ends back on California 14, north of where we entered. At the trailhead there is a monument to Father J.J. Crowley, a legendary desert priest who died in a motor vehicle accident at this location. Our total trail mileage was 30 miles.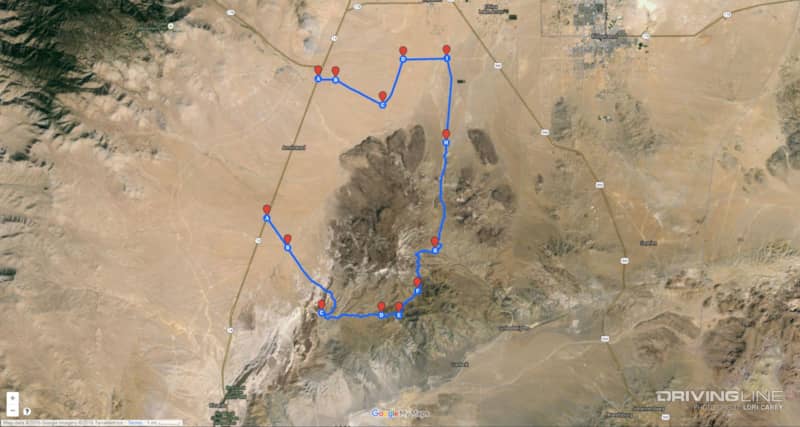 Snakes are very active on warm days this time of year, be careful out there!