Heart Transplant Every 6.7L Power Stroke Needs: Prevent Engine Failure with a CP4.2 To DCR Conversion
The words "CP4 to DCR conversion" might seem like a bunch of gobbledygook to the layperson. But for anyone who's up to speed with present-day diesel technology, those words are a very big deal. You see, Bosch CP4 high-pressure fuel pump problems are widespread throughout the diesel truck world, the pump (specifically known as the CP4.2) having been used on Ford's '11-current 6.7L Power Stroke, GM's '11-'16 LML Duramax, the 6.7L Cummins from '19-'20, Ram's '14-'23 EcoDiesel and even the '16-'19 5.0L Cummins V8 in Nissan's Titan XD. In every application, the CP4.2 is essentially a ticking time bomb, capable of self-destructing without notice and wrecking the entire fuel system when it fails.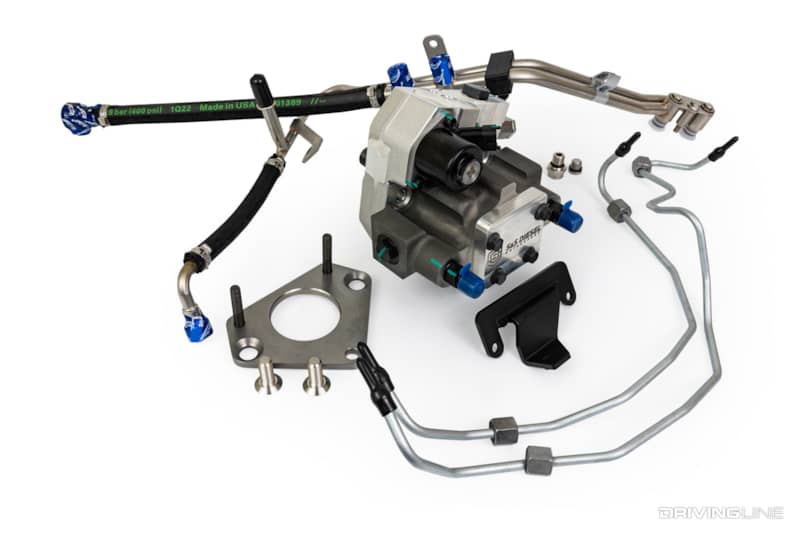 Because Ford commands the majority of the heavy-duty pickup market, it stands to reason why the common-rail fuel system experts at S&S Diesel Motorsport chose to address the 6.7L Power Stroke's CP4.2 failure first and foremost. Teaming up with PurePower Technologies, the aftermarket arm of Stanadyne, a permanent solution was developed. Based around the use of a modular DCR high-pressure fuel pump that's void of the design flaws of the Bosch CP4.2, S&S's CP4 to DCR pump conversion directly replaces the problematic factory pump for ultimate peace of mind. Below, we're taking a look at what amounts to a comprehensive fix for a notorious and catastrophic pattern problem.
CP4.2 Failure, In A Nutshell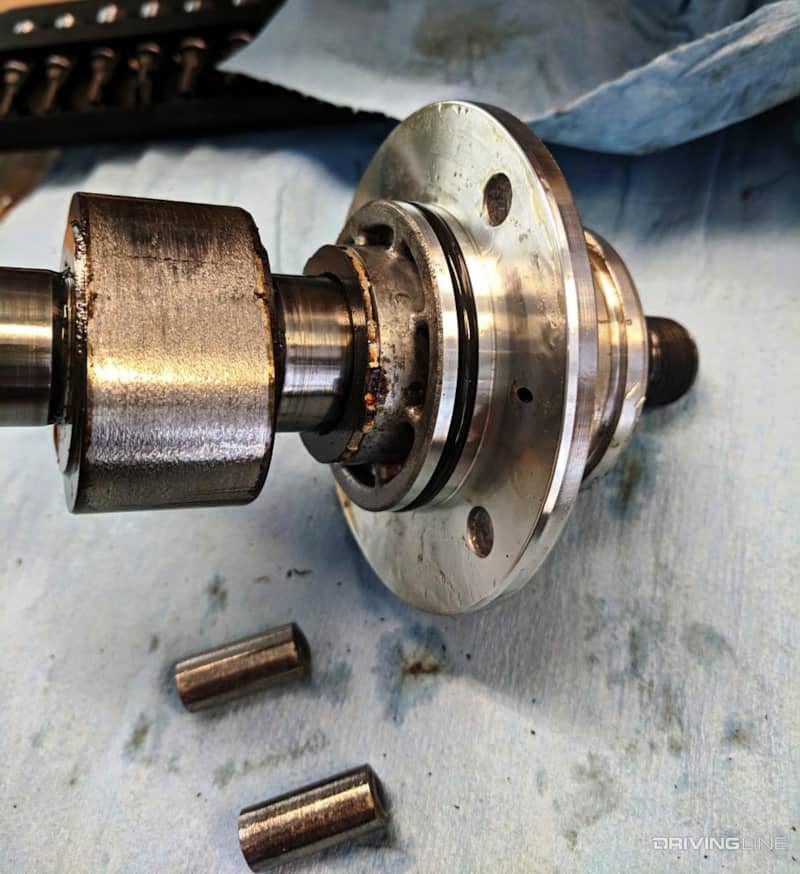 For anyone unfamiliar with what can happen inside a factory Bosch CP4.2 high-pressure fuel pump, this is what the aftermath of a typical failure looks like. When one of the lifter buckets rotates in its bore (usually due to air being present), the pressed-in roller at the bottom of it rides perpendicular to cam lobe instead of parallel with it. This leads to a loss of lubricity between the two components and they begin making metal-on-metal contact. The worst part is that due to the CP4.2 pump's design, the shrapnel produced by the metal-on-metal contact is allowed to contaminate both the high pressure and return circuits. This means you're often not only out a high-pressure fuel pump, but also fuel lines, rails, injectors and sometimes even a lift pump.
Modular Diesel Common Rail Pump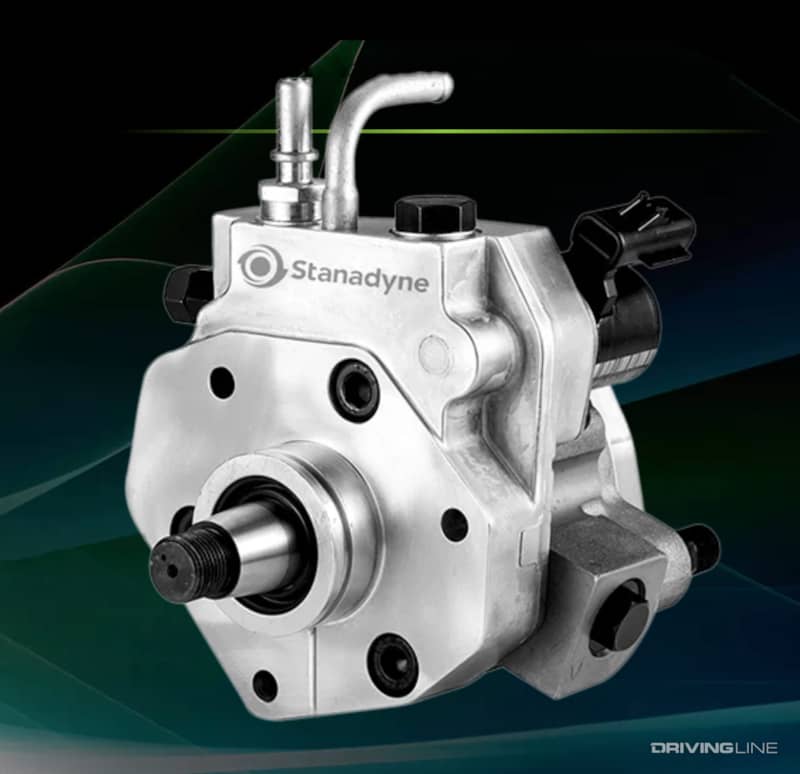 This is the high-pressure common-rail fuel pump that kindled the entire CP4 to DCR conversion idea. Designed by Stanadyne, a developer and global supplier of diesel injection pumps, fuel injectors and fuel additives, the modular design of its MDCR (modular diesel common rail) pump makes it adaptable for various engine configurations. Its 2500 bar capability also means it can help manufacturers meet the most stringent emissions standards in the world. Further, its patented eccentric roller operation is said to offer remarkable reliability.
CP4.2 Vs. DCR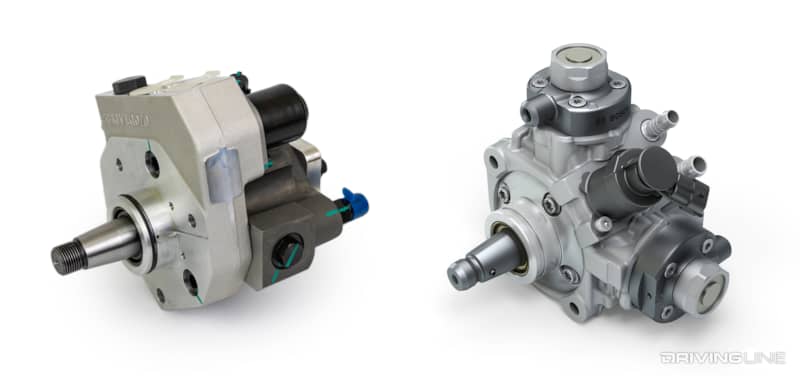 As you can see, the DCR pump (left) is just as packageable as the CP4.2 (right)—packaging being the key obstacle in the aftermarket's ability to come up with a direct, drop-in replacement pump for the 6.7L Power Stroke diesel V8. The DCR pump's compact size makes its integration seamless in Ford applications. As a bonus, the DCR is capable of delivering 1,250 mm3 of fuel per revolution, which is 25-percent more than an OEM CP4.2. This added fuel flow is ideal for trucks with higher mileage injectors (as worn injectors will typically have higher return rates), but it will also likely be capable of supporting trucks with moderate injector nozzle upgrades.
A True Direct, Drop-In Replacement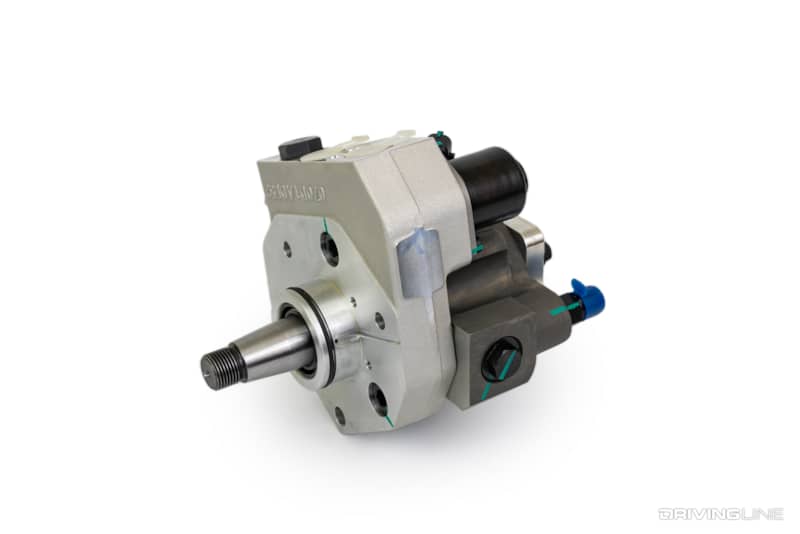 Starting with Stanadyne's pump design, a joint team made up of S&S Diesel Motorsport and Pure Power engineers developed a variant of the MDCR pump to work explicitly with Ford's 6.7L Power Stroke. Through extensive R&D and countless hours on the test bench, the folks at S&S were able to specifically design the DCR to match the CP4.2 pump's output curve. This means no recalibrating is necessary following its installation. The system is as plug-and-play as it gets.
Internally Sound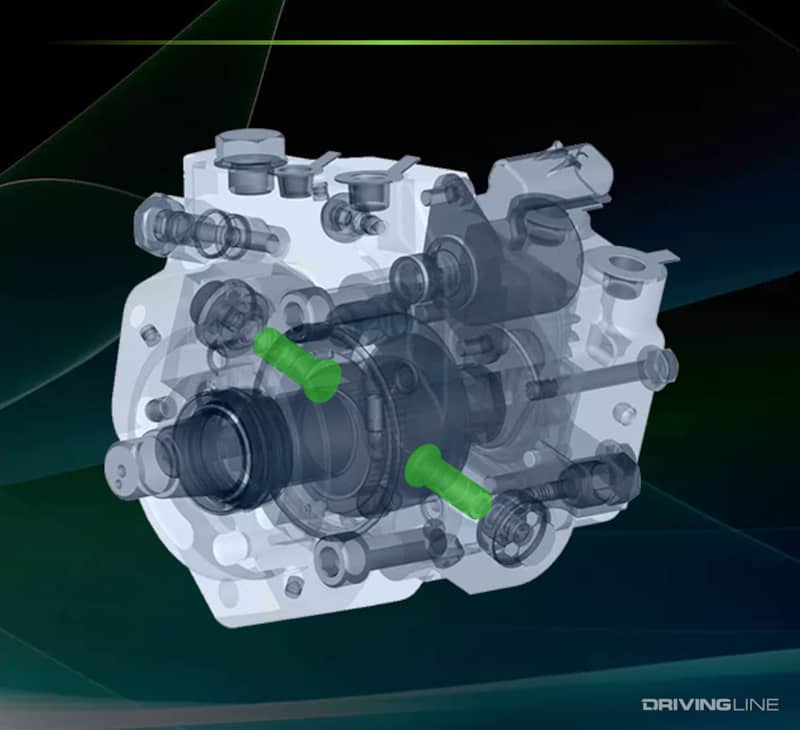 Like the factory CP4.2, the DCR pump is of a two-piston design. And similar to the CP4.2 (which can be had in single or twin piston form), the modular DCR is available with different piston configurations (two and four). The similarities end there, however. Within the DCR, the pumping plungers are centrally-located for maximum efficiency—and there are no lifter buckets that can potentially rotate and destroy the cam. The plungers are also deliberately located next to the eccentric pump roller. According to S&S, the DCR pump has very low hydraulic and acoustical noise when operating.
More Robust (In Every Way)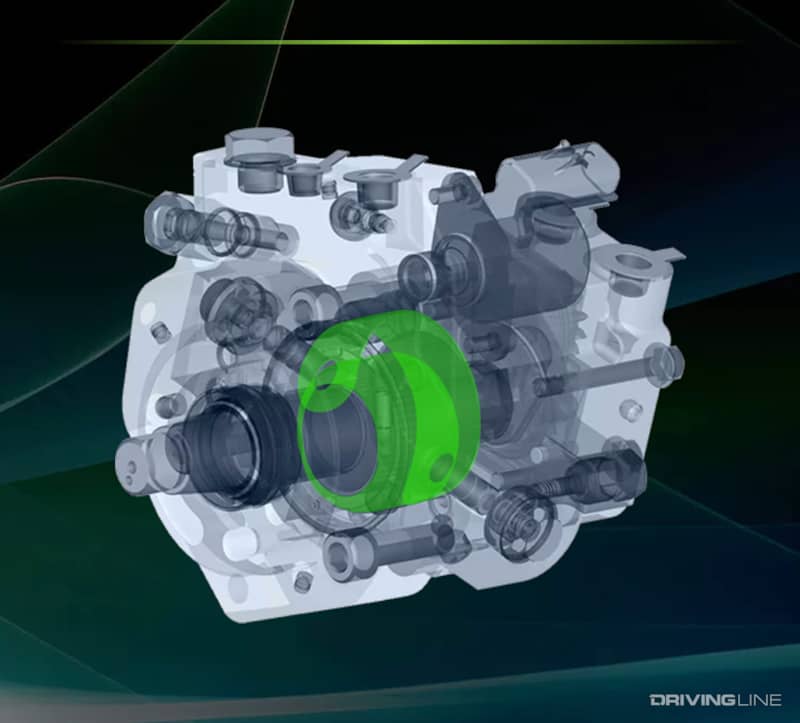 This is one of the key components in the DCR pump's recipe for durability: its patented eccentric roller and ring. Its design allows for exceptional durability and pump life longevity, and the fact that it's compatible with biofuel and low-lubricity fuel means it won't be as susceptible to damage when exposed to poor fuel quality. And perhaps most importantly, in the unlikely event that the DCR pump fails, it's designed to send debris out the return circuit—not toward the injectors (like the CP4.2 does).
Superior FCA, Fully Validated On The Test Bench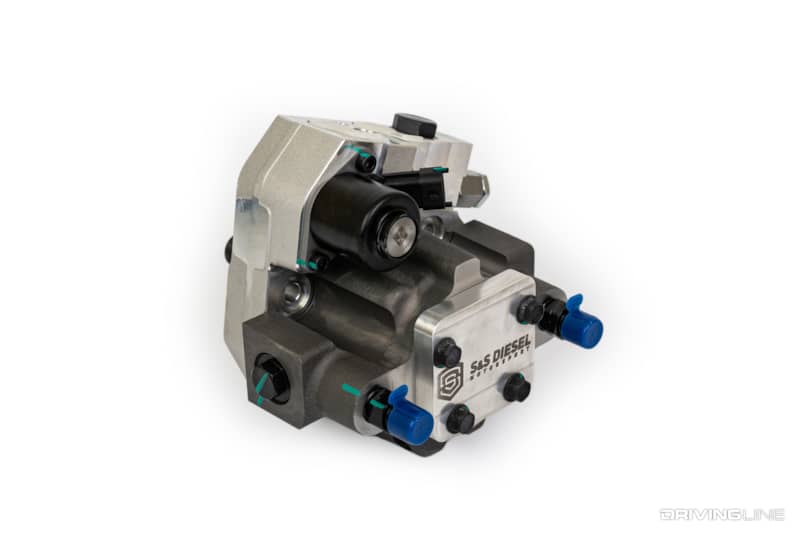 The fuel control actuator (also known as the volume control valve, or VCV, on the CP4.2) was also made more durable on the DCR pump. It employs high-quality, corrosion-resistant components—as well as a few proprietary features—to help prevent large debris from entering the actuator. The robust fuel control actuator is more or less icing on the cake for the CP4 to DCR pump conversion. Further peace of mind can be gained in knowing that S&S racked up more than 1,500 hours of durability testing on the DCR pump—testing that called for 3,200 rpm and 2,300 bar (33,000+ psi) injection pressures which concluded with zero issues.
What Comes In The Box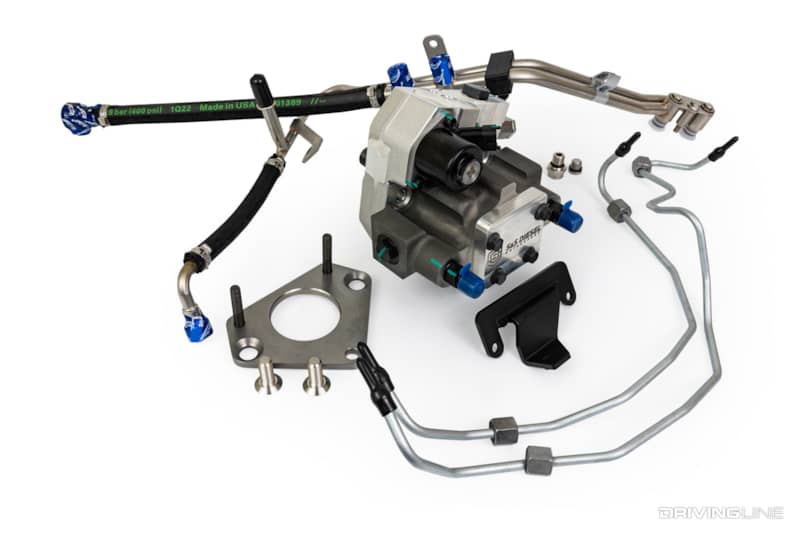 Unboxing S&S's CP4 to DCR pump conversion, you'll find the DCR pump, OE-grade braided hose, steel high-pressure fuel lines, supply line adapters and plugs and an adapter plate that bolts the pump to the block. All said and done, the system offers a factory-appearing fit and finish. The comprehensive system will fit every 6.7L Power Stroke built for '11-'19 model year Super Duty's. And while the CP4 to DCR pump conversion isn't yet available, it might be close to releasing by the time you read this. S&S has indicated that its release date will be some point during the second quarter of 2023. The kit's targeted MSRP is $1,990. 
Working, Worry-Free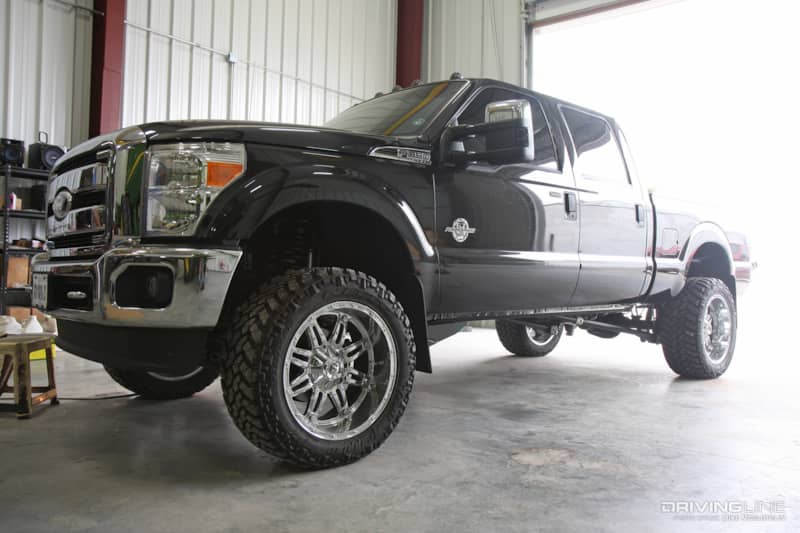 While CP4.2 failure isn't quite the every-truck-calamity some make it out to be, it's frequent enough (and destructive enough) to keep the average 6.7L Power Stroke owner wondering when it will strike. For that reason—not to mention the fact that a wrecked CP4.2 can cost you more than $10,000 in repairs—the CP4 to DCR pump conversion is worth the peace of mind it provides. With this system in place, your '11-'19 Ford's fatal flaw is eliminated for good and you can get back to work, which is what these trucks do best.
More From

Driving Line
Didn't know your '11-'16 Duramax had the CP4.2 as well? It does, and we'll show you how to keep it alive right here.